This guest-post was sent to me by Judy Young, aka JuJu, who recently made the transition to riding a trike. While you might think it's a simple switch, there are several things that are quite different with this type of vehicle. Judy covers them here, and shares her enthusiasm for "Goldie," her beautiful silver Honda VTX trike!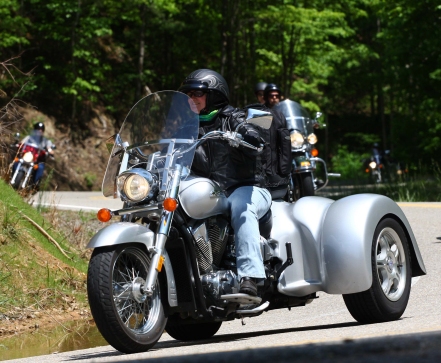 I started researching trikes last fall, after my whiny, achy left knee gave way on me one too many times when I was trying to park my bike. At the Thunder Beach Rally in Panama City Beach, Florida, in September 2008, I met Randy Johnston, the owner of Adventure Motorsports in Dothan, AL, test rode a couple of his trikes, and began to settle on a model and trike kit. By December, I'd sold my Suzuki Intruder and Randy had found a Honda VTX 1300 bike that had less than 2000 miles on it, ripe for triking. So we ordered the conversion kit that I wanted (Champion), and then waited for it to arrive. It took a while to get the kit—there were some holdups at Champion—but once Randy received it, he and his team got to work right away, and I was able to pick up my trike in early March, just in time for Spring Break—yay! She's a gorgeous hunk of silver machine, and I named her Goldie—I love the irony!
Well. The next thing I knew, I had put more miles on Goldie in two months than I had put in a whole year on my Suzuki. I guess the added security of three wheels just made me feel like getting out on the road more often, and especially solo. Now, with less than six months of trike ownership, I've got more miles on the trike than I EVER had on the Suzuki the whole time I owned it (about three years)!  I ride it absolutely everywhere—to work, to get groceries, out to dinner, and of course, just for the joy of the ride.
The Learning Curve
As most riders will realize, there is a bit of a learning curve, representing the difference between riding two wheels and riding three. From the get-go it's different—you even have to mount up differently, so you don't continually scuff your rear fenders with your boots. Everyone figures out their own way, but mine is to mount the trike like a horse: put my left foot on the left floorboard, like a stirrup, then grab the handlebars and turn them slightly to the right, stand up on the left floorboard and swing my right leg up and over the saddle then onto the right floorboard and take a seat. To dismount, I make sure my right passenger peg is down, move my right foot back and push against the passenger peg to give myself some leverage, then again, stand up on the left floorboard and swing my right leg over and down. Voila—no scuffed fenders!
OK, so once you're in the saddle, what now?
First thing, try not to embarrass yourself by putting your feet down when you stop the bike—remember you don't have to hold the bike up anymore. I figured this out pretty quickly while riding solo, but at first, when I rode with other people on bikes, I sometimes reverted to putting my feet down—just from watching the others, I guess. Also, it's kind of a reflex, putting your feet down, so one of those things you have to unlearn.
Second—no countersteering! You have to turn those bars in the direction you want the bike to go, and you have to no-kidding turn them—there's no body-lean to help. It takes more upper body involvement than on a bike. It's not difficult, but it IS different, kind of like riding a snowmobile or a jet ski.
Third, though you don't lean in the turns like on a bike, there is what I think of as a "triker's lean"—that is, shifting your body weight to counteract the centrifugal force in the turn. I've got no scientific data on this, and I'm only basing my findings on my own experience, but it does seem that shifting my weight and maybe putting a little extra pressure on the inside floorboard, makes the trike move through the turns smoothly. I've heard some trike riders say the opposite—more pressure on the outside floorboard—but inside is what works for me.
Another issue is figuring out where to position yourself on the road. At first, I just centered my trike in the lane, but never felt good there because, as we all know, that's where all the road grease collects—dangerous and yucky! Then, on a rally in North Carolina in May, I noticed some trikers riding with their front wheels just slightly left or right of center, which seems better not only in that it keeps your front wheel out of that gunk, but also it allows for a better line of sight for bikers/trikers behind you.
Finally, you have to get used to being mindful of those wiiiiiiide rear fenders—at toll booths, at gas pumps, in parking lots—everywhere. I did pretty well with the gas pumps from the beginning, but I narrowly avoided a crunch the first time I went through a toll booth. Whew! I learned my lesson (I hope!) from that little near-miss.
On the other hand, I find that it's still a good idea to turn your head and look through the turns just like on a two-wheeled bike. I think that's just a good habit to continue. And certainly, head up, not looking down at the road—again, a good practice that carries over from bikes to trikes.
So, some things to learn anew, some things to unlearn, and a few things that stay the same. I've learned an awful lot from one particular online trike forum: www.triketalk.com. Friendliest bunch on the 'net. And where I REALLY bonded with the trike was on a little rally in May, when Lobo (aka the Chief, aka my dear husband and riding companion) and I met up with a few of our triketalk.com friends in North Carolina to ride the Tail of the Dragon at Deal's Gap. What a ride – here's the video!
I've heard all sorts of myths about trikes: that they can only go slowly, that they have a tendency to tip over, that they can't make a tight turn. In my experience, it's all baloney. On the Dragon, we were several trikes and a few two-wheeled bikes, and the trikes not only kept up with the bikes, but were pushing them through many of the curves. Good thing, too–Lobo rides a Harley Road King, and he's not slowing down for anyone!
So if you've ever contemplated riding a trike, I hope I've answered some questions and calmed some suspicions. If you want more info, come on over to triketalk.com—the friendly folks there will tell you more than you ever wanted to know about trike-building, trike-riding, and all things trike-o-licious!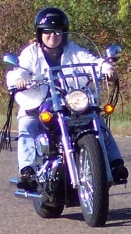 April is Helmet Awareness Month so I think it's only fitting to end this series of posts by sharing my view of the helmet law debate.  If we get out of the first 100 days of the Obama Administration without a federal mandate, I'll be amazed. (Hell if we get out of the 2009 runaway Iowa Legislature without a mandate, I'll be amazed.)
Proponents of helmet mandates state that helmets "work" – meaning, they save lives. Let's look at that statement:
Helmets might save lives, but only in those cases where head trauma would have been the cause of death. About 37 percent of all accidents involving riders not wearing helmets, according to the National Highway Traffic Safety Administration. (Note: that's not 37 percent of all accidents. It's 37 percent of all accidents where riders were NOT wearing a helmet and where head trauma was the cause of death. You can further dilute this by noting that the helmet would only have saved the life if it prevented a sufficient degree of the trauma.)
Understanding that even a very small percentage still represents actual human beings with families and friends who love them, it's important to note that every life is worthwhile. But, it's equally important to note that helmets only prevent head injuries. The vast majority of motorcyclists who die in accidents do so as a result of body trauma – blunt-force injury to vital organs other than the brain. Helmets, therefore, do nothing to prevent the vast majority of motorcycle fatalities.
When you couple this with the fact that about half of all motorcycle accidents involve another vehicle, it seems more logical to argue that accident prevention should be of greater importance than taking away personal liberty from all riders because a small percentage die from one type of injury.
As I said in my first Helmet Awareness Month post, I wear a helmet and I'd love it if you did, too. But, I don't think our government should step in and force everyone to wear them.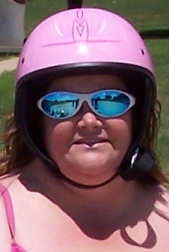 April is Helmet Awareness month, so in the interest of making you more aware of your helmet I thought I would share some tips on fitting and maintaining this oft-debated piece of safety equipment.
Proper fit is vital to a helmet's effectiveness. Your helmet should fit snug; when you shake your head from side to side, the helmet should move with you – not stay in one place while your head moves inside of it. (This is also a function of proper fastening.) Your helmet should not slide back over your head at an angle. When seated on your bike, your helmet should not obstruct your forward or lateral vision.
Prior damage renders a helmet useless. When your helmet hits the pavement, the energy of the impact is absorbed and dissipated through the… uhm, impact absorption material. This weakens the material. A helmet that has absorbed a significant impact, or whose shell is cracked in any way, should be replaced as soon as possible.
The Motorcycle Safety Foundation (MSF) also recommends replacing your helmet every few years regardless of whether it's been damaged. They state that it's possible the helmet's protective qualities could deteriorate over time, and/or that helmet manufacturing technology will likely improve – making your next helmet lighter and more comfortable, and possibly less expensive, than an older one (though no less stupid-looking).
Ignore if you wish the MSF's cleverly-hidden agenda of helmet mandates, but do read this very informative PDF file on helmet construction and fitment.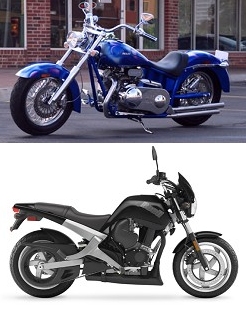 You might remember a couple of years ago I compiled a spreadsheet showing the seat-heights of the lower major-manufacturer cruisers. This was an effort to help identify good bikes for short riders, and it had the added benefit of suggesting some lower-cc bikes for beginning riders.
I've recently come across a couple of sites that provide some excellent, more current information, so thought I'd share the links with you so you can investigate further. Important to note that the bikes on my original list are likely well-represented in the used bike market these days. So if you're looking for a good first bike, or a good used machine, this list will still help you narrow your choices!
Carla King at Motorcycling Misadventures offers her thoughts on the question of "What's a Beginner Bike?" and states in no uncertain terms, "flat-footed, no more than 250 cc's." (My article, "Start Small or Go Ultimate" offers the pluses of starting on a smaller bike vs. larger. I'll be offering something a little more definitive – meaning: opinionated! LOL – next week.)
Being able to "flat-foot" the bike is one of the most important aspects of safe handling. Why? Well for one thing, you want to be able to 'walk' the bike into or out of a parking spot if need be. You can't do that easily if you're on tippy-toes, because you can't get a good footing. And for another, when you roll up to a stop you want to be sure your footing will be solid as you take your feet off the pegs to support the stopped bike.
Women Riders Now has a fairly complete list of (mostly) cruisers with low seat heights, but there are two points of discussion that are missing from the article (mentioned in the comments):
1. There are some beautiful choppers, and many other bikes with forward controls shown that shorter women can easily straddle, but we'd have no hope of ever reaching the foot controls. (Perhaps the Roar WildKaT, with its modular control-positioning, solves this problem?)
2. The seat width often makes these "low" bikes impossible to straddle flat-footed, because your shorter legs have to stretch out and over a wider area.
Finally, Raven at Ravenbladerider covers the sportbike angle with some great sportbikes for shorter women.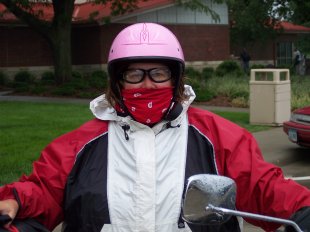 April is Helmet Awareness month, so this month I want you to take a moment to become aware of your helmet. You know, that piece of equipment that you sometimes leave at home? I'll actually do three separate posts regarding helmets.  Future topics will cover proper fitment and care, and the ubiquitous "helmet law" debate.
First, though, I want to take a moment to advocate – not for helmet laws, but simply for wearing a helmet voluntarily.
Look, I would love to ride without one. They look stupid. They prevent me from experiencing that "wind in my hair" feeling that so many bikers speak of. They make me look stupid even after wearing one (okay, especially after wearing one).
But here's the thing: I wear a helmet because I have direct personal experience with their benefits. In 1978 when I was allowed to buy a Honda Express on the parentally-imposed condition that I always wear a helmet, I dumped said Honda Express going around a curve in a pile of sand and whacked my head on the curb. I understood immediately the value of wearing the helmet, and I happily wore it forever-after.
Fast forward 30 years, and I've come to realize something: "the wind in my hair" only makes my hair a tangled, unbrushable rat's nest and makes me feel utterly unprotected. I don't kid myself: a helmet won't prevent the full-body trauma that is the true killer in 63 percent of fatal motorcycle accidents. But it just might absorb enough impact to keep my brain from sloshing around if something were to happen at a slower speed.
So I wear one. A distinctive one, in fact, which makes me more visible, more findable, more memorable. I encourage you to wear one too. At least we can look stupid together!
I just learned about an interesting motorcycling exhibit the other day and wanted to share the info before it's gone.
Black Chrome, a study of African-Americans in motorcycle culture, has been open at the California African American Museum since last fall, and closes April 12.
The museum website notes:
Through photos, interviews, objects and 16 tricked-out motorcycles that range from choppers to drag bikes, this California-focused exhibition spotlights the innovations and creativity of African Americans that significantly changed the landscape of American motorcycling since World War II.
Black Biker Magazine provided many of the photos for the exhibit.
One of the individuals featured is Marian "Miss Showtime" Peterson, a long-time LA-area biker who was recently appointed Road Captain of the Magnificent Seven, an all-male club in a heavily male-dominated bike club culture. That she achieved this rank is testimony to the level of respect she has achieved in that culture, writes Nadra Kareem in the L.A. Watts Times.
Do read Kareem's article – she also highlights Annette "Brown T. Sugar" Collins, founder of the LA area's first female riding club, the Hawg Divas.
Regrettably, I missed the opportunity to help promote Black Chrome during its long run. I'm working on obtaining some photos from the museum, as well as information on any of the other women featured in the exhibit.
(hat tip to LadyRayne at Talkin Stuff blog.)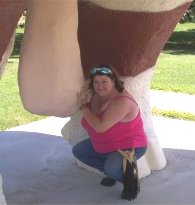 As a blogger, I pay some attention to the number of visitors that come to this site.  Biker Chick News started the year with just over 13,000 visitors in January, peaked at just over 20,000 in October (that's a record!) and will end the year with about 18,300 in December.
Some of those folks, of course, check in regularly – either through Favorites bookmarked in their browsers or by subscribing to my RSS feed. I really do thank each of you who come to this site again and again!
One of the other things I can learn from my traffic reports is which words and phrases visitors typed into the search engines to get here. Because this blog is focused on motorcycling, the search terms normally aren't too surprising – every month there are myriad variations on the 'biker chick' phrase, including "biker chicks," "sturgis biker chicks," etc.  As August approaches, I begin to see the phrases "Sturgis pics" and "Sturgis Bike rally" appear in my results. And, each month there are usually a few readers who got here having searched for "sportster ape hangers" – apparently that's something that needs a little research before making a final decision!
There are sometimes unusual phrases too, phrases that have nothing overtly to do with motorcycling, but that happen to be reflected in something I've written. I always wonder what people think who come here having searched for "Alton Brown," the Food Network host. But by far my favorite of the many search phrases that appeared in my traffic reports this year was this:
"Big Nuts."
This phrase appeared not once, not twice, but several times over the course of the year, in several different months. I'm not sure if people were looking for guys with big nuts, or those fake big nuts you can hang from the back of your car, or what.  But I certainly know which article people find when they come here looking for "big nuts," and since it's one of my favorite rides, I'm okay with that!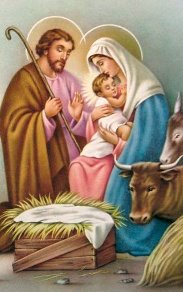 Well I can't say I will be sorry to kiss this @#$ year good-bye! The Picky Bitch is put away in the new garage (which isn't heated like the old one so Santa needs to bring me a battery tender…), and we just attended our local HOG chapter's annual Christmas party. I wanted to mention a few things that deserved mention this year, but that I never got around to mentioning:
First, a few of the gals in our HOG club organized a really neat event this year – they put together a scavenger hunt, where you were supposed to ride to various towns in Iowa (based on clues), and figure out a "theme" that bound each of the towns together. Well turns out the theme was music, so you also had to tell what each town had to do with music. While I didn't get to participate to the extent that I wanted to, it was still a great idea and a real challenge for those who did it – and a lot of work for the organizers. GREAT JOB!!
Also, our chapter's sponsoring dealership, Big Barn Harley Davidson, had a neat ongoing project this summer – it's an idea similar to one I had a few years ago, and never put together. I called it a World Tour – there are several towns in Iowa that have the same names as famous Places: Jamaica, Peru, Orient, etc. Well the dealership put together a little passport booklet and the idea was for you to ride to each of these towns and snap a photo with your bike against the backdrop of a welcome sign or other town marker. We were able to do a few of these, and although those days seem really far away now (heck they were back in May!! LOL), they were absolutely the best days of this past summer. We rode with some awesome folks, including new friends Nate & Kate and Austin & Shannon. 
We also had a nice ride to Pella back in May (li'l windy, right Garry??), and of course the Toy Run closed the season for us.
Needless to say, riding took a backseat to flooding… and then moving… in 2008, so we are definitely looking forward to trying again in 2009!
More soon… for now, here's wishing you all a warm, happy and beautiful Christmas, and a safe, healthy and prosperous new year!
…and I wish you the warmest, loveliest Thanksgiving!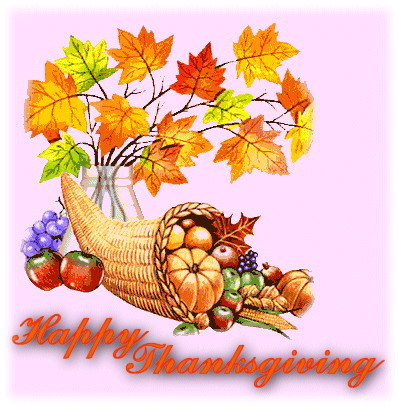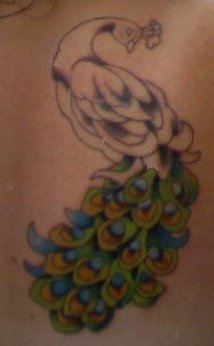 Summer has mostly passed – hubby and I did take a brief ride up to Ames last weekend (lunch at Hickory Park – YAY!!)… but that has been about it for bike stuff. On the housing front, we are ALMOST at the end of our flood journey. This week we received the proceeds from the sale of our house and we are getting ready to close on the purchase of our new home. I hope we will be moved in within two weeks, and then this long horrible odyssey will be over. And, I recently headed down to Lasting Impressions, where Laura created this absolutely perfect peacock tattoo using just some pictures I had printed out for inspiration. I obviously still need to finish it up… I got through 2-1/2 hours' worth of work on the tail, then the ol' adrenaline ran out and I couldn't stand it anymore. I will be going back to finish up in a week or so.
More soon… I sure hope there is something bike-related to talk about soon!