You may have noticed that recently I added a couple of ads to my blog over in the right-hand column – yes, for the first time in its history, this blog contains third-party advertising. Now that doesn't mean you are going to become inundated with annoying pop-ups, slide-ins, auto-play video commercials, or anything else that interferes with your website epxerience. No, it just means that I am pleased to announce a new affiliate partnership with one my favorite biker businesses: J&P Cycles!
Hopefully if you own a bike you are already familiar with J&P, the Iowa-based mail order and online aftermarket parts retailer. (If you're not familiar with them – holy cow, you've been missing out!)
The ads on my blog are an invitation and a reminder to shop with J&P for parts, accessories, apparel and gear for you and your bike. They're also a quick way to get to the J&P website directly from the blog. (So when you're reading about riding, and the accessory bug bites you, it's an easy jump over to make a purchase!)
NOTE: You do not pay more at J&P for clicking on one of my links or ads, but I receive a commission from them if you click through via my site and place an order. 
Right now my partnership with J&P consists primarily of the commission program. But, in the future I'm hoping to also offer product reviews and a closer look at some of the items I have personally purchased from J&P over the years.
In addition to their flagship store in Anamosa, J&P also has year-round stores in Sturgis, SD and in Daytona Beach, FL. And, they own and operate the National Motorcycle Museum also in Anamosa. You may have read right here on BCN that they were recently named the Official Motorcycle Aftermarket Retailer of the Sturgis Rally.
Below is a six-minute video about the history of this company that started at a motorcycle swap meet and grew into the world's largest aftermarket motorcycle parts and accessories store.
I'm excited to offer you easy shopping links to J&P any time you are visiting my blog, and to partner with this great Iowa-grown company!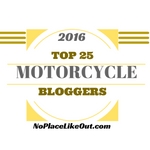 What a boost to my day today to learn that the outdoor interests website, NoPlaceLikeOut.com, had included me on their new list of – "Top 25 Motorcycle Bloggers You Need to Follow Right Now."
I am in such great company on this list – Cyrile Huze Blog? Industry leader Joann Donne? Fuzzy Galore? Traveler/adventurer Carla King? BOTH Rude Biker Chick and Steve Johnson? And so many others! Come ON, people, this is a rather amazing list. I am thrilled and honored to be included!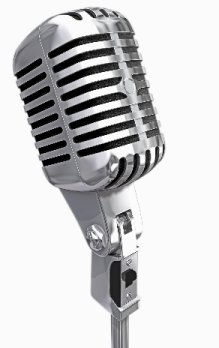 My life is largely an open book.
On this and other blogs you can read about my passion for motorcycles, hunting for vintage treasures at flea markets, family life, kids' clay art, news and happenings in my local area, and – at least for a few brief months during the last Presidential election – my political rantings.
But this year, my riding season was severely curtailed when my life took a turn that I really could not blog about. It didn't seem right or fair to the others involved to do so, and I don't think I could have focused my brain enough to do it anyway. Hence the sudden and lengthy absence from Biker Chick News, just as the riding season was getting started, in what was to be a joyous tenth year of blogging.
What I have learned – among other things – is that my passions for riding and writing remain. And staying away from those things removes me from the world in a way I don't wish to be removed. So I plan to return to both riding and blogging in 2015.
For now, let me just say that I hope your Thanksgiving and Christmas were beautiful and that your New Year sparkles!
I hope mine does too :)
With love,
Corn Dog
Wherever you are now / Whatever evil you've found / Bring all of your troubles / Come lay 'em down
In 2004, a number of really important things happened: Janet Jackson had a wardrobe malfunction; John Kerry (now Secretary of State) ran against incumbent George W. Bush for President; Martha Stewart began a five-month prison sentence, and…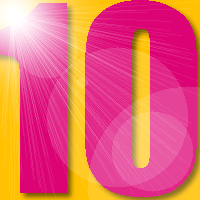 Biker Chick News was born!
That's right, 2014 marks the TENTH blogiversary of Biker Chick News! That's some pretty good staying-power, considering that a boatload of other blogs – motorcycle-related or otherwise – have come and gone over the years.
And while 10 is a pretty amazing number when it comes to blogiversaries, here are just a few MORE numbers that I find really interesting.
10 years
452 blog posts
1,054 comments
1,500 site visits in May 2006
49,032 site visits in January 2014
361,287 site visits in all of 2013
2,161 Fans on Facebook
As always, I want to say THANK YOU to everyone who reads this blog and/or shares their thoughts. I have a few fun things planned for the blog this year, and I hope you will stick around!

I do have a couple of really neat rides to report on… more on those soon, but first a little horn-tooting if I may.
I was recently offered the opportunity to write a guest post for the Allstate GoodHands Community website. They invited me to submit several topics for consideration, centered around motorcycling from a female perspective. My best thought – and I'm glad they picked this one – was to round up a little info on some of the community organizations that female riders support through rides and bike-centered activities.
Here's the post, which specifically mentions a few of the efforts I'm familiar with. If you're a woman who rides and you are involved in supporting a community organization or cause that speaks to your heart, I encourage you to leave a comment on the Allstate site mentioning your event or cause. I would love to make it an even bigger "round-up" of ideas, and I really do thank Allstate for the opportunity to contribute to their site!
Disclaimer: In exchange for researching and writing the article linked above, Allstate compensated me via cash payment. Groups and causes mentioned in my article did not pay to be included; they were included solely at my discretion.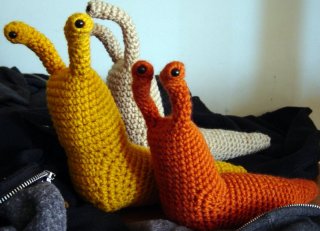 Okay, okay, yes it's been awhile since I've updated things around here. I admit it, I've been a total SLUG the entire month of September. In fact, I was going to post a picture of a slug, but boy are they ugly! So I found these sweet crocheted ones instead. Because even though I have been MIA for awhile, I am still adorable. (Photo and original crocheted slugs are by Alison at Pepperberry Crochet.)
I think I seriously need my butt kicked, need some motivation, some direction. I can read the writing on the wall, and right now it says "If you don't change direction, you're going to end up where you're headed." Which is no-where, man.
SO, in the interest of establishing the fact that yes, I still exist, I still ride, I still blog… here are some quick updates, and then I am officially "back in the game" when it comes to all of those things!
It has been a difficult summer on the job front, but I am determined to fix it SOON, one way or another. I'm currently unemployed, diligently searching in my longtime field of endeavor but not having much luck, so thinking about starting my grocery career. And I don't mean that in a derisive way at all – I mean I am seriously considering switching gears career-wise. In fact, I am feeling another line of work "sort of" beckoning to me, but I'm not sure if it's really a new calling or just another distraction that will lose its lustre in six months. Anyway, I'm working on that issue.
I have only taken a few rides, but one in particular was a LOT of fun – rode with Steve, Garry, Shirley, Janet & Gerry down to Prairie City (southeast of Des Moines) back at the end of August and we stopped at the Neal Smith Wildlife Refuge. This place is seriously awesome – an interactive educational museum and many, many acres of beautiful restored prairie land. (It deserves its own post, and I'm going to write one to go up this weekend.) I also took a couple of solo rides. They were awesome attitude adjusters, as always!
I had two more articles appear in regional motorcycle magazines – a profile of Fat Baggers, Inc. in the August issue of Throttler, and an op-ed in the August issue of Thunder Roads Iowa. My thanks to both of these pubs for the opportunity to write and connect with their readers!!
This blog topped the 30,000 visitors mark in August – wow!! There's always a surge of interest in the days leading up to and immediately following the Sturgis Rally, so I wasn't surprised by the jump in traffic. But I WAS pleased and surprised to finally surpass all previous traffic records! THANKS for lurking, reading, and commenting here!!
My birthday was back on September 17 and my dear hubby Steve gave me a gift certificate for a vanity plate for the bike. I've sent in my application and am awaiting arrival of the plate itself. I'll certainly post a picture as soon as it arrives!
Two friends who were in accidents and hospitalized this summer are now both home and recovering well. I am SO thankful!!
I do not like "Sons of Anarchy." There, I said it. I'm sorry, I know it's the Sopranos of the biker world, and I really loved The Sopranos. So it should've been a shoe-in. But, as interesting as it was to see Peg Bundy in a totally dramatic role, it wasn't enough to carry the show. And for whatever reason, the rest of it just didn't grab me. (There's still hope – "Seinfeld" didn't grab me til it had been off the air for five years and was only available in re-runs.)
I also do not like that Taco Bell commercial where the bikers ride up to the restaurant in the middle of nowhere. I mean seriously, do you SEE that dude dragging his foot as he skitters to a stop? (Maybe I've been watching a smidge too much TV…)
Okay, can you tell it's 2:30 a.m. and I'm FINALLY getting tired? :) More soon – really!
A big THANK YOU to all who participated in the drawing to win copies of Sonny Barger's new book, "Let's Ride"! The winners of the books, whose names were drawn randomly by Corn Dog's teen-age daughter and then notified via email by Corn Dog, are:
Jules B., aka "Dr Tigger" of Rhodes, Iowa, and
Cathie K. of Clermont, Florida
Congrats to Jules & Cathie!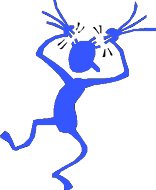 A new "real" post is coming up shortly! For the moment, if you're reading this, please take a moment to attempt to leave a comment on this post. I say "attempt" because I've had reports from some readers that comments they've left are not appearing on the site. (And, I'm pretty sure a few comments that WERE here – are no longer here!) I have no idea how to begin trouble-shooting these issues, but thought I would start with a quick test to see if I can isolate the symptoms. So – click on the "comments" link and write something, and we'll see if it shows up! Thanks!

I bought a Motorola Droid for use with my Verizon wireless service this past weekend, and discovered a neat website called www.womenwithdroids.com. What I noticed was that the site had a "mobile edition" that appeared by default on my new phone, while still giving me the option to view the full site in a browser. I loved the idea of offering a fast, slimmed-down version of the blog content on the small device, so decided to create one for BCN.
So – if you're visiting Biker Chick News on an iPhone, Droid, or other smart phone, you're probably getting our new mobile edition! I'm excited to provide this feature – it offers "just the basics" of BCN in an easily readable format for smaller screens:
The top 10 most recent blog post headlines – a click takes you to the full articles complete with photos.
Links to the full "About" and "Archive" pages
The text of the "About page" in its own little box.
A link to exit the mobile edition and view the full website.
Of course, the full site includes so much more – that's what your device's web browser is for – but for a quick and easy way to keep up with the blog, hopefully you'll dig BCN Mobile.
(By the way, if you blog using WordPress and have the capability to use plug-ins, try the plug-in available from AlexKing.org which auto-generates the mobile edition.)
Been spending a little time lately setting up some tools to help folks find Biker Chick News in a few more places on the web.

First, I created a Facebook Page, Biker Chick News. I like Facebook a lot for connecting with old friends and keeping up with everyone in my life. The blog's "fan page" is a little different from my personal Facebook page – it's designed especially to keep "fans" updated on what's new at the blog, AND I've also enabled the "discussions" feature so if you want to ask a question or just start a topic for conversation among other "fans," you can do that too!

I'm also an occasional user of Twitter. Conan's late-night scoffing aside, I found that twitter was really useful in my previous line of work. But, I was "tweeting" a combination of things from work and personal life, which I think was a bit confusing to the friends who were (are) following me. I don't tweet much for work anymore, and most of my personal stuff is bike-related. So I decided to set up a new account under the name of the blog so the bike-related stuff I'm sharing would be associated with the blog. So, short version: if you use Twitter, you can follow @BikerChickNews and that will be me!