A monthly feature news publication here has a very nice piece in their June issue about women's riding groups in the Des Moines and central Iowa area. Cityview's Cady Colosimo talked to a number of women about their reasons for riding, their experiences, and the groups they ride with. I've linked to the online article below – you can also pick up Cityview free of charge in supermarkets and many other venues around the area. Take a look!
"Unbridled Freedom: Who Said Diamonds are a Girl's Best Friend?" 
The Chrome Divas of Des Moines want you – and your bras!!
My awesome group of biker gal-pals, the Chrome Divas of Des Moines, is hosting a women's motorcycling social event THIS SUNDAY, June 11! This is for women in the Des Moines and central Iowa area who ride their own, ride pillion, or even just love motorcycles. We're asking you to please bring a clean, gently-used bra as a donation to an organization called RangerLady.org, which provides personal garments for women in shelters and locked mental health communities. Yep, we mean it – bring us your bra!
The event is not an organized ride, and not a membership drive… just a fun social and bra-collecting event to be held at Sambetti's, 1430 – 2nd Ave. in Des Moines, on Sunday June 11 from 2-4 pm.
If you are in the area, we hope you'll join us for great lunch specials, set-aside biker chick parking, and a fun social time with like-minded women… and bras!
Note: Sambetti's is also open for regular business on Sunday. Riders, please enter on 2nd Avenue and proceed to the back/upper parking lot. If you're caging it, get there early for front-lot parking, and/or park next door at the brake shop!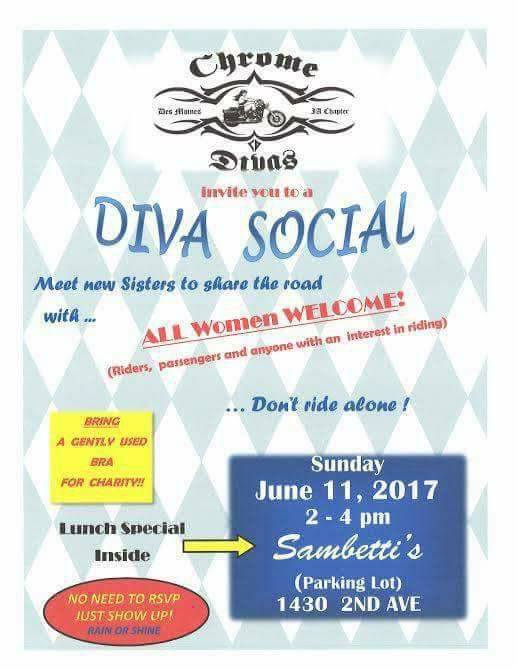 Okay okay, yes it's been since February (FEBRUARY, people!) since I last updated my blog… but I can assure you, I'm still here and I do still ride.
In fact I have ridden nearly TWO TIMES already this season. Nearly two! Okay so that's really only one, but that is nearly two so technically the previous statement is correct.  You see, I have kind of lost my riding mojo over the last couple of years… never really sure I want to get started at the beginning of the season, coming to a point where I don't really care whether I ride again… and then finally taking that first ride and realizing, yes, I still love this.
Now in my defense, I didn't go to the motorcycle swap meet because of my pissy attitude but also because normally the swap meet is kind of a turning point for me in the non-riding season where I can see that Spring is just around the corner. But this year, winter was really mild – we never even had one snow where I had to use the shovel – not one! And certainly not "nearly two"! So I was just sort of "meh" on the swap meet this year. I'm sure it was great, because it is motorcycle parts and a custom bike show – what's not to love??
Then March was full of cold and rain, and then in April I did take my first ride but then the Bike Blessing at Big Barn was rained out (cancelled, even!) toward the end of the month and that meant our Chrome Divas ride was also a bust. Last weekend was nice, but I was doing other things… but… but… THIS weekend looks like it's also going to be nice, so I will be headed out. Where, exactly, I have no idea but… I'm going!
Also, I have an appointment on Saturday morning that hopefully will result in something really fun – so stay tuned, I'll report on that ASAP!
I did take what qualifies as the "first ride of the season" not too long ago… I did a southerly loop from my home in West Des Moines down Highway 28 to 92, then west to Indianola and back up my old favorite, R63. I have to be honest: the only thing I could think of at first was really morbid "what if I crash"-type stuff. But by the time I got home, my mind was right and I had had a few miles of fun.
All this said, I'm blaming the lack of a horrible Winter for the sense of non-urgency I feel about riding this Spring, and I will soon be out and about. Here are a few upcoming events in the area… not saying I'll be there, but if YOU want to go, here they are:
May 13 – 22nd Annual Blessing of the Bikes sponsored by F&J Racing of Marshalltown, 2-4 pm.
May 19 – Indianola Bike Night, 5-10 pm on the Square in Indianola.
May 20 – Rescheduled Blessing of the Bikes at Big Barn Harley Davidson, with Christian Motorcycle Association and ABATE of Iowa, beginning at 10 am.
May 21 – ABATE of Iowa Thunder Ride to honor Vietnam Veterans, leaves at 11 am from Southridge Mall parking lot, goes to the Vietnam Memorial at the State Capitol.
There's way more than this, of course… Indianola Bike Night, 2nd Avenue Bike Night, bike nights in just about every town around… see a more complete list on the Facebook page for Thunder Roads Iowa!
Okay now you are up to date… more soon, for real!
Holy crap, I am way behind! Okay just wanted to be sure you all knew – because I had lost track – that the annual Capital City Custom Cycle Show & Swap Meet is coming up THIS weekend, February 11 & 12 here in Des Moines. For years, this event was held at the Iowa State Fairgrounds – but this year, it's being held at Seven Flags Event Center in Clive. Here's the scoop:
Custom Cycle Show & Swap Meet
February 11, 10 am – 8 pm
February 12, Noon – 6 pm
Seven Flags Event Center
2100 NW 100th St., Clive, Iowa
This is always the turning point event for me – once the swap meet passes, it's SPRING, baby!!
If you're local, or even if you're not and you're looking for something bike-related to do in the middle of Winter, this event is it. Will be interesting to see what the new location has to offer!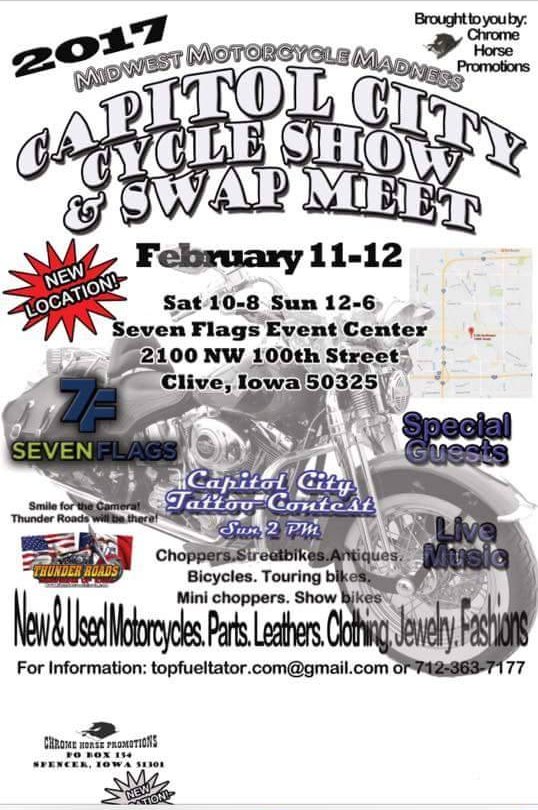 Hey all, I hope you had a fantastic holiday season and are off to a great start in 2017! I received an email recently letting me know that the Daniel J. O'Neill Law Office in San Luis Obispo, California is giving away some motorcycle safety gear, so I wanted to be sure you had a chance to enter to win one of these items.
Gear choices for the winners include an HJC full-face helmet or a pair of Alpinestars GPX gloves. The helmet features a lightweight advanced polycarbonate composite shell, moisture-wicking interior, and advanced channeling ventilation system. The gloves feature a patented third- and fourth-finger bridge, and Dynamic Friction Shield (DFS) knuckle protection system.
To get your entry in, click the link below and be prepared to share your best motorcycle safety advice. Winners will be announced on January 27, so do this now!
O'Neill Law Firm safety gear giveaway entry form
More soon!
October 3, 2016 marks the 10th anniversary of the publication of this post from my original blog (long since dissolved into the internet ethos), "A Blogger Looks at Forty."  I have updated the math in the dates referenced near the end of the piece; the rest remains unchanged from the original post. Thanks for reading about these two crazy, special women. 
Why did Janis Joplin call me today?
While dressing for work I decided to take a few CD's with me, and Janis's "Greatest Hits" was one I happened to grab. At work, as I popped it into the computer to play, I studied the photo used for the cover art. It's Janis in a red peasant blouse, a slug of bracelets on her wrist and beads around her neck, perched on a motorcycle and staring out with a grin through those big round glasses.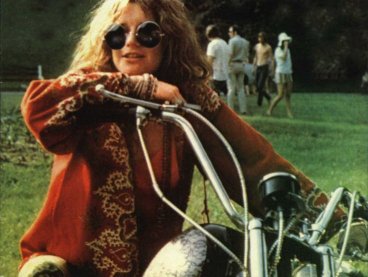 I'm feeling an odd connection to her since I started riding my Harley, but it's not because I identify much with her music or her lifestyle. (I can't get enough of her "Me and Bobby McGee" recording, which was released posthumously, but I can't say I've been a lifelong fan. And the drug culture she embraced – well that's just not my thing and never has been.) I think it's just that she embodies the freedom of spirit I feel when I'm on the bike – even though the music itself doesn't speak to me that strongly, her sense of self and the outward expression of it certainly do.
As I stare at Janis's photo, I take in her look. It's a strong, rebellious statement, one I am too straight-laced to mimic or adapt. She has, however, always kind of reminded me of my sister – from her general appearance to her hard-partying lifestyle and, ultimately, her untimely drug-related death. The photo of Janis on the motorcycle in 1970 could easily have been my sister Kathy in 1980. (Kathy rode pillion her entire life. I like to think she would've followed my example and learned to ride her own eventually, though it would have bugged the crap out of her that I'd thought of it first.)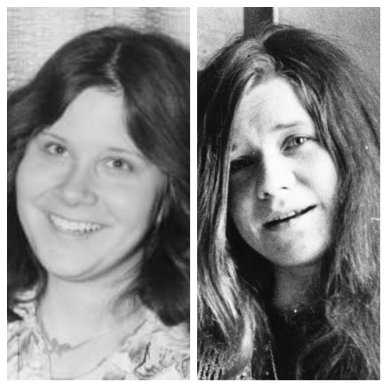 I look up a few more images of Janis on Google, continually struck by how much she looks like Kathy and still trying to figure out why I'm suddenly so interested. I visit the official legacy website managed by Janis's family, follow a couple links, and read a chronology of her life events. And a date pops out at me. October 4, 1970: the date that Janis died, at 1:40 in the morning, from a heroin overdose. It occurs to me that that is tomorrow's date. Is that why I thought to grab Janis's CD this morning, because for some reason I am supposed to mark that occasion?
I glance back at the photo and this time the resemblance to Kathy is almost over-whelming. And I realize: if tomorrow is October 4, that means today is October 3. And October 3 is the day Kathy was born.
And so, while not a week has gone by since Kathy's death from cocaine overdose that I haven't thought of her, it occurs to me that perhaps Janis called me today to make sure I didn't forget my sister on her birthday. So while I'm taking a moment to acknowledge Kathy's short, tumultuous life, I'll also give a nod to her famous sister-in-spirit. I'll reflect for just a moment on the fact that 46 years ago today, a kid named Kathy was celebrating her 10th birthday and a singer named Janis was living her last day on Earth. And both were probably thinking that forever still stretched ahead.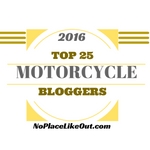 What a boost to my day today to learn that the outdoor interests website, NoPlaceLikeOut.com, had included me on their new list of – "Top 25 Motorcycle Bloggers You Need to Follow Right Now."
I am in such great company on this list – Cyrile Huze Blog? Industry leader Joann Donne? Fuzzy Galore? Traveler/adventurer Carla King? BOTH Rude Biker Chick and Steve Johnson? And so many others! Come ON, people, this is a rather amazing list. I am thrilled and honored to be included!
Note: Leslie Cook, who created the Wind Therapy line of hair and skin-care products, recently sent me samples of her products for my honest opinion about their use and effectiveness. Below are my thoughts!
Between the street in front of my house being closed for reconstruction since June 9 (JUST re-opened a couple weeks ago!) and temperatures in the mid-to-upper 90's the past few weeks, I haven't done much riding since early June. BUT – I did finally get to venture out with the Chrome Divas on Saturday the 23rd. More about that soon!
What I really want to tell you about is that I finally got an opportunity to give a "fair trial" to some new personal care products for women who ride.
Maybe you have already heard about "Wind Therapy" – a new line of skin and hair care products from rider Leslie Cook. If you haven't tried them, I hope you will! Leslie was kind enough to send me some samples recently, and I promised I would provide you-all with a recap of my experiences using them. I felt a little funny doing that, however, knowing I wouldn't be trying them on a motorcycle ride – the very activity they're designed to improve.  So while I've had the products for a few weeks, I finally was able to try them over the weekend.
The product samples I received were Wind Therapy Shielding Lip Conditioner, Shielding Skin Conditioner, and Shielding Detangler. I used all three as directed, during and after my ride on Saturday the 23rd.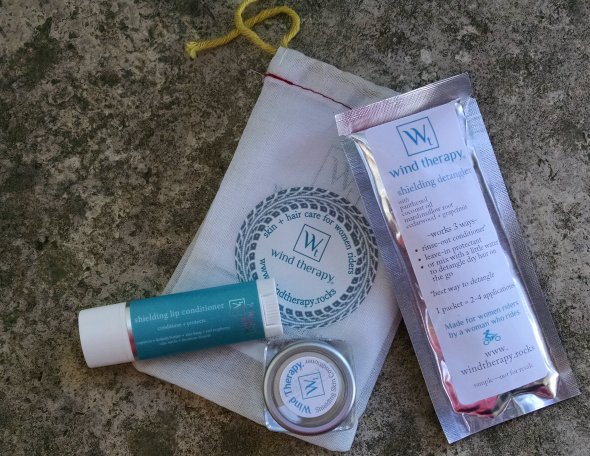 Shielding Lip Conditioner – I have a love/hate relationship with lip balm. It is the one thing I almost always forget to take with me, and begin to miss it after about 60 miles on the bike. So I usually end up buying some at a convenience store, and as a result I have probably ten of them floating around the house at any given time. My product of choice has always been Chapstick. What I dislike about Chapstick is how thick it feels once applied, and how "goopy" it gets after being on my lips for some time. Wind Therapy Shielding Lip Conditioner does not have these issues. It feels like a thin, sheer layer on my lips, and feels the same after a 90-mile ride as it does when first applied. It has no flavor or scent. When I use it overnight, it works continuously to keep my lips hydrated and soft.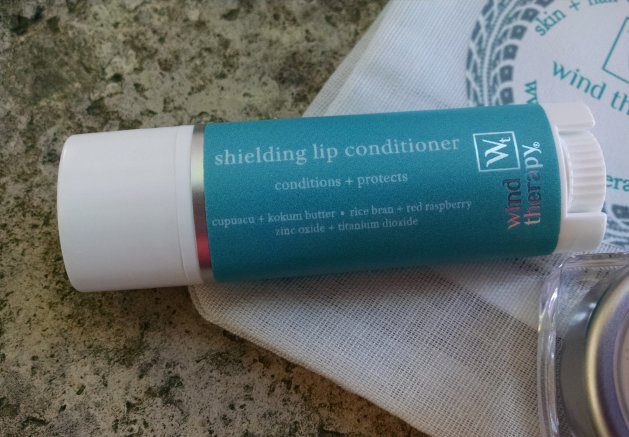 Shielding Skin Conditioner – My normal routine when prepping for a ride is to apply a large helping of moisturizing lotion to my arms and face, followed up with a heaping helping of sun block. The main problem I have with this method is that these exposed areas feel like they are covered with sludge by the time I get home – a layer of dirt and dust sticks to me precisely because of these products. What I appreciated about the Wind Therapy Shielding Skin Conditioner was that it seemed to alleviate this problem. It kept my skin hydrated, without the heavy feeling of a thick layer of lotion. It felt light and non-greasy when I applied it to my arms and face, and my usual layer of sunblock therefore also felt lighter because it didn't have the thick undercoat.
This product also has a light fragrance, but I must confess I did not care for it – it seems too "mediciney," more like a medicated lotion such as Sarna. (This complaint was alleviated once I put on my tropical-scented sunblock.) I did like the "weight" of the product on my skin, though – it seemed to literally disappear when I put it on, rather than feeling like a thick layer – as well as the job it did protecting my skin from drying out.
Shielding Detangler – This is the product I assumed I would need the least. I keep my hair fairly short, and I wear a helmet when riding. So, honestly, tangles are not really a problem for me on the road. (More about how I used it in a moment.) I will say, that what's unique about this product is that one of its uses is as a detangler during a ride. To do this, you simply wet your hands and work the detangler into your hair. There is no need to immediately rinse it out – you can leave it in your hair.
While I didn't try the product in this way, I did give it a try as part of my usual hair care routine: I simply used it as a conditioner after shampooing my hair in the shower. My routine here is to first shampoo, then use conditioner, all of which of course I rinse out. Out of the shower, I pat my hair with a towel so it's not dripping wet, then comb it out. In this use, I was really surprised at how easily I was able to pull the comb through my hair – usually tangles remain, but with this product, they did not. Once fully dry, my hair had a soft and smooth texture that was nice, but I feared would prevent it from holding my usual style. I'm happy to report this wasn't the case – my hair held its style with no problems. And, it worked better at removing the post-shower tangles than other conditioners I've tried!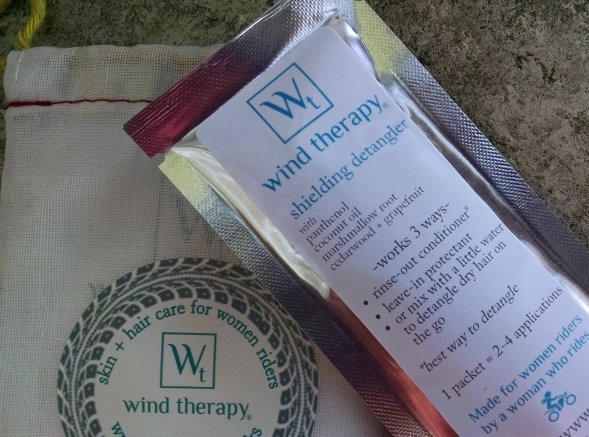 Overall, while I know there are others who can give the Wind Therapy products a more rigorous trial, all the products I tried were more effective than the brands I currently use and felt "lighter" on my skin and hair. I absolutely loved them and appreciated the chance to try them out!
Please connect with Leslie on Facebook, and through the Wind Therapy website at www.windtherapy.rocks!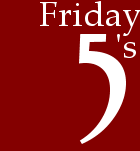 I wrote recently about things car drivers do that annoy and endanger bikers, but I know in all fairness that the reverse is probably also true: sometimes, bikers do things in traffic that annoy drivers, things that are dangerous and/or illegal. Here are a few that come to mind.
1. Block traffic when riding in a group. I'll admit, this practice makes me very uneasy. When there is a large group ride, sometimes a rider or two up front will pull out into an intersection and stop, blocking the oncoming traffic from one or both directions so that the entire group can pass through the intersection en masse. I've been in the midst of it, and certainly it's beneficial to the bikers… but I imagine highly annoying to the drivers who have their own business to attend to and don't care about keeping your group together. I don't think the police are terribly fond of this practice either.
2. Hot-dog in traffic. It scares the holy hell out of me – and pisses me off – when I see a rider doing a wheelie (or any stunt) in traffic. I mean seriously – it might give the biker their jollies but if they crash they will be creating needless trauma for any motorist who sees them hit the pavement and/or runs over them because they couldn't stop in time, not to mention endangering their own life and the lives of others. Completely irresponsible, as are excessive speeding and attempting a rolling human pyramid.
3. Ride without regard for their passenger's safety. Now add to the above, a passenger on the back of an irresponsible rider's bike and you have – an asshole. An asshole who puts another human being at risk of losing their life just so the rider can show off a bit. Of course, you don't have to be a stunt-riding jerk to be guilty of disregarding your passenger. Another example of this is when I see someone with a child on a motorcycle that is too small to reach the footpegs, riding on the gas tank, not wearing a helmet, etc. etc. Seriously, I can think of no likely circumstance where any of this is acceptable. And don't try to tell me about your four-year-old dirt bike prodigy. If he's on YOUR bike and he can't reach the pegs, he should not ride on it. If you are going to ride like a hot-dogging jerk, or even if you are just an idiot in general, do not subject a passenger of any age to your dumb-shittery and poor decision-making.
4. Lane-splitting. Although this practice is legal in California, I am not sure I'd ever have the balls to do it. (Well maybe if I lived in California where it takes 9 years to get across town…) I read a piece via Twitter recently, on the website RideApart, which referred to lane splitting as "… the most natural act of the motorcyclist." (Really? Because I can think of at least five other things that are more natural for a motorcyclist than trying to thread their bike through the "needle eye" gauntlet of pissed-off stop-and-go traffic.) While the article does state that this practice can have "dire consequences," the writer nonetheless encourages riders to practice this skill:
Find a long red light in town where cars tend to back up in two lanes or more, then try and approach it just after it turns red. Carefully pick your way to the front of the queue, quickly calculate the time remaining on the red and, if there's enough, squarely plant yourself in front of one of the lines of cars, claiming your rightful territory.
Um — rightful territory? I'm pretty sure your "rightful territory" is back there in line, behind everyone else who got there ahead of you. But apparently not in California, nor in Sao Paulo, Brazil.
5. Park selfishly in a busy parking lot. This one's relatively minor as far as infractions go, but I'm sure road rage has been waged over much less. Still, it's one of those acts of courtesy you can perform to show the general public that bikers are not all hot-dogging dumb shits. What's parking selfishly for a motorcycle? Arguably, one bike per space when open spaces are at a premium is one example. It should be noted that you are absolutely entitled to one whole space of your very own. You do not HAVE to park two to a space. So it truly is a courtesy if you and your pal park together, assuming you can do so safely. Cagers should thank you for this. But chances are they won't, so perform this random act of kindness like you would any other – without expectation of reward. Other bike parking sins: parking over the line so your bike takes up two spaces… parking in the diagonally-lined space next to a handicapped spot… blocking someone in… unless it's this person. You can block this person in: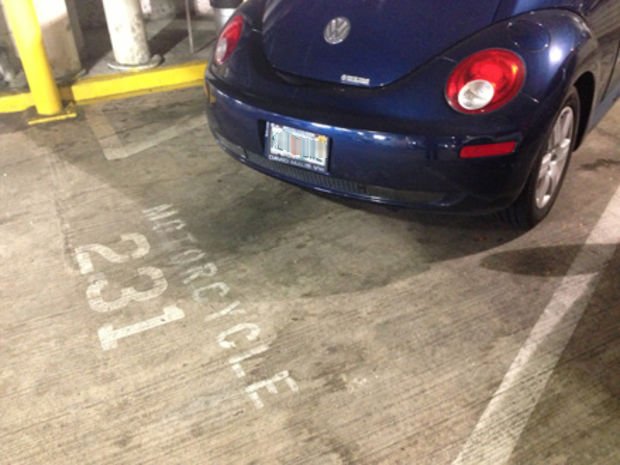 BONUS ITEM 6. Mouth off/instigate road rage. As a motorcyclist, it's pretty hard to bite your tongue when some jerk cuts you off in traffic, refuses to give you room, or any number of sins. And I'd say it's probably well-understood that if one person mouths off in traffic, the other one will probably respond in kind. Cagers need to understand that motorcyclists are vulnerable, so it takes less to piss us off and we are perhaps more vocal about it when it does happen. But bikers also need to sometimes just take a breath, be grateful they are still "shiny side up," and move on. Or do like I did: once when a woman turned left in front of me, I went to give her a piece of my mind by pressing my horn button with special emphasis, and hit the turn signal instead. I'm sure the blink-blink-blink of my left-turn light really let her know that I was furious!
What are other things bikers do that give us all a bad name?
Over time this blog has become a bit of a "love letter" to my home state of Iowa. As I've said before, I believe that every town in this state has something to recommend it: some sort of attraction, historic marker, great diner, or even roadside oddity. I am always excited to discover something new, and when you add in a scenic route to get there and the company of wonderful people, it just makes for some really great days.
Last summer, a few of the Chrome Divas made a fun discovery of this type when we rode to Oskaloosa and visited the Nelson Pioneer Farm & Museum. Now Oskaloosa is a great destination for several reasons, but the Pioneer Farm is rather special because it gives visitors an up-close, hands-on look at the way life was in the 1800's-early 1900's on an Iowa farm.
This ride took place in late May of 2015. By all accounts our Saturday should have been a wonderful upper-70's kind of day. Instead, we left Des Moines under clouds with temperatures in the mid-50's. I don't think it broke 60 all day. We did hit just a tiny spit of rain, but fortunately that didn't turn into anything major.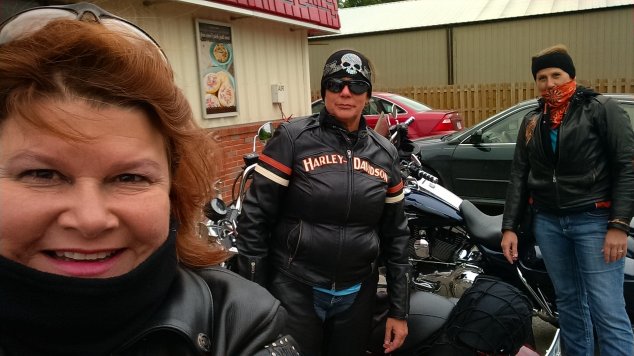 Val had planned the ride for us with the intention of having lunch in Oskaloosa. This was also a great choice for Seven Over, because she was participating in not one but TWO summer-long Scavenger Hunts and needed a couple pictures of herself in this area – one of them being at a "mule cemetery" located at the historic Nelson Farm.
The route to Oskaloosa was (as always in Iowa) beautiful despite the clouds, taking us on a meandering path through southeastern Polk County, then over to the tiny town of Monroe on a very nice (new to me) county road marked F70. From here it was south on Highway 14 to Highway 92, and east into Oskaloosa.
We parked on the square and had lunch at Smokey Row, a local place which we learned was housed in an old movie theater – obvious and evidenced by the presence of the original marquee, which now hangs inside the restaurant and is fully lighted. It was quite the display, and we managed to have some fun with the large statue at the front of the room as well. (We did not similarly molest the proud and regal statue of Chief Mahaska out on the Square. I'm sure he appreciated our modesty.)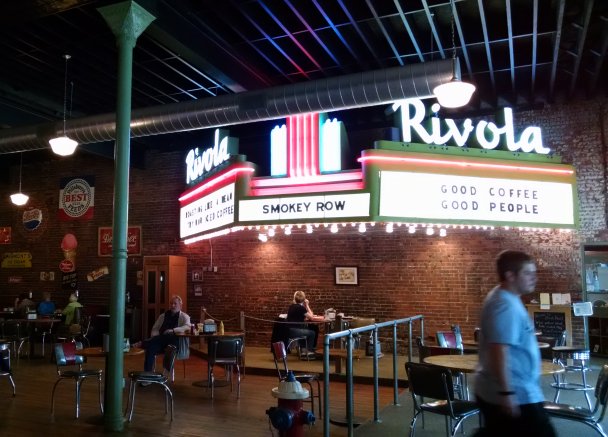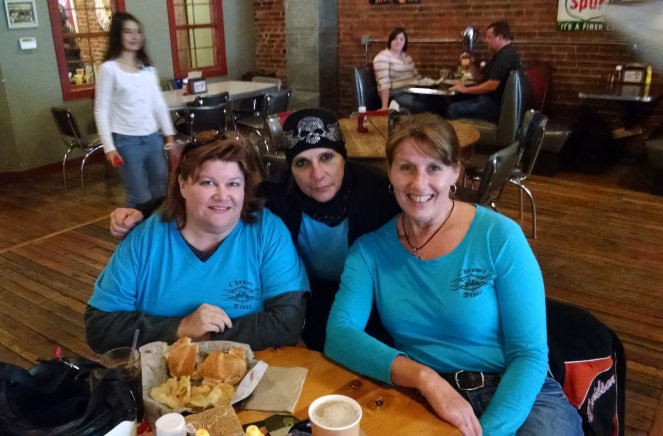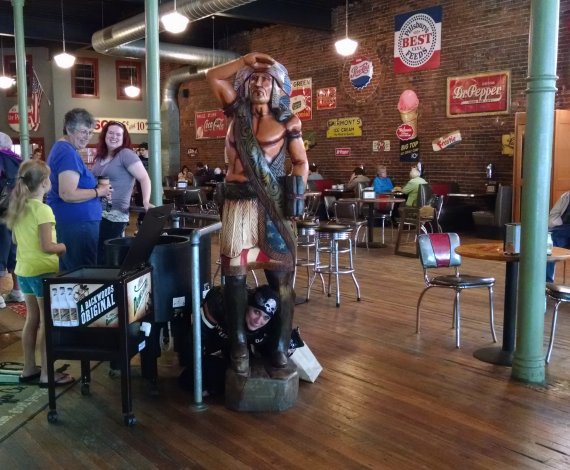 After lunch we set off to find the mule cemetery, which was easy because it was kind of front-and-center at the Nelson Pioneer Farm & Museum property. Turns out, the original settlers of this farm had two white mules, Jennie and Becky, buried on-site in 1888 and 1897 – both animals served in the Civil War and were 34 and 42 years old at the time of their respective deaths.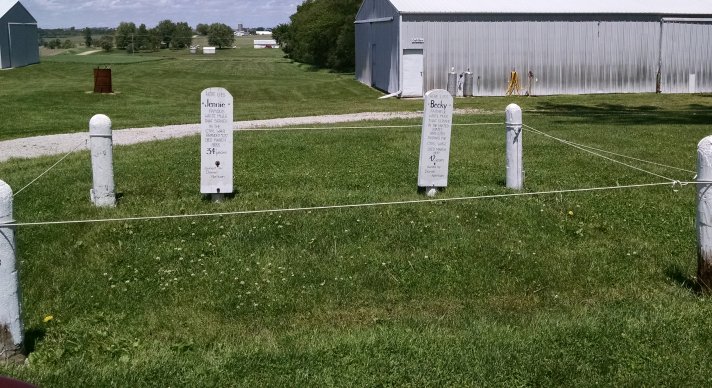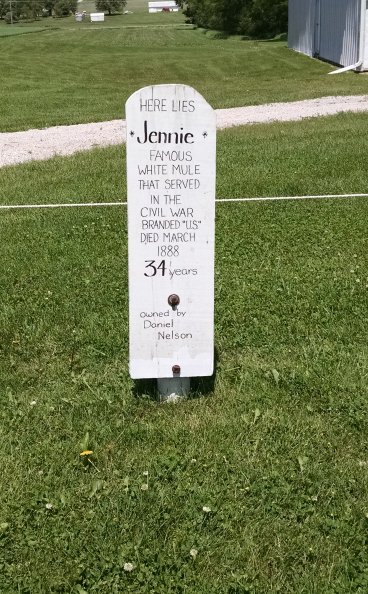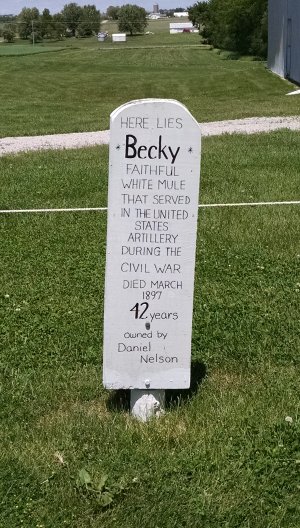 As we were gathered in front of the little burial plot, a person we assumed to be a groundskeeper came up from one of the utility buildings and greeted us. This was "Joe," whose last name I did not get but who – as it turned out – was a former mechanical engineer at Disneyland in California who had had enough of life as an Imagineer and retired to Iowa. Once here, and looking for something to keep him busy, he took the opportunity to do some odd jobs around this little historical farm/museum and ended up in charge of the property care-taking.
Joe was pretty keen on giving three goofy biker chicks the low-down on the mules Jennie & Becky, and invited us to also see the original log cabin that was first built on the property.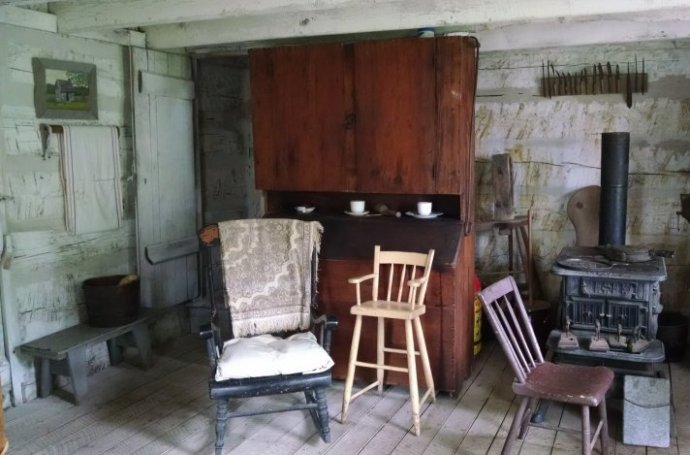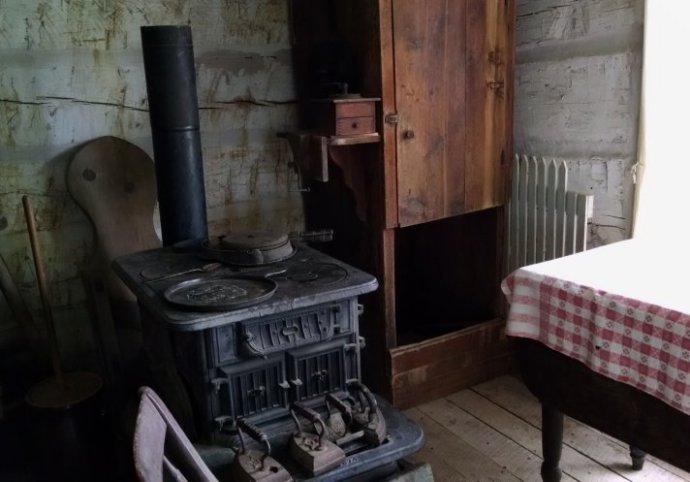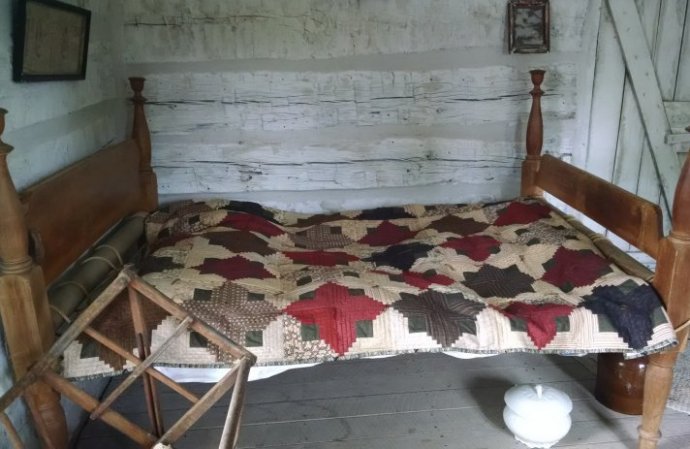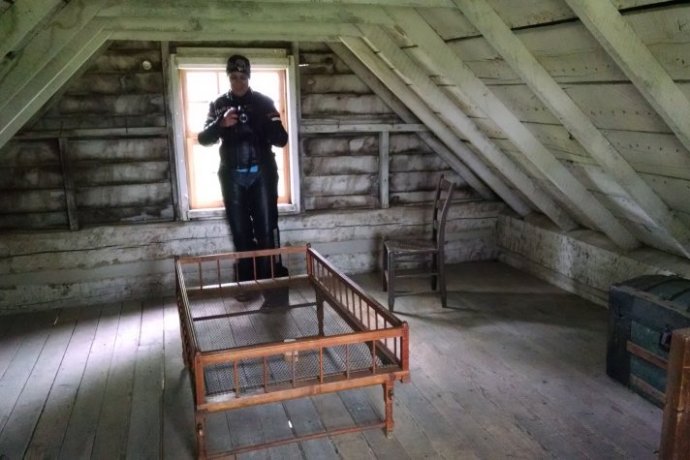 From this point forward, as Joe told us more and more details about the farm, he would mention in passing some other building – and then invite us to see it. So as it turned out, we got a very detailed tour from a person who knew literally every nook and cranny of the place. We saw not just the original cabin but also the larger two-story brick house built in 1853…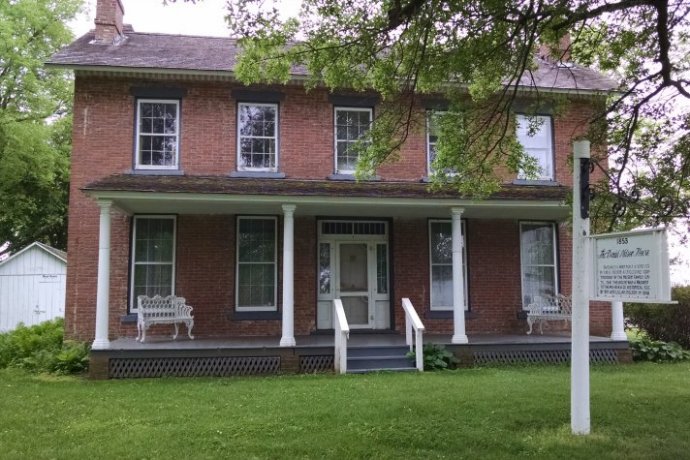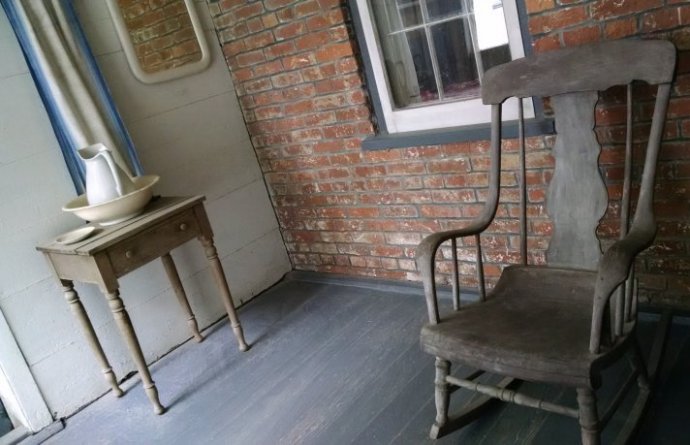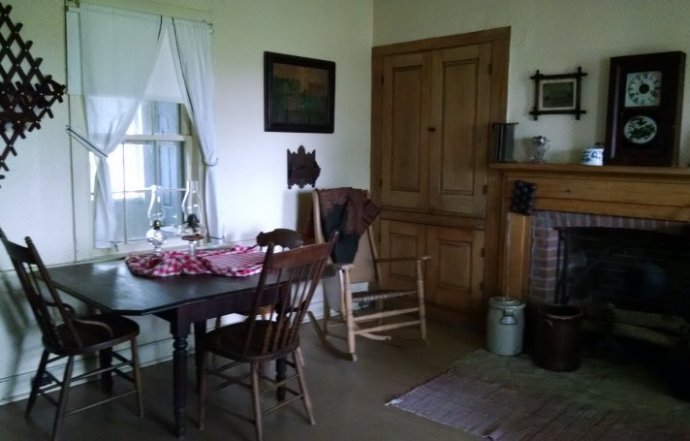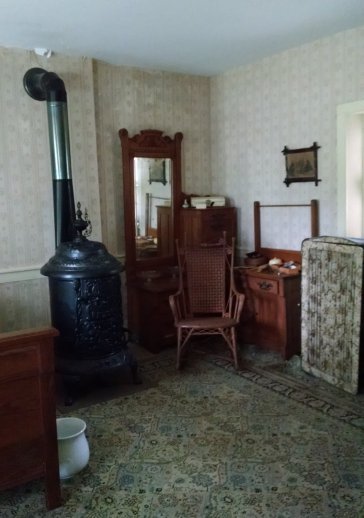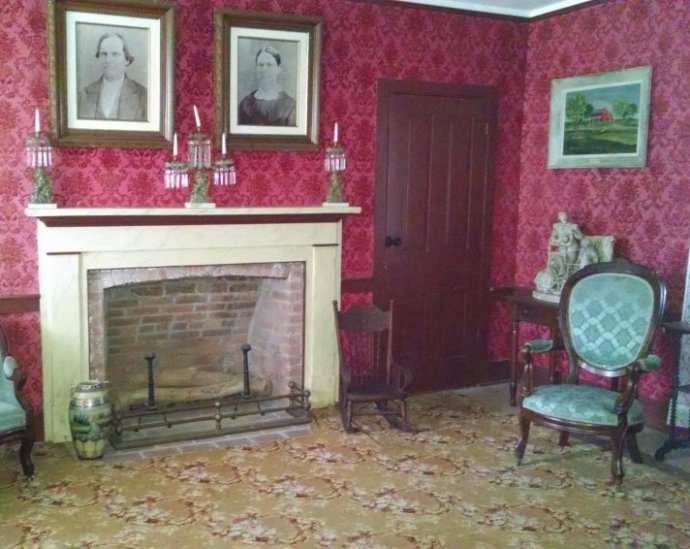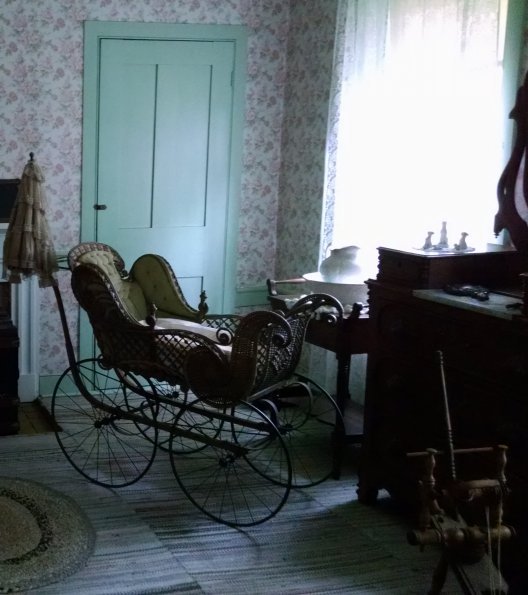 … the summer kitchen and "meat house"…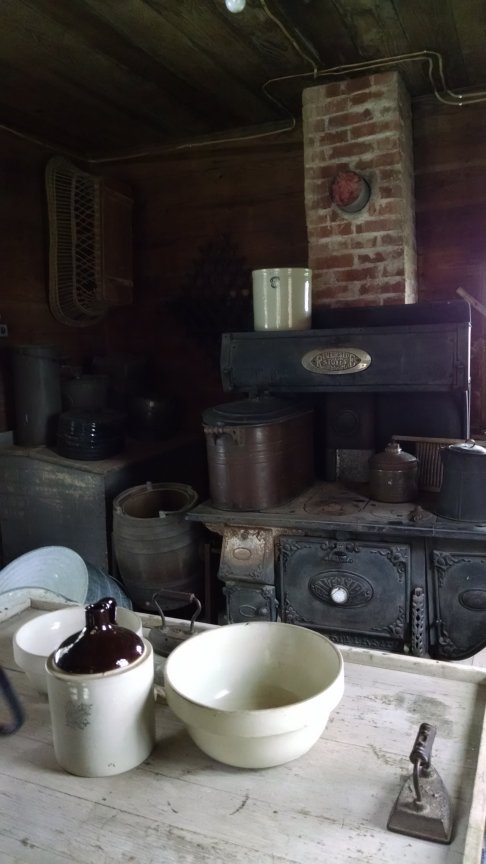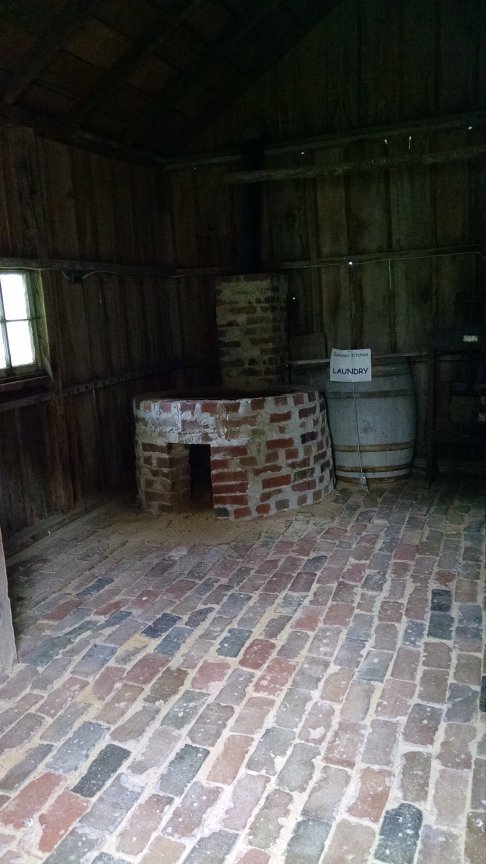 …the occasional odd contraption such as this underground storage unit…

… and the carriage and workshop barn.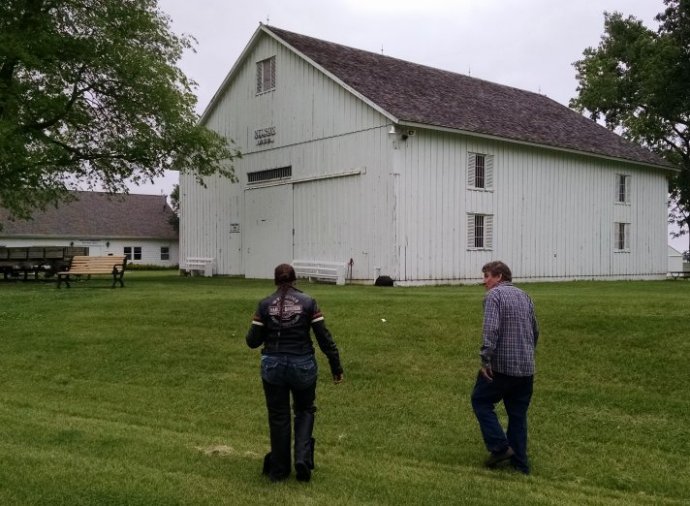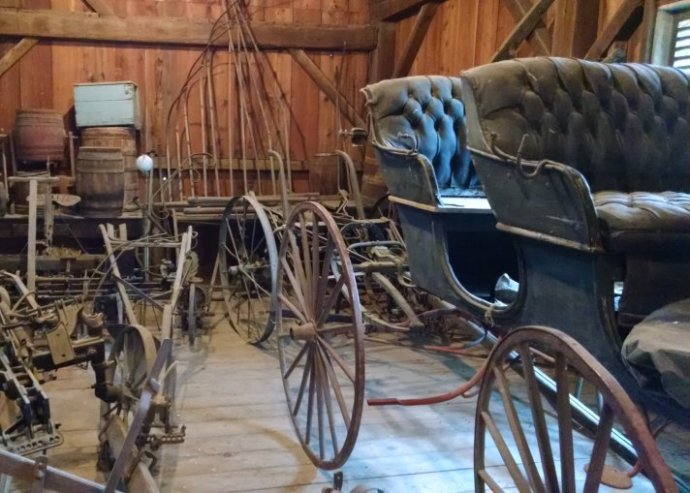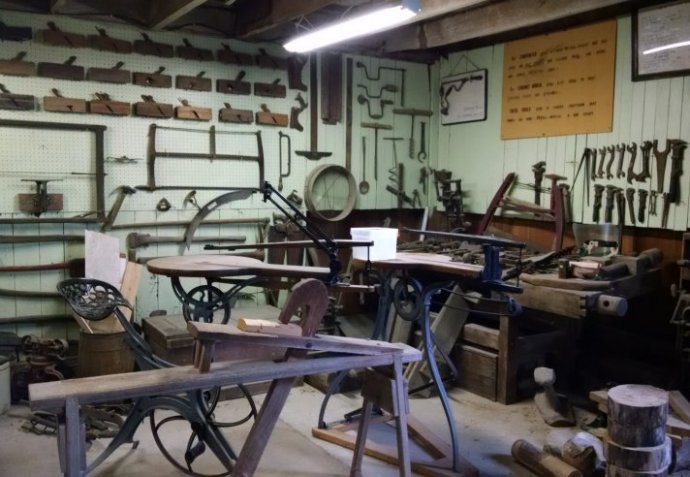 With these buildings we took about two hours of Joe's time – and when we finally ended up at the actual museum building itself, he accompanied us through that and gave us the official museum Scavenger Hunt list to complete. At this point we also met the manager of the museum. She and Joe both work on behalf of the Mahaska County Historical Society.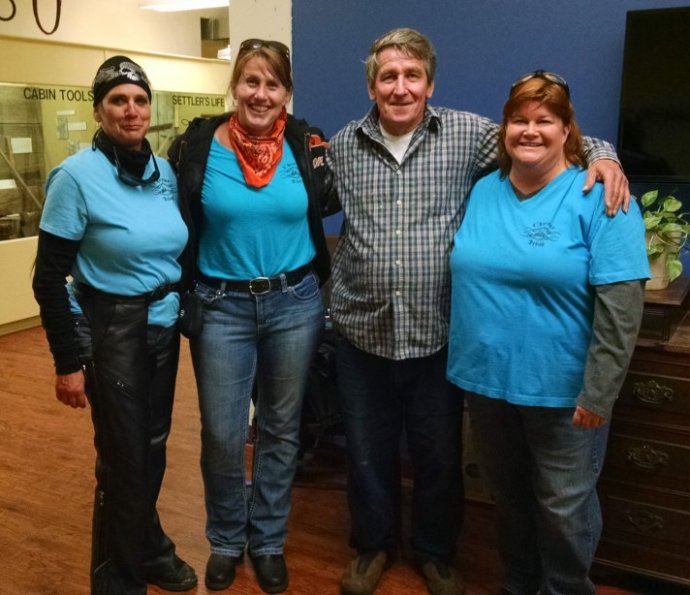 This was a really wonderful place and I think our sincere interest in the antiques and stories, and of course our animated and silly antics/bad jokes, perhaps encouraged Joe to share his knowledge. We so appreciated it!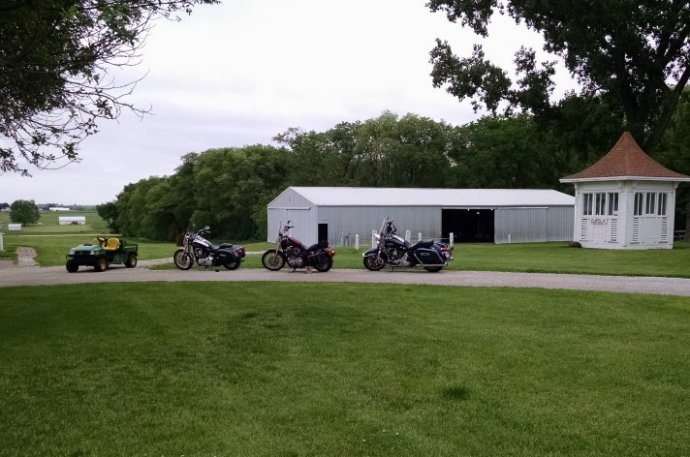 Because we had spent so much time at the museum, we took a fairly direct route home along Highway 163 which put us back into Des Moines on the city's east side. It was a fantastic and memorable day, and the Nelson Pioneer Farm & Museum is one of Iowa's true historic treasures.