This post was reviewed and has been certified accurate by the Sturgis, SD chief of police. That's no shit! Thank you, Chief VanDewater, for your time and expertise!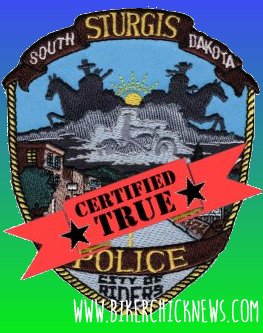 You might think that the Sturgis Rally is a big ol' free-for-all, behavior-wise, because those are the stories your friends brought back: "Chicks walk around topless, burnouts in the street… the cops look the other way 'cuz there's just so many people, plus the city loves the money you spend so no one's gonna harass you."
All of these reports can be summed up in a word: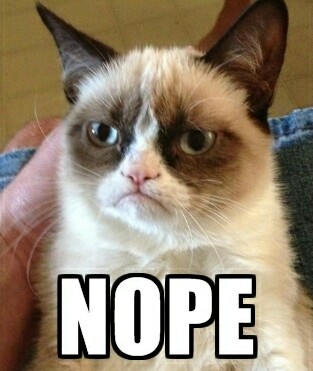 Now sure, some people get away with things. But that doesn't mean law enforcement isn't trying. In fact, officials make hundreds of arrests, and write hundreds of tickets, every year during the Rally.
In the interest of keeping you out of  jail, and just in time for your upcoming ride to the 77th Annual Sturgis Rally, here are ten things you might have heard were tolerated in Sturgis – but in fact, will get you a ticket and/or arrested if you are observed by law enforcement.
Going topless or nude in public. And no, body paint is not an acceptable cover-up. Pasties and undies, at a minimum. And really, haven't you found it's actually better to leave something to the imagination? I know, we've all seen the pictures.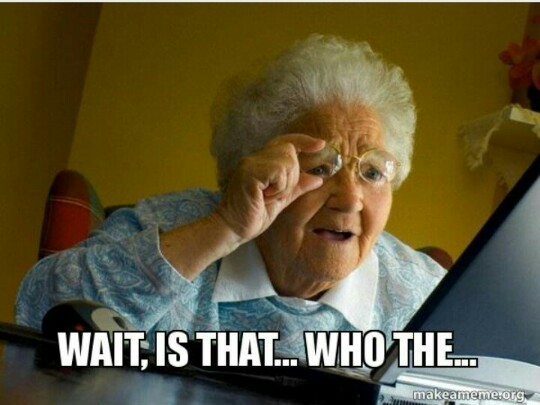 Leaving your bike parked at the rally overnight. It might seem better than getting a DUI, and clearly, NOT riding drunk is always better than riding drunk. DO NOT RIDE DRUNK. But also, just know that it's going to be spendy getting your bike out of impound, and it WILL be impounded if left on the street overnight – even if you're sleeping on it. You are an adult, figure something else out besides leaving your bike on the street and besides riding drunk.
Ignoring other Parking laws. The presence of all those bikes does not negate city parking rules. Don't park in alleyways, in handicapped spaces, along yellow curbs, etc. Normal parking laws must be observed.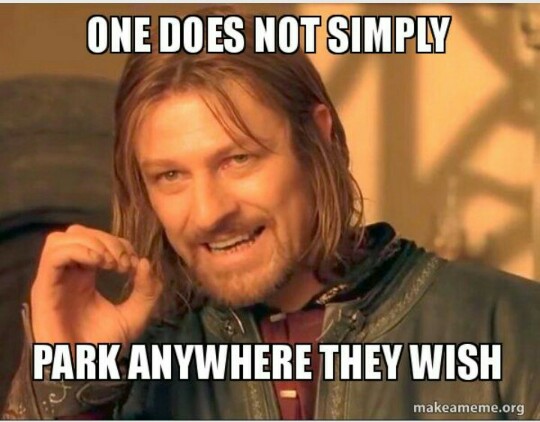 Peeing in the road, behind a bush, etc.  This falls into the category of illegal "deposit of filth" plus the potential for a bonus charge: "indecent exposure." There are plenty of legal places to pee and poop – use them.
Drug and paraphernalia possession. Again, it's not a free-for-all simply because it's rally time. These violations will get you ticketed, or flat-out arrested.
Carrying a loaded or uncased gun without the proper permits.

Riding without protective eyewear .
Exhibition driving and aggressive driving.
Not having a motorcycle endorsement on your driver's license. It should really go without saying that if you're going to ride at the largest motorcycle rally in the United States (possibly in the world), you should have the proper endorsement on your valid/UNEXPIRED license.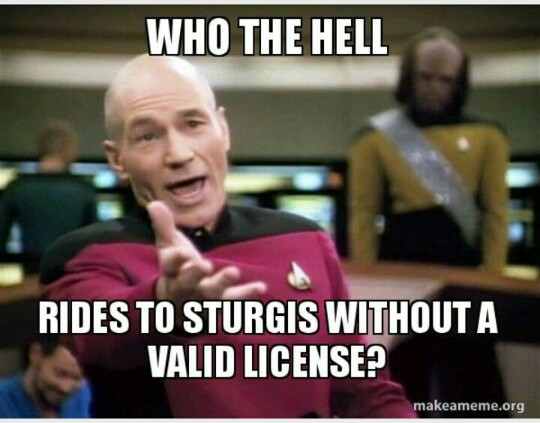 Also, here's a reminder about helmet use: While South Dakota only requires helmets on riders under the age of 18, surrounding states may indeed require helmets on everyone. Know the laws for every state in which you'll ride.
And finally, one thing that's NOT illegal, despite what you may have heard? Ape hanger handlebars! The law limiting handlebar height was repealed in 2015.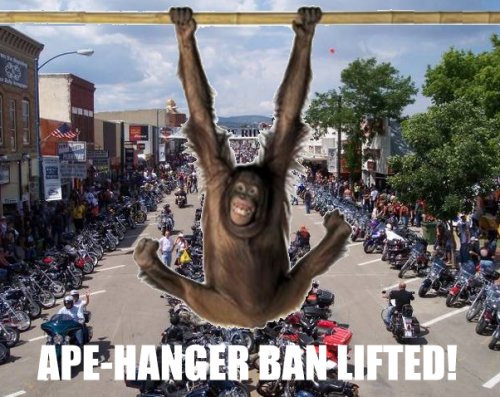 The 77th Sturgis Rally is coming up August 4-13, 2017. Here's to riding safe, having fun, and staying out of jail!
It's feast-or-famine over on Twitter for me… when I get busy, it's the first social media platform I abandon. But I do find a lot of cool stuff there whenever I am active, and of course I have to always add my ".02" to everything I read… follow me if you like at Twitter.com/BikerChickNews!
Here's a brief look at what I've been doing over there recently:
Sharing tales of epic journeys: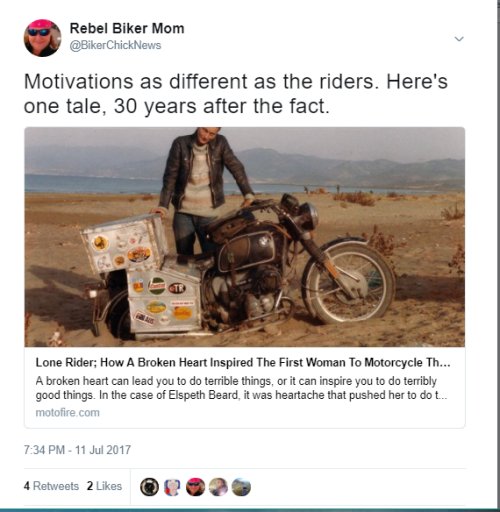 Providing motivational encouragement…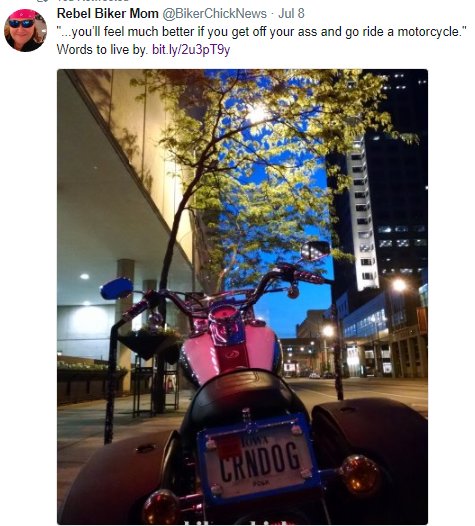 Rallying the troops…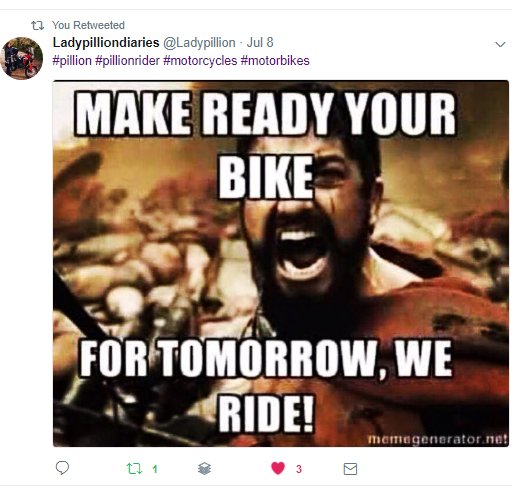 Exploring ancient motorcycling history…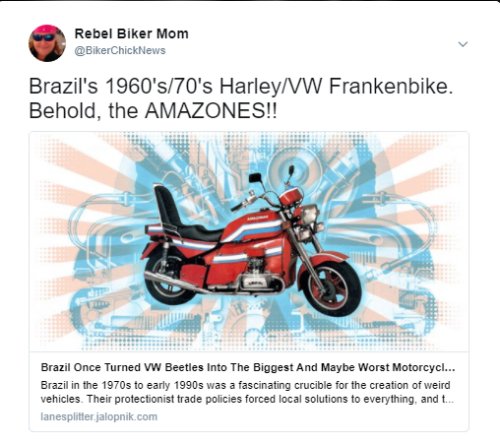 Airing my dirty laundry…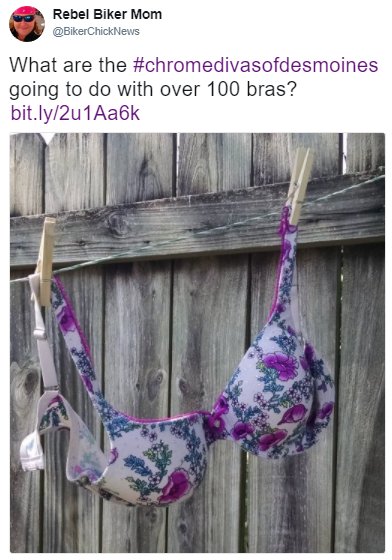 Helping fellow bloggers fine-tune their work…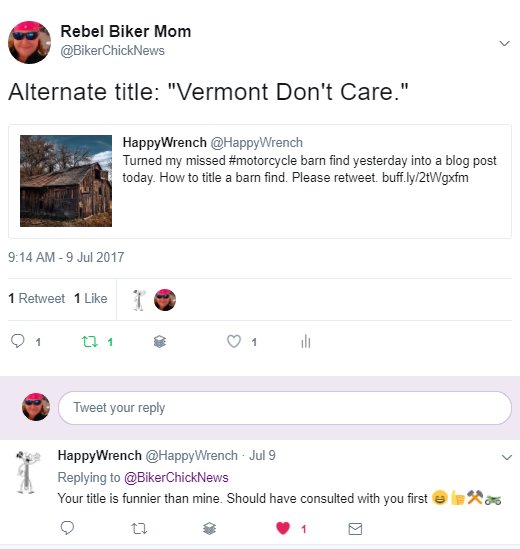 Debating the pros and cons…

… and of course just generally having fun!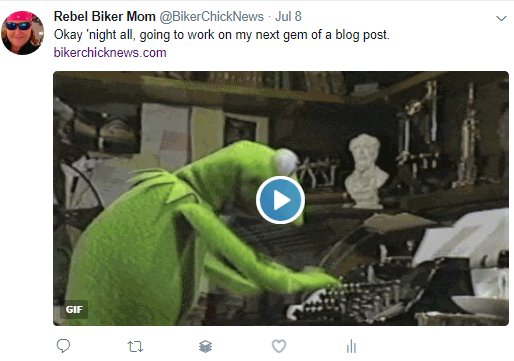 Maybe I'll see you over there!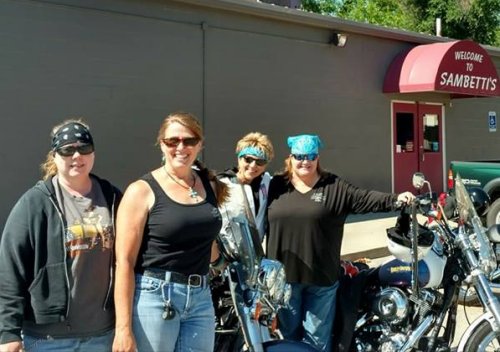 It's been a slow start to the actual riding season for my Chrome Divas Chapter. Our June ladies' social was not really a ride for us (though it certainly was for the Omaha and Lincoln gals who rode in to surprise us!), and our April and May chapter rides had both been cancelled due to unfriendly weather. But finally – FINALLY! – at the end of June we got to take a ride together.
Janet / Seven Over had planned a wonderful route that included all my personal favorite attributes: great roads, a great place to eat, small town points of interest and of course great friends.
We met up at Sambetti's (once again our official chapter headquarters – THANK YOU, Paul Strome, for your continued hospitality and support!) with four riders: Kristin, Janet, Susan and myself. We met up with Penney and Rhonda a little farther up the road at Big Barn Harley Davidson.
Janet's route took us through the Berwick area just northeast of Des Moines and up some lovely roads into the town of Maxwell at the southern edge of Story County.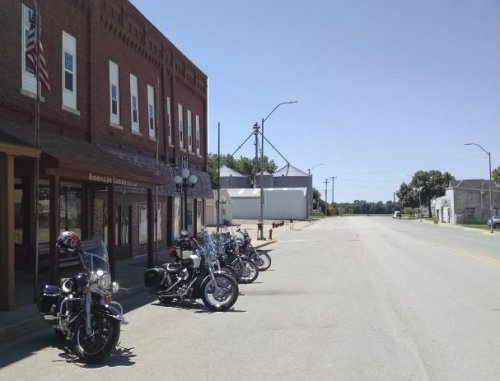 Here in Iowa we are blessed to be the home of the original Freedom Rock – a large boulder outside of Greenfield that is painted each year in a military theme by an artist, Ray Sorensen II, who lives in that area. It's his labor of love (and respect) and his gift to his community, and he's been painting the rock with a new mural every year for almost 20 years. A few years ago he embarked on a project to create a painted rock in each of Iowa's 99 counties, so our stop in Maxwell was for the purpose of seeing the Story County Freedom Rock. Maxwell has done a very nice job of creating a viewing space for the rock – it sits a block or so off Main Street, at the edge of the city park, with quite a bit of thoughtful landscaping surrounding it.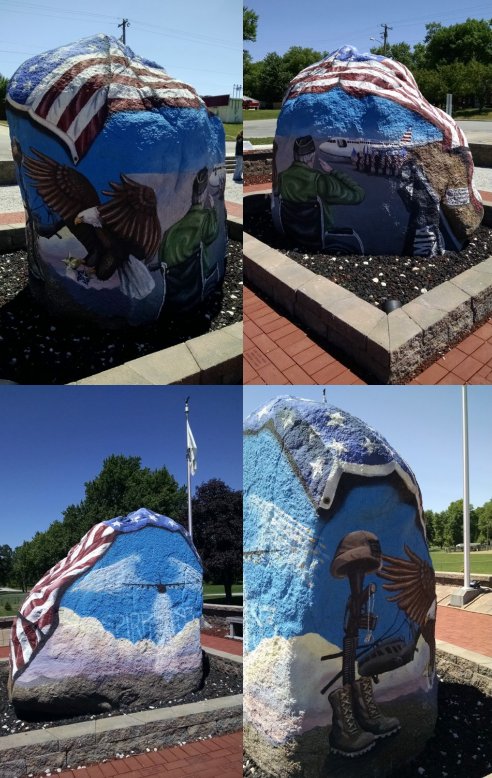 We also caught a glimpse of some of Sorensen's characters going about their daily activities in the windows of the Morris building on Main Street.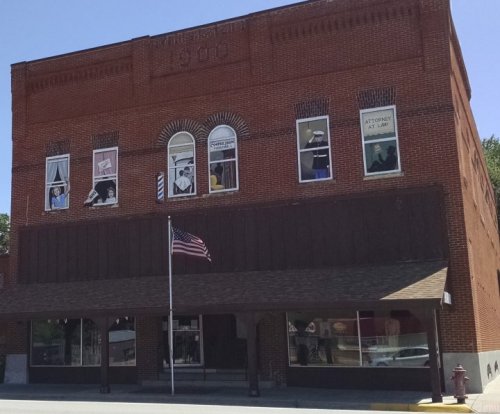 After a brief visit we headed out of Maxwell and north to modern Highway 30, which we crossed so we could pick up old Highway 30 – the historic Lincoln Highway.  The Lincoln Highway was the first nationwide memorial to President Abraham Lincoln, as well as the first paved transcontinental highway in the US. It served as an important cross-country route in the early days of the automobile. (Iowa today is home to the last remaining original Lincoln Highway Bridge.)
We rode a very pretty section of Old 30 into the town of Colo, which boasts one of those timeless roadside stops where surely travelers of decades past would have paused in their dusty journey to fuel up, have a bite to eat, and maybe stay the night. Reed-Niland Corner consists of a restored gas station with Red Crown pumps…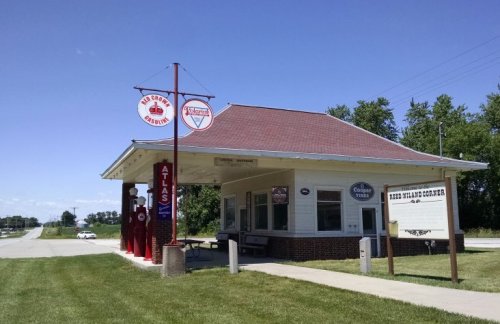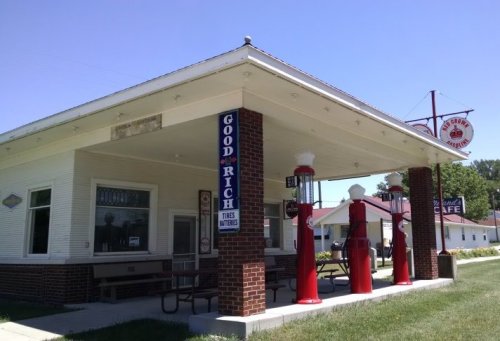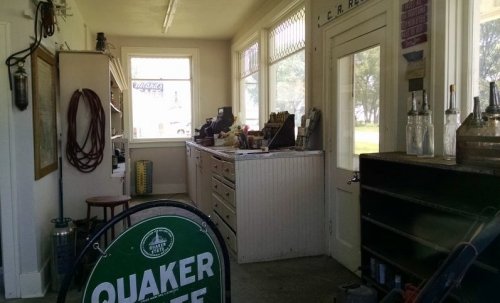 Niland's Cafe…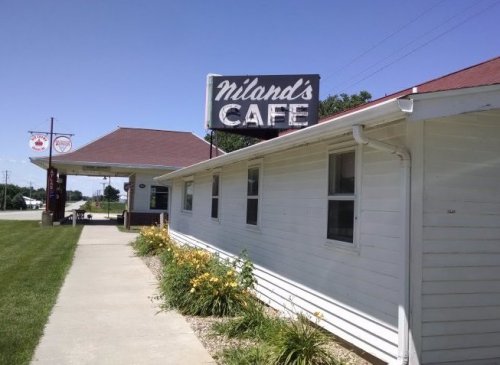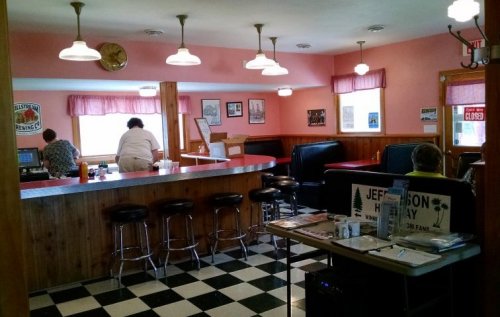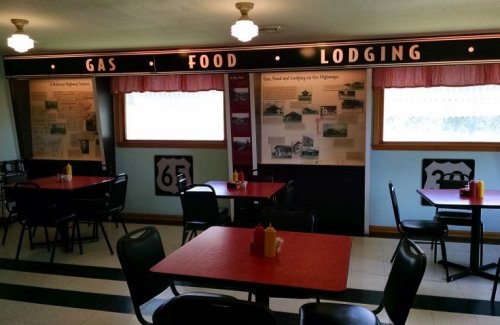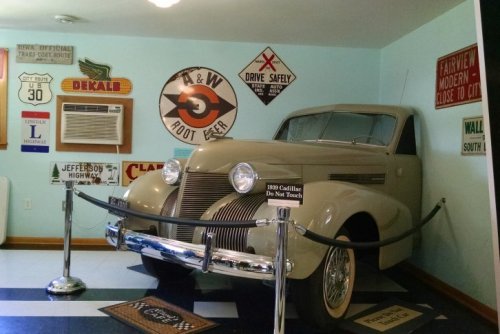 and the Colo Motel with its old Art Deco-style neon sign.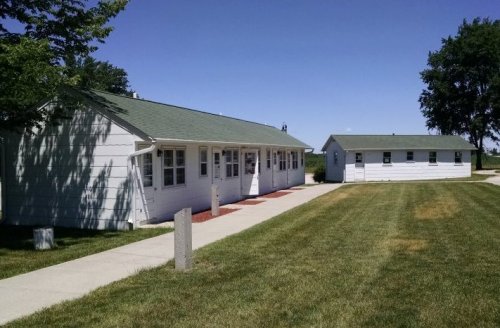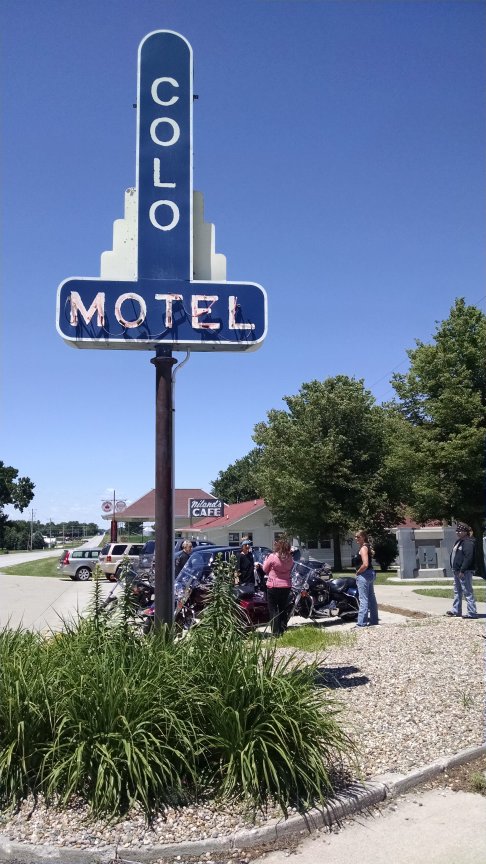 What a great little place, situated at the junction of the Lincoln and Jefferson highways – routes that were so much busier in the days before the Interstate system. You could almost picture the Burma-Shave signs that would have entertained travelers along this route.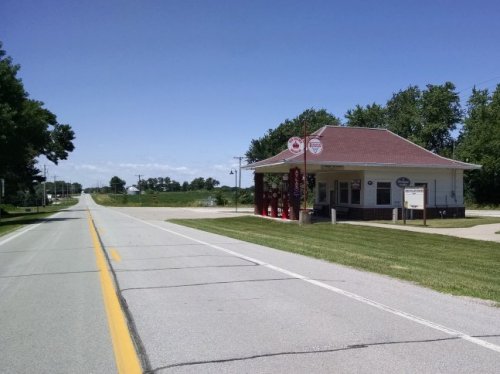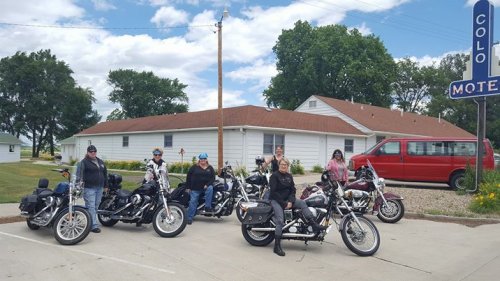 Once done with our excellent lunch, we set out to the south along Highway 65, across Highway 330 onto 117, which is a very pretty stretch leading down into Colfax.  We continued on 117 south out of Colfax and into Prairie City, where we stopped at Goldie's for some ice cream before heading back to Des Moines along Highway 163.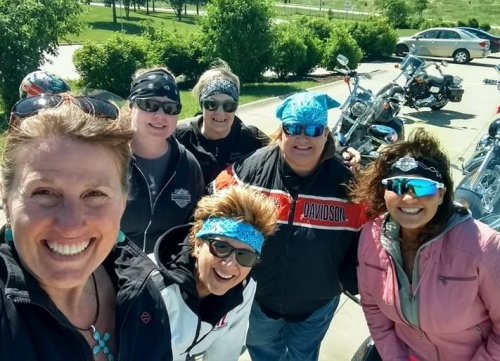 All along this route we were treated to the lush green views of Iowa in late June – beautiful rural roads with a blend of executive homes neighboring modest older farmhouses, deep green corn ranging from two to eight feet tall, textured fields of soybeans, and roadsides lined with waves of orange ditch lilies and other blooming wildflowers.
This beautiful day could not have been a more perfect example of enjoying motorcycles in Iowa!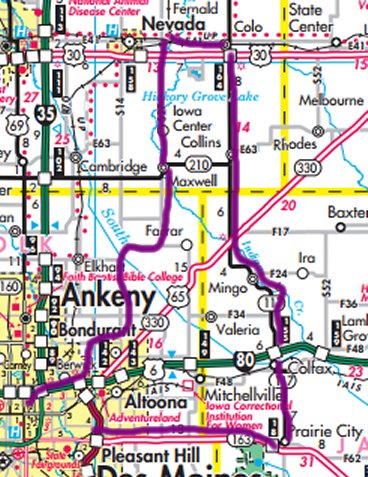 J&P Cycles, the world's largest aftermarket motorcycle parts and accessories retailer, announced a multi-year partnership with the City of Sturgis, South Dakota to be the "Official Motorcycle Aftermarket Retailer" of the legendary Sturgis® Motorcycle Rally™ held each August.
The partnership extends the company's year-round retail presence in Sturgis, which includes the J&P Cycles store on Lazelle Street and a mobile customization shop featuring dozens of aftermarket brands such as Kuryakyn, Vance & Hines, Dunlop, Mustang Seats, and others.
"Sturgis is always a pilgrimage for motorcycle riders, and we're proud to have a year-round presence in the Black Hills," said Zach Parham, President of MAG Retail Group and son of J&P Cycles founder John Parham. The sponsorship illustrates the company's commitment to the city, the rally, and the half-million riders who attend each year, Parham said.
"Here in Sturgis we see riders come from all over the world to visit the J&P Cycles flagship store. They are an anchor in our community," said Sturgis Mayor Mark Carstenson.
J&P Cycles operates retail locations in Anamosa, Iowa, Daytona Beach, Florida, and Sturgis, South Dakota. The company's Rider Service Center is located in Daytona Beach, Florida. J&P Cycles supports motorcyclists with retail pop-up stores at over a dozen motorcycle rallies, races and events throughout the U.S. each year. The company was founded in 1979.
Source: J&P Cycles news release, edited by Corn Dog.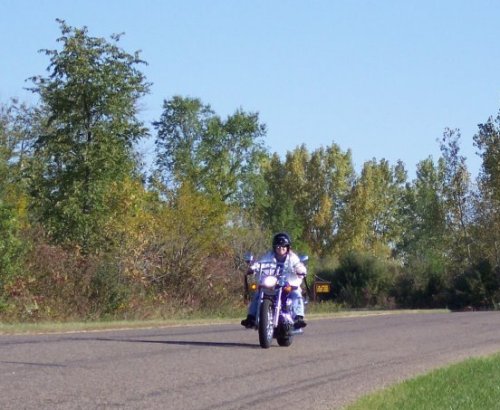 There was a discussion some months ago on Twitter that centered around the notion of being a "serious rider:" Are you a serious rider? What makes one a serious rider? How can non-serious riders (deemed "occasional riders" by the group moderator) become more serious, and what can serious riders do to encourage occasional riders to become more serious?*
The group seemed to agree that a serious rider is someone who rides more than just on weekends, and makes a conscious effort to improve their riding skills. At this point it became clear to me that I am not, apparently, a serious rider.
Well here's my truth: I'd love to feel so confident in my riding skills that I know I could think and react quickly enough when needed to prevent serious injury (or worse) to myself. But at this time, apart from whatever skill development comes from simply riding as often as I can, I rely almost exclusively on the fervent hope that I will come home from every ride in one piece, without having tested my emergency skills at all.
Realizing that the above is pretty much the "wing and a prayer" method, and although I most certainly bristled at this group's attempt to classify people into types of riders (not to mention implying that one type of rider should strive to become the other type), I did ultimately ask myself a serious question: how might I specifically set out to improve my riding skills?
Parking lot practice, maybe? Sure I could get out there in an empty parking lot and practice my tight circles and quick stops, but this seems like little more than planning a date to dump my bike.
I think the better answer is actually classes. After all, if a sanctioned class including plenty of range time is considered the best way to learn the basics of riding, it stands to reason that it's also the best way to learn and practice advanced skills.
With that in mind, here are some ideas for classes that are out there, available to anyone who wishes to make a conscious effort to improve their skills and therefore, become a more "serious rider."
Motorcycle Safety Foundation (MSF) – The MSF Basic RiderCourse is of course, the class that gets you your motorcycle license when you complete it successfully. But the MSF offers a wide variety of advanced classes, including the Advanced RiderCourse, the Street RiderCourse, and their Ultimate Bike Bonding Course. Their website has complete information on all of these.
Some Harley-Davidson dealerships also offer "new rider" and "skilled (experienced) rider" courses. You are not required to be a Harley owner to take these classes, but not every dealership offers them. Check with your local or regional dealer to see what's offered.
You can also try private instruction such as that offered by Ride Like A Pro – interesting because it focuses on the techniques of slow-speed control that are taught to police teams. Indeed, any program offering "civilian motorcop training" will likely focus on slow-speed maneuvers such as cone weaves, the 180-turn box, figure 8's, raising a downed motorcycle, and more. The course offered by Midwest Motorcycle Training also appears to be fairly comprehensive.
Some of the "serious riders" I've encountered also recommend learning the basics of dirt track riding, to give you some skills with handling less-than-perfect traction. This seems to me to be not only a good idea… but fun! (Except for the inevitable broken arm, of course.)  The Midwest Motorcycle Training course linked above seems to include this in their motorcop training, but certainly there are many other resources.
Another class that might be helpful, though it doesn't improve riding skills per se, is accident scene management. This type of training, such as that offered by Road Guardians, comes with a keen level of responsibility for sure, but just think about the level of aid and comfort you would be able to offer to an injured rider if you knew how to secure a scene and keep them calm while you wait for medical help to arrive. Our local Harley dealership has offered this course numerous times.
I'm certain these are just a few of the opportunities to consciously set about improving your skills and therefore become a "serious rider" – which you should do for yourself, not because some random online chat group makes you feel inferior.
If you know of other opportunities or have other suggestions, please feel free to share by leaving a comment – just click the 'comments' link at the top of this article!
*I might simply be overly sensitive, but just a week later this same group discussed what type of gear everyone wears when riding. And they were pretty quick to jump on the gal who admitted up front that she dresses for the weather and not for the crash. Perhaps this is just not the right chat group for me.
Disclaimer – I'm not an ATGATT rider. If you are, I think that's great because that's what suits you, but you might get squeamish reading this post. :) 
It's not often in the middle of an Iowa riding season that I have to stop and really think about what gear is needed for a ride. Now make no mistake: my helmet, boots and jeans are must-haves that I never ride without. But as far as leathers or other cover-ups, I'm flexible depending on the expected weather. And at this time of year, "expected weather" normally means one thing: HOT.
But sometimes, we get unseasonably cool wake-up temperatures even in the middle of summer. For one July Divas ride, it was 58 degrees when I got out of bed! In fact, we weren't even set to break 60 before 10 a.m. that day, and the high for the day was only predicted to be around 70.
In Iowa – in July! I KNOW!!
Fortunately, I've developed over the years a good understanding of what makes me comfortable in different temperature ranges, and as long as I stick to my "gear guide," I'm usually pretty happy in most anything above 50 degrees. Although I've pretty much internalized this at this point, it was helpful at one point to write it all down. So I don't literally refer to my chart every time I ride, but thought I'd share it anyway in all its charty glory: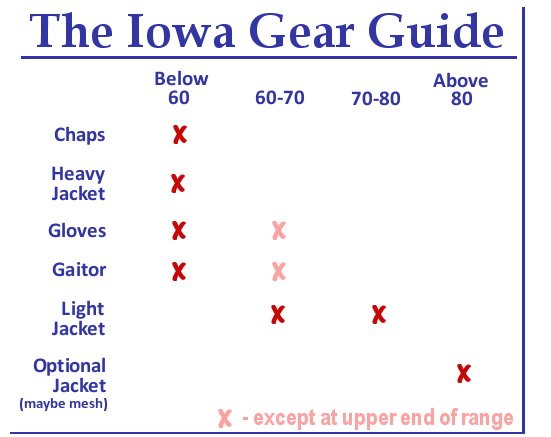 Still, it WAS July after all. And the thought of wearing gloves and my heavy jacket in mid-summer really had me wavering on whether to follow the Guide for the Diva's ride. Fortunately, I've also devised a simple test that usually convinces me the Gear Guide is right on: if I'm in doubt, I take a quick drive in the car with my bare hand hanging out the window.
This foolproof test confirmed what I already knew: I needed my heavy jacket, gloves, and gaitor, at least in the morning. And glad I wore them – I was quite comfortable all day!
So, okay – how do YOU decide what gear to wear? Click the "Comment" link above to share your thoughts!
A few motorcycling friends have been circulating this custom map over on Facebook this week… mine would be a lot less pink if I only counted states I had ridden in, but I'm counting every state I've ever visited under any circumstance. But I didn't count states if all I did was drive through without stopping.
To do your own custom map, visit Maploco.com/visitedstates.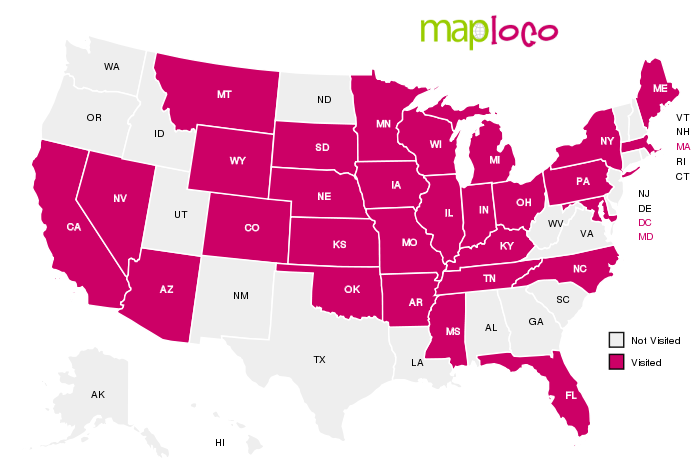 Create Your Own Visited States Map
A women's social event hosted by The Chrome Divas of Des Moines on June 11 collected over 100 bras for RangerLady.org, a local non-profit organization that gives personal dignity garments to women in locked mental health and other long-term care communities.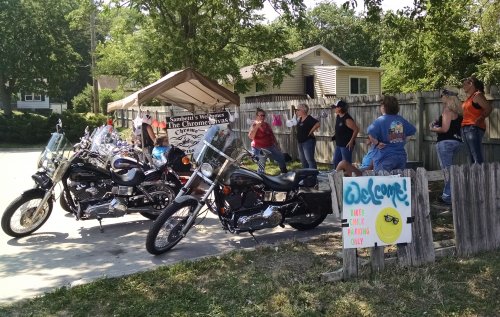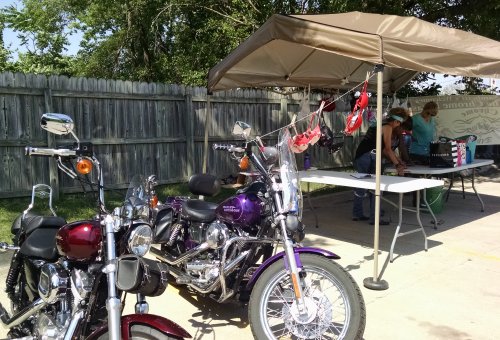 This was the first year of the social event for women riders, women who ride pillion, and women who don't ride but just love motorcycles. About 20 participants attended, including a contingent of Chrome Divas from Omaha and Lincoln, Nebraska and other Des Moines area women. It is expected to become an annual event.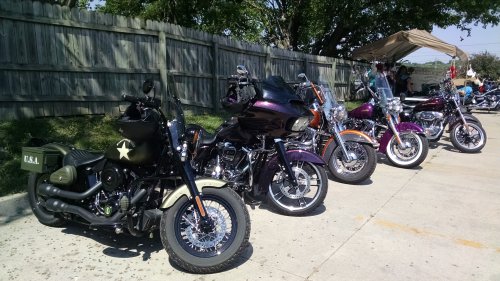 The social was held at Sambetti's, a bar and grill in Des Moines which serves as the chapter's official meeting venue.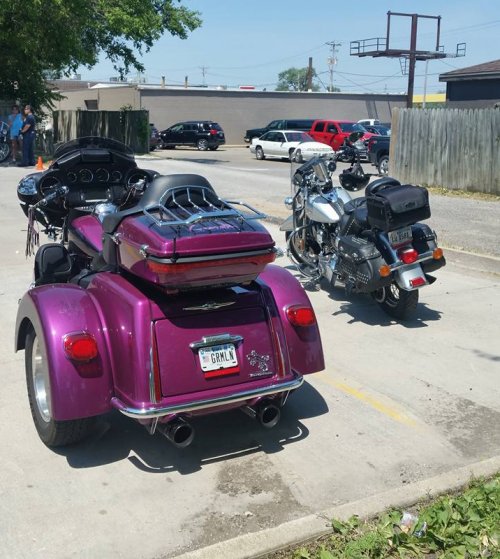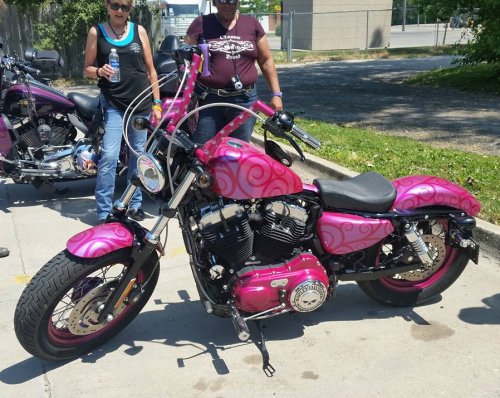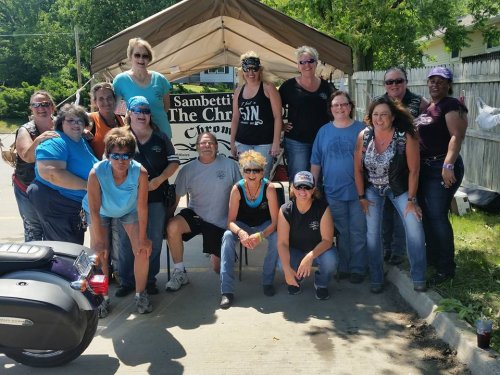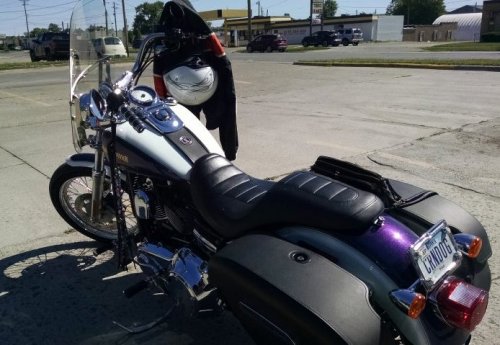 I don't know about you, but one of the things I wish I could change about myself is the degree to which I deny myself things or activities that make me happy in times when I feel I don't deserve to be happy. (Are there such times? Oh let's not go into that – I'm pretty sure everyone has times when they've created a shit-storm or been dealt a shit-storm or whatever, and they just feel too self-conscious about being seen being happy. How can you act so happy at a time like this? Don't you understand how you should feel right now? So they hide, when doing the thing would make them at least feel better, if not actually happy.)
Well I'm trying to get past some of my more recent shit-storms, and although it's not always easy, I'm kind of forcing myself out there.
One of the aspects of riding I've never been crazy about is the practice of riding by myself. I can never seem to calm my mind, and it just feels sort of pointless – out there hurtling around, putting myself in danger, and for no apparent good reason.
Except that I like being out there.
So this year while I'm still not planning any epic cross-country solo trips, I am making sure that if I feel like riding, I don't let my dislike for riding alone stop me. I just get out there and do it.
In May I took two solo rides – one was a very nice easy trip along the "Madrid Loop," about 90 miles with a stop at (where else) Casey's General Store.
Then on the 28th another little solo trip, this time in a beautiful loop through Madison County taking me through Winterset, St. Charles and Truro – 105 miles.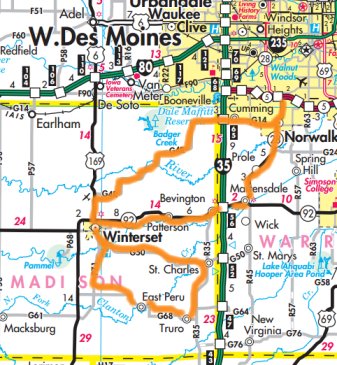 On this trip I actually stopped to take a few pictures of some of the scenery – things were lush and green, and are even moreso now that another month has passed.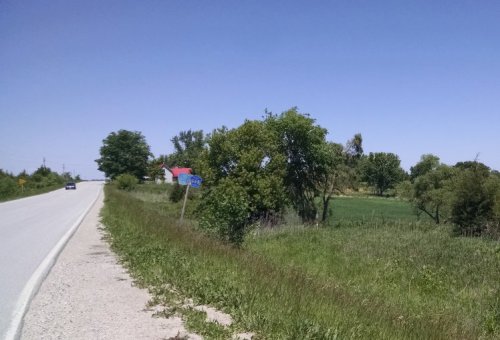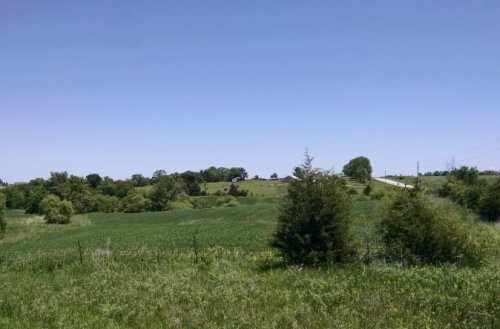 Another tactic I'm using is that I'm actually asking others if they want to join me. In the past I wouldn't do this if I was planning something last-minute – I just assumed everyone would have plans already set, though I have no idea why I thought I was the only one who didn't plan ahead. Anyway this year I'm just asking, and I have a wonderful ride to report on soon that came about as a result of this kind of effort.
Plus of course some Chrome Diva rides and gatherings, and so overall it's shaping up to be a fine (and much more involved) riding season. Hope it's that way where you are too!
PS – huge hugs to my wind sister RSW, and anyone else in the middle of a shit-storm. Ride more, worry less – wherever you are!
A monthly feature news publication here has a very nice piece in their June issue about women's riding groups in the Des Moines and central Iowa area. Cityview's Cady Colosimo talked to a number of women about their reasons for riding, their experiences, and the groups they ride with. I've linked to the online article below – you can also pick up Cityview free of charge in supermarkets and many other venues around the area. Take a look!
"Unbridled Freedom: Who Said Diamonds are a Girl's Best Friend?"