Haha so here we are again, yes I'm still riding… last year was not without some wonderful days on the bike… it was just mostly without blog posts!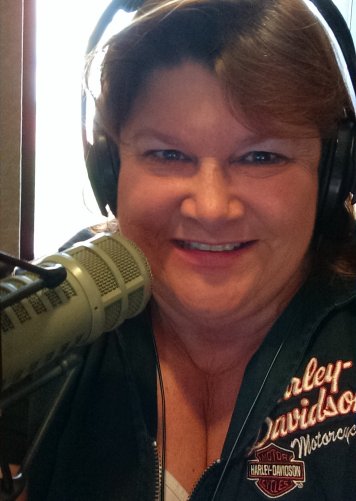 When last we left, I was just getting ready to go on the air with Iowa radio legend Keith Kirkpatrick, who had invited me on his "Sportsman's Notebook" program to talk about being a woman rider, a motorcyclist in general, and my e-book, "Get On."
It was a lot of fun, and last year gave me two other opportunities to share my love of riding in Iowa: In May I gave a talk at the senior community where I work, really just a slide show of some of my favorite rides and sharing some great stories… the residents loved it and as a result of that in August I was invited to give a similar talk at our sister senior community in Indianola. The residents – again mostly from Iowa and familiar with many of the towns I was featuring – seemed to enjoy the stories I shared as well as the photos, and they were excited to step outside with me and have photos taken with the bike. It was truly a highlight of the year!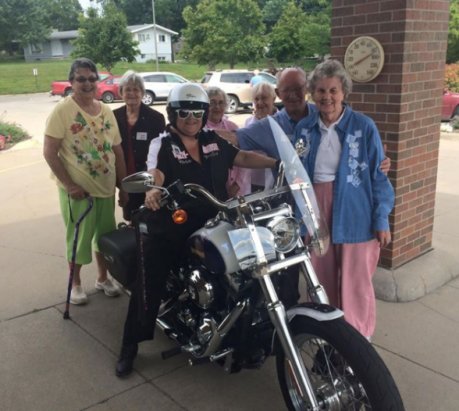 I'll try to share a few more rides from the year as soon as I can – I've acquired a new computer since then and a lot of my photos are on the old machine. (blah blah excuses blah blah)
Anyway, THIS year we have had a weird Spring. I took two short rides back in February, then none in March, and here we are near the end of April and I just had my "next" pair of rides.
April 23 was the first ride of the Season for my Chrome Divas chapter, and it happened to coincide with the annual Blessing of the Bikes event at Big Barn Harley Davidson. So the Divas met up at Sambetti's (our official gathering spot and Chapter sponsor!) and rode as a group up 2nd Avenue to Big Barn. We rolled in and were able to park as a group despite the crowd, which was… in the words of a current political candidate… HUUUUUUUGGEEE!!!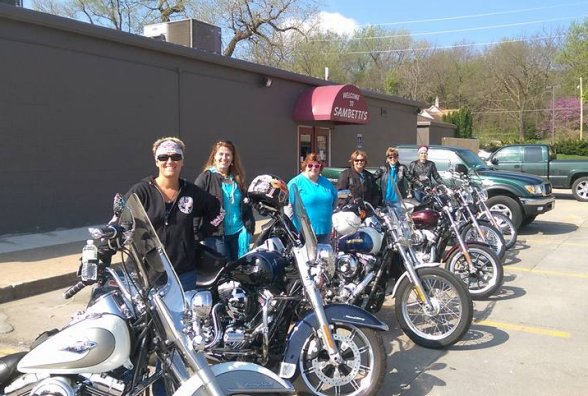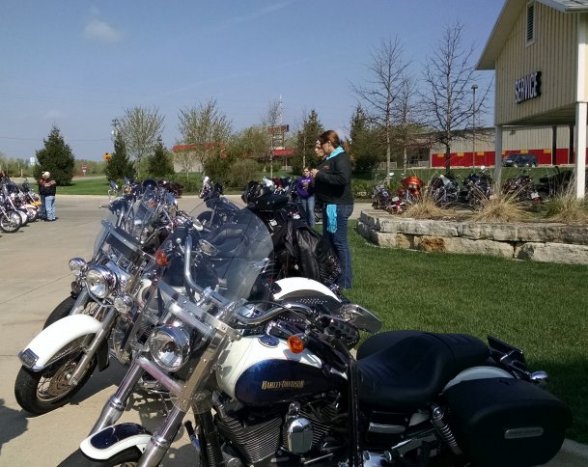 In fact, the drone photo below by Found Photography beautifully captures the scope and size of this year's Blessing. (A sincere thanks to FP owner Jack for allowing me to use his photo – please be sure to check out his website for some absolutely stunning photo work!)
Enjoyed the Blessing and lunch (as always) and the Divas then took a short ride up to Saylorville Lake where we rode to the water's edge… a brief stop to assess the lake level (it's low) and take some pictures, and we headed our separate ways for home since some of the gals had late-afternoon plans. In all it was a lovely day but I was wishing the ride could have been longer.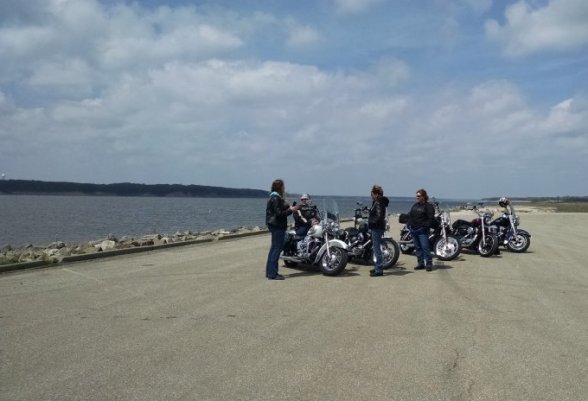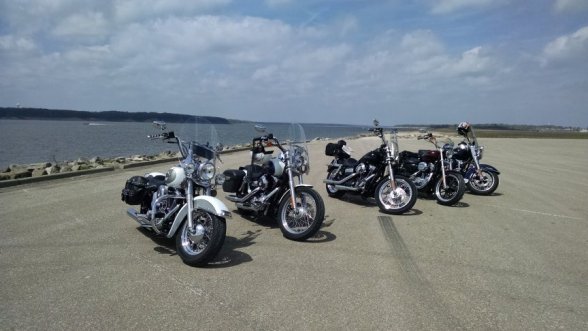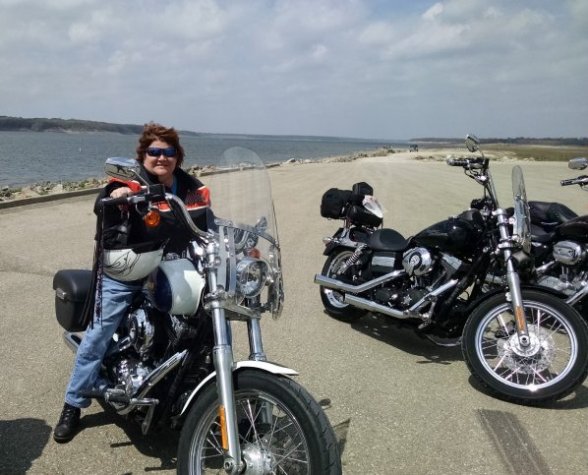 The next day, Sunday, I was still wanting to ride but became ridiculously conflicted about whether to just go on a solo ride. You might remember I am not that big a fan of riding alone, (although I have certainly had some enjoyable solo rides)… but a number of factors convinced me to just do it. A look at my weather app suggested that we might get a thunderstorm late in the afternoon, and it was already about 2 pm. So I decided on just a short loop to the south along Highway 28, then east on Highway 92 to county road S23, and up S23 to the north through Palmyra – home of one of my favorite country churches.
Having discovered the Palmyra Church in 2012, I was a little saddened to see that its condition has deteriorated since that visit. Still on the National Historic Register, the exterior is showing some decay. I'm hopeful that there is still a group working on keeping this lovely little treasure intact.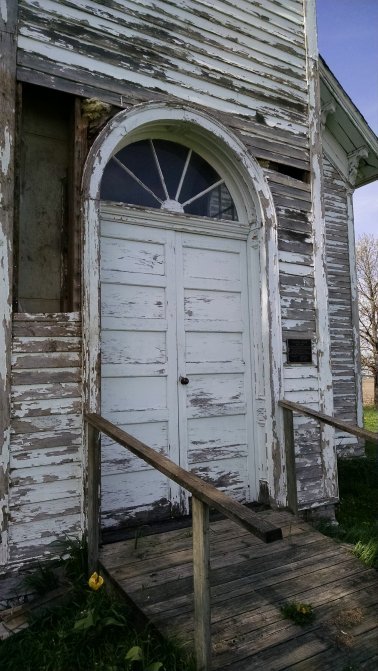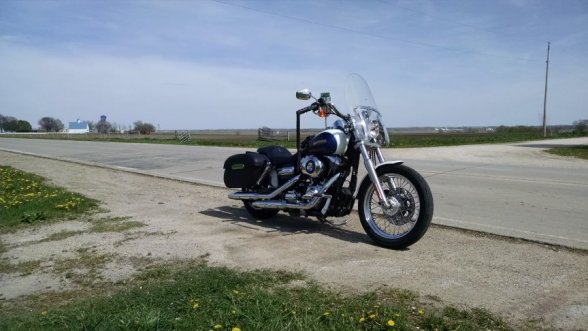 Fun weekend… still very early in the season here but starting to work on my biker tan!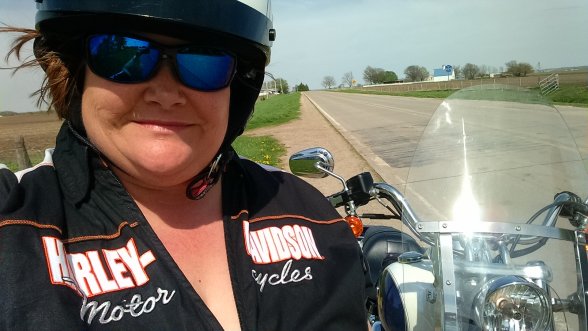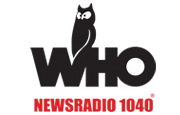 This Sunday, June 28, I have an amazing opportunity: I'm going to be the guest on "Sportsman's Notebook," a Sunday morning program on 1040-WHO Radio! My Iowa friends and followers will know two things: 1 – The host of the program, Keith Kirkpatrick, is an Iowa Treasure, having been an on-air personality at WHO Radio for more than six decades. And 2 – WHO Radio is the premier talk and news radio station in Iowa. It's signal reaches far and wide across the country – and did so even in the days before the internet. Keith tells me his show normally focuses on hunting and fishing in Iowa, but he saw my presentation at Edgewater back in May and invited me on because he could tell I was enjoying the beauty and bounty of Iowa in my own way and wanted to showcase it. I am THRILLED – we will be talking about riding and enjoying Iowa by motorcycle, my e-book "GET ON," and much more! You should be able to listen LIVE at iHeartRadio or the WHO Radio website itself at http://www.whoradio.com/main.html.
Hard to believe it's mid-June already and I'm still working to get caught up on blog posts, but that seems to be my life these days… A little behind and getting behinder! But no matter, its a beautiful summer so far and i have some fun rides to share with you!
In mid-April a friend and I took a nice scenic ride down to the town of Milo. We had heard that there was some kind of tower in the middle of town that you could get up into and look around which, it seemed to me, was a great reason to ride!
We took a semi-scenic route through Des Moines which included a run through the blooming crab apple grove in Water Works Park, then down Highway 5 to the Palmyra Road (aka S-23), down to Highway 92 and then jogged over to pick up S23 again to the south. I have been through the north end of Milo several times over the years, always on my way to somewhere else, but never actually rode down to Main Street.
This time we sought out the little business district and discovered there really is a tower… a sort of super-gazebo on stilts. Unfortunately, it must've been too early in the season for the tower to be open because the little ladder staircase was hitched up tight against the floor of the gazebo so we couldn't climb up. (I think this "closed attractions" theme is getting a little out of hand – ahem, CRESTON.)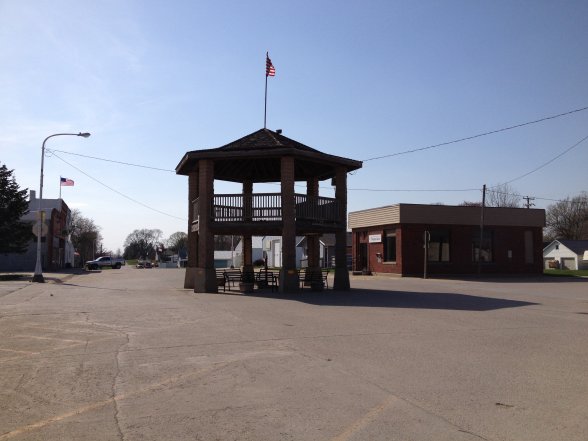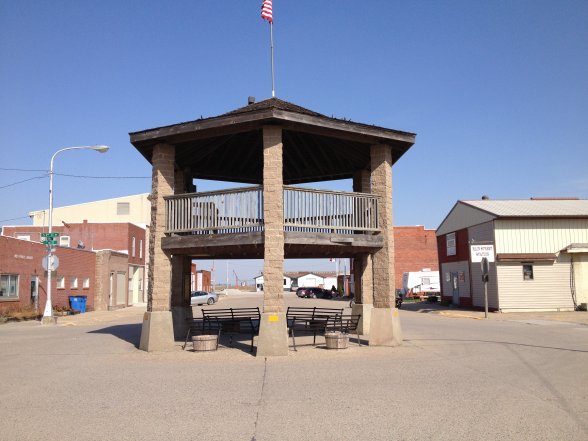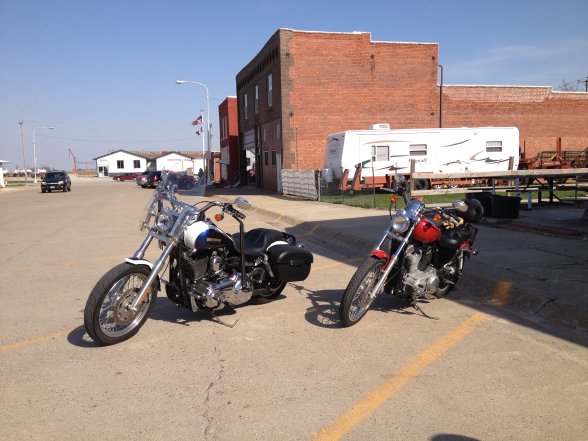 This structure is certainly the oddest thing I've seen in the middle of a Main Street intersection in all my years of riding… in fact, it might be the only thing I've seen in the middle of a Main Street intersection… but I do think it would be neat to re-visit on a day when one could climb up and get the bird's-eye view, assuming one is a bird perched… say, 12 feet off the ground…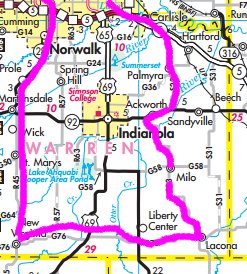 Anyway after puzzling about the gazebo for a brief time we headed south out of Milo on S23, then at Lacona we turned west and took G76 – another favorite road! – over to New Virginia. Came back up north on R45 at New Virginia, then up Highway 28 through Martensdale, Norwalk, and Lakewood into West Des Moines.
In all it was about 120 miles and part of a lovely start to the riding season!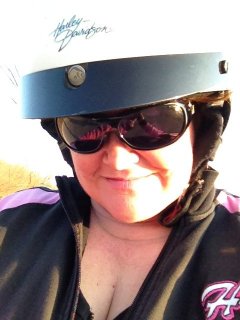 I didn't really write up a "first ride of the season" post this year, but thought maybe instead I'd just recap some of the shorties I did earliest in the season. The first time I was on the bike was back in March, just a quick jaunt around town after juicing up the bike on a battery tender. Then maybe a week later I took a "real ride" a few miles west over to Van Meter – this one was about 40 minutes, but was just enough to get out on the highway for a bit and reassure myself that yes, I still remember how to do it!
On April 1 I took a very nice solo run up around Saylorville Lake that included a little shopping at Big Barn, some stops for "selfies," and a short stop at the water's edge for some overly-dramatic bike pictures ("bikies," I've decided to call them).
I also stopped at an overlook by Camp Dodge, the Iowa National Guard training camp, to admire the retired military equipment. Do you remember a place from your childhood where you always wanted to stop every time you drove by with your parents, but they never would for some reason? Well, "the tank" at Camp Dodge was just such a place for me. So now that I am an adult, I do try to stop here whenever I can.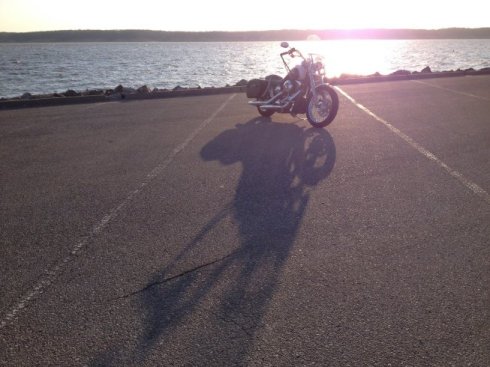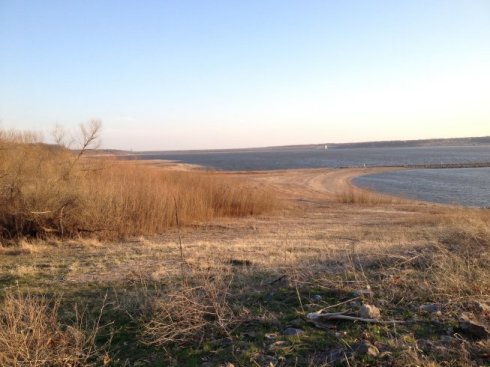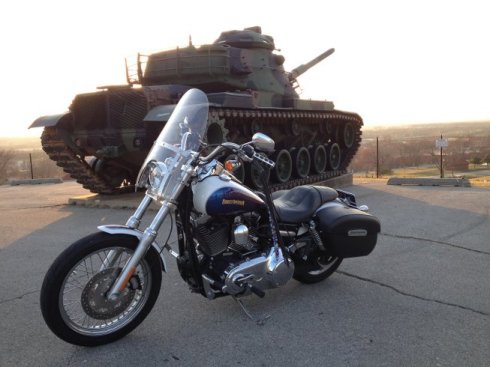 I wonder which place my daughter would name as The Place Mom Would Never Stop…?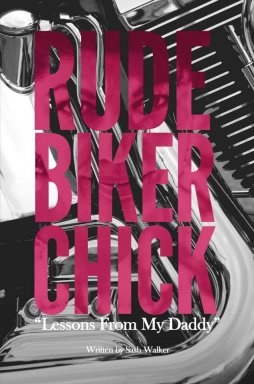 Y'all probably remember (because, come on, who can forget…?) my dear pal Tina "Sash" Walker and her husband, Steve "Highway" Johnson – they came to Iowa on their original Road Pickle journey in 2013 and I had the privilege of taking them around some of my favorite sights and roads. (Hey, the girl wanted to see Iowa CORN – what else could I do?)
Anyways, Tina has her own internet-based marketing/coaching business, numerous blogs, and an open book of a life that sometimes puts her in the hot seat but always keeps her memorable.
Hopefully, you already read her primary blog, Sashmouth, and follow her adventures on Facebook, Twitter, and Instagram. And if you do, you know her no-holds-barred personality. And you might have occasionally wondered just how she came to be – well – herself. In her latest e-book, Rude Biker Chick, you get the good, the bad, the ugly, and the beautiful about what drives this amazing, amusing, unforgettable lady.
Rude Biker Chick: Lessons From My Daddy is just as no-holds-barred as Tina herself. It ruthlessly covers her early life experiences with an abusive mother, a distant father, and a deep connection to traditional biker culture.
But she doesn't stop there, and believe me the book is not about pointing fingers for "who's to blame." Tina goes on to chronicle a disastrous first marriage, a more-than-brush with death itself, and the life-changing days that followed both as she rose from the rubble not to re-invent herself but to become who she really was all along.
Rude Biker Chick isn't rude at all – although that's what some people say about Tina. It's a raw, honest look at how one human being took all the crap from a life that wasn't hers… and turned it into something beautiful and right. This book is seriously fearless, and seriously worth every moment it takes to read it.
May your weekend (and beyond) be filled with gratitude for those who gave all in service to Freedom.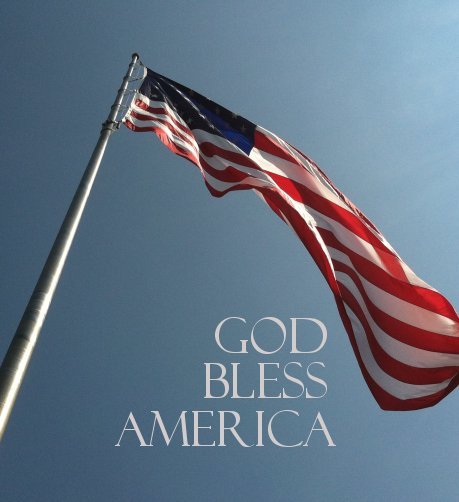 'Round here I write mostly about riding. I hardly ever write about my personal life unless it's a major milestone or something.
So you probably don't know that my day-job (which many say I should not quit, despite my best efforts at blogging and karaoke) is that I work as the Lead Concierge at an senior community here in Central Iowa called Edgewater.
That means I manage a customer service team which takes care of the needs and myriad requests of over 200 older adults. The community where I work is not – and I cannot stress this enough – a typical retirement home. It is comprised of beautiful apartments and townhome villas for the independent residents, and smaller but well-appointed suites for the people in other levels of care.
My team takes care primarily of the independent living residents – and I do mean, independent. Heck, almost all of them still drive and some of them even still go to work every day. Most of them volunteer extensively, not only in the building but also out in the central Iowa area. They are active, vibrant, retired professors, farmers, teachers, business professionals, and much more – and they all have fascinating histories to share.
Fortunate was I, then, to learn recently that they just might be interested in learning a little more about my favorite past-time – motorcycling! Our activities director, Dawn, encouraged me to put together a program featuring photos from my many motorcycle rides and talk about my adventures. They'll love it, she said.
So I did! I put together about 60 photos from various rides, organized them loosely into talking points, and then did a 45-minute extemporaneous (and hopefully amusing) talk that emphasized my love for Iowa's roads, landmarks, history and food. Of course I mentioned our trips to the Sturgis rally, told tales of my (thankfully) few mishaps, and read a brief bit from my e-book, GET ON. But primarily, because my audience loves Iowa as much as I do, I focused on my memorable Iowa rides.
I gave my program on May 19 to a large group of residents, who – I'm glad to say – seemed to enjoy themselves as much as I did. It was a blast – and, a few members of the Merry Band even attended to egg me on!
The comments afterwards were plentiful and positive, with the only complaint being that I didn't ride the bike into the performance hall. (I wanted to, but I knew if I did this would be the day I would forget to put the kickstand down. Oh, and, it was 39 degrees in the morning when I woke up, and I don't ride in anything under 50 these days – at least not intentionally.)
There may be opportunities for me to take this show on the (local) road, so I might have gigs soon at a couple other communities. But even if it was a one-time thing, I thoroughly enjoyed sharing my passion for riding with my extended family at Edgewater!
I was going to start out this post with a big fancy proclamation about it being my ELEVENTH YEAR OF BLOGGING or perhaps UNDOUBTEDLY A YEAR OF BIG SURPRISES or just anything that would make you actually look forward to reading another year of my blathering. But I've learned that whenever I actually point out or try to build up these kinds of impending milestones, I completely fizzle out mid-year which inevitably leads to disappointment for you AND for me. (Every. Single. Time!)
So this year, I'm not going to do that. (You're welcome.) I'm just going to settle my ass down and blog, okay? And who knows – maybe the few of you who are still reading after last year's mess will start bringing your friends around again and pretty soon things'll be back to something like normal around here.
Now I don't know about you, or where you live, but it's snowing like crazy today as I post this, and I am nursing what I hope to be the tail end of a nasty cold… so it seems like a perfect day to compile the annual list of Des Moines, central Iowa, and random US biker events and rallies. As always, please note that this isn't a complete list, and some of the dates are still TBA so will be added later. But if you know of something happening in Des Moines or its metro area, the state of Iowa, or the Midwest region, please feel free to share it in the comments.
UPDATE MAY 21 – Have removed expired/past events, and added a couple more.
UPDATE APRIL 30 – Still adding a few events here and there. :)
UPDATE JANUARY 14 –
Okay I'm doing a quick update here… I posted my original (limited) event list and was immediately contacted by my pal Vernon Schwarte of Thunder Roads Magazine of Iowa, who freely shared HIS list of events submitted to the magazine so far this year.
SO – seeing that TRI's list is much longer (a.k.a., "more comprehensive"), I'm replacing mine with this one. :) Vernon encourages you to look up and call a venue or group before you try to attend, to make sure the event is still on. (No blaming the list-maker if something isn't right here!)
It should go without saying that I henceforth adore Vernon Schwarte and thank him sincerely for so generously allowing me to share his Thunder Roads Magazine of Iowa Upcoming Events List for 2015:
May 22-24 – Redneck Revival Conesville
May 22-24 – Midwest Legacy Run and Rally Adel
May 23 – J.J. Bonnell Memorial Ride Fort Dodge
May 23-24 – Midway Tavern Annual Fun Run, BBQ, Street Dance Soldier
Jun 6 – Carroll Cycle Center Rock N Ride Carroll
Jun 10-13 – Rally on the River Davenport
Jun 11-13 – US Route 6 Iowa River to River Cruise Council Bluffs to Davenport
Jun 13 – Remember Me Poker Run Davenport
Jun 13  – 7th Annual Bell Tower Festival Poker Run & Cycle Show Jefferson
Jun 15  – National Ride your Motorcycle to Work Day
Jun 17-20 – 21st Annual Rally on the River QC Davenport
Jun 20 – Ride for the Girls Memorial Poker Run Pacific Junction
Jun 20  – Ernie's Harley-Davidson 40th Anniversary Party Algona
Jun 20  – Vintage Rally and Bike Show Anamosa
Jun 20  – ABATE D14 31st Baldy Memorial Ride Fremont/What Cheer
Jun 20  – ABATE D14 30th District 14 Anniversary Party What Cheer
Jun 20-21 – Outlaw Street Drags Race Series Conesville
Jun 21 – A Ride to Remember Benefitting the Alzheimer's Association with Coach Paul Rhoads
Jun 27  – 28th Iowa Iron Butt Ride Ottumwa
Jun 27-28 – J&P Open House Anamosa
Jun 28  – Nishna Valley Wings of the G.W.T.A. Fun Run
Jul 2-4  – 31st Annual ABATE of Iowa Freedom Rally Algona
Jul 10-12 – Combat Veterans Motorcycle Assoc. 39-3 Annual Benefit Garber
Jul 11  – Goozman's Westside Poker Run Harlan
Jul 17-18 – Southern Iowa Wounded Veterans Rally Russell
Jul 21 – Ride to Remember charity ride Ames
Jul 23-25 – Iowa State HOG Rally Des Moines
Jul 30-Aug 1 – 8th Annual Across the Border Raid Bedford
Aug 3-9  – Sturgis Rally, South Dakota
Aug 8  – AtlanticFest Ride In Bike Show Atlantic
Aug 22  – ABATE of Iowa M.A.R.S. Eldora
Aug 23  – Iowa State Fair Motorcycle Day Des Moines
Aug 29  – Mighty Mississippi HOG MDA Hope Ride Dubuque HD
Aug 29  – Spydermania II Atlantic
Sep 3-5 – Chief Blackhawk 44th Fall Davenport International Meet
Sep 4-6  – Redneck Revival Conesville
Sep 5-6  – Midway Tavern Soldier Valley Run BBQ, Street Dance Soldier
Sep 11-13 – Davis Motorcycle Rally New Hampton
Sep 12  – No Nipple Dipple Ride Buffalo
Sep 12  – Broken Spokes Ride For U of IA Children's Hospital Davenport
Sep 19 – Sydney's Wish Annual Charity Poker Run Des Moines
Sep 19  – Waukee Legions Riders 7th Annual Toy Run Waukee
Sep 19-20  – Outlaw Street Drags Race Series Conesville
Sep 23-26 – Bikes Blues & BBQ Fayetteville, AR
Oct 15-18 – Biketoberfest Daytona FL
Oct 17-18 – Outlaw Street Drags Race Series Conesville
And, here are some area Bike Nights I've compiled which are not on the above list:
Kelley Bike Night – June 4 & 18; July 2,16, & 30; Aug 13 & 27; and Sep 10 & 24 at Crossroads Tavern in Kelley IA
Indianola Bike Night – Third Friday of the month, April 17 thru September 18, Indianola IA
Winterset Bike Night – Third Saturday of the month, April 18 thru September 19, Winterset IA
DSM Vintage Bike Night – First Thursday of the month, May 7 thru September 10 in Valley Junction, West Des Moines, IA.
Knoxville Bike Night – First Friday of the Month beginning May 1 thru September 4 (to be confirmed) in Knoxville IA.
Thunder Nites in Newton – Second Friday of the month, May 8 thru September 11, Newton IA
Greencastle Tavern Bike Night – Wednesdays beginning May 20 through October 7, 6 pm – 9 pm in Mingo IA
Hartford Bike Night – August 22 in Hartford IA
Blessing of the Bikes – Date TBA at Grotto of the Redemption, West Bend IA
Avenue of the Saints Motorcycles/Classic Cars (formerly St. Charles Bike Night)  – Dates TBA, St. Charles IA
And a few other tidbits still to be confirmed:
Gathering on the Grounds – Second Thursday of the month, April – July at the State Fairgrounds in Des Moines IA
Struthers Brothers Dinner Rides – Dates TBA, leaving from Struthers Brothers in Des Moines, 4:3o pm on dates shown.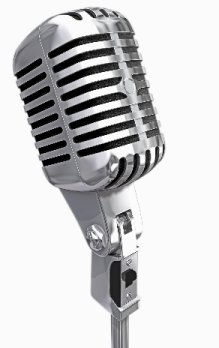 My life is largely an open book.
On this and other blogs you can read about my passion for motorcycles, hunting for vintage treasures at flea markets, family life, kids' clay art, news and happenings in my local area, and – at least for a few brief months during the last Presidential election – my political rantings.
But this year, my riding season was severely curtailed when my life took a turn that I really could not blog about. It didn't seem right or fair to the others involved to do so, and I don't think I could have focused my brain enough to do it anyway. Hence the sudden and lengthy absence from Biker Chick News, just as the riding season was getting started, in what was to be a joyous tenth year of blogging.
What I have learned – among other things – is that my passions for riding and writing remain. And staying away from those things removes me from the world in a way I don't wish to be removed. So I plan to return to both riding and blogging in 2015.
For now, let me just say that I hope your Thanksgiving and Christmas were beautiful and that your New Year sparkles!
I hope mine does too :)
With love,
Corn Dog
Wherever you are now / Whatever evil you've found / Bring all of your troubles / Come lay 'em down
Hey I would just like to point out that I am "Biker Chick of the Month" for June over at Biker Chick Tips! Lots of good reading there, cool website run by my friend Tina "Sash" Walker of RoadPickle.com fame!