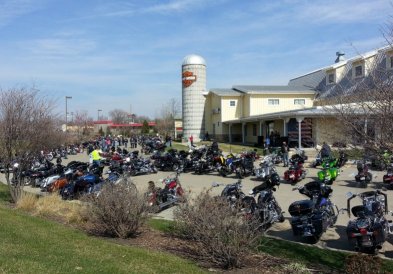 We had a beautiful and delightful day on April 19 for the ABATE of Iowa Blessing of the Bikes – morning temps were in the upper 50′s and we hit mid-70′s by the afternoon.
My Chrome Divas group had made plans to meet at Sambetti's at 9:30 and roll into the blessing together, so Steve and I headed over and we met up with several of the gals to ride in to Big Barn Harley Davidson here in Des Moines. We arrived at the Barn about 10 am for the 11 am blessing, and there were already quite a few bikes on hand.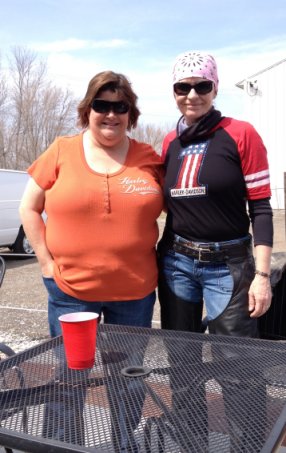 We did a little bike browsing and – huge treat! – I finally got to meet a friend I've been emailing with for almost a year! Glenda had contact me last year and asked me to add a poker run to my event calendar that her family organizes each year. At the time, I also wrote up a little post about the run to help promote it, because the story behind it really resonated with me.
Through email letters, my new pen pal and I quickly discovered that we share the exact same birthday – month, day and year! – and, have a special love for a particular pattern of vintage dinnerware. Because of all this – plus more things in common AND our shared love of riding, we became fast friends online and now finally have been able to meet in person and ride together! It was very gratifying to get to meet Glenda and her husband Pat!
The bike blessing event was lovely as always – there was live music, a large-group blessing, and then the opportunity to wait by your bike and have a member of the Christian Motorcycle Association say a special individual blessing. We then enjoyed the chili feed put on by ABATE District 4, and finally decided to take off on a short ride.
At this point we were also joined by another new friend, Kelly, whom we had met on a previous visit to the Barn.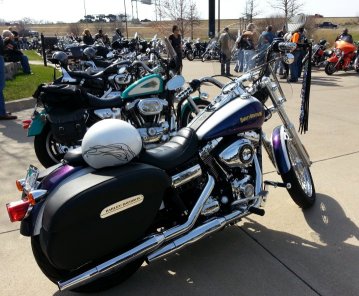 Our ride route was simple and the group consisted of myself, Steve, Garry, Shirley, Pat, Glenda and Kelly. We rode north away from the Barn on Highway 415 and turned with 415 to the west, along the north side of Saylorville Lake into Polk City.
We traveled north out of Polk City up to Highway 210, then jogged east into Slater, where we landed at the Night Hawk Bar & Grille – a little place adjacent to a bicycle trail that we had discovered last year while Road Pickling with Sash & Highway.
Spent about an hour just visiting and enjoying our beverages, then everyone headed home or on to their next Saturday activity.
I thoroughly enjoyed this day… although I didn't take many photos, you can see the ones I did take in my Bike Blessing 2014 album on Facebook.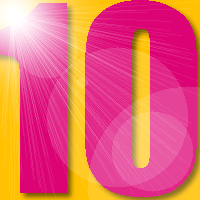 In ten years of blogging, I've posted a lot of ride reports about trips around Iowa; it's hopefully no secret that I love riding the backroads of my home state! In celebration of my blog's Tenth Anniversary, I've rounded up ten of my favorite Iowa rides, chosen either for the scenic roads, the interesting destination, an overall memorable day, or maybe all three qualities rolled into one. Here are ten favorites, in no particular order:
Audubon/Albert the Bull – In 2006 we were preparing for our first ride to the Sturgis Rally, so we made an all-day run to Audubon, Iowa to visit a giant concrete bull. It was hard to ignore his oversized testicles, and to this day I still occasionally have visitors to my blog who've arrived here after searching for "big nuts."
Solo Ride to Palmyra – This was a short but satisfying solo ride along a favorite road, and I made a snap decision to stop and admire a beautiful old and weathered Gothic-style church.
Divas Ride to Jefferson - The Mahanay Bell Tower in Jefferson, Iowa is one of my absolute favorite central Iowa destinations, and this ride with my gal pals in the Chrome Divas was an outstanding day of beautiful riding and wonderful fellowship!
The Butt Puckering Ride from Peru - This day was all about the friends we were with, roads that were both scenic and horrific, and things not going according to plan. Also, a word that makes me laugh every time I say it.
Pie in Millerton – This time, it was mostly about the food. When a local TV reporter tells me this is the best pie in Iowa, by golly, I listen!
Lincoln Highway Bridge – An historic road, an amazing local eatery, and the bridge I almost missed!
Divas Ride to American Gothic House - A classic Iowa destination, a bit of classic Iowa road food, and the spectacle of an all-women's ride. A favorite day for sure!
Road Pickling – In which I have the opportunity to lead two amazing California-based riders along the Iowa leg of their journey-of-a-lifetime around the United States! Sharing Iowa corn, curves, and camaraderie with Sash & Highway.
The Flags of Brooklyn – When you're a small town seemingly in the middle of nowhere and completely off the beaten path of the Interstate, you have to do something to make a name for yourself. The tiny town of Brooklyn, Iowa has done just that with a charming display of flags from all 50 states, and just a little bit more.
Solo Ride to Drakesville - A day to myself, nowhere to be, and a ride that wasn't all sunshine and roses – well okay, it WAS all sunshine… but, a major achievement in the Riding Solo department, and overall a really memorable ride I'm glad I took.
Yep, I admit it – this post is a re-run! I was wanting to "round up" the upcoming Bike Blessings that I had added to my calendar post. I went looking for the photo that I had used in my original 'Blessing' post, and thought, you know what, screw it – the words are still good too! Here's the original post, and a current/updated list of blessing events:  
I really dig all the "bike blessing" events I'm hearing about. I'm not what you'd call a regular church-goer, but I am a Christian person and I find that riding the Iowa by-ways on two wheels is a great way to enjoy and appreciate God's creation. (Riding in areas that look so different from Iowa, like South Dakota, is a great way to be reminded that my immediate world is very tiny and that God's creation takes many different forms!)
Of course, one of the things I like best about bike blessing events is that they signify the beginning of the riding season. But more than that, they are an opportunity to acknowledge that there is some risk in riding, and that you have to be able to pretty much put yourself in God's hands when you ride because you simply can't control every risk factor. It's humbling. Sometimes, it's even emotional, but maybe that's just me.
We're headed to the first of the area bike blessings soon, so it seemed like a good time to mention a few of them that I know of. If you know of another and would like to list it here, feel free to add it in the comments.
How about you – do you enjoy blessing events? Share your thoughts in the comments!
Saturday, April 12 – 11 am at Route 65 Harley Davidson in Indianola.
Saturday, April 19 – Big Barn Harley Davidson in Des Moines, blessing at 11 a.m. with chili feed to follow.
Saturday, April 26 – 2 pm at Grotto of the Redemption in West Bend, Iowa (I've already got a ride planned for this date, but I'm putting the Grotto Blessing on my must-do list for 2015.)
Saturday, April 26 – F&J Racing blessing, 10 am at the American Legion Post in Marshalltown, Iowa.
Sunday, May 4 – Noon at Prairie Ridge Church in Ankeny, Iowa.
Flickr photo by mobhistory.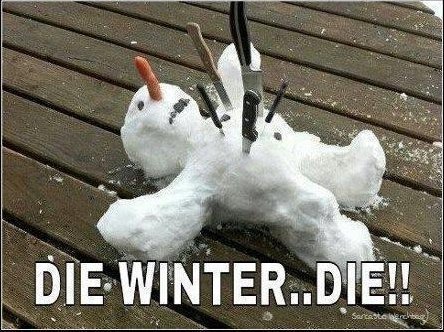 I was beginning to think this Winter wasn't going to end.
Seriously, we had snow flurries as recently as Thursday of this past week. That's APRIL, y'all, and that hardly ever happens in Iowa! (It does happen though… way back in 1973 when yours truly was 10 years old, we had 18 inches of snow in early April. It all melted a few days later, of course, but we still talk about that some 40 years later so really, it was epic.)
Anyway, it has been a longer-than-normal, colder-than-normal, colder-earlier-and-stayed-that-way-longer-than-normal Winter. Not only did we not get our first ride in February, we almost didn't get it in March either. But finally… FINALLY… we managed to catch suitable temperatures on a weekend – but for the second year in a row our first ride of the season was comparatively late, taking place on Sunday March 30th!
My initial plan was to ride to brunch, then go for some kind of short scenic ride to the south. We knew we were going to have to jump start Steve's bike, because it's ten years old with the original battery and we hadn't used battery tenders over the winter. We soon found out, though, that poor Kitten wouldn't start either!  So, Plan B was: go to brunch, then come home and get both bikes running, then take a short ride to Indianola for ice cream.
After brunch, while Steve pulled out the battery charger and jumper box to start work on the bikes, I grabbed the keys so I could move his seldom-used pickup into the side yard. This was so that we'd have plenty of room to maneuver back into the garage when we came home. But, I quickly discovered that his truck wouldn't start either!
So first order of business was to get the truck going. Once that happened, I moved it over to the sideyard and let it run so it would be sure to re-start.
Meanwhile, Steve set about removing my bike seat so he could get to my battery. By that time, Howard and Kristin had arrived to go with us – fortunately they are patient and appreciate a good comedy-of-errors, because I swear it took all four of us about 30 minutes of wrestling with the seat before someone had the big idea to read the directions.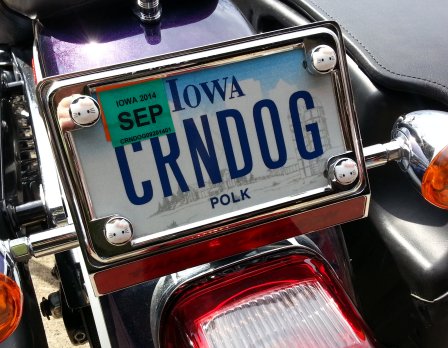 Ah, okay, seat off… now back to the directions to figure out how to get the battery cover off… battery now hooked up to the jumper box, and Kitten roared to life. Hello, Kitty! I swear I just about wept with joy.
Moved on to Steve's bike… same procedure but without having to read the directions… his bike was rumbling within a few minutes, and finally, after all that, off we went!
Now right here I need to confess, in all seriousness, that there was a point in late Winter where I could barely summon the enthusiasm I usually have for the first ride of the season – or anything else for that matter. I entertained the thought that perhaps I didn't care about riding anymore. I thought about giving it up. I was quite simply depressed.
Fortunately, seeing Kitten gleaming in the driveway was a miracle cure for my lingering sense of indifference. And after a few minutes of cruising down one of my favorite south-bound county roads, R63, I was once again near tears of joy (I'm starting to think I might simply be hormonal…)
I love R63 for its roadside meadows and sweeping curves. But because the meadows are still in un-green shades of dormant, I made those curves my singular focus (aside from looking out for suicidal animals, of course): setting my line, looking out to the end of the curve, trusting my bike to dip into the apex and then righting myself and setting for the next one. It was a joy!
And when we arrived in Indianola, we pulled into the A&W under the awning and I dismounted my bike, eager to pull off my helmet and share my happiness with my friends. As I turned to say something appropriately meaningful (a.k.a., "dorky"), my husband switched off his bike and said, "Did you turn off the truck before we left?"
(Crickets chirping.)
Well now. That would be a no. No, I did not. Or to put it another way: Yes, we are 30 miles down the road and our pickup truck is idling unattended at home. Hmmm. I offered to call the neighbor, whose last name and phone number might as well be Smith and 7, respectively, because I have no idea what they really are, but assumed I had the resources to find them by accessing certain websites on my handy-dandy smartphone.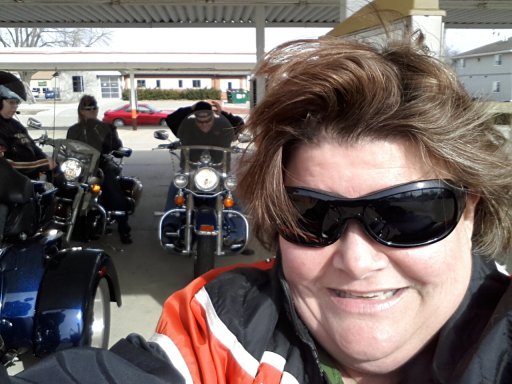 But ultimately, Steve said to just let it be. No one would come into the yard and take the truck with all of our other cars sitting there like we were home, he reasoned.
The worst part would be reporting it to the insurance company and admitting how suspiciously easy we had made it for the theft to occur on a $900 truck.
Well that kind of burst my happy bubble surrounding the curves of R63, but we did enjoy our ice cream and too soon were headed back toward home – down the same road we'd come in on but cruising past the junction at R63 and traveling a bit further west to its cousin, Highway 28 at Martensdale.
Back up to Des Moines through Martensdale, Prole, and Norwalk, a farewell wave to Howard and Kristin, and finally pulled into the driveway at home to find Steve's truck still idling in the yard.
So – all's well that ends well I suppose. Including the Winter That Refused to Die.
In 2004, a number of really important things happened: Janet Jackson had a wardrobe malfunction; John Kerry (now Secretary of State) ran against incumbent George W. Bush for President; Martha Stewart began a five-month prison sentence, and…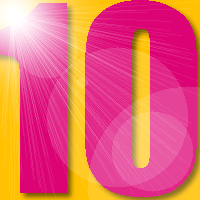 Biker Chick News was born!
That's right, 2014 marks the TENTH blogiversary of Biker Chick News! That's some pretty good staying-power, considering that a boatload of other blogs – motorcycle-related or otherwise – have come and gone over the years.
And while 10 is a pretty amazing number when it comes to blogiversaries, here are just a few MORE numbers that I find really interesting.
10 years
452 blog posts
1,054 comments
1,500 site visits in May 2006
49,032 site visits in January 2014
361,287 site visits in all of 2013
2,161 Fans on Facebook
As always, I want to say THANK YOU to everyone who reads this blog and/or shares their thoughts. I have a few fun things planned for the blog this year, and I hope you will stick around!
This week in our local weekly business newspaper, a well-known sales coach offers up some suggestions for how the busy and motivated sales person can use their "windshield time" – the time they spend behind the wheel, going to and from sales appointments – to increase their chances of a successful sales call. He encourages them to use the time to anticipate or reflect upon the appointment, and gives suggestions such as:
Listen to CD's that inspire and motivate you.
Voice-to-text yourself the primary questions you want to ask your prospect.
Listen to the music that gets you pumped up and excited to go in and be your best!
But, I've got a better idea for sales people and everyone else behind the wheel: stop fiddling with the knobs, buttons and electronic devices, and pay attention to your driving. Hurtling around town in a 3,000-pound-plus automobile carries with it a responsibility – primarily, the responsibility not to harm others. You are far less likely to cause harm to others if you are paying attention to the road.
I know this might put a cramp in your style if you're a sales person who drives to and from appointments and needs to squeeze productivity from every second of the day. But let's face it: if you cause an accident on your way to that sales call because you were digging your favorite motivational disc out of the console, you're going to be late and blow the sale anyway.
Believe me when I say (and this applies to everyone, not just sales people), everyone who is in your path appreciates your attention to the task of driving.
Would that we all were using our "windshield time" to see and process what's actually happening on the road ahead of us.
I was interested – and glad – to see that International Female Ride Day will now be held on a Saturday. This means I (and millions of female riders like me who are tied to the US version of a "work week") will not have to burn a vacation day to participate.
And participate I will! Now make no mistake, ANY day I ride is a "female ride day" – and I don't depend on a designated day or month to validate me as a female rider. But I don't begrudge the fact that there IS a designated day – in fact I think it's kinda cool. And I've always wanted to be able to say that I rode with millions of women worldwide on IFRD. This year, it looks like I'll have that opportunity on Saturday, May 3.
Here's the full story, from founder Vickie Gray's website, Motoress.
Thanks to BCN reader Kathy W. for the tip, shared in the comments on my calendar post!
Big Barn Harley Davidson here in Des Moines hosted its annual Zero Run today – one mile to ride for every degree of temperature. Sixteen riders took part, who are either really hardy or really idiotic, depending I suppose on your perspective…  I'm going with "hardy."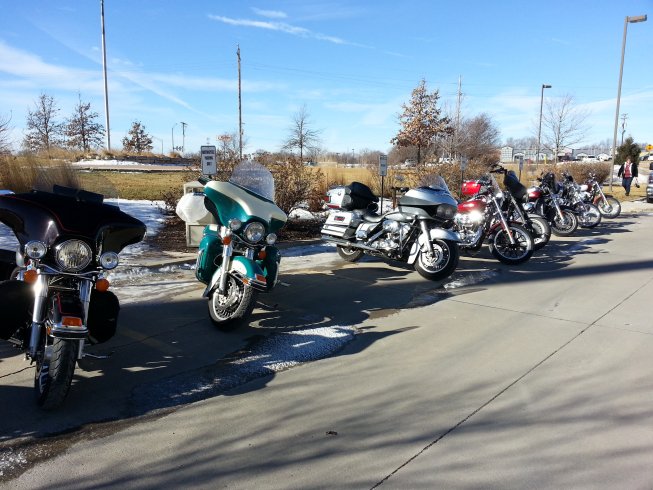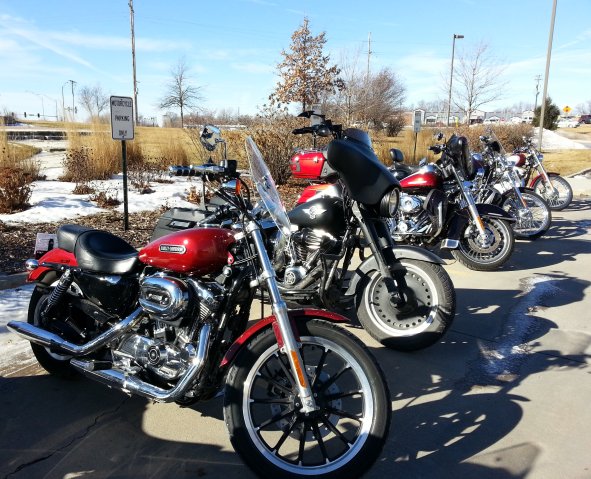 Big Barn hosts this ride every year and sometimes it's cancelled due to road conditions. But this year main roads are decent – it's just COLD – so off they went. We did go to the Barn today but with Kitten hiding in the garage behind the snow blower and our driveway covered in snow and ice, we simply couldn't get there on the bikes. So we drove (yeah, I know, wusses…) but did manage to partake in and enjoy the Chili Feed and did a little browsing on the sales floor.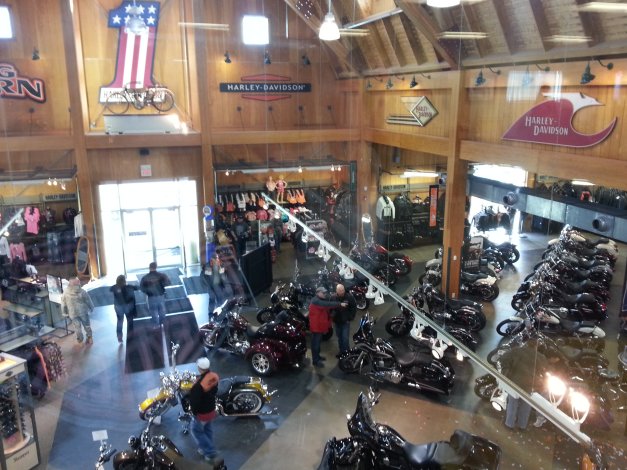 It was nice to do something bike-related even if it was just a little lunch and retail therapy. You can see the entire photo album over on the Big Barn Facebook Page.
Looking forward to the motorcycle swap meet in a couple weeks!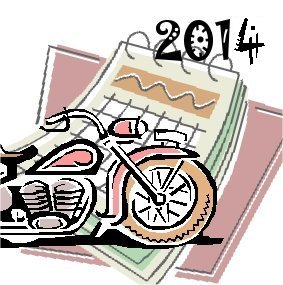 UPDATE APRIL 9 – Updated again by adding a crap-ton more events. I think this makes it my biggest calendar EVER. But, there's likely more still missing. So, if you have an Iowa-focused motorcycle event, leave the info in the comments.
UPDATE APRIL 5 - I've just taken another pass through this list and updated with most of the missing dates. Again, if you know of something that should be added (either a large-scale national event or an Iowa-based event), please add it in the comments and I'll list it in the main post. Thanks!
Happy New Year! Hope your January is off to a great start; I am still hibernating but around here we are approaching the date of the Motorcycle Swap Meet at the state fairgrounds held each year in February. I always consider that to be a bit of a milestone as we progress through Winter, so I am looking forward to it whether we attend or not.
We have had quite a deep-freeze going on around here weather-wise – something called a polar vortex – but there was one day in there where we actually had a high temperature around 45, and there were bikes out! Kitten, of course, is hunkered down behind the snow blower so there's no leaving the driveway for me for quite awhile yet. But still – 45 felt positively balmy after the high temps just the week before which were below zero.
Anyhoo, while it's still January I thought I would post my annual list of Des Moines, central Iowa, and random US biker events and rallies. This is by no means an exhaustive list (but it IS exhausting putting it together! LOL), and some of the dates are still TBA so will be added later. If you know of something happening in Des Moines or its metro area, the state of Iowa, or the Midwest region, please feel free to share it in the comments.
Time to THINK SPRING!!
Capital City Custom Bike Show & Swap Meet – February 8-9, Des Moines IA
Daytona Bike Week – March 7-16, Daytona Beach FL
Blessing of the Bikes – April 12 at Route 65 Harley Davidson, Indianola
Kelley Bike Night – Thursdays 6-10 pm beginning April 17 at Crossroads Tavern in Kelley, IA
Indianola Bike Night – Third Friday of the month, April 18 thru September 19, Indianola IA
Winterset Bike Night – Third Saturday of the month, beginning April 19 in Winterset, IA
Blessing of the Bikes & ABATE Dist. 4 Chili Feed – April 19, 11 am at Big Barn HD in Des Moines
Iowa Dept. of Transportation Motorcycle Safety Forum – April 25 at Hy-Vee Hall, the Iowa Events Center in Des Moines
Blessing of the Bikes – April 26 at Grotto of the Redemption, West Bend, IA
F & J Bike Blessing – April 26 at the American Legion in Marshalltown, Iowa
Gathering on the Grounds – Second Thursday of the month, April – July at the State Fairgrounds in Des Moines (to be confirmed)
Knoxville Bike Night – First Friday of the Month beginning May 2 through September
Struthers Brothers Dinner Rides – (So far) April 12, 26; May 10, 24, leaving from Struthers Brothers in Des Moines, 4:3o pm on dates shown.
Hartford Bike Night – Second Friday of the Month, dates TBA
15th Annual Motorcycle & Trike Display – April 25-27 at Southpark Mall, Spencer IA (712-262-8700)
Avenue of the Saints Motorcycles/Classic Cars (formerly St. Charles Bike Night)  - May 11, June 15, July 13, and August 10, 1-4 pm, St. Charles, IA
International Female Ride Day – Saturday, May 3, worldwide!
Blessing of the Bikes – Noon on Sunday May 4, Prairie Ridge Church in Ankeny, IA
Thunder Nites in Newton – Second Friday of the month, May 9 thru September 12
Vintage TorqueFest – May 2-4 in Dubuque, Iowa
Hot Rods & Harleys Cruise Night – 2nd Thursday each month, May-September, starting May 8 at the Chrome Horse Saloon, Cedar Rapids, IA
Thunder Nites Bike Night - Second Friday each month May-September, starting May 9, on the square in Newton, IA
AMVET Riders Motorcycle Awareness Ride – May 10 at the American Legion in Marion, IA
Ride for Peanut – May 17 in Cedar Rapids, IA
"Remember When" Poker Run – May 17 in Davenport, IA
KIA Memorial Run – May 25 in Davenport, IA
National Motorcycle Museum Vintage Rally – June 7-8 at the National Motorcycle Museum in Anamosa, IA
Rally on the River – June 11-14 in Davenport IA
US Route 6 Iowa River to River Cruise – June 12-14 starting in Council Bluffs and ending at Rally on the River in Davenport (link above)
Bell Tower Festival Poker Run & Bike Show – June 14 on W. State Street in Jefferson, IA
Relay for Life 3rd Annual Poker Run – June 14 starting in Cedar Rapids, IA
Ride Your Motorcycle to Work Day 2014 – June 16 EVERYWHERE!!
Awesome Biker Nights – June 19-21 in Sioux City, IA
3rd Annual Blackhawk Lake Trike-In - June 20-22 in Blackhawk Lake, IA
J&P Cycles Open House – June 27-29, Anamosa IA
Ride it Out for Amber- Saracoma Cancer Benefit - June 28 in Polk City, IA
ABATE Iowa State Freedom Rally – July 3-5, Algona IA
ASMI River Road Fundraiser – July 18-20 in Dubuque, IA
First Annual Ride 4 Time poker run – July 19, Baxter IA
Patriot Ride – July 19, Quasqueton, IA
Road Warrior Rally - July 26, Dubuque, IA
Across the Border Motorcycle Raid and Rally - July 31-August 2 in Bedford, IA
2nd Annual Ride to Live 4 Gibbie Poker Run – August 2 in Boone, IA
Sturgis Rally – August 4-10, Sturgis SD
AMVET Riders 2nd Annual Bug Run – August 9 in Cedar Rapids, IA
Iowa State Fair Motorcycle Day – August 17, Des Moines IA (to be confirmed)
Iowa State BTW Rally and Iowa heartland Trikers Trike-In – August 22-24 in Kellogg & Grinnell, IA
Chief Blackhawk 43rd Davenport Fall International Meet – August 28-30 in Davenport, IA
Davis Motorcycle Rally – September 5-7 in New Hamptom, IA
Sydney's Wish 3rd Annual Benefit Poker Run – September 6, Des Moines IA
Bikes Blues & BBQ – September 24-27, Fayetteville AR
Biketoberfest – October 16-19, 2014 in Daytona Beach SD
So remember this past summer when I wrote about the amazing day spent hurtling through the Iowa corn with Sash and Highway? Well Tina (Sash) is now commemorating her ride across the US and back with a line of sassy t-shirts especially for women riders! Her shirts have been made with the input of the gals she met on her cross country adventures.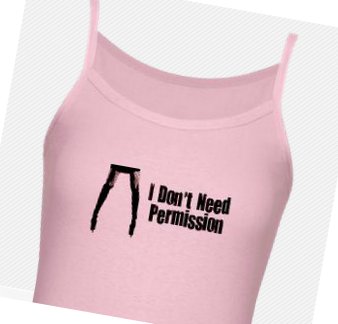 Sash is truly an original – if you read her blog, you know she's often outspoken and brash, sharing her views on being a female rider and daughter of a 1%'er with her own special brand of ferocity. Her shirts definitely reflect her personality!
"Rude Biker Chick shirts are for all of the women who've had enough of being a doormat and are ready to take a stand and declare their independence, power and value," says Tina. "They are to bring women together; to support, encourage, and laugh with one another."
Sash and her husband Steve (aka Highway) base their media company in San Diego. They're currently enjoying an extended stay in sunny SoCal, but their life is based on full-time traveling on their bikes. Their blogs and websites include www.RudeBikerChick.com, www.MotorcyclePhilosophy.org, and www.BikerNewsOnline.com, among many others.
The shirts can be seen and bought online at www.RudeBikerChick.com.