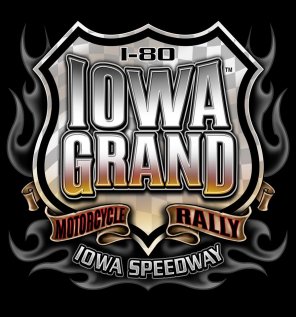 Actor Charlie Hunnam has been forced to cancel all appearances at the Iowa Grand Motorcycle Rally on Friday, May 31 and Saturday, June 1, due to the shooting schedule of the TV series in which he stars, according to a news release issued May 14 by the Iowa Grand Rally.
The "Sons of Anarchy" actor will be unable to attend the two-hour public 'meet & greet' session on Saturday, and the three 90-minute private 'meet & greets' – one on Friday evening and two on Saturday afternoon – at Iowa Speedway in Newton.
Anyone who purchased a private 'meet & greet' session will have their full order refunded, with a period of 7 to 10 days needed for the refund to be processed, according to a news release issued by the Iowa Grand Rally. For more information on this refund, please contact the Iowa Speedway ticket office toll free 866-787-8946.
The Iowa Grand Motorcycle Rally, slated for Thursday, May 30 through Sunday, June 2, is the first major event on Iowa Speedway's busy 2013 schedule. The Rally's entertainment line-up will include live music acts, numerous food, beverage and merchandise vendors, bike displays, tattoos, burn-out and talent contests, motorcycle drag racing, lawnmower racing, body painting, and the ever-popular 'Wall of Death' motorcycle daredevil show.
Additional information about the 2nd Annual 'Iowa Grand Motorcycle Rally' may be accessed on the Rally's official website, www.iowagrandrally.com, or on Facebook at www.facebook.com/iowagrandmotorcyclerally. Vendors and potential advertisers may reach Iowa Grand Rally Coordinator, Sabrina White, at swhite@iowaspeedway.com for details.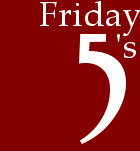 As if its not bad enough that most drivers these days seem to be dangerously distracted by cell phones, dashboard toys, and/or a sense of self-righteous road rage, motorcyclists also have a whole slew of other potential hazards to manage. Some are commonly discussed, such as deer or rain-slicked roads. But there's a wide variety of other situations, objects and circumstances that can cause serious problems – for any driver, really, but with likely more dire consequences for people on motorcycles. Here are a few I've personally encountered – you probably have too.
1. Four-legged friends - Riding through a deer-laden gauntlet isn't the only way animals can pose a problem for a motorcycle. Be on the lookout for overly-enthusiastic dogs charging out from a farmyard… determined crows picking morsels from a fresh hunk of roadkill… wild turkeys lumbering up from the shoulder… or even turtles. Yes, turtles. Although it seems they move slow enough to safely avoid, it's a little unnerving to spot what appears from many yards away to be an Army helmet in the middle of the road, only to realize that it's actually moving and you need to assess its speed and position.
2. Road surface deterioration - It's easy to misjudge the size of a pothole, so be wary of all of them, particularly after a rain when water disguises their true depth. But also look out for "vertical" holes – the kind that are long and narrow and run with the direction ot the bike's travel instead of across its path. These can catch your tire and yank the bike right out from under you. Likewise any section of road with a vertical seam in it, where one section has settled lower than the other. A friend of mine once got her front tire up against the seam of uneven adjoining sections, which threw her from the bike – fortunately at a low speed. Also, man-hole covers. A hard rain can force an iron man-hole cover up out of its "seat" and onto the pavement as water rushes through the storm sewer underneath. Bad enough when you can see it laying in the road… but potentially horrible when you are riding through even just a few inches of standing water and can't see that the iron disk – and the hole it used to cover – are in your path.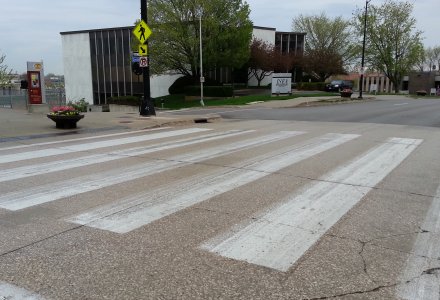 3. Other surface issues - It's truly a wide world out there when it comes to what can compromise the road surface. You'll find plentiful advice about riding in the rain, along gravel, etc. But there's a lot more to surface compromise than water or gravel. Out on the rural roads, its common to encounter a home owner astride their riding mower, throwing cut grass out onto the highway. Grass and leaves (also patches of gravel) hinder your tire's ability to grip the road so be very cautious traveling through these patches especially when wet and/or on curves. And give that homeowner a friendly wave just for good measure. Another possibility: street paint. Have you noticed that crosswalks aren't always just two horizontal stripes anymore? These days they can be giant blocks of solid paint spanning the width of the roadway. I'm absolutely certain these large blocks of paint slicken the surface and reduce tire grip, especially when rain-soaked. There's one on a curve that I pass over every time I'm coming home from the north – I make sure I ride between the painted blocks.
4. Debris - We've all been stuck behind a construction vehicle now and then, and felt the tick-tick-tick of dirt or gravel coming off the truck. But consider that any open vehicle carrying "stuff" can pitch items large or small out into your path – from plastic grocery bags to household goods. Also pay attention to trailers, boats, or other items being towed. I've seen car parts come sliding off a flatbed trailer, water pouring from a boat that had recently been pulled from the lake… and, I was once traveling behind a pickup truck towing a covered boat, and the cover on the boat came up and off. Fortunately it sailed off to the side, but it certainly could have posed an interesting visibility problem for me had it come back my way. It doesn't even have to be actual debris to be a hazard. It can be anything in the road that's not supposed to be there. A few years ago, a drunken pedestrian stepped out in the road directly in front of my oncoming friend. Both were seriously injured in the resulting collision.
5. Optical illusions - Some hazards are not really problems in and of themselves, but they create a visibility issue. The other day we were on a road where there was a horizontal seam about every 20 feet, and every one of them was covered with black sealant. Twenty feet goes by pretty quickly on the bike, so it became a constant stream of black stripes whizzing by. It created some issues with depth perception as well as a huge visual distraction. I call this the Willy Wonka Effect because it reminds me of that annoying scene in the Gene Wilder version of the movie where they're traveling down the chocolate river in his freaky boat with the LSD-inspired scenery. Riding in dappled sunlight can have the same Wonka effect.
As you can see, distracted drivers and deer are not our only worries while riding motorcycles. What's the most unusual hazard you've ever encountered, and how "close" was the call with you and your bike? Thoughts or tips on dealing with any of the above?
"It's only when you hit your 40′s that you can look back at a picture of yourself when you were in your 20′s and realize just how much potential really lay ahead."
That's a paraphrasing of a remark I heard once on the radio that really hit home. And it's so true: you really don't understand, when you're young, what it's going to be like when you look back. And then, when you are in your 40′s, and if you happen to come across a picture of yourself from, say, your college days, you probably gasp and think, "Look how YOUNG I looked!" And the reason it's so surprising, I believe, is because you're seeing not just your physical youth… but your innocence, too, and complete lack of perspective.
It's been kind of entertaining recently, recalling the memories and milestones in the "Why I Ride" series I've been posting. And on a parallel plane, I've been looking through a lot of old pictures for other reasons – and that's been equally entertaining.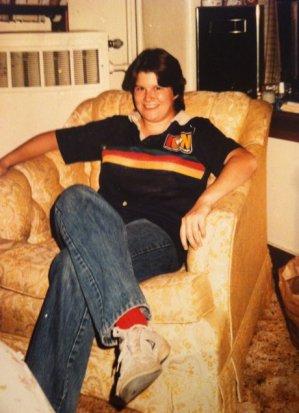 The shot of me at left is from the Fall of 1983. I'm 21 years old; that's just shy of 30 years ago for those keeping score. I'm about five years past my last ride on the Honda Express, but five years away from the epic trip with Steve to Colorado. Kind of a mid-point in my motorcycle journey where bikes aren't even on the radar. The picture was taken in my efficiency apartment across the street from the Iowa State University campus in Ames, Iowa, early in my first semester at the school, to which I had transfered after two years elsewhere.
I look at that picture and I can immediately conjure all the most important circumstances of my life at that moment – and of course memories of "bright college days" come flooding back.
But today, I also realize that at the moment this picture was taken, I knew what I wanted to do but I had no idea who I would become. And I think that is the question that pulls so strongly at your heart when you come across a "young" picture: Did I become who I thought I would be? And perhaps more importantly: Do I like who I've become, even if it's not who I thought I would be? 
I am very, very lucky – when I look back at a picture of myself in my 20′s, I don't think about failing to meet my potential – though Lord knows I haven't achieved half the shit I'm capable of. I just laugh about how smart I thought I was, but how little I really knew about the world, and true joy, and true pain, and what's important.  I might also pine just a little for the tiny sum-total of my life's worries at that moment. That's the perspective 30 years gives you, I guess. I'm grateful that I feel like I'm doing okay when I stack my present life against what that girl had planned for her future.
This week I read a lovely blog post by Jeff Maddox, who calls up a few of the key moments in his younger days when "life became a little bigger."
Life was going on around us and we were taking in the view beyond the grasshoppers, mud puddles and those really straight sticks you would find every so often that you couldn't stand to leave behind.
That business about straight sticks really grabbed me, because for me it was pretty rocks: I'd walk home from elementary school every day past a house with a pea-gravel driveway, and almost daily I'd find a little rock that was so pretty I had to keep it – failing to understand that it was the whole driveway that was cool, not just one little rock. And that that one little rock's purpose was not to serve as my own personal treasure, but to be a beautiful detail within something larger – something that needed to be left intact for others to see, and appreciate, if only they would take the opportunity.
I think that's ultimately why I ride. After the goofy phone booth, the nerdy Honda Express, the rickety learner bike, and everything else, I ride because it is a tremendous opportunity to live in the moment. To experience ordinary details – like deep green corn stalks tipped in early Autumn gold, or a ten-degree drop in temperature at the bottom of a long hill, or the scent of manure coming off a farm field – that I would otherwise miss because life has become so much more complicated.
I think it's also why I spend so much time on this blog spotlighting the details of each and every ride. I want as many people as possible to simply look around for themselves and see the details of their own life – and appreciate their beauty, and the beauty of their own big picture.
Even if they aren't who they thought they would be.
Here are the other parts of this series:
Part 1: The Telephone Booth
Part 2: The Honda Express
Part 3: A Sickly Bleating
Part 4: Rebel Biker Mom
In 2007, "Motoress" Vicki Gray created a day to celebrate women riders. It wasn't an event with a location, a start time, and a 50/50 drawing. Rather it was just the idea that on a certain day, women would ride in celebration of being women on motorcycles. At that time, Vicki took some time to answer questions from me about the concept of International Female Ride Day, then in its infancy. Now we're seven years down the road, and it seemed like a good year to do an update with Vicki. So here we go: a brand new and exclusive Q & A with International Female Ride Day Founder, Vicki Gray!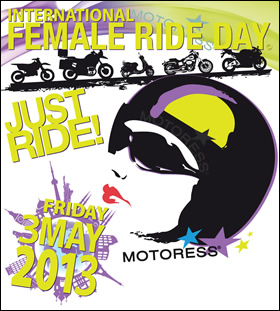 BCN: This will be the 7th year for IFRD. Do you have a sense of how large it has grown in that time, or anything in particular that you measure that illustrates the expansion of the concept?
Vicki Gray: IFRD has blown up in global participation and especially with the assistance of Facebook, social media and our now web-savvy civilization. Its been in the past four years that the boom has really evolved because the word gets out there and women are more comfortable with the internet and have been making it a part of their daily 'connecting' lives. I can't tell you the numbers who participate but it is thousands! And not all women report in on the day. Many women just enjoy riding – they get out there and are not needing to share their actions. If you do a search on Facebook alone for International Female Ride Day there are oodles of events. Women are thrilled about this action all over the world and it's not diminishing–its become bigger and bigger every year embraced by women riders the planet over. Each year women collect the annual t-shirt – and book the time off work from what I've seen via messages, as early as eight months out. It is something that is embedded in our love of motorcycling – there are so many reasons this day will continue to rise – its truly part of our women's riding culture now.
BCN: What is most satisfying to you about having started IFRD, considering the scope of it today?
Vickie Gray: The best part for me is meeting the most amazing women riders the world over! I can tell you honestly, I know a lot of women who enjoy motorcycling! I'm very fortunate. It's been seven years that I've been on the direct receiving end of pretty much every question or enthusiastic comment. I've received emails upon emails of triumphant women who have come forward in their lives, in their cultures, in their regions through motorcycling and what this day means to them. One of the best events I recall was the first time a group of women riders rode through the streets of Tel Aviv on IFRD which had never been done before in history.
Additionally, the motorcycle industry has taken good advantage of the campaign and I've encouraged their support which has definitely been great! But I've also been protective about IFRD. It's for all brands. It's because of this amazing happening that other organisations, brands and individuals have used this network to reach out for their own [often commercially selfish] needs. I've had to do a lot of policing over the years and that will make a great book one day! Much of the market's growth for women in motorcycling is due to the existence of International Female Ride Day – it underlines the activity of women riders but here women riders take lead of who they are. And women riders are able to meet like minded, make friends we are able to join together around the globe- it brings us together and that goal continues to be achieved
BCN: Do you have any notion of how many miles are racked up on IFRD, worldwide?
Vicki Gray: No idea. And it's not about the miles or kilometres, it's about getting out there. Whether you opt to take the motorcycle to work on IFRD rather than the car – and ride only 10 kms – you did your part. You got out there and represented women riders and inspired others.
BCN: What do you still hope for IFRD in the future? What would you like it to become?
Vicki Gray: I hope it continues for eternity! I hope it becomes an official day in all countries. I started this as a woman motorcycling advocate; I had many goals/dreams with it , and one (was) the demonstration of the many numbers of women riders. We've always been there and I wanted us to show the world our numbers.  Of course there's a feministic women-power part to this goal as well. The days are disappearing, and have in Western cultures, of women being in and taking the back seat – we buy houses alone, we run businesses and we charter our own paths. But of course, its still up to women to choose the way they wish their lives to play out. And what's happening now in the evolution of International Female Ride Day is a massive bringing together of like minded women through all cultures and nationalities. This was the plan and I think this link is the substance which will keep International Female Ride Day going. In a world where we know unity, sisterhood is the strength which will make changes for our world as women going forward- and is!
Though, funnily enough there are as in any case, many women who've through one reason or another, tried to dispute the date, hold it on another day – quite simply- it's always been my policy, if you don't like the criteria, don't get involved. I must laugh, as obviously this idea and its huge global success struck a chord with women! You can see by the massive success of this campaign and the passion women have for it, it's working. The women who've picked up the torch and carried it on every year – it's been their choice to support the date with little effort from my side. I'm truly honoured!
There have also been attempts and particularly by one large global manufacturer to take this idea, this day and rebrand it for their own. It's been difficult for me keeping this event just for women riders – an all-brands focus. Unity, no discrimination. I think the most difficult part for me is that I do it all for free. I'm self employed, a struggling entrepreneur, and this costs me time, effort and of course financially. Sure I produce some t-shirts but the profit is nothing to speak of.
My gain is simply for the mission, which is at the truest core of my heart – to expand the knowledge, change the perceptions and reap the pleasures and rewards motorcycling provides us- on all its levels.
BCN: Is there anything specific about IFRD for 2013 that you would like readers to know?
Vicki Gray: Just that the women who join in and have in the past to JUST RIDE on International Female Ride Day are truly unique, inspiring, incredible examples of tremendous ability and spirit. Through all ages, experiences and cultures women have joined together our power and passion through something that's so fun and rewarding. This example is a great bench marker for others. Community is strong and women are demonstrating that simply by taking the handlebars!
Sincere thanks to Vicki Gray for taking time to answer my questions once again!
International Female Ride Day 2013 is Friday, May 3!  Incredibly enough, it's snowy again here in Iowa so my riding plans have been thwarted by Mother Nature. But I hope YOU will get a chance to JUST RIDE!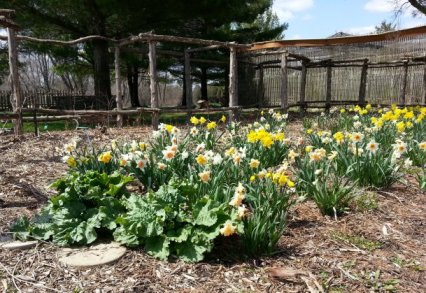 Our fledgling Chrome Divas chapter now has ten members, and it didn't take long to figure out that it's going to be REALLY hard to get all ten of us together for a ride if we try to hand-pick dates and accommodate everyone's incredibly busy schedules. So I like our solution: set a monthly "appointment date," and that's the ride, no matter what. So now, on the designated date each month, we know there's going to be a ride and whoever can attend shows up at the start time and we ride, whether there's two or ten.
We had our first ride on April 26 under the new "Monthlies" plan (ha – get it? monthlies, because we're women! Oh I crack me up…), and we had four ladies attend. Since we've had kind of a hanger-on of a winter, we didn't plan anything major, but Vicki, Susan, Kristin and I had a great day riding to Polk City and then to the Iowa Arboretum.
Our route was an easy one up the "back side" of Saylorville Lake and over the Mile Bridge. We parked on the square in Polk City and while taking off our gear we encountered a lovely older lady whose name we regrettably did not get, but she was awful cute riding around the Square on her mobility scooter. She had a license plate on the front that said "I  B OLD," and where the state name would be it said "State of Confusion." I told her I liked her license plate, and she turned out to be a "Maxine"-type gal who had all manner of snappy comebacks. She seemed to be having a great time just motoring around the Square, being social.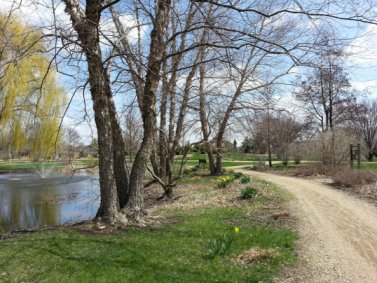 Enjoyed our lunch at Papa's Pizzeria – a nice casual little family place with a view of the square and likely a favorite spot for campers, boaters, and other lake-goers in the summer.
After lunch we continued on to the Iowa Arboretum located a few miles northwest of Madrid. I took a solo ride here a couple years ago in mid-summer, but it looks quite a bit different in Spring. We walked around just enjoying the fresh air. Most of the perennials were still barely peeking through the soil and mulch in the flower beds, but the evergreen garden was interesting. I know we didn't even scratch the surface of everything there is to see here – it's more than 350 acres of trees and plants.
After a brief browse through the gift shop we headed home through Sheldahl and back into Polk City, then back down the lake road and on into Des Moines. Next month we'll be doing a benefit poker run – hope the weather is just as beautiful!
Also in this series:
Part One – The Telephone Booth
Part Two – The Honda Express
Part Three – A Sickly Bleating
By the end of my first season of riding, I was off to a great start. So great, in fact, that when Season 2 dawned in 2003 I was bitten hard by the "new bike bug." Somehow, with my license in hand, the commuter/learner bike just wasn't doing much for me anymore.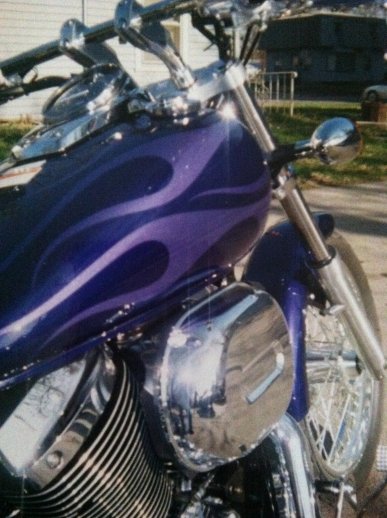 Besides, I wanted to take some real highway trips and the shuggity-shuggity-shuggity of the 250 was never going to cut it for anything other than trips "up around the lake." I sold it to our neighbor who was, oddly enough, a motorcycle licensing examiner for the DOT.
Cash in hand, I began my search for a new bike. I visited dealerships for Harley, Honda, Suzuki and Yamaha, and was pleasantly surprised at the number of bikes that fit me well despite my short stature: the Suzuki Intruder 800, Yamaha V-Star 650, Honda Shadow Spirit 750 and VLX 600 were all serious contenders.
The bike that really spoke to me was the VLX 600. It felt completely right as I sat on it in the showroom. Steve, however, nudged me toward the 750 Shadow Spirit – he feared I would quickly outgrow the 600 since it was only a 4-speed, and besides, the purple-with-ghost-flames paint scheme on the 750 was gorgeous.
So I bought the 750, and had no problem getting used to it. In fact I quickly came to appreciate the additional power. On the downside, the stock seat was awful and there wasn't much in the way of after-market accessories. Steve kept saying this was because it was already designed to look like a custom "boulevard cruiser," so the accessories were already there. What I wanted, though, wasn't chrome and bling – I just wanted a backrest and saddlebags, both of which I felt were essential for going any distance. There just didn't seem to be anything designed for this bike.
I did eventually add some Vance & Hines exhaust pipes, a Memphis Slims windshield, and a set of Kuryakyn ISO grips for the handlebars – all great additions to the bike.
Unfortunately, my first season with this bike quickly took a downturn.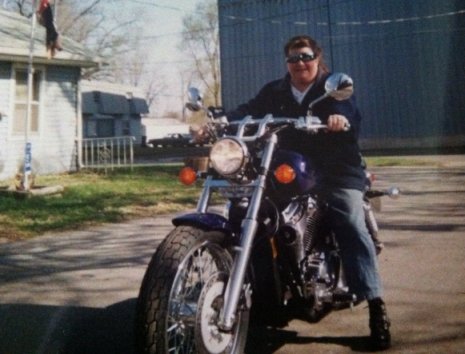 One day, while riding up around the lake, I came to a stop at a stop sign. I looked both directions and started to pull out on my right-hand turn, then changed my mind as I thought an oncoming car from my left was approaching too quickly for both Steve and I to get through the intersection. I applied the brake, and dropped the bike.
I didn't even so much drop it as it just sort of leaned over and I was left standing over it, feet planted on either side.
"What happened?" Steve tried to question me as we righted the bike.
But I didn't know. I just knew I'd changed my mind about the turn, and dropped the bike.
We pressed on – I considered the drop a fluke and felt lucky that I hadn't done any serious damage – and enjoyed the day.
A couple weeks later, on the next ride, we were headed up to the gathering point for a large group ride – a major first for me. This time, at a stop just a block from home and pulling out to turn left, I dropped the bike again.
Again, not much damage except to my pride. Still, I was spooked. So much so that by the time we arrived at the gathering point, I was convinced there was no way I could complete that ride. I told Steve, "I've got no business endangering other people when I can't keep my bike upright."
We rode back home. I was terrified every time a left-hand turn was needed and paranoid that the bike was going to go down yet again. This was June, early in the season.
It's almost unfathomable to me now that I let that beautiful bike sit an entire season without riding it, but it's true: I didn't ride again all year.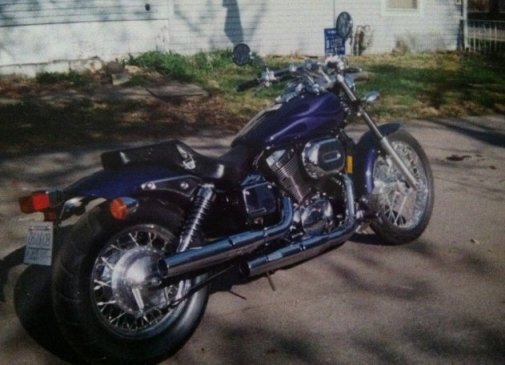 During that season, I spent a lot of time feeling like a phony. Wanting to ride, but terrified that I would drop my bike again. It was actually a relief when winter came around  - at least I didn't feel guilty for not riding anymore.
Of course, like it always does, winter eventually changed into Spring and I started to get a nagging feeling: I should either ride the bike, or sell it, but it was stupid to just let it sit in the garage.
I had spent a lot of time over the winter reading "how to ride" articles and watching videos online, trying to find a clue as to what I'd done wrong. It finally dawned on me that probably what had happened was that in my haste to get whoa'd after changing my mind about the turn I was making, I applied the front brake with my handlebars turned.
Everything I read – and Steve confirmed – that if you have the bars turned, it transfers the bike's weight to that side and makes the bike top-heavy. And if you apply the front brake with those bars turned, you'll drop the bike in the direction the bars are turned.
I also learned another potentially fatal mistake I was making when turning: I was staring at opposite curbs rather than looking where I wanted to go. The secret to a turn, it turns out, is three-fold: look where you want to go. Don't be afraid to goose the throttle if you're pulling away too slowly and wobbling. And don't apply the front brake with the handlebars turned.
I should point out that, had I taken an introductory riders' course at the local community college, I would have known these things from the start.
At any rate, I finally felt like I knew what I'd done wrong, but I didn't have much confidence in my ability to learn to do it differently. There came a day, though, when I decided it was time to try.
It was like starting back at square one: Steve rode the bike up to the school parking lot, and I drove the car – so afraid was I to ride this bike. Our daughter, Stephanie, accompanied us, just as she had done back in Season One.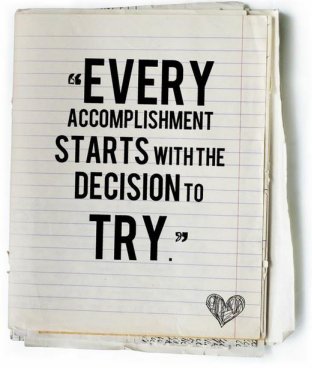 I remember straddling the bike and lifting it up off the stand. Turned the key on, put it in neutral, and pulled in the clutch. Pushed the start button and felt it rumble. I loved that sound. But I was terrified. I couldn't move. I really did not think I could do it. Tears rolled down my cheeks.
"If you want to go home, we'll go home," Steve said after several minutes.
In the space of about 60 seconds, a couple of things happened. First, I made a conscious effort to talk to myself. It went something like this:
"Self, you can do this. You have proven you can do this – you have a license that says you can do this. You've already ridden several hundred miles. Now all you have to do, is put the bike in gear and roll forward. Just roll forward, then make a turn. If you don't, you are going to sell the bike, and you'll no longer be that smart, sassy Rebel Biker Mom."
And while I was talking to myself, I happened to look over at my daughter, who was sitting on the curb and poking a stick around in the dirt. Content, at least for the moment, to spend her Saturday watching me go in circles in the parking lot.
That's when I wondered: What does she learn if I give up? And, what do I want to teach her about how you handle things that are difficult?
I took a big sniffle through my snotty nose and said, out loud, "I can do this."
"What?" Steve called out over the rumble of the bike.
"I'm going to do this," I said a little louder.
And so I did.
I put the bike into gear, and rolled forward. And when it came time to turn, I did that too. I went round and round in countless ovals. I practiced tight turns to the right, tight turns to the left, going in circles, shifting up and shifting down… over and over again until my family was bored silly.
Then I took off for a short ride up around the lake, and when I got home I knew that Rebel Biker Mom was here to stay.
Coming next: Why I Ride, Part Five – Epilogue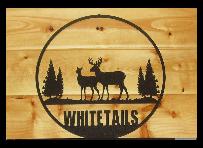 Whitetails Bar and Grill in Marble Rock, Iowa will be hosting its Fifth Annual Motorcycle Poker Run beginning at 10 a.m. on June 15th. This run is a great opportunity to visit North Central Iowa.
This year's run benefits The ARC Charities organization which helps people with intellectual and developmental disabilities, the "That's M.I.N.E. (Motorcyclist.In.Need.Everyday) Donation," which helps bikers with certain living expenses if they are off work due to a motorcycle-related injury, and area hospice service providers.
Additional activities include a bike show, bike blessing, games, dinner and musical entertainment. Complete information about the ride and related activities is available on the Whitetails website.
Editor's note: Although I don't wear prescription eyewear (yet!), I'm sure many of you probably do. I hope this guest post from Michael Spanjol at ADS Sports Eyewear will be encouraging – it sounds like  the technology for wrap-around prescription sunglasses is really improving. This is a compensated post. 
by Michael Spanjol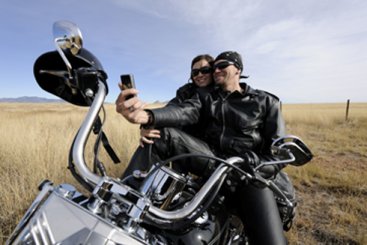 Prescription Motorcycle Sunglasses are now available with Free-Form Digital lenses that dramatically enhance a wearer's field of vision and overall optical clarity. This is one of the biggest advancements in eyewear technology ever. In the past, if you tried putting your prescription into a pair of sunglasses that 'wrap' around your face, you would experience a disorienting peripheral distortion known as the "fishbowl" effect. This effect renders the sunglasses useless and is the result of using traditional lens technology that is meant for flat lenses. People who have tried wearing contacts under sunglasses know that they can dry out easily and become a dangerous distraction at times. These problems have been solved with the development of new Free-Form Digitally Surfaced Lenses.
In a free-form digitally surfaced lens the curve is recalculated at every point on the lens. This is helpful in everyday eyewear, but it is critical in the wrapped frames worn by motorcyclists because you do not want a blurred peripheral view or blind spot when you are navigating traffic; it is just too dangerous to be without the sharpest vision available for your peripheral views. A traditional prescription in a wrapped frame will fail you where a Free-Form lens could save your life. Contact lenses can be an irritant in high wind activities making them pale in comparison to the versatility and durability of free-form lenses which can be made Single Vision or Progressive (no line bifocals).
The free-form digital lenses for Motorcycle Sunglasses can be made with one of the two acceptable lens materials for motorcycling and fitted into almost any frame by any brand. The two acceptable shatter-proof materials are Polycarbonate and Trivex. Polycarbonate is the most popular lens material in sports sunglasses. Trivex was developed by the US military as an improvement on Polycarbonate. A version of polarized Trivex, known as SR- 91, costs about 50% more than polycarbonate, but the optics and durability are state-of-the-art. Polycarbonate and Trivex can be tinted to any color, can be polarized, or can feature a transitions lens film. There are no good options that are both polarized and transitions at this time.
Prescription Oakley Sunglasses are now a major player in the Free-Form Motorcycle Sunglasses ring with the recent popularity of their Wind Jacket model. The Wind Jacket features a removable eye seal and very easily exchangeable lenses for those that want more versatility out of their riding sunglasses.
Free-Form Digital prescription lenses for motorcycle sunglasses are a huge step in the right direction when talking about optical clarity and overall safety for motorcyclists. What once took a head-turn to see now only requires a glance.
ADS Sports Eyewear has been selling prescription motorcycle sunglasses and other sport sunglasses for over 10 years. The owner is an avid motorcyclist and certified optician who has performed unbiased testing on motorcycle sunglasses and lens technologies and has trained his staff thoroughly on these topics. They will happily answer all questions you might have on selecting the right pair of shades for any activity.
Here's the thing about me and The Walking Dead: the story, the characters, and the drama are top-notch. Fabulous. Bellissimo!
But I can barely watch the program because of the gore. Quite honestly, the flesh-eating stuff just makes me want to puke. Which, I'm fairly certain, would only attract walkers. So on Sunday nights, when the show is on and my husband tunes in, I am usually sitting at the dining room table with my back to the TV, listening.
And turning around to watch only during the dramatic parts that don't involve flesh-eating. Seriously… when Carl had to kill his own mother? When Rick and The Governor had their summit meeting? When the Governor mortally wounded poor Milton and left him to die in the locked torture chamber with the be-shackled Andrea and she had to reach for the pliers with her foot? WHEN DARYL DISCOVERED THAT HIS BROTHER HAD BECOME A ZOMBIE??!!  (Oops, some flesh-eating in that scene – ew.) Still, all great dramatic moments.
Anyway so recently for the Season Three Finale, I decided to actually sit and watch the show, facing the television. Mostly I watched through my hands in front of my face, but, here's something I quickly figured out:
Norman Reedus playing Daryl Dixon is hot. It might be the crossbow, or the shaggy hair, or the ripped physique that comes from fighting zombies. Or maybe a combination.
Or, it might be the motorcycle.
Consensus is that the bike Daryl rides is a 1976 Triumph Bonneville Hardtail Frame Conversion (I really don't know exactly what that means, except for the 1976 Triumph Bonneville part)… maybe a 650cc or 750cc. Whatever it is, it's a tough old chopper for sure, and Daryl looks hunk-a-licious riding down the highway. And completely at ease, since Norman Reedus is a long-time rider and former Harley Davidson mechanic. Plus, he's got a titanium skull, or eye socket, or something.
Much debate has taken place online about the "SS" or lightning bolt emblem on the tank. That appears to be a nod to the character of Daryl's brother Merle, who according to my sources is the actual owner of the motorcycle and who had a bit of a White Supremacy problem.
Another frequently asked question online is, why ride a noisy motorcycle when noise attracts walkers? Well DUH: it's because Daryl is a sexy bad-ass who's thumbing his nose at the zombie apocalypse by busting through the hoards in an open vehicle, and if he did that from a frickin' Mazda Miata he'd be, like, John Cusack or something.
Seriously, folks who ask these sorts of "gotcha-logic" questions really annoy me. THERE IS NO LOGIC IN THE ZOMBIE APOCALYPSE, PEOPLE!
If you're going to ask dumb questions like that, you might as well ask "where do they get the seemingly endless supply of gasoline," or "Who's paying the light bill at that prison," Or "how come we never see anyone eating… or showering… or pooping?" (POOP – oh dear Lord, noise AND stench! WHAT DO THEY DO WITH THEIR POOP SO IT DOESN'T ATTRACT WALKERS??)
Silly, silly questions we need not concern ourselves with. And yes, I just ended that sentence with a preposition. See what the zombie apocalypse has done to grammar? Oh the humanity!
But I digress.
Anyway, Daryl is hot. And tough. And hot because he's tough. And I give some of the credit to the motorcycle. And, now that he's stabbed his racist zombie brother repeatedly in the head, I'm hoping he can relax a little in Season Four and hook up with Carol. And maybe replace that Nazi emblem with a "Hey Girl" decal.
This post is probably a good example of why I'm not a TV critic.
P.S. – Shout-out to Merle, brilliantly played by Michael Rooker. Bitter redneck jailbird mercenary for the entire series, but tried valiantly to repair his relationship with his brother and ultimately saved the group from the Governor. Way to go, Merlz!!
Also in this series:
Part One – The Telephone Booth!
Part Two – The Honda Express!
And now, Part Three – Inspiration Boots!
After we got married in 1991, Steve bought and sold a few bikes over the next several years. Then in the late 90′s he got an idea to build a custom bike, and starting with a 1974 Harley Davidson Sportster he made a really cool retro-looking bike that everyone thought was a 50′s or 60′s model.
He'd take it to a popular local bike night to display it, and our daughter and I would follow in the car so we could walk around and look at the bikes. It was on these visits to Bike Night that I first noticed a few (very few!) women riding their own bikes. They looked confident, cool and independent – and I uttered the thought out loud as soon as it occurred to me:
"I wonder if I could learn to ride my own bike."
Now one type of guy might have said, "No way, it's too dangerous," and I might have given up the idea right then and there.
Fortunately, my husband replied, "Sure, you could learn if you wanted to," and he went out and bought me a pair of HD riding boots for inspiration. Now obviously, wearing the logo of a popular manufacturer doesn't make one a biker, but I wore them anyway for literally a couple of years, trying to get the vibe before I really got serious about learning to ride.
Early in the Spring of 2002, we heard about a great learner bike being offered for sale by a friend, so we bought it. Now with boots and a bike, there really was nothing holding me back except my own tendency to over-think. It was time, as my mother used to say, to "shit or get off the pot."
The learner bike was a 1982 Yamaha 250 Exciter commuter bike. Now this is about as nerdy a bike as they come: it had a plastic trunk on the back, had lost one of its side mirrors, and its top speed was about 70 mph. (It sounded like a Singer sewing machine at anything above 50, and you could hear the Wicked Witch of the West's bicycle-riding music in the background when you rode it.)
I started out riding this bike up and down the driveway and around the front yard. The first day, Steve showed me how to work the clutch: I'd start the bike with the clutch pulled in, and he'd walk backwards down the driveway in front of me as I inched forward by feathering the clutch.
After a couple hours of this, I was able to ride the bike in first gear down to the end of the driveway, make a U-turn, and come back. I then progressed to riding circles around the house, and finally Steve rode the bike up to the nearby high school while I followed in the car. Once there, I used the parking lot to learn about shifting gears.
Around this time I also took the first of two tests required of all riders by the State of Iowa: a written "road rules" test. Passed that with no problem, and suddenly I was allowed to ride on the street as long as a licensed rider rode alongside me. (Because presumably, you're less of a danger to others that way. I'm not sure that makes sense, but that's the law.)
By late summer, we had a routine of riding up to the parking lot at the school where I could practice, followed by maybe 30 miles or so riding around town together. I was having a blast.
I turned 40 in mid-September that year, and about a month later I took the skills test to get my full license.
That was an adventure in itself. I had diagrams of the exercises required for the test, and was able to lay them out in the driveway and practice, over and over again.
But I hate any kind of graded performance, and although I was very comfortable riding the bike around town and for short stretches on the highway, the thought of having someone watch and score my skills was terrifying.
My goal had been to get my license before my birthday. But, due to my fear of testing, the day came and went with nary a licensing attempt having been made.
By the time October came around, I was feeling pretty silly. There was no reason to think I wouldn't pass the test – I'd been riding all summer – and the season was drawing to a close. So I picked a day and just decided to do it.
Up at the DOT, it was me and six guys. First came the equipment check – we knew the bike needed both side mirrors to pass inspection, so we had snagged one off my bicycle and screwed it into the open hole on top of the handlebars. It wasn't pretty, but it did the job.
The next potential hurdle was the horn test. The horn on this bike was very, very weak – it sounded like a wounded canary. Fortunately, the license inspector had the group test their horns together so my bike's sickly bleating went undetected.
When he asked for volunteers to go first, my hand shot up – there was no way I was going to sit here any longer than necessary. I was either going to pass, or go home and practice.
I put my foot down once going through the orange cones, and I don't think my quick-stop was exactly what he wanted, but I passed. I passed! And with that, Rebel Biker Mom was born.
I started the summer of 2002 as a wannabe with a pair of Harley-Davidson boots and a keen envy of girls who rode their own bikes. I ended that summer with a bike, a license, and a full season of riding adventures and "firsts" already behind me.