Okay remember wayyyy back in 2009 when I gathered a list of "must-have motorcycle accessories" and I included THIS imaginary item:
Voice-activated protective wrap-around bubble – This device deploys much like an airbag in a car, except it is voice-activated. If the rider shouts "Oh SHIT!" in a panicky voice, the bubble deploys and encases the bike and rider in a large see-through "hamster ball" made of indestructible space-age material.
Well guess what: It's here – or at least, it's in the works… for cyclists… I wish I was smart enough to embed a video shown on Vimeo, but alas… I am not. Anyway, click the preview pic for the precursor to GIANT HAMSTER BALL (aka "Invisible Bicycle Helmet"):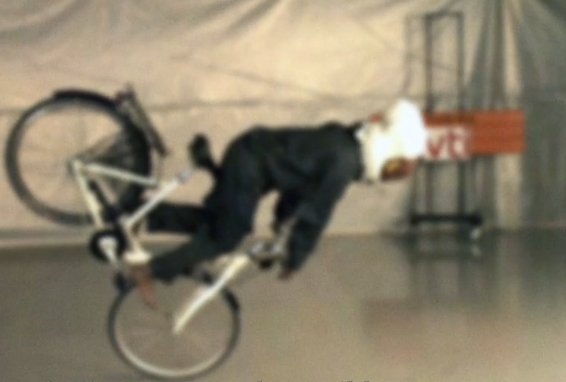 Well I probably missed the last 30 days of this year's riding season due to work on the book, but that's okay – it was worth it to stay focused long enough to complete the project! We might have one or two more nice days yet this Fall and they might fall on a weekend when I am off work… and if they do, I'm still planning to get another ride or two in. And if it does turn out that the Divas ride to the American Gothic House was my last trip until Spring, well then it was a wonderful cap to the year! (Hey one year we got to ride three times in January! I'm not sure if that would be called an early "first ride" or a really late "last ride" – but it sure was fun, and unexpected!)
A few random "news"-type items:
The Motorcycle Safety Foundation now has a basic skills course you can take online. It's not a hands-on class, of course, since it's virtual. But it might be good prep work if you are thinking of taking the MSF course in the future – or even a good refresher if you're an experienced rider. The course costs $19.99 and you can learn more at the MSF website.
Enterprise Rent-A-Car is now offering motorcycle rentals in the City of Lost Wages… you have to have a valid motorcycle license to rent, but mandatory helmets are provided compliments of Enterprise. The pilot program is based in Vegas, with rentals ranging from $120 to $160 per day. They're presently renting only Harley-Davidson 'Glide models, with plans to offer the Heritage Softail Classic and Fat Boy Lo by year's end. No word on when or if other brands may be offered.
And, Honda's new Grom commuter bike is pop-pop-popular! Apparently some dealers can't keep it in stock… likely the 100mpg mileage rating, its lighter weight (just 225 pounds loaded) and its smaller "mini-bike" stature all contribute to the popularity of the bike, as perhaps does the $2,999 sticker price. The bike is being marketed to young people as a way to "bag the bus" and have an independent, but cheap, way to get where you're going. (With a top speed under 70 mph, you won't be going far, but you'll be going easy.) The video from Honda makes it look like fun – I want to ride in an abandoned warehouse!! (I'll be the one who picks up the discarded nails in my tires.)
It's here! GET ON: A Guide to Riding Motorcycles for Women Who Think Too Much is now available!
Click here to buy GET ON for Kindle and Kindle reader apps!
Click here to buy GET ON in Epub format for Nook and other e-readers!
Click here to buy GET ON in PDF Format!
(Note: All editions are copyright 2013 Janet H. Green and may not be copied, redistributed, or offered for sale outside of the links above.)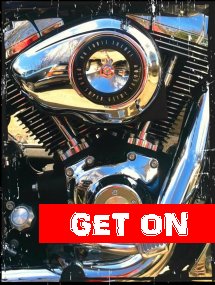 If you're a woman who's been thinking about learning to ride your own motorcycle, but are wanting to understand the risks and rewards more fully before getting started, now you've got a new resource for information and encouragement.
If you're a fan of Biker Chick News and want to know a little of my "Corn Dog backstory," you can learn more about how I got started riding and how I overcame the challenges I faced.
And if you're one of my beloved curious/horrified on-lookers and you just want to support my latest writing venture because you love me, well who am I to argue with that!
Whatever your motivation, it's my sincere hope that you will enjoy GET ON!
You can purchase GET ON at one of the links shown above, and of course you can follow my writing journey at my author website: www.janetgreenbooks.com.
I thank you, from the bottom of my heart, for purchasing GET ON!
Somehow in all the pre-launch book excitement, I managed to miss the fact that Honda celebrated its 65th Anniversary this year. I recently came across their 2-minute ad which brilliantly avoids the "names and dates on a timeline" cliche and instead celebrates the importance of imagination and their contributions to innovation.
What do YOU think?
The link to my official author website is now live and online! For a brief excerpt from GET ON as well as my virtual "media kit" (just in case you want to help promote the book… for which I'd be eternally grateful!)… please visit:
Why an author website and not a "Get On" website? Well, because I'm definitely planning more than one book, and I want to have a place to gather them all together.
Please feel free to pay a visit and stroll around the author site… more to come, very soon!
Haven't been on any rides since mid-September, but only because I've been spending every free waking moment not only fine-tuning the e-book, but also learning the ins and outs of e-publishing.
I believe I have the Kindle version completely done and ready to go. Here's a screen shot of what it looks like on the Kindle Reader on my computer. See that gray area on the left? That's a clickable table of contents and it cost me a day of my life and a bit of hairpulling to get that to work!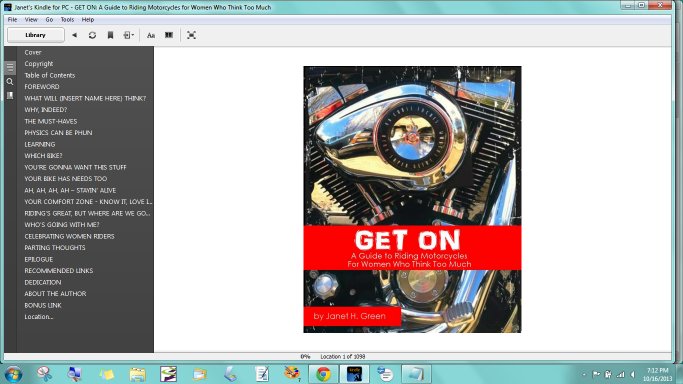 And, here's what it looks like on my Android Phone: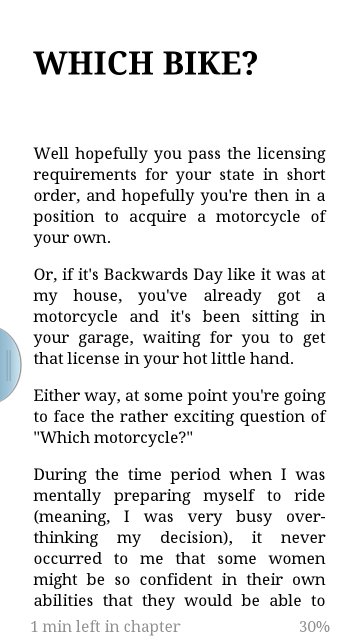 I'll of course be linking out to the Amazon page soon (still on target to launch October 25!), and I'll be adding a direct-download link here on the website to handle sales of the PDF and, possibly, the EPUB file used by the Nook devices and other readers such as Calibri. That involves learning the ins and outs of a plug-in or two for my blogging software (which is WordPress – thankfully a platform with literally hundreds of plugins to choose from). I'm kind of a nerd about these things… I love learning the technicalities of publishing as well as the writing!'
By the way, THANK YOU for sticking with me while I blog about the e-book! Once I launch, I'll have an author website for those posts and we'll be back to regular programming here.
And speaking of bike-related stuff… did you catch the news story about Pope Francis? He has decided to sell the Harley-Davidson motorcycle he was given this past summer, and to donate the proceeds to a Rome-based homeless shelter and care organization. I think it is a lovely decision and completely in keeping with his desire to present himself humbly and sincerely. I kind of wonder how that CraigsList ad would read, don't you?? :)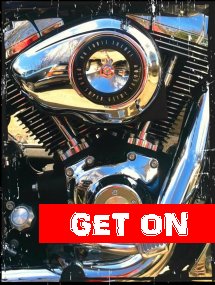 Friends, I've got a HUGE announcement to make:
I am publishing an e-book!
GET ON: A Guide to Riding Motorcycles for Women Who Think Too Much is a funny, informative, inspiring and affordable e-book for women who want to ride but are holding out because… well, probably for some of the same reasons I was holding out all those years ago.
But my new book will answer their lingering questions and give them the shove they need to twist that throttle on their own motorcycle!
Questions such as:
What do I need to get started riding? 
What's the best way to learn to ride? 
Which motorcycle should be my first? 
How am I going to stay safe on my bike?
How do I find people to ride with me?
GET ON will be available beginning Friday, October 25 for Amazon Kindle and as a direct-download PDF document. A Nook edition is also planned, as well as a direct-download EPUB file for e-readers such as Calibre.
I can't wait to hear what you think of it!
Just a quick note to put y'all on high alert… BIG announcement coming up Thursday, October 10! See you back here!
It's the biker video that has stunned America: a group of riders in New York surround a family in their SUV, begin beating on the vehicle, and apparently pull the driver from the car and beat him in front of his wife and small child to the point where he requires hospitalization.
The story, as it has emerged over the course of the last couple of days, is that apparently there was an incident that provoked the riders to take this action. If you watch the whole 6-1/2 minute video, it clearly shows the bikes coming up on and surrounding the SUV, and one of the riders pulling in front of it and then slowing drastically. The rider shooting the video looks away just at the moment when the SUV most assuredly must have hit the slower rider.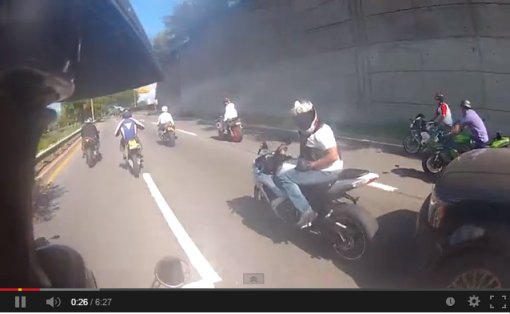 Here is the link to the full helmet-cam video on YouTube, for which the "embed" feature has been turned off.
The video then clearly shows the SUV actually running over one or more of the riders, after they came to  a stop around him following the collision. Then the SUV speeds away, pursued by the group of riders. It's at the end of that pursuit that they begin attacking the vehicle. The camera shuts off apparently moments before they pulled the driver from the car and beat him.
I suppose that eventually we will learn the full story – what really set the whole sorry chain of events in motion. Regardless, the tragedy of this situation is two-fold: first we have a father beaten and brutalized in front of his family, and his family traumatized watching all of this take place. Then we have one of the bikers, also apparently a father, possibly paralyzed from being run down by the SUV.
I've said it before: I just don't get the rage. If you engage in dangerous behavior on the bike, you are going to hurt someone or get hurt yourself. Does injury to you, or to one of your friends, justify this kind of vigilanteism?
In my opinion, no. Regardless of the injury to their friend, the riders had a responsibility to avoid further confrontation. And they certainly have no claim of self-defense, having pursued the driver for several miles.
Just stupidity, all the way around.
Agree? Disagree? Feel free to share your thoughts in the comments.
Editor's note: I love hearing from other riders who are passionate about their favorite ride routes, especially when they're in a completely different part of the country than me! This article was sent to me by Kathy Wilkinson, co-owner of Eco Tours of South Mississippi in Gautier, MS. Kathy's company will lead you on a guided kayak or motorboat tour of the cypress swamps and salt marshes of her beautiful state. My thanks to Kathy for sharing her little piece of the USA with all of us! 
Article & photos by Kathy Wilkinson
As the operator of a tourist attraction, I try to make the most of what little free time I get. Some weekends between tours, my husband and I get the opportunity to ride–he on his Yamaha Road Star, and I on my Suzuki Boulevard M50. One of our favorite short trips is a little loop that starts in our tiny town of Gautier on the Mississippi Gulf Coast and winds through the Pascagoula River swamp.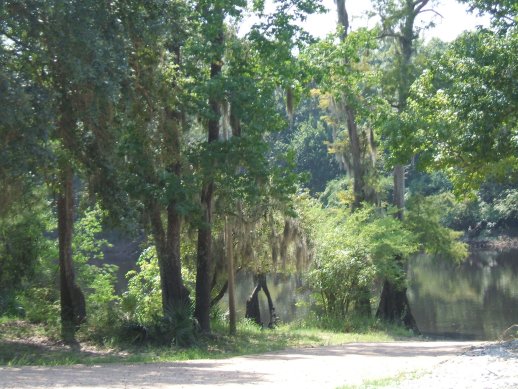 Heading east on U.S. Highway 90, we cross the Alabama state line, and pick up Route 188 (Alabama Grand Bay-Wilmer Road/Newman Road) in Grand Bay. This is designated as a National Scenic By-way. We head north through the farms, horse ranches and pecan orchards of Grand Bay and west Mobile, until we reach Airport Boulevard. As we cruise west to Mississippi, where the road turns into Highway 614, we cross the Escatawpa River at Brown's Bridge, and make our way past Hurley and over to the Wade-Vancleave Road.
We meander through the beautiful cypress bottom lands of the Pascagoula River. If the river happens to be flooding, there will be high water up to, and sometimes over the roadway in places–it's really cool seeing the swamp in a flood. Bridges cross Parker's Lake, Black Lake, and finally the unique and pristine Pascagoula River. This river is the last large (by volume) unimpeded river in the lower 48 states–that is, no dams, levees or flood controls.
It's only about 80 miles long from where it starts at the confluence of the Leaf and Chickasawhay Rivers to where it meets the Mississippi Sound, but its watershed is about a third of the state of Mississippi.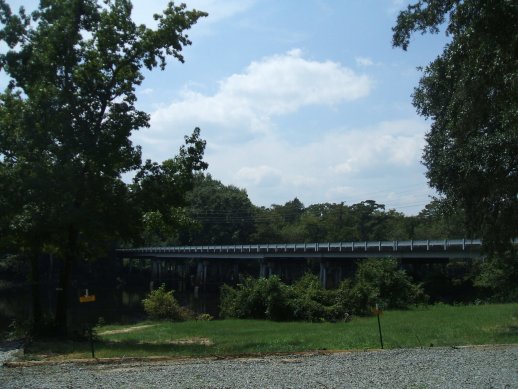 Not long after crossing the Wade-Vancleave Bridge, we turn south onto Old River Road until we reach Mississippi Highway 57. Old River Road is shaded by ancient live oaks. It's a little twisty in places and has great scenery/local color, but is an easy ride.
Old River Road eventually merges into Poticaw Bayou Road which runs into Highway 57. We head south on 57 through the unincorporated area of Vancleave. (Vancleave has seen tremendous growth since Hurricane Katrina, and even has a couple of traffic lights. Since the area is unincorporated, the sheriff's department has jurisdiction, and in Mississippi, the sheriff cannot use radar.)
Depending on our time constraints and the time of day, after passing through "downtown" Vancleave, we have the choice of returning home via Gautier-Vancleave Road or continuing our adventure with a meal at The Shed. The Shed, located on Highway 57 just north of I-10, has gained some national exposure having been featured on Food Network shows Up in Smoke; Diners, Drive-ins and Dives; and, most recently, its own reality show, The Shed.
It's an eclectic place on the bayou that is dedicated to good barbecue and great blues. (As one would expect from a barbeque joint, The Shed's menu is for carnivores. If you're a vegetarian like me, the menu options are very limited, but it's still a fun place to visit with lots of character and tons of local color!)
Leaving The Shed, we head south on 57 to U.S. Highway 90, hang a left and it's a straight shot back into the little City of Gautier. The ride is about 80 miles and passes through some of the most beautiful countryside that south Mississippi has to offer.
After our ride, I usually park the bike, stow my biker gear, don my boating gear, and then it's back to the Pascagoula River swamp with a motorboat load of folks from Anywhere, USA!
And here's a special insider tip for those hoping to enjoy the roads in southern Mississippi: If you come here to ride in late spring and late summer/early fall, beware the "love bug." They're harmless in terms of biting/stinging, but, because they swarm when they mate, they will end up spattered in pairs all over your windshield, your pants, your gloves and your helmet. Removing them as soon as possible is crucial, as their bodies are acidic and they can damage your equipment if left too long. White vinegar and water, mixed 1:1, works well to remove the residue!