Albert the Bull: Giant Bull with Big Nuts!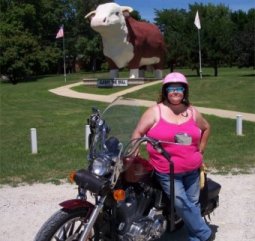 We are trying to put on some miles in preparation for the two-day ride to Sturgis, so today we took off to the west with the added goal of taking some pictures of Albert the Bull. Albert is a 30-foot-tall, 45-ton sculpture of a Hereford bull, erected in Audobon, Iowa in 1964 to acknowledge the impact of the beef/cattle industry on the local economy. He's something of an Iowa landmark and an excellent biker destination. The weather was outstanding for late July – it was 80 degrees and sunny, with bright blue sky and scattered clouds. (The whole week prior, it had been in the upper 90's and humid – so this was a welcome break!)
We took off from home heading west out of Des Moines on old Highway 6, which we took all the way through Adel and Redfield, picking up Highway 44 (the Western Skies Scenic Byway) at Panora. We hit some road construction  between Redfield and Panora, but I have to say, Redfield has got to be one of Iowa's prettiest small towns and the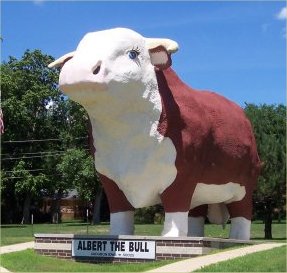 landscape along 44 is just impossibly lovely – lush green fields, immaculate farmyards, century-plus-old homesteads, all perfectly green from recent rains.
We stopped for a water break in Guthrie Center along Highway 44, and a very friendly gal at the gas pumps asked us where we were headed. When we said we were going to take pictures with Albert the Bull, she told us that her dad had been one of the men who had done the original plaster work (actually concrete troweling) on the sculpture – so Albert was a special point of pride for her, and she still lived in Audobon.
We finished up with Highway 44 at Hamlin, then turned North where we found Albert just four miles up the road in the middle of Audobon City Park. You can't help but smile when he comes into view from the road, and of course there's a little information kiosk where you can learn all about how and when he was made. (Here is more info about Albert online!) The park is lovely, and includes a well-maintained campground and playground.
After snapping several pictures, including one of Albert's rather impressive testicles, we headed on into Audobon proper where we had a late lunch at the Chatterbox Café. This little spot on the west side of Division Street was just what we were looking for – a mom 'n pop place to eat and visit. The food was very good, the service was especially friendly, and we had a leisurely meal before heading back for home.
Because of the rather iffy stretch of road construction we'd encountered between Redfield and Panora, we decided to take an alternate route home so we headed south out of Audobon on Highway 71, down to 83 and then east to Anita. Stopped to top off gas, and headed up to I-80 east back to Des Moines. This was about a 70-mile stretch of one of the nation's busiest Interstates, but all went well. (We will be taking this same Interstate out of Des Moines as we head to Sturgis.)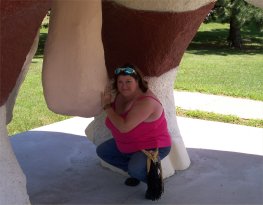 We had left Des Moines around 11:30 a.m., and got home just about 5:45 p.m. It was a perfect day riding – good weather, good friends, no mishaps – and a photo op with a giant concrete bull!