Will 2016 be your year, the year you learn to ride your own motorcycle?
If you're like me, you don't just jump in to something like this: you take some time to educate yourself about the potential joys and dangers, pros and cons, and what you need – physically, practically, and mentally – to get started.
And if you're EXACTLY like me, you stomp around for two years in your wanna-be boots, trying to visualize your two-wheeled future. But I digress.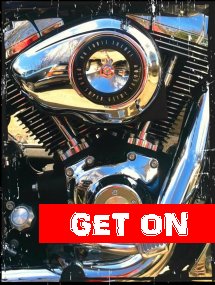 Whether or not this does turn out to be "your year," you might find it helpful to gather perspectives from women who DO ride, on what you need and what it takes to be successful in getting started.
If you follow this blog you already know I love to write… So hopefully it's no great shocker that I have compiled my perspective on those very topics into an e-book. :) An e-book that I hope you find entertaining as well as helpful! An e-book that costs less than nearly everything at Starbucks! An e-book that has been judged by other women riders to be "not completely hideous!"
"…the final push I needed to get started. Janet is educational, honest and very funny."

"Love the book and what it stands for. If you are a woman who has thought that maybe you'd like to ride, check out this book to see that you certainly can!"

"Janet Green nails it with great solutions and answers to difficult questions potential riders will struggle with. Don't think about riding, just read this book and 'Get On' right now!"
Here are the shopping links to purchase your copy of "Get On: A Guide to Riding Motorcycles for Women Who Think Too Much" for just $3.99 (cheap!):
Buy GET ON in PDF or ePUB formats here!
Beyond the e-book, I am always keen on fielding questions about anything related to riding. Share your questions anytime by commenting on blog posts, finding me on Facebook or Twitter, and/or by email! See my sidebar links to connect via other social sites, and thank you for reading!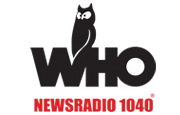 This Sunday, June 28, I have an amazing opportunity: I'm going to be the guest on "Sportsman's Notebook," a Sunday morning program on 1040-WHO Radio! My Iowa friends and followers will know two things: 1 – The host of the program, Keith Kirkpatrick, is an Iowa Treasure, having been an on-air personality at WHO Radio for more than six decades. And 2 – WHO Radio is the premier talk and news radio station in Iowa. It's signal reaches far and wide across the country – and did so even in the days before the internet. Keith tells me his show normally focuses on hunting and fishing in Iowa, but he saw my presentation at Edgewater back in May and invited me on because he could tell I was enjoying the beauty and bounty of Iowa in my own way and wanted to showcase it. I am THRILLED – we will be talking about riding and enjoying Iowa by motorcycle, my e-book "GET ON," and much more! You should be able to listen LIVE at iHeartRadio or the WHO Radio website itself at http://www.whoradio.com/main.html.
It's here! GET ON: A Guide to Riding Motorcycles for Women Who Think Too Much is now available!
Click here to buy GET ON for Kindle and Kindle reader apps!
Click here to buy GET ON in Epub format for Nook and other e-readers!
Click here to buy GET ON in PDF Format!
(Note: All editions are copyright 2013 Janet H. Green and may not be copied, redistributed, or offered for sale outside of the links above.)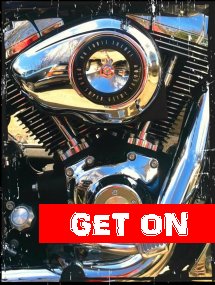 If you're a woman who's been thinking about learning to ride your own motorcycle, but are wanting to understand the risks and rewards more fully before getting started, now you've got a new resource for information and encouragement.
If you're a fan of Biker Chick News and want to know a little of my "Corn Dog backstory," you can learn more about how I got started riding and how I overcame the challenges I faced.
And if you're one of my beloved curious/horrified on-lookers and you just want to support my latest writing venture because you love me, well who am I to argue with that!
Whatever your motivation, it's my sincere hope that you will enjoy GET ON!
You can purchase GET ON at one of the links shown above, and of course you can follow my writing journey at my author website: www.janetgreenbooks.com.
I thank you, from the bottom of my heart, for purchasing GET ON!
The link to my official author website is now live and online! For a brief excerpt from GET ON as well as my virtual "media kit" (just in case you want to help promote the book… for which I'd be eternally grateful!)… please visit:
Why an author website and not a "Get On" website? Well, because I'm definitely planning more than one book, and I want to have a place to gather them all together.
Please feel free to pay a visit and stroll around the author site… more to come, very soon!
Haven't been on any rides since mid-September, but only because I've been spending every free waking moment not only fine-tuning the e-book, but also learning the ins and outs of e-publishing.
I believe I have the Kindle version completely done and ready to go. Here's a screen shot of what it looks like on the Kindle Reader on my computer. See that gray area on the left? That's a clickable table of contents and it cost me a day of my life and a bit of hairpulling to get that to work!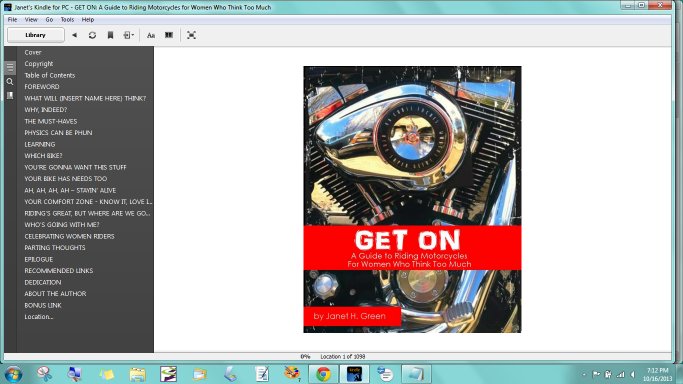 And, here's what it looks like on my Android Phone: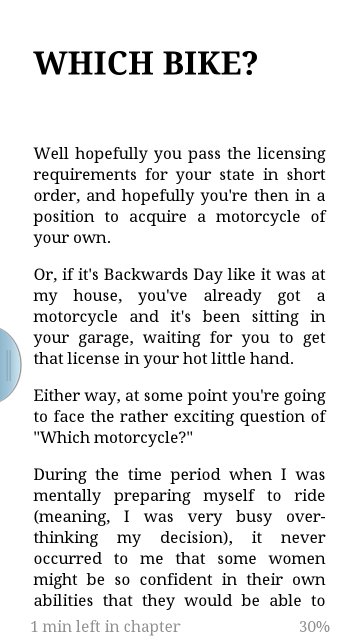 I'll of course be linking out to the Amazon page soon (still on target to launch October 25!), and I'll be adding a direct-download link here on the website to handle sales of the PDF and, possibly, the EPUB file used by the Nook devices and other readers such as Calibri. That involves learning the ins and outs of a plug-in or two for my blogging software (which is WordPress – thankfully a platform with literally hundreds of plugins to choose from). I'm kind of a nerd about these things… I love learning the technicalities of publishing as well as the writing!'
By the way, THANK YOU for sticking with me while I blog about the e-book! Once I launch, I'll have an author website for those posts and we'll be back to regular programming here.
And speaking of bike-related stuff… did you catch the news story about Pope Francis? He has decided to sell the Harley-Davidson motorcycle he was given this past summer, and to donate the proceeds to a Rome-based homeless shelter and care organization. I think it is a lovely decision and completely in keeping with his desire to present himself humbly and sincerely. I kind of wonder how that CraigsList ad would read, don't you?? :)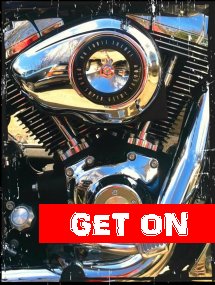 Friends, I've got a HUGE announcement to make:
I am publishing an e-book!
GET ON: A Guide to Riding Motorcycles for Women Who Think Too Much is a funny, informative, inspiring and affordable e-book for women who want to ride but are holding out because… well, probably for some of the same reasons I was holding out all those years ago.
But my new book will answer their lingering questions and give them the shove they need to twist that throttle on their own motorcycle!
Questions such as:
What do I need to get started riding? 
What's the best way to learn to ride? 
Which motorcycle should be my first? 
How am I going to stay safe on my bike?
How do I find people to ride with me?
GET ON will be available beginning Friday, October 25 for Amazon Kindle and as a direct-download PDF document. A Nook edition is also planned, as well as a direct-download EPUB file for e-readers such as Calibre.
I can't wait to hear what you think of it!