Kirsh Helmets of Schenectady, New York, is positioned to begin production and marketing of a DOT-approved, low-profile half-shell motorcycle helmet, with the conclusion of its seed round of fund-raising which brought the company more than $1 million in investments. Kirsh will be bringing to market the design and technology patented by Impact Technologies, Inc.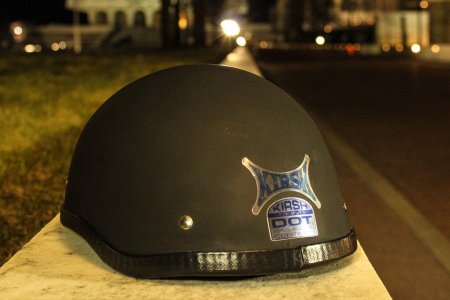 Kirsh Helmets combine a lightweight and low-profile design to provide strength and durability with reduced drag. The helmets routinely exceed DOT testing requirements, according to information provided to BikerChickNews. They use a patented Fluid Displacement Liner (FDL), which also works as a conductor to pull heat off the rider's head, eliminating the need for ventilation.
Kirsh will exhibit their product at the upcoming 77th Annual Sturgis Rally, August 4-10 in Sturgis, SD; the AIMExpo, September 21-24 in Columbus, OH; and Biketoberfest, October 19-22 in Daytona Beach, FL.
Photos courtesy Kirsh Helmets; used by permission.
J&P Cycles, the world's largest aftermarket motorcycle parts and accessories retailer, announced a multi-year partnership with the City of Sturgis, South Dakota to be the "Official Motorcycle Aftermarket Retailer" of the legendary Sturgis® Motorcycle Rally™ held each August.
The partnership extends the company's year-round retail presence in Sturgis, which includes the J&P Cycles store on Lazelle Street and a mobile customization shop featuring dozens of aftermarket brands such as Kuryakyn, Vance & Hines, Dunlop, Mustang Seats, and others.
"Sturgis is always a pilgrimage for motorcycle riders, and we're proud to have a year-round presence in the Black Hills," said Zach Parham, President of MAG Retail Group and son of J&P Cycles founder John Parham. The sponsorship illustrates the company's commitment to the city, the rally, and the half-million riders who attend each year, Parham said.
"Here in Sturgis we see riders come from all over the world to visit the J&P Cycles flagship store. They are an anchor in our community," said Sturgis Mayor Mark Carstenson.
J&P Cycles operates retail locations in Anamosa, Iowa, Daytona Beach, Florida, and Sturgis, South Dakota. The company's Rider Service Center is located in Daytona Beach, Florida. J&P Cycles supports motorcyclists with retail pop-up stores at over a dozen motorcycle rallies, races and events throughout the U.S. each year. The company was founded in 1979.
Source: J&P Cycles news release, edited by Corn Dog. 
Hey all, I hope you had a fantastic holiday season and are off to a great start in 2017! I received an email recently letting me know that the Daniel J. O'Neill Law Office in San Luis Obispo, California is giving away some motorcycle safety gear, so I wanted to be sure you had a chance to enter to win one of these items.
Gear choices for the winners include an HJC full-face helmet or a pair of Alpinestars GPX gloves. The helmet features a lightweight advanced polycarbonate composite shell, moisture-wicking interior, and advanced channeling ventilation system. The gloves feature a patented third- and fourth-finger bridge, and Dynamic Friction Shield (DFS) knuckle protection system.
To get your entry in, click the link below and be prepared to share your best motorcycle safety advice. Winners will be announced on January 27, so do this now!
O'Neill Law Firm safety gear giveaway entry form
More soon!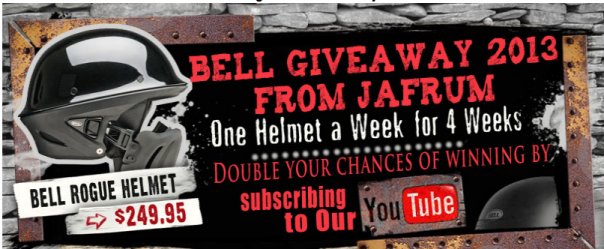 Just a li'l reminder that April is Helmet Awareness Month, and if you want to be AWARE of a new Bell Rogue helmet for FREE, be sure to enter the Jafrum.com Bell Rogue Helmet Give-Away. But hurry the heck up, give-away ends April 7!
A few years ago, I created a list of must-have accessories – my favorites at the time were a windshield, loud pipes, hand grips, saddle bags, and bling. That post just might be due for an update soon… I've since learned that a luggage rack, rider backrest, and highway pegs are pretty important items too, at least for me. Fortunately, one of my favorite retailers offers all of this and more. And, even better: they've once again invited me to give away a gift card!
J&P Cycles wants to give a $25 gift card to a lucky winner from Biker Chick News! If you'd like to be in the drawing to win, just leave a comment on this post with your answer to the question: "What's the best accessory you've added to your bike?" If you haven't added any, you're not doing it right! just leave a comment so I know you'd like to win!
The winner will be chosen via random.org on June 9, so leave your comment (one per person) before end-of-day June 8. And, be sure to include your email address when you fill out the comment form so I can contact you if you win! I promise not to share the email addresses.
J&P is a leading retailer of after-market motorcycle parts for Harley, Yamaha, Honda, and other makes/models. They have specialty lines for vintage and racing bikes, too. AND – every year they host a fantastic Open House weekend at their Anamosa, Iowa location. So come on up, down, or over June 25 and 26 to the 2011 event!
And, don't forget to leave your comment on this post to be eligible to win the gift card!
Disclaimer: As with the previous J&P Give-away, I was not compensated to promote their company or their website. In exchange for the links I've given them above, they are giving a gift card to a BCN reader.
You're not expected to remember this, but a long time ago I ran the Picky Bitch with a Mustang solo seat. The rider's backrest was a life-saver on the 2006 ride to Sturgis as well as the Estrogen Ride, but the trade-off was that the seat sat me an inch or so higher on the bike, and I was no longer flat-footed.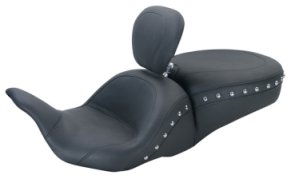 It looks like Mustang is beginning to address this problem with the new "Lowdown" seat, which sits a full 1.5 inches lower and has a narrower "nose." This is a great feature for comfort and safety – I can tell you my Sportster solo seat would have been absolutely perfect if it had been a skosh lower. (Just look at all that down-in goodness!) The Lowdown is currently available in plain or studded finishes, with or without driver backrest, for the Harley Davidson touring line.
I asked the folks at Mustang what their plans were for the Lowdown – they told me they've only been offering it for a couple months and that there are currently no plans to expand it to the Sportster or other HD lines. (But, guys, you should totally think about it! I would've killed for this seat … well not literally, but, you know… when I had my 883!)
Hat tip to the venerable Cyril Huze Blog for alerting me to this new development! Photo of Lowdown seat snagged from Mustang website.
I admit to being more than a little curious about how the insurance industry works when it comes to motorcycles, so when Pam King invited me to review this article about potential discounts, I felt that the information could really be useful to virtually anyone who owns a bike. Thanks to Pam for providing this piece for Biker Chick News!  ~ Corn Dog

by Pam King
When you're in the market for motorcycle insurance, it's important to shop around and make sure you're getting the best deal possible. Before digging into the discounts, it's important that you have a basic knowledge of how insurance companies decide your initial insurance rate. Some of these can translate into discounts so be sure to ask your agent about how they impact costs!
Type of bike – If you own a brand-new bike, it will be more expensive to insure than an older one. Additionally, elite brands of motorcycles are more expensive as well, since the cost of replacement is higher.
Your age – Similar to auto insurance, the older you are, the cheaper your rates will be. The only thing that could change this is if you're new to operating a motorcycle. Some companies will put you in a higher rate category, in which case your age may not matter initially.
Your driving history – The cleaner your driving record, the cheaper the insurance. Unfortunately, even if you're new to driving a motorcycle, past auto accidents can count against you.
Your geographic location – Where you live can influence the price of your insurance premiums. For example, if you live in an area that's known for its high crime rate or high accident area, your premiums will be higher than someone who lives in a safer area of the United States.
Aside from these primary factors, there are many other discounts you may be eligible for on your motorcycle insurance. Doing your research before calling insurance companies will help you know the right questions to ask – and more importantly, which discounts are right for you. Because face it: discounts aren't something your insurance agent will bring to your attention – you'll have to ask for them!
Here are 11 of the most common ways you can get discounts on your motorcycle insurance. Some can save you up to 40 percent.
Low mileage discount – If you stay below a certain yearly mileage (usually predetermined on your policy), some companies offer a small discount. This is ideal if you use your bike for recreation instead of commuting back and forth to work every day.
"Mass transit" discount – This is basically the opposite of the above discount. Some companies can give you a break in your rates for using your bike as transportation to and from work.
Safe driver discount – By maintaining a good record with no moving violations or accidents, you may be eligible for a discount.
Organization discounts – Many times, you can get a small discount through local or national organizations. Popular organizations include the American Motorcycle Association, Gold Wing Road Riders Association, Harley Owners Group, Honda Riders Club of America, Motorcycle Safety Foundation, and more.
Motorcycle safety course – Participating in a motorcycle safety course within the last 24 -36 months can help lower your monthly premium. The window of time will depend on the individual insurance company.
Owning multiple bikes – Some insurance companies give a discount for having a policy that covers more than one bike.
Multiple policies with the same company – Many insurance companies, like Allstate and State Farm, will give discounts if you have more than one policy with them. For example, having home and auto, as well as motorcycle insurance, can save you money on your premiums.
Transfer discount – As competition in the insurance industry rises, companies have begun offering a discount when you transfer your policy from another company to theirs.
Anti-theft device – Having an approved anti-theft device on your bike can many times earn you a discount.
Safe storage – If your insurance company knows your bike is stored somewhere safe when not in use, you may be eligible for a discount. Why? Because having it locked in a shed or garage means it's much less likely to get vandalized. And, it won't have to withstand the wear-and-tear caused by weather as much as it would if it was stored outdoors.
Part-time drivers – Some companies give a discounted rate for those who drive the bike occasionally. These drivers are known as "part-time" drivers, and make the most dramatic difference when the part-time driver is young.
When talking with your insurance agent, be sure to ask for the above discounts – along with any others that are available through the company. Even getting a break on a few of these can save you plenty of money in the long run.
If you're interested in learning more about saving on motorcycle insurance, be sure to read Q&A for Cheaper Motorcycle Insurance. It covers questions to ask yourself, and will help you have a productive, money-saving conversation with your agent.
About the Author:
Pam King writes on frugality, safety and insurance literacy for Direct General, a motorcycle insurance quote provider.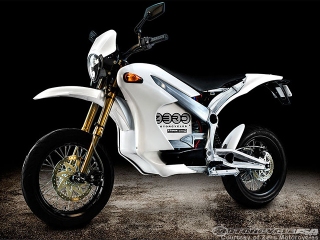 Zero Motorcycles of Santa Cruz, California unveiled its new street-legal electric bike, the Zero S, on April 7. The Zero S will begin shipping to pre-order customers within the next 30 days.
A news release about the bike stated:
The Zero S uses a completely non-toxic lithium ion array (proprietary power pack), and the majority of the motorcycle is fully recyclable. The landfill approved power pack recharges in less than four hours while plugged into a standard 110V or 220V outlet. Eco-friendly with zero emissions, the Zero S is also economy-friendly with an operating cost of less than one cent per mile or kilometer.
The release also states that the bike's maximum range is 60 miles, and top speed is 60 mph.
I think it's fair to say this is strictly an urban commuter bike – you won't be taking any long road trips with it. But, there's certainly nothing wrong with that. I learned to ride on a Yamaha 250 Exciter, a commuter bike if ever there was one, and understood that the bike wasn't designed to take me any great distance. Same thing here – the Zero's look is decidedly urban, and it should make for a nice alternative commute option for those who want green features and a (motorized) two-wheel commute.
Understanding the bike's purpose and limitations, then, my only real criticism is the seat height. At 35.5 inches, this seems like it would be out of range for a large number of riders.
By the way, I did follow the links to contact the PR person for Zero, but they have not responded yet to my inquiry. Here are the questions I asked – I'll follow up with the answers if/when I hear from them:
1. What about the bike makes it "high performance"? Is it the power-to-weight ratio? What else?
2. When you mention "recyclable" components, I think plastic. How "solid" does the bike feel given its light weight?
3. The seat height, at 35.5 inches, will exclude many riders. Why did the company launch a product for the mass market that isn't accessible for a large chunk of the riding population, especially if the goal is to have a real, widespread environmental impact?
4. I assume the bike is very quiet? Do you have any thoughts on whether this reduces awareness of its presence on the road?
Update: here's an interesting link provided by Skadamo in the comments below that gives a ride-test report on the Zero S:
http://hellforleathermagazine.com/2009/04/2009-zero-s-initial-report.html