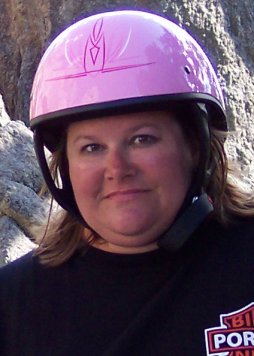 Last spring I said farewell to my beloved partner-in-crime, the Picky Bitch. Well, this riding season I will be bidding adieu to another longtime riding companion – my pink Fulmer helmet, which I acquired in… hm, I think early 2006.
So why'd I replace such a great piece of equipment? Well, for one thing the Motorcycle Safety Foundation suggests that a helmet's protective qualities may deteriorate over time. They also recommend replacing your helmet every few years (or immediately if it has been dropped or damaged) because new materials are always in development that improve the weight and functionality. I also happened to receive a beautiful new pearl-white helmet as a Christmas gift.
I'll introduce you to the new lid in a future post, but right this second I wanted to just acknowledge that the pink helmet has served me well: It protected my noggin when I dumped the bike in the mud over in Guthrie County one day… it served as a homing beacon for friends riding behind me through the chrome clot of Hulett, Wyoming on No Panties Wednesday… and on at least one occasion, it was the way someone at a rally recognized me ("You ride with a pink helmet, right?").
With the arrival of the new helmet, the question arises of what to do with the pink one. I'm sentimental enough that I hate to throw it away, but it really wouldn't be any good to someone else given its age. Maybe I'll hang it on the wall in our basement bar as a memento. Or maybe hang it upside down on the porch with a philodendron in it. Anyway, suffice to say it's seen more than a few great adventures.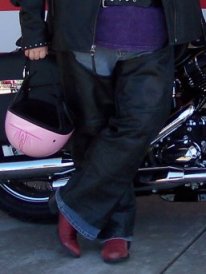 I love chaps. Actually I should amend that to say, I love chaps on other people. On normal people, chaps contribute to that long and lean, bad-ass biker look that kinda turns me on. Plus, of course, they have wonderful protective qualities that will quite literally save your skin if you go down. On me, however, because I am so short and round, they generally look like someone has put chaps on the Michelin Man. (I sure love them on me for warmth – and those protective qualities – regardless of how silly they look!)
A few years ago I did a short piece on the blog about the history of chaps. Then recently I connected via email with a biker leather shop in western Iowa called Leather & Hawgs, and thought that perhaps they would be good folks to offer up some tips on how to properly fit a pair of chaps.
Owner Greg "Leatherman" Crook was kind enough to provide me with the following tips for fitting and buying the "shotgun style" most commonly worn by bikers:
When you purchase your chaps the most important thing is to get a chap which fits very snug on your thighs, because over time they will stretch. Once you have the chaps on, you can put your hand between your jeans and the chaps; this is about how much the chaps will stretch once they are broken in.
If you have a larger waist, it's tempting to get bigger chaps; unfortunately, if you do this you may find that the legs are much too big even before they stretch out. Buy the chaps that fit snug around your thighs; expand the waist if need be by using an extender, and overlap the grommets on the back of the chaps if you are small-waisted and need to bring the waist in.
When measuring the length you should have on the boots you wear on your bike. To get the proper length, stand up straight and look ahead, and have someone measure the length to the bottom of your heel, plus half an inch to allow for the chaps to pull up when you are sitting on the bike.
Oh, and just in case it's not clear, the above represent POORLY-fitted chaps. They're mine, and I bought them, before I learned these tips, to fit my waist rather than my thighs. They're also too short, even for me.
In other news…
A few other miscellaneous things going on recently –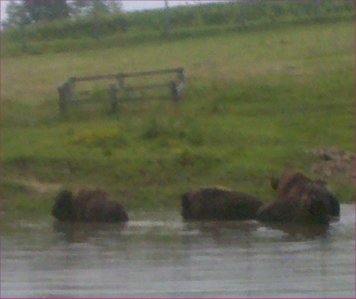 We took a nice ride up around Saylorville and Jester Park this past weekend after spending some time at the Big Barn HD Open House. (The photo at left shows Jester Park's resident bison, bathing in their watering hole.) We noted that, while speed bumps in Jester make it a VERY unfriendly place to ride, at least the repair crews are working on all those horrible seams in the road along 415 on the north side of the lake.
Are you familiar with Examiner.com? It's a website where writers from your local area file reports about every topic imaginable, with a local slant. Well, I've just become the "motorcycle Examiner" for the Des Moines area! So, in addition to all the goodies you normally find here, I will be posting some things there occasionally as well, mostly of a more "local news" nature.
Also, I'm excited to report that I'll soon have a couple of articles coming up in regional motorcycle magazines. I will keep you posted so you can catch them when they come out, and will plan to do profiles here on the blog of each publication so you can learn more about them!
Finally, met (by phone) a great guy name Greg Crook from Hornick, Iowa who owns Leather and Hawgs. This is a leather shop with not only the store in Hornick, but also a seasonal store over in Soldier, IA, near the Loess Hills region. You'll be reading more about them here on the blog, too – they not only sell all kinds of biker leather, but have some great events coming up as well!
There's still plenty of time to be eligible to win a copy of the Sonny Barger book, "Let's Ride." Just comment on the book review post by Friday, June 25, when I'll randomly pick two winners!
We've been having a lot of rain here lately, but thankfully we no longer have to worry about flooding – after 2008's disaster we relocated to higher ground (that's right, we're no longer the idiots you see on television who refuse to move!) so these days our biggest rain worry is the tiny bit that's seeping in through the basement walls. I think some strategically-splotched tar or blackjack out on the patio will take care of it.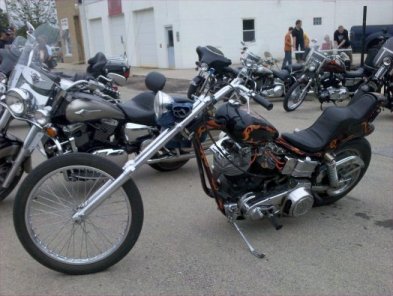 We did manage to eek out a trip in between rain showers down to Hartford, Iowa last Friday night for their monthly Bike Night event – this is a small one, usually a hundred bikes or so, but we had a very nice (if humid) evening – friendly folks (as are most in Iowa) in a tiny town, ever second Friday on West Elm Street.
Finally, Here are a few recent gems from around the Web related to bikes, bikers and riding – enjoy!
Motorcycle Cruiser magazine has a web-only feature of the Top 10 Scenic Cruises in the Rockies. (Just remember, I think you need a passport these days to travel into Canada. Sure would be worth getting one!)
With the 70th Sturgis Rally coming up quick, one of BCN's Facebook Fans, Aleta Gerard, shared a link to the write-up of her 2008 ride to the Rally – no shortage of travel adventures for her group, that's for sure, and the tale is well worth a read!
Liz Frazier, aka "Rippin Kitten," had a unique opportunity recently to travel to California to test-ride the new Honda VFR1200F, outfitted with dual clutch transmission. This hot little sport bike can be switched from the standard shifting transmission to an automatic mode. Liz notes that the most interesting part of the test ride was observing the difference between where the bike would shift itself, vs. where she would have shifted it manually. (Also on Liz's blog, if you're a "Sons of Anarchy" fan, be sure to read about her visit with Kurt Sutter, who gave her a personal tour of the series' sets!)
I've got two copies of Sonny Barger's new book, "Let's Ride," to give away! To be eligible to win, read my review below and leave a comment on this post that contains either one good tip for fun, safe and/or smart riding, or a quick take on why you'd like to win the book. Two winners will be randomly selected on Friday, June 25 from among those who comment! Thanks to  Harper Collins for the opportunity to review the book and for providing the give-away copies.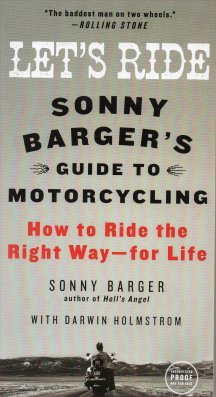 Here's the thing: many folks will not lend credence to this book because of the lifestyle led unapologetically by its author. That's the route I almost took when I was invited to read and review the book.
But, ultimately, I believe that having multiple perspectives on any given topic is always a good thing. People coming from different backgrounds, and with different life experiences, can often lend something quite valuable to the discussion.
If you think that Sonny Barger is going to advise you to "not worry" about riding while impaired, or to terrorize groups of upstanding citizens, or to be a scofflaw regarding helmet use, or anything else along those lines, you'll be just as surprised as I was at how mainstream ("square," if you will) his advice actually is.
And you may also be surprised at how much useful information is in the book regarding riding techniques, evaluating motorcycles, and valuing/looking out for your own safety.
Whatever else he's done in his long life, Ralph "Sonny" Barger has been riding motorcycles for something like 60-plus years. And while it's tempting to think of him in the one most obvious dimension (he's the founder and long-time President of the most visible chapter of the most visible motorcycle club in the world – the Oakland, California Hell's Angels), there's also at least one undeniable truth: the guy knows how to stay alive on a motorcycle.
With several books already under his belt (including an autobiography and a couple of novels), Barger now takes on the task of passing along some of his more practical wisdom about bikes and riding.
His new book, Let's Ride: Sonny Barger's Guide to Motorcycling
, co-authored with Darwin Holmstrom, covers everything from the types of motorcycles that are out there to the basic controls and how to operate them to how to change your bike's oil.
The section on how to evaluate a used bike isn't just useful when you're shopping, it could also be used as a checklist of things you should review to determine the condition of the bike you already own. And, the chapter on advanced riding strategies is filled with reminders every rider – experienced or beginner – can use to stay safe on the road.
What really struck me about the book, though, was how much the world's most infamous one-percenter and I seem to have in common.
For example, I've often said that motorcycling is relaxing not because it allows you to sit back and take it easy, but because when you are riding it leaves you singularly focused on your safety, the road, and the bike. At the end of the ride even though you've been working hard mentally, you're still relaxed.
Sonny says the same thing:
(Focusing on road hazards) helps me prepare for potential danger, but it does more than that: it focuses my complete attention on that moment in time, so that I'm not thinking about anything other than riding my motorcycle at that place in time. It might not be the same as spending a lifetime in some Buddhist monastery, but the concentration required while riding a motorcycle is a form of focused meditation that makes all the petty distractions of day-to-day life melt away. It might seem morbid to concentrate on potential danger with such intense focus, but it clears my head. When I'm finished riding, I feel relaxed and recharged, so morbid or not, I consider it a beneficial activity.
I'm also fond of saying, "Ride like no one sees you, and those who see you want to kill you."
Barger says the same thing, in a slightly more colorful way:
…I recommend adopting the attitude that every single person on the road is a sociopathic serial killer who has just escaped from an asylum for the criminally insane. This might seem a little pessimistic, but you'll live longer if you assume everyone else on the road is a homicidal moron whose sole purpose is to kill you.
A few other things Barger and I have in common: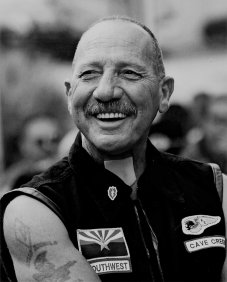 Bottom line: the book is a good primer, shows occasional flashes of Barger's salty humor, and offers up a lifetime of bike-riding wisdom you just can't argue with.
Don't forget, leave your comment with a riding tip or reason why you'd like to read the book, and you'll be eligible to win a copy!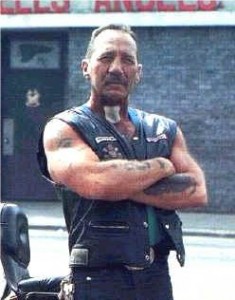 Safe to say that Ralph "Sonny" Barger would consider me a square. And I'll admit, I am one – except for the fact that I ride a motorcycle, which distinguishes me somewhat from my non-riding sistren. (I like to call my unique blend of conformity and individualism RBM, which stands for Rebel Biker Mom. As in, "I ride two wheels… I wear leather… I take a sweater in case it gets chilly!")
In any case, it's also safe to say that if I were looking for advice on how to get into motorcycling, I probably wouldn't immediately think that the founder and long-time president of the Oakland, CA Hell's Angels would bother to provide the sort of guide I'd be looking for: what types of bikes exist and which one I should get, how to learn to ride, strategies for riding safely down the road.
So the fact that Barger has, in fact, written exactly that kind of guide leaves me a little stunned and even (dare I say) a little skeptical. It also leaves me wondering: have I seriously miscalculated the degree to which the "baddest man on two wheels" cares about whether I pick the right bike and understand the concept of countersteering?
All of this is simply to let you know that recently I was offered the opportunity to read and review Barger's newest book, Let's Ride: Sonny Barger's Guide to Motorcycling
, which comes out this month from the William Morrow imprint of Harper Collins.
And, I was also offered a couple of additional copies, which I'll be giving away to blog readers.
So c'mon back on Friday for the review and to learn how to sign up to win, and meanwhile try to wrap your brain around this: Sonny Barger wants you to ride, and he wants you to ride safely – for life!
We All
by Corn Dog
The road calls to each of us.
It separates us, it unites us.
It shows us the distance, then invites us to close the gap.
It promises a destination, but also a journey.
I have heard the call.
And having heard, consider it my joyous obligation
Not only to answer by taking the journey
But indeed to cherish all the gifts of the road
Each in due measure.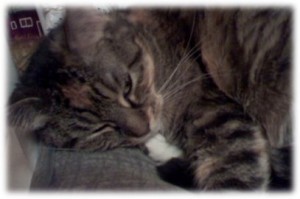 I feel like I'm waking up from a long slumber. Not only was I away from the blog for two months, but my mind was completely away from motorcycles for that same period while I searched for, landed and started a new job. (Then we throw some holidays in there too, and well perhaps I was just a bit ovewhelmed for a short time.)
When I finally did check in on the blog, I ended up reading through all of our 2009 Sturgis adventures – and found myself really longing for the whole motorcycle "thing" to come back . On  Saturday, hubby, daughter and I went up to Big Barn HD for the annual Zero Run and Chili Feed (the ride itself was cancelled but the chili was AWESOME as usual!) and I realized that the big motorcycle swap meet is coming up in a few weeks, the next local HOG chapter meeting is next week, and really, Spring is n0t TOO far away. Suddenly it feels like bikes are front-and-center again.
All this is to say that I'm "in the mood," hoping for an early start to the riding season, and I'm compiling my list of Iowa bike rallies and events. If you know of an event you'd like me to include, either leave a comment or drop me an email. I do have to point out that I can't list every individual "bike night" around the state, but if you know of one (location and dates) within 60 miles or so of Des Moines, you can send me the info and I'll try to include as many as I can.  I'll post the list soon.
Meanwhile, we got our 2010 J&P Catalog in the mail recently so it's time to do some shopping!
Special thanks to Andrea M. for this helpful article about protective eyewear for bikers! Andrea is an avid biker chick who lives in Arkansas and loves riding the rural scenic roads there. "I believe every rider should ride safe and ride for fun," she says. She works for www.gogglesandglasses.com.
by Andrea M.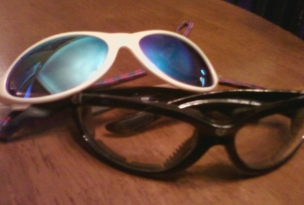 Eye protection is very important for motorcycle riders.  You never know when another vehicle will throw a rock, or a bug flies into your face. Windshields block some debris, but do not fully protect your eyes. In many states, it is a law that all motorcycle riders must wear protective eyewear. This article will provide information for selecting the best protective eyewear for you.
There are many types of protective eyewear made for motorcycle riders. These include goggles, glasses, and convertible glasses. Convertible glasses come with a strap to wear like a goggle, or arms to wear like glasses. Some riding glasses have an attached strap to both arms to prevent slipping. Padding attached to the frame of a goggle or glasses protects the face from severe impacts and provides a wind resistant seal. This wind resistant seal helps keep dirt and wind out of your eyes, and is great for sensitive eyes or those that wear contact lenses.
Always check to make sure the lens is made of polycarbonate shatter resistant material. Some sunglasses are made of acrylic material and will crack or break very easily. UV protection is important for blocking out harmful rays of the sun. I recommend UV 400 protection because it is the highest available. Polarized lenses are great for blocking glare and make objects look crisp and clear. The downfall of polarized lenses is that it makes oil slicks and wet spots harder to see. Lenses come in a variety of colors and there are "kits" for goggles and glasses available that have different colored lenses that can be switched out. Smoke or Amber tinted lenses are great for bright sunny days. Yellow, clear, and blue tinted lenses are great for night driving or very cloudy and hazy days.
Almost every motorcycle rider who wears protective eyewear has experienced a problem with glasses fogging up. Several anti-fog compounds are packaged and marketed for this purpose.  They cost quite a bit, some work great but others are a total failure.  Virtually all of them have one common component that makes them work: glycerin. Glycerin is a high-percentage ingredient in hand soap. Some soap brands/types tend to be better than others are.  Neutrogena has about the highest glycerin content of any soap.  It is a bit softer than most soap, but rubbing your finger on it, then smearing it on your eyewear works fine.  I take a chunk of it and put it in a clear, plastic 35mm film can.  Ivory soap and `Pure Pleasure' glycerin soap work very well also. To apply cut off a piece of hand soap, smear it on your previously cleaned eyeglasses, then, using a clean, cotton cloth, rub the streaked soap all over the lenses to where it's not visible any more.  Works fine, lasts a long time and works better in my opinion than any of the stuff you pay a buck or more per half-ounce for.
In my opinion, there is no #1 best option for protective eyewear. It is a matter of personal preference. One must find the pair that works best for them. I have several different pairs that I wear for different riding conditions. The most important thing is to be safe and enjoy the ride.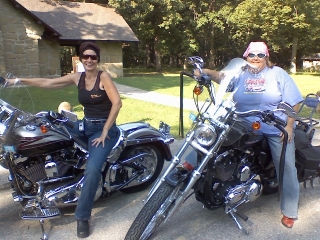 Wow, looks like we have slipped into Fall already – weather here is still beautiful but getting cooler for sure! Took two short rides with Garry & Shirley over Labor Day weekend but other than that have not been on the bike in far too long! I KNOW some of you local gals went on the Estrogen Ride… please send ride reports – if you dare – and I will be glad to publish them!
Speaking of ride reports, have you been enjoying the guest posts? My readers ROCK, don't they? I'm always glad to hear from you, whether sending in your own ride stories or just commenting on stuff you read – even when you disagree, or want to challenge something, it's invaluable to me that you take time to express yourself!
In personal news, I am job-hunting! My present position has been reduced to part-time hours, and I am a full-time kind of gal, so I've polished up the ol' resume and am officially in the market for a position as Marketing Director of something worthwhile: a growing small or stable large business, non-profit organization, or professional association, in the central Iowa area. If you hear of anything, please let me know! (Wish I could make a full-time income off my blogging – would THAT be a dream job or what?? – but, definitely looking for some stability right now.)
Final note for today, I think (THINK) the Abate District 4 Toy Run is coming up October 11… found that date earlier this year online but now cannot verify it. Will try a little harder and report back here : )
More soon!