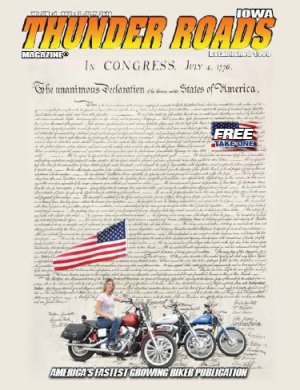 One of the neat things going on in the motorcycle world in Iowa right now is that there are several magazines of interest specifically to Iowa bikers. I've been fortunate to write for a couple of them, and wanted to introduce them to you in case you haven't discovered them yet!
First up is the Iowa edition of Thunder Roads. This is a national publication that publishes several state and regional editions. The Iowa edition is, as of May 2010, owned by Tina ("TT") and Vernon Schwarte of Kimballton.
Tina and Vernon are both healthcare professionals and volunteer firefighters as well as Harley riders – normally they ride around Iowa as much as possible and try to take a couple of extended trips each year. Over this past winter they were invited to write an article for Thunder Roads Iowa about the Hawgstock rally, and following that were invited to keep writing and taking photos for the magazine. Not too long afterwards they had the opportunity to take over production and publication of the magazine, and published their first issue in June.
Thunder Roads Iowa is a monthly publication producing 12 issues per year, each with a minimum of 40 pages per month – no small feat!
"Our focus is to promote the sport of motorcycling, no matter what brand you ride. We have the utmost respect for anyone that is on two wheels," Vernon says.
He notes they'll be doing a few recurring features, including articles from the female perspective, profiles of Iowa military riders, and features about each county in Iowa.
"A couple of years ago we traveled through every county in Iowa," Tina says, "and the people, sights, food, and hospitality cannot be beat. We started then writing about our travels and always thought there was something to this and just did not have the outlet until this opportunity presented itself. Now you can read each month about a county in the 99 County Tour article."
To suggest story ideas for Thunder Roads Iowa, or to become an advertiser, contact Tina or Vernon at tt@thunderroadsiowa.com or Vernon@thunderroadsiowa.com. Visit Thunder Roads Iowa on the web at www.thunderroadsiowa.com.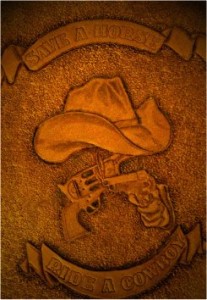 Back in February, when we were all just about bonkers from the Winter That Wouldn't Quit, we had the opportunity to visit the annual motorcyle swap meet. As soon as we got inside, I almost immediately came upon Tina Anders-Grover, a local leatherworking artist and owner of Custom Leather Design. I was impressed with the inspired hand-tooled leather bike seats on display.
While today much of Tina's Des Moines-based business is devoted to custom seats, she actually  began her career in leatherwork when her husband needed a belt made to club specifications. Being an artist familiar with other media, Tina decided to make the belt herself. Soon she was making wallets, toolbags and other items for her husband and his biker brothers.
"As an artist, to begin with, I was amazed at the ability to bring my art into 3D, and still am to this day," Tina says. She considers the motorcycle seat to be an often over-looked canvas on the bike.
"So many people put thousands into custom paint jobs, chrome and flashing lights, but forget that when someone stands above your bike looking down… what do they see? A gorgeous bike, with a blank seat."
Each one of Tina's seats is a one-of-a-kind creation, hammered and crafted with traditional tools. She'll create the design from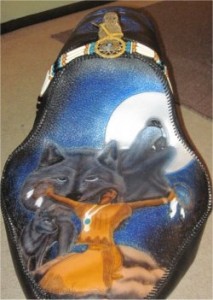 scratch, or work from the bike owner's design. Her own bike seat brings in a variety of leatherworking techniques including snakeskin inlay, Spanish lacing, and colored mural-like images. Most designs are not as complex, she says, but every seat gives the owner's bike a custom look.
"I have learned much from leather crafting," Tina says. "Mostly I'm very glad that the night my husband came home asking for a belt, I chose to be a cheapskate and do it myself, because you never know when pinching a penny will earn you lots of them and send you into a career that you love!"
To see more of Tina's work, or to get an estimate for customizing the "over-looked canvas" on your bike, contact Tina at 515-422-7277.