I do have a ride to share with you that took place recently, but first I wanted to tell you about this awesome little business in Sioux Falls, SD – on the way to Sturgis, for those of you traveling westerly! The grand opening of Doris Schumacher's store, Ride Empowered, takes place Saturday May 3, 2014 – International Female Ride Day! Store Hours in Sioux Falls are 10 am – 6 pm. Stop by if you are in the area, and support Doris and her new venture!
Doris Schumacher was having a hell of a time finding a suitable leather riding jacket.  Now I must say right off the bat, I can relate. But, while I was content to bitch about the difficult task of locating a well-made, well-fitting jacket in the appropriate size, Doris was not. Instead, she began the process or researching and eventually turned her challenge into a retail store: Ride Empowered, in Sioux Falls, SD and online at www.rideempowered.com.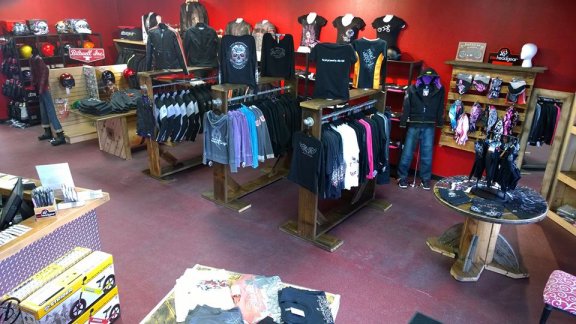 I recently asked Doris to take a pop-quiz about her life-changing decisions to ride and to become a business owner, and despite all the millions of other tasks on her to-do list she happily complied. So here, to coincide with the Grand Opening of the Ride Empowered Store, is a revealing Q-and-A with owner and EMPOWERED RIDER Doris Schumacher.
Tell me about your own personal background in motorcycling – how long have you been riding, and what has riding done for you personally as a rider and as a female rider? 
My uncle was a biker, so I'd ridden on the back with him a few times as a kid.  Aside from the exposure I really didn't start riding until my husband got a bike the Spring of 2009.  I rode on the back with him for one year.  At first I was scared, but it didn't take long for me to decide that if I'm going to be on a bike I'd rather be driving it.  For me it was almost like a women's lib issue.  In my mind being his passenger somehow implied that I was incapable of doing it myself.  I hate feeling incapable.
I took a beginners riding course the summer of 2010 & had my own brand new shiny red 2009 Kawasaki 500EN before I even completed the class.  After I passed I would take my bike up to the local church parking lot to practice.  I was terrified almost every time I rode that bike for the first couple years, (which is actually just 2 three month riding seasons in SD), but I just kept pushing myself past it until I got used to it, and it became a personal liberation.  Riding my own bike helped me gain a lot of self-confidence, and the empowerment I gained through that started crossing into my personal and professional life.  I started standing up for myself more, taking on new challenges,  and reprioritizing the things that mattered to me in life.  When I was on my bike I (wasn't thinking about) my messy house, the bills I had to pay, remembering the schedules of myself as well as my husband and three children.  I started to realize… I needed to get out of (the rat race).  That's when I started looking into starting my own business.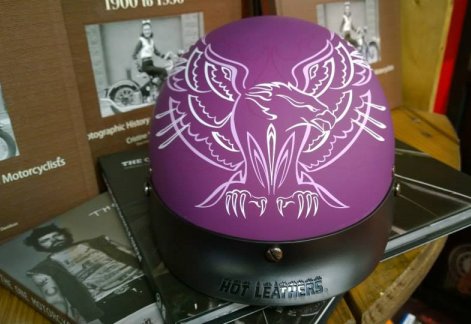 What was the inspiration for you in terms of deciding to start a retail business? 
Starting my own business was already in my mind, but I really didn't know what type of business I should shoot for, so I just started doing research on the various franchises that were out there thinking that would be the route I'd take.  Then, I went out shopping for a leather jacket – this was last Spring (2013).  I was having a really hard time finding a suitable riding jacket.  I didn't want to shop online and end up with something that didn't fit right, and since I ride a Kawasaki I had no interest in shopping at our local Harley dealership.  That's when it hit me that there might be a need for a women's motorcycle apparel shop, so then I started focusing my research on that.  After a few months of digging I felt that I had enough to support at least a small business, and that was all I really felt I needed to accomplish.
What is it you hope to do for women riders through your business?
I'm hoping to provide them with a place they know is there for them.  Although women are a fast growing demographic in the motorcycle industry, it's still very much male dominated.  I see this changing as several large companies are recognizing their needs and reaching out to meet them by creating new lines of riding gear and apparel that are just for women.  Now we just need to start bringing more attention to the various size and style needs as so much is limited in size ranges.  If Ride Empowered grows, or at least grabs some attention, then we have a real shot at helping manufacturers see that need too.  Aside from that, I'm also hoping to provide women with a support network, rider education classes, and some fun events to participate in!

Starting a retail business is a risky and life-changing proposition. How has it changed your life so far, and how do you think it will change the degree to which you personally enjoy riding?
It's very risky, and it's nowhere near in the safe zone yet.  I couldn't have even taken the leap without the support of my family, friends, and community.  I've had to share a lot of work with my family.  I even put my kids to work if they're in the shop.  Without their support I wouldn't have enough hands to get all the work done.  My friends do everything they can to help promote the business so I have a fighting chance at keeping it going.  And my community is one that really supports local businesses.  Not all community developers would be willing to take a risk on a small business of this somewhat unusual type.  I didn't have much for comparable businesses to discuss in my business plan to show my lenders its potential success.  They just believed in me and its potential knowing that it was a risk.  And really, I still haven't "done it."  Yes, I've started a business, but it's not yet a success.  I set my goals a little at a time now.  If I can make next month's rent that's a goal achieved.  If I can't get through my first year that'll be a HUGE goal achieved.  People know starting a business is risky, but you don't know just how risky until you do it.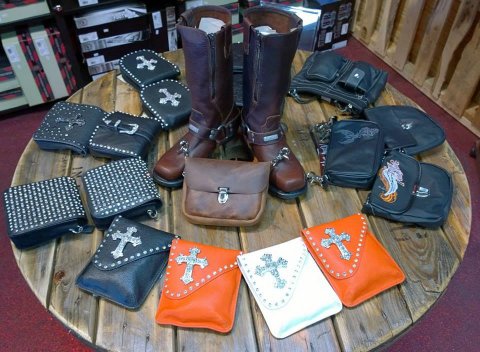 What degree of support have you received in launching your venture from  your family and friends?
Oh my gosh, I don't even know where to begin with that.  This experience has taught me so much about my family and friends… I get pretty emotional.  They didn't just believe in my business idea, they believed in ME and MY ability to make it work.  That's been the most amazing part of all of this.  I saw more of myself in seeing what they saw in me – if that makes sense.  Most supportive? Certainly my husband and kids, my mom, my brother, and all my in-laws.  My husband does all my advertisements and website development – it's been a LOT of added work for him.  I don't want to name any friends because I don't want any of them to feel more or less important than the next.  My friends are local riders I've met that have supported and encouraged me from day one,  everyone who likes & shares my Facebook page to help spread the word, everyone who comes in and buys something so I can keep paying the bills, everyone who signed up for my newsletter… It's a long list and without any of them Ride Empowered is no more.  They all keep it going with me and I just can't do it without any of them.
What has been the biggest challenge for you in terms of getting the business up and running?
The WORK, OMG.  This has been the most time intensive, labor intensive, learning intensive thing I've ever done in my life.  It's hard to stay on top of everything, it's hard not to get scared of failing, it's hard to know that I'm adding a lot of work to my husband and family who already juggle a lot… Everything is hard, but it's the kind of hard work that keeps me going every day.  I've always thrived on challenges.  It's part of the reason I've never stayed at one job for more than two years.  Once I learn something and it becomes routine I get bored.  There will never be routine with this.  I will always multi-task a half dozen different positions to keep the business going.  I will always have a list of things to do, new ideas to bring to life, and now there's no boss telling me when, where, or if I can do any of it!  Also, I know that I have to hang in there when it's hard and when it's scary, not just for me or my family, but now for everyone else who's counting on me.  Ride Empowered means a lot to a lot of people.  It's touched them in ways I didn't expect because its special to them too.  It's real proof that women are establishing their place, and more importantly their respect by the men in this industry.  In a really small way I kind of feel like I'm making a little history here.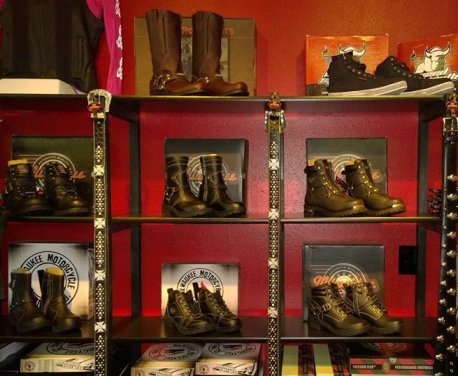 What is your biggest challenge in terms of merchandising – has the available merchandise met your expectations for what you want your shop to be about?
Oh yeah, that's been a challenge for sure.  When I placed my initial orders I didn't stress too much and just ordered a full size run in each item I wanted to test out, but I wasn't expecting my 2X tops to be as small as they were.  Each time a full figured woman came into the shop and had to leave because she couldn't find something in her size I was crushed.  I'm now on a mission to find gear and apparel for plus size women but man, it's like looking for a needle in a haystack sometimes.  Luckily, I have found a few brands I can count on and will order more from them as I'm able, but I'm also anticipating the start of a new line (yes, my own) that will hopefully help meet the needs.  Unfortunately I can't start with much.  It'll be just t-shirts in the beginning.  It would be nice if at some point it can be riding gear too.
How easy do you think it will be, going forward, to provide merchandise that meets your mission?
There is no "easy".  It's going to be a challenge plain and simple until the motorcycling industry comes through with more thorough size ranges.  The only thing that will make that happen is providing them with evidence that there's enough of a need for it to warrant their investment in making it.  We'll all have to do that together.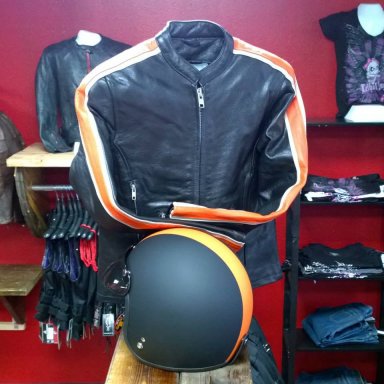 Any specific plans for the online store, or is it primarily an extension of the brick-and-mortar shop?
The online store launched in April at www.RideEmpowered.com.  It isn't really an extension of the store because it offers many different products than what I keep in the store.  With some products there's more available online than in the store, but then some of the specialty items I carry in the shop are not available online.  There is now a link at the top of our business page that will take you to our Shopify store, but the work involved in getting the store setup is much more labor intensive than we anticipated.  It's a long process of matching each inventory item to a photo and description before putting it online.  Unfortunately, I haven't been able to afford a commercial website developer so my husband has been building it himself.  He has about fifteen years of experience, so he's more than qualified, but he isn't a co-owner or employee of Ride Empowered.  He has a full time job as well as a part time job, and now added work at home to pick up my slack.  It's coming together, but it is definitely moving slower than we'd like it to.
What has been your favorite experience so far in launching the business?
Seeing the smiles and hearing the kind words of everyone that supports me and Ride Empowered.  I feel like I'm serving a real and needed purpose through this business.
Your least favorite experience?
Doing all the painting myself, oh, and the GLITTER FLOOR!  It's awesome, yes, but it was far more work than I thought it would be and it really set me back with many more important things.  I'm still catching up on tasks and responsibilities that I should have had completed before I even opened my doors.  If I ever do this again I'm hiring people!
What are the "particulars" of your brick-and-mortar shop: days/hours of operation, address of retail store, web address…
I just changed my hours for the summer months, so you can now get me at
Doris Schumacher, Owner
Ride Empowered
945 S Marion Rd Ste 109
Sioux Falls, SD 57106
Store: (605) 275-5580
Toll Free: (855) 371-4971
Email: Doris@RideEmpowered.com
Hours:
Tue – Wed: 10:00 am – 6:00 pm
Thu – Fri: 10:00 am – 8:00 pm
Sat: 10:00 am – 6:00 pm
Sun: 11:00 am – 4:00 pm
You can also connect with Doris via:
Facebook – www.facebook.com/rideempowered
Twitter – www.twitter.com/rideempowered
All photos in this post are courtesy Doris Schumacher and Ride Empowered!
So remember this past summer when I wrote about the amazing day spent hurtling through the Iowa corn with Sash and Highway? Well Tina (Sash) is now commemorating her ride across the US and back with a line of sassy t-shirts especially for women riders! Her shirts have been made with the input of the gals she met on her cross country adventures.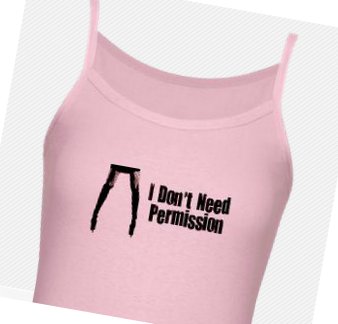 Sash is truly an original – if you read her blog, you know she's often outspoken and brash, sharing her views on being a female rider and daughter of a 1%'er with her own special brand of ferocity. Her shirts definitely reflect her personality!
"Rude Biker Chick shirts are for all of the women who've had enough of being a doormat and are ready to take a stand and declare their independence, power and value," says Tina. "They are to bring women together; to support, encourage, and laugh with one another."
Sash and her husband Steve (aka Highway) base their media company in San Diego. They're currently enjoying an extended stay in sunny SoCal, but their life is based on full-time traveling on their bikes. Their blogs and websites include www.RudeBikerChick.com, www.MotorcyclePhilosophy.org, and www.BikerNewsOnline.com, among many others.
The shirts can be seen and bought online at www.RudeBikerChick.com.
Editor's note: I love hearing from other riders who are passionate about their favorite ride routes, especially when they're in a completely different part of the country than me! This article was sent to me by Kathy Wilkinson, co-owner of Eco Tours of South Mississippi in Gautier, MS. Kathy's company will lead you on a guided kayak or motorboat tour of the cypress swamps and salt marshes of her beautiful state. My thanks to Kathy for sharing her little piece of the USA with all of us! 
Article & photos by Kathy Wilkinson
As the operator of a tourist attraction, I try to make the most of what little free time I get. Some weekends between tours, my husband and I get the opportunity to ride–he on his Yamaha Road Star, and I on my Suzuki Boulevard M50. One of our favorite short trips is a little loop that starts in our tiny town of Gautier on the Mississippi Gulf Coast and winds through the Pascagoula River swamp.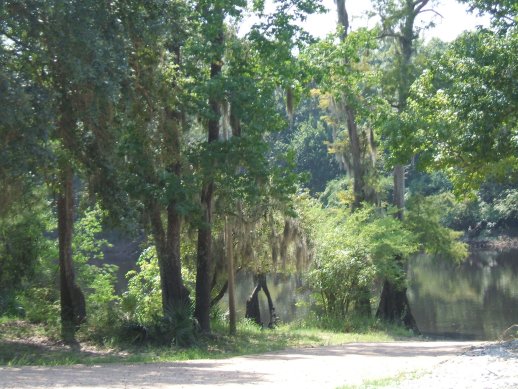 Heading east on U.S. Highway 90, we cross the Alabama state line, and pick up Route 188 (Alabama Grand Bay-Wilmer Road/Newman Road) in Grand Bay. This is designated as a National Scenic By-way. We head north through the farms, horse ranches and pecan orchards of Grand Bay and west Mobile, until we reach Airport Boulevard. As we cruise west to Mississippi, where the road turns into Highway 614, we cross the Escatawpa River at Brown's Bridge, and make our way past Hurley and over to the Wade-Vancleave Road.
We meander through the beautiful cypress bottom lands of the Pascagoula River. If the river happens to be flooding, there will be high water up to, and sometimes over the roadway in places–it's really cool seeing the swamp in a flood. Bridges cross Parker's Lake, Black Lake, and finally the unique and pristine Pascagoula River. This river is the last large (by volume) unimpeded river in the lower 48 states–that is, no dams, levees or flood controls.
It's only about 80 miles long from where it starts at the confluence of the Leaf and Chickasawhay Rivers to where it meets the Mississippi Sound, but its watershed is about a third of the state of Mississippi.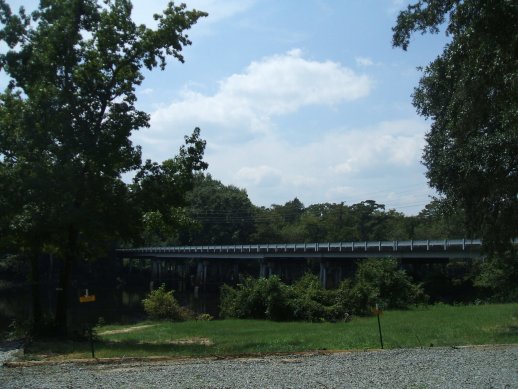 Not long after crossing the Wade-Vancleave Bridge, we turn south onto Old River Road until we reach Mississippi Highway 57. Old River Road is shaded by ancient live oaks. It's a little twisty in places and has great scenery/local color, but is an easy ride.
Old River Road eventually merges into Poticaw Bayou Road which runs into Highway 57. We head south on 57 through the unincorporated area of Vancleave. (Vancleave has seen tremendous growth since Hurricane Katrina, and even has a couple of traffic lights. Since the area is unincorporated, the sheriff's department has jurisdiction, and in Mississippi, the sheriff cannot use radar.)
Depending on our time constraints and the time of day, after passing through "downtown" Vancleave, we have the choice of returning home via Gautier-Vancleave Road or continuing our adventure with a meal at The Shed. The Shed, located on Highway 57 just north of I-10, has gained some national exposure having been featured on Food Network shows Up in Smoke; Diners, Drive-ins and Dives; and, most recently, its own reality show, The Shed.
It's an eclectic place on the bayou that is dedicated to good barbecue and great blues. (As one would expect from a barbeque joint, The Shed's menu is for carnivores. If you're a vegetarian like me, the menu options are very limited, but it's still a fun place to visit with lots of character and tons of local color!)
Leaving The Shed, we head south on 57 to U.S. Highway 90, hang a left and it's a straight shot back into the little City of Gautier. The ride is about 80 miles and passes through some of the most beautiful countryside that south Mississippi has to offer.
After our ride, I usually park the bike, stow my biker gear, don my boating gear, and then it's back to the Pascagoula River swamp with a motorboat load of folks from Anywhere, USA!
And here's a special insider tip for those hoping to enjoy the roads in southern Mississippi: If you come here to ride in late spring and late summer/early fall, beware the "love bug." They're harmless in terms of biting/stinging, but, because they swarm when they mate, they will end up spattered in pairs all over your windshield, your pants, your gloves and your helmet. Removing them as soon as possible is crucial, as their bodies are acidic and they can damage your equipment if left too long. White vinegar and water, mixed 1:1, works well to remove the residue!
Editor's note: I was really interested to read all the comments about my piece on riding solo, both here on the blog and over on the Facebook page. Interesting points made on both sides of the question! Michelle Landry of Tylertown, MS sent me this wonderful accounting of her initial solo riding experiences, and I wanted to be sure to share it with you so I asked her to send some pictures too! This is kind of the "other side" of the story – what happens when you step wayyy outside your comfort zone, and make something great happen!
by Michelle Landry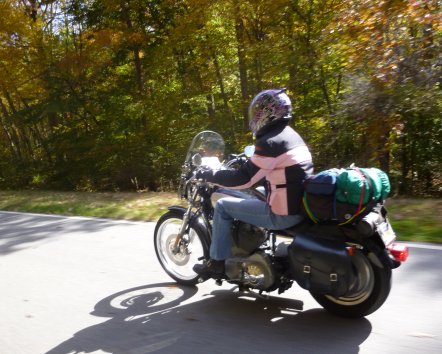 After years of talking about bike trips that my husband and I wanted to take, I realized our work schedules were going to keep us from ever going together.
That was when I started thinking about taking a solo trip: Stay at home and keep waiting or stretch my wings and find out if I had it in me to have an adventure alone. Needless to say, my husband was skeptical that I would actually do it and was also concerned for my safety.
I researched different routes and finally decided on the Natchez Trace. I would never be more than 500 miles from home, no commercial traffic or red lights, and plenty of history and sights on The Trace. I spent the next several weeks packing, planning, and getting my bike ready. The morning of my trip I had butterflies from nerves and excitement.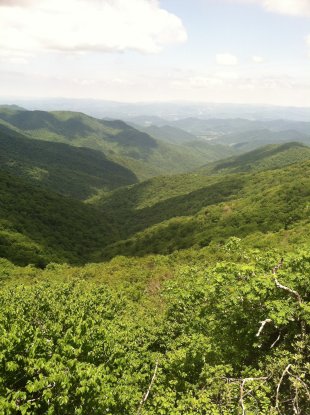 I spent the next five days and 1100 miles riding the Natchez Trace solo. I rode a few hundred miles each day and camped or stayed in a motel at night. I even met another woman riding the Trace solo! We ended up riding together a couple of days and had such a good time we decided to plan a trip together, so this past June I rode 800 miles to Tennessee where I met my new friend!
We spent the next few days riding the entire length of the Blue Ridge Parkway. We don't have switchbacks or mountain roads where I'm from so this was really something new for me. It definitely challenged me and my biking skills but we had a great time. And we met another woman riding solo! This time I spent 2 weeks on the road and rode more than 2500 miles, over half of the miles alone.
What if? What if your cell phone charger breaks and your family can't reach you? You pack a wall charger just in case and use it when you get to a motel. What if your bike breaks down 800 miles from home . . . in a rainstorm? You call Geico or whatever towing service you made sure to get and have it towed to a garage to get it fixed. And be thankful you put everything in Ziploc bags. What if you have a minor accident on the bike? You make sure you're ok and then use duct tape and super glue to fix a broken signal light.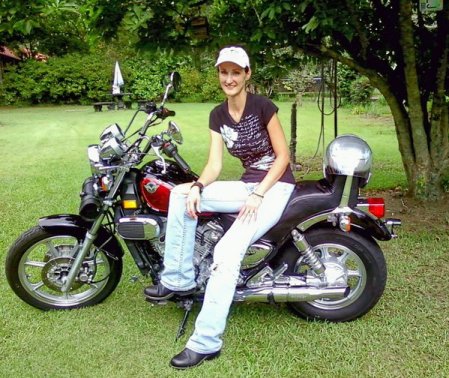 I've had a lot of what-if's happen but I've also had incredible experiences out on the road alone. I've ridden some beautiful roads and seen some gorgeous scenery. I've also met some really great people. When you ride in a group, other bikers will talk to you, but when you're a female riding alone, everyone talks to you. Safety is always my number one concern and I have left places because I didn't feel comfortable. You really need to listen to that inner voice. And riding alone gives you a good chance to hear her.
Each trip has left me feeling more empowered. Stronger. I've met obstacles and dealt with them. Yes, I would love to take a bike trip with my husband. Yes, we would have a wonderful time. But that doesn't mean I can't have a wonderful time riding alone. I've discovered I'm not such bad company!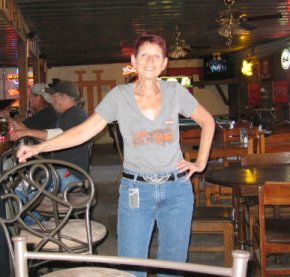 My pal Shirley is once again in Texas for the winter. Here's a look at what she's been up to!
by Shirley Patterson
Okay, so we've been in Texas since the first of December and, although I promised to do so, I have not yet written a ride report. You may have heard that Texas is in a severe drought so while the December weather was not what we really wanted to see, the cool, damp, drizzly weeks were a small blessing. January, however, started out warm and dry so – yep, out came the bikes.
On January 20th the temperature hit 86 so it was just too great not to ride. This is not the first ride we had taken – nor is it one of the longest – but it is one of our favorites so thought I would take you all along. We winter in Kingsland, TX. For point of reference Kingsland is about 12 miles slightly northwest of Marble Falls or about 60 miles northwest of Austin. We left Kingsland taking Farm Road 1431 (the main highway between Marble Falls and Kingsland) west past Pat's Bar and Fuzzy's Corner (more later) and on to Highway 261 which is a great two-lane, curvy and fairly scenic road.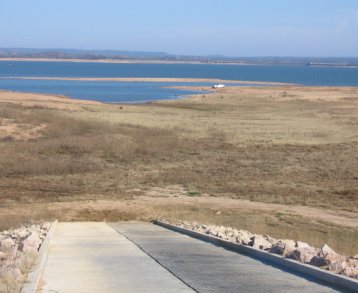 Our destination was the Fall Creek Winery at Tow (rhymes with cow). I mentioned the drought earlier so we pulled into the Llano County Park to see just how badly it had affected Buchanan Lake, one of the major lakes in the area. A couple of years ago a long paved boat ramp was put in at the park. Hopefully, the picture taken will show the devastation the drought has brought to the area. The ramp is now easily one to two miles from the water…folks who have million dollar "lakefront" homes are high and dry!
So, out of the park and on to Bluffton Store. This is at the convergence of highways 261 and 2241 and we usually stop here to gas up, get a Coke or a 50-cent ice cream cone – really! On to the winery. Fall Creek has a great tasting room where you can taste five wines for a fixed price of $5 per person. But, what we discovered last year was they also have a beautiful covered patio where you can simply take a glass or a bottle and sit and enjoy. This trip we decided to buy a bottle of our favorite blush and a box of crackers and enjoy the patio – c'mon, it was cheaper than the tasting! We met a couple of really nice guys who were also riding that day and they took this nice picture of me and Garry.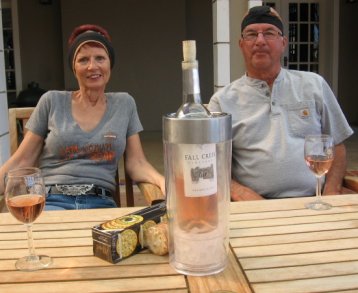 Finally decided to reverse the ride and head back for Kingsland. Now, last year we usually stopped at Pats for a drink but found that this year our favorite bartender, Jen, is now working at Fuzzy's. Fuzzy's is a beer bar (although they will serve set ups if you bring your own) but since Garry and I drink Rum and Southern Comfort respectively we have never gone to Fuzzy's. Today, however, we stopped in to say hi to Jen. Giving a nod to the wine we had already drank, I just had a Diet Coke. By the time we left for the short 10 mile ride home it was 4:30 so decided to bypass the house for another 1/2 mile and stop in at Spykes BBQ for an early dinner. Spykes has the BEST BBQ in the area. For those of you who think Llano has the best – you have to give Spykes a try. After dinner it was a very short hop back to the house and a beautiful easy day on the bikes.
(Here's the third installment of my gal pal Shirley's series of ride reports from the Texas Hill Country, where she and hubby Garry are wintering along with her sister Nancy and BIL Chuck. Take a look at the pics, and be sure to note that she points out she's afraid of heights… I'm here to tell you, she's not kidding! This was quite an accomplishment!)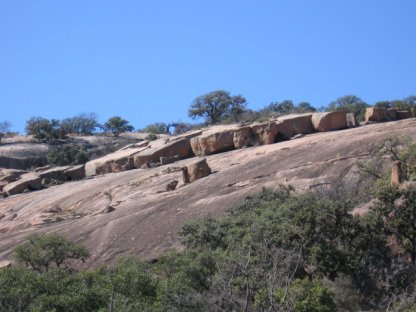 by Shirley P.
As mentioned in my last ride report, we had a couple of absolutely beautiful days to ride at the end of January. So after doing the Willow City Loop on the 27th we took off the next day to Enchanted Rock State Park. Once again starting from Kingsland we took 1431 to the west side of town and picked up county road 3404 and again across The Slab. As mentioned in the earlier report, 3404 is about 7 miles of two lane through the country road but easy to ride and reasonably scenic. 10 miles on Hwy. 71 at 70 miles per hour to what is by now our gas up and jump off point at the junction of 71 and 16.
We filled up the bikes and bought new batteries for the camera and took off for a fairly short run to the Enchanted Rock, this is only about 13 miles south of Llano.
We paid the $6 entry fee (per person) and parked the bikes to do what we intended to be a short hike along the lower trails. Somehow, however, once you start on a trail you see a view and think maybe we'll just go a bit further, and then a bit further and then before you know it you are only 100 yards from the summit. By this time the trail really doesn't exist anymore and you are simply finding the easiest path across the rock face.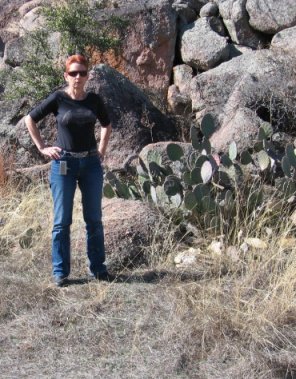 By this time the temps had climbed to about 80 degrees and everyone was watching the smooth rocks for the possibility of sunning rattlers! Thankfully, we didn't stumble across any. Those who know me also know that I have a fear of heights, especially when there is what I call a "blind drop". When we turned to start back down I wasn't sure I could take that first step as you just had to trust that once you stepped off the first rock there would be something below it. Luckily after the first step it wasn't so bad and soon we spotted the trail signs again.
For hikers this is totally cool and you can go any number of directions and presumably end up back at the parking lot. Once back at the bikes we decided a short trip back wouldn't be any fun so we dug out the county road map and started off into the unknown. Taking 965 out of the Park we went about 6 miles to Welgenhausen Road. (This is an easy turn-off to miss so watch for it on your right). Welgenhaus is another well kept two-lane and we went approximately 15 miles before needing to make our next decision at the junction of Keese Sagebel Road and Keese Road.
We decided to take the left branch but after only a couple of miles we decided we had made the wrong decision and turned around. Back to the junction we now took Keese Road. All said and done this was probably the wrong decision as both would have taken us to county road 2323 which was our goal. But for the sake of adventure it was definitely the right decision. Once again signs all along the way indicated loose livestock and many times this road narrowed to one lane with no shoulders and you really hoped you wouldn't meet anyone coming the other direction. In fact, we never met anyone the entire time.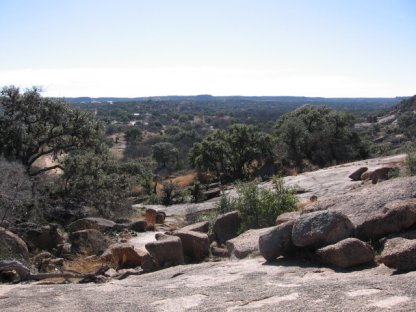 At a couple of 90 degree turns we were sure we would end at a ranch gate and have to back track but didn't happen and after what seemed a very long time but probably wasn't, we did indeed come to the junction of county road 2323. I have no idea how many miles we were actually on Keese Rd. but I'd estimate no more than 15 – though it seemed longer. Once on 2323, a beautiful two-lane, it is only about 30 miles back to Llano and it brings you in right at the junction of 16 and 71.
As always, we opted for the little longer ride through town and then back to 1431 junction (yep, Fuzzy's Corner) and on back to Kingsland. Because of the choices made we again had a great hundred-mile day. After that ride we endured several of Texas's coldest days in the past 20 years, with highs in the 20's and 30's – literally unheard of here. Good news, of course, is that it was short-lived and were back to Spring-time temps before long.
Keep the faith, all, riding weather will arrive!
(As promised, here is Shirley's second ride report from the Hill Country of Texas. For awhile there she was enjoying record cold, but being Iowans did have one distinct advantage: when the pipes froze in their cottage at their Kingsland campground, her hubby Garry knew the drill and had their running water restored in a jiffy! This report on their ride through the Willow City Loop makes me yearn for the twisties!)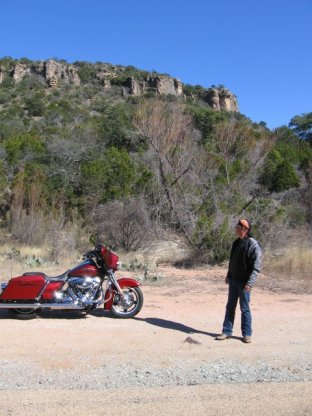 by Shirley P.
January 27, 2011 – We were lucky enough to get two days in a row with 70+ temps so mapped out a couple of rides.  On the 27th we took off about noon for the Willow City Loop. Starting from Kingsland we took 1431 to the west side of town and picked up county road 3404.  This is also called Slab Road for the very reason that it dips down across a low lying portion of a river with huge slabs of granite that you can walk across.  Once you cross the "slab" it is about 7 miles of country road to Hwy. 71 and then another 10 miles or so to the intersection of Hwy. 16 in Llano.  This is where we always gas up before we start the long part of the journey.
Both 71 and 16 are two lane highways with 70 mph speed limits and very few passing zones so to be honest neither are my favorite routes… but I digress!  Once you hit Hwy 16 it is approximately 18 miles to the Willow City Loop turnoff.  The turnoff is on the left and the signage is easy to miss, so if you go, be alert and on the lookout!
The loop begins with a sign that says "Loose Livestock" and they aren't kidding. The road is curvy, sometimes truly winding, and on a couple of occasions it's an up & down ride through granite outcroppings on one side and cactus and cedar on the other.  There were only a couple of places that we felt comfortable enough to pull over and take a few pictures.
We saw maybe three ranches or homesteads and couldn't begin to figure out how to get to one of them!  The sign was right, no fences or pens, cattle simply roam – but we didn't have to stop for any in the road so not a problem at least on this day.
You exit the loop on State Road 1323 and it is a short 3 or 4 miles back to 16. One of our favorite finds was the Knot On The Loop Saloon just as we turned west after exiting the loop. (Like idiots we took pics of the inside but not the outside.) This is a small bar/cafe where we ate a really good cheeseburger that was absolutely loaded with tomatoes, pickles, onions and lettuce.  One drink and we were on our way home.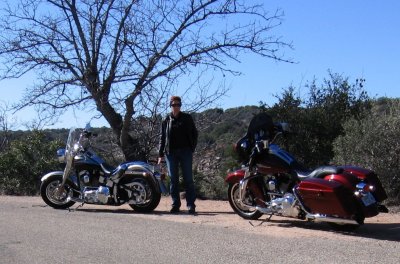 The first 4 miles or so back on Hwy 16 is very up and down and sharply curved.  This is a main route into Fredericksburg and is heavily traveled.  Apparently the locals don't pay a lot of attention to the 70 mph speed limit but really only had one jackwad in a big black truck try to run us over before things straightened out a bit. Hwy. 16 back into Llano where you can reverse the ride out or take 16 on to Hwy. 29 for another 13-14 miles and catch 1431 for the last 7 miles or so into Kingsland.  (This is the route we took because stopping at Pat's bar for a quick one on the way home has become a nice tradition.)
On Friday the 28th we took a similar route to see and climb the Enchanted Rock at Enchanted Rock National Park – that's coming up in a future report!
(Editor's note: THANKS, Shirley, for a great write-up and pictures!!)
My good friend Shirley has abandoned me this winter in favor of spending four months vacationing "down south." She has partially redeemed herself by sending in this ride report from her first month in exile Texas.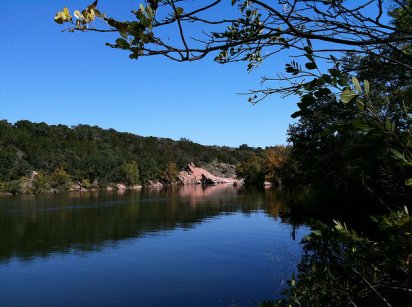 by Shirley P.
I spent most of 2010 looking forward to my retirement date of December 3rd. That date finally came and my husband Garry and I immediately headed for the small town of Kingsland, Texas to escape the cold Iowa winter. We debated for a long time whether it was worth taking multiple vehicles, specifically so we could haul the Harleys with us. With not too much debate the Harleys won.
Although the average temperature in the Texas hill country where we are staying is 64 degrees, we have seen several days in the 70's and on December 21 – yes, the first day of winter – we hit 80 degrees. Obviously the bikes came out and we did a great ride that I have to pass along.
At the eastern edge of Kingsland where we are staying we caught ranch road 2342 and took it about 15 miles to Park Road 4 which takes you through Inks Lake State Park. This lake is fed by the Colorado River. Park Road 4 is a beautiful curvy asphalt that winds another 15 miles through the park at a slow 35 mph, which gives lots of time to gawk.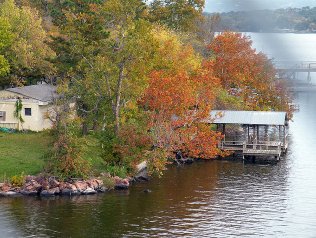 We ended up at Highway 29 and headed west back past Buchanan Dam toward Llano. Highway 29 is a wide 4-lane highway that allows you to kick the bikes back up to the speed limit. Before you reach Llano you will come to a four-way stop called Fuzzy Corner, turn left on 1431 and head back into Kingsland. Of course, once you make the turn back to Kingsland you have to stop at Pat's Bar for a cold one before going on home!
So, the decision to bring the bikes was definitely the right one! By the way, if you travel to the Texas hill country they actually have a map of rides. Our next one will be the Willow City Loop that Garry has ridden and says is a mix of hill country curves and maybe a bit of the feel of the Rockies on a couple of blind corners. Can't wait for the next unusually warm day!
— Editor's note: Thanks to Shirley for this write-up! Additional fun in the area she's writing about includes Longhorn Caverns, the Vanishing Texas River Cruise, wine tasting at Fall Creek Vineyards, climbing at Enchanted Rock, and much more. Top photo courtesy of Mike Probst, via Flickr; bottom photo courtesy of Miguel Rodriguez, via Flickr.
Corn Dog's Note: Wanted to share this excellent article with you by Jordan Robertson, a freelance writer, long-time rider and concerned Mom. Be sure to add your thoughts about what make good "ground rules" for teens interested in riding, and a big THANK YOU to Jordan for offering her insights to Biker Chick News!
Preparing Your Teen to Ride
by Jordan Robertson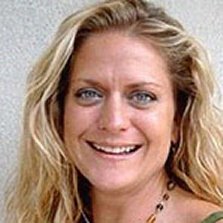 If you're a motorcycle enthusiast, chances are your kids will be too. They've grown up watching you ride, maybe helping you wash it in the driveway, dreaming of the day when they'd be able to take it out for a spin themselves. As a rider, you know better than anyone the joys of zipping down the road, feeling the bike between your knees and the feeling of freedom it offers. But you also know the dangers involved, especially when the rider is uneducated and unprepared. You've been an experienced rider for so long now, you may have forgotten some of the basics for someone just starting out.
My son has been saving up and recently bought his first bike, but I won't let him get on that bike until I've helped him learn how to do it the right way. Here are just a few of the things your teen will need to do in order to be a safe, responsible rider:
Take a Motorcycle Safety Course
Sure, you know everything there is to know about riding. You've been doing it for years. But you probably also know some shortcuts, and have your own little ways of doing things that may be a little, let's just say, unorthodox. Before you pass those on to your teenager, insist that he learn to ride the right way, taught by an experienced instructor.
Learning anything in a structured, classroom environment brings out the student in all of us. A teenager will be more likely to listen and pay attention to the instructor than to his parent who tells him what to do every day. The goal of earning that certificate at the end, and getting that feeling of accomplishment will motivate him to learn and participate.
Besides, by completing a safety course, my son is eligible for a discount on motorcycle insurance. That alone is reason enough to attend.
Wear a Helmet
Statistics show that head and chest injuries are the most common injuries suffered in motorcycle accidents. A helmet is the easiest way to prevent severe head injuries, or even death. If you require your kid to buckle his seatbelt when he's in the car, require him to wear a helmet on the bike. It will give you peace of mind while protecting him from motorcycle injuries.
Not all states require that helmets be worn, and I know many people who think it's not necessary, or that it just gets in the way. But this is my kid we're talking about, and my concern for his safety trumps any state law. Once he's an adult, it will be up to him whether or not he wears a helmet. But for now — no helmet, no motorcycle.
Get Insurance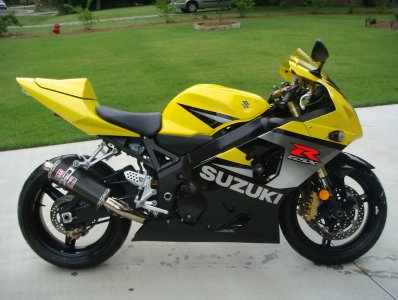 One of the best ways to help teenagers appreciate something they have is to make them pay for it themselves. Too often, parents buy everything for their kids, denying them the opportunity to learn the true value of their possessions. When a child has to earn and then spend their own money on something, whether it's clothes or a vehicle, they're much more likely to take care of it and use it responsibly.
I am requiring my son to pay for his own insurance, which is also a way to teach him about an important part of personal finances. He'll eventually be paying for life and health insurance in addition to his vehicle insurance. I'm using this time to help him understand how it works and why it's necessary, and to also make sure he understands how premiums can go up if he gets a ticket or is involved in an accident. The more careful and responsible he is on the road, the more money he'll be saving, not to mention the safer he and everyone else on the road will be.
Ride Responsibly
Even after taking a motorcycle safety course, and being lectured about the dangers of irresponsible riding, your kid is still a teenager, and prone to making mistakes. There may come a time when he gets a ticket for speeding, or worse, participates in road racing or other dangerous activities on the motorcycle.
Before he rides that bike for the first time, I will have a discussion about what is and is not allowed on the motorcycle, and what I will and will not tolerate. He needs to understand there are consequences for inappropriate actions, one of which may be losing the motorcycle altogether.
Hold your teen accountable for his behavior and actions. It may seem harsh, but remember that stunt riding, or even just speeding on a busy road or in a residential area doesn't just put your kid in danger. By doing those things, he's also putting others in danger.
By preparing my son for the responsibility of owning and riding a motorcycle, I believe I am helping him become a more responsible person in all areas of his life. With a little trust, a lot of patience, and even more preparation, I'm hoping that someday soon we will be able to ride together.
I recently read a really neat story that touched on something  experienced by a lot of women who ride motorcycles: the reaction of our family and friends, particularly our mothers. Now I don't know about yours, but my mother was terrified of motorcycles. She would not let my dad own one, and she was absolutely against me owning a Honda Express when I wanted one as a teen-ager. (I eventually won that battle – I have no idea how.) She did not live long enough to see me learn to ride a "real" bike, and would have been beside herself with worry had she been here.
The story I read was written by Condi Starks, a gal from South Central Kansas who's been riding her own for just about a year. Her current bike is a 750 Honda Shadow. But, Condi's mom used to fret openly that riding wasn't ladylike. I asked Condi if she would mind sharing her story here, and I'm delighted that she agreed!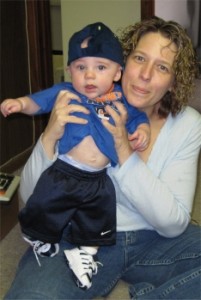 My Cute Mother
by Condi Starks
My mother is very much a Diva!  I mean in every sense of the word.  I love her to pieces but can't help but to just stand and shake my head at her.  She loves the attention and the drama that most "Divas" feed on, that's my mom!  She had a cow when I got my bike.  "Condi that just isn't lady-like!"  And then when I started shooting, she literally CRIED! And I am not even exaggerating, REAL TEARS because "I feel that you are losing your femininity!" We have talked and I "educated" her on what TRUE femininity was, and as you will see, I think she is a very good student.
A little history about my mother:  She came from a level of poverty that she was always embarrassed about; my grandfather worked his butt off, but with 5 children and one of them being a "special needs" child, it required that work and dedication from my grandfather.
My mother was a pre-teen before they had an indoor toilet.  So based on the "lack of" when she was a child, she created an image of what a "Perfect world" should look like and has strived to make her world as perfect as her mental image.
She dropped out of school in the 9th grade and went to work.  Then a few years later she met my dad.  He came from a very dignified family (mom's dad was gruff and teetered on abusive).  My dad's family was not "rich" by any means – they were dairy farmers here in Kansas and eventually lost the farm, so money isn't what bought them respect in the community. It was their values.  This was the "Perfect family" in my mother's eyes and she tried to mold me into THEIR image. (I don't do so bad really but mental image is a hard thing to live up to).
My mother has since worked her way up to being the CEO of her own corporation, owning several tax franchises, and has every right to hold her head proud in her own right.  But she still struggles with "Mental Image" of what is "Perfect".  And ladies on bikes, shooting guns is not the mental image she has of a "Dignified Lady." UNTIL….
I told her "Mom, when I am on my bike I am free.  And there is nothing MORE lady like than FREEDOM.  I am free to be who I am, I am free from gender barriers. I am in control of my own destiny when I am on my own bike.  I am not sitting behind someone putting my life in the hands of THEIR riding skills.  You have always taught me to be in control of my own successes and failures, when I am sitting at the controls of my own bike I am in complete control.  I have POWER, when I hit that throttle and my bike roars, it screams 'I am WOMAN, I am FREE, I am IN CONTROL!'
"And when I pick up my gun and master the skill of shooting I am saying I have value enough to stand up for my right to be safe and secure!  There is nothing lady-like in laying there letting someone rape you, there is nothing lady-like in begging for  your life, there is nothing lady-like in being reduced to hoping someone gets to you in time.  So by learning how to shoot I am learning how to protect the lady you created in me."
She just smiled! Now she BRAGS about my riding and my shooting.  Recently while at a family picnic with "the perfect family" one of my female cousins said "Ohhh I have wanted a bike for so many years, but how do you keep Helmet Head away?" Before I could answer, my mother answered for me.  She said "That's why you wear Doo-Rags."
I smiled and winked at her.  By George I think she's got it!!!