BCN: The Big Nuts Blog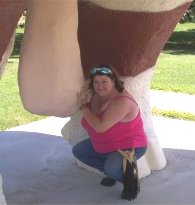 As a blogger, I pay some attention to the number of visitors that come to this site.  Biker Chick News started the year with just over 13,000 visitors in January, peaked at just over 20,000 in October (that's a record!) and will end the year with about 18,300 in December.
Some of those folks, of course, check in regularly – either through Favorites bookmarked in their browsers or by subscribing to my RSS feed. I really do thank each of you who come to this site again and again!
One of the other things I can learn from my traffic reports is which words and phrases visitors typed into the search engines to get here. Because this blog is focused on motorcycling, the search terms normally aren't too surprising – every month there are myriad variations on the 'biker chick' phrase, including "biker chicks," "sturgis biker chicks," etc.  As August approaches, I begin to see the phrases "Sturgis pics" and "Sturgis Bike rally" appear in my results. And, each month there are usually a few readers who got here having searched for "sportster ape hangers" – apparently that's something that needs a little research before making a final decision!
There are sometimes unusual phrases too, phrases that have nothing overtly to do with motorcycling, but that happen to be reflected in something I've written. I always wonder what people think who come here having searched for "Alton Brown," the Food Network host. But by far my favorite of the many search phrases that appeared in my traffic reports this year was this:
"Big Nuts."
This phrase appeared not once, not twice, but several times over the course of the year, in several different months. I'm not sure if people were looking for guys with big nuts, or those fake big nuts you can hang from the back of your car, or what.  But I certainly know which article people find when they come here looking for "big nuts," and since it's one of my favorite rides, I'm okay with that!