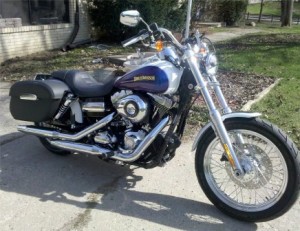 SHORT VERSION: I GOT ANOTHER NEW BIKE!!
EXTENDED VERSION: So my dear husband, who buys me stuff all the time, was up at Big Barn HD on Wednesday of last week and bought me an owner's manual for my 1200 Sportster, plus a hair tie with a rhinestone HD emblem on it. What a sweetie, right? I know!
Anyhoo, he gives me these things when I get home from work and says, "You wouldn't believe the really neat Dyna they had, it's got you written all over it." So as he was telling me about it, I was looking at the hair tie and realized that it's got a rhinestone missing out of it. I told him, "Well I guess I'll just have to go with you to exchange it, and look at that Dyna."
Well the Dyna was indeed beautiful, and seemed to have been set up just for me, so I ended up making a trade that included both The Picky Bitch and the 1200, and I'm now the proud and delighted owner of a 2010 Harley Davidson Dyna Super Glide Custom!
The moment I started it up, I knew her name was Kitten. Not the soft and cuddly kind, but the  sultry kind that craves attention and purrs when she gets it.
She's got HD's 96 cubic inch engine, six-speed transmission, and Progressive short shocks that make her just the right height. Big Barn had set her up with hard-sided leather bags and just a little bit of "diamond ice" bling. Her paint is a two-tone combination of White Ice Pearl and Black Ice Pearl. She looks white and blue one moment, and white and purple the next, depending on where you're standing. I've already added a set of risers to pull the handlebars back just a bit, and a windshield. She is amazing, and beautiful.
Make no mistake, I thoroughly loved and enjoyed both the Sportsters – it's like I traded a couple of fast, nimble Corvettes for a bigger, more muscley Gran Torino – a step up in power, perhaps, but taking nothing away from the previous vehicle.
What can I say, folks, I'm addicted! It's going to be a GREAT summer!
Update 4/3/10: The Picky Bitch is no longer for sale.
Well it's a bittersweet Spring for me – as you probably know, I bought a 2007 Harley Sportster 1200 Custom late last summer. The bike is great and I am really enjoying it. But, it means that I must sell The Picky Bitch. And that kinda hurts, because she's the bike that gave me nearly all the adventures I've shared on this website! So before I lose my nerve, here's the official announcement: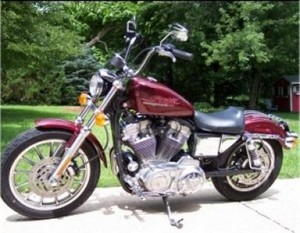 The Picky Bitch is for sale! She is a 2000 Harley Davidson Sportster 883 in Luxury Rich Red with just under 15,500 miles and is located in Des Moines, Iowa. This bike was perfect for me since Day One – always lady-owned, lowered front and rear and set up perfectly for shorter riders like me! (Of course, you can raise her back up if you aren't vertically challenged!)
She's in great shape, clean and shiny, with brand new tires front and rear. (No kidding, less than 50 miles on 'em!)
She's got forward controls, mini-ape handlebars, 11-inch Progressive shocks, and drag pipes, plus lots of extra chrome.  I thoroughly enjoyed owning and riding this bike, but now it's your turn to have some adventures with her.
Asking $4,600 or reasonable offer – sorry, no trades. See all the pictures over on Webshots. Any questions, just send an email to janetgia@yahoo.com.
When we moved to our new house last fall, I realized that all my  "shabby chic" and garden-style home accessories weren't really going to look right in our new late-50's ranch-style home. (Not that you could see them through all the clutter in the old house, but… I tried.)
Same with the new bike… I always thought of the Picky Bitch as my "rough and ready girl." In my mind, she was sort of old-style in looks (because of the peanut tank) and "western" in spirit – in a classic cowgirl kind of way.  So I outfitted her with bad-girl fringe, slouchy saddlebags, and "live to ride" eagle emblems.
New Bike already feels really different – sleek and lots of chromey bits (including my fave – spoked front wheel!). I did put my fringe lever covers on her, but I'm not sure they "fit" with her personality.
On the other hand, maybe she's just a more powerful cowgirl. Guess I will have to ride a bit more and let her tell me what she's all about.
Either way, I'm not givin' up my red Ariat boots!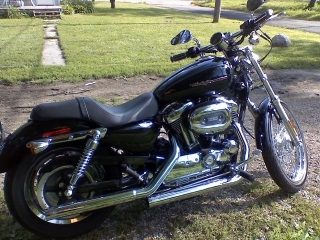 And *snap,* just like that, I'm the proud owner of a new bike! Here's my gleaming new-to-me 2007 HD Sportster 1200 Custom! Couple of changes that have to happen QUICK – need to put the stock handlebars back on it (these drag bars are RIDICULOUSLY narrow and too far forward), and it needs a windshield. But, this bike is FUN, and gorgeous.
'Course, that means my 883 will soon be for sale so watch this space for complete info. WOOHOO!
Update 1, 7/22/09: Handlebars totally fixed and COOL now thanks to Steve and Garry… also added the windshield off the 883 AND Kristin gave me a nice luggage rack to put on so I've got something to hook my T-bag to. Took a nice evening solo ride to get some bonding time – funny, she's a little sluggy at slower speeds (think that's because someone put Vance & Hines pipes on her but didn't do any re-mapping to account for them) but on the highway, she's zippy and nimble, and rides smooth. 
Update 2, 7/23/09: Here's a fun bit of minutia – I found the post on this blog where I announced the purchase of The Picky Bitch, and sharing my first impressions of her. Of the problems I mentioned, we never did do anything about the clutch and with regular use it got easier for me to pull.  And of course, I put buckhorn bars on it shortly after I bought it and rode those for a couple years, then had mini-apes put on it in 2007 and rode those for two years. The one thing I noticed that didn't "hold up" from my original post was the notion of not needing a sixth gear. The bike didn't feel strained at 60 mph, but at 75 (going across I-90 in South Dakota) I did wish for one more gear. Certainly not a problem, just something I noticed.  Kind of neat to have all this "history" recorded to look back on!
We brought home my new bike on Friday the 18th – it's a 2000 Harley Sportster 883! The weather hasn't been terrific – it was only 40-some degrees all weekend – so it was a cold ride home, and then a cold parking lot practice session, and then a cold ten-mile ride on Sunday just for the heck of it… but what a great bike! I was very concerned that I would not like riding it – the Sportster has a higher center of gravity than what I am used to and I'd heard them called "top heavy" – but this bike has already been lowered and as it turned out the different center of gravity didn't give me any problems except for a very short "getting used to it" period. 
We brought the bike home on Friday night (Steve rode it home for me in 40-degree post-rain dark!), and on Saturday I took it up to the high school for some even colder parking lot practice. On Sunday it was just a tad warmer (upper 40's), so I took it out for a 10-mile trial ride which left me absolutely grinning from ear to ear! It's quick off the start, and at 60 mph it doesn't feel like it needs a 6th gear, which was a problem with the Honda. A couple of problems we'll deal with in time: the clutch is very hard to pull in, and it needs different handlebars to bring them back closer to me. These things are easily fixed, and we'll have them taken care of by the time the riding season sets in for good. For now, it was an awesome preview of a fun summer ahead!