Transitioning to a trike: Judy's journey to Goldie
This guest-post was sent to me by Judy Young, aka JuJu, who recently made the transition to riding a trike. While you might think it's a simple switch, there are several things that are quite different with this type of vehicle. Judy covers them here, and shares her enthusiasm for "Goldie," her beautiful silver Honda VTX trike!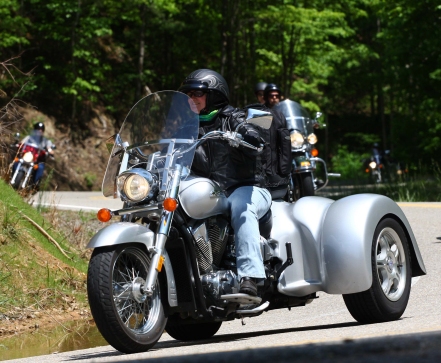 I started researching trikes last fall, after my whiny, achy left knee gave way on me one too many times when I was trying to park my bike. At the Thunder Beach Rally in Panama City Beach, Florida, in September 2008, I met Randy Johnston, the owner of Adventure Motorsports in Dothan, AL, test rode a couple of his trikes, and began to settle on a model and trike kit. By December, I'd sold my Suzuki Intruder and Randy had found a Honda VTX 1300 bike that had less than 2000 miles on it, ripe for triking. So we ordered the conversion kit that I wanted (Champion), and then waited for it to arrive. It took a while to get the kit—there were some holdups at Champion—but once Randy received it, he and his team got to work right away, and I was able to pick up my trike in early March, just in time for Spring Break—yay! She's a gorgeous hunk of silver machine, and I named her Goldie—I love the irony!
Well. The next thing I knew, I had put more miles on Goldie in two months than I had put in a whole year on my Suzuki. I guess the added security of three wheels just made me feel like getting out on the road more often, and especially solo. Now, with less than six months of trike ownership, I've got more miles on the trike than I EVER had on the Suzuki the whole time I owned it (about three years)!  I ride it absolutely everywhere—to work, to get groceries, out to dinner, and of course, just for the joy of the ride.
The Learning Curve
As most riders will realize, there is a bit of a learning curve, representing the difference between riding two wheels and riding three. From the get-go it's different—you even have to mount up differently, so you don't continually scuff your rear fenders with your boots. Everyone figures out their own way, but mine is to mount the trike like a horse: put my left foot on the left floorboard, like a stirrup, then grab the handlebars and turn them slightly to the right, stand up on the left floorboard and swing my right leg up and over the saddle then onto the right floorboard and take a seat. To dismount, I make sure my right passenger peg is down, move my right foot back and push against the passenger peg to give myself some leverage, then again, stand up on the left floorboard and swing my right leg over and down. Voila—no scuffed fenders!
OK, so once you're in the saddle, what now?
First thing, try not to embarrass yourself by putting your feet down when you stop the bike—remember you don't have to hold the bike up anymore. I figured this out pretty quickly while riding solo, but at first, when I rode with other people on bikes, I sometimes reverted to putting my feet down—just from watching the others, I guess. Also, it's kind of a reflex, putting your feet down, so one of those things you have to unlearn.
Second—no countersteering! You have to turn those bars in the direction you want the bike to go, and you have to no-kidding turn them—there's no body-lean to help. It takes more upper body involvement than on a bike. It's not difficult, but it IS different, kind of like riding a snowmobile or a jet ski.
Third, though you don't lean in the turns like on a bike, there is what I think of as a "triker's lean"—that is, shifting your body weight to counteract the centrifugal force in the turn. I've got no scientific data on this, and I'm only basing my findings on my own experience, but it does seem that shifting my weight and maybe putting a little extra pressure on the inside floorboard, makes the trike move through the turns smoothly. I've heard some trike riders say the opposite—more pressure on the outside floorboard—but inside is what works for me.
Another issue is figuring out where to position yourself on the road. At first, I just centered my trike in the lane, but never felt good there because, as we all know, that's where all the road grease collects—dangerous and yucky! Then, on a rally in North Carolina in May, I noticed some trikers riding with their front wheels just slightly left or right of center, which seems better not only in that it keeps your front wheel out of that gunk, but also it allows for a better line of sight for bikers/trikers behind you.
Finally, you have to get used to being mindful of those wiiiiiiide rear fenders—at toll booths, at gas pumps, in parking lots—everywhere. I did pretty well with the gas pumps from the beginning, but I narrowly avoided a crunch the first time I went through a toll booth. Whew! I learned my lesson (I hope!) from that little near-miss.
On the other hand, I find that it's still a good idea to turn your head and look through the turns just like on a two-wheeled bike. I think that's just a good habit to continue. And certainly, head up, not looking down at the road—again, a good practice that carries over from bikes to trikes.
So, some things to learn anew, some things to unlearn, and a few things that stay the same. I've learned an awful lot from one particular online trike forum: www.triketalk.com. Friendliest bunch on the 'net. And where I REALLY bonded with the trike was on a little rally in May, when Lobo (aka the Chief, aka my dear husband and riding companion) and I met up with a few of our triketalk.com friends in North Carolina to ride the Tail of the Dragon at Deal's Gap. What a ride – here's the video!
I've heard all sorts of myths about trikes: that they can only go slowly, that they have a tendency to tip over, that they can't make a tight turn. In my experience, it's all baloney. On the Dragon, we were several trikes and a few two-wheeled bikes, and the trikes not only kept up with the bikes, but were pushing them through many of the curves. Good thing, too–Lobo rides a Harley Road King, and he's not slowing down for anyone!
So if you've ever contemplated riding a trike, I hope I've answered some questions and calmed some suspicions. If you want more info, come on over to triketalk.com—the friendly folks there will tell you more than you ever wanted to know about trike-building, trike-riding, and all things trike-o-licious!