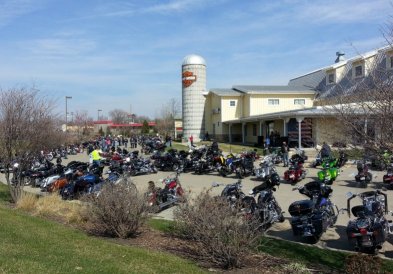 We had a beautiful and delightful day on April 19 for the ABATE of Iowa Blessing of the Bikes – morning temps were in the upper 50's and we hit mid-70's by the afternoon.
My Chrome Divas group had made plans to meet at Sambetti's at 9:30 and roll into the blessing together, so Steve and I headed over and we met up with several of the gals to ride in to Big Barn Harley Davidson here in Des Moines. We arrived at the Barn about 10 am for the 11 am blessing, and there were already quite a few bikes on hand.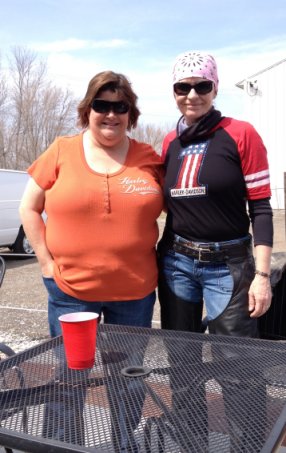 We did a little bike browsing and – huge treat! – I finally got to meet a friend I've been emailing with for almost a year! Glenda had contact me last year and asked me to add a poker run to my event calendar that her family organizes each year. At the time, I also wrote up a little post about the run to help promote it, because the story behind it really resonated with me.
Through email letters, my new pen pal and I quickly discovered that we share the exact same birthday – month, day and year! – and, have a special love for a particular pattern of vintage dinnerware. Because of all this – plus more things in common AND our shared love of riding, we became fast friends online and now finally have been able to meet in person and ride together! It was very gratifying to get to meet Glenda and her husband Pat!
The bike blessing event was lovely as always – there was live music, a large-group blessing, and then the opportunity to wait by your bike and have a member of the Christian Motorcycle Association say a special individual blessing. We then enjoyed the chili feed put on by ABATE District 4, and finally decided to take off on a short ride.
At this point we were also joined by another new friend, Kelly, whom we had met on a previous visit to the Barn.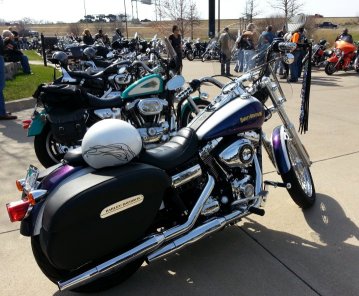 Our ride route was simple and the group consisted of myself, Steve, Garry, Shirley, Pat, Glenda and Kelly. We rode north away from the Barn on Highway 415 and turned with 415 to the west, along the north side of Saylorville Lake into Polk City.
We traveled north out of Polk City up to Highway 210, then jogged east into Slater, where we landed at the Night Hawk Bar & Grille – a little place adjacent to a bicycle trail that we had discovered last year while Road Pickling with Sash & Highway.
Spent about an hour just visiting and enjoying our beverages, then everyone headed home or on to their next Saturday activity.
I thoroughly enjoyed this day… although I didn't take many photos, you can see the ones I did take in my Bike Blessing 2014 album on Facebook.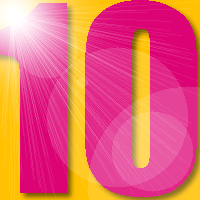 In ten years of blogging, I've posted a lot of ride reports about trips around Iowa; it's hopefully no secret that I love riding the backroads of my home state! In celebration of my blog's Tenth Anniversary, I've rounded up ten of my favorite Iowa rides, chosen either for the scenic roads, the interesting destination, an overall memorable day, or maybe all three qualities rolled into one. Here are ten favorites, in no particular order:
Audubon/Albert the Bull – In 2006 we were preparing for our first ride to the Sturgis Rally, so we made an all-day run to Audubon, Iowa to visit a giant concrete bull. It was hard to ignore his oversized testicles, and to this day I still occasionally have visitors to my blog who've arrived here after searching for "big nuts."
Solo Ride to Palmyra – This was a short but satisfying solo ride along a favorite road, and I made a snap decision to stop and admire a beautiful old and weathered Gothic-style church.
Divas Ride to Jefferson – The Mahanay Bell Tower in Jefferson, Iowa is one of my absolute favorite central Iowa destinations, and this ride with my gal pals in the Chrome Divas was an outstanding day of beautiful riding and wonderful fellowship!
The Butt Puckering Ride from Peru – This day was all about the friends we were with, roads that were both scenic and horrific, and things not going according to plan. Also, a word that makes me laugh every time I say it.
Pie in Millerton – This time, it was mostly about the food. When a local TV reporter tells me this is the best pie in Iowa, by golly, I listen!
Lincoln Highway Bridge – An historic road, an amazing local eatery, and the bridge I almost missed!
Divas Ride to American Gothic House – A classic Iowa destination, a bit of classic Iowa road food, and the spectacle of an all-women's ride. A favorite day for sure!
Road Pickling – In which I have the opportunity to lead two amazing California-based riders along the Iowa leg of their journey-of-a-lifetime around the United States! Sharing Iowa corn, curves, and camaraderie with Sash & Highway.
The Flags of Brooklyn – When you're a small town seemingly in the middle of nowhere and completely off the beaten path of the Interstate, you have to do something to make a name for yourself. The tiny town of Brooklyn, Iowa has done just that with a charming display of flags from all 50 states, and just a little bit more.
Solo Ride to Drakesville – A day to myself, nowhere to be, and a ride that wasn't all sunshine and roses – well okay, it WAS all sunshine… but, a major achievement in the Riding Solo department, and overall a really memorable ride I'm glad I took.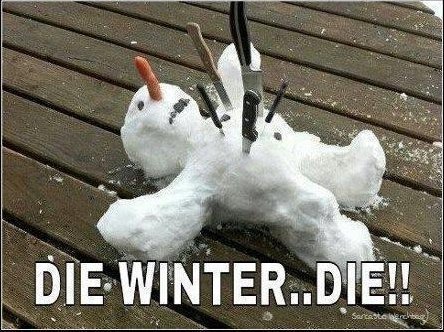 I was beginning to think this Winter wasn't going to end.
Seriously, we had snow flurries as recently as Thursday of this past week. That's APRIL, y'all, and that hardly ever happens in Iowa! (It does happen though… way back in 1973 when yours truly was 10 years old, we had 18 inches of snow in early April. It all melted a few days later, of course, but we still talk about that some 40 years later so really, it was epic.)
Anyway, it has been a longer-than-normal, colder-than-normal, colder-earlier-and-stayed-that-way-longer-than-normal Winter. Not only did we not get our first ride in February, we almost didn't get it in March either. But finally… FINALLY… we managed to catch suitable temperatures on a weekend – but for the second year in a row our first ride of the season was comparatively late, taking place on Sunday March 30th!
My initial plan was to ride to brunch, then go for some kind of short scenic ride to the south. We knew we were going to have to jump start Steve's bike, because it's ten years old with the original battery and we hadn't used battery tenders over the winter. We soon found out, though, that poor Kitten wouldn't start either!  So, Plan B was: go to brunch, then come home and get both bikes running, then take a short ride to Indianola for ice cream.
After brunch, while Steve pulled out the battery charger and jumper box to start work on the bikes, I grabbed the keys so I could move his seldom-used pickup into the side yard. This was so that we'd have plenty of room to maneuver back into the garage when we came home. But, I quickly discovered that his truck wouldn't start either!
So first order of business was to get the truck going. Once that happened, I moved it over to the sideyard and let it run so it would be sure to re-start.
Meanwhile, Steve set about removing my bike seat so he could get to my battery. By that time, Howard and Kristin had arrived to go with us – fortunately they are patient and appreciate a good comedy-of-errors, because I swear it took all four of us about 30 minutes of wrestling with the seat before someone had the big idea to read the directions.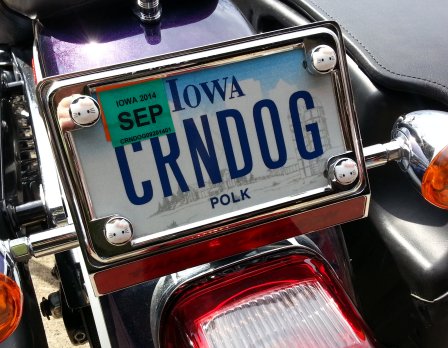 Ah, okay, seat off… now back to the directions to figure out how to get the battery cover off… battery now hooked up to the jumper box, and Kitten roared to life. Hello, Kitty! I swear I just about wept with joy.
Moved on to Steve's bike… same procedure but without having to read the directions… his bike was rumbling within a few minutes, and finally, after all that, off we went!
Now right here I need to confess, in all seriousness, that there was a point in late Winter where I could barely summon the enthusiasm I usually have for the first ride of the season – or anything else for that matter. I entertained the thought that perhaps I didn't care about riding anymore. I thought about giving it up. I was quite simply depressed.
Fortunately, seeing Kitten gleaming in the driveway was a miracle cure for my lingering sense of indifference. And after a few minutes of cruising down one of my favorite south-bound county roads, R63, I was once again near tears of joy (I'm starting to think I might simply be hormonal…)
I love R63 for its roadside meadows and sweeping curves. But because the meadows are still in un-green shades of dormant, I made those curves my singular focus (aside from looking out for suicidal animals, of course): setting my line, looking out to the end of the curve, trusting my bike to dip into the apex and then righting myself and setting for the next one. It was a joy!
And when we arrived in Indianola, we pulled into the A&W under the awning and I dismounted my bike, eager to pull off my helmet and share my happiness with my friends. As I turned to say something appropriately meaningful (a.k.a., "dorky"), my husband switched off his bike and said, "Did you turn off the truck before we left?"
(Crickets chirping.)
Well now. That would be a no. No, I did not. Or to put it another way: Yes, we are 30 miles down the road and our pickup truck is idling unattended at home. Hmmm. I offered to call the neighbor, whose last name and phone number might as well be Smith and 7, respectively, because I have no idea what they really are, but assumed I had the resources to find them by accessing certain websites on my handy-dandy smartphone.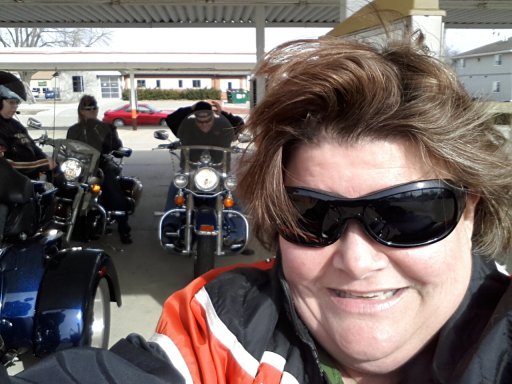 But ultimately, Steve said to just let it be. No one would come into the yard and take the truck with all of our other cars sitting there like we were home, he reasoned.
The worst part would be reporting it to the insurance company and admitting how suspiciously easy we had made it for the theft to occur on a $900 truck.
Well that kind of burst my happy bubble surrounding the curves of R63, but we did enjoy our ice cream and too soon were headed back toward home – down the same road we'd come in on but cruising past the junction at R63 and traveling a bit further west to its cousin, Highway 28 at Martensdale.
Back up to Des Moines through Martensdale, Prole, and Norwalk, a farewell wave to Howard and Kristin, and finally pulled into the driveway at home to find Steve's truck still idling in the yard.
So – all's well that ends well I suppose. Including the Winter That Refused to Die.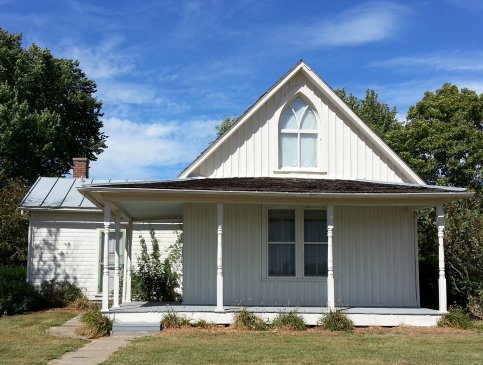 This weekend our Chrome Divas chapter celebrated its third season with a ride to the world's second-most recognized house: the "American Gothic" house, depicted in the background of the iconic painting of that name by Iowa artist Grant Wood.
A lot of people probably don't realize that the house in the painting was (and is) a real structure, located in the southeast corner of Wapello County about 110 miles from Des Moines. It's been on my "must-ride" list for several years, ever since Holly mentioned that her Estrogen Ride group stopped there!
Our day began with a meet-up at Sambetti's in Des Moines (official home of the Chrome Divas)! We departed around 9 am with sunny skies but a temperature that had not yet reached 60 degrees. It was cool, but very comfortable – and not unseasonable, like our last barely-60 ride back in August!
Our fearless ride leader, Janet (aka SevenOver), took us on a very pretty ride down through Runnells, Pleasantville, and the Lake Red Rock area, and across the Mile Bridge over Lake Red Rock where we saw a large flock of pelicans! They were above us in a large group, soaring and swooping overhead, and when we rode past one part of the lake we could see many more of them gathered on a sandbar that had extended out into the lake. We rolled into Pella around 10:30, a small Iowa town famous for its Dutch heritage, dueling bakeries, and of course the annual Tulip Time festival held each May.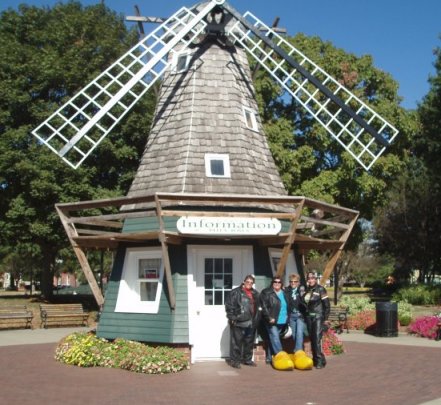 We treated ourselves to Cinnamon fritters, flaky "goat legs," and traditional Dutch letters (the main Dutch letter seems to be "S"), then continued East toward our next stop in Ottumwa.
You might remember I had a rather negative impression of Ottumwa on my solo ride to Drakesville – well I'm happy to report that this little river town is on its way winning me over. This time we came into town along a lovely residential avenue called Court Street. The houses were so distinctive it was all I could do keep moving and not stop to take pictures!
We encountered a bit of a riding challenge along this street when we rode through an area where a water main had clearly burst and was gushing water across the road. Fortunately it wasn't very deep up on the crown of the road, but on either side at the curb it was probably 5-6 inches deep and rushing quickly over the surface of the road. We moved at a slow, even pace along the crown and made it through with only wet pant-legs.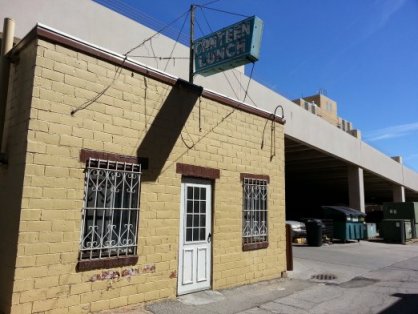 From Court Street we proceeded into the old downtown area, which appeared largely unkempt but had far more personality than the part of town I had ridden through last time!
Our destination here in Ottumwa was a tiny lunch counter called Canteen Lunch. We parked our bikes on the street in front The Owl's Nest Tavern, and we found The Canteen right around the corner. Hard to explain the location but it looked like someone tried to fight City Hall over the construction of a parking ramp, and in a compromise they simply kept the Canteen standing but built the parking structure right over the top of it. (Important to keep in mind that the best local food is usually found in places like this!)
The Canteen itself was a building made of cement block about the size of a two-car garage, painted mustard-yellow and with a classic neon sign still hanging off the front. Just inside the door was a U-shaped lunch counter with nearly every seat taken even though it was Saturday (or maybe because it was Saturday!). After a minute or so we managed to get 4 seats on one side, and 2 on the other, so our group split up and we enjoyed wonderful "loose meat" sandwiches – what they used to call "beef burgers" in school, or "Maid Rites" in the Midwest when that restaurant chain was thriving.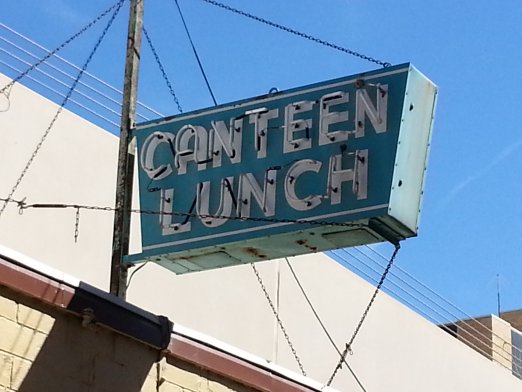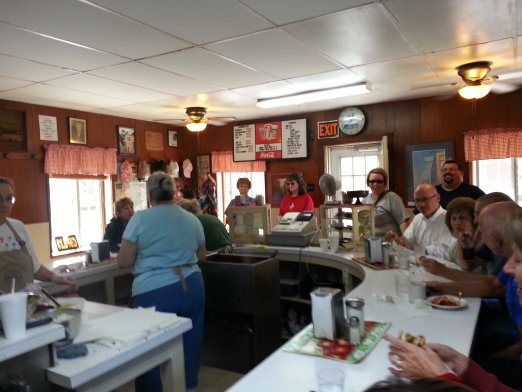 Ample food, dirt cheap, great atmosphere! Enjoyed our lunch and accosted a local gal to snap our photo, then took off for Eldon just a few miles to the east.
The American Gothic House is truly an Iowa gem – tucked back in a quiet section of town and not immediately surrounded by other homes or development except for the little museum/shop/learning center right next door. The little house and yard are fronted by a wildflower garden and a paved area suitable for staging photos.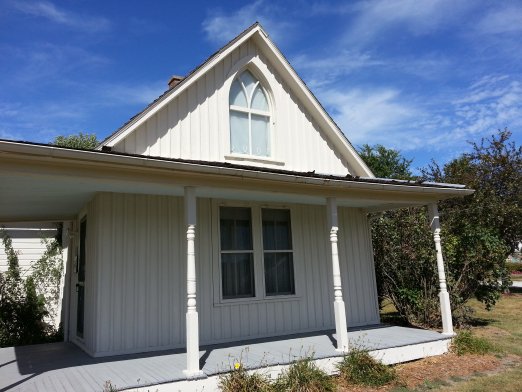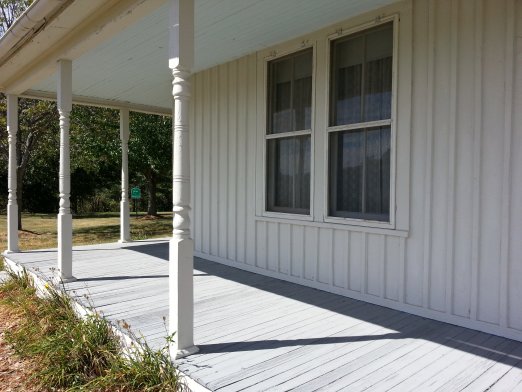 The house itself, including the little-half story on top with the now-famous Gothic-style window, was completed in 1882 by Catherine and Charles Dibble. It's therefore also lesser-known, but listed on the National Register of Historic Places, as the Dibble House. It was donated to the State Historical Society of Iowa in 1991 by then-owner Carl Smith. The museum and visitor's center was completed in 2007.
Our visit started with an informational presentation by Mr. Allen Morrison, an Eldon resident and former U.S. Marine who is familiar with the house, the work of Grant Wood, and the story of how the house came to be included as a backdrop in Wood's famous painting.
We also toured the museum itself, which featured a timeline of Wood's life, examples of the painting as the image has been used throughout popular culture, and various creative expressions of the two stalwart characters.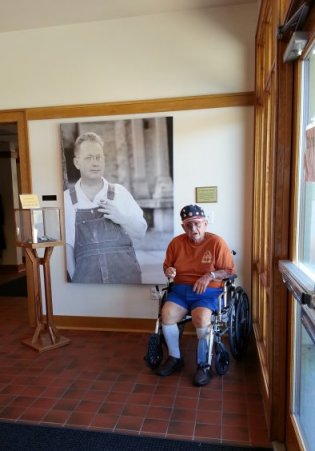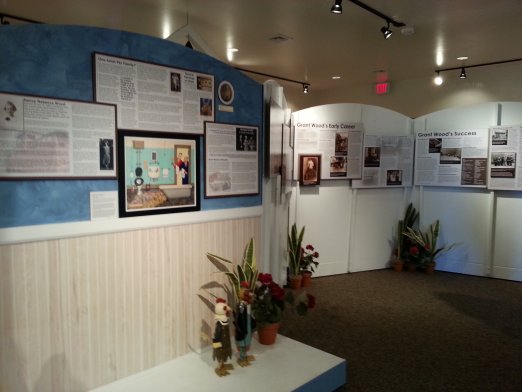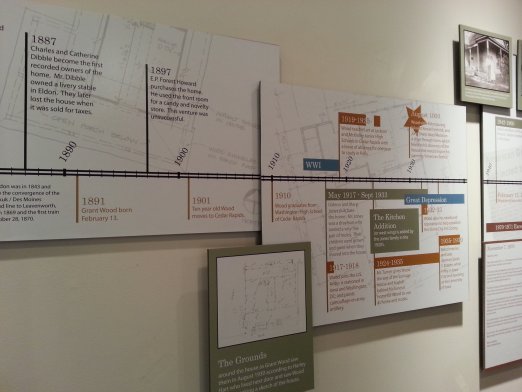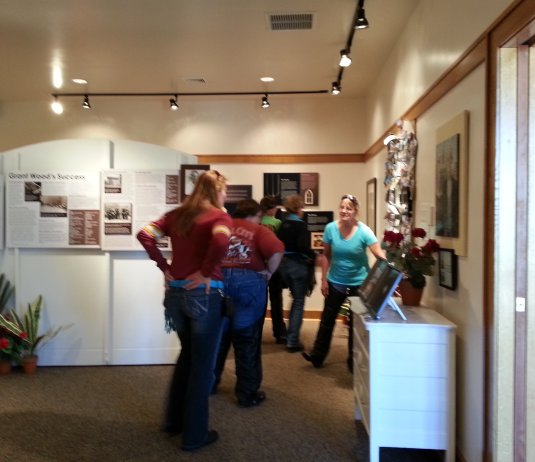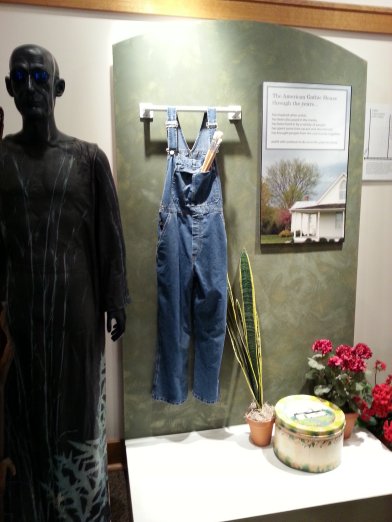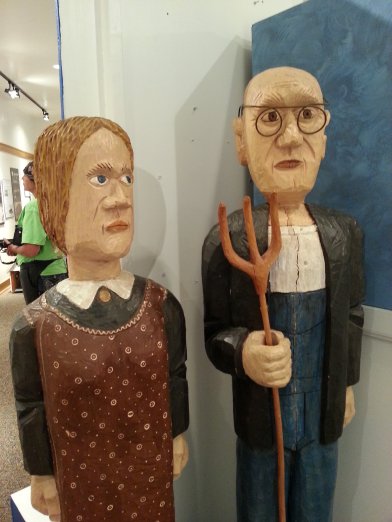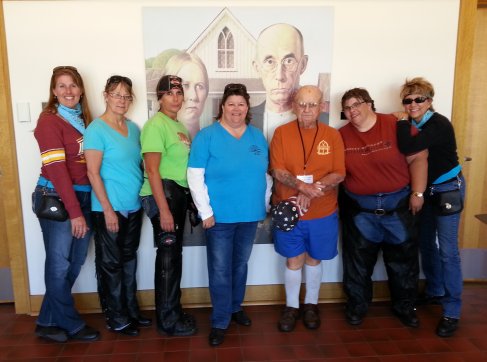 We took part in the visitor ritual of dressing up in "American Gothic" costumes and having our photos taken in front of the house.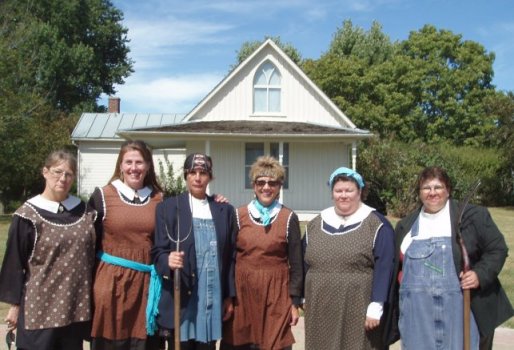 Mr. Morrison had told us that the current resident of the house, Ms. Beth Howard, was currently traveling and not at home. (Her story is could be the subject of a whole new blog post, but, if you go to Amazon.com and search for the book "Making Piece" by Beth Howard, you'll get a sense of her life story.)
I asked him if it was permissible to step up into the yard and take closer photographs of the house and he graciously allowed us to do so. He also let us pose on that famous porch, and drive our motorcycles up into the paved circular area so we could get a group photo of bikes and Divas in front of the house!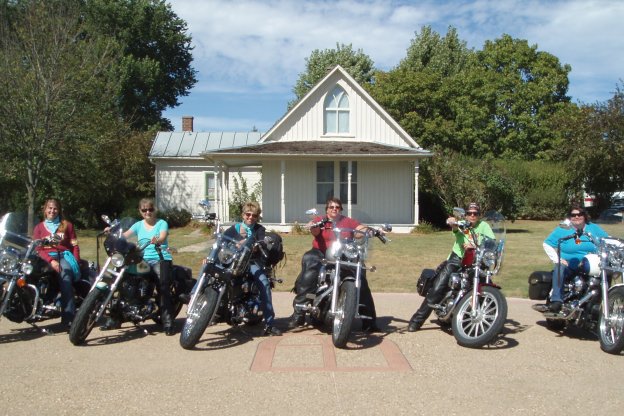 What was really neat was that he seemed to enjoy having us there as much as we enjoyed being there – a great guy who took a lot of pride in sharing the story of the house and its artist!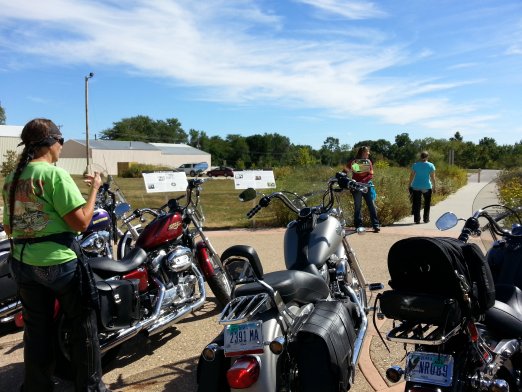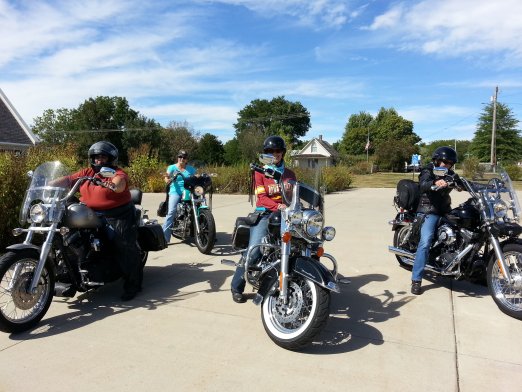 We left Eldon the way we had come in, along Highway 16, and stopped to top off gas at a station just south of the junction with Highway 34. Turned out that was a neat little paved road that took us back to the west through the tiny town of Agency and actually ran directly alongside Highway 34 for a stretch until we got back into Ottumwa. Picking up Highway 34, we continued west to Chariton then north along County Road S23 into Lacona.
Another brief stop here to contact our Diva sister Shirley, who had been unable to ride with us but was planning to meet us in Carlisle for ice cream. We continued along S23, which north of Highway 92 is also known as the Palmyra Road because it passes by the town of Palmyra (home of another beautifully historic Gothic structure, the Palmyra Church). Shirley met us at the junction of Highway 5 and rode in with us to Carlisle where we made a final stop for post-ride ice cream.
Interesting also to note once again the changing of seasons here – most of Iowa is in severe drought right now, so a lot of the corn is already completely dried. As for the beans – well they range in condition from still being beautifully lush and green, to being barely brushed in gold, to being completely dried out – sometimes all along the same stretch of road!
Such a strange year, weather-wise, but a great day visiting a truly unique Iowa treasure!
I really noticed the problem when we were out Road Pickling back on August 18: my bike seemed to be making a lot of banging noises each time I'd go over a bump or even a dip in the road. It sounded like my saddlebags had come loose from their moorings, but I checked them and they seemed okay… so I chalked it up to just loose stuff inside the bags, rattling around.
Pretty naive of me, considering that we had previously noticed small puddles of shock absorber fluid on the garage floor on both sides of the bike. At our last stop on the Road Pickle ride, it was clear there was in fact a shock-related problem: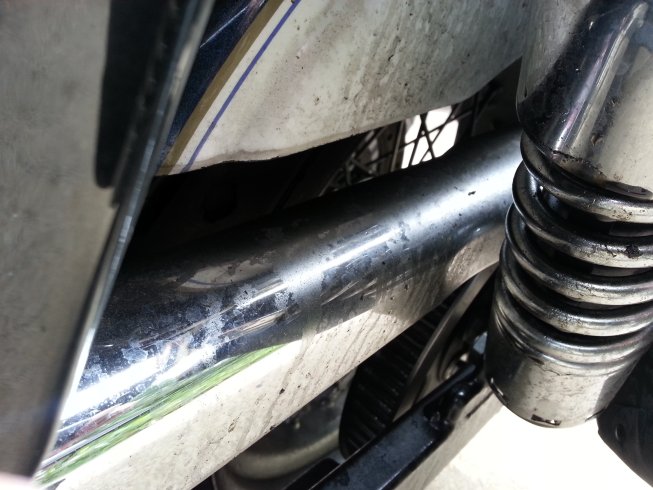 The following weekend I took the bike up to Big Barn to confirm that the shocks were both completely blown out. Disappointing, as they only had 7,000 miles on them. (It also happened to be "Demo Days" at the Barn, where they debuted the new 2014 HD bikes. Although nothing in the new lineup really grabs me, I did enjoy looking at some of the customer bikes.)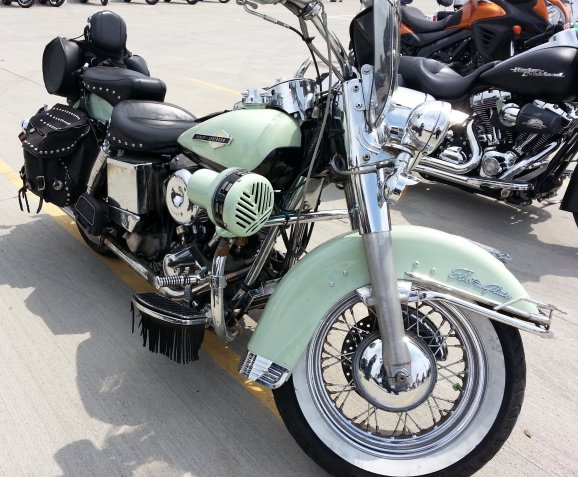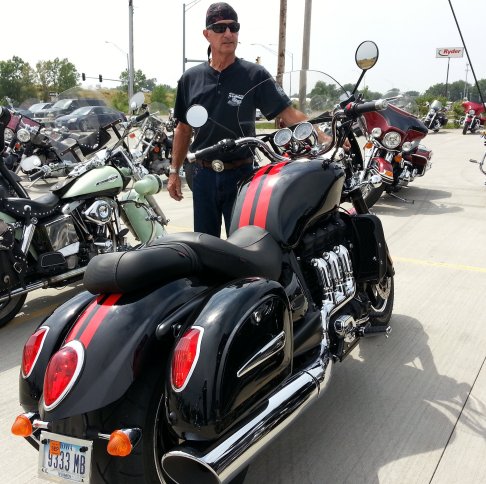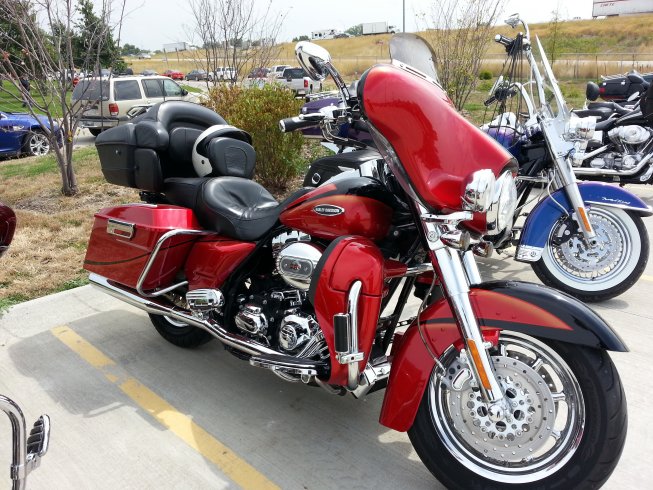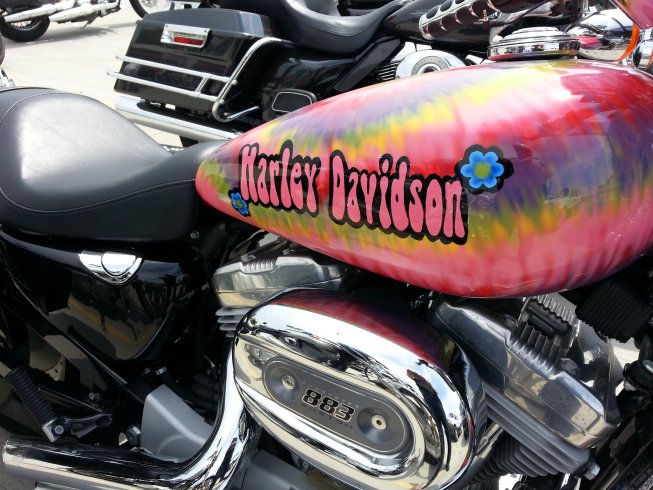 Neither the Barn nor Progressive Suspension – the company that made the shocks – could provide free replacement since the parts were three years old and out of warranty, so we purchased another brand and Steve put them on for me during that following week. I was ready to ride again by Labor Day weekend.
As it worked out, Labor Day was the day we picked to ride so we decided to take a return trip to the Haverhill Social Club. We met up with Garry and Shirley shortly after Noon in Altoona where we got to see Shirley's new-to-her bike, a Kawasaki 900 Vulcan in a really pretty dark metallic blue.
Our route to Haverhill took us east out of Altoona along County Road F48 to Newton, then we followed Highway 14 at Newton north to E63, where we turned back to the west to find Haverhill. It was a decent ride of about 60 miles, but it was the headwind direction and I had a crappy headache by the time we arrived.
We enjoyed our lunch at the Social Club and by 3:30 were ready to leave. We stopped at the Immaculate Conception Catholic Church in town, a century-plus Gothic style church completed in 1902, with a burgeoning parish dating back to 1877. (Sadly, the church closed in 2007 and is now only used for weddings and funerals of parish members.)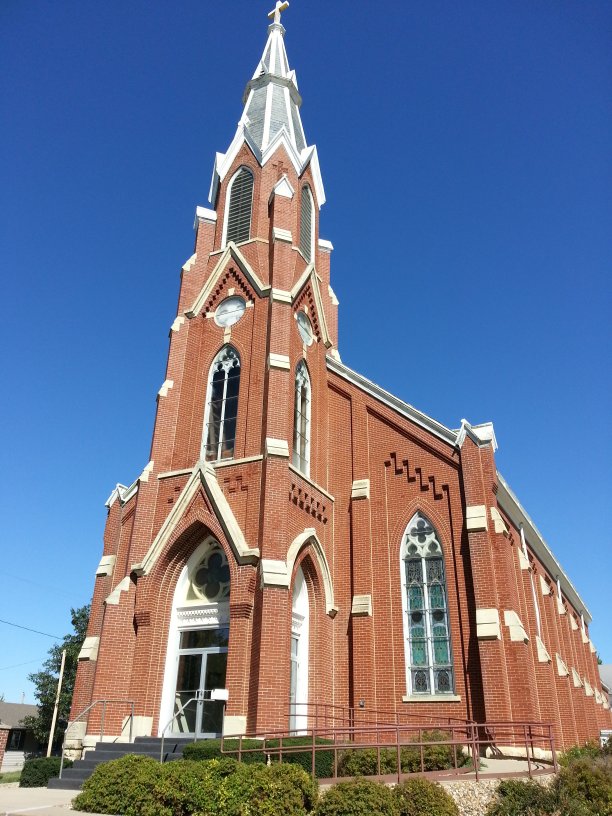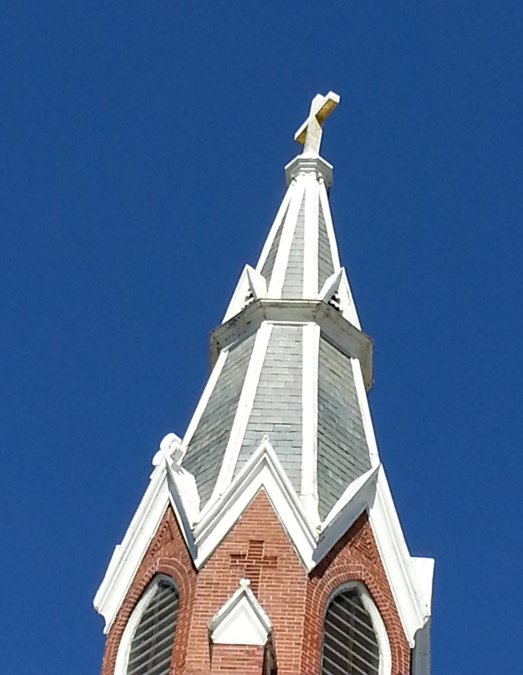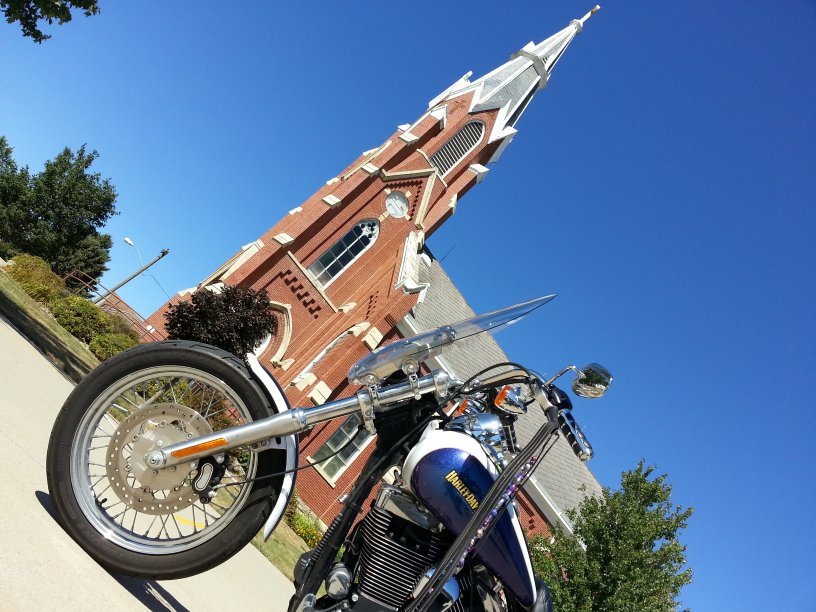 The ride home seemed much easier than the ride up – we had the tailwind, for one thing, but for another it was just a prettier ride. We left Haverhill heading west on E63, and followed S62, F17, and S52 to the south to once again pick up F48.
It's funny what a difference two weeks makes in the landscape here – the corn has that early-Autumn "glow" to it now, where the sun is a bit lower in the sky and makes the wide strapping leaves of the corn stalks seem to glow when lit from behind. The stalks are also starting to brown at the bottom, where just a couple weeks ago they were still fully green. And the soybeans are thick and healthy, dark green… when you get a large field of them, the breeze turns their leaves to the underside which creates a sort of silvery "wave" undulating across the field.
This whole route was so picturesque with old weathered barns and outbuildings, hilly fields of glowing corn and waving soybeans, groups of cows gathered under trees, and even some trees starting to change color.
We stopped in Altoona to say farewell to Garry and Shirley, then Steve and I proceeded on toward our next destination: Capital City Pub & Hot Dog, a restaurant not too far from our house, where we met up with friends Gerry and Janet. They had spent most of the day working, but had come down from Huxley for supper. We had a great couple of hours just catching up with them before we rode the remaining few blocks home.
The whole day was a lovely, 130 mile test for my new shocks, which passed with flying colors.
And speaking of flying colors, the 'bike jewelry' I added recently has also turned out to be a successful venture: I'm NOT getting whipped by either the fringe or the long strings of beads I attached to my clutch and brake levers. Hard to get a good picture of them, but I think they've added a distinctive and feminine touch to my bike.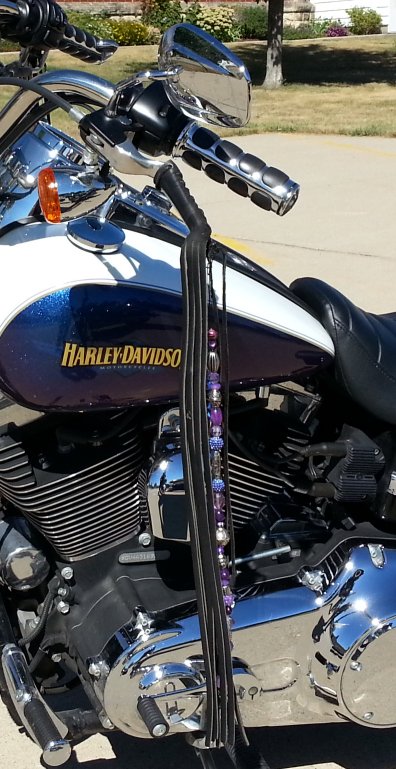 Hope your August has been trouble-free! Have you had any mechanical issues, or made any cosmetic changes to your bike this year?
I had been a subscriber to the Motorcycle Philosophy blog for some time, reading occasionally via RSS feed. I always found Steve's articles to be thought-provoking and appealingly personal.
It took me awhile, but I also eventually discovered Tina (aka Sash) on Twitter and at her blog, SashMouth, and was instantly struck by her no-BS style of writing and her "I gotta be me" attitude.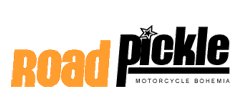 When I figured out that she was actually married to Steve (aka Highway) of Motorcycle Philosophy, and that the two of them were about to embark on a six-month nomadic motorcycle journey, I knew that the combined trip blog, "Road Pickle," was going to be a must-read.
Via Twitter, I told Sash to get in touch if they found themselves headed through Iowa along their journey. Her answer was: "Janet, one of my dreams is to ride my bike to Iowa to see the corn. No kidding. I tell everyone!"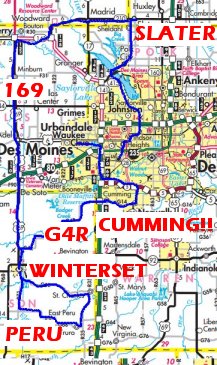 Corn? Oh hell yes! So much more, but corn for sure! Those tweets were in February – and in August, we made them a reality when Sash & Highway arrived in Iowa. Of course, they had already seen some corn by the time they got here – I don't think there's a path into Iowa that doesn't include it.
But Iowa corn is different – legendary, even! – so I put together a little day-ride that featured corn and curves, food and friends, and, I'm happy to report, astoundingly perfect weather!
We met up in the parking lot of their hotel in West Des Moines, where the vivacious Sash came bounding out toting her sassy biker chick pal Asphalt Annie, the naked bed-headed Barbie with no blouse and sparkly pasties – and Annie's pal Miss Ashley, supposedly a "calming influence" on her naked BFF, but likely, just as much a trouble-maker in her own right.
These three were followed shortly out the door by Highway, whose easy manner matches his blog perfectly. It was pretty obvious from the first moment you meet them that what you read on their blogs is just what you get in person: at once open, welcoming, enthusiastic, thoughtful… and one-of-a-kind.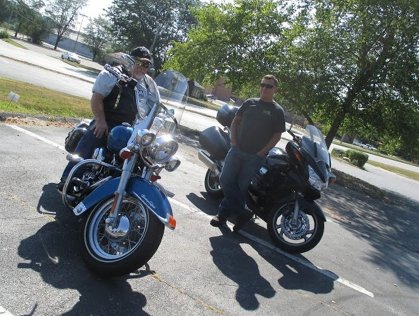 In the parking lot, as Steve and Steve patiently chatted and possibly tapped their toes waiting for the girls to get going, I was interested to see how Sash had set up her digital camera for taking some of her amazing from-the-bike pictures: industrial strength Velcro and a "zip reel" played important parts.
I didn't see Highway's set-up, but both of them get amazing shots so, obviously, the only reason I'm not getting these same kinds of pictures is that I haven't put enough thought into it. (Hand to God, I thought the amazing Mobile Eyewear Recorder was going to be the answer!)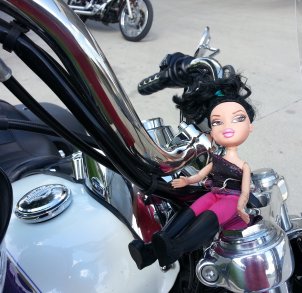 I bungeed the startled Miss Ashley to my handlebar riser, and Annie took her spot with Sash over on the storied Ninja, Katie Scarlet. We soon took off for our first destination: the Nite Hawk in Slater, Iowa, where we were to meet up with Janet/Seven Over.
Our route took us through the suburbs of West Des Moines, Clive and Windsor Heights, into Des Moines and north up to Johnston, where I showed them the scenic half of the ride "up around the lake." We cruised over the Mile Bridge over Saylorville Lake, where hundreds of gentle wave caps sparkled in the sun like a carpet of rhinestones on the water, and continued north through Polk City and up to Highway 210 into Slater.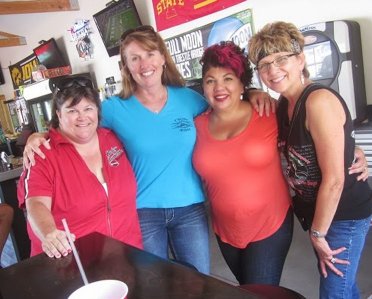 The Nite Hawk is a casual bar-and-grille, situated along the recreation trail that eventually leads to the High Trestle Bridge just outside of Madrid. On this perfect day it was populated primarily with bicyclists. We met up with Janet, and were also soon joined by Susan (Coyote) and her husband Paul. Janet is a Road Pickle reader and was enthusiastic about meeting Sash & Highway.
Lunch was a wonderful mix of Road Pickle stories and other mutual motorcycling adventures… Sash even shared one of Highway's food photography tips for making anything on a plate look irresistible. ("Focus on one element, and shoot at an interesting angle – it makes everything look delicious!" You can see this tip used to full effect over at RoadPickle.com!)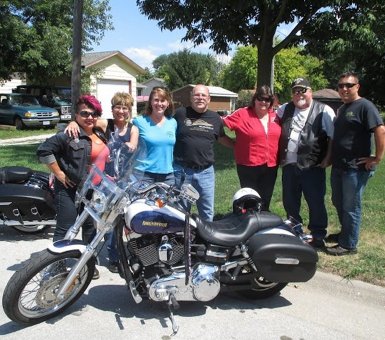 When it was time to depart, we accosted a friendly customer to take a group photo outside the Nite Hawk and we bid good-bye to Janet, who was headed home for a family birthday party. The rest of us headed back to Highway 210, which we rode west through Madrid, over the nearly-dry Des Moines riverbed and past the High Trestle Bridge, and through Woodward down to Highway 141. (Along the way I could see both Sash & Highway taking pictures, and thought, I've got to engineer this!)
We rode west briefly to Highway 169, where we turned south and headed toward Winterset and Madison County.
The Iowa road map is a little deceiving about a Highway like 169: from 141 down through Minburn, Adel, DeSoto, and into Winterset, it has very few curves. But those it does have are beautiful uphill or downhill sweepers, opening up views of gentle sloping meadows to the left and right.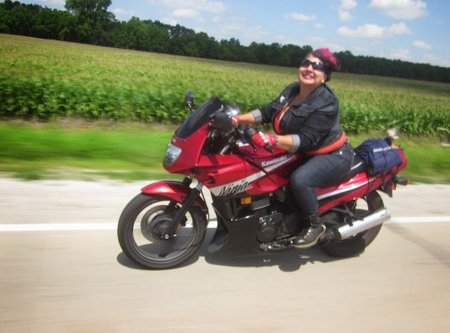 And of course, there was corn! Bright green with golden tassles, covering large multi-acre fields and even homegrown garden-size patches. Each time we'd pass a large stand of thriving corn, I wanted to stretch my arm out toward it with a big "ta-DA!" so that Sash would be sure to take notice.
Arriving at Winterset, we pulled in to the Casey's General Store for a break. While here we met a young man named Shane, who rolled in on a homebuilt chopper and told us he had ridden some 400 miles already that day. Nowhere to go and all day to get there, he said, just riding around on the bike he had built before he got the wild hair to sell it – which, apparently, is something he does often.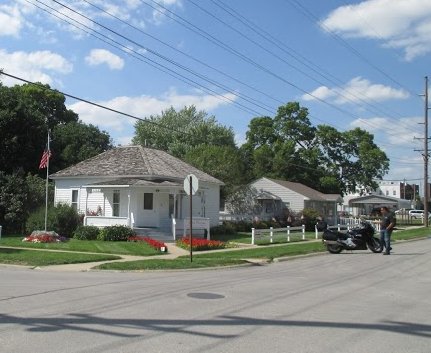 We left Casey's and rolled through Winterset, making a loop to catch a few photos in front of the John Wayne Birthplace on South 2nd Street, and proceeded south along County Road P71 with its beautiful sweeper just outside of town. A few miles down the road we turned left onto G50 and headed east, past scenic homesteads and into the tiny town of St. Charles where we were to pick up R35.
I recalled from an earlier visit that the junction with R35 is not marked. As we rolled through a 4-way stop intersection I looked to the right and saw the paved road heading out of town, and knew I'd missed the turn, so we simply rode around a quiet block and turned left – sure enough, it was R35, marked a little after-the-fact about two miles down the road.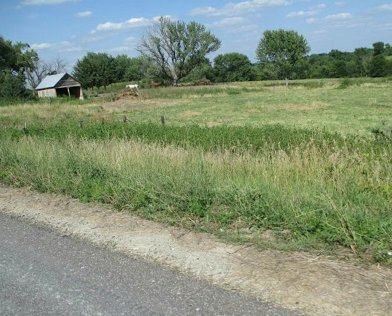 We traveled south for about 5 miles, looking for G68 – again, turns out, not marked. Took a chance on G68 being the right-hand sweeper instead of the straight-away (correct!) and we were headed back to the west along the Pee-ru road (snicker).
One thing I really like about this type of ride is the noticeable difference between the major roads like 169 and P71, and the lesser "interior" county roads. While the former are designed to get you through the county from one end to the other, and they have no shortage of beautiful scenery, the latter are designed to get the locals home. The landscape here is less about wide open fields of crops and more about pastures, hills, and the quietest of Main Streets. It's a marked difference which you can almost feel as well as see.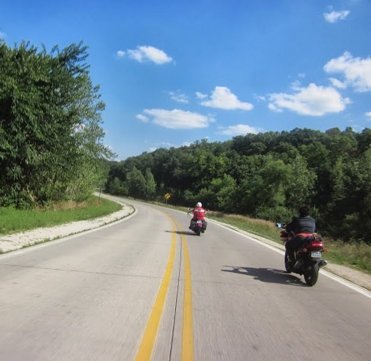 We rode through Peru and back to P71, north into Winterset, and just a skosh further north past the Highway 92 junction to G4R. Turned east onto G4R and enjoyed a final stretch of curves, corn, and lovely homesteads while we made our way back toward Des Moines. Rolled through Cumming, Iowa (I'll soon be sending Sash an "I (Heart) Cumming" tank top as an Iowa souvenir!) and on into Norwalk just south of Des Moines, at about 5 pm.
We stopped at the Casey's in Norwalk for some final farewells, thank-yous and hugs. In all I think we enjoyed about 150 scenic miles. But the aspect of this ride I enjoyed the most – aside from showing off some of the prettiest roads in my home state – was the chance to meet and solidify friendships with two adventurous people who truly are living their dream of living life on their motorcycles.
What a treat to be part of the RoadPickle journey!
(P.S. – Thanks to Sash & Highway for almost all the photos in this post. I'm working on it! LOL)
It's no secret that I love riding curvy roads, especially the big sweepers and the set-lean/set-lean of a well-engineered S-curve. I'm fortunate that my home state has lots of these types of roads – so you can imagine the little squeal of delight that I let out the day I was perusing my state transportation map and saw THIS: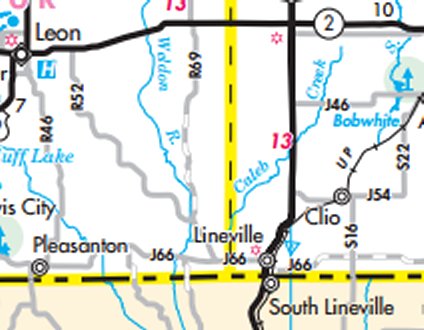 Just LOOK at that luscious little hunk of R52: a paved County two-lane (solid gray line) with no fewer than 14 curves in about 8 miles. It's no Iron Mountain Road, but it looked like it had some nice sweepers.
As the stars aligned on a recent Saturday – up early, perfect blue sky, temps expected in the upper 70's with low humidity (in Iowa, in AUGUST?? Are you kidding me?), and early evening before we had any other commitments on our time – I pulled up the To Ride list and there was good ol' R52, just outside of Lineville, offering a lovely ride down and back and a happy little squiggle in the midst of it all.
We had set our plans too late to expect that others would be able to join us, so this ride was just myself and hubby Steve. (That's okay, he's my favorite riding buddy!) Our route took us south out of Des Moines on R63, which has become quite the bladder-buster in terms of horrible unrepaired bumps (seriously, Warren County, get on this ASAP – R63 from County Line Road to the T at G14 is terrible!)… west into Indianola on 92, then south along Highway 65 all the way to Lineville.
Highway 65 looks pretty straight, but it is still quite nice. The straight stretches gave us a chance to notice some of the details along the way: the distinct smell (and the humidity!) emanating from a truckload of recently-cut round haybales ("elephant turds," Steve calls them)… the slow flutter of a flock of opportunistic predator birds lifting off en masse from their roadkill feast… and the sight of a horse merrily trotting up toward his barn, inexplicably dragging along a bright blue tarp that he had clenched in his teeth.
We stopped briefly in Humeston, a tiny town that seemed like it would be worth a return visit if only to check out the Army tank parked along the roadside. Proceeded south to Lineville and its neighboring community of South Lineville, Missouri, where we stopped again so that I could claim I left Iowa at least once this year and so that Steve could be photographed as the scofflaw that he is, without a helmet in a state where they're required. We took a few photos of the Nothing Much that was going on – a slow Saturday in Lineville for sure.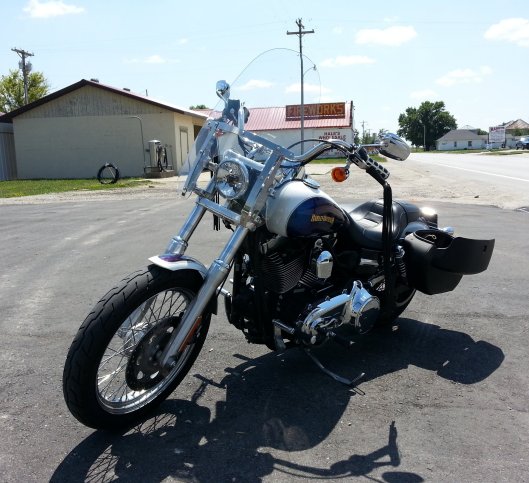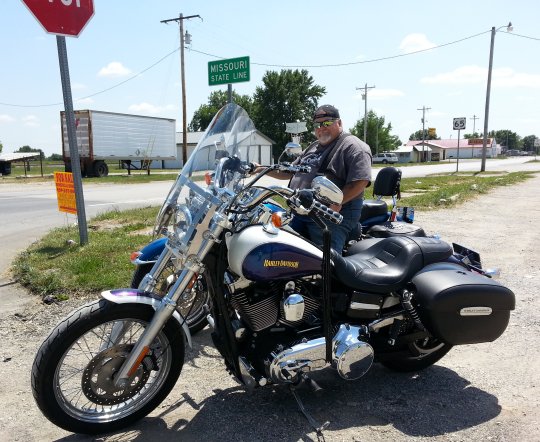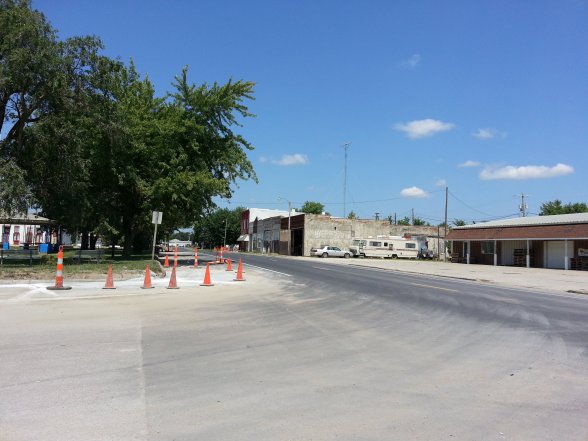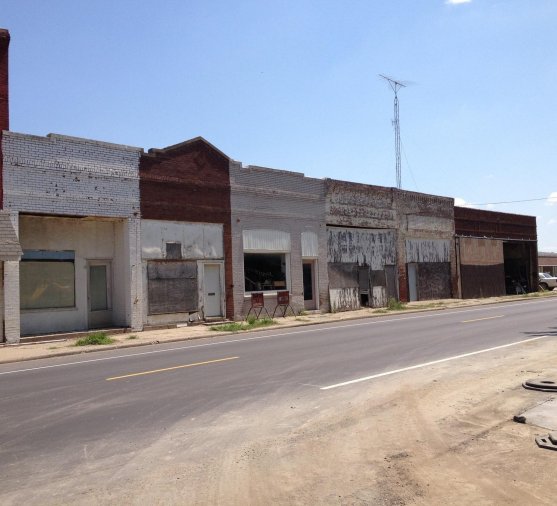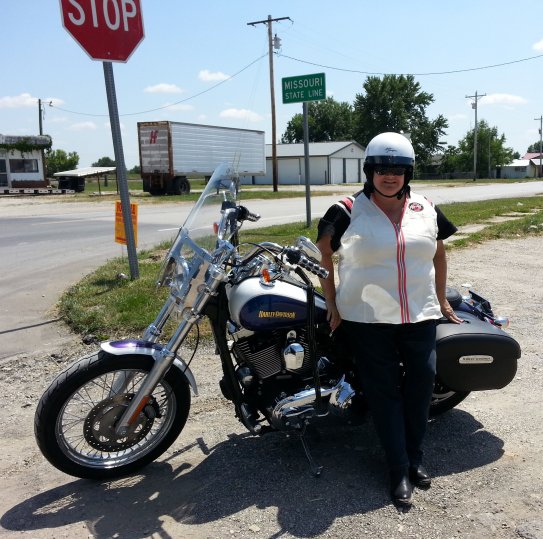 After narrowly dodging the long arm of the helmet law in Missouri, we coasted back into Iowa and headed west along J66 til we picked up R52.
The happy little squiggle was indeed a lovely series of short straight-aways and gentle curves, lined with early-century homesteads, scrubby meadows, planted fields, and even the occasional junk-strewn yard: well worth the trip down, though it seemed funny that our destination was a road instead of a town.

We completed R52 and headed back to the north along Highway 65 from Leon to Osceola, where we cruised in to Chipps Harley-Davidson for a potty stop and a quick pass through the t-shirts and merchandise (closing in 15 minutes – WHAT??). Then continued on along Highway 69 to the north.
There was a point on the ride north where I was a bit startled – because normally I'm relentlessly scanning for these types of things – to see a single deer off to the right maybe a hundred yards ahead, having clearly just crossed the road and headed into the opposite field. My in-head dialog went like this as I started to slow: Uh oh, a deer, slow down, he might come back across, these guys can be really unpredict- HOLY SHIT THERE'S TWO MORE!!
Slowed wayyy down as two young ones crossed the road at the same spot, now maybe only 20 yards in front of us. It took me a few miles to ride out the pucker and get back up to speed – mentally kicking myself for slacking off in the hazard-scanning department, but really just a minor moment on an otherwise perfect ride.
We rolled through Indianola on 65/69, west along 92, and north again on R63 into Des Moines to complete the trip home. This trip kind of got me wondering, because we covered no less than six counties, just how many Iowa counties I've ridden to or through over the past decade-plus.
I'm going to count them soon.
It would be hard to overstate just how much I enjoy discovering new roads and towns here in Iowa. It seems like every community, no matter how small or out-of-the-way, has a lovely route leading to it and at least one "gem" (a business, a landmark, an attraction, a view) to recommend it once you get there. This sentiment was only reinforced on my July 27 ride with the Chrome Divas of Des Moines to the Haverhill Social Club.
Haverhill is a tiny town in Marshall County with a population of 173 (give or take). And yet, even though it's so small that Wikipedia measures its area in acres rather than square miles, it boasts both a lovely "ride in" and a few "gems."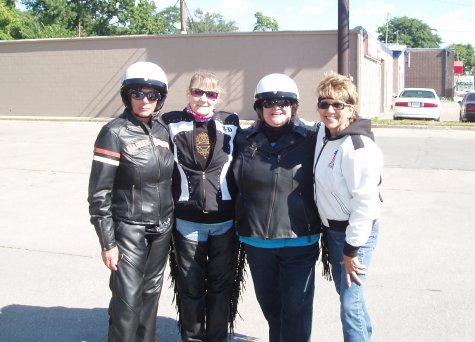 Our Chrome Divas chapter is still small, and of course not everyone can attend every ride. So our group on Saturday consisted of myself, Penney, Susan and Val. (Those who could not join us were sorely missed!) We met at Sambetti's on 2nd Avenue in Des Moines (the official home of the Chrome Divas of Des Moines – a huge THANK YOU to Paul, Susan's hubby, for his constant support of our little group!) at about 10 am, and left around 10:15.
Susan did a magnificent job of plotting our route, taking us along some absolutely lovely, curving residential roads through Ankeny, the Berwick area, and the town of Elkhart, then transitioning to equally beautiful county roads heading up to Highway 210. (I tried very hard to pay attention to the names of the various roads, but until we got to Highway 210, they were numbers like NE 126th Avenue – not easy to remember… so I will have to ask her for a map if I want to re-create this ride!)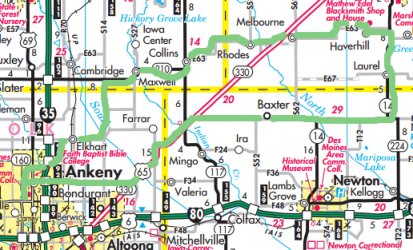 From 210 we simply rode east – through lovely communities including Maxwell, Collins, Rhodes (where there was a car show and Farmer's Market going on – "Old Settlers Days," perhaps?) and Melbourne. Along this route we picked up County Road E63 which goes into Haverhill. It's "lush and green" season here, with columns of 6-foot corn lining the roads then opening up to views of hills and lower-growth fields of soybeans and – much to my delight – the occasional sweep past a stand of modern windmills.
Arriving in Haverhill we parked in front of our lunch destination, the Haverhill Social Club – a humble little building on the outside and eclectic old-timey delight on the inside! It features a big open room where the walls are lined with taxidermied critters and odds and ends of all kinds. A huge bar spans the far end of the room. Wooden poker tables line one wall, from one end to the other. More tables line the other side, and there's a large kitchen serving up good Iowa tavern food including burgers, tenderloins, and more.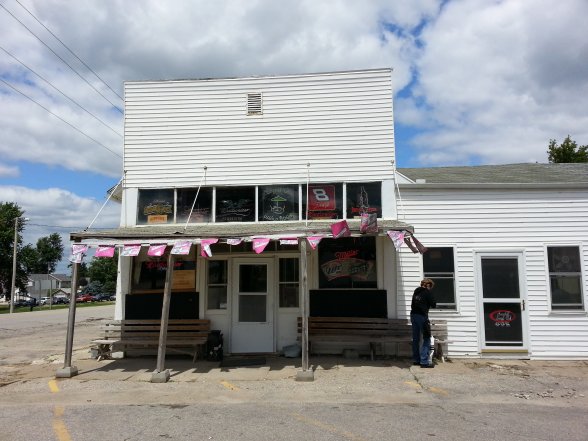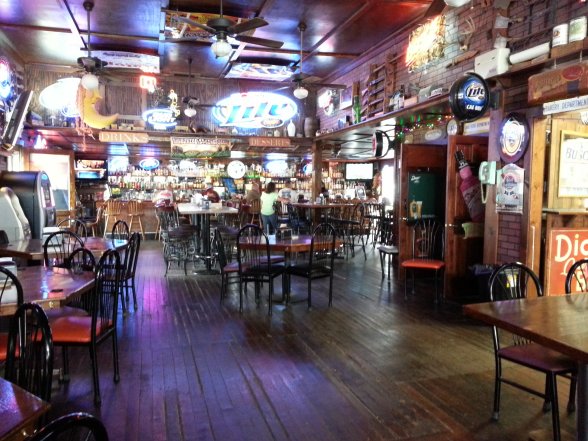 We thoroughly enjoyed the lunch and the camaraderie – we couldn't get over the weather! It had barely broken 70 degrees, and the wind was significant and noticeable. I was SO glad I had worn my heavy leather coat, lined gloves, and neck-gaitor, and was very comfortable despite a riding temperature (given our speed and the wind) in the low 50's.
With lunch finished it was time to head out and toward home. We left Haverhill along E63 to the east, turned south on State Highway 14, then back to the west on 14/County F17 – where we encountered some pretty serious headwinds – and into Baxter. A quick gas stop at Baxter, and we were back on the road to home, down Highway 330 into Altoona, then to the west back into Ankeny and home.
My total mileage was 126 – others had a little more because I'm the one who lives closest to our starting point. I am looking forward to a return trip soon, to investigate a couple more Haverhill gems: The Immaculate Conception Catholic Church – a striking brick structure dedicated in 1902 – and the Matthew Edel Blacksmith Shop, of particular interest to me because I have at least one known blacksmith in my family tree!
I wasn't planning on taking a 227-mile solo ride, but as things turned out, it just wasn't in the cards to saddle up with the Merry Band on Saturday. So, with even my own family otherwise occupied for the day, I had a choice: I could map out something shorter, or set out on the original long route and cut it short if I wanted to.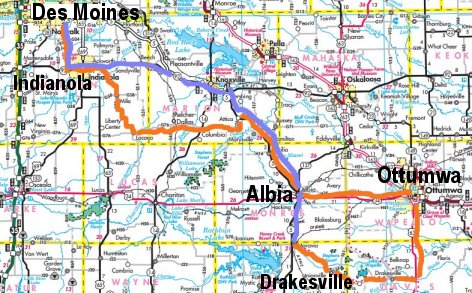 With no timetable other than to be home before dark, I decided on the latter approach. I left around Noon and made my first stop about 30 miles south of Des Moines, for a couple of reasons: one, to top off gas, which I had not done in Des Moines.
Two, I had put sunblock on my arms and face before I left, but after only a half-hour I could tell I was going to burn. (The sizzling noise was a clue…) So I knew I needed to stop and re-apply. Turns out, the sunblock in my saddlebag is only SPF 15. What kind of idiot carries SPF 15?? THIS gal!
From there I headed south and east along S23 and G76, both scenic county roads I've been on several times. G76 junctions with Highway 5 at the tiny town of Attica, so I turned southeast on 5 and made my next stop at a Casey's General Store in Albia. I almost cut the trip short here, as I was feeling a little overheated. But by the time I bought some water, used the bathroom, and washed my face, I was feeling better.
I had wanted to take a gently-curving county road from Albia over to Ottumwa. Inside the store, I had a conversation with two young clerks about how to find that road. "Randy" immediately directed me instead to the state highway just down the road a few blocks, telling me that was the fastest way to get to Ottumwa. I showed him the photocopied page of my map again. "I didn't really want the fastest route. The county road looks like it has some curves; the state highway looks pretty straight."
At that point "Missy" stepped into the conversation. "That road is the old highway. You just go two blocks up and go east at the light. That street becomes the county road."
Randy: "Yeah but it's closed isn't it?"
Missy: "No, I don't think so."
Randy: "I think it's closed."
Missy: "Well if it's closed there's a gravel road that takes you down to the regular state highway."
Me: "I probably don't want the gravel – if it's closed I'll just turn around and come back this way to the state highway."
Randy: "I think it's closed."
Missy: "I don't think so."
Me: "Thanks a lot…"

Back to the bike, slathered on some more SPF 15, and off I went to find the county road. Turns out, Randy was right – H35 was closed. Back I went, past the Casey's with a wave just in case they happened to be looking out the window as I went by ("I told you it was closed." "Oh shut up, Randy!") and on down the road to State Highway 34.
Now here's the thing about 34: it's busy, and it has a lot of truck traffic, so it's not in the best condition. At least not on the part going east out of Albia. On the part coming west into Albia, it looked like beautiful fresh blacktop – but on the part going east, well the "fresh blacktop project" hadn't been completed yet. So I was pretty annoyed by the time I got into Ottumwa, having to settle for the flat, straight, crappy half of the state highway instead of the beautiful, scenic county road that was closed.
And then Ottumwa. Oh my gosh, I have to say I just wasn't feeling Ottumwa. You know how a lot of towns have these sort of landscaped office or industrial parks on their outskirts these days? And generally they look pretty nice if a little blah? Well Ottumwa seemed to have more like random stores here and there… a Kohl's department store… then a little farther down the road an 8-plex movie theater… then a large public swimming facility.
But even though these were nice amenities, it just felt very industrial. It was like… like… like a state highway slamming into the back side of a city instead of a nice county road easing into a small town.
Honestly, I don't know what I was expecting. I guess I hadn't realized until I looked it up later that Ottumwa has a population of about 25,000 – it's not a small town like Albia or Winterset. And here's the other thing: I had studied up on (and memorized) the route I needed to take once I was in Ottumwa to get onto the scenic county road that would take me down to Drakesville. But the problem was, that memorized route was based on coming in from the county road which (bless Randy's heart) was unexpectedly closed.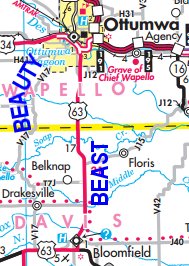 So once I got into Ottumwa via the industrial armpit section, I had no idea where I was going. And the state highway quickly turned into an even more industrial-looking thing with actual exit ramps. Well who the hell knows which exit to take, in Ottumwa? Anyway, I took one, and of course it was the wrong one.
So I stopped at a gas station and asked directions to the road I wanted, but again I got a clerk who wanted me to take something different. I specifically asked about County Road V17, and when I did I got the "blink… blink… blink…" stare of a 22-year-old who has lived here all his life and probably has cruised every one of these roads at night with a case of beer and as many friends as the Ford Taurus his parents bought him will hold – but still has no freaking idea what the county road numbers are.
"Oh that road's gravel," he said by way of dismissal of V17.
"Are you sure? My State DOT map says it's paved."
"No, it's gravel. If you're going to Drakesville, just take 63 south."
CRAP! Alright Second Randy, since I don't know where I'm going and would most assuredly abandon this trip right here and now if I could Jeannie-blink my way back to Des Moines, I will slather on some more SPF 15 and TAKE FRICKIN' 63 SOUTH.
By now you can guess that my attitude had shifted dramatically. I didn't want to be in the heat, I didn't want to be so far from home, and I sure AS HELL didn't want to take 63 South because I had by then missed out on TWO roads that I was certain are the prettiest, smoothest, and curviest in Iowa.
Finally after a mind-numbing 20 miles straight south along Highway 63, I spotted the turn-off to Drakesville – a county road called J3T, which on my map is a designated Iowa Scenic Byway. I turned to the west, and felt my mood shift immediately because of this:
The realization that there were Amish families and farms along this road was somehow very calming. Perhaps, I told myself, if they can live their entire lives at the slow, simple pace that they do, then surely I can get my mind back to a happy, scenery-appreciating place and leave the hideous Second Randy far, far behind.
Besides, now I had a new mission: looking out for Amish wagons. I didn't see any for awhile, but as I got closer to Drakesville, suddenly it seemed like every vehicle coming in the opposite direction was a horse-drawn wagon. The drivers were mostly pairs of young people.
I slowed way down as we would approach each other, hoping I wouldn't spook the horses. I waved to a pair of young girls driving one of the wagons – the girl holding the reins waved back. I passed a farm where two boys maybe 7 or 8 years old were sitting out in the front yard, watching the highway traffic, both dressed (on a 90-degree day) in long dark trousers and long-sleeved deep blue shirts. I waved to them too and they waved back.
By this time I was feeling very serene. I was utterly delighted to cruise into Drakesville which appeared all but completely deserted, except for the two cars parked at the tavern and a few more over at the convenience store. The post office, and a few dilapidated buildings lined the tavern side of the street – I was in heaven once I saw their peeling, chippy white paint! There was a grassy median in the middle, then the other half of the road beyond that.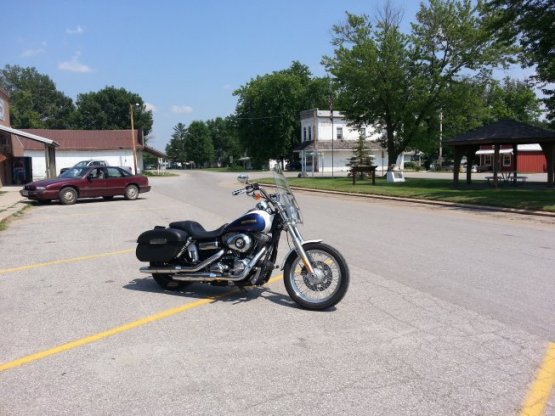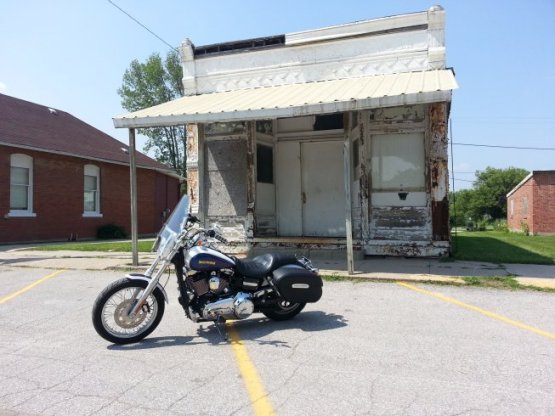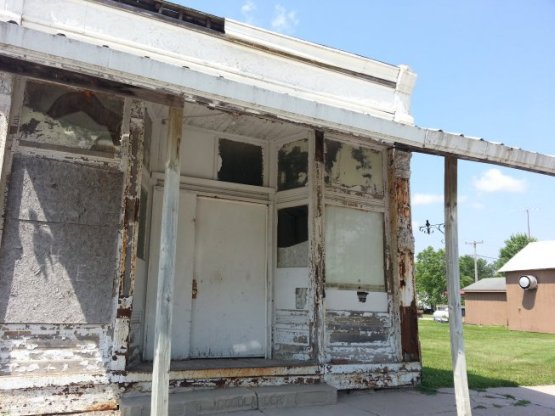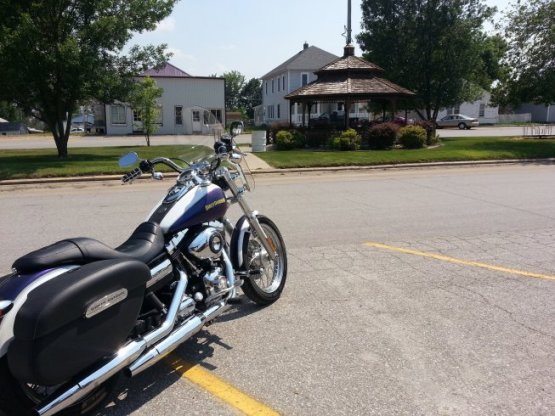 I stayed long enough to take a few pictures, dig some Chap Stick out of my saddle bag (fortunately not yet completely liquified), and drink some of the bottled water I'd bought back in Albia (miraculously not yet completely warm).
Sitting on the crumbling stoop of the building I'd been photographing, I watched an Amish gentleman roll up to the four-way stop in his buggy, then turn to the east. It was so quiet on the street, I could hear the clop-clop-clop of the horse's hooves from my position about 50 yards away.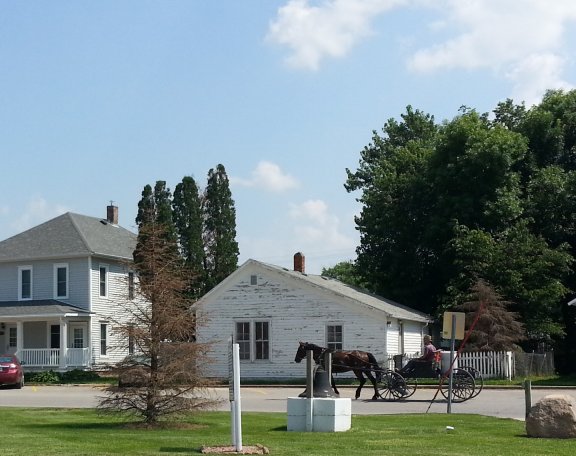 Finally it was time to move along. I slathered on more SPF 15, and continued west along County Road J3T through Bunch, Unionville and into Moravia. At Moravia, I was stopped again at Highway 5 and a sign told me I was just 9 miles south of Albia – the town where I'd encountered Missy and First Randy a couple hours earlier. I could continue west, and pick up the meandering route home I'd plotted through the Lake Rathbun area, or I could turn right and be at Albia in about 10 minutes. From there I knew it was about 90 minutes to home.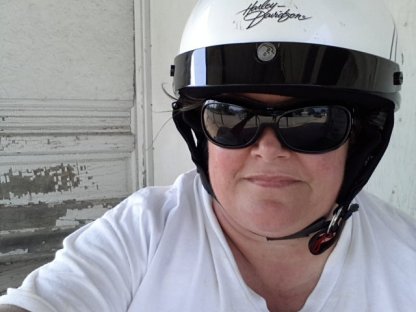 Drakesville and the road leading into (and out of ) it had restored my mood, but by now it was 4 pm and I was feeling the effects of having been in the 90-degree heat all afternoon. I decided to save Lake Rathbun for another day, and turned right toward Albia. I stopped at a different c-store for more water and a potty break, slathered on more SPF 15, and continued on toward home along Highway 5. This connected to Highway 92 near Knoxville, so I followed 5-slash-92 until the two roads split off, following 92 into Indianola. A final brief stop to text my family and let them know I'd be home soon, slathered on a final glob of SPF 15, and was home around 6 pm.
Now let me be clear: some time, I will give Ottumwa another chance to win me over. I'm sure it is a lovely place with much to recommend it. And overall, I had a wonderful afternoon and am very glad I went! But I'm not sure these long solo trips are really my thing.
More on that in a future post, perhaps.
Had a really wonderful day with the Chrome Divas of Des Moines last weekend, the ladies' riding group that I helped to found in 2011 along with Shirley, Coyote, and IowaHarleyGirl Stephanie. There are ten of us now which means we usually have anywhere from three to seven for our monthly designated ride days. In June we were headed to Ames to visit scenic Reiman Gardens, and the Wildlife Care Clinic – a veterinary clinic for injured wildlife.
We gathered in Des Moines at Sambetti's (the official home of the Chrome Divas of Des Moines – YAY PAUL!!) and set out shortly after 11 a.m., pretty certain it was going to rain at some point but sort of hoping it would be while we were off the bikes. Around 11:30 we were heading north through Ankeny, and as we approached a major intersection, we could look up ahead and see that it was raining hard just west of the road we were on.
We were catching a few sprinkles as we rolled to a stop at the light, so I decided to pull off and just let the shower pass over the road. It started raining on us in earnest as we went through the intersection and pulled into a strip shopping center. We parked quickly in the available spaces in front of the building and stood under the overhang for a couple of minutes before the real downpour started. At that point we went into the CJ's Bagels shop to wait out the rain.
Meanwhile, our Diva sister Megan was texting us from our destination and letting us know it was also raining intermittently in Ames.
Forty-five minutes later, the sun was shining and we were drying off the bikes, and moments later we were again on the road heading north. Another 'local shower' crossed the road as we approached Huxley just a few miles south of Ames, but we missed that one entirely and rolled into Ames around one o'clock. (Almost two hours to go 35 miles? Pretty typical – at least for me!)
Our first stop to explore was Reiman Gardens, the 14-acre gardens of Iowa State University which serve as the learning laboratory for horticulture students. We toured the indoor butterfly garden – oh my goodness, magical! – as well as most of the outdoor spaces. The Gardens include rolling hills, wide open vistas, a large lake, formal Asian-inspired areas, informal cottage-style gardens, a large collection of nature-themed sculptures, and many other beautiful features. I swear this place is like having the world's prettiest yard without having to do the work. Below are just a few of my pictures – you can click through to my personal Facebook page to see the full album of photos.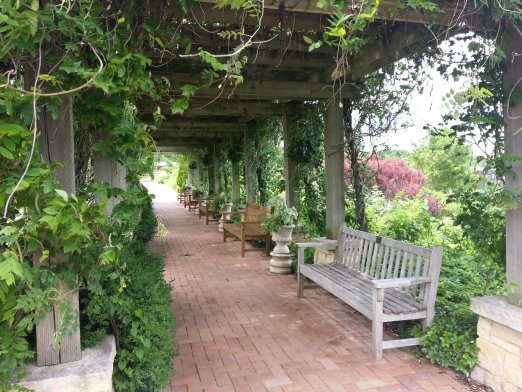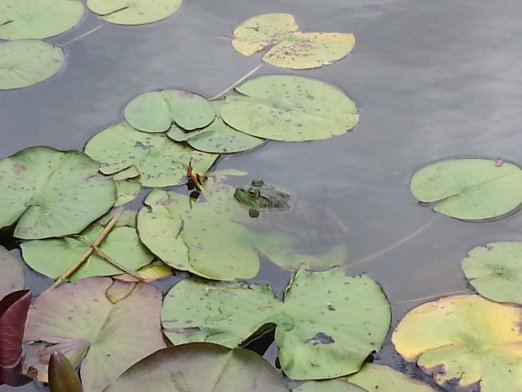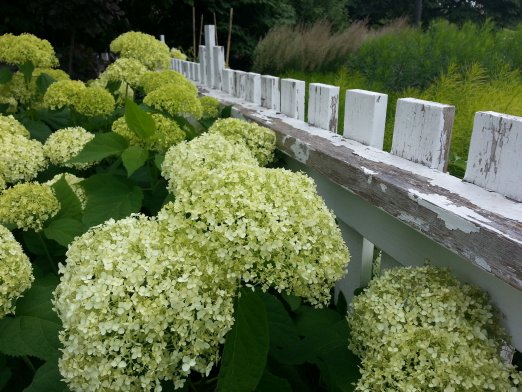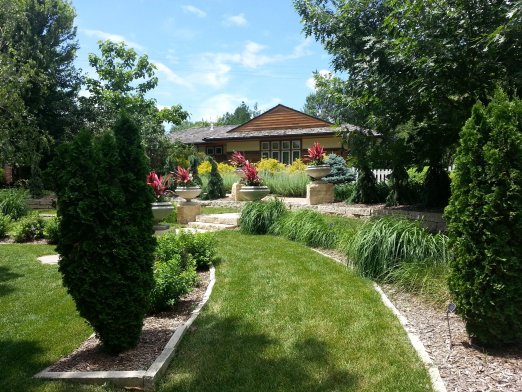 We left Reiman mid-afternoon and headed across the street to the ISU Vet-Med complex, where Megan had directed us to meet up for the Wildlife Care Clinic tour. The clinic gives veterinary medicine students first-hand working knowledge of emergency animal care, and focuses its efforts specifically on wildlife because so few other places will handle those animals. This was truly a very educational experience – our tour guides Sarah and Katelyn introduced us to all the residents of the Clinic, both permanent and temporary. Most of the permanent residents had been fully or partially blinded after contact with vehicles: we met Ernie, who managed to make possums look fuzzy and cute! We met Harvey, a great horned owl; Kali, the barred owl; Sora, a red-tailed hawk; Screechy, an Eastern screech owl; Kessie, an American Kestrel with only one wing; and several others. Temporary residents included a mama and baby cardinal, a distraught coyote pup, and turtles Frank Sinatra and Aretha Franklin. Below are a few of them.
Our last stop in Ames was famed barbecue venue Hickory Park, where we were joined by Janet/Seven Over and enjoyed ice cream desserts. We were excited to hear from Janet about her recent ride to Washington, D.C. where she and her husband Gerry participated in a police-escorted ride-in to the Law Enforcement Memorial. They worked in a ride through the Tail of the Dragon on their way back as well. 
The ride home was short, sweet and dry – in all a lovely day with interesting destinations and of course wonderful fellowship!