Road pickling with Sash & Highway
I had been a subscriber to the Motorcycle Philosophy blog for some time, reading occasionally via RSS feed. I always found Steve's articles to be thought-provoking and appealingly personal.
It took me awhile, but I also eventually discovered Tina (aka Sash) on Twitter and at her blog, SashMouth, and was instantly struck by her no-BS style of writing and her "I gotta be me" attitude.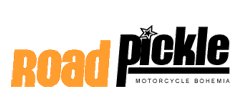 When I figured out that she was actually married to Steve (aka Highway) of Motorcycle Philosophy, and that the two of them were about to embark on a six-month nomadic motorcycle journey, I knew that the combined trip blog, "Road Pickle," was going to be a must-read.
Via Twitter, I told Sash to get in touch if they found themselves headed through Iowa along their journey. Her answer was: "Janet, one of my dreams is to ride my bike to Iowa to see the corn. No kidding. I tell everyone!"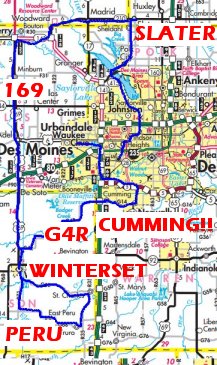 Corn? Oh hell yes! So much more, but corn for sure! Those tweets were in February – and in August, we made them a reality when Sash & Highway arrived in Iowa. Of course, they had already seen some corn by the time they got here – I don't think there's a path into Iowa that doesn't include it.
But Iowa corn is different – legendary, even! – so I put together a little day-ride that featured corn and curves, food and friends, and, I'm happy to report, astoundingly perfect weather!
We met up in the parking lot of their hotel in West Des Moines, where the vivacious Sash came bounding out toting her sassy biker chick pal Asphalt Annie, the naked bed-headed Barbie with no blouse and sparkly pasties – and Annie's pal Miss Ashley, supposedly a "calming influence" on her naked BFF, but likely, just as much a trouble-maker in her own right.
These three were followed shortly out the door by Highway, whose easy manner matches his blog perfectly. It was pretty obvious from the first moment you meet them that what you read on their blogs is just what you get in person: at once open, welcoming, enthusiastic, thoughtful… and one-of-a-kind.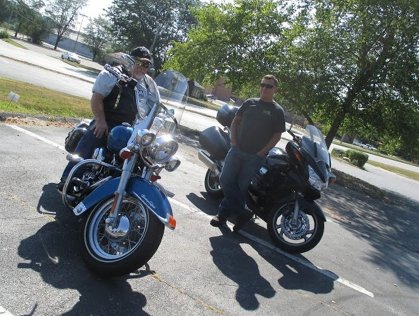 In the parking lot, as Steve and Steve patiently chatted and possibly tapped their toes waiting for the girls to get going, I was interested to see how Sash had set up her digital camera for taking some of her amazing from-the-bike pictures: industrial strength Velcro and a "zip reel" played important parts.
I didn't see Highway's set-up, but both of them get amazing shots so, obviously, the only reason I'm not getting these same kinds of pictures is that I haven't put enough thought into it. (Hand to God, I thought the amazing Mobile Eyewear Recorder was going to be the answer!)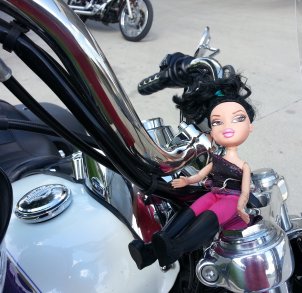 I bungeed the startled Miss Ashley to my handlebar riser, and Annie took her spot with Sash over on the storied Ninja, Katie Scarlet. We soon took off for our first destination: the Nite Hawk in Slater, Iowa, where we were to meet up with Janet/Seven Over.
Our route took us through the suburbs of West Des Moines, Clive and Windsor Heights, into Des Moines and north up to Johnston, where I showed them the scenic half of the ride "up around the lake." We cruised over the Mile Bridge over Saylorville Lake, where hundreds of gentle wave caps sparkled in the sun like a carpet of rhinestones on the water, and continued north through Polk City and up to Highway 210 into Slater.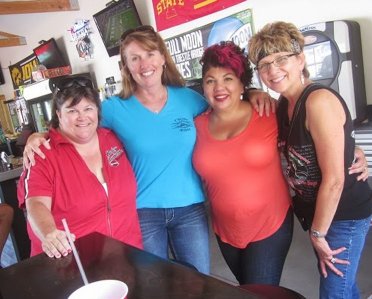 The Nite Hawk is a casual bar-and-grille, situated along the recreation trail that eventually leads to the High Trestle Bridge just outside of Madrid. On this perfect day it was populated primarily with bicyclists. We met up with Janet, and were also soon joined by Susan (Coyote) and her husband Paul. Janet is a Road Pickle reader and was enthusiastic about meeting Sash & Highway.
Lunch was a wonderful mix of Road Pickle stories and other mutual motorcycling adventures… Sash even shared one of Highway's food photography tips for making anything on a plate look irresistible. ("Focus on one element, and shoot at an interesting angle – it makes everything look delicious!" You can see this tip used to full effect over at RoadPickle.com!)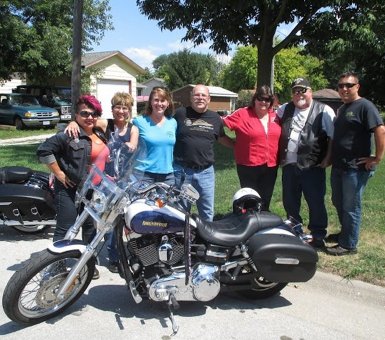 When it was time to depart, we accosted a friendly customer to take a group photo outside the Nite Hawk and we bid good-bye to Janet, who was headed home for a family birthday party. The rest of us headed back to Highway 210, which we rode west through Madrid, over the nearly-dry Des Moines riverbed and past the High Trestle Bridge, and through Woodward down to Highway 141. (Along the way I could see both Sash & Highway taking pictures, and thought, I've got to engineer this!)
We rode west briefly to Highway 169, where we turned south and headed toward Winterset and Madison County.
The Iowa road map is a little deceiving about a Highway like 169: from 141 down through Minburn, Adel, DeSoto, and into Winterset, it has very few curves. But those it does have are beautiful uphill or downhill sweepers, opening up views of gentle sloping meadows to the left and right.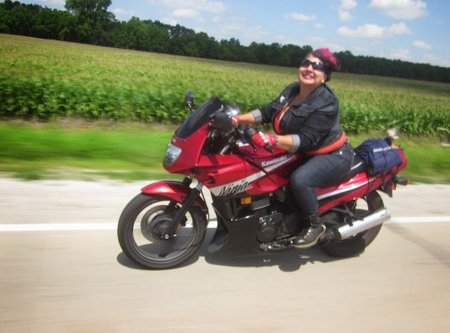 And of course, there was corn! Bright green with golden tassles, covering large multi-acre fields and even homegrown garden-size patches. Each time we'd pass a large stand of thriving corn, I wanted to stretch my arm out toward it with a big "ta-DA!" so that Sash would be sure to take notice.
Arriving at Winterset, we pulled in to the Casey's General Store for a break. While here we met a young man named Shane, who rolled in on a homebuilt chopper and told us he had ridden some 400 miles already that day. Nowhere to go and all day to get there, he said, just riding around on the bike he had built before he got the wild hair to sell it – which, apparently, is something he does often.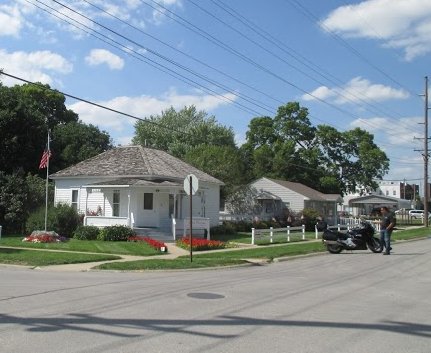 We left Casey's and rolled through Winterset, making a loop to catch a few photos in front of the John Wayne Birthplace on South 2nd Street, and proceeded south along County Road P71 with its beautiful sweeper just outside of town. A few miles down the road we turned left onto G50 and headed east, past scenic homesteads and into the tiny town of St. Charles where we were to pick up R35.
I recalled from an earlier visit that the junction with R35 is not marked. As we rolled through a 4-way stop intersection I looked to the right and saw the paved road heading out of town, and knew I'd missed the turn, so we simply rode around a quiet block and turned left – sure enough, it was R35, marked a little after-the-fact about two miles down the road.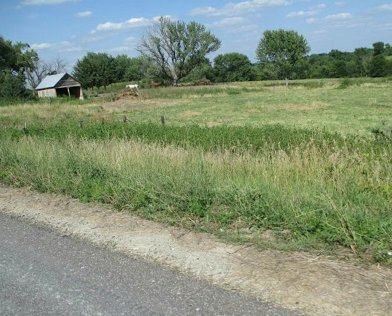 We traveled south for about 5 miles, looking for G68 – again, turns out, not marked. Took a chance on G68 being the right-hand sweeper instead of the straight-away (correct!) and we were headed back to the west along the Pee-ru road (snicker).
One thing I really like about this type of ride is the noticeable difference between the major roads like 169 and P71, and the lesser "interior" county roads. While the former are designed to get you through the county from one end to the other, and they have no shortage of beautiful scenery, the latter are designed to get the locals home. The landscape here is less about wide open fields of crops and more about pastures, hills, and the quietest of Main Streets. It's a marked difference which you can almost feel as well as see.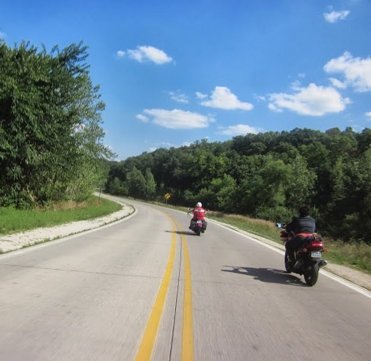 We rode through Peru and back to P71, north into Winterset, and just a skosh further north past the Highway 92 junction to G4R. Turned east onto G4R and enjoyed a final stretch of curves, corn, and lovely homesteads while we made our way back toward Des Moines. Rolled through Cumming, Iowa (I'll soon be sending Sash an "I (Heart) Cumming" tank top as an Iowa souvenir!) and on into Norwalk just south of Des Moines, at about 5 pm.
We stopped at the Casey's in Norwalk for some final farewells, thank-yous and hugs. In all I think we enjoyed about 150 scenic miles. But the aspect of this ride I enjoyed the most – aside from showing off some of the prettiest roads in my home state – was the chance to meet and solidify friendships with two adventurous people who truly are living their dream of living life on their motorcycles.
What a treat to be part of the RoadPickle journey!
(P.S. – Thanks to Sash & Highway for almost all the photos in this post. I'm working on it! LOL)