2014 Bike Blessing and a special meet-up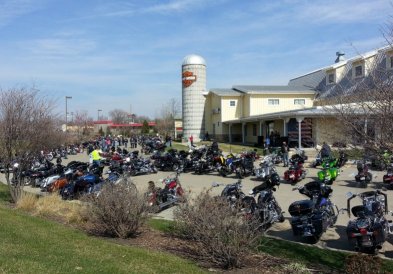 We had a beautiful and delightful day on April 19 for the ABATE of Iowa Blessing of the Bikes – morning temps were in the upper 50's and we hit mid-70's by the afternoon.
My Chrome Divas group had made plans to meet at Sambetti's at 9:30 and roll into the blessing together, so Steve and I headed over and we met up with several of the gals to ride in to Big Barn Harley Davidson here in Des Moines. We arrived at the Barn about 10 am for the 11 am blessing, and there were already quite a few bikes on hand.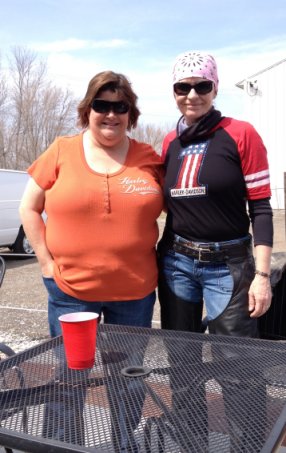 We did a little bike browsing and – huge treat! – I finally got to meet a friend I've been emailing with for almost a year! Glenda had contact me last year and asked me to add a poker run to my event calendar that her family organizes each year. At the time, I also wrote up a little post about the run to help promote it, because the story behind it really resonated with me.
Through email letters, my new pen pal and I quickly discovered that we share the exact same birthday – month, day and year! – and, have a special love for a particular pattern of vintage dinnerware. Because of all this – plus more things in common AND our shared love of riding, we became fast friends online and now finally have been able to meet in person and ride together! It was very gratifying to get to meet Glenda and her husband Pat!
The bike blessing event was lovely as always – there was live music, a large-group blessing, and then the opportunity to wait by your bike and have a member of the Christian Motorcycle Association say a special individual blessing. We then enjoyed the chili feed put on by ABATE District 4, and finally decided to take off on a short ride.
At this point we were also joined by another new friend, Kelly, whom we had met on a previous visit to the Barn.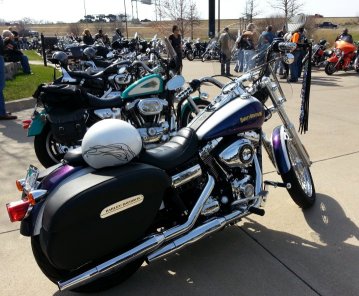 Our ride route was simple and the group consisted of myself, Steve, Garry, Shirley, Pat, Glenda and Kelly. We rode north away from the Barn on Highway 415 and turned with 415 to the west, along the north side of Saylorville Lake into Polk City.
We traveled north out of Polk City up to Highway 210, then jogged east into Slater, where we landed at the Night Hawk Bar & Grille – a little place adjacent to a bicycle trail that we had discovered last year while Road Pickling with Sash & Highway.
Spent about an hour just visiting and enjoying our beverages, then everyone headed home or on to their next Saturday activity.
I thoroughly enjoyed this day… although I didn't take many photos, you can see the ones I did take in my Bike Blessing 2014 album on Facebook.