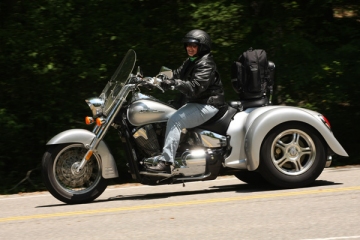 Wiley, a.k.a. Juju, recently made the switch from her Intruder 800 to this beautiful Honda VTX 1300 trike.  Says JuJu, "…I named her Goldie—I like the irony. Shh, don't tell her she isn't made of gold!" Congrats on the new machine, looks like a whole new riding experience!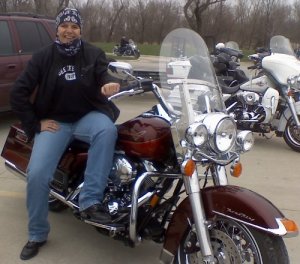 Jackie H. in Panora, IA just got this beautiful red/red Road King, and came over to Big Barn HD for the 2008 Blessing of the Bikes and Mystery Ride. She's also a new member of the Des Moines HOG chapter, so I got to introduce her to the group this past month as well. (It's a nice scenic ride over to Jackie's house, btw… though I had a little trouble with that last year! LOL)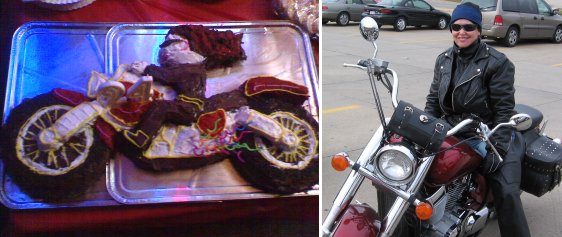 Just thought you would like to see the wonderful birthday cake Brenda had this past week as she celebrated a birthday numbering somewhere between 20 and 45… her sweetie Howard made this awesome confection, complete with Brenda look-alike riding the frosted bike! The colored squigglies are the candles – sure brought real meaning to the phrase "light 'em up!" Brenda's a true biker chick from right here in Des Moines – she's been riding an older bike nicknamed Lumpy (an '84 Honda 700) for a couple years… then this summer she got this beautiful '05 Honda Aero 750. Happy Birthday, Brenda – we sure had fun celebrating with you!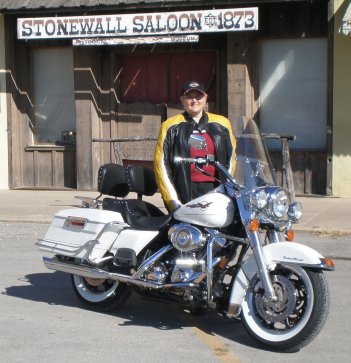 This is Angie T. of Texas, a.k.a. Smart Blonde. She was kind enough to send me this photo of her new baby, a 2007 Harley Road King. About her motorcycling journey, she says: "About two years ago we pulled up to a stop sign and my hubby about dropped the bike when I whispered in his ear 'Baby, I think I'm ready for my own bike.' I took the MSF Course on Mother's Day and the rest is history. I started out on an 05′ VStar 1100 Classic which I really enjoyed. I recently upgraded to an 07′ Road King! I absolutely Love the King! I never thought I'd end up on a Harley but have definitely been converted to the dark side! There are a lot of great bikes so find the one that fits you and just go for it! Why not! Life is too short not to enjoy it, the beautiful scenery, the fellowship of good friends and the quaint little restaurants you find on the journey. This season of my life is wonderful and I'm truly enjoying every moment! Lots of traveling on the horizon for the King and Me! My motto – Live Well, Love Much, & Laugh Often!"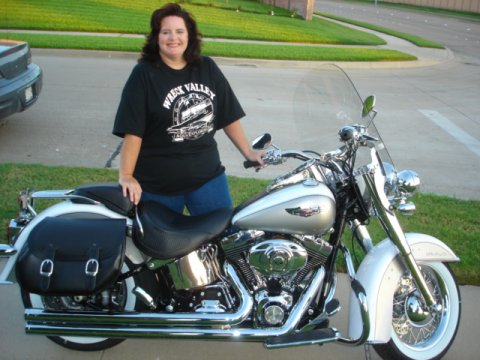 Deb W. of Grand Prairie, Texas just bought her very first Harley Davidson around the first of September. Here she is with her 2008 Softail Deluxe! Deb says, "My husband decided to upgrade from a Honda VTX to a Honda Goldwing. I peered over his shoulder one Saturday morning and he was looking at the motorcycles on the internet. I calmly said if you decide to go get a bike like that then I am headed over to the Longhorn Harley Dealership and I am going to get my Harley!" Obviously, Deb got her wish. She mentioned that her previous bikes were a Honda VLX 600 and a 1300 VTX.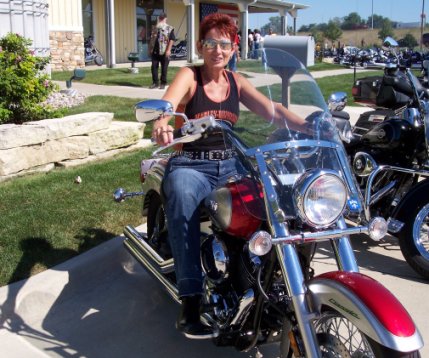 Shirley P. from Carlisle, Iowa rides this beautiful Yamaha V-Star 650, red and silver. She bought it two years ago after having practiced one whole season (including a trip to Sturgis!) on a 250 Virago. She says that she and her husband Garry visited a dealership about 30 miles away where they found the bike, and the day they went to pick it up they were on his bike… so she had to ride it home without the opportunity to "practice" on it first – well she made it with no problems, and now this bike's been to Sturgis twice already!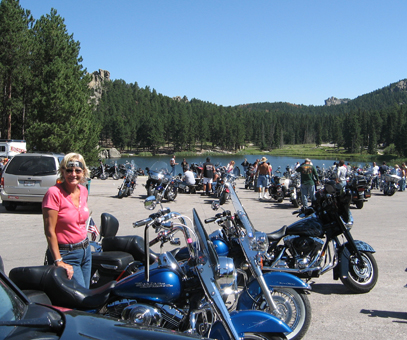 Pinky is a long-time rider who's probably been just about everywhere on her many bikes. She recently returned from Sturgis and sent along this report.
Sturgis, SD – What a destination for bikers! Along with several friends we started our journey northwest with bikes in tow in our toy hauler. We were passed by one rider with a bright green shirt with lettering "Nice Trailer, Pussy!" In some ways I know how he felt: we rode our bikes in '05 and of course (being the bad bikers we are) had the same feelings of those trailers. We had an awesome time riding the Black Hills area, camping with friends, and seeing some of the sights. Some of those sights I don't care to see again for a while if you know what I mean! The weather was perfect except for one day where hail decided to make an appearance. Luckily, we were in the campground at the time and it didn't hail at our location. Rapid City reported baseball size hail and I can only imagine being on a bike with no helmet during that kind of a storm! Needles Highway and Spearfish Canyon were my favorite rides of the week with Ironhorse being close behind. My friend Holly and I were stuck on Ironhorse for a while waiting out a rainstorm. We were riding alone from Keystone back to Custer and decided to try the road one more time, not knowing it was going to pour down on us. Luckily we had our rainsuits and had a place to stop before the worst of it hit. Several other bikers stopped to gear up also and it was nice visiting with them and hearing where they were from. We made it back to camp safely and laughed about what a good time we had even in the rain! The week flew by way too quickly but good memories were made and good times were had by all.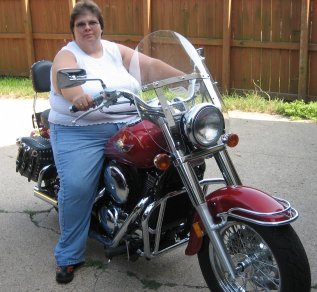 Vicki D. in Des Moines just bought this 2005 Vulcan Classic 800, and she's ready to hit the highway for some touring. Hope to see you on the road, girl!!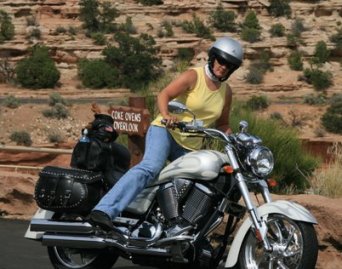 Okay here's the deal: Marsha says she doesn't like to have her picture taken – and judging from the scarcity of photos of her in her online photo albums, I guess I believe her. But, she was kind enough to add a couple of herself (and send one to me!) so I could share it with you! This biker chick extraordinaire has been putting some serious miles on her bike this year with her hubby… two of her recent trips have been to Colorado and… well, all around the Midwest. Okay, and Niagara Falls area. And back to the west. You get the idea.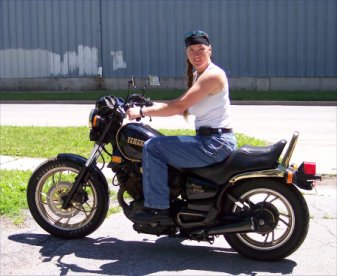 Hollie riding pillion with Kristin lasted about 2 weeks into the riding season. Once she got a taste of learning to ride that Sporty 1200, she was determined to ride her own. Within a week she had a learner's permit and this awesome 1983 Yamaha 750 Midnight Special Virago.