Crossing the line at Lineville
It's no secret that I love riding curvy roads, especially the big sweepers and the set-lean/set-lean of a well-engineered S-curve. I'm fortunate that my home state has lots of these types of roads – so you can imagine the little squeal of delight that I let out the day I was perusing my state transportation map and saw THIS: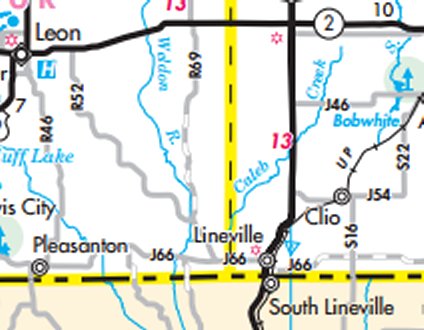 Just LOOK at that luscious little hunk of R52: a paved County two-lane (solid gray line) with no fewer than 14 curves in about 8 miles. It's no Iron Mountain Road, but it looked like it had some nice sweepers.
As the stars aligned on a recent Saturday – up early, perfect blue sky, temps expected in the upper 70's with low humidity (in Iowa, in AUGUST?? Are you kidding me?), and early evening before we had any other commitments on our time – I pulled up the To Ride list and there was good ol' R52, just outside of Lineville, offering a lovely ride down and back and a happy little squiggle in the midst of it all.
We had set our plans too late to expect that others would be able to join us, so this ride was just myself and hubby Steve. (That's okay, he's my favorite riding buddy!) Our route took us south out of Des Moines on R63, which has become quite the bladder-buster in terms of horrible unrepaired bumps (seriously, Warren County, get on this ASAP – R63 from County Line Road to the T at G14 is terrible!)… west into Indianola on 92, then south along Highway 65 all the way to Lineville.
Highway 65 looks pretty straight, but it is still quite nice. The straight stretches gave us a chance to notice some of the details along the way: the distinct smell (and the humidity!) emanating from a truckload of recently-cut round haybales ("elephant turds," Steve calls them)… the slow flutter of a flock of opportunistic predator birds lifting off en masse from their roadkill feast… and the sight of a horse merrily trotting up toward his barn, inexplicably dragging along a bright blue tarp that he had clenched in his teeth.
We stopped briefly in Humeston, a tiny town that seemed like it would be worth a return visit if only to check out the Army tank parked along the roadside. Proceeded south to Lineville and its neighboring community of South Lineville, Missouri, where we stopped again so that I could claim I left Iowa at least once this year and so that Steve could be photographed as the scofflaw that he is, without a helmet in a state where they're required. We took a few photos of the Nothing Much that was going on – a slow Saturday in Lineville for sure.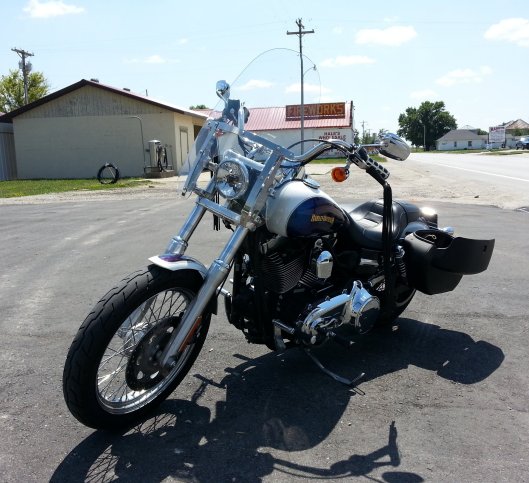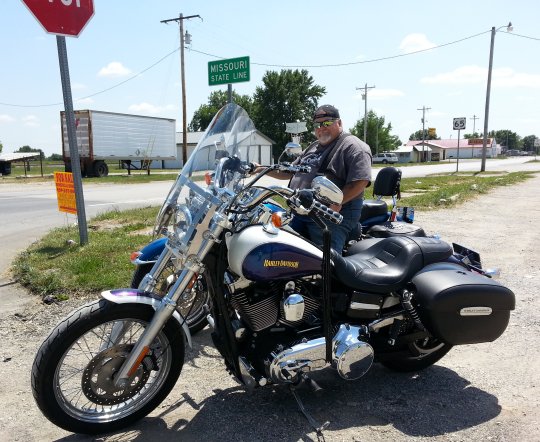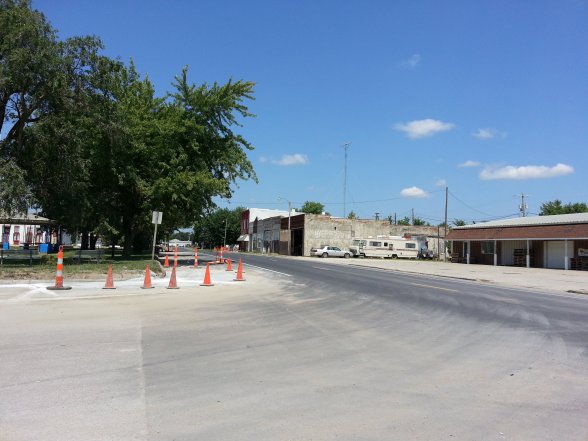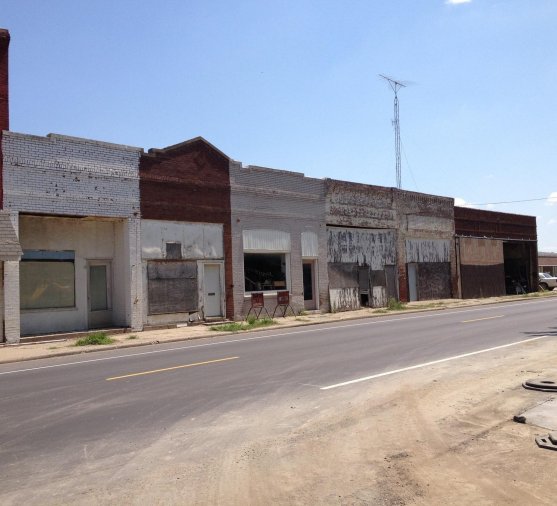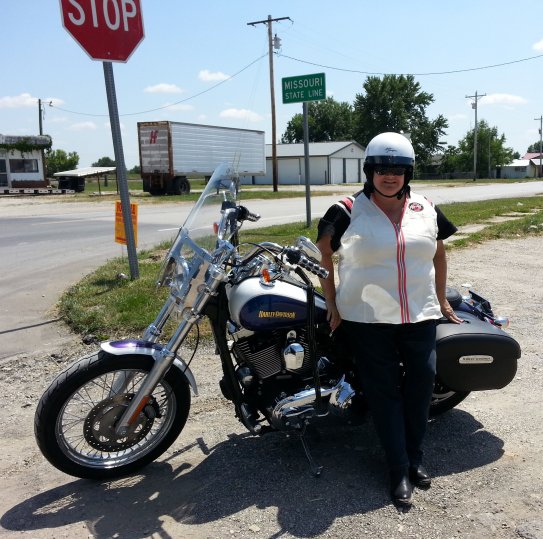 After narrowly dodging the long arm of the helmet law in Missouri, we coasted back into Iowa and headed west along J66 til we picked up R52.
The happy little squiggle was indeed a lovely series of short straight-aways and gentle curves, lined with early-century homesteads, scrubby meadows, planted fields, and even the occasional junk-strewn yard: well worth the trip down, though it seemed funny that our destination was a road instead of a town.

We completed R52 and headed back to the north along Highway 65 from Leon to Osceola, where we cruised in to Chipps Harley-Davidson for a potty stop and a quick pass through the t-shirts and merchandise (closing in 15 minutes – WHAT??). Then continued on along Highway 69 to the north.
There was a point on the ride north where I was a bit startled – because normally I'm relentlessly scanning for these types of things – to see a single deer off to the right maybe a hundred yards ahead, having clearly just crossed the road and headed into the opposite field. My in-head dialog went like this as I started to slow: Uh oh, a deer, slow down, he might come back across, these guys can be really unpredict- HOLY SHIT THERE'S TWO MORE!!
Slowed wayyy down as two young ones crossed the road at the same spot, now maybe only 20 yards in front of us. It took me a few miles to ride out the pucker and get back up to speed – mentally kicking myself for slacking off in the hazard-scanning department, but really just a minor moment on an otherwise perfect ride.
We rolled through Indianola on 65/69, west along 92, and north again on R63 into Des Moines to complete the trip home. This trip kind of got me wondering, because we covered no less than six counties, just how many Iowa counties I've ridden to or through over the past decade-plus.
I'm going to count them soon.