BCN Stringer Report: Fall Creek Winery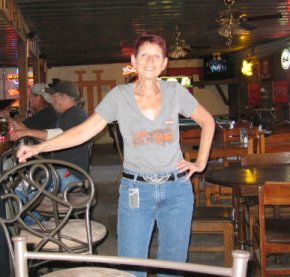 My pal Shirley is once again in Texas for the winter. Here's a look at what she's been up to!
by Shirley Patterson
Okay, so we've been in Texas since the first of December and, although I promised to do so, I have not yet written a ride report. You may have heard that Texas is in a severe drought so while the December weather was not what we really wanted to see, the cool, damp, drizzly weeks were a small blessing. January, however, started out warm and dry so – yep, out came the bikes.
On January 20th the temperature hit 86 so it was just too great not to ride. This is not the first ride we had taken – nor is it one of the longest – but it is one of our favorites so thought I would take you all along. We winter in Kingsland, TX. For point of reference Kingsland is about 12 miles slightly northwest of Marble Falls or about 60 miles northwest of Austin. We left Kingsland taking Farm Road 1431 (the main highway between Marble Falls and Kingsland) west past Pat's Bar and Fuzzy's Corner (more later) and on to Highway 261 which is a great two-lane, curvy and fairly scenic road.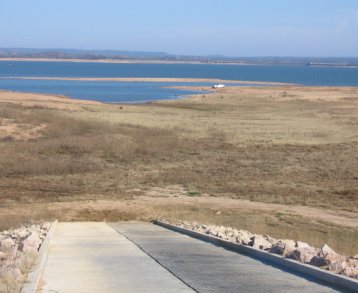 Our destination was the Fall Creek Winery at Tow (rhymes with cow). I mentioned the drought earlier so we pulled into the Llano County Park to see just how badly it had affected Buchanan Lake, one of the major lakes in the area. A couple of years ago a long paved boat ramp was put in at the park. Hopefully, the picture taken will show the devastation the drought has brought to the area. The ramp is now easily one to two miles from the water…folks who have million dollar "lakefront" homes are high and dry!
So, out of the park and on to Bluffton Store. This is at the convergence of highways 261 and 2241 and we usually stop here to gas up, get a Coke or a 50-cent ice cream cone – really! On to the winery. Fall Creek has a great tasting room where you can taste five wines for a fixed price of $5 per person. But, what we discovered last year was they also have a beautiful covered patio where you can simply take a glass or a bottle and sit and enjoy. This trip we decided to buy a bottle of our favorite blush and a box of crackers and enjoy the patio – c'mon, it was cheaper than the tasting! We met a couple of really nice guys who were also riding that day and they took this nice picture of me and Garry.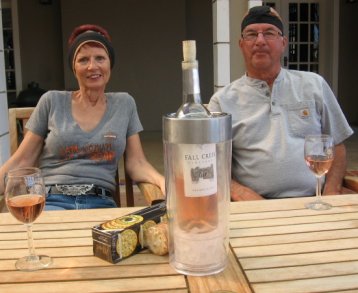 Finally decided to reverse the ride and head back for Kingsland. Now, last year we usually stopped at Pats for a drink but found that this year our favorite bartender, Jen, is now working at Fuzzy's. Fuzzy's is a beer bar (although they will serve set ups if you bring your own) but since Garry and I drink Rum and Southern Comfort respectively we have never gone to Fuzzy's. Today, however, we stopped in to say hi to Jen. Giving a nod to the wine we had already drank, I just had a Diet Coke. By the time we left for the short 10 mile ride home it was 4:30 so decided to bypass the house for another 1/2 mile and stop in at Spykes BBQ for an early dinner. Spykes has the BEST BBQ in the area. For those of you who think Llano has the best – you have to give Spykes a try. After dinner it was a very short hop back to the house and a beautiful easy day on the bikes.