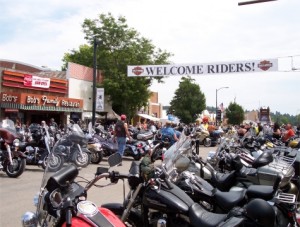 One of the bits of wisdom new riders hear a lot (even from me!) is, "don't let anyone push you to ride outside your comfort zone." That means you shouldn't feel obligated to do something on the bike you're not ready to do, and it's usually good advice.
But here's the thing about your comfort zone: it is and was intended to be a moving target! It changes constantly as you develop new skills.  So don't let complacency get in the way of your progress. After all, you've taken the biggest step already – just getting on the bike and learning to make it move. Some of the tasks that seem most daunting are easily within your reach – and believe me, you'll soon wonder why you ever let anything hold you back.
Ride a road with a higher speed limit! Pick a road that leads you out of town, gradually increase your speed, and enjoy the sights and smells of the roads beyond your doorstep. Enjoy the feel of the bike on the curves… take in the vista on the straight-aways… feel the connection to your bike and to your surroundings like you never have before.
Ride at night! Riding at night poses special challenges – make sure you're as visible as you can be, be extra-aware of traffic movements around you, and if feasible, ride with your bright headlights out on the rural roads so you get a wider swath of light with which to spot animals or other potential hazards. Consider your  bodily comfort, too – have a jacket you can don if needed, and wear clear glasses to protect your eyes.

Conquer the freeway entrance ramp! It can be nerve-wracking, especially if your local cagers don't seem to give an inch when it comes to merging (ahem – IOWA!!). But trust me, it gets less nerve-wracking with practice.
Take a weekend trip! Yes, yes, I know you're busy and you have obligations. But really – just do it. Pick a spot in your region you'd like to visit… plan your route (part of the fun!)… and go! You can leave on Saturday, return on Sunday – or whatever days work for you. You'll return home refreshed and eager to do it again, guaranteed!
Think of it this way: if you never ride outside your comfort zone, you'll never leave your own neighborhood. And that's probably not what you envisioned when you decided to learn to ride. So go for it!
This blog is full of reports of my many milestones – share YOUR accomplishments in the comments!
As a follow-up to this week's post about good bikes for beginners, I wanted to point out that I had read recently where someone recommended the automatic-shifting Ridley as a "great first bike."
I respectfully disagree, for the simple reasons that it's expensive and doesn't teach you all the necessary skills.
Sure you don't have to learn to manage the clutch, but what if you decide someday that you want a different bike? You certainly couldn't test-ride anything if you haven't mastered shifting.  And, if you were in a situation where you were needed to ride someone else's bike, you'd be useless. Learning to shift is part of the challenge of learning to ride, and you should tackle the challenge. Besides, I can't imagine shelling out that kind of money, or taking on that kind of loan, for a "first bike."  
Same for custom choppers – choppers are engineered quite differently from, other bikes, including the learner bikes they use in the MSF courses. For one thing, the turning radius is drastically different. Why put unnecessary obstacles in your way when you are still learning how to manage operating the bike, riding defensively, moving through traffic, etc.?  Plus, again, the cost is extraordinary compared to a basic small-cc bike, especially if you don't know whether riding is "for you" just yet.
Of course, once you are riding comfortably you can have any bike you want, and can adjust your riding skills accordingly.
With women now comprising just over 12 percent of the new-bike market, it means that more gals are thinking about learning to ride. (After all, who doesn't dream of being a free-spirited biker chick?) If that's you, or your wife or girlfriend, one of the first questions to come up is most certainly going to be: "What kind of bike is best for learners?" (See my "No B.S. Guide to Learning to Ride" for more common questions.)
While it's true that some women will be comfortable managing a bigger bike right from the start, it's more likely they're facing quite a bit of uncertainty or even fear.
For that reason, I recommend learning to ride on a smaller bike, i.e. a Honda Rebel or Yamaha Virago (125 and 250cc, respectively), preferably used so you don't shell out a lot of money only to find you don't enjoy riding. 
A woman who might be able to readily maneuver more bike at slow speeds, or one who's more confident going into the task of learning, might start out on a 600 Honda VLX or the Yamaha 650 V-Star. These are a little more powerful and you might keep them a few more seasons than the smaller Rebel or Virago. 
All of these are readily available in the used market.
Once you feel comfortable riding, you'll notice that highway speeds feel like "work" on a small (250cc) bike. At that point, you're probably ready to move up to something a little bigger. You can easily sell the learner bike and move up to the Honda Shadows, Yamaha V-Stars, Harley Sportsters, etc. in the 650-883 range. Suzuki also makes comparable bikes in its Boulevard line – I'm not as familiar with them, but the older Suzuki 800 Intruder is also a great "move-up" bike. Eventually you may move up yet again into the largest classes, but I know many women who have ridden comfortably for years on these mid-range machines.
The advantages of this graduated method are several: 
You get used to the manual operation of the bike without feeling like you can't maneuver it easily (such as into and out of parking spaces or through large crowds).
It's easier to pick up a smaller bike via the proper method if you drop it.
And speakng of drops, it's less heart-breaking to drop a small used learner bike (likely to happen when you're a new rider) than it is to drop your ultimate dream bike.
It's much easier to pass the licensing test on a smaller-cc bike.
You probably won't have a financed bike to "get out from under" if you decide you don't want to continue riding.
I've said it often: women learn differently from men – they are more studious and often more cautious. If you want to learn to ride and want to make it as un-intimidating as possible, start small and work your way up to the larger bikes.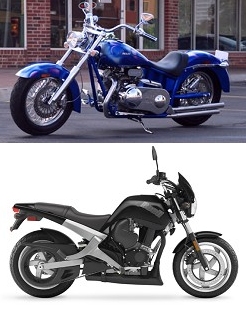 You might remember a couple of years ago I compiled a spreadsheet showing the seat-heights of the lower major-manufacturer cruisers. This was an effort to help identify good bikes for short riders, and it had the added benefit of suggesting some lower-cc bikes for beginning riders.
I've recently come across a couple of sites that provide some excellent, more current information, so thought I'd share the links with you so you can investigate further. Important to note that the bikes on my original list are likely well-represented in the used bike market these days. So if you're looking for a good first bike, or a good used machine, this list will still help you narrow your choices!
Carla King at Motorcycling Misadventures offers her thoughts on the question of "What's a Beginner Bike?" and states in no uncertain terms, "flat-footed, no more than 250 cc's." (My article, "Start Small or Go Ultimate" offers the pluses of starting on a smaller bike vs. larger. I'll be offering something a little more definitive – meaning: opinionated! LOL – next week.)
Being able to "flat-foot" the bike is one of the most important aspects of safe handling. Why? Well for one thing, you want to be able to 'walk' the bike into or out of a parking spot if need be. You can't do that easily if you're on tippy-toes, because you can't get a good footing. And for another, when you roll up to a stop you want to be sure your footing will be solid as you take your feet off the pegs to support the stopped bike.
Women Riders Now has a fairly complete list of (mostly) cruisers with low seat heights, but there are two points of discussion that are missing from the article (mentioned in the comments):
1. There are some beautiful choppers, and many other bikes with forward controls shown that shorter women can easily straddle, but we'd have no hope of ever reaching the foot controls. (Perhaps the Roar WildKaT, with its modular control-positioning, solves this problem?)
2. The seat width often makes these "low" bikes impossible to straddle flat-footed, because your shorter legs have to stretch out and over a wider area.
Finally, Raven at Ravenbladerider covers the sportbike angle with some great sportbikes for shorter women.
Looking for info for absolute beginners? You've come to the right place! In addition to reading our "No B.S. Guide" for women (or "biker chicks in training"), I've collected a few links and resources that will help you realize that YES: You've made the right choice in learning to ride! Enjoy –
AMA's "Five Things Every New Rider Should Know" – (best tip: Your best friend is probably not your best teacher)
From DMV.org, here's "Learning to Ride A Motorcycle." Read this first. And then make yourself a T-shirt with this statement: "a motorcycle rider has the right to the same space as a car." Wear this to a variety of work and social functions as a 'conversation starter' with those around you. Come to think of it, this is a good idea for experienced riders too!
Check out the entire Novice Tips section at BCRider.com.
Download this handy safety reminder sheet from the Motorcycle Safety Foundation.
And for even more woman-centered reading, visit the following:
Have a question for the Biker Chick? Just send me an email!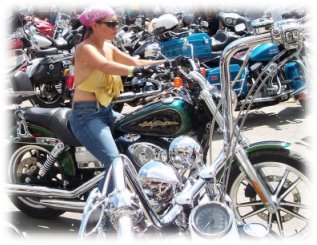 I am learning to ride and just have my permit at the moment.  My husband is totally ticked that I am not ready to go on long rides and am wanting to just cruise around our neighborhood. Do you have any words of wisdom to overcome my anxiety?  Is it wise to hop on and go for a long ride? 
First and foremost, stress to your husband that if you are going to ride, you are going to learn at your own pace – not his. Only you know how comfortable you are on the bike, and because of this only you have that innate sense of what you might be ready to tackle.
Keep in mind that for experienced riders, everything about the operation of the bike is already second-nature – they've probably forgotten what it's like to have to learn the various aspects of riding the bike, observing traffic, and generally being safe – all while trying to get just a quick glimpse of that "freedom of the road" that everyone seems to be talking about. So just tell him you're prepared to spend the time it takes to get good at riding, but it has to be at your own pace. Encourage him to go on solo rides or rides with experienced friends so he doesn't feel like he's completely dependent on your learner's pace.
 
Having said all that, if you are comfortable on the bike riding around your neighborhood, it's possible you are ready for a slightly longer ride and you're just reluctant because you're enjoying a little "plateau" in your comfort zone. I encourage you to venture a little farther out, but safely and in your own way.
So try this: get out a map and pick a destination about 30 miles from home that you really want to go to. Plan a ride with that destination as your half-way point – hopefully it will include some 45- and 55-mph roads to give you a sense of what faster speeds are like, without putting you on the 75-mph Interstate too soon. (For me personally, it's important that I be the one planning the comfort-zone-expanding ride… it gives me a sense of ownership of the plan rather than feeling like someone's trying to control me.) Just take that round trip once, to see how you like it. You might find you really are ready for a new challenge!
 
If you really don't feel comfortable riding outside the neighborhood yet, by all means just keep at it and stress to your hubby that it's important for you to feel you've mastered this step before you proceed to the next.
Anyone else want to take a stab at this one? Feel free to comment!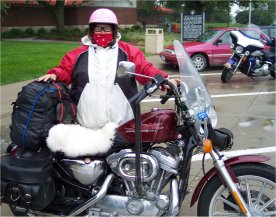 One day during my "learning season" of riding, my husband led us on a ride through a campground that we knew had some lakefront real estate on the far side. What we didn't know was that the access to the river was done a steep, gravel hill – and not firm-packed dirt, but good loose rocks. Not wanting to appear to be a chicken, I loosened my grip on the bars (so I wouldn't over-steer) and rode down the hill without complaint. It was an unexpected opportunity to address a particular circumstance, and I passed the test with flying colors.Beginning riders usually have a lot of questions about how to handle specific riding situations, so here are a few tips for those times when a new experience is unavoidable ;)
Night-time riding – become extra aware of the road ahead. You should always be looking about 12 seconds down the road, even in daylight, but at night seeing farther ahead becomes critical so you spot any animals or anything like that along the highway. Additional lighting on your bike (such as a light bar) might also help you see and be seen. Finally, pack a pair of clear goggles or glasses in your for or saddle bag so you don't get stuck wearing sun glasses at night. It worked for Corey Hart in the 80's – it doesn't work for you on the bike!
Windy conditions – Moving through the wind is always going to be a factor on the bike, but when gusts are strong or steady above 15 mph, it really gets noticable. Adding a windshield to the bike can prevent headwinds from hitting you hard in the chest and face, but what's really critical is dealing with crosswind. When crosswinds are strong, it's important to understand how passing traffic will affect the degree to which you are buffeted (moved around by) the wind. It can be pushing you hard to one side of the lane, but the moment a car or truck goes past you it takes away that force and you will get "tossed" quickly back to the other side of the lane. Experience is really the only way to learn how your bike responds and how much to compensate.
Tired butt – Most folks will complain that their butt hurts if they've been riding all day. But some bikes have really crappy stock seats that make even shorter rides uncomfortable. The problem could certainly be your riding position, so make sure the bike fits you in terms of handlebar reach and seat height. But also consider a new seat with a backrest or firmer foam. If that's not practical, you may find yourself stopping more frequently just to get off the bike to walk around a bit. That's okay too, you just have to figure the stops into your time schedule.
Rain – It's gonna happen. Sooner or later you're going to get caught in the rain, be it a light shower or an all-out downpour. If it gets to the point where visibility is limited, you should try to find a safe place to pull over. Try to pick a place where the bike will not be parked at an odd angle (like on the downward-sloped shoulder of a highway, or in mud). A rain suit is a smart bit of gear to keep with you; these days a quality suit can be very lightweight and can fold up to the size of a small clutch purse. And, if you don't have a full-face helmet, you can fold and tie a bandana around your nose and chin, outlaw-style, to keep the "truck wash" off and the rain drops from stinging. Finally, remember that the first few minutes of a rainstorm are the most dangerous because the rain is getting the oil and road-gunk all wet, and making it even more slippery than the wet road might be after it all washes off.
Can I Really Do This? YES, you have my permission to try! (like you needed that! LOL) The hard truth is, riding motorcycles isn't for everyone. Here are some things to consider to see if it might be for you.
Healthy body: Are you physically capable? You don't have to be able to bench press 300 pounds, by any means. But you can't really be physically frail and have confidence that you'll be able to hold the bike up. Try visiting a dealership and sitting on their smallest street bike. Can you raise it off the kickstand? Can you walk it forward, and walk it backward, while straddling the seat? (Try these things only with the help and permission of a sales rep.) If you can't, but you still want to be in the wind, you might consider trying a trike.
Healthy attitude: Can you keep a promise to ride safely and responsibly? Remember, it's not just your own life at stake. Hot-dogging on a bike (or worse, riding under the influence) can ruin many lives with one bad move. Also, can you accept the level of risk involved with riding, and are you prepared for the worst with up to date life insurance, a living will, etc.?
Healthy desire: Do you want to ride? Really want to ride? You've got to want it. If you're learning because someone else wants you to, or for some reason you're half-hearted about it, you won't practice. You'll get lazy. And you'll end up with a very expensive boat anchor languishing in your garage.
What Bike Should I Get? – This question has a zillion possible correct answers, depending on your comfort-level with riding at the time you're ready to shop, the type of bike you want to own (sport bike? cruiser?), your budget, your personal tastes, brand appeal, etc. For simplicity's sake, though, I'll take a stab and answer the question directly assuming you want a cruiser that's similar to what you used in your MSF course. The three major manufacturer bikes I would recommend for absolute beginners are:
The Yamaha Virago 250 – a great-looking, easy to handle V-twin.
The Honda Rebel 250 – classic-styled, chain-driven 250
The Kawasaki 125 – single-cylinder five-speed, air-cooled commuter bike
If you're confident in your abilities but not ready for the heavyweight cruisers, there are a few more choices. These are my favorites, in no particular order:
The Yamaha VStar 650 – Classic, custom, or Silverado styling; an awesome middleweight cruiser you may never outgrow.
The Honda VLX or VLX Deluxe – Low to the ground, four-speed 600.
The Honda 750's: Aero & Spirit – five-speed bikes with forward controls
Harley Davidson Sportster 883, Standard or Low – If your heart's set on Harley, the 883 has the HD looks, sound and agility. Of the majors, only the Honda Aero has a lower seat height.
Kawasaki Vulcan – sizes range from 500 to the 900 Classic.
Suzuki Boulevard C50 and S50 bikes – five speeds, forward controls, higher seat height
For a more thorough comparison of these and other bikes, try the BikerChickNews Short Rider Spreadsheet. Although it was intended to be a round-up of cruiser models for shorter riders, it also serves well as a guide to mid-weight bikes from various manufacturers. It's by no means complete, but it might be a good place to start.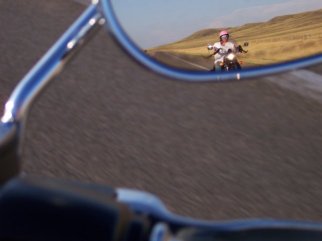 I've said it before: women learn differently than men. My personal feeling is that we're more cautious, more studious, and less "just do it." We're also pretty supportive of each other in general, but when serious questions arise about how, exactly, one gets started riding motorcycles, that can lead to inadvertant sugar-coating and very vague answers given in such a round-about way as to be completely meaningless. So here is an attempt to bust through all the nicey-nice… you can still get that elsewhere… and just answer some questions directly. We'll take it in small chunks because, well, it's just easier to write it that way. The first question for a new rider always comes from that place in the woman's heart that wants to be practical, yet take a risk, yet not have any nasty surprises as she's getting started down a new road. The question is, "What do I need to get started?"
It's tempting to try to pass this question off with something really vague and diplomatic like, "That's different for every person." But since this isn't the nicey-nice Beginner's Guide, I'll take a stand and say you can actually boil it down to a short list of five things you need to get started riding. Here they are:
You need a practice bike. Borrow or buy a small-cc brike from someone who can show you the proper start-up procedure for that bike. (They're not going to teach you to ride, but it would be helpful if they could show you how to start the bike.) Don't forget insurance.
You need some safety gear. A DOT-approved helmet, leather or armored textile jacket, and sturdy riding boots that cover your ankles and have solid gripping soles are necessities. Some type of gloves, at least the fingerless style that cover your palms, are also a good idea.
You need instruction. You can learn from a trusted, experienced friend or spouse, but you run the risk of picking up bad riding habits. The Motorcycle Safety Foundation (MSF) offers courses at venues across the country, and some insurance companies offer a discount if you train with MSF.
You need a practice area. Just because you pass your MSF doesn't mean you'll feel comfortable enough to cruise out on the highway immediately. A large parking lot, preferably empty, is ideal.
Finally, you need support, or at least encouragement, preferably from an experienced rider. Tackling a new skill is always easier if you have someone to cheer you on or even help you learn and practice. At a minimum, you need a person who will speak encouraging words and who won't constantly berate you for trying or blather on about the horrible accident their friend's cousin was in.
So that's it, the bare necessities if you want to learn to ride. Don't skimp on 'em, they're important. Experienced riders, anything you want to add? Just send me an email!Part Two of the No-B.S. Beginner's Guide will cover the most burning question new riders face: "What Bike Should I Get?"