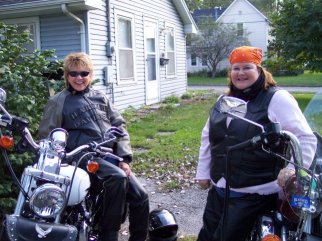 It was a beautiful weekend here in Iowa and here are two biker chicks who took full advantage of it!  After our successful trip to Albert Lea last summer, my friend Susan and I decided we needed to plan another overnight trip for this year. We had originally planned to visit Galena, IL, but the day before the trip we checked the weather and learned that "they" (whoever "they" are) were predicting rain for that time period in that locale so we switched gears and decided that it looked like it was going to be warmest over in northwest Iowa. So we decided we'd ride the Loess Hills Scenic Byway from about the middle of the western border of the state up to Sioux City, and then spend  the night in Le Mars.
We had both taken Friday off from work so we met at my house and left about 9:30 a.m. We went west out of Des Moines on Highway 6 then picked up Highway 44 at Panora. From here, 44 is designated in Iowa as the Western Skies Scenic Byway. Now Susan and I are not "let's get there" kind of people. We are more "let's take our time getting there" people. So to say that we stopped frequently would probably be an understatement, but generally speaking, we stopped frequently. We passed through several lovely small towns, including Adel, Redfield, Guthrie Center, and Harlan, and finally picked up the Loess Hills road in Logan.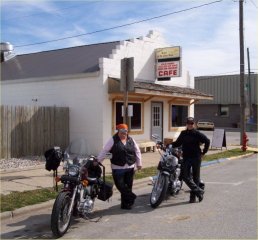 The Loess Hills region of Iowa is beautiful, and fall colors have not quite peaked here so everything is just barely turning red and gold. I was a little disappointed that we didn't see anything terrain-wise that really surprised me… but, I think if we had explored the State Park or the western side of the hills, we would have been better able to appreciate what makes this region so unique. 
We rode north keeping to the designated scenic highway, which zig zags its way through the hills. We stopped for lunch at the Old Home Fill'er Up and Keep On Truckin' Cafe in Pisgah (immortalized by C.W. McCall in the Old Home Bread commercials) and then went on to Sioux City. We took Highway 75 north through Sioux City to the Harley dealership, where we stopped to shop and make phone calls home, then continued on up 75 to Le Mars at about 6 p.m.
We checked into a motel and walked next door to Uncle Albert's Pub & Grille, where we had a very good dinner and a couple drinks. We got a good laugh out of the fact that it had taken us 8 hours to travel 250 miles!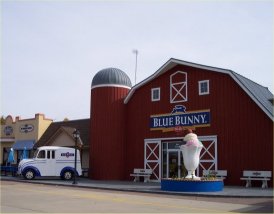 Slept in Saturday morning and after getting the bikes packed we went to see the Wells Blue Bunny Visitors Center. Le Mars bills itself as "The Ice Cream Capital of the World," because the Wells Blue Bunny company produces more ice cream in their Le Mars dairy than any other company in any other location in the world. They've built a very nice museum which tells the history of the company and the history of ice cream, and includes a 3/4-scale model of part of their production line so you can see how the products move around on the line. The facility also includes a full-service ice cream parlor, where we learned that ice cream tastes even better when it's fresh – meaning, you're eating it right next door to where it was made and it hasn't been frozen, thawed, re-frozen/etc. at the whim of your freezer's defrost cycle.
We spent about an hour at the museum and then took off to the east on Highway 3, where we passed through more lovely small towns like Cherokee, Ida Grove, and Carroll. (Note to self: need to return to Ida Grove with the family to visit the COOL Pizza Hut with outdoor patio that overlooks a lake!) We picked up Highway 44 again at Panora, which took us straight back into the Des Moines area in our northern suburb of Johnston. In all, we traveled 460 trouble-free miles with beautiful weather – we are going to have to come up with a name for these little overnighters!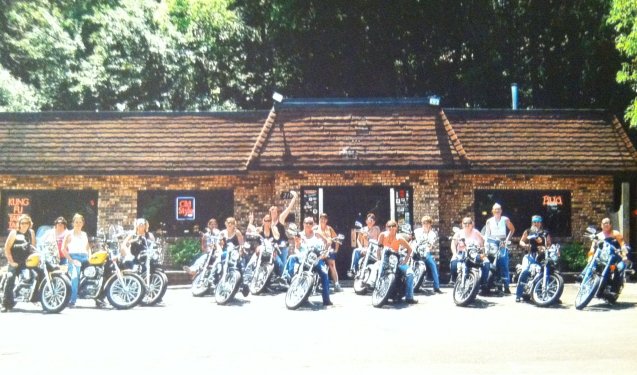 I had a truly awesome day riding, Saturday July 15 – possibly the best day ever for me on the bike.
Last Wednesday night at our local HOG chapter meeting, I noticed a flyer on the bulletin board that just said, "All Women's Ride" – gave a starting time and place, and a couple phone numbers to call for info. This was just the kind of thing I had wanted to do last year, but never got around to doing it – organizing a women's ride. So I decided I would participate, although I was a little nervous about joining a group I'd never met before.
I called two of my girlfriends, Susan (Coyote) and Shirley, to let them know about it and that I was going, and they both expressed interest. We rode in separately to the starting point and we were all warmly greeted by the gals who had already gathered. I was afraid it was going to be a group of women who already knew each other, and that I would feel like an outsider… but I'm glad to report that wasn't the case. The two organizers knew each other, and maybe two of the other women thre, but the rest were like me – just checking it out because they'd read the flyer.
My first notion that it was going to be a "sisterhood" kind of day was when our organizer, Theresa, said she wanted to take a group picture so we need to pull the bikes in closer together in front of the building. Most of us had given ourselves a plenty-wide berth to get turned around in the parking lot, so there was lots of room between bikes, and they were spread out too wide to get them allinto the picture. So, each person would in turn get on her bike and move it closer to the center of the group, and a couple other gals would step in andhelp push it backwards up the little incline. Once parked, she'd get off her bike and go help someone else get situated – it took only about five minutes to organize 20 bikes into a nice group photo.
The plan was to just ride a hundred-mile loop, making a few bar stops along the way. It was extremely hot, upper 90's, with clear blue skies but semi-hazy with the heat. Our first leg was about 50 miles. I'll admit it was pretty damn cool to be riding in that column – we got into staggered formation like it was a given, used hand signals when needed to keep the group apprised of road hazards and upcoming turns, and generally just rode together like we'd been doing it for years.
The firststop was a small-town bar where a few locals were spending their Saturday afternoon… the bartender was good to us, understanding when we just ordered water (and happily accepting our generous tips!) and letting us take over the place for a half-hour or so. Another sign of instant sisterhood occurred here. My friend Shirley, who debated not coming because she is sometimes prone to heat exhaustion, was overcome by the heat shortly after we got insidethe bar. She kind of collapsed onto the cool cement floor, where I and a few of the other riders provided damp towels and encouragement. Theresa, who had been riding two-up with a girlfriend from Florida, told me that her friend was a licensed rider and would be happy to ride Shirley's bike for her ifneed be, meaning Shirley could have her spot on the back of T's bike. I just thought this – and all the concern theyshowed for her – was incredibly kind, given that we'd all just met an hour ago! After fifteen minutes or so she was feeling (and looking) much better, and in another fifteen she insisted she wasready to go on. In all the stop lasted about 40 minutes.
Refreshed with water and sport-drinks, we were then off again to the next stop, and then the next and finally the last. Short stops just long enough to drink a bottled water then back on the bikes. At the last stop, T had arranged for her mother and sister to bring homemade enchiladas which we all enjoyed tremendously.
It was truly a day of the sort of "instant bonding" one could only hope for – a group of very different women from all walks of life, who all shared a passion to ride, just out enjoying the Iowa byways and riding as a group like we'd been doing it forever. I know we were quite the sight to see, a column of bikes all ridden by women – had I been passing our group in a car I would have certainly been astounded… "Hey lookit all the bikes – hey, they're ALL WOMEN!" And frankly, that made me feel just a little bit special!
Wow, what an awesome weekend!! I just completed my first "real bike trip" riding my own! My plan was to meet up with some of the gals in my online "biker sisterhood," then we were all going to go on a ride together around southern MN. A friend of mine here at work, who also rides her own, asked if she might go with me as far as Clear Lake, where her parents live, so this became our first ride together, the first overnight trip for both of us, and the longest trip to date for both of us.
We had several people from the online group scheduled to meet us in Albert Lea. We weren't sure what the weather was going to do – we knew it was going to be hot, but not sure what we would do if it poured rain as some were predicting.
Susan, my work buddy, (who rides an '03 pearl white Sportster 883) eventually decided to forego the visit to her parents and ride with me on up to Albert Lea. We left Des Moines at 7:30 Saturday morning. It was warm, but humid, so the air was moist and once we got moving it was pretty enjoyable. We rode north up Highway 69, which was absolutely beautiful – the fields are full, and all looks really healthy and green. We traveled 88 miles before our first stop, which was in Belmond. We topped off the gas tanks, drank some water, and then from Belmond we rode straight into Albert Lea, arriving at 11:30 a.m. We navigated through town up to Bergdale Harley Davidson where we bought some souvenir t-shirts, then headed over to the truck stop to meet the other folks.
As it turned out, only one of the other gals could make it down to meet us – the others all got pummeled with a major thunderstorm in the Twin Cities/Minnetonka area. But Lynn arrived and the three of us had lunch and then headed out for our planned ride with her in the lead… we went east out of Albert Lea on Hwy 46, picked up 90, then 63 south at Spring Valley… found a convenience store off 63 and took a long break… then back onto 63 south down to Hwy 56, a designated scenic byway. We travelled on 56 back to the northwest, through Le Roy, Tapaoi, and ending at Rose Creek, which is a few miles south of where 56 meets up again with 90. It was about a 100 mile loop, mostly east and south of Austin, MN.
We gassed up at a little mom-and-pop gas station in Rose Creek run by this older couple, who were pretty interested in the three biker chicks! Then Lynn took off towards home about 5 p.m. and Susan and I took a round-about way back to Clear Lake where we had booked a room to stay overnight. We had decided to avoid I-90 on the way back, so instead we took 218 south into Iowa, passed through St. Ansgar and Osage, then picked up Hwy 9 and went through Manly, Fertile, and finally arriving in Clear Lake about 7 p.m. We totaled about 325 miles for the day.
The hotel was decent, and the manager let us park our bikes right outside the office window so they and the security folks could keep an eye on them for us. We had supper at Perkins, then back to the hotel to sleep. (In bed by 9:30?? What happened to those wild biker chicks?? LOL) 
We were up early, packed, checked out, and were warming up the bikes by 7:30 Sunday morning; south down Highway 69 we stopped again at Belmond for a potty break, then again at Jewel for gas and to watch a train go by (not much choice in that one… LOL) then one more stop outside of Ankeny (close to home) to say good-bye… again a beautiful ride because it was early and still somewhat cool with the wind. My mileage was 460 for the entire trip; Susan had another 15 or so on top of that because she had to ride up to my house for the start and then home at the end. 
It was a beautiful, trouble-free weekend and I can't WAIT to plan something else!!