About BCN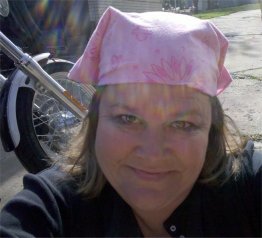 Updated May, 2020 – This blog will no longer be updated. Please see the home page for my final post. I wish you happy riding!
Welcome!
Biker Chick News was started in 2004 as a way to share my riding avdentures and to connect with other women riders.  I've written here not only about my on-road experiences, but also about other women who ride, great places to visit, tips for better riding, and tips for women on getting started in riding. I've been fortunate to meet many wonderful people – women and men – who share not only a love of riding but also a love of writing, blogging, and sharing their experiences!
About me:
I'm a mom, blogger, business professional, Internet addict, biker, gardener, genealogist… like most women, I wear many hats in life and have many interests. As I get older (and better!), I find that riding serves me well when I need to clear my head, fellowship with friends, or just have an adventure.  (I once had the opportunity to be interviewed by another blogger about my riding life, and still today it really gives a much fuller picture of who I am and why I ride. If you're interested, you can read it over at The Many Thoughts of HarleyGirl.)
About My Bike
From 2004-2009 I rode a 2000 Harley Davidson Sportster 883 whom I affectionately referred to as The Picky Bitch.  In July of
2009, I moved up to a 2007 Harley Sportster 1200 Custom, just in time for our second trip to Sturgis. Then in Spring of 2010, I traded both of them in for Kitten,  a 2010 HD Dyna Super Glide Custom. This is the bike I'm still riding today (2016) and guess what – it's almost paid for!
I've also ridden Yamahas and Hondas, but the Harleys have been my favorites. Why? Well, the other brands I rode were good bikes, but they didn't make me feel the way my Harley makes me feel. The intangibles of owning a Harley – the history, legend, mystique, and community – are really important to me, and the others just didn't have these qualities.  (I certainly understand that many people don't care about these things – all well and good, everyone should ride what they love! Camaraderie isn't bound by any brand, after all -it's bound by a love of riding and fellowship.)
Connect With Me!
Your comments are always welcome on the individual articles posted on this blog. You can also drop me an email at janet@bikerchicknews.com, and find me on Facebook and Twitter under the Biker Chick News name. Feel free to "like" and "follow" if you wish – can't wait to hear from you!