A little bike work, and a return ride to Haverhill
I really noticed the problem when we were out Road Pickling back on August 18: my bike seemed to be making a lot of banging noises each time I'd go over a bump or even a dip in the road. It sounded like my saddlebags had come loose from their moorings, but I checked them and they seemed okay… so I chalked it up to just loose stuff inside the bags, rattling around.
Pretty naive of me, considering that we had previously noticed small puddles of shock absorber fluid on the garage floor on both sides of the bike. At our last stop on the Road Pickle ride, it was clear there was in fact a shock-related problem: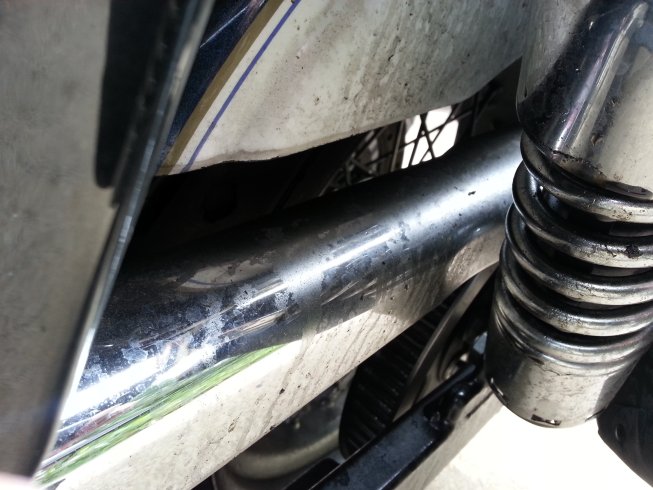 The following weekend I took the bike up to Big Barn to confirm that the shocks were both completely blown out. Disappointing, as they only had 7,000 miles on them. (It also happened to be "Demo Days" at the Barn, where they debuted the new 2014 HD bikes. Although nothing in the new lineup really grabs me, I did enjoy looking at some of the customer bikes.)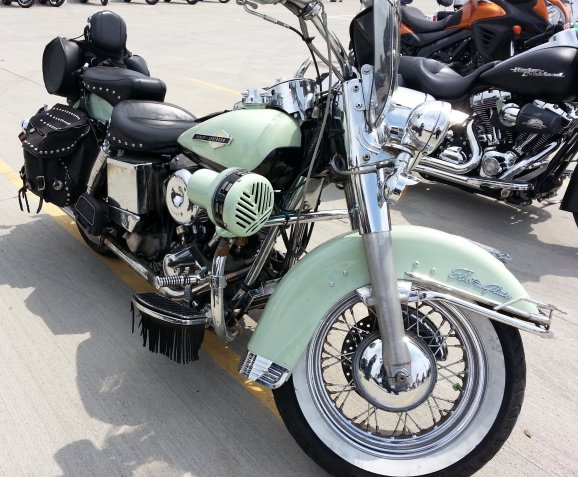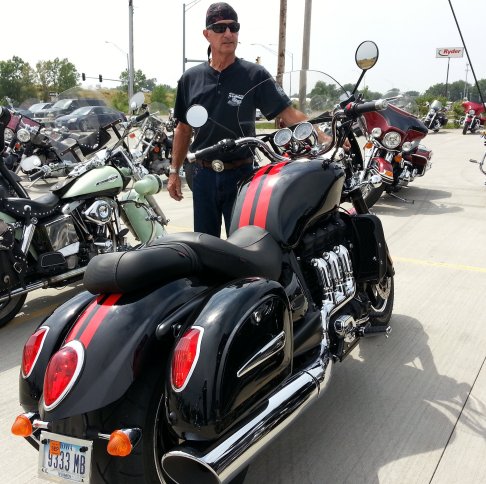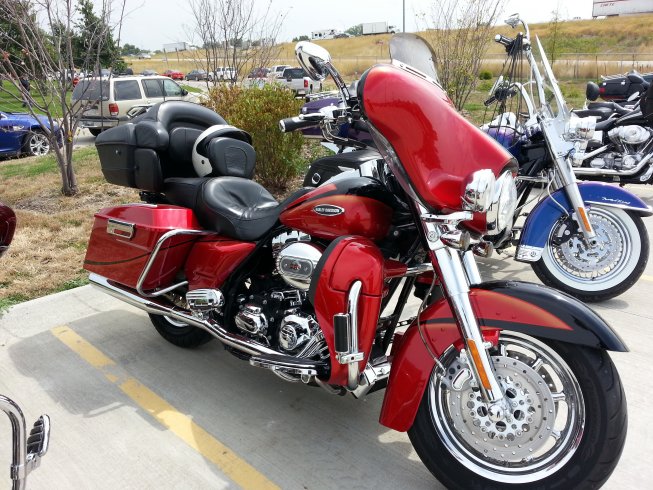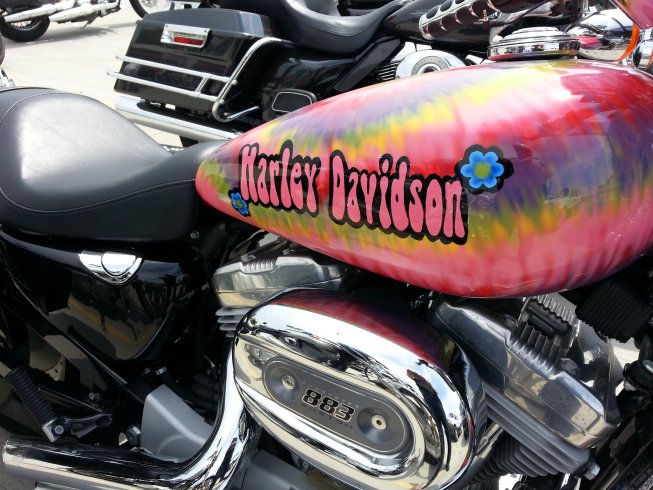 Neither the Barn nor Progressive Suspension – the company that made the shocks – could provide free replacement since the parts were three years old and out of warranty, so we purchased another brand and Steve put them on for me during that following week. I was ready to ride again by Labor Day weekend.
As it worked out, Labor Day was the day we picked to ride so we decided to take a return trip to the Haverhill Social Club. We met up with Garry and Shirley shortly after Noon in Altoona where we got to see Shirley's new-to-her bike, a Kawasaki 900 Vulcan in a really pretty dark metallic blue.
Our route to Haverhill took us east out of Altoona along County Road F48 to Newton, then we followed Highway 14 at Newton north to E63, where we turned back to the west to find Haverhill. It was a decent ride of about 60 miles, but it was the headwind direction and I had a crappy headache by the time we arrived.
We enjoyed our lunch at the Social Club and by 3:30 were ready to leave. We stopped at the Immaculate Conception Catholic Church in town, a century-plus Gothic style church completed in 1902, with a burgeoning parish dating back to 1877. (Sadly, the church closed in 2007 and is now only used for weddings and funerals of parish members.)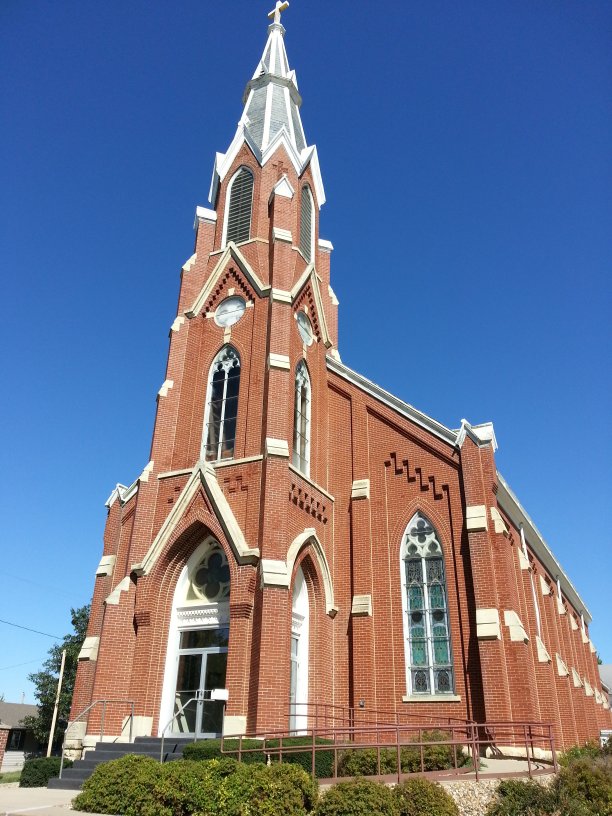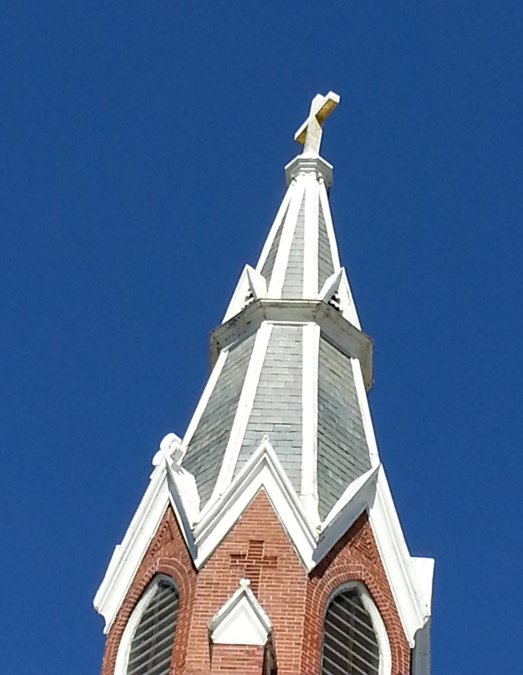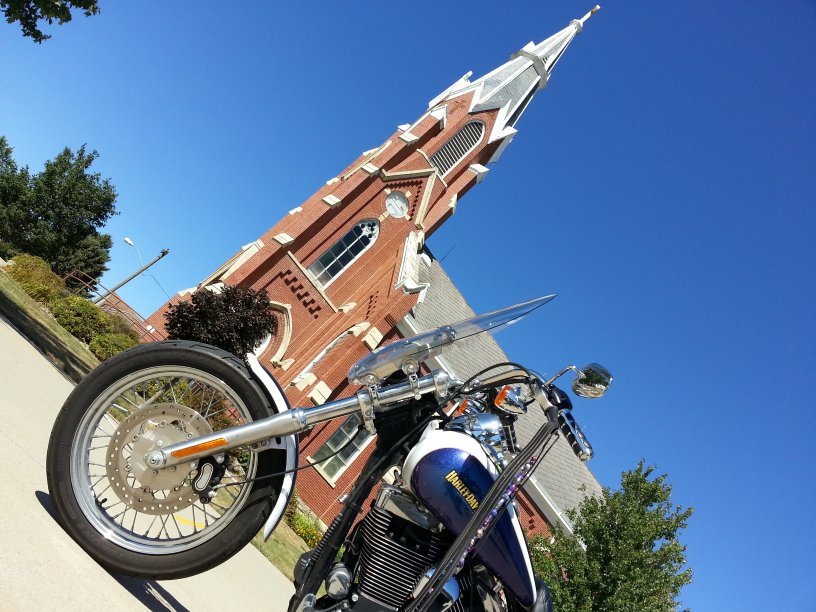 The ride home seemed much easier than the ride up – we had the tailwind, for one thing, but for another it was just a prettier ride. We left Haverhill heading west on E63, and followed S62, F17, and S52 to the south to once again pick up F48.
It's funny what a difference two weeks makes in the landscape here – the corn has that early-Autumn "glow" to it now, where the sun is a bit lower in the sky and makes the wide strapping leaves of the corn stalks seem to glow when lit from behind. The stalks are also starting to brown at the bottom, where just a couple weeks ago they were still fully green. And the soybeans are thick and healthy, dark green… when you get a large field of them, the breeze turns their leaves to the underside which creates a sort of silvery "wave" undulating across the field.
This whole route was so picturesque with old weathered barns and outbuildings, hilly fields of glowing corn and waving soybeans, groups of cows gathered under trees, and even some trees starting to change color.
We stopped in Altoona to say farewell to Garry and Shirley, then Steve and I proceeded on toward our next destination: Capital City Pub & Hot Dog, a restaurant not too far from our house, where we met up with friends Gerry and Janet. They had spent most of the day working, but had come down from Huxley for supper. We had a great couple of hours just catching up with them before we rode the remaining few blocks home.
The whole day was a lovely, 130 mile test for my new shocks, which passed with flying colors.
And speaking of flying colors, the 'bike jewelry' I added recently has also turned out to be a successful venture: I'm NOT getting whipped by either the fringe or the long strings of beads I attached to my clutch and brake levers. Hard to get a good picture of them, but I think they've added a distinctive and feminine touch to my bike.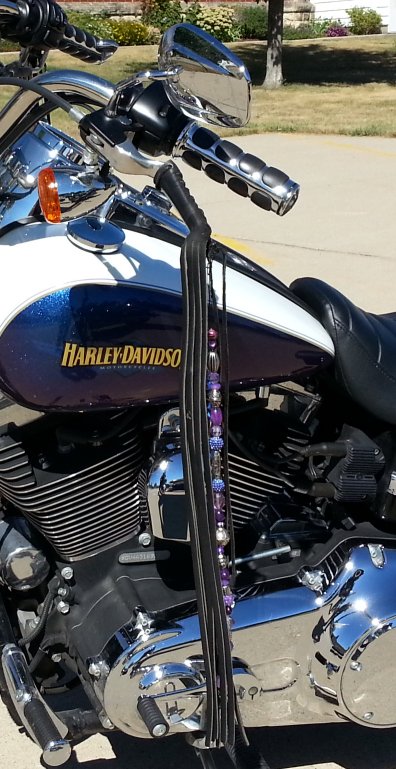 Hope your August has been trouble-free! Have you had any mechanical issues, or made any cosmetic changes to your bike this year?