Super spy glasses… or cheap piece of crap?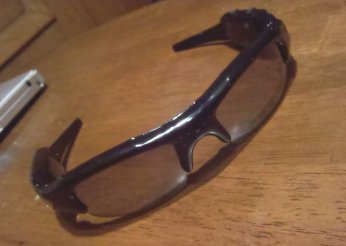 I have a history of buying crap you see on television and then being disappointed in it. Ab Cruncher, Egg Rings, the Esteban Electric Guitar. Well recently at the Good Guys car show, we came upon a vendor selling products that are undoubtedly over-priced and destined to disappoint. But, one of them offers what quite possibly could be the solution to a problem I've had since the very first day I rode my own bike across the Mile Bridge at Saylorville Lake: I've been looking for a way to safely take pictures of my beautiful state, from the bike, without having to coordinate a pull-over of the whole merry band and without having to fumble for a camera stashed in a pocket.
Maybe the solution is "Mobile Eyewear Recorder," a pair of sunglasses with a tiny still and video camera embedded between the eyes.
Let me say that after my many experiences with "As Seen on TV" products, I was skeptical. The printed instructions for the glasses did little to boost my confidence, proclaiming:
"Use USB line connect computer, click can to moved computer on the tabletop playing (when will to use PC Camera, must standby status."
Ultimately we decided to take a chance given the price. We took the glasses for a test ride on July 4 and as these pictures prove, I still have a little to learn about getting decent results.
This photo of a rustic barn illustrates the need to snap the shutter button just a tad sooner.
This photo of Steve on his bike illustrates the point that the center of your forehead doesn't see what you may actually be seeing in your peripheral vision.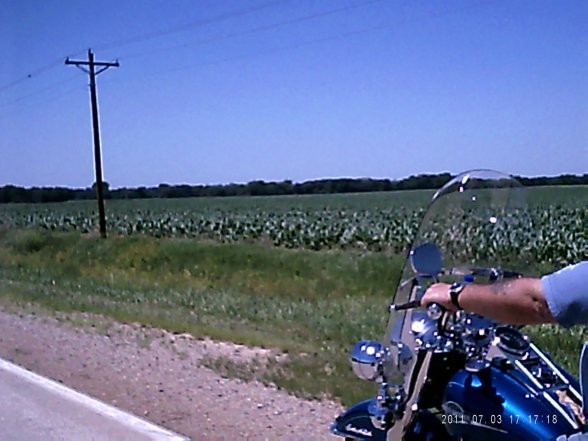 This photo of Saylorville Lake illustrates both of the above points, and also shows that the color captured by the camera may not be the greatest. (But hey, it's a pin-hole camera embedded in sunglasses, not Ashton Kutcher on the back of the bike taking coolpix with his Nikon.*)
Finally, I took a few segments of video with the camera too. This taught me a couple of things as well: a). I move my head around a lot when riding – and that's good, it means I'm always looking for potential hazards on the road. And b). Watching video taken from the center of my forehead makes me queasy. The one advantage of the video? Well it appears I can snag some pretty good still shots out of it (examples below).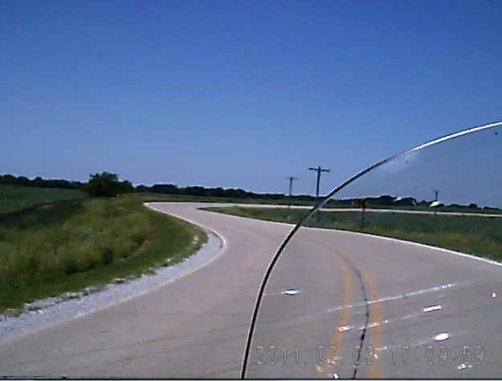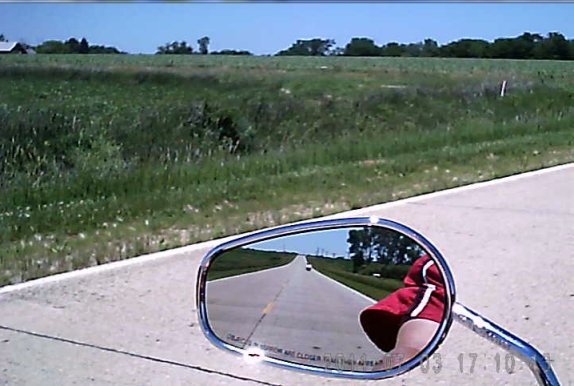 *Note to self: investigate Ashton Kutcher solution ASAP.