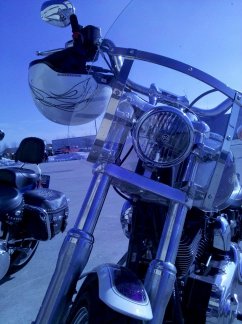 Quite the unexpected treat on Thursday – the first ride of the season! We didn't go far, but the streets were (mostly) dry and the temps made it all the way into the upper 60's, so we were able to get about 40 miles in along with a visit to Route 65 Harley-Davidson in Indianola.
It's always a bit of a gauntlet as things start to thaw, what with newly-revealed potholes, patches of traction sand that haven't yet washed away, and other drivers who simply are not on the lookout for bikes at this time of year. And of course, we know it's just way too early to sustain the warm weather, even though the giant rodent did predict an early Spring. Still, this is the earliest "first ride" in several years, and I was elated to be able to take advantage of the beautiful – if short-lived – ride friendly weather.
Hope you are continuing to have a wonderful summer! I haven't been on the bike for a couple of weeks (except to take Kitten in for her thousand-mile service), but have been finishing up a couple of freelance projects, and job-hunting. I CERTAINLY hope to take a few more trips around the state before Fall!
ANYWAY… just because I haven't ridden much for a few days doesn't mean there's nothing going on. In fact, the "mother of all rallies" – the 70th Sturgis Rally – is coming up next week, August 9-15! Yep, it's time for Sturgis again (already!) and although we are unable to make it this year, we DO have some pretty awesome pictures from two past trips – so, thought I would share them!
Here are some samples, and links to the albums… and by the way, some are decidedly NSFW so BEWARE!!
From 2006… our first day at the best biker party on earth!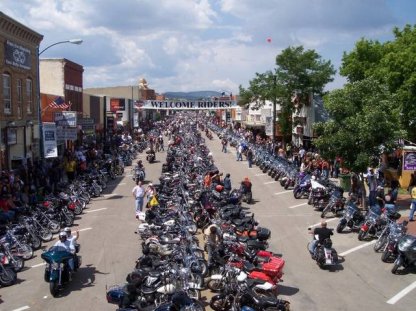 Our trip to Mt. Rushmore and the amazing Iron Mountain Road!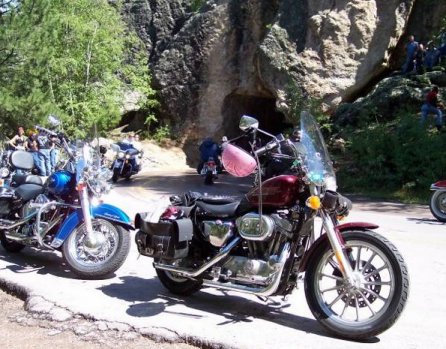 A side trip to the giant nipple of Wyoming. Plus, the middle of nowhere!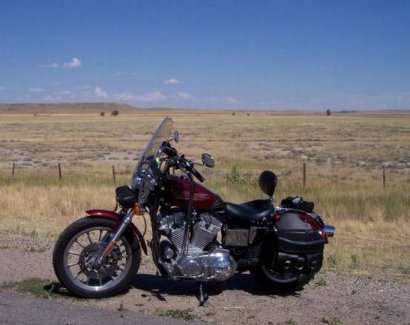 Another sidetrip to Deadwood and Spearfish Canyon!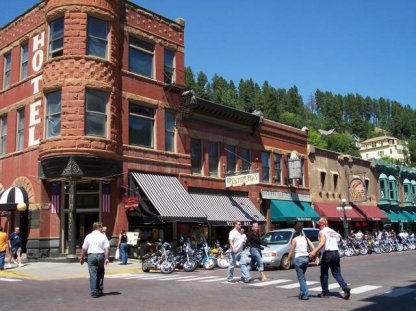 And a visit to the awesome Rat's Hole Custom Bike Show!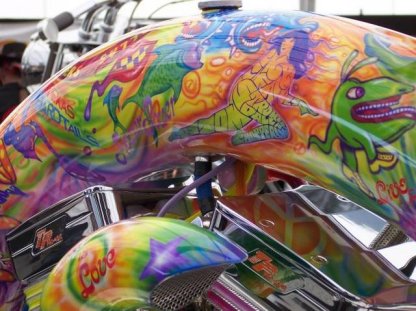 And, from 2009, pictures which look remarkably similar even though it was just as wonderful a trip!
And, just in case you REALLY want to read about our Sturgis adventures, here are links to the ride reports!

Sturgis 2006
Sturgis 2009
Finally… this website continues to knock at the door of 30,000 visits per month. I'm AMAZED!! Thanks for reading, commenting, and coming back!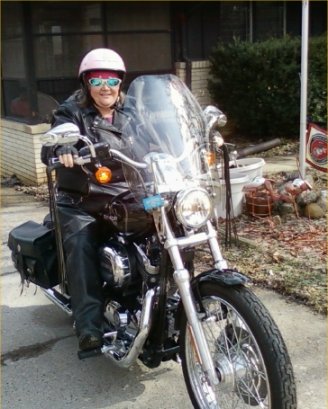 Take THAT, Winter – I have officially taken the first ride of the new season before going stark raving mad, and that means I WIN!
Well now, don't I feel better! As you may have guessed, I got to take a ride today – the FIRST ride of 2010! What a blast… a relief… a pleasure.
Accuweather predicted 54 degrees today, and since the sun was peeking out periodically I decided to step out and start the bike – you know, just to hear the rumble. Well she started right up so I rolled her out into the driveway and puttered around a bit… took my rain suit out of the saddle bag and folded it all back up into it's self-contained pouch (that was a victory in itself – do these things EVER fit back in the pouch??)… cleaned the windshield, held my new gauge trim ring up to where it will be positioned to see what it will look like (SA-WEET!).
The sun seemed to be hanging around so I decided to go ahead and take a short ride. Past experience has shown that 54 might be a fine temperature for working out in the yard, but on the bike it's damn chilly. So I went in the house and gathered up all my leather gear. Glad I did – I ended up going a little farther than I originally planned, about 60 miles total, and most of it was highway.
I headed south down Fleur Drive in Des Moines, which is a nice four-lane that goes past the airport on the South side of Des Moines. At the south end of the airport I headed west on Army Post Road, down to Highway 28, and turned south. This road goes through Norwalk and then Martensdale, and ends at Highway 92. Took 92 east to the point where a nice county road (R63) intersects, and then took R63 back up to Des Moines. In the city, this road becomes S.W. 9th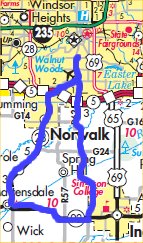 Street which is another major north/south road.
The problem with S.W. 9th Street – and with much of Des Moines – is potholes. Man, they are killer this year! I managed to complete that obstacle course and made it home safely… rode about 60 miles total, definitely feeling the chill but SO glad to have had the opportunity!
Riding season is here so Old Man Winter can officially kiss my *ss!
Temperatures here are in the single digits and below zero, and the state's covered with about 20 inches of snow. It must be time to reminisce a little about some favorite rides from 2009.
Iowa Veterans' Cemetery Ride – this one included a beautiful Iowa day, an un-planned detour, and a worthy destination. It was just Steve and I for this October jaunt.
When I bought my 1200 Sportster in July, we took a nice ride to the south to test her out. Especially nice day because we were joined by Wade, Coyote and Howard.
Of course the trip to Sturgis was the highlight of the year, and two of those days made my favorites list: the second day on the ride out to South Dakota, simply because of the amazing sidetrip through Badlands National Park; and, the day we went to Sundance, Wyoming and ultimately got caught in the rain. It wasn't all good riding, but it has become one of my favorite days to recollect!
The Lincoln Highway Bridge ride – not too far away, but a fun day with good road food and an interesting historic site.
How about you? Add a story about your best riding day from the past year in the comments!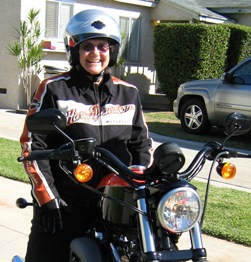 This guest-post about a July 4 solo ride was sent to me by Susan Yelle. Susan is from southern California and rides a 2009 Harley Nightster. It's great to hear from other women riders, so if you have a story to share please feel free to send it to me and I will do my best to publish it here. Thanks, Susan!
It was going to be a beautiful day, and I really wanted to go riding, but couldn't find anybody to ride with. So I went alone on what turned out to be a 5 hour adventure!
I started out going to the OC Harley dealer for their free 4th of July BBQ at 11am. Took Jamboree down, I knew there wouldn't be much traffic, and the roads were pretty much empty. I got gas (darn small tank!) then decided to ride with my jacket open, just to keep cool. I pulled out of the gas station, and accelerated to 50, thinking "boy this IS nice and cool," then I got even cooler, too cool, and realized that a gust of wind had blown my t-shirt up under my chin, and my bra and stomach were hanging out in space! I frantically grabbed it down with my left hand, then zipped up my jacket. So much for that. A new lesson learned.
The BBQ was nice, chatted and got some advice from the service guy, then went to Cook's Corner, but on the way turned into the little side road called Silverado Canyon Road. It's a quaint little town – VERY small, and that day they were having a big (little) 4th of July parade.
The townspeople decorated their cars and carts, horses and kids. There was a lot of screaming, and as I rode by, people kept jumping out in front of me with cameras yelling at their kids as they clicked away. I rode slowly, and stared at this one lane parade, and they stared back. Soon I reached the end of the road at the Cleveland National Forest. Usually the big gate is down, but today it was open, and I asked the ranger if I could go in. She looked at my bike and said yes, but drive slowly and be careful of the gravel, potholes and algae-filled water. So I went in cautiously, and it was uphill for 3 miles, all in first gear. It was a very wild, deep canyon, very isolated, I only passed 2 hikers, 2 bikers and 1 other motorcycle. It smelled like hot weeds and brush, I loved it.
At the end I turned around and coming back I realized that it was all downhill, so I put it in neutral and coasted down the entire way! It was just like the dirt-biking I used to do, zooming down and missing the dangers. It was exhilerating!
I drove back to Cook's, then got a Diet Coke and walked around. They had a set-up to photograph your bike against a big American flag for $65 (for a big print). I saw a guy with a purple custom chopper move it over to get its picture taken. The lady told him how and where to position it. I turned away, then heard her scream. I turned around quickly and saw that expensive bike fall over. Gas was spilling out of the tank, the rear view mirror broke off, people were running like hell to it. Lots of moaning and inspecting started by all, as they surveyed the damage. But they ended up photographing it anyway, that guy had a souvenir of the damage to his $35,000+ bike!
So then I rode up Trabuco Canyon and back, then home.
It was a very tiring, interesting day, I will always have those memories.
I've been hearing a lot of great stories from readers lately, and now that the Sturgis reporting is done I'd like to share a bunch of them with you! Awhile back, after we rode over to Tama to see the Lincoln Highway Bridge, my friend Shirley and I tossed around the idea of visiting the Villisca Murder House. That prompted a note from Ann B., who recommended a book called The Iowa Road Guide to Haunted Locations, and related this story about her recent adventure near Madrid: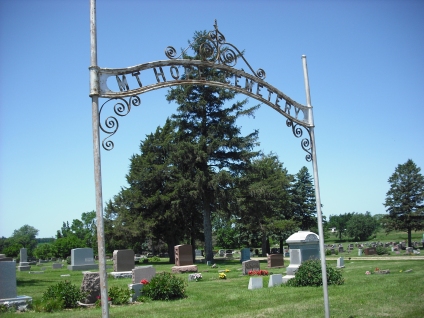 "(At the) Mt. Hope Cemetery in Madrid… a ghost of a young girl will follow you around and an unknown child's voice can be heard coming from the gravestones. So a few weeks ago my husband Terry and our friends Dan and Deb decided we would go there and the Kate Shelley Bridge in Boone (where there is) supposed to be a dim lantern floating along the tracks.  So our first stop was the cemetery. We all got off our bikes and kind of headed in different directions looking at stones when I heard in the distance a woman's voice but I couldn't tell what she was saying. I looked around and we are the only ones in the cemetery. Then I hear it again. This time I see my husband making a beeline to a big Armed Forces Memorial so I head in his direction. He has a really weird look on his face so I ask him what is up.  He looks at me rather sheepishly and says he's heard a woman's voice and he thought maybe the memorial had a recorded announcement. (Which it didn't.) Then we both hear the woman's voice but again with all the traffic noise you can't hear what she is saying. About this time Dan and Deb have headed our way and they have heard the voice also.  So we are all standing there trying to figure out where it is coming from when all of a sudden there is no traffic and plain as day we here a woman's voice.  It was an auctioneer from a farm to the west of the cemetery using a loudspeaker!! We were all laughing so hard we could hardly get back on the bikes! Later I asked my husband why he hadn't said anything the first time he heard the voice and his comment was 'I wasn't going to be the only one hearing voices!'"
Photo above: a stitched-together panorama of the bikes gathered at Kung Fu Tap & Taco.
Click here for the full album!
This was a near-perfect day in so many ways. After last weekend's Toy Run rainout, I was anxious to see what the weather would have in store for Theresa's benefit ride. I needn't have worried – our high for the day was in the upper 70's, with a beautiful bright blue sky. This in late October, in Iowa! The ride was scheduled to begin around 11 a.m. at Big Barn Harley Davidson, where Theresa works in the Warranty Service department. We arrived shortly after 10 a.m. to find there were already around 100 bikes gathered. By 11 that number had doubled and they were still coming in, so the ride start was bumped to Noon. Eventually I think they had almost 300 bikes and probably 500+ people.
Around Noon the bikes started leaving, and we made a very impressive and continuous mile-long column traveling down 2nd Avenue toward downtown Des Moines. (If you've never been in such a column, I don't know how to describe the feeling. But it can be a little emotional realizing that all these people are gathered for the same big-hearted purpose.) Bikes in the lead blocked intersections so we could pass through as a group without worrying about cross traffic. (Probably illegal but what the hell… we're bad-ass bikers, we're supposed to do shit like this!) As we approached Downtown, traffic got a little heavier and around Court Avenue there were lots of pedestrians – the Farmer's Market had just closed, and lots of those patrons were standing around watching us pass, some taking pictures or shooting video. There was a police officer at 3rd & Court who held off the cross-traffic there for us to pass through the intersection as a group.
Just south of the Iowa Cubs triple-A baseball stadium, we turned and headed toward the home of Theresa's sister Vicki,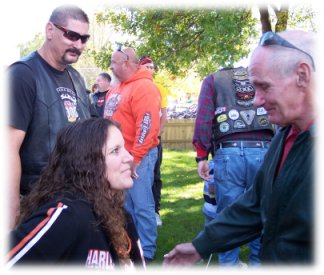 where T is recuperating. Family members had arranged for T to be outside when everyone arrived – I'm not sure they were expecting quite so many of us! All those bikes took up probably two full blocks! After a short benediction and opportunity for as many as possible to meet and greet Theresa, we took off again, this time for the Kung Fu Tap a few blocks away.
The stop at Kung Fu was really just an opportunity for us to hang out while Theresa's family helped transport her to the site of the actual pot luck dinner waiting for us at the end of the ride. We were there long enough to enjoy a beverage and then the group took off again.
Our final stop was the clubhouse of the El Foresteros. This is an old-school motorcycle club; these are the folks who actually hosted the ride and dinner. They certainly don't normally open up their clubhouse to the general public – it's a members-only gathering spot. I for one appreciated their hospitality and willingness to let non-members show their support for our mutual friend.
As for T herself – she's doing pretty well but still has a long recovery ahead. I wish her the very best, and I'm really pleased to have been part of such a great turn-out for this event!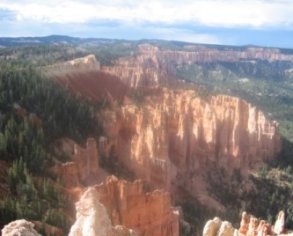 Carole wrote in with a quick report on her recent trip to Utah with Judy (oh, and, their hubbies!) – wow, it looks like a must-ride! Thanks for sharing the trip with us, Carole!
"I thought I would share a couple of photos from our two week trip to the west.  We had a great time with Gene & Judy and saw some absolutely beautiful country.  I must say that I envy those living in Utah with endless rides and gorgeous scenery everywhere!   Brice Canyon was my favorite of all places with Arches being close behind.  The mountain ride on Hwy 191 going from Arizona into New Mexico was awesome and I would love to ride it again without the rain.  Every turn there was a sign posted telling us to watch for wild game in the road ahead.  I was leading at the time and saw four deer, a wild hog, and turkey in the road.  No elk appeared in my headlights which I was relieved by even though I would have loved to see one off the road a ways!  If you have never traveled to Utah please do in the future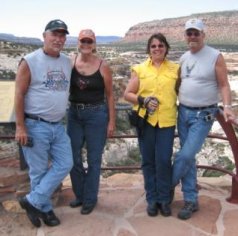 and I guarantee you will love it!"
We're well into Fall here; the leaves are in mid-turn but have not hit their peak yet, and the weather has been really nice. The past couple weekends we've taken some nice rides – last weekend we headed up to Jester State Park for a meet-and-greet with some of Kristin and Hollie's friends, then took a scenic ride home from the Grimes area. Then this weekend we cruised up to Ames with Kristin, Hollie, Howard and Brenda to visit Zylstra Harley-Davidson, where the 2008 Model Year Open House was in progress. I am really enjoying my new handlebars – I feel like Chopper Girl! (Maybe I am shedding the "Rebel Biker Mom" image…?? LOL) One thing I hate, though, is Highway 69 that runs from Des Moines to Ames. This road is AWFUL!! Every spot in the road that's been fixed is a significant bump for my Sporty.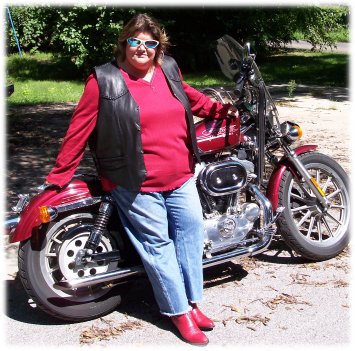 Labor Day weekend couldn't have been better, weather-wise… I took Friday off so I'd have a four-day weekend, and it was mid – to upper 80's and clear blue sky all weekend! On Friday night we went to the final "bike night" in the East Village section of Downtown Des Moines – this is always a great time, with a street dance, lots of bikes, and really good vendor food, not to mention all the usual restaurants and bars in that section of downtown.
I teased my DH because Shirley came up to ride over with us w/o her hubby (who was at a car show in KC) and our neighbors Kristin and Hollie also went… so it was Steve "sweeping" after a group of four women! Susan (Coyote) joined us downtown, so that made 5 gals and Steve – yes he seemed pretty pleased with himself!
Did not do much of anything for the next two days except take lots of naps – LOL, hey it WAS the weekend after all! –  but then today (Monday) decided to go on a lunch ride… our DD rode with Steve – she's not that into the bikes but she is, once in a while, a good sport! – and we went up to Ames, IA about 30 miles from here and ate at one of my favorite restaurants called Hickory Park. After a great lunch we trekked home – only put about 65 or so miles on the bikes but it was beautiful and we really enjoyed it.
Last couple rides I have been riding in my new red Ariat cowboy boots, instead of my HD's, and I have really gotten used to them. In fact, I love the way they look and feel – and they have a decent grippy sole so I feel like I have a good footing when stopped. You can sorta see them in the picture above, which my daughter snapped today. These are kind of "interim" boots til I can find a good deal on HD Laredo's in brown.
OTHER NOTES:
I added one new video to the video channel – it's a cute clip from the movie "Roman Holiday" that I found on YouTube. If you have a neat video you'd like me to link to or post, just drop me an email to let me know!
Also – remember I mentioned we were set to break 12,000 visitors in August? Well the final total was (get this): 13,873!! WOW!! Thank you for coming back here again and again to read my junk – I'm so glad you're here!