The Winter from Hell, and the first ride of Spring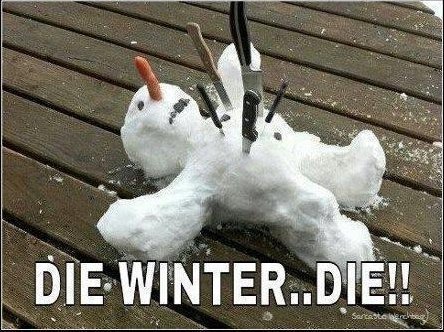 I was beginning to think this Winter wasn't going to end.
Seriously, we had snow flurries as recently as Thursday of this past week. That's APRIL, y'all, and that hardly ever happens in Iowa! (It does happen though… way back in 1973 when yours truly was 10 years old, we had 18 inches of snow in early April. It all melted a few days later, of course, but we still talk about that some 40 years later so really, it was epic.)
Anyway, it has been a longer-than-normal, colder-than-normal, colder-earlier-and-stayed-that-way-longer-than-normal Winter. Not only did we not get our first ride in February, we almost didn't get it in March either. But finally… FINALLY… we managed to catch suitable temperatures on a weekend – but for the second year in a row our first ride of the season was comparatively late, taking place on Sunday March 30th!
My initial plan was to ride to brunch, then go for some kind of short scenic ride to the south. We knew we were going to have to jump start Steve's bike, because it's ten years old with the original battery and we hadn't used battery tenders over the winter. We soon found out, though, that poor Kitten wouldn't start either!  So, Plan B was: go to brunch, then come home and get both bikes running, then take a short ride to Indianola for ice cream.
After brunch, while Steve pulled out the battery charger and jumper box to start work on the bikes, I grabbed the keys so I could move his seldom-used pickup into the side yard. This was so that we'd have plenty of room to maneuver back into the garage when we came home. But, I quickly discovered that his truck wouldn't start either!
So first order of business was to get the truck going. Once that happened, I moved it over to the sideyard and let it run so it would be sure to re-start.
Meanwhile, Steve set about removing my bike seat so he could get to my battery. By that time, Howard and Kristin had arrived to go with us – fortunately they are patient and appreciate a good comedy-of-errors, because I swear it took all four of us about 30 minutes of wrestling with the seat before someone had the big idea to read the directions.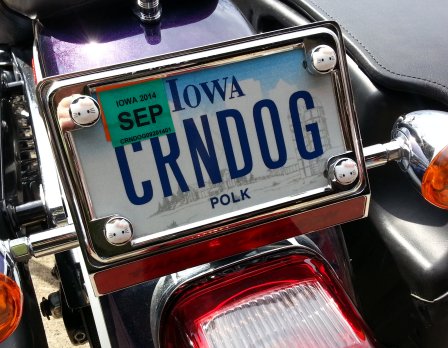 Ah, okay, seat off… now back to the directions to figure out how to get the battery cover off… battery now hooked up to the jumper box, and Kitten roared to life. Hello, Kitty! I swear I just about wept with joy.
Moved on to Steve's bike… same procedure but without having to read the directions… his bike was rumbling within a few minutes, and finally, after all that, off we went!
Now right here I need to confess, in all seriousness, that there was a point in late Winter where I could barely summon the enthusiasm I usually have for the first ride of the season – or anything else for that matter. I entertained the thought that perhaps I didn't care about riding anymore. I thought about giving it up. I was quite simply depressed.
Fortunately, seeing Kitten gleaming in the driveway was a miracle cure for my lingering sense of indifference. And after a few minutes of cruising down one of my favorite south-bound county roads, R63, I was once again near tears of joy (I'm starting to think I might simply be hormonal…)
I love R63 for its roadside meadows and sweeping curves. But because the meadows are still in un-green shades of dormant, I made those curves my singular focus (aside from looking out for suicidal animals, of course): setting my line, looking out to the end of the curve, trusting my bike to dip into the apex and then righting myself and setting for the next one. It was a joy!
And when we arrived in Indianola, we pulled into the A&W under the awning and I dismounted my bike, eager to pull off my helmet and share my happiness with my friends. As I turned to say something appropriately meaningful (a.k.a., "dorky"), my husband switched off his bike and said, "Did you turn off the truck before we left?"
(Crickets chirping.)
Well now. That would be a no. No, I did not. Or to put it another way: Yes, we are 30 miles down the road and our pickup truck is idling unattended at home. Hmmm. I offered to call the neighbor, whose last name and phone number might as well be Smith and 7, respectively, because I have no idea what they really are, but assumed I had the resources to find them by accessing certain websites on my handy-dandy smartphone.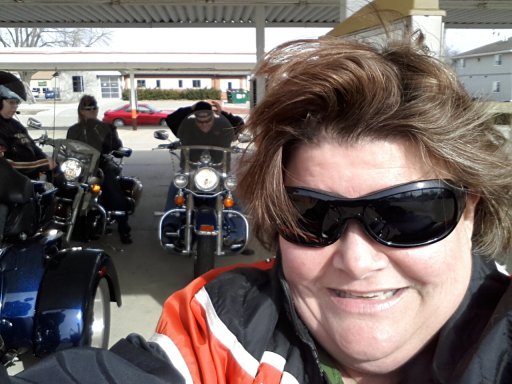 But ultimately, Steve said to just let it be. No one would come into the yard and take the truck with all of our other cars sitting there like we were home, he reasoned.
The worst part would be reporting it to the insurance company and admitting how suspiciously easy we had made it for the theft to occur on a $900 truck.
Well that kind of burst my happy bubble surrounding the curves of R63, but we did enjoy our ice cream and too soon were headed back toward home – down the same road we'd come in on but cruising past the junction at R63 and traveling a bit further west to its cousin, Highway 28 at Martensdale.
Back up to Des Moines through Martensdale, Prole, and Norwalk, a farewell wave to Howard and Kristin, and finally pulled into the driveway at home to find Steve's truck still idling in the yard.
So – all's well that ends well I suppose. Including the Winter That Refused to Die.