Divas ride to Haverhill
It would be hard to overstate just how much I enjoy discovering new roads and towns here in Iowa. It seems like every community, no matter how small or out-of-the-way, has a lovely route leading to it and at least one "gem" (a business, a landmark, an attraction, a view) to recommend it once you get there. This sentiment was only reinforced on my July 27 ride with the Chrome Divas of Des Moines to the Haverhill Social Club.
Haverhill is a tiny town in Marshall County with a population of 173 (give or take). And yet, even though it's so small that Wikipedia measures its area in acres rather than square miles, it boasts both a lovely "ride in" and a few "gems."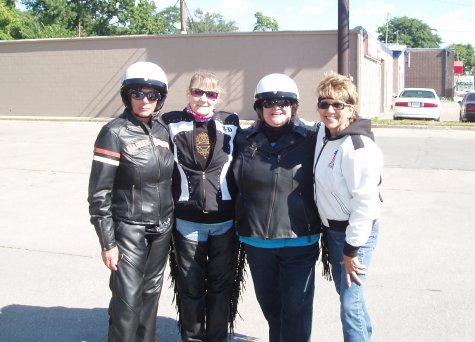 Our Chrome Divas chapter is still small, and of course not everyone can attend every ride. So our group on Saturday consisted of myself, Penney, Susan and Val. (Those who could not join us were sorely missed!) We met at Sambetti's on 2nd Avenue in Des Moines (the official home of the Chrome Divas of Des Moines – a huge THANK YOU to Paul, Susan's hubby, for his constant support of our little group!) at about 10 am, and left around 10:15.
Susan did a magnificent job of plotting our route, taking us along some absolutely lovely, curving residential roads through Ankeny, the Berwick area, and the town of Elkhart, then transitioning to equally beautiful county roads heading up to Highway 210. (I tried very hard to pay attention to the names of the various roads, but until we got to Highway 210, they were numbers like NE 126th Avenue – not easy to remember… so I will have to ask her for a map if I want to re-create this ride!)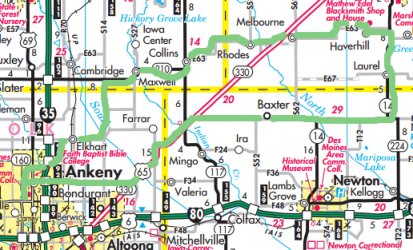 From 210 we simply rode east – through lovely communities including Maxwell, Collins, Rhodes (where there was a car show and Farmer's Market going on – "Old Settlers Days," perhaps?) and Melbourne. Along this route we picked up County Road E63 which goes into Haverhill. It's "lush and green" season here, with columns of 6-foot corn lining the roads then opening up to views of hills and lower-growth fields of soybeans and – much to my delight – the occasional sweep past a stand of modern windmills.
Arriving in Haverhill we parked in front of our lunch destination, the Haverhill Social Club – a humble little building on the outside and eclectic old-timey delight on the inside! It features a big open room where the walls are lined with taxidermied critters and odds and ends of all kinds. A huge bar spans the far end of the room. Wooden poker tables line one wall, from one end to the other. More tables line the other side, and there's a large kitchen serving up good Iowa tavern food including burgers, tenderloins, and more.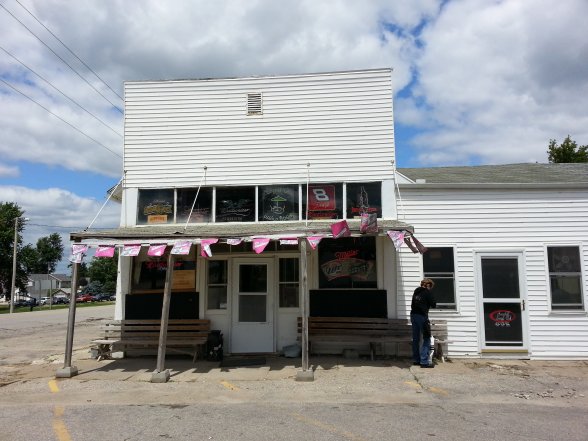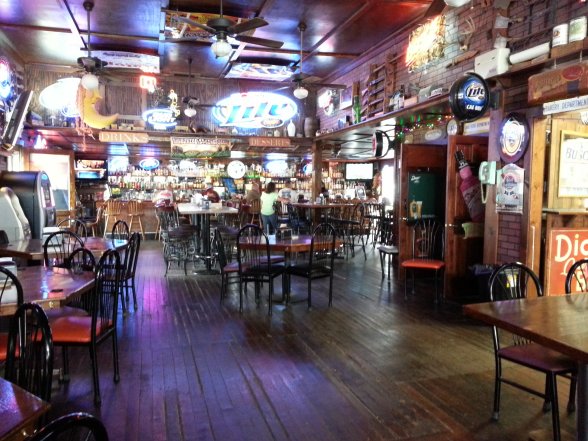 We thoroughly enjoyed the lunch and the camaraderie – we couldn't get over the weather! It had barely broken 70 degrees, and the wind was significant and noticeable. I was SO glad I had worn my heavy leather coat, lined gloves, and neck-gaitor, and was very comfortable despite a riding temperature (given our speed and the wind) in the low 50's.
With lunch finished it was time to head out and toward home. We left Haverhill along E63 to the east, turned south on State Highway 14, then back to the west on 14/County F17 – where we encountered some pretty serious headwinds – and into Baxter. A quick gas stop at Baxter, and we were back on the road to home, down Highway 330 into Altoona, then to the west back into Ankeny and home.
My total mileage was 126 – others had a little more because I'm the one who lives closest to our starting point. I am looking forward to a return trip soon, to investigate a couple more Haverhill gems: The Immaculate Conception Catholic Church – a striking brick structure dedicated in 1902 – and the Matthew Edel Blacksmith Shop, of particular interest to me because I have at least one known blacksmith in my family tree!