Solo ride to Drakesville
I wasn't planning on taking a 227-mile solo ride, but as things turned out, it just wasn't in the cards to saddle up with the Merry Band on Saturday. So, with even my own family otherwise occupied for the day, I had a choice: I could map out something shorter, or set out on the original long route and cut it short if I wanted to.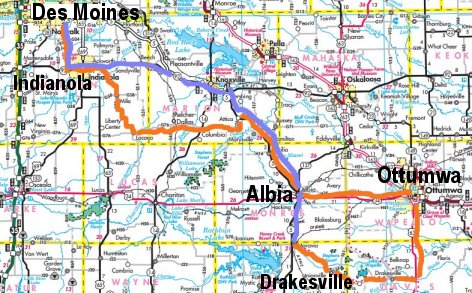 With no timetable other than to be home before dark, I decided on the latter approach. I left around Noon and made my first stop about 30 miles south of Des Moines, for a couple of reasons: one, to top off gas, which I had not done in Des Moines.
Two, I had put sunblock on my arms and face before I left, but after only a half-hour I could tell I was going to burn. (The sizzling noise was a clue…) So I knew I needed to stop and re-apply. Turns out, the sunblock in my saddlebag is only SPF 15. What kind of idiot carries SPF 15?? THIS gal!
From there I headed south and east along S23 and G76, both scenic county roads I've been on several times. G76 junctions with Highway 5 at the tiny town of Attica, so I turned southeast on 5 and made my next stop at a Casey's General Store in Albia. I almost cut the trip short here, as I was feeling a little overheated. But by the time I bought some water, used the bathroom, and washed my face, I was feeling better.
I had wanted to take a gently-curving county road from Albia over to Ottumwa. Inside the store, I had a conversation with two young clerks about how to find that road. "Randy" immediately directed me instead to the state highway just down the road a few blocks, telling me that was the fastest way to get to Ottumwa. I showed him the photocopied page of my map again. "I didn't really want the fastest route. The county road looks like it has some curves; the state highway looks pretty straight."
At that point "Missy" stepped into the conversation. "That road is the old highway. You just go two blocks up and go east at the light. That street becomes the county road."
Randy: "Yeah but it's closed isn't it?"
Missy: "No, I don't think so."
Randy: "I think it's closed."
Missy: "Well if it's closed there's a gravel road that takes you down to the regular state highway."
Me: "I probably don't want the gravel – if it's closed I'll just turn around and come back this way to the state highway."
Randy: "I think it's closed."
Missy: "I don't think so."
Me: "Thanks a lot…"

Back to the bike, slathered on some more SPF 15, and off I went to find the county road. Turns out, Randy was right – H35 was closed. Back I went, past the Casey's with a wave just in case they happened to be looking out the window as I went by ("I told you it was closed." "Oh shut up, Randy!") and on down the road to State Highway 34.
Now here's the thing about 34: it's busy, and it has a lot of truck traffic, so it's not in the best condition. At least not on the part going east out of Albia. On the part coming west into Albia, it looked like beautiful fresh blacktop – but on the part going east, well the "fresh blacktop project" hadn't been completed yet. So I was pretty annoyed by the time I got into Ottumwa, having to settle for the flat, straight, crappy half of the state highway instead of the beautiful, scenic county road that was closed.
And then Ottumwa. Oh my gosh, I have to say I just wasn't feeling Ottumwa. You know how a lot of towns have these sort of landscaped office or industrial parks on their outskirts these days? And generally they look pretty nice if a little blah? Well Ottumwa seemed to have more like random stores here and there… a Kohl's department store… then a little farther down the road an 8-plex movie theater… then a large public swimming facility.
But even though these were nice amenities, it just felt very industrial. It was like… like… like a state highway slamming into the back side of a city instead of a nice county road easing into a small town.
Honestly, I don't know what I was expecting. I guess I hadn't realized until I looked it up later that Ottumwa has a population of about 25,000 – it's not a small town like Albia or Winterset. And here's the other thing: I had studied up on (and memorized) the route I needed to take once I was in Ottumwa to get onto the scenic county road that would take me down to Drakesville. But the problem was, that memorized route was based on coming in from the county road which (bless Randy's heart) was unexpectedly closed.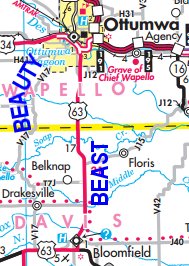 So once I got into Ottumwa via the industrial armpit section, I had no idea where I was going. And the state highway quickly turned into an even more industrial-looking thing with actual exit ramps. Well who the hell knows which exit to take, in Ottumwa? Anyway, I took one, and of course it was the wrong one.
So I stopped at a gas station and asked directions to the road I wanted, but again I got a clerk who wanted me to take something different. I specifically asked about County Road V17, and when I did I got the "blink… blink… blink…" stare of a 22-year-old who has lived here all his life and probably has cruised every one of these roads at night with a case of beer and as many friends as the Ford Taurus his parents bought him will hold – but still has no freaking idea what the county road numbers are.
"Oh that road's gravel," he said by way of dismissal of V17.
"Are you sure? My State DOT map says it's paved."
"No, it's gravel. If you're going to Drakesville, just take 63 south."
CRAP! Alright Second Randy, since I don't know where I'm going and would most assuredly abandon this trip right here and now if I could Jeannie-blink my way back to Des Moines, I will slather on some more SPF 15 and TAKE FRICKIN' 63 SOUTH.
By now you can guess that my attitude had shifted dramatically. I didn't want to be in the heat, I didn't want to be so far from home, and I sure AS HELL didn't want to take 63 South because I had by then missed out on TWO roads that I was certain are the prettiest, smoothest, and curviest in Iowa.
Finally after a mind-numbing 20 miles straight south along Highway 63, I spotted the turn-off to Drakesville – a county road called J3T, which on my map is a designated Iowa Scenic Byway. I turned to the west, and felt my mood shift immediately because of this:
The realization that there were Amish families and farms along this road was somehow very calming. Perhaps, I told myself, if they can live their entire lives at the slow, simple pace that they do, then surely I can get my mind back to a happy, scenery-appreciating place and leave the hideous Second Randy far, far behind.
Besides, now I had a new mission: looking out for Amish wagons. I didn't see any for awhile, but as I got closer to Drakesville, suddenly it seemed like every vehicle coming in the opposite direction was a horse-drawn wagon. The drivers were mostly pairs of young people.
I slowed way down as we would approach each other, hoping I wouldn't spook the horses. I waved to a pair of young girls driving one of the wagons – the girl holding the reins waved back. I passed a farm where two boys maybe 7 or 8 years old were sitting out in the front yard, watching the highway traffic, both dressed (on a 90-degree day) in long dark trousers and long-sleeved deep blue shirts. I waved to them too and they waved back.
By this time I was feeling very serene. I was utterly delighted to cruise into Drakesville which appeared all but completely deserted, except for the two cars parked at the tavern and a few more over at the convenience store. The post office, and a few dilapidated buildings lined the tavern side of the street – I was in heaven once I saw their peeling, chippy white paint! There was a grassy median in the middle, then the other half of the road beyond that.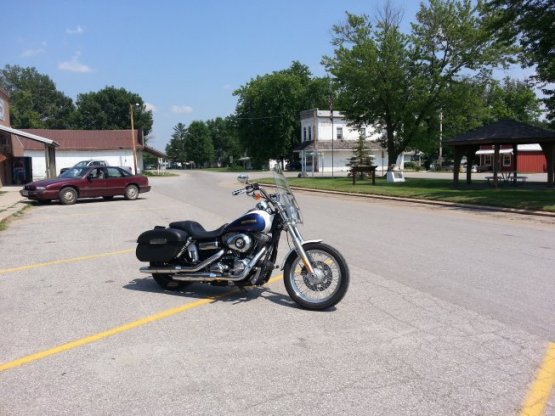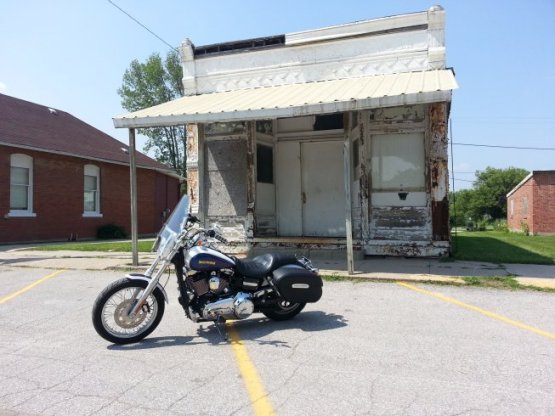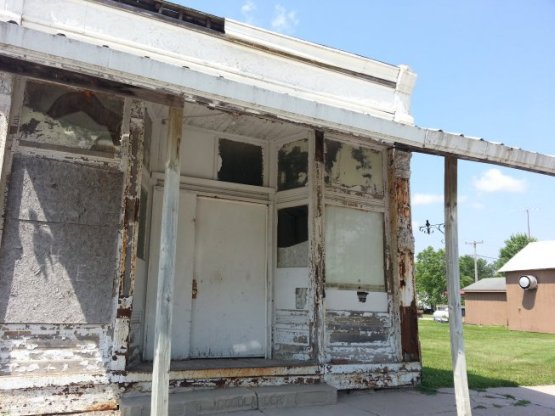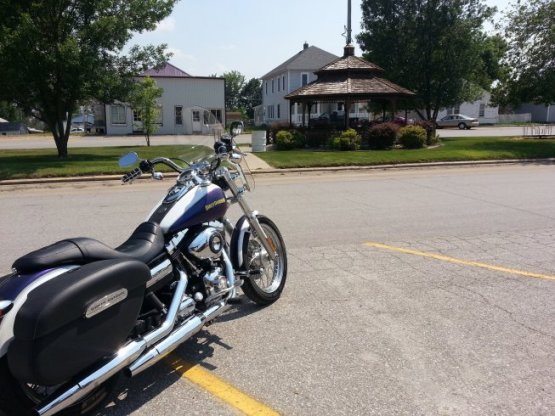 I stayed long enough to take a few pictures, dig some Chap Stick out of my saddle bag (fortunately not yet completely liquified), and drink some of the bottled water I'd bought back in Albia (miraculously not yet completely warm).
Sitting on the crumbling stoop of the building I'd been photographing, I watched an Amish gentleman roll up to the four-way stop in his buggy, then turn to the east. It was so quiet on the street, I could hear the clop-clop-clop of the horse's hooves from my position about 50 yards away.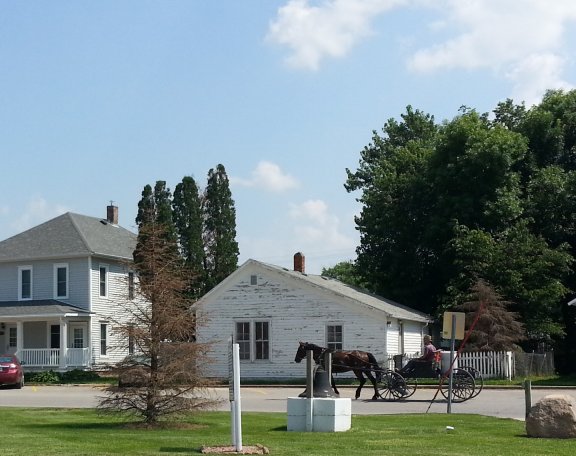 Finally it was time to move along. I slathered on more SPF 15, and continued west along County Road J3T through Bunch, Unionville and into Moravia. At Moravia, I was stopped again at Highway 5 and a sign told me I was just 9 miles south of Albia – the town where I'd encountered Missy and First Randy a couple hours earlier. I could continue west, and pick up the meandering route home I'd plotted through the Lake Rathbun area, or I could turn right and be at Albia in about 10 minutes. From there I knew it was about 90 minutes to home.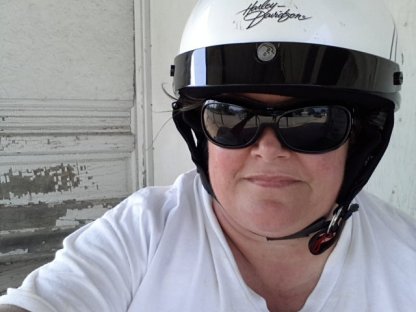 Drakesville and the road leading into (and out of ) it had restored my mood, but by now it was 4 pm and I was feeling the effects of having been in the 90-degree heat all afternoon. I decided to save Lake Rathbun for another day, and turned right toward Albia. I stopped at a different c-store for more water and a potty break, slathered on more SPF 15, and continued on toward home along Highway 5. This connected to Highway 92 near Knoxville, so I followed 5-slash-92 until the two roads split off, following 92 into Indianola. A final brief stop to text my family and let them know I'd be home soon, slathered on a final glob of SPF 15, and was home around 6 pm.
Now let me be clear: some time, I will give Ottumwa another chance to win me over. I'm sure it is a lovely place with much to recommend it. And overall, I had a wonderful afternoon and am very glad I went! But I'm not sure these long solo trips are really my thing.
More on that in a future post, perhaps.