The butt-puckering ride from Peru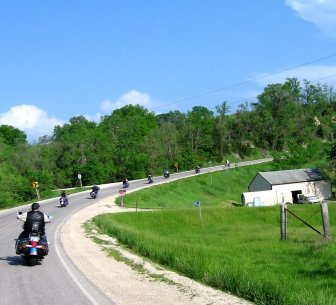 We took our next Passport trip on Sunday, May 25. This time we were headed southwest, through Madison County to the town of Peru. (Actually, East Peru.)
The thing about this is, although these towns share the names of famous cities, the names are often pronounced differently. In Spain they call the city muh-DRID, whereas in Iowa it's pronounced MAD-rid. Peru, in Iowa, is pronounced PEE-roo, which I cannot say or hear without giggling.
Anyway, on Sunday the 25th we again gathered up Hollie, Kristin, Howard, Garry, Shirley, and new pals Austin & Shanon and Nate & Kate. We took off down Highway 28 through Norwalk and Martensdale, then headed west on Highway 92.
It had been my intention to then head south on County Road R35, which should have been an intersection in the town of Bevington. We missed the turn, though – in fact, never even saw the sign for it – so we headed west along 92 til we came to Winterset. Attempts to read and interpret Austin's GPS device were frustrating, but Garry thought he knew how to get there and finally a local resident stopped to admire our bikes and gave us clear directions to what he called "PEE-roo Road," which of course made me laugh. (You know how even familiar words can sometimes sound strange if you repeat them over and over? That's what I found myself doing – repeating "PEE-roo, PEE-roo, Pee-roo" all the way down the highway.)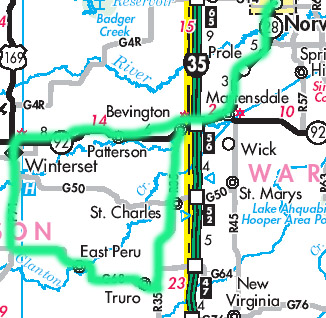 We headed south through Winterset on the main road, County Road P71. Having maternal ancestors from this area, I know that tucked deep back in Winterset City Park, there is a stone structure called the Clark Tower. You can climb to the top and look out over much of Madison County. It's quite a stunning view. On the bikes, heading south out of Winterset, it struck me that we were "riding the view" from Clark Tower, and that it was just as beautiful from the ground as it was from the tower. (Really, Madison County offers some incredible riding, especially if you think that Iowa is flat.)
Howard took some great scenic pictures from his bike along the way – the shot at the top of this post is my favorite from all of last summer.
We turned off P71 at G68 and took that into East PEE-Roo (*snicker*), again a tiny town with a tiny post office and perfect photo opp for our passports.
After a short break to celebrate our serendipitous "missing of the turn" that had led us to the road just traveled, we reviewed the map and determined that we could actually pick up our missed road, R35, outside of Truro – and take it north into Bevington as part of the ride home.
We left PEE-roo and cruised east on G68, finally intersecting at the elusive R35. Heading North, the last part of R35 turned out to be the stuff of day-ride legends.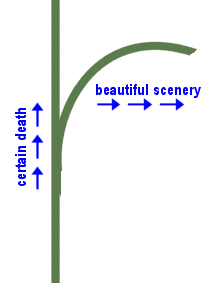 There was a point where the main road curved off to the east, but R35 itself actually went straight North – across the oncoming traffic of the curve, without benefit of traffic control devices.
Leading the pack, I made the switch off to the straight road with no problem – but in doing so, I noted two things: 1). Austin, a few bikes behind me, had missed the straight road and taken the curve instead… I hoped he'd catch up with us; and 2). Around the curve to the east a quarter-mile or so, there was a white mini-van approaching from the opposite direction. Someone in our group was going to meet them at the switch-off – I prayed the van would see us and slow down.
Add to these anxieties the condition of R35 itself, and you have one butt-puckering stretch of road.
To its credit, R35 here was still paved – at least I think it was paved, it was kind of hard to tell. The posted speed limit was 35, but you could catch some pretty good air coming out of the ruts and craters if you went that fast. And you didn't dare slow down too promptly because of all the loose bits of pavement and "under-gravel" that had come to the surface through the craters. (Later, most of us reported Knievel-style landings before each having found the proper speed. Shirley reported the predicted near-miss with the white van. And, Austin had thankfully rejoined the group.)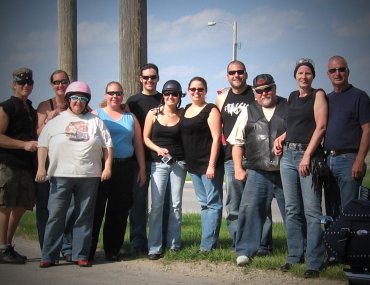 Finally, after a few miles, we mercifully came to rest at the intersection of R35 and Highway 92 at Bevington – the turn we'd missed earlier in the day. And it was no wonder we'd missed it: Not only was it not marked at all, it was also completely unrecognizable as a viable intersection. Even if I'd seen it, I would've assumed it was an interior town road and wouldn't have taken it.
Thankfully, the rest of the ride home was uneventful, but this little stop was the kind of moment that makes you stare blankly at one another in disbelief and check each other for broken ribs.
Unfortunately, this would end up being our last passport ride of the season – in the coming days, my dad would become gravely ill and flood warnings would become increasingly dire, and the rest of our summer was consumed with the aftermath of those developments.
I did find our "passports" the other day while going through some rescued flood stuff – that's what prompted me to finally write up these two rides. I think maybe we'll hang onto the passports and use them for destination ideas this spring. We can still take the rides, even if we missed out on the prizes.
Though it seems like we should get something for surviving the butt-puckering ride to PEE-roo.