Okay now that I've slept on it (til Noon, I might add), I can report that I am better able today to speak positively about our experience in Creston on June 22.
We had a beautiful ride, the weather toyed with us for half the day but ultimately was fine, we saw two beautiful old buildings enjoying a bit of resurgence (and lots of old buildings still waiting their turn to resurge) and as always the Merry Band was awesome company and made lemonade out of lemons. (If you are a "short version" sort of person, that's pretty much it in a nutshell – you can stop reading here. For the rest of you, read on for the full scoop!)
After waiting almost two years to the day to attempt a return ride to Creston, I was really looking forward to taking a look around the restored 1899 train station and the restored 1931 Phillips 66 gas station.
So sometime around Thursday, with weekend weather predicted to be hot but humid, I put the hammer down and proclaimed Saturday as Ride Day, with Creston as the destination. And not only Ride Day… but Get Up and Leave in the Morning Ride Day. As opposed to Sleep Til Ten, Fart Around For Three Hours, Have Brunch, and Maybe Take Off Around Two P.M. Ride Day, which has become a habit of ours.
Anyway, we made plans to meet up with Garry, Shirley and Tim around 10:15 on the south side of Des Moines. From here we went south down one of my local favorites, R63, which the night before had carried us down to possibly the biggest Indianola Bike Night EVER.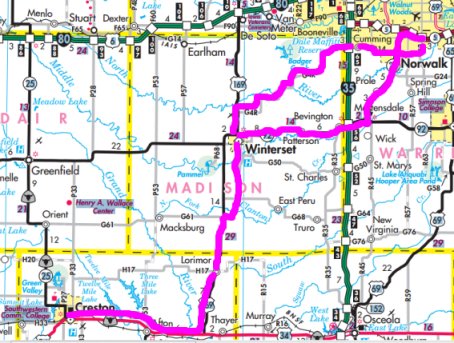 We turned west onto G14 which cuts through the north end of Norwalk, and at Cumming becomes G4R – another area favorite, being the scenic route to Winterset.
There is a moment on this road that always gives me an opportunity to appreciate the beauty of Iowa – the trees and rural buildings on the immediate roadside come to an end, and you are at the top of a long hillcrest looking to the left out over a beautiful rolling landscape, then the road starts to descend and you are riding right into that very view.
I always wish I could somehow capture the depth, the expanse, and the joy of a view like that. But of course, the tools at my disposal only capture a two-dimensional version, and there's no safe place to stop anyway. So, I find myself just stealing a few extra seconds to fix it in my mind before returning my focus to the road in time to set my line for the curve ahead.
G4R junctions at 169 just north of Winterset, and as is our norm we stopped at Winterset to grab a bottle of water. The weather was indeed warm and humid – all the way down G4R we had been watching some clouds coming our way from the southwest. Fortunately, the actual rain from those clouds missed us by about 5 minutes: as we were standing around the convenience store parking lot in Winterset, we could look back to the north and watch it pour on the very section of road we had just come down.
It was here that we parted company with Tim – I should have taken a better picture of his bike, which is a liquid-cooled marvel of engineering called the Boss Hoss. It has a GM 350 V8 engine, with a radiator. And an automatic transmission. And reverse. How he wrangles this 1300-pound monster around is beyond me, but Tim says he enjoys it as both a cruiser and a conversation piece. He's a backroads kindred spirit for sure who has taken a lot of neat videos from this bike, along some of Iowa's prettiest highways. We were glad to have him along for the ride down to Winterset – I'm wondering if he got rained on as he headed back to Des Moines!
We left Winterset along Clark Tower Road (P71), and took that til it ended in gravel – at which point we did a U-turn and backtracked a couple hundred yards so we could cut over to Highway 169 and continue on south down to Highway 34.
All along, again the tease/threat of rain pursued us – at one point we were riding south directly under the edge of a gray rain cloud that was moving east, but somehow we missed all but a few sprinkles. And, once we turned to the west on 34, the only thing we caught was some wet pavement – we had once again missed a good downpour by only a few minutes. And yes, I had the words of Shirley's brother-in-law Chuck ringing in my ears: "Janet is the luckiest broad I know."
We rolled into Creston around 12:30 and easily located the restored train depot. WOW, what an impressive building, and with AMTRAK and BSNF service going through the area daily, we were excited to step into the building and be surrounded by visitors, workers and a bit of railroad history. Unfortunately, we were met instead with the ghost of John Candy: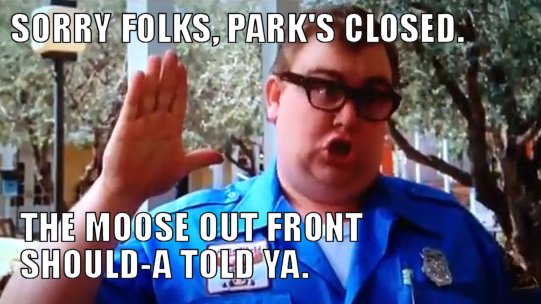 Only there was no "moose out front." There was only a series of locked doors on every side of the building, and the sound of Sad Trombone, mocking us with its wah-wah-wahhhhh. I'll be honest: I was foot-stomping, lower-lip-quivering, pouting-like-a-three-year-old MAD. What kind of historic attraction is closed on the day normal working people can come and see it?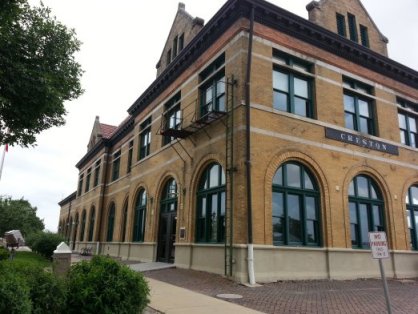 I did manage, begrudgingly, to take a few pictures of the historic building that would not let me in. I even peeped through the windows and got a couple decent pictures of the first floor interior. It looks really neat – lots of shiny subway tile and old wooden benches – and yes there is a model railroad set up inside which is probably ALSO pretty neat to see when the building's open, and yes that is a rack of tourism brochures on the countertop but of course I DIDN'T GET ANY OF THOSE EITHER.
Anyway, time for lunch and at this point the sun was out and it was really humid (meaning, we were wilting a bit)… so we cruised around the old business district and saw some pretty neat old buildings – in particular the Iowana, a former hotel that is now an apartment building… and a rather imposing US Post Office, both located on Elm Street to the north of the depot. Lots of grand old homes in town, too, many of which appear to be in desperate need of restoration before the Great Wandering Wrecking Ball catches sight of them.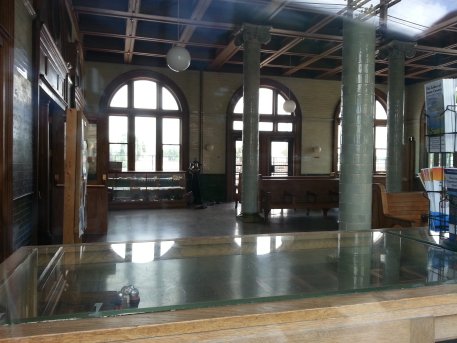 Out on Highway 34, we chose the Creston Family Restaurant for lunch, and glad we did… wide selection, good service and good food… and a friendly resident who told us that the restoration of the depot had been quite the controversy at one time, and that it was now used primarily for municipal offices. (This would have explained why it wasn't open on Saturday, were it not for the restored passenger area on the first floor that is sure to attract history AND train buffs alike. On Saturdays.) This guy is the only person I've ever met who owns a separate motorcycle just to get him from his rural home to the garage "in town" where he keeps a gleaming Honda Gold Wing trike in a friend's garage that he rides all around the area. (Yep, he needs a separate bike to take him to his bike.)
After lunch we cruised a quarter-mile up the highway to see the restored Phillips 66 gas station – a little 1931 building that looks like a brick cottage and has the old visible gas pumps out front. As it turns out, Phillips 66 founder Frank Phillips grew up near Creston in Taylor County, Iowa, so this was one of the original stations he built when he founded his oil company after pursuing first a career as a barber and then as a banker. He was, obviously, far more successful as an oil man.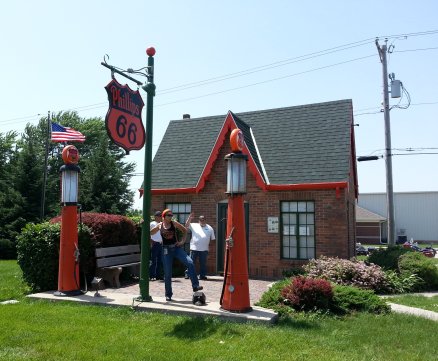 This building is said to be a "Visitors' Center," but alas, was also closed on Saturday when – it seems to me – a lot of visitors might be visiting. Our enthusiasm dulled at this point for historic Creston buildings, and having been admittedly somewhat placated by chocolate cake back at the restaurant, I wasn't quite as disappointed as I had been at the depot. And the little station is pretty cool even if we couldn't step inside. It was apparently moved to its present spot just so it could be preserved, and deserves the extra boost that a small parking area and a volunteer staff could bring to it.
From here we were ready to head home, so it was back along Highway 34 to 169, up 169 into Winterset where we stopped again at a convenience store for a water break, then east on Highway 92 through Patterson and Bevington, then north up Highway 28 through Martensdale, Prole, Norwalk and Lakewood.
We traveled about 150 miles and were home by around 5 pm – despite the closed attractions, a really nice day riding overall.
I've shared a few pictures here, but for the full album feel free to click through to my personal Facebook page. (And speaking of Facebook, Biker Chick News has its own page there – click here to "like," because I know you really, really like me. Maybe you even like-like me… capiche?)
On Sunday, we slept in and then discovered that the garage door won't open. I'm telling you, if it doesn't get fixed soon you might just see me out in my driveway, cutting a motorcycle-shaped hole in the overhead door with a Dremel tool.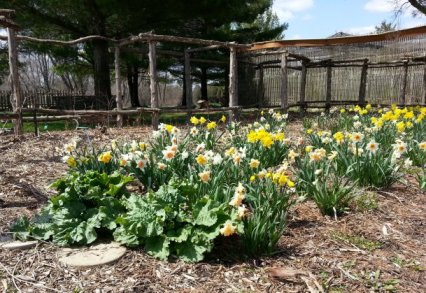 Our fledgling Chrome Divas chapter now has ten members, and it didn't take long to figure out that it's going to be REALLY hard to get all ten of us together for a ride if we try to hand-pick dates and accommodate everyone's incredibly busy schedules. So I like our solution: set a monthly "appointment date," and that's the ride, no matter what. So now, on the designated date each month, we know there's going to be a ride and whoever can attend shows up at the start time and we ride, whether there's two or ten.
We had our first ride on April 26 under the new "Monthlies" plan (ha – get it? monthlies, because we're women! Oh I crack me up…), and we had four ladies attend. Since we've had kind of a hanger-on of a winter, we didn't plan anything major, but Vicki, Susan, Kristin and I had a great day riding to Polk City and then to the Iowa Arboretum.
Our route was an easy one up the "back side" of Saylorville Lake and over the Mile Bridge. We parked on the square in Polk City and while taking off our gear we encountered a lovely older lady whose name we regrettably did not get, but she was awful cute riding around the Square on her mobility scooter. She had a license plate on the front that said "I  B OLD," and where the state name would be it said "State of Confusion." I told her I liked her license plate, and she turned out to be a "Maxine"-type gal who had all manner of snappy comebacks. She seemed to be having a great time just motoring around the Square, being social.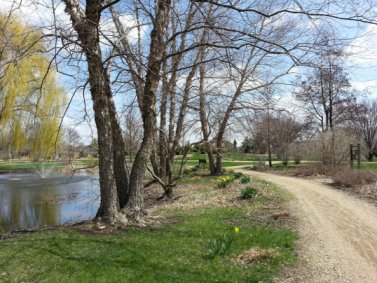 Enjoyed our lunch at Papa's Pizzeria – a nice casual little family place with a view of the square and likely a favorite spot for campers, boaters, and other lake-goers in the summer.
After lunch we continued on to the Iowa Arboretum located a few miles northwest of Madrid. I took a solo ride here a couple years ago in mid-summer, but it looks quite a bit different in Spring. We walked around just enjoying the fresh air. Most of the perennials were still barely peeking through the soil and mulch in the flower beds, but the evergreen garden was interesting. I know we didn't even scratch the surface of everything there is to see here – it's more than 350 acres of trees and plants.
After a brief browse through the gift shop we headed home through Sheldahl and back into Polk City, then back down the lake road and on into Des Moines. Next month we'll be doing a benefit poker run – hope the weather is just as beautiful!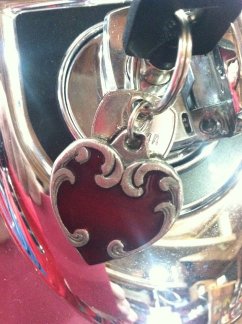 April 6 – In eleven years of riding, I think that this was the latest "First Ride of the Season" I've ever had! Now mind you, it's not the first nice day of the year – no, there have been a few of those, and I know a few people who actually got out and rode in February. But the nice days we've had haven't coincided with a weekend – my days off – until now.
We spent some time Saturday morning just getting the bikes out and checking them over… I know, because I've blogged about it, that there's a five-point pre-ride inspection checklist you're supposed to cover, but quite honestly the only things we looked at carefully were tires and dirt.
As in, check tires for condition and proper inflation, and remove as much dirt as possible without breaking a nail (sorry, laced wheels, maybe next year). At one point in the process Steve asked me how much I'd charge to clean his bike for him and I said "Give me $50 and I'll do as good a job on yours as I did on mine." He looked at mine and said, "no thanks."
The weather was a little odd – it was supposed to be 68 and "mostly sunny" by mid-afternoon, but windy. We decided we were just going to run up to Big Bard HD and shop a little, then go on up to Saylorville and ride around the lake.
Whenever we wander in to Big Barn for the first time in the new season, I always feel like that guy in the Kingsford charcoal commercial who comes out of hibernation while his friends are barbecuing – "I was inside for so long… it was nothing… just white… and cold… SOMEBODY GET THIS MAN A BURGER!"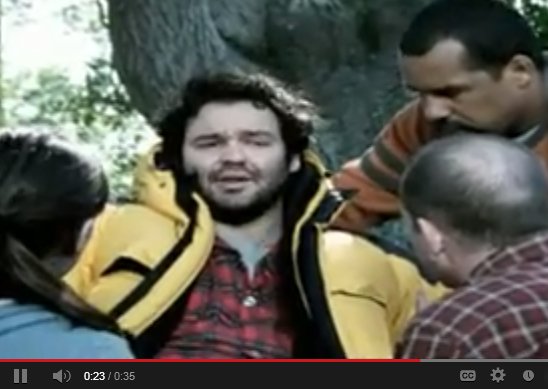 Anyway, while at the Barn we poked around Apparel and Parts… is it weird that seeing a line-up of painted fenders and chromey bits always make me happy?
Saylorville isn't really much of a ride in terms of distance or difficulty, but it's a great shakedown cruise for the first ride of the season because it gets you "out of town" and into something scenic yet keeps you close to services in case there's a problem. (And by "services" I mean Casey's General Store, and by "problem" I mean needing a beverage… or maybe gas.)
The ride itself was nice… we never did hit the 68 degree mark, or the "mostly sunny" mark… we did hit the "30 mph crosswinds" mark going over the mile bridge and again while sitting on the scenic turnout on top of the dam, and we hit the "here's a little cold rain for your riding enjoyment" mark on the way home. OH! And, I personally hit the "Remember that gift card you won 2 years ago from the HOG club and promptly lost? FOUND IT!" mark while cleaning out my saddlebags, so in all it was a great first ride.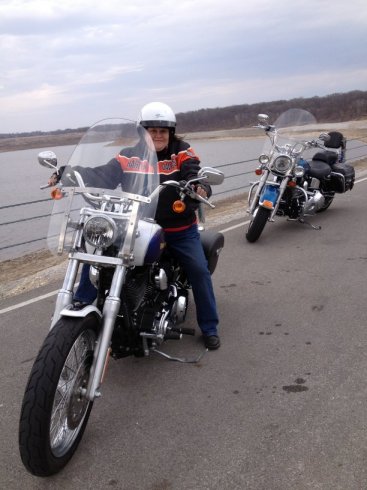 How about you – what's your weather been, and where are you headed this week… or this year?
Had an absolutely fabulous Sunday this past week riding with the Chrome Divas of Des Moines on our first annual Anniversary Ride. I had helped found a local chapter of this national organization last Fall, and we've been working to slowly build membership since that time. What has really hit home for us is how difficult it is to get all of us together for a ride, with varying work schedules and family commitments. So, suffice to say I was ecstatic to have 100 percent participation for this ride!
Our destination was the Mahanay Bell Tower in Jefferson, Iowa (population: about 4,500), located about 70 miles northwest of Des Moines. I thought it might be fun to try something different than the usual meet-in-the-middle starting point, so instead we did kind of a progressive gathering – those of us to the south met at one location in Des Moines, then rode to a stop in West Des Moines where we picked up more members of the group, then rode to the third stop to complete the group. It was here – in the parking lot of American Furniture & Electronics in Johnston – that we were finally able to get our first full-group picture!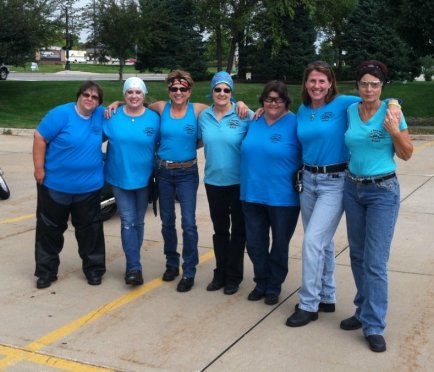 Weather was looking like it could go either way, sunny or rainy, even as we gathered at American. It had been cloudy while enroute, but once there the sun came out. Then once we took off to the west, the clouds returned and I was leading us west along Highway 44 all the while thinking it was surely going to rain. (I have a habit of trying to carefully check out cars coming at us from the opposite direction – if they aren't covered with raindrops, I figure we're good at least til the next car comes along. LOL)
Anyway, we traveled west along 44 and stopped at the lake town of Panora. The convenience store there is a busy place because of Lake Panorama, but since we found actual sit-down tables and chairs inside, we stopped for a 20-minute late-morning snack and chat.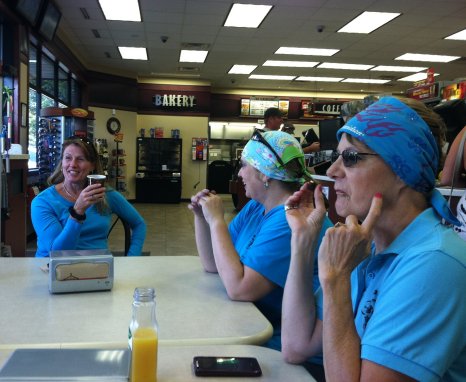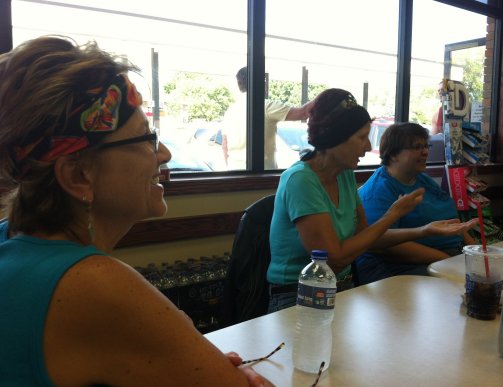 From Panora, we headed north along Highway 4 and straight into Jefferson. Along the ride we could definitely tell that Fall is on its way, and like all the seasons so far this year it's a little early – a lot of the corn is dried out and crispy already, but it was the soybean fields that really caught my attention. The tops of the plants are golden yellow, but often the lower portions are still lush dark green. So it gives the effect of a huge field of flowers. Throw in a rustic barn and a softly rolling landscape, and it's really beautiful. It's hard to get a photo that adequately captures the colors – this one, which I took a few days later from a moving car, is close.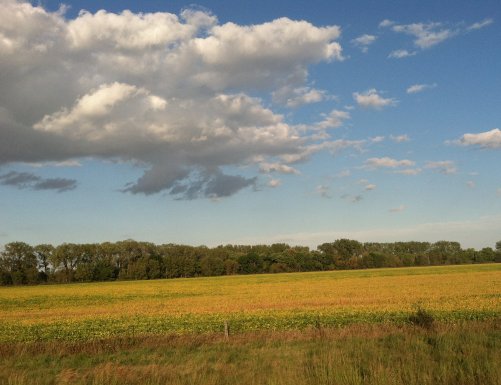 We arrived in Jefferson and easily found the bell tower and another attraction we had come to see: a statue of Jefferson High School graduate Doreen Wilber, who in 1972 became the first woman to earn an Olympic Gold medal in archery.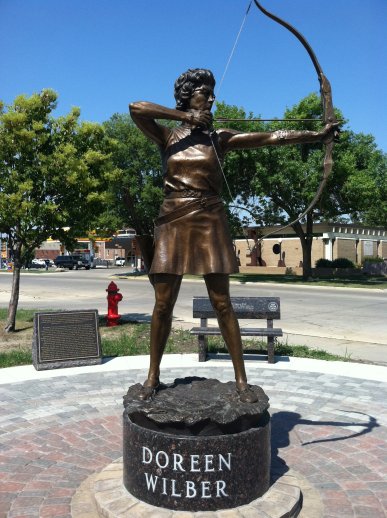 A friend of Janet's is related to Doreen, so we took some time to read the marker and enjoyed the clever design of the statue itself: Ms. Wilber is in "firing position" (I'm sure there's a real phrase for this in archery), aiming to the northeast. And across the intersection is the other half of the statue: a bronze target, ready to take the arrow.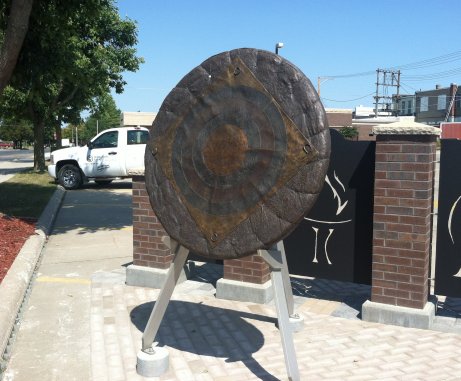 Next we walked over to the bell tower for our turn at the top. The tower was a gift to the citizens of Jefferson (and really, all of Iowa!) by residents William and Nora Mahanay, who provided funding for its construction. It stands just over 168 feet high and houses 14 cast bells imported from the Netherlands. On a beautiful day like we had for our visit, you can see across 30 miles and five counties from the observation deck at 128 feet.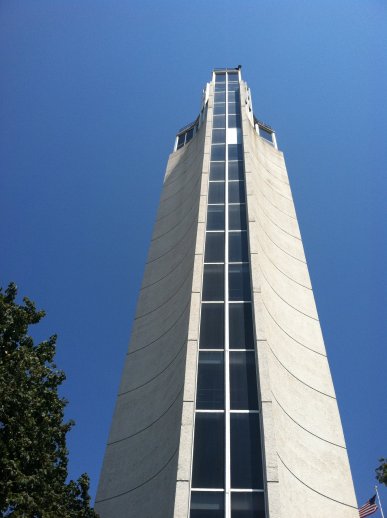 Our tour guides were Sandy and Dennis, an older volunteer couple who shared lots of color commentary about the tower, the town of Jefferson, and the surrounding area.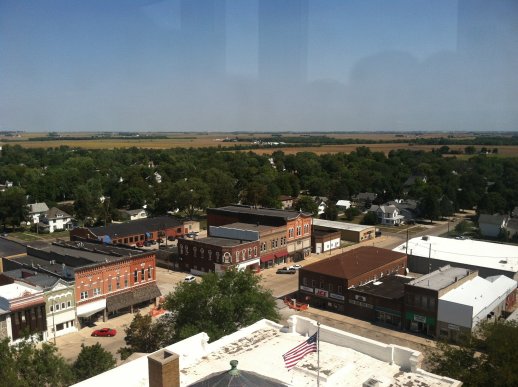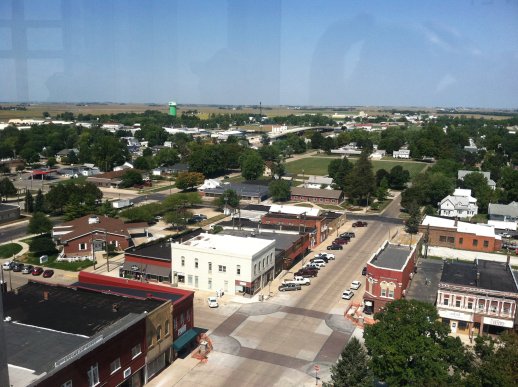 We spent about 20 minutes or so checking out the view from all angles in the tower, and even managed to pick out our lunch spot while looking down at the surrounding Jefferson business district. Eventually we took the elevator back down, snapped a few pictures with Sandy and Dennis, and walked back to the bikes. Scooted over to the Uptown Cafe for a very good local lunch, and again took the opportunity to "snag a stranger" to snap some group pictures.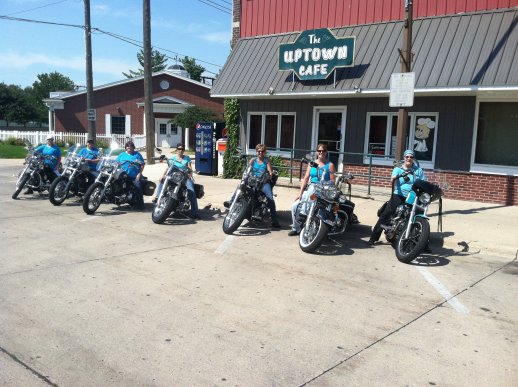 Finally we also walked around the square and took pictures of the courthouse and surrounding businesses – some neat old architecture in this quiet little town!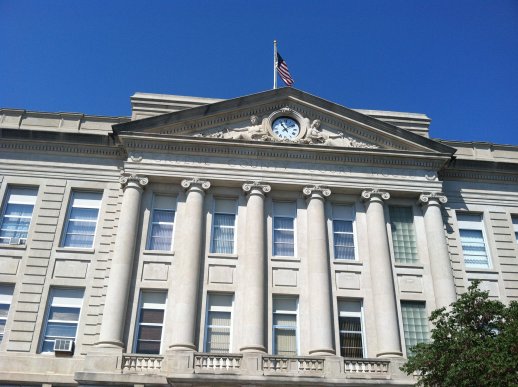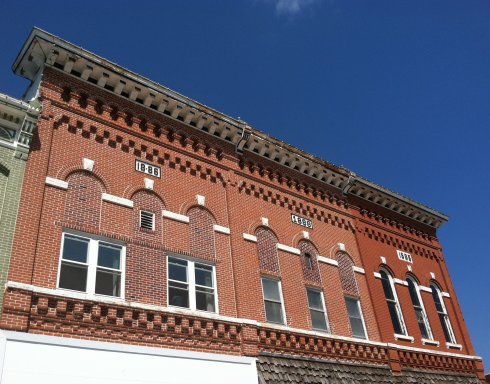 The Mahanay Bell Tower is open daily Memorial Day through Labor Day, and weekends through September. I highly recommend (oh, get it? highly recommend… because it's 128 feet up in the air… highly… yeah.) a visit! Here's more information.
At mid-afternoon we were ready to head home via Highway 30 and County Road E57, which eventually would take us down to Madrid. So – thinking that the road marked with the original "Lincoln Highway" markers was Highway 30, I led us west out of town on what turned out NOT to be Highway 30. (Hey, as long as we're on pavement and going approximately the right direction, I figure it's all good…) After a bit if easterly and southerly meandering we did finally connect up with E57 at Rippey, Iowa, rode east past Berkeley and Highway 169, then south on R26 down to 210 and east into Madrid. Took another gab-stop at Madrid, and finally back into the Des Moines area via the Mile Bridge over Saylorville Lake. Our final stop was at a Casey's in Johnston where we bid our farewells and all headed home in individual directions.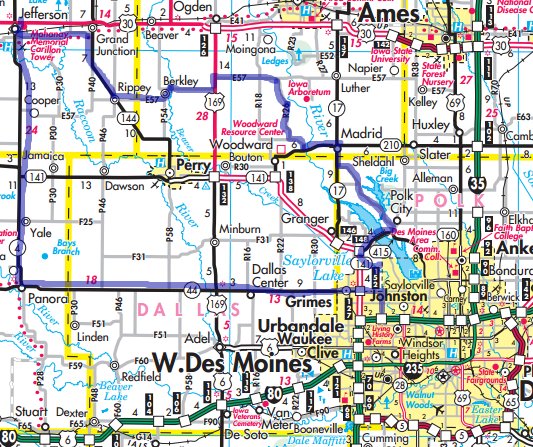 In all we rode about 150 miles – seven great gals, beautiful landscape, lots of laughs (I think we all agreed that the commemorative Bell Tower lapel pins had an interesting shape – THANK YOU, girls, for the one I received as a gift! Don't you think it looks like the space shuttle? Haha, yes, I did too, but some of the girls had other ideas.), and yet another enjoyable Iowa destination. It's why I love to ride, even if the road I'm on is not always the one I think I'm on! (Click here for the full photo album!)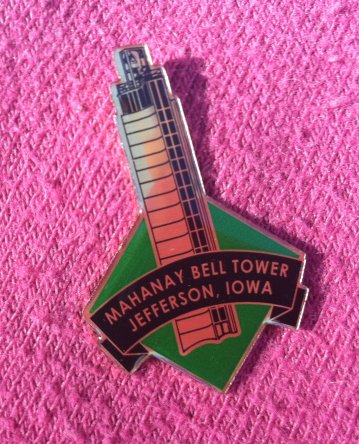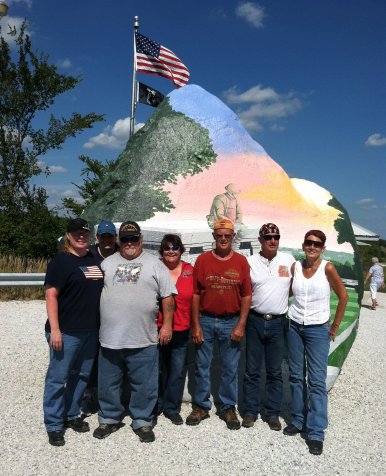 I recently had a few days off from work and the days were sunny so I was determined to get at least a couple of good day-rides in. Steve had been wanting to get out to see the 2012 mural on the Freedom Rock, so Greenfield was our first destination along with Shirley, Garry, Dave R., Kristin and Teri Ann.
It was going to be another very hot day, so even though Greenfield and the Rock are only about 60 miles away, we planned a stop halfway. We took off along SW 9th Street in Des Moines, which quickly becomes County Road R63 heading south, and turned west at Highway 92. In the past we've stopped frequently at the Casey's General Store that sits a hundred feet from the junction of 92 and 169 at Winterset, and such was my plan here again – but, upon making the left turn off 92 I quickly realized that the familiar building was gone and the site was under re-construction. Thank goodness this is Iowa, and there is always another Casey's!
After a brief stop to "stretch and hydrate" (as my former boss used to say), we took off again to the west – traveled the 24 miles to Greenfield along 92, then north another 12 miles along Highway 25 to the Freedom Rock – so named because local artist Ray Sorensen paints a new military-themed mural on the rock every year. This year's Rock recognizes the Tomb of the Unknowns, US Naval Petty Officer Taylor Morris, the POW experience, and Iowa's Sullivan Brothers.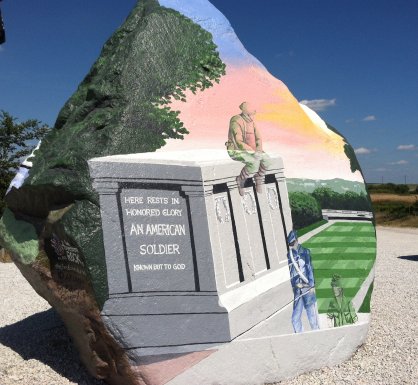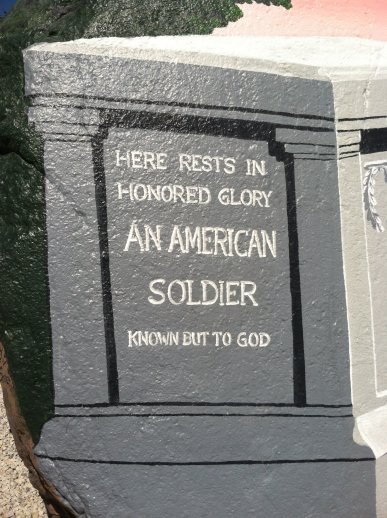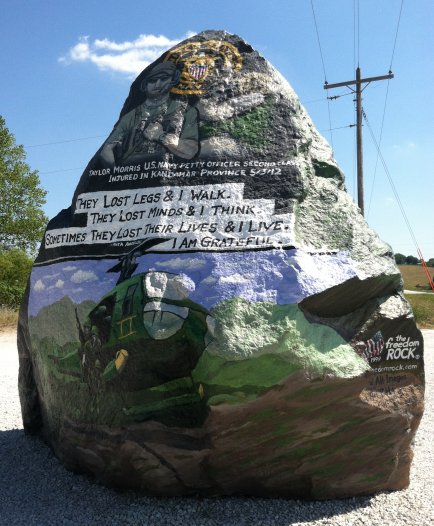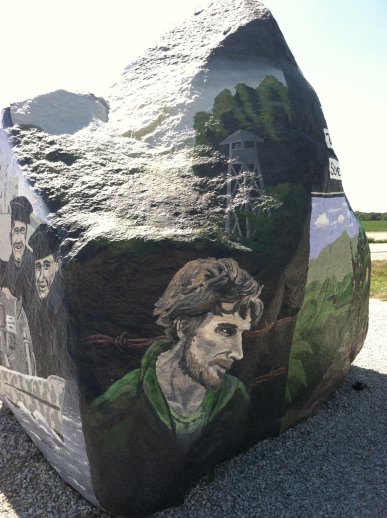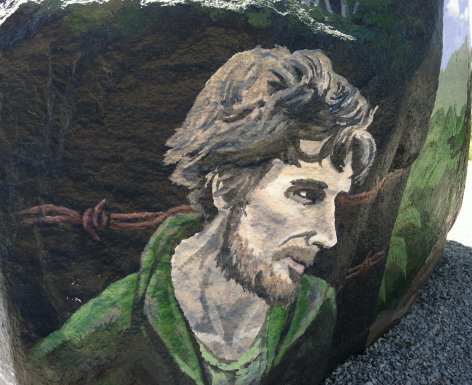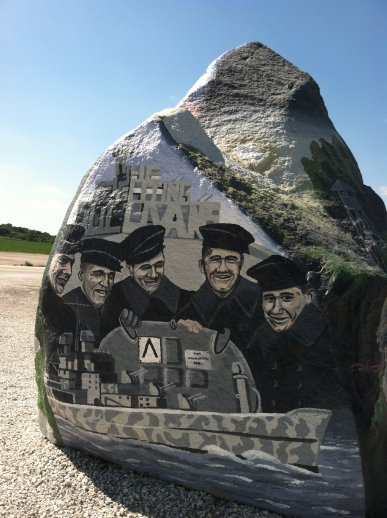 The Rock has become a destination for bikers, veterans, and other military supporters from around the country. There is a contingent of bikers that now stops here each year while en route from the west coast to the Viet Nam memorial in Washington, D.C. just before Memorial Day.
While at the Rock we encountered an older gentleman who was also visiting – turns out he is a Greenfield area resident and also a WWII veteran and Pearl Harbor survivor. He said he visits the rock frequently to chat with the people who come to see it.
We also met a fellow rider – a gal named Michele who had come down on a solo ride from her home in Story City. She gave us a terrific gift – a group photo that included ALL of us (rather than the usual "all minus the photographer"). It was neat to chat with her there at the Rock, and we invited her to head north with us to our next stop at Guthrie Center.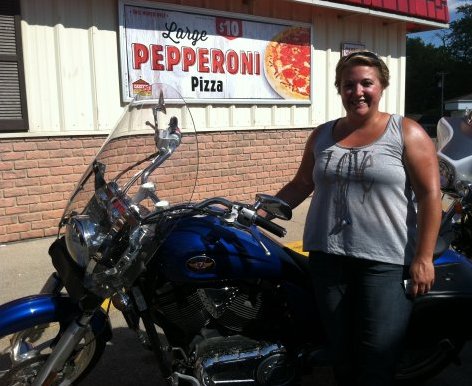 We left the Rock and headed north along Highway 25, which took us into Guthrie Center and yes, another Casey's. This was the same location where we'd stopped in 2006 and met the woman whose dad helped trowel Albert the Bull over in Audubon.
Visited a little more with Michele here, and finalized our route home. She traveled a few miles east with us to Panora, where we waved a farewell and turned to the south on County Road P28. We picked up F59 a few miles outside of Panora, then F60 outside of Redfield, and stopped again for a final stretch-and-hydrate at Adel. We picked up Highway 6 going east out of Adel, and took that all the way into Des Moines. It's funny that this used to be a very rural drive. Now, after decades of record growth westward from Des Moines, it's a short 7 mile path from Adel to Waukee and then 100 percent developed from Waukee clear through to the far east side of the Des Moines area. So we're now "back in town" even though we are riding through a town that used to be considered "out in the boondocks."
In all we traveled 150 miles and were pretty well roasted by the time we got home (I was going to say we were "baked," but I think that might mean something else!), but it was certainly a great way to spend a vacation day!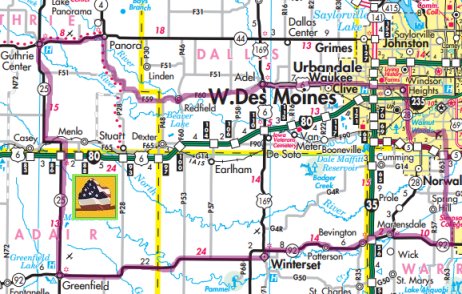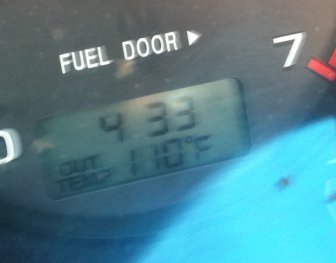 What a crazy summer! We had a very short break in the heat recently, then back up into the upper 90's and low hundreds for a couple more weeks – yikes!! Now here we are at the end of July already – but, thankfully I have three days off from work and temps are only going to be low 90's so I'm going riding! Hopefully I will have a few more adventures to share soon!
Did have one lovely ride back in early July, what a neat day this was! I'd heard about this small town called Brooklyn that has a large display of flags from all 50 states and several other nations. I thought it sounded like a perfect reason to ride, so off we went. Our group consisted of Steve and I, Garry, street-rodding-turned-biker-pal Dave R., and Howard and Jayka.
We took off in the afternoon heading east along one of my favorite roads – it starts out as Broadway Ave. in Des Moines, becomes 8th St. SE in Altoona, then morphs into County Road F48 and finally old Highway 6. This is just a beautiful road – pretty and curvaceous between Des Moines and Grinnell, then a straight bit east from Grinnell to Highway 63, where we made a right turn into Brooklyn.
Once in Brooklyn we stopped at a tiny convenience store that seemed to be the hub of Sunday activity in this town of just under 1,400 people. After a beverage I walked from the store up to the flag display, which was on the adjacent property. It includes 3×5 flags from every state, plus several special-interest (military service) flags and a 20 x 38-foot US flag at the center on an 80-foot pole, all installed along a pretty walkway next to the Brooklyn Historical Society Museum.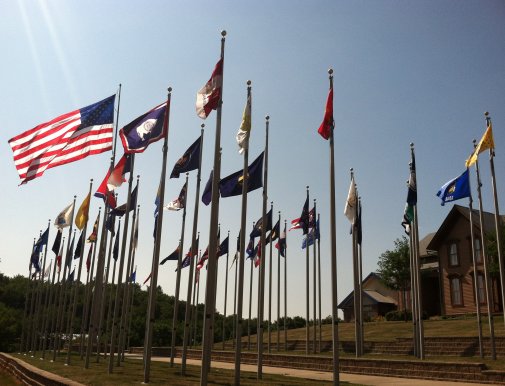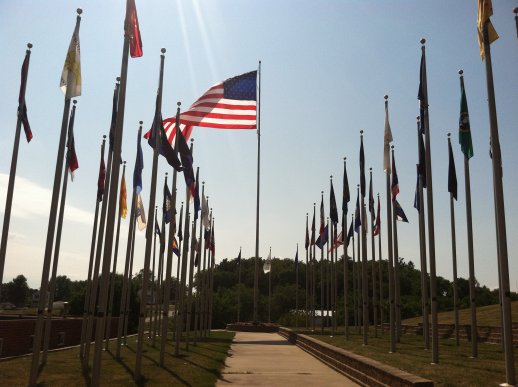 Gave me vertigo standing under the US flag, looking up… thought I was gonna fall over backwards!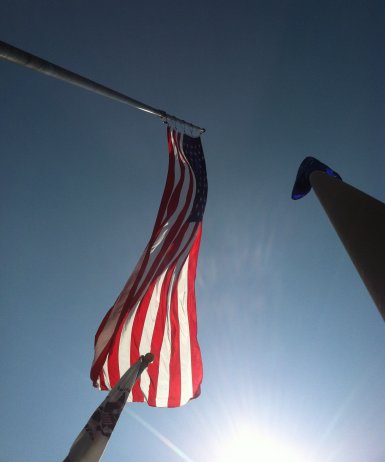 Here are some of the state flags on display. This photo looks back toward the street.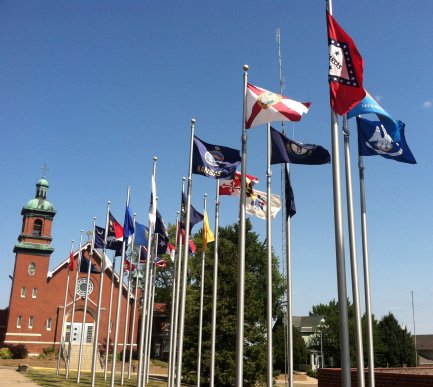 Also thought this was neat, something I'd never seen before: the name of the street actually etched into the cement of the curb. Neat detail!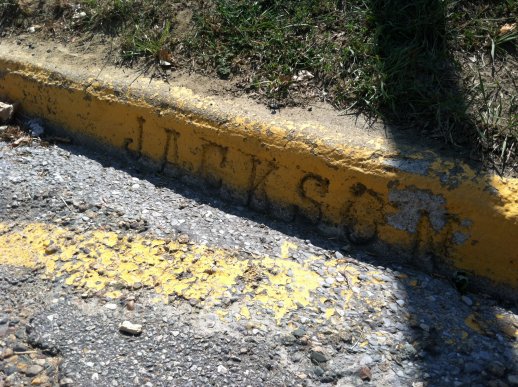 The international flags are displayed in smaller groups along the two main streets of town. You can barely glimpse a few of them on the left side of this streetscene.
Across from the convenience store stands this old Standard Oil station – looks to be about mid-1930's to me. As I walked over to it to take a picture, a guy drove up in a '50 Chevy. What a great photo opp! I flagged him down and asked him to pause for a picture – he told me he had just bought the car that day. I took a neat photo of his 50's car in front of the 30's gas station, then gave it a little 'retro' effect in my photo editing program to create a cool vintagey snapshot.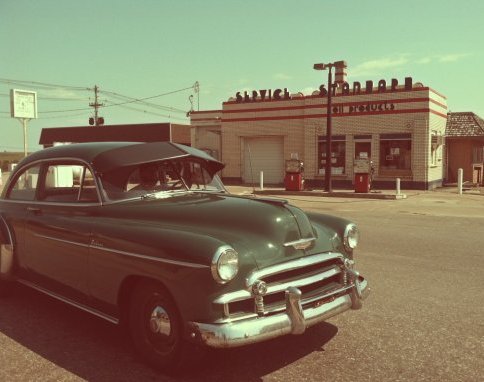 Here are a couple more pictures of the gas station – just because I know you love this stuff as much as I do!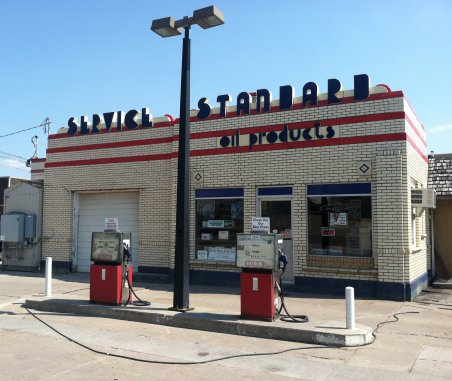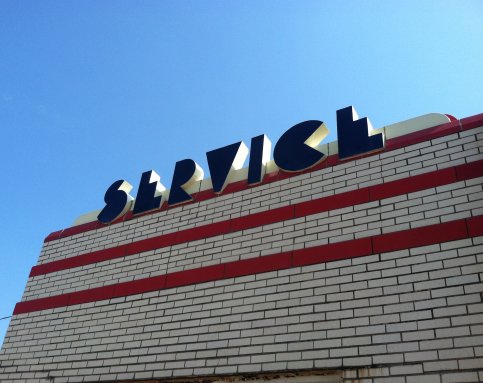 Brooklyn also has several oldie-but-goodie buildings along its two main streets. This opera house…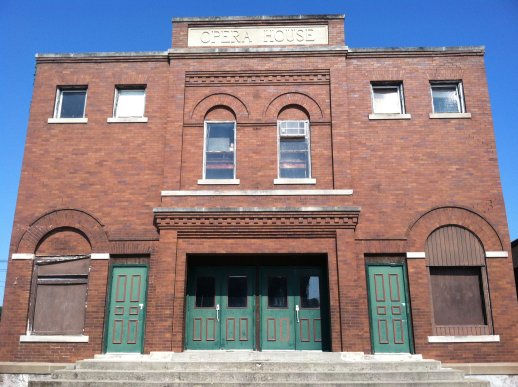 … and my favorite, the First National Bank.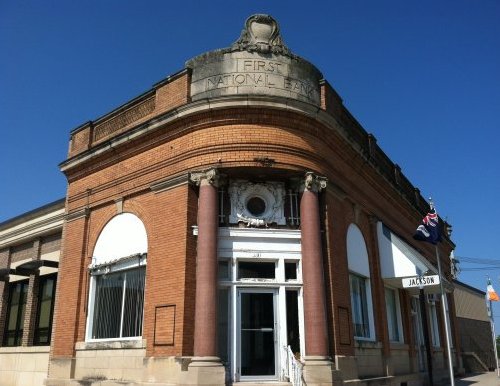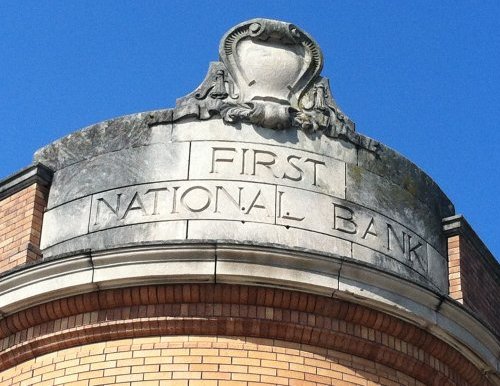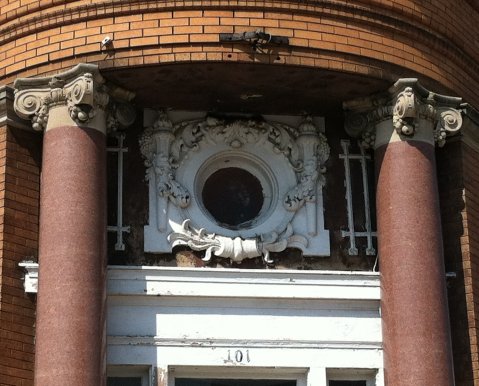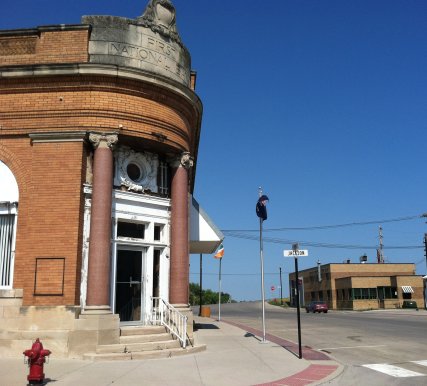 All of this exploration only took us about an hour, so it seemed in no time we were back on the bikes and headed home along the same route we'd come in. Along the route I noticed two bridges named for Civil War generals James Wilson & James Weaver, and in looking them up I learned that old Highway 6 (which runs coast-to-coast, by the way) is also known as Grand Army of the Republic Highway. I've long been aware that the GAR is/was the veterans organization serving Civil War Veterans, but I didn't realize that Highway 6 was named for it. There are several commemorative markers and named bridges along the route.
Few things are better in my book – a perfect blue sky day for a ride along scenic Iowa roads, a stop in a pretty small town with a unique or interesting feature, and a little bit of history thrown in for good measure.
More adventures coming soon!
Well June was pretty much a bust for riding – the weather has really been an issue. As I finish up this post it's July 8 and the record-setting heatwave finally broke last night. For the past few weeks we've had unseasonably high temperatures in the mid- to upper 90's and humidity pushing it over 100 nearly every day. This is quite unusual for June – usually that's the month where the riding season hits its stride here in Iowa. This year, it was mostly a month to stay indoors and try to keep cool.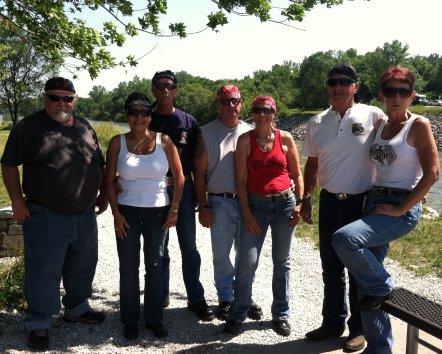 We did have one really nice Saturday on the bikes mid-month (obviously I am a little behind in posting about it!).
I had wanted to take a day-ride that day, but we didn't plan far enough in advance so we decided to hit the Big Barn Open House instead. We met up with Garry and Shirley, and turns out they had come up with Garry's son Mike and his girlfriend Tina, and their friends Charlie and Rita.
We poked around Big Barn for awhile and enjoyed the free lunch, then decided to take an extended "up around the lake" ride including the Madrid loop.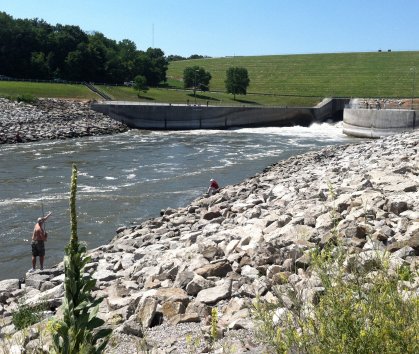 This is an easy ride with a very nice route. It takes us up the backside of Saylorville Lake with its lovely homes, across the Mile Bridge (boy the lake is LOW this year!), and up to the small town of Madrid, where we made a potty-and-beverage stop. Everyone noted the killer shrub that we had encountered in the middle of the road a few miles back (what IS IT with stuff in the road this year??) – fortunately we all got around it without being attacked.
We left Madrid going east on Highway 210, then south through the tiny town of Sheldahl and back into Polk City north of Saylorville. Stopped at the Saylorville spillway where the dammed-up lake is control-fed out into the Des Moines river. From there we took a round-about route through Johnston and down into Des Moines where we stopped at Sambetti's for a beverage before heading home.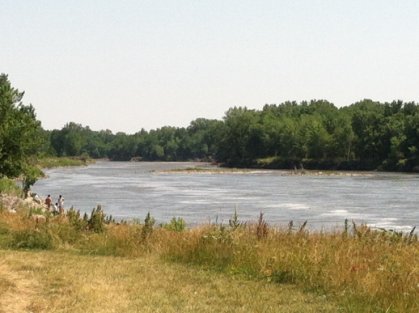 Although it wasn't the epic day-ride I'd been hoping to take, it turned out to be a great afternoon anyway because of the new riding friends and of course the Iowa scenery. The next couple of weekends would turn out to be occupied with an out-of-state funeral and then the Good Guys Heartland Nationals hot rod show, all in the middle of a record-setting heat-wave.
The heat, fortunately, has broken at least for the moment – but it has felt more like August than June, so my internal "calendar" is a little off. We took a neat ride today that I'll post about soon!
Just wanted to share my little solo ride from back on Memorial Day. Now I have to be honest, it wasn't so much that I really wanted to go for a ride, it was just that it was a beautiful day and I wasn't at work, so I felt kind of obligated to take advantage of it.
I thought I would ride down to Winterset again, and pick up the St. Charles/Truro loop that the girls and I had missed out on due to closed roads last Fall. So I set off along my usual route to points South – down R63 to G14, across G14 through Norwalk and Cumming and over to 169 South. (Yes, Iowa has a town called Cumming. Go ahead and snicker quietly to yourself, I'll wait.)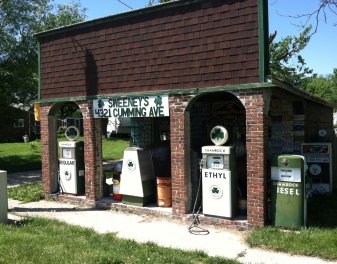 Ready? Ok. So anyway, I was really close to Cumming when I had the big idea to stop at this small old gas station and take a picture or two. It's a neat little place I've wanted to photograph for awhile, so being by myself I thought it would be the perfect opportunity.
I pulled off the highway onto a narrow concrete approach alongside Sweeney's, put down my kickstand, and snapped a few photos. Getting back on the bike revealed the problem I had created for myself: because of the angle of the approach, which I had thought was flat and level, I couldn't lean the bike over far enough to the right to get the stand back up, without tipping the bike all the way over. I tried a couple strategies to correct this, but they only served to inch me forward so that by the time I decided it really couldn't be done, I had run out of approach and was left with very sketchy footing on the right-hand side. For the second time in as many weeks, my right foot was holding up the entire weight of the bike and I was in danger of going over, with no immediate "fix" and no companion around to help me out.
Fortunately for me, this is a well-trafficked highway and it was only a moment before another vehicle came along, so I managed to flag them down. A very nice guy named Troy pulled over and helped me steady the bike, get the kickstand up, and get on my way.
I beat myself up plenty over this little faux pas for the rest of the day – I admit it clouded my enjoyment of the remainder of the ride, but at least I did get to experience the Madison County loop I'd been studying all winter.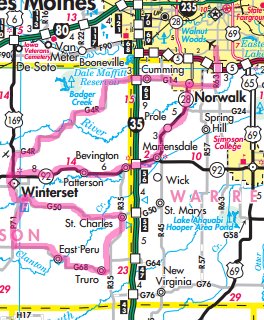 Make no mistake, it was a very scenic ride – though I did get the feeling I was seeing it from the backside, as though it would have been prettier going the other way. My route was to head south out of Winterset on P71, east on R50, south on R35, then back to the west on G60 to P71. The problem with this part of the ride wasn't the view, though – it was the incredibly poor condition of the roads!
At one time I thought these bumps in the road were the result of badly engineered repairs. But it appears they are actually places where the road has buckled up to the point of needing repair. In any case, they are raised sections of the road (always at a seam in the asphalt) that lift you up out of your seat and re-arrange your innards by the time you land on your ass again. (No kidding – I actually felt like I was sitting on my liver by the time I stopped.)
I had hoped to be able to call this the prettiest route through Madison County – but, just like elsewhere in life, it's not worth being pretty if you have an ugly soul. And the crappy roads and the lingering bad karma were definitely the "ugly soul" of this ride. I did make it home without any further stupid decisions, so I'm happy to say I'm tanned, rested and ready for the next opportunity not to waste a day off!
In addition to the graduation and Memorial Day activities we enjoyed this past weekend, we also managed to squeeze in a ride. (I actually squeezed in a solo ride, too.) On Saturday, we took off on a short "ride to eat" trip with Garry and Shirley to the tiny town of Williamson, Iowa.
This trip took us southeast along Highway 5 out of Carlisle to County Road S45, which we took south through Melcher-Dallas, then a short jog on State Highway 14 and in to Williamson.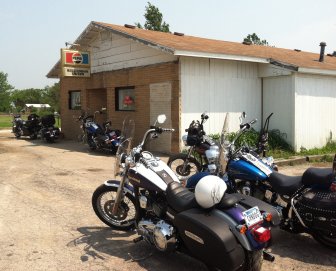 At our destination, lunch at the Williamson Tavern was large and cheap – it was also the only thing to do in this tiny town of under 200 people. The view from the main road in either direction is testimony to the "sleepiness" of this little place, which is still three times bigger than Millerton! (Garry & Shirley also ended up buying us lunch – what Williamson lacks in venues it also lacks in ATM's. Thanks guys, next time we'll try to remember to bring cash!)
After lunch we headed back out along the same route, but stopped in Melcher-Dallas for a couple of pictures. We had detoured through this hyphenated town on our way down (instead of passing right by), and I wanted to go back and catch pictures of a bridge and a mural.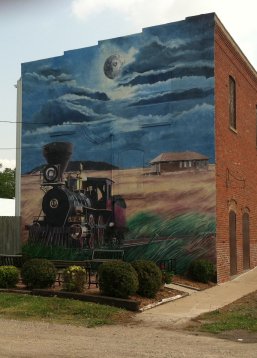 Unfortunately I haven't been able to find any information about either of these local features. My "keen eye for the obvious" tells me the bridge is very old, given the weathered boards showing through under the top layer of asphalt. It arches over train tracks that run parallel to the highway. Heading into town isn't as tricky as heading back out – the bridge dumps you right at the highway with a very short approach and a sharp downhill slope.
The other photo opp was this really neat mural painted on the back wall of the Melcher-Dallas Coal Mining Heritage Museum. A small landscaped seating area provides space to enjoy the artwork, which is signed simply "D.E. Adams, '98."
I posted more pictures from this ride on the BCN Facebook Page.
After taking my pictures we headed home along a route that included G76 west and S23 north. We did have one near-incident along S23 – I spotted what I thought was roadkill in the middle of the road up ahead, but quickly figured out that it was actually moving (walking) right to left. Uncertain whether it was something that could quickly reverse course, I slowed way down and went around it on the right – turned out to be a large turtle – my friends followed, but not before riding up on each other a bit too quickly. Of course I didn't see this happening behind me, but I learned later that by slowing I had almost caused them to wreck in the back. Not good!
This, plus another near-incident on my solo Monday ride and my recent bike drop in the garage, have sort of caused me to wonder if I'm "off my feed" this year for some reason… maybe thinking too hard, or not thinking enough… anyway, it feels like I need to take a breath and push the re-start button on this riding season!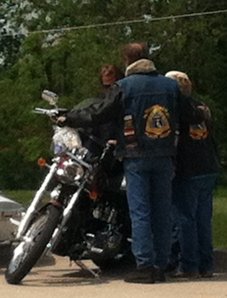 After having a bad start last week that resulted in my beloved Kitten going over onto her side, Steve and I ended on a high note with a lovely bike-blessing event at Route 65 Harley Davidson in Indianola on Saturday. The event included live music, complimentary lunch, and group and individual blessings offered by the Christian Motorcyclists Association.
Following the food and fellowship, we decided to take a short ride so we headed south out of Indianola on Highway 65/69.
The "dual identity" of the highway ends just a few miles outside of Indianola – with a left turn it becomes Highway 65, while going straight means you stay on 69. Our plan was to ride to the town of Osceola at Highway 34, so we stayed on Highway 69.
While in the northern part of the state this highway is straight as a string, this stretch of 69 has some lovely curves as it meanders to the southwest. We passed the tiny town of Medora at the G76 junction, where I noticed a beautiful little field of purple-blooming Dames Rocket – the roadside version of garden Phlox. So pretty in the dappled sunlight.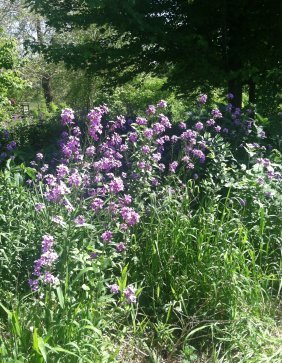 We cruised into Osceola from the north a short time later, and stopped to top off gas. While there, we asked a local where we might get an ice cream cone, and she directed us to Junction Creamery a few blocks away along Highway 34.
We pulled into this nice locally owned shop, which has lunch and dinner selections as well as sweet treats. (Apparently they also do catering!) Enjoyed our soft-serve sundaes, then decided to head back home. We headed back the way we had come – out of town on Highway 69. Just a couple miles up the road, we turned north at the junction of County Road R45, which is a straighter stretch that took us through New Virginia, St. Mary's and Martensdale.