Estrogen Ride 2009, Day Four
Many thanks to Holly N. for providing me with a wonderful multi-part series covering the 2009 Estrogen Ride, and to Vicki D. for taking such great photos!  Sounds like a wonderful time, I'm sorry I missed it this year! If you were there, be sure to add your stories in the comments!

by Holly N.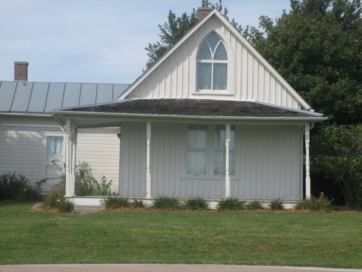 The weather gods were with us again on day 4!  We woke up in Hannibal to sunny skies and a light breeze.  After loading our bikes up we headed to Quincy IL to the H-D dealership so they could take a look at Judy's tire.  We crossed the Mississippi in Hannibal and headed north to Quincy.  Once the at the dealership, they got her bike right into the shop and checked it out.  Luckily they couldn't find anything wrong with the valve stem or anything, cleaned the tire off and it held air fine the rest of the way home.  This also gave us a chance to do some shopping and several made purchases of H-D things they just couldn't live without.
The H-D dealership is on the east side of Quincy so rather than cut through the city to cross back into Iowa, we headed north a little ways and crossed over at Keokuk.  We headed northwest on Hwy 218 to Donnellson where we took Hwy 2 west to Farmington.  This is a very pretty road that takes you through Shimek State Forest.  The original plan was to ride to Bloomfield, IA for lunch but as we came through Farmington, there was a little restaurant, The Bridge Cafe and Supper Club, that I had seen several times on trips but never had a chance to stop at.  So, being the leader I made the executive decision to stop for lunch there!  No one was disappointed!  We were shown to a private room and fed some of the best homecooking we'd ever had.  We highly recommend the sweet potato fries!
After lunch, we stopped in Keosauqua for gas.  This proved to be quite a time as only one gas station in town had high octane gas, and only one pump for it!  So we lined up on both sides of the pump and passed the nozzle back & forth.  Of course, it didn't offer pay at the pump so we'd have shut it off, turn it on and then go inside to pay!  Quite a sight!  At some point, Kathy B. turned on her music and we were all dancing in the parking area of the station.  I'm sure the locals loved us!
As we continued north, in Eldon we stopped at the American Gothic house.  This is the original house that Grant Wood used in his famous American Gothic painting.  They have a nice visitors center and the actual house is there to walk around.  It was fun to see and several gals had no idea it was in Iowa!
Eldon proved to be our last stop (except for a brief stop on an entrance ramp) so we said our goodbyes, more hugs & kisses and promises to go on next year's ride.  We made it through with no mishaps and no dropped bikes!  It's always bittersweet to end a good weekend with friends – so glad we have 2010 to look forward to!