Divas ride to the American Gothic House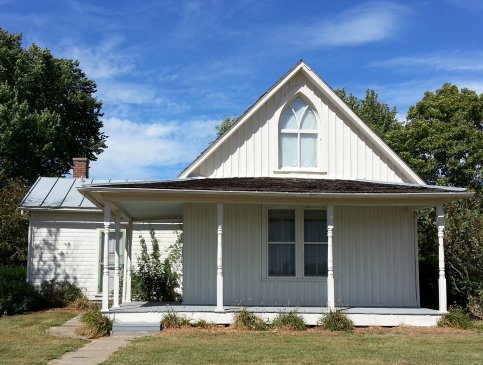 This weekend our Chrome Divas chapter celebrated its third season with a ride to the world's second-most recognized house: the "American Gothic" house, depicted in the background of the iconic painting of that name by Iowa artist Grant Wood.
A lot of people probably don't realize that the house in the painting was (and is) a real structure, located in the southeast corner of Wapello County about 110 miles from Des Moines. It's been on my "must-ride" list for several years, ever since Holly mentioned that her Estrogen Ride group stopped there!
Our day began with a meet-up at Sambetti's in Des Moines (official home of the Chrome Divas)! We departed around 9 am with sunny skies but a temperature that had not yet reached 60 degrees. It was cool, but very comfortable – and not unseasonable, like our last barely-60 ride back in August!
Our fearless ride leader, Janet (aka SevenOver), took us on a very pretty ride down through Runnells, Pleasantville, and the Lake Red Rock area, and across the Mile Bridge over Lake Red Rock where we saw a large flock of pelicans! They were above us in a large group, soaring and swooping overhead, and when we rode past one part of the lake we could see many more of them gathered on a sandbar that had extended out into the lake. We rolled into Pella around 10:30, a small Iowa town famous for its Dutch heritage, dueling bakeries, and of course the annual Tulip Time festival held each May.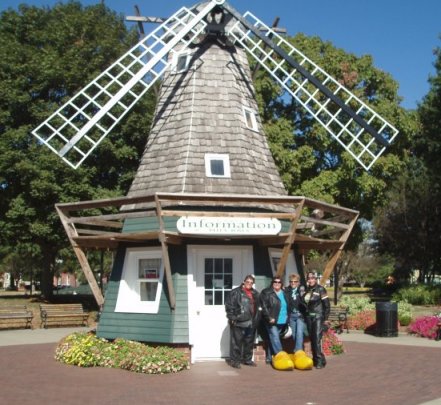 We treated ourselves to Cinnamon fritters, flaky "goat legs," and traditional Dutch letters (the main Dutch letter seems to be "S"), then continued East toward our next stop in Ottumwa.
You might remember I had a rather negative impression of Ottumwa on my solo ride to Drakesville – well I'm happy to report that this little river town is on its way winning me over. This time we came into town along a lovely residential avenue called Court Street. The houses were so distinctive it was all I could do keep moving and not stop to take pictures!
We encountered a bit of a riding challenge along this street when we rode through an area where a water main had clearly burst and was gushing water across the road. Fortunately it wasn't very deep up on the crown of the road, but on either side at the curb it was probably 5-6 inches deep and rushing quickly over the surface of the road. We moved at a slow, even pace along the crown and made it through with only wet pant-legs.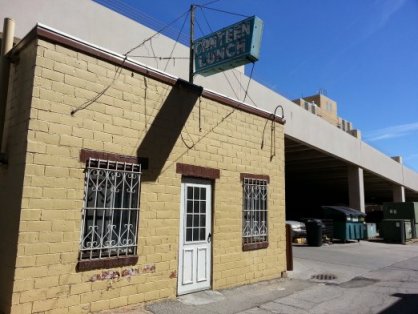 From Court Street we proceeded into the old downtown area, which appeared largely unkempt but had far more personality than the part of town I had ridden through last time!
Our destination here in Ottumwa was a tiny lunch counter called Canteen Lunch. We parked our bikes on the street in front The Owl's Nest Tavern, and we found The Canteen right around the corner. Hard to explain the location but it looked like someone tried to fight City Hall over the construction of a parking ramp, and in a compromise they simply kept the Canteen standing but built the parking structure right over the top of it. (Important to keep in mind that the best local food is usually found in places like this!)
The Canteen itself was a building made of cement block about the size of a two-car garage, painted mustard-yellow and with a classic neon sign still hanging off the front. Just inside the door was a U-shaped lunch counter with nearly every seat taken even though it was Saturday (or maybe because it was Saturday!). After a minute or so we managed to get 4 seats on one side, and 2 on the other, so our group split up and we enjoyed wonderful "loose meat" sandwiches – what they used to call "beef burgers" in school, or "Maid Rites" in the Midwest when that restaurant chain was thriving.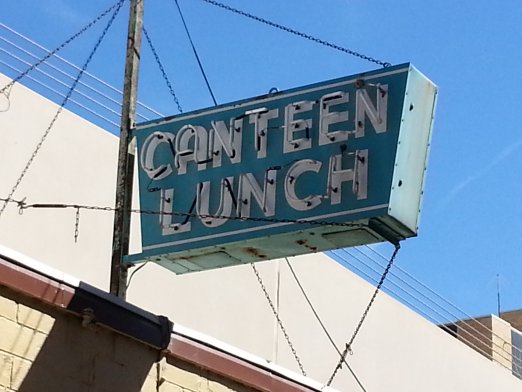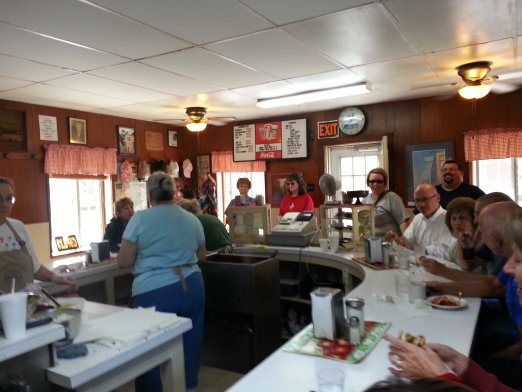 Ample food, dirt cheap, great atmosphere! Enjoyed our lunch and accosted a local gal to snap our photo, then took off for Eldon just a few miles to the east.
The American Gothic House is truly an Iowa gem – tucked back in a quiet section of town and not immediately surrounded by other homes or development except for the little museum/shop/learning center right next door. The little house and yard are fronted by a wildflower garden and a paved area suitable for staging photos.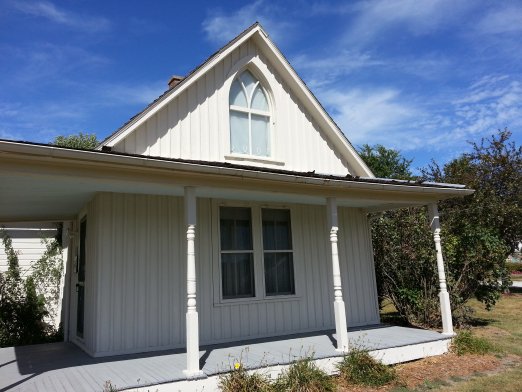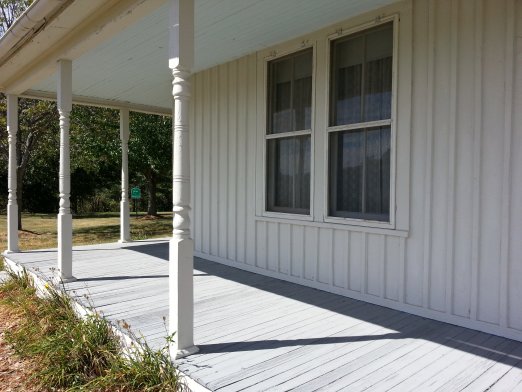 The house itself, including the little-half story on top with the now-famous Gothic-style window, was completed in 1882 by Catherine and Charles Dibble. It's therefore also lesser-known, but listed on the National Register of Historic Places, as the Dibble House. It was donated to the State Historical Society of Iowa in 1991 by then-owner Carl Smith. The museum and visitor's center was completed in 2007.
Our visit started with an informational presentation by Mr. Allen Morrison, an Eldon resident and former U.S. Marine who is familiar with the house, the work of Grant Wood, and the story of how the house came to be included as a backdrop in Wood's famous painting.
We also toured the museum itself, which featured a timeline of Wood's life, examples of the painting as the image has been used throughout popular culture, and various creative expressions of the two stalwart characters.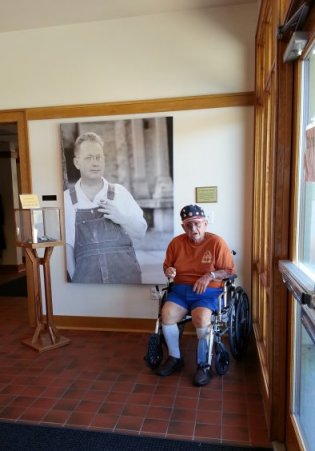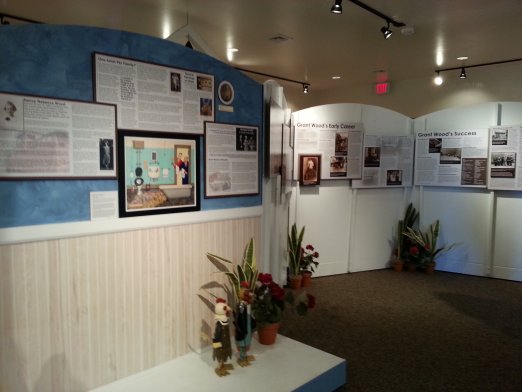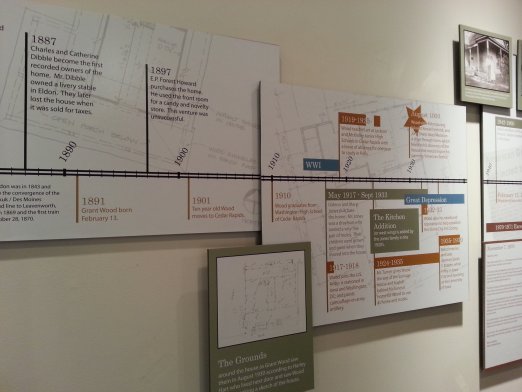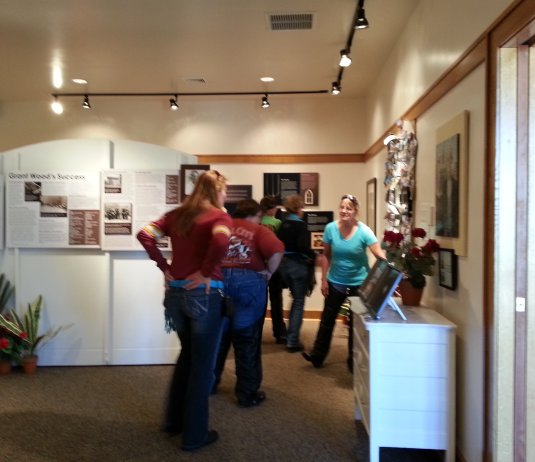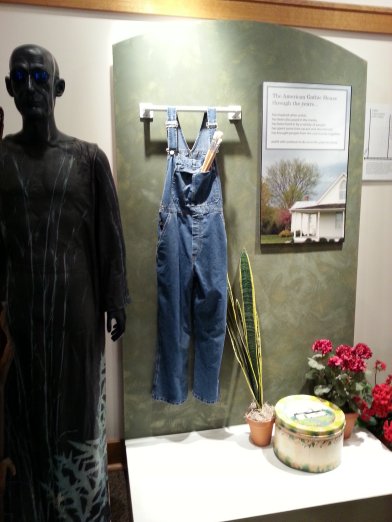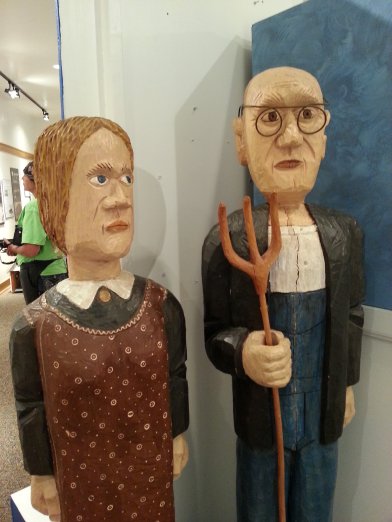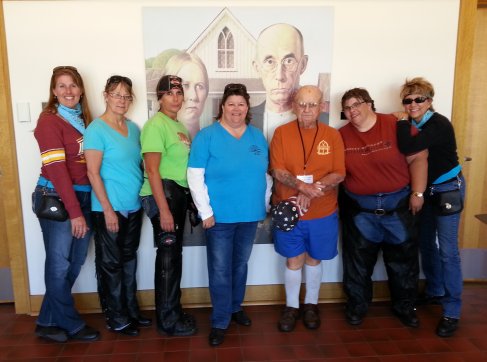 We took part in the visitor ritual of dressing up in "American Gothic" costumes and having our photos taken in front of the house.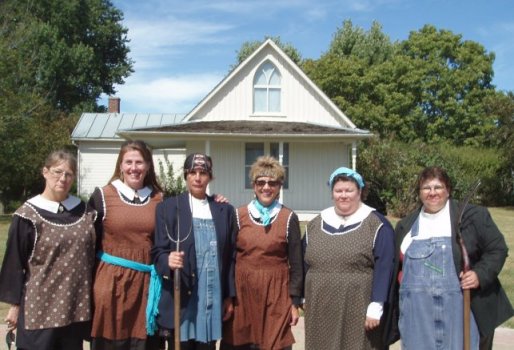 Mr. Morrison had told us that the current resident of the house, Ms. Beth Howard, was currently traveling and not at home. (Her story is could be the subject of a whole new blog post, but, if you go to Amazon.com and search for the book "Making Piece" by Beth Howard, you'll get a sense of her life story.)
I asked him if it was permissible to step up into the yard and take closer photographs of the house and he graciously allowed us to do so. He also let us pose on that famous porch, and drive our motorcycles up into the paved circular area so we could get a group photo of bikes and Divas in front of the house!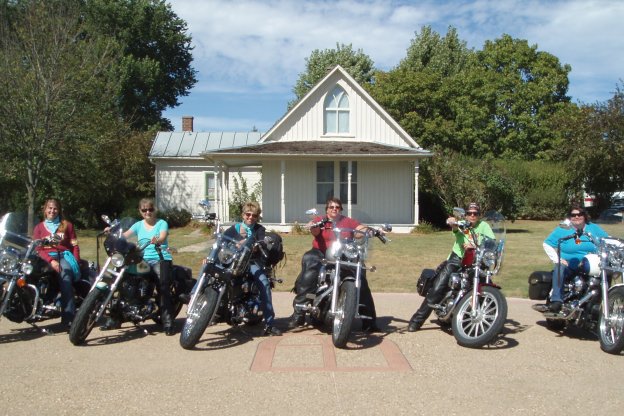 What was really neat was that he seemed to enjoy having us there as much as we enjoyed being there – a great guy who took a lot of pride in sharing the story of the house and its artist!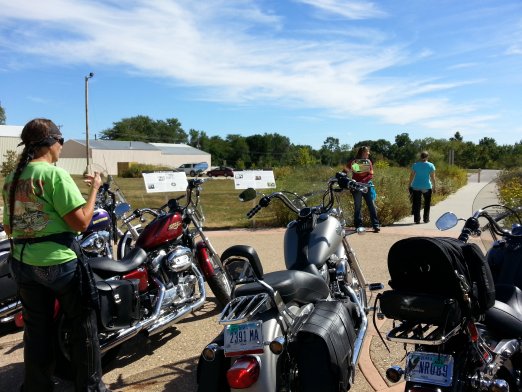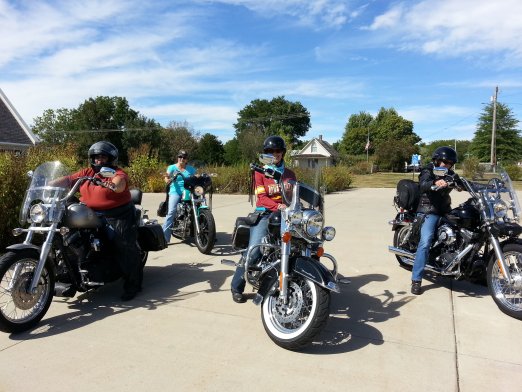 We left Eldon the way we had come in, along Highway 16, and stopped to top off gas at a station just south of the junction with Highway 34. Turned out that was a neat little paved road that took us back to the west through the tiny town of Agency and actually ran directly alongside Highway 34 for a stretch until we got back into Ottumwa. Picking up Highway 34, we continued west to Chariton then north along County Road S23 into Lacona.
Another brief stop here to contact our Diva sister Shirley, who had been unable to ride with us but was planning to meet us in Carlisle for ice cream. We continued along S23, which north of Highway 92 is also known as the Palmyra Road because it passes by the town of Palmyra (home of another beautifully historic Gothic structure, the Palmyra Church). Shirley met us at the junction of Highway 5 and rode in with us to Carlisle where we made a final stop for post-ride ice cream.
Interesting also to note once again the changing of seasons here – most of Iowa is in severe drought right now, so a lot of the corn is already completely dried. As for the beans – well they range in condition from still being beautifully lush and green, to being barely brushed in gold, to being completely dried out – sometimes all along the same stretch of road!
Such a strange year, weather-wise, but a great day visiting a truly unique Iowa treasure!