Weather's been beautiful here during the work week but crappy on the weekends, so I haven't been out on the bike for awhile. But, Cassie took the opportunity to ride to Freedom Rock near Greenfield on Monday, May 18. The group traveled over to meet the riders who are heading from the west coast to The Wall in Washington, DC in honor of Viet Nam veterans. (I think I'm going to have to make Cassie an official "stringer" for Biker Chick News – she takes a lot of great pictures and she manages to make the rides I usually miss!)
Freedom Rock is a large boulder situated on Highway 25 just north of Greenfield, Iowa. Each year, artist Ray Sorensen paints a veteran-themed collage on the rock to recognize US veterans.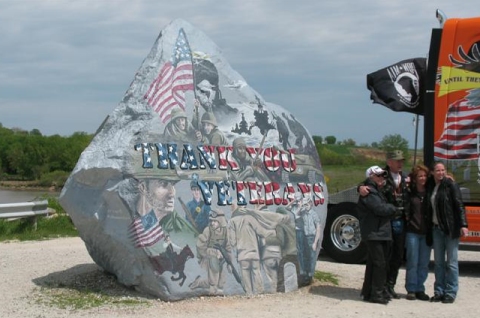 That's Ray in the white sweatshirt.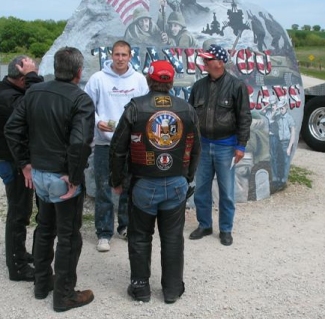 Here's a great-looking "rat bike" full of memorabilia – the riders also stopped at the veterans' cemetery in Marshalltown, Iowa.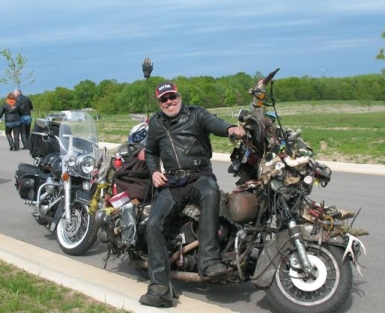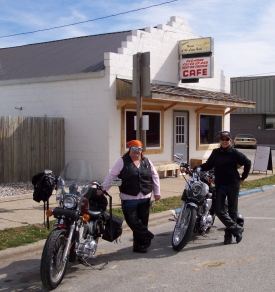 I post a lot of information here about events and rides hosted by my local HOG chapter and/or Big Barn Harley Davidson, because those are the ones I get notices for and because that's my bike brand and home dealership.
But some of the other dealers certainly host rides and events too. My friend Cassie sent an email recently reminding me about the season's schedule of dinner rides hosted by Struthers Brothers Suzuki-Kawasaki-Triumph here in Des Moines, so I thought I would share the info – hey, bikers are nothing if not hungry, right??
All rides leave Struthers promptly at 4:30 p.m.; Struthers is located at 5191 NW 2nd Ave. in Des Moines, just a half-mile north of Interstate 80.
May 23 – Ride to Georgio's in Colfax.
June 6 – Ride to Drifter's in New Virginia.
June 27 – Ride to Matt's Smokehouse in Dallas Center.
July 11 – Ride to Boone for BBQ
July 25 – Ride to Just Ethal's in Yale.
August 8 – Ride to State Center.
August 29 – Ride to Hickory Park in Ames.
Although I haven't been on a Struthers ride yet, it sure seems to me that "dinner" is a great reason to ride! In fact, some of my favorite days on the bike have included stops at similar locally-owned eateries in Audubon, Kellogg,  and even Pisgah!
A word to Mother Nature: YOU CANNOT BURY THE DESIRE TO RIDE UNDER TWO FEET OF SNOW. (so please quit trying…)
Now that I have that off my chest, just thought I'd offer up a list of known dates for upcoming 2009 area and national bike events. Think of this as your "gardening catalog for Iowa bikers."
(UPDATED March 25, 2009 – Read Carefully, some dates have changed!)

April 4 – Blessing of the Bikes, Big Barn Harley Davidson, 11 a.m. followed by Chili Feed benefitting CMA
Indianola Bike Nights – Third Fridays April thru September. First I-town bike night is February 17! (www.bikedowntoitown.com)
Memorial Day Ride to the Wall – "Iowa Thunder" annual ride to the State Capitol and Viet Nam Memorial. Info still to come!
July 2, 3, 4 – ABATE Iowa Freedom Rally at Algona (www.abateiowafreedomrally.com)
July 17, 18 – Iowa State HOG Rally, Sioux City. (www.iastatehogrally.com)
July 24-27 – DATE CHANGED. SEE SEPTEMBER. Estrogen Ride (women only).
July 31 – East Village Bike Night, Des Moines.
August 3-9 – Sturgis Motorcycle Rally – www.sturgisrally.com
August 15 – Bikers Against Diabetes Ride (BAD), www.ripsbadride.com.
August 20-23 – Hawgstock, in Winterset www.hawgstock.com
October 2, 3, 4 – Ride for the Cure supporting breast cancer research (www.rideforthecureiowa.com – site coming soon!)
ABATE Iowa District 4 Toy Run – date TBA.
October 15-18 – Biketoberfest in Daytona Beach, FL. (www.biketoberfest.org)
And of course, BIKE NIGHT every Thursday night at the new Porky's Pub/Radical Cycle Shop, 5125 NE 14th St., Des Moines – let's fill that parking lot!
If you know of a Des Moines-area bike night event not listed here (and there are MANY), please add the info by leaving a Comment. Specify night of the week and at least approximate times if you can. Thanks!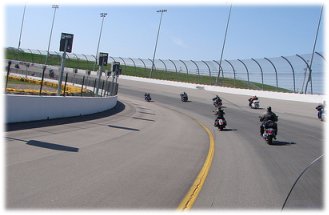 Hey Biker Chicks, have you had your mammogram yet? October, as you know, is Breast Cancer Awareness month, and every woman over 40 should have this annual exam. Mine came back normal, but there are two women in my life who have either survived it, or are currently battling it. It's a concern for every woman, regardless of age, family history or background.
One of the largest benefits this year (if not THE largest) was Ride for the Cure, benefitting breast cancer research. Ride for the Cure was held October 4 and in Iowa it consisted of several ride routes all converging on the Iowa Speedway in Newton, where thousands of riders gathered and got to blast around the track. The Des Moines group took off from Big Barn HD; Carole, aka Pinky, attended and shared TONS of photos. Here's what she told me:
Hey, Janet, I just wanted to let you know that the first annual Ride for the Cure was a tremendous success!  As soon as the final totals come in I will let you know what was raised but as for turnout there were 1200 registrants at the Newton Speedway alone!  A group of 330 bikes left Big Barn Harley Davidson being escorted by the Sheriff's department to Newton.  Other riders left from other dealerships across the state to meet us there.  When we arrived at the speedway everyone had the opportunity to ride around the lap which was invigorating to say the least!  I wasn't able to make the pitstop to the winery but heard it was really great too.  Everyone converged at the Val Air ballroom for the big nightcap with a great dinner, silent auction, live auction, and a live band which rocked!  I encourage everyone to plan on registering for next year's event which will be bigger and better (if that is possible)!!
The photo above and this Flickr album tell the whole story – if you have pictures or stories to share from this ride, please hit the "Comments" link and tell us about it!
Well this was a good week, because I learned something! In my previous post about the 2008 ABATE District 4 Toy Run, I said that the event was a benefit for the Toys for Tots Program. That's actually incorrect. Here's the real scoop, and an opportunity in case you missed the run this year:
Laura from ABATE District 4 tells me that although the event in the past has donated the toys to Toys for Tots, these days the group sorts and distrubutes the toys themselves for needy families throughout Polk, Dallas and Warren Counties. And that's the opportunity – ABATE District 4 will meet this Sunday, October 19, at the Waveland Fairgrounds Cafe, 304 E. 30th in Des Moines, at 2 p.m. and will be able to collect toys at that time if you would still like to donate.  Thanks, Laura, for the corrected info!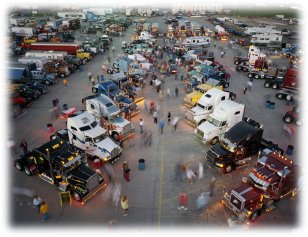 Canadian photographer Edward Burtynsky is attempting to capture the spirit of the Sturgis Rally by shooting a large-scale photo that shows bikes and riders lined up and down along the entire length of Main Street. 
Burtynsky is known world-wide for his photos depicting natural landscapes changed by industry – quarries, urban mines, housing developments, and railroads have all been subjects in his photos.
The Sturgis photo will be used as the cover of a forthcoming book of his work that will focus on oil as a natural resource, an industry, and a social and cultural "force" that fuels our modern lifestyle. The image is intended to show the celebratory spirit of people with a common bond – in this case motorcycles – that is affected by the availability of oil and the industries that have grown up around its use. (The photo above is part of the same forthcoming book and depicts the Trucker's Jamboree at Walcott, Iowa in 2003. Click the picture for a larger view.)
If you're headed to Sturgis and want to be in the Main Street shot, staging begins on the street at 5 p.m. on Tuesday, August 5.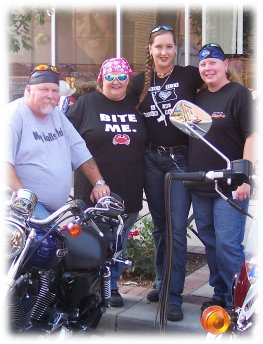 Since I'm unable to go on the Dangerous Curves ride this year, weather-permitting I will be going a few blocks down the road to East Village Bike Night – this is always a blast, with live music and ethnic food all rolled up into a biker street party.
Here are the official details, from the Historic East Village organization that hosts the event:
Historic East Village, Inc. presents the 4th Annual East Village Bike Night Friday, July 25, 2008 from 5-11 p.m.
Begin the evening at Blues Before Sunset from 5:30-7:30 p.m. at the State Historical Building , 600 E. Locust, with Erick Hovey Band. Stick around after the blues concert for more music, food vendors, beer gardens and some of the coolest motorcycles around in the heart of the East Village – the E. 5th Street and E. Locust Street vicinity. Bike night is an opportunity for motorcycle enthusiasts from across central Iowa to show off their bikes and admire others! This is the only Bike Night held in downtown Des Moines and has become one of East Village's most popular events.
Motorcyclists are asked to enter the event at E. 5th Street and Walnut, where they will be directed to designated street parking. No vehicles will be allowed into the event.
Food vendors will include:
Kabaab House (Greek)
Chef Joe's
Los Primos (Mexican)
New Oriental Food Market (Chinese)
The Tavern (Pizza)
Historic East Village, Inc. will also be selling T-shirts with proceeds benefitting the nonprofit organization. The band TOASTER will play on the outdoor stage located on East 5th Street near Grand Avenue from 7-11 p.m.
The 4th Annual East Village Bike Night is sponsored by Historic East Village, Inc., Sayles Graphic Design, The Blazing Saddle and Big Barn Harley Davidson.
For more information, call (515) 281-4011.
So – am I gonna see you there??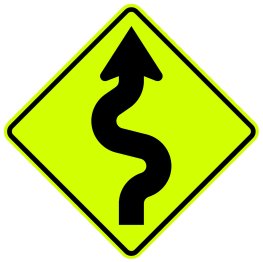 Although I will miss the ride this year, I want to wish sunny, safe and FUN travels to the amazing women leaving this week for the 2008 Dangerous Curves "V-Twin Voyage" ride! Don't forget, girls, I will expect SOMEONE to do the ride reports! (Coyote, are you listening? LOL)
UPDATE Feb. 12: Wow, Stephanie at Iowa Harley Girl has a HUGE selection of photos from the Capitol City Customs Bike Show! Be sure to visit her blog to see all the neat customs from this past weekend!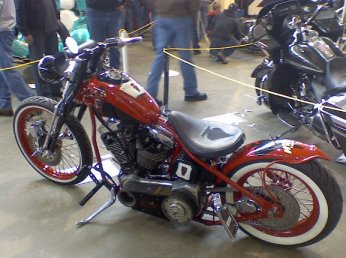 If a crowded swap meet is a sign that Iowans are getting sick of winter, then this year we must all be on the edge of insanity. Not only was it nearly impossible to find a parking spot, it was difficult to even walk the rows of merchandise – I'd say this event has outgrown the 4H building at the Fairgrounds, where it's been held for many years. As always, this event featured many used parts, leather dealers, and other bike-related booths, plus the custom bike show that I thought was a little larger this year. We missed one bargain – a quick-release windshield that might've fit Kristin's bike for only $65 – and ended up not buying anything at all. But it was nice to get out and shop for bike-related stuff anyway. I took a few pictures of some of the custom bikes and put them on Webshots. Have a look, but don't be fooled – the swap meet is wonderful but it's no substitute for getting out there and RIDING!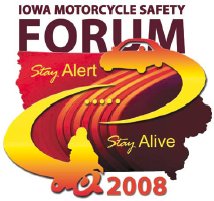 The Iowa Motorcycle Safety Forum takes place on Friday, March 14 from 7:30 a.m. – 4 p.m. at the Sheraton West Hotel in West Des Moines. Participants will have an opportunity to ride the Impairment Simulator, get a legislative update from the American Motorcycle Association, visit a variety of vendor booths and see the Orange County Choppers E-85 Farm Bureau Chopper. Pat Hahn, author of Ride Hard, Ride Smart
and How to Ride a Motorcycle: A Rider's Guide, will also give a presentation.  You can register for the event at the Iowa Motorcycle Safety Network website.