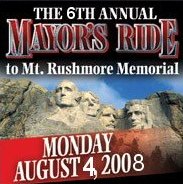 If you are making plans for this summer's Sturgis Rally, the Mayor's Ride is now signing up participants. This year's ride includes Vanocker Canyon, Mt. Rushmore and Custer State Park. There are several commemorative goodies included and proceeds benefit the Sturgis Volunteer Fire Department. Registration is limited to 250 participants. Here's the Sturgis Mayor's Ride website for complete info!
Yes, yes, I admit it, I'm ready for riding season to start. Well, who isn't with this @#$ crazy weather?? So I've been online doing a little Googling, and came up with a few ride, rally and event dates to share. This info will be handy if you are the "go-to gal" (or guy!) for your li'l group of riding buddies. You know – the one they always turn to and say, "Hey, when is _____?" Well, now you'll know!
Capital City Custom Cycle Show & Swap Meet  – February 9-10 at the Iowa State Fairgrounds.
Daytona Bike Week – February 29-March 9 in Daytona, Florida.
Blessing of the Bikes – April 19 at Big Barn Harley Davidson, 81 NW 49th Place, Des Moines.
Indianola Bike Night ("Bike Down to I Town") – April 18, May 16, June 20, July 18, August 15 and September 19 on The Square in Indianola!
Honda Hoot – June 17-21 in Knoxville, Tennessee
Iowa State HOG (Harley Owners Group) Rally – June 20, 21 in Bettendorf, Iowa.
ABATE Iowa Freedom Rally – July 3-5 near Algona, Iowa.
Sturgis Bike Week – August 4-9 in and around Sturgis, South Dakota.
Hawgstock Rally – August 21-24 near Winterset, Iowa.
ABATE Toys for Tots Toy Run – October 12 at the State Capital in Des Moines.
Biketoberfest – October 16-19 in Daytona Beach, Florida.
If you have an event that's either held in Iowa or is a major event of interest nationwide, let me know!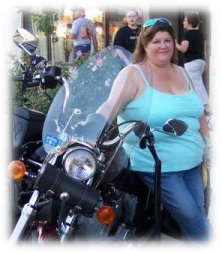 Getting fired up for East Village Bike Night this Friday night… Des Moines' historic East Village really knows how to throw a party. The event will include a "show-n-shine," street dance outside the Blazing Saddle, and international food vendors.
Then on Saturday morning, I'm leaving along with about 30 other Harley-riding women for the "Dangerous Curves" Estrogen Ride! I'm pretty excited about this one… it's a 3-day trip to northeastern and eastern Iowa organized by some gals from the Big Barn Harley Davidson Ladies of Harley group.
Look for photos and ride reports!
Just in the nick of time, I've got all my Sturgis materials from 2006 loaded into WordPress so you can enjoy them leading up to, during and after the Sturgis Rally 2007!
Photo galleries are linked in the right-hand column, and full ride reports are categorized under "Sturgis 2006."
Enjoy and comment!

I'm stoked!! Or pumped… or whatever it is the cool kids say these days when they mean, "I'm excited!" I invited Vicki Gray of Motoress to have a chat about her latest project, National Female Ride Day, coming up THIS FRIDAY, MAY 4, and she responded with some great insights not only into the inspiration for and purpose of the event, but also into the phenomenon of women in motorcycling.
Just wanted to give you a heads-up about a special feature coming up here on Biker Chick News: next week, I'll be sharing my recent Q&A with Vicki Gray, the organizer of National Female Ride Day!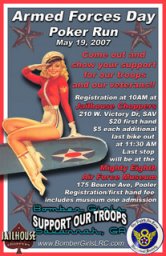 The Bomber Girls will be having their first run on May 19th, Armed Forces Day. The Girls are a group of riders working to benefit the USO, in support of U.S. military troops all over the world. Their May 19 run takes place in Savannah, Georgia, where they'll have servicemen working the stops along with the riders, so head on in to Savannah and support our troops and veterans – tell one thank you!Registration begins at 10 AM at Jailhouse Choppers' new location at the corner of Victory and Barnard in Savannah. (Thanks guys!!! www.MySpace.com/JailhouseChoppersINC), last bike out at 11:30 A.M.
The run will end up at the Mighty 8th Air Force Museum, and the $20 first hand/registration fee includes one admission to the museum.
Come out and help The Bomber Girls make this first run a success!!!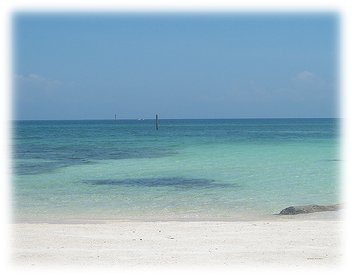 Well the weather here is awful – AGAIN! It's been below 40 degrees every day for the past four or five days, with overnight temps below freezing, and it has cold-snapped all the tender plants and just about assured we'll have no flowering trees or any other spring flowers. It sucks!! So, I'm glad to see that folks in warmer parts of the country are still getting out to ride. I found this news item today that's just one of those "feel-good" stories that makes you wish you were part of the big column of bikes. Riders in southwest Florida, including the Chrome Divas, spent their Easter Sunday taking stuffed animals to kids in local hospitals and indeed, making sure the hospitals had plenty of toys for kids all year round. Here's the scoop from the Fort Myers News-Press!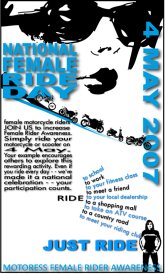 Okay biker chicks, it's time to RIDE! Motoress.com has created National Female Ride Day, set for May 4, 2007, to honor and celebrate all women who ride. Where will you go??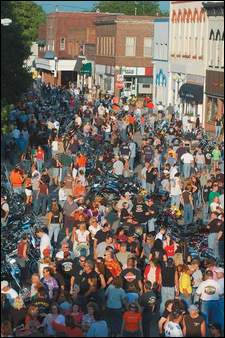 Just wanted to show you Indianola Bike Night – it continues to be one of our favorite local events. Third Friday of each month, May-September… bikes, food, folks and more bikes on the square in Indianola, Iowa. About 2000 bikes, maybe? I'm a terrible judge of crowd size, but the square's a block long, and bikes are lined up 3-4 rows per street, plus 3-4 rows per sidestreet (8 sidestreets). This cool photo, by the way, is courtesy of the Indianola Record Herald (www.indianolarecordherald.com), the local newspaper that featured us on their front page recently. I thank them for letting me use it!