Capitol City Customs Swap Meet & Bike Show
UPDATE Feb. 12: Wow, Stephanie at Iowa Harley Girl has a HUGE selection of photos from the Capitol City Customs Bike Show! Be sure to visit her blog to see all the neat customs from this past weekend!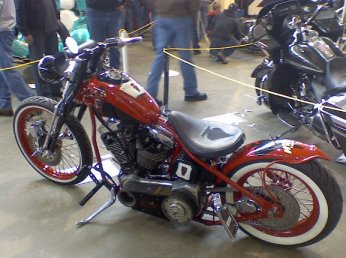 If a crowded swap meet is a sign that Iowans are getting sick of winter, then this year we must all be on the edge of insanity. Not only was it nearly impossible to find a parking spot, it was difficult to even walk the rows of merchandise – I'd say this event has outgrown the 4H building at the Fairgrounds, where it's been held for many years. As always, this event featured many used parts, leather dealers, and other bike-related booths, plus the custom bike show that I thought was a little larger this year. We missed one bargain – a quick-release windshield that might've fit Kristin's bike for only $65 – and ended up not buying anything at all. But it was nice to get out and shop for bike-related stuff anyway. I took a few pictures of some of the custom bikes and put them on Webshots. Have a look, but don't be fooled – the swap meet is wonderful but it's no substitute for getting out there and RIDING!