Ride to Eat, Eat to Ride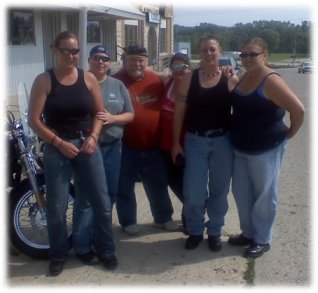 Well we did not take our bikes down to East Village – we decided to go there and drink instead. (Hey sometimes you need one kind of therapy, sometimes you need another!) We did have fun, we sat and talked to the karaoke DJ Michael, who is so worried about us and the house… and later on Steve's nephew Ben stopped in and we closed the place down chatting with Ben and his friends.
Saturday was another story – it was a little cloudy but we decided to try to find a place for lunch that was not too far, but a nice ride. I recalled that the local HOG members ride to Baxter fairly often, so I figured there must be food there… I did a little Googling and discovered a place called OKelley's Steak & Pub, so we gathered up Kristin, Hollie, Jenn and Amy (lucky Steve, the only boy) and went for a mid-afternoon lunch.
This is a less-than-an-hour ride along one of my favorite roads – F48 in eastern Polk County. Only trouble was when we got there, OKelley's was closed (except for the bar) because they were waiting for a big group of bikers to arrive for the ending of a charity ride. (Must've been the one we heard about Friday night.) We asked the bartender for a recommendation in another town not too far away and she said there was a nice little bar and grille in Kellogg, Iowa – we took Highway 17 out of Baxter and 224 south to Kellogg, where we found Desperado's. We almost didn't get to eat there, either – they shut down the grill for a time between lunch and dinner hours, but they fired it back up for us and we had a great little lunch with ribeye sandwiches, chicken strips, fried mushrooms and other goodies.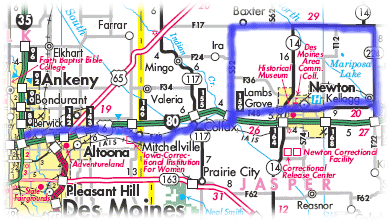 Another large group of bikers came in just as we were leaving, so we asked one of them to snap our picture before we took off. (Thanks, friend!) Although we thought for a time we were going to get rained on, it actually cleared up and was sunny by the time we were on our way home. We headed south out of Kellogg just down to Highway 6, which has beautiful new paving, then east into Newton. We crossed Highway 14 and 6 became F48 again, which took us all the way home. Our route, now that I see it in the picture, looks a lot like the Big Dipper!
Only other ride this weekend was the shorty Steve and I took to breakfast on Sunday. It's raining pretty hard as I write this, and I'm thinking about my Dangerous Curves gals and hoping they are okay.
House update: as I mentioned in my other post, the City keeps asking us to wait for them to gather some resources that might be helpful. We are thinking that perhaps they will have a plan in place early this coming week, so maybe by the end of the week we will know whether we are staying or going. Meanwhile, 'nother few nights in the camper won't hurt.