Sturgis news: be part of an historic photo shoot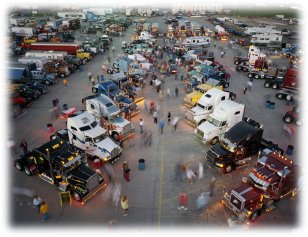 Canadian photographer Edward Burtynsky is attempting to capture the spirit of the Sturgis Rally by shooting a large-scale photo that shows bikes and riders lined up and down along the entire length of Main Street. 
Burtynsky is known world-wide for his photos depicting natural landscapes changed by industry – quarries, urban mines, housing developments, and railroads have all been subjects in his photos.
The Sturgis photo will be used as the cover of a forthcoming book of his work that will focus on oil as a natural resource, an industry, and a social and cultural "force" that fuels our modern lifestyle. The image is intended to show the celebratory spirit of people with a common bond – in this case motorcycles – that is affected by the availability of oil and the industries that have grown up around its use. (The photo above is part of the same forthcoming book and depicts the Trucker's Jamboree at Walcott, Iowa in 2003. Click the picture for a larger view.)
If you're headed to Sturgis and want to be in the Main Street shot, staging begins on the street at 5 p.m. on Tuesday, August 5.