In 2004, a number of really important things happened: Janet Jackson had a wardrobe malfunction; John Kerry (now Secretary of State) ran against incumbent George W. Bush for President; Martha Stewart began a five-month prison sentence, and…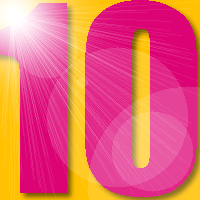 Biker Chick News was born!
That's right, 2014 marks the TENTH blogiversary of Biker Chick News! That's some pretty good staying-power, considering that a boatload of other blogs – motorcycle-related or otherwise – have come and gone over the years.
And while 10 is a pretty amazing number when it comes to blogiversaries, here are just a few MORE numbers that I find really interesting.
10 years
452 blog posts
1,054 comments
1,500 site visits in May 2006
49,032 site visits in January 2014
361,287 site visits in all of 2013
2,161 Fans on Facebook
As always, I want to say THANK YOU to everyone who reads this blog and/or shares their thoughts. I have a few fun things planned for the blog this year, and I hope you will stick around!
This week in our local weekly business newspaper, a well-known sales coach offers up some suggestions for how the busy and motivated sales person can use their "windshield time" – the time they spend behind the wheel, going to and from sales appointments – to increase their chances of a successful sales call. He encourages them to use the time to anticipate or reflect upon the appointment, and gives suggestions such as:
Listen to CD's that inspire and motivate you.
Voice-to-text yourself the primary questions you want to ask your prospect.
Listen to the music that gets you pumped up and excited to go in and be your best!
But, I've got a better idea for sales people and everyone else behind the wheel: stop fiddling with the knobs, buttons and electronic devices, and pay attention to your driving. Hurtling around town in a 3,000-pound-plus automobile carries with it a responsibility – primarily, the responsibility not to harm others. You are far less likely to cause harm to others if you are paying attention to the road.
I know this might put a cramp in your style if you're a sales person who drives to and from appointments and needs to squeeze productivity from every second of the day. But let's face it: if you cause an accident on your way to that sales call because you were digging your favorite motivational disc out of the console, you're going to be late and blow the sale anyway.
Believe me when I say (and this applies to everyone, not just sales people), everyone who is in your path appreciates your attention to the task of driving.
Would that we all were using our "windshield time" to see and process what's actually happening on the road ahead of us.
I was interested – and glad – to see that International Female Ride Day will now be held on a Saturday. This means I (and millions of female riders like me who are tied to the US version of a "work week") will not have to burn a vacation day to participate.
And participate I will! Now make no mistake, ANY day I ride is a "female ride day" – and I don't depend on a designated day or month to validate me as a female rider. But I don't begrudge the fact that there IS a designated day – in fact I think it's kinda cool. And I've always wanted to be able to say that I rode with millions of women worldwide on IFRD. This year, it looks like I'll have that opportunity on Saturday, May 3.
Here's the full story, from founder Vickie Gray's website, Motoress.
Thanks to BCN reader Kathy W. for the tip, shared in the comments on my calendar post!
Big Barn Harley Davidson here in Des Moines hosted its annual Zero Run today – one mile to ride for every degree of temperature. Sixteen riders took part, who are either really hardy or really idiotic, depending I suppose on your perspective…  I'm going with "hardy."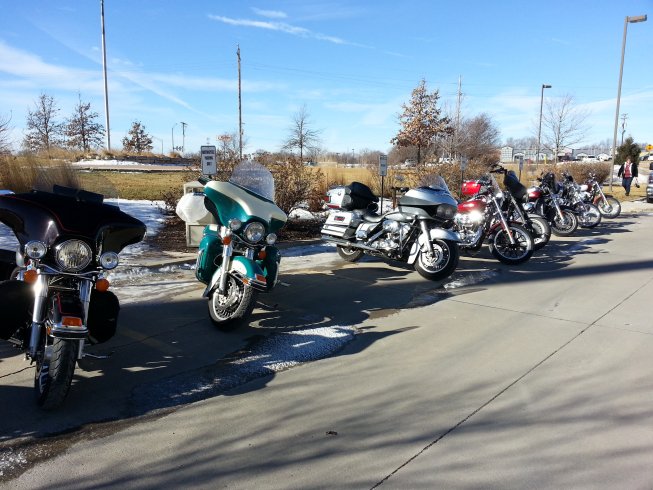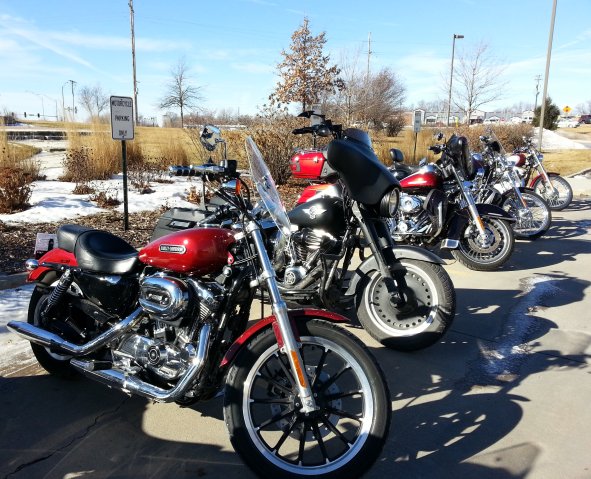 Big Barn hosts this ride every year and sometimes it's cancelled due to road conditions. But this year main roads are decent – it's just COLD – so off they went. We did go to the Barn today but with Kitten hiding in the garage behind the snow blower and our driveway covered in snow and ice, we simply couldn't get there on the bikes. So we drove (yeah, I know, wusses…) but did manage to partake in and enjoy the Chili Feed and did a little browsing on the sales floor.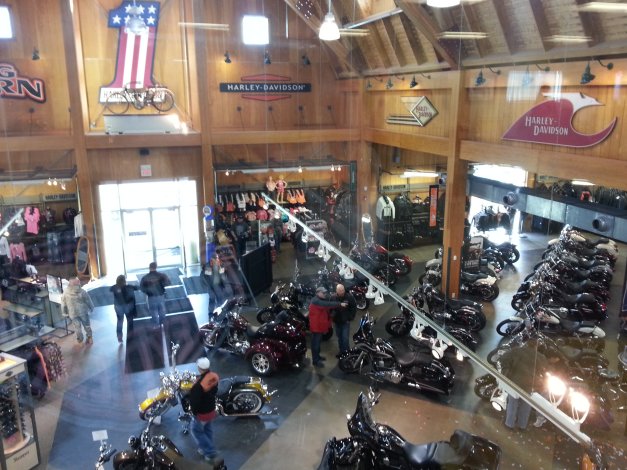 It was nice to do something bike-related even if it was just a little lunch and retail therapy. You can see the entire photo album over on the Big Barn Facebook Page.
Looking forward to the motorcycle swap meet in a couple weeks!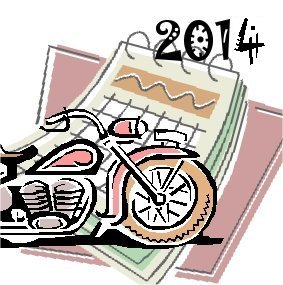 UPDATE MAY 27 – Added an event for June 22nd.
UPDATE APRIL 9 – Updated again by adding a crap-ton more events. I think this makes it my biggest calendar EVER. But, there's likely more still missing. So, if you have an Iowa-focused motorcycle event, leave the info in the comments.
UPDATE APRIL 5 – I've just taken another pass through this list and updated with most of the missing dates. Again, if you know of something that should be added (either a large-scale national event or an Iowa-based event), please add it in the comments and I'll list it in the main post. Thanks!
Happy New Year! Hope your January is off to a great start; I am still hibernating but around here we are approaching the date of the Motorcycle Swap Meet at the state fairgrounds held each year in February. I always consider that to be a bit of a milestone as we progress through Winter, so I am looking forward to it whether we attend or not.
We have had quite a deep-freeze going on around here weather-wise – something called a polar vortex – but there was one day in there where we actually had a high temperature around 45, and there were bikes out! Kitten, of course, is hunkered down behind the snow blower so there's no leaving the driveway for me for quite awhile yet. But still – 45 felt positively balmy after the high temps just the week before which were below zero.
Anyhoo, while it's still January I thought I would post my annual list of Des Moines, central Iowa, and random US biker events and rallies. This is by no means an exhaustive list (but it IS exhausting putting it together! LOL), and some of the dates are still TBA so will be added later. If you know of something happening in Des Moines or its metro area, the state of Iowa, or the Midwest region, please feel free to share it in the comments.
Time to THINK SPRING!!
Capital City Custom Bike Show & Swap Meet – February 8-9, Des Moines IA
Daytona Bike Week – March 7-16, Daytona Beach FL
Blessing of the Bikes – April 12 at Route 65 Harley Davidson, Indianola
Kelley Bike Night – Thursdays 6-10 pm beginning April 17 at Crossroads Tavern in Kelley, IA
Indianola Bike Night – Third Friday of the month, April 18 thru September 19, Indianola IA
Winterset Bike Night – Third Saturday of the month, beginning April 19 in Winterset, IA
Blessing of the Bikes & ABATE Dist. 4 Chili Feed – April 19, 11 am at Big Barn HD in Des Moines
Iowa Dept. of Transportation Motorcycle Safety Forum – April 25 at Hy-Vee Hall, the Iowa Events Center in Des Moines
Blessing of the Bikes – April 26 at Grotto of the Redemption, West Bend, IA
F & J Bike Blessing – April 26 at the American Legion in Marshalltown, Iowa
Gathering on the Grounds – Second Thursday of the month, April – July at the State Fairgrounds in Des Moines (to be confirmed)
Knoxville Bike Night – First Friday of the Month beginning May 2 through September
Struthers Brothers Dinner Rides – (So far) April 12, 26; May 10, 24, leaving from Struthers Brothers in Des Moines, 4:3o pm on dates shown.
Hartford Bike Night – Second Friday of the Month, dates TBA
15th Annual Motorcycle & Trike Display – April 25-27 at Southpark Mall, Spencer IA (712-262-8700)
Avenue of the Saints Motorcycles/Classic Cars (formerly St. Charles Bike Night)  – May 11, June 15, July 13, and August 10, 1-4 pm, St. Charles, IA
International Female Ride Day – Saturday, May 3, worldwide!
Blessing of the Bikes – Noon on Sunday May 4, Prairie Ridge Church in Ankeny, IA
Thunder Nites in Newton – Second Friday of the month, May 9 thru September 12
Vintage TorqueFest – May 2-4 in Dubuque, Iowa
Hot Rods & Harleys Cruise Night – 2nd Thursday each month, May-September, starting May 8 at the Chrome Horse Saloon, Cedar Rapids, IA
Thunder Nites Bike Night – Second Friday each month May-September, starting May 9, on the square in Newton, IA
AMVET Riders Motorcycle Awareness Ride – May 10 at the American Legion in Marion, IA
Ride for Peanut – May 17 in Cedar Rapids, IA
"Remember When" Poker Run – May 17 in Davenport, IA
KIA Memorial Run – May 25 in Davenport, IA
National Motorcycle Museum Vintage Rally – June 7-8 at the National Motorcycle Museum in Anamosa, IA
Rally on the River – June 11-14 in Davenport IA
US Route 6 Iowa River to River Cruise – June 12-14 starting in Council Bluffs and ending at Rally on the River in Davenport (link above)
Bell Tower Festival Poker Run & Bike Show – June 14 on W. State Street in Jefferson, IA
Relay for Life 3rd Annual Poker Run – June 14 starting in Cedar Rapids, IA
Ride Your Motorcycle to Work Day 2014 – June 16 EVERYWHERE!!
Awesome Biker Nights – June 19-21 in Sioux City, IA
3rd Annual Blackhawk Lake Trike-In – June 20-22 in Blackhawk Lake, IA
A Ride to Remember with Coach Rhoads – June 22 in Ames, IA
J&P Cycles Open House – June 27-29, Anamosa IA
Ride it Out for Amber- Saracoma Cancer Benefit – June 28 in Polk City, IA
ABATE Iowa State Freedom Rally – July 3-5, Algona IA
ASMI River Road Fundraiser – July 18-20 in Dubuque, IA
First Annual Ride 4 Time poker run – July 19, Baxter IA
Patriot Ride – July 19, Quasqueton, IA
Road Warrior Rally – July 26, Dubuque, IA
Across the Border Motorcycle Raid and Rally – July 31-August 2 in Bedford, IA
2nd Annual Ride to Live 4 Gibbie Poker Run – August 2 in Boone, IA
Sturgis Rally – August 4-10, Sturgis SD
AMVET Riders 2nd Annual Bug Run – August 9 in Cedar Rapids, IA
Iowa State Fair Motorcycle Day – August 17, Des Moines IA (to be confirmed)
Iowa State BTW Rally and Iowa heartland Trikers Trike-In – August 22-24 in Kellogg & Grinnell, IA
Chief Blackhawk 43rd Davenport Fall International Meet – August 28-30 in Davenport, IA
Davis Motorcycle Rally – September 5-7 in New Hamptom, IA
Sydney's Wish 3rd Annual Benefit Poker Run – September 6, Des Moines IA
Bikes Blues & BBQ – September 24-27, Fayetteville AR
Biketoberfest – October 16-19, 2014 in Daytona Beach SD
So remember this past summer when I wrote about the amazing day spent hurtling through the Iowa corn with Sash and Highway? Well Tina (Sash) is now commemorating her ride across the US and back with a line of sassy t-shirts especially for women riders! Her shirts have been made with the input of the gals she met on her cross country adventures.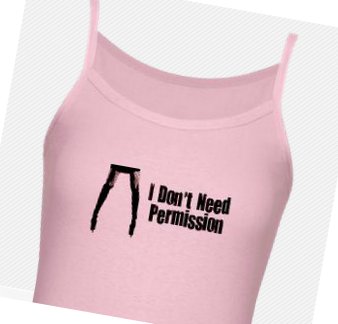 Sash is truly an original – if you read her blog, you know she's often outspoken and brash, sharing her views on being a female rider and daughter of a 1%'er with her own special brand of ferocity. Her shirts definitely reflect her personality!
"Rude Biker Chick shirts are for all of the women who've had enough of being a doormat and are ready to take a stand and declare their independence, power and value," says Tina. "They are to bring women together; to support, encourage, and laugh with one another."
Sash and her husband Steve (aka Highway) base their media company in San Diego. They're currently enjoying an extended stay in sunny SoCal, but their life is based on full-time traveling on their bikes. Their blogs and websites include www.RudeBikerChick.com, www.MotorcyclePhilosophy.org, and www.BikerNewsOnline.com, among many others.
The shirts can be seen and bought online at www.RudeBikerChick.com.
… to just say HI – how ya'all doin'? :) I hope you had a lovely Thanksgiving and… like me… are looking forward to Christmas! It is RIGHT around the corner! Do you have any motorcycle-y things on your wish list this year? I would really like to add a shorter kickstand to my bike for the upcoming riding season… Steve says that's what's needed to eliminate my occasionally recurring parking problem. So we'll see… if Santa doesn't bring it, I'll have to try to get it in the Spring.
By the way, as it turned out, the Divas ride to Eldon was indeed my last right of the year – I got onto the book project shortly after that, and didn't get to ride again before the first bit of snow. We did, however, take a lovely drive in October in the Corvair, and I snapped a few Fall pictures. Here's a sampling: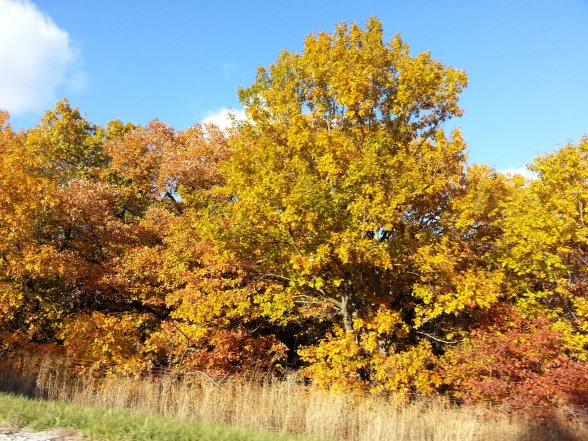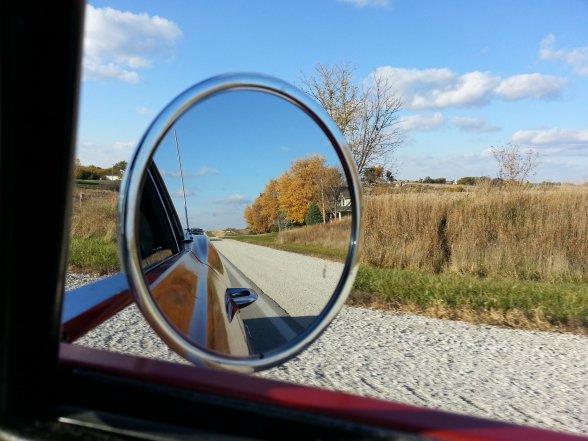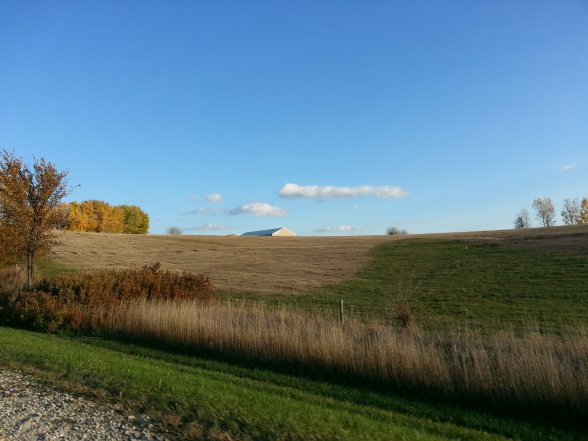 Okay I guess that's about it for now – I DO have one or two other things to tell you about before the end of the year so look for a couple more posts real soon!
Okay remember wayyyy back in 2009 when I gathered a list of "must-have motorcycle accessories" and I included THIS imaginary item:
Voice-activated protective wrap-around bubble – This device deploys much like an airbag in a car, except it is voice-activated. If the rider shouts "Oh SHIT!" in a panicky voice, the bubble deploys and encases the bike and rider in a large see-through "hamster ball" made of indestructible space-age material.
Well guess what: It's here – or at least, it's in the works… for cyclists… I wish I was smart enough to embed a video shown on Vimeo, but alas… I am not. Anyway, click the preview pic for the precursor to GIANT HAMSTER BALL (aka "Invisible Bicycle Helmet"):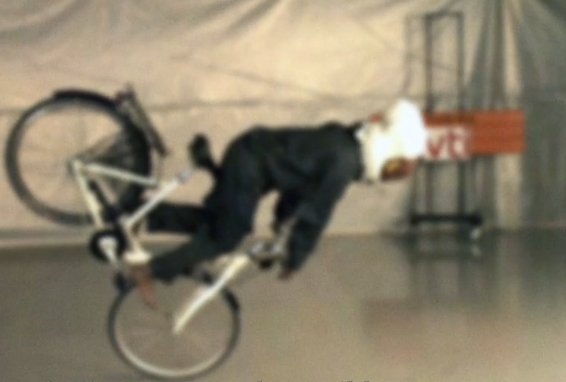 Well I probably missed the last 30 days of this year's riding season due to work on the book, but that's okay – it was worth it to stay focused long enough to complete the project! We might have one or two more nice days yet this Fall and they might fall on a weekend when I am off work… and if they do, I'm still planning to get another ride or two in. And if it does turn out that the Divas ride to the American Gothic House was my last trip until Spring, well then it was a wonderful cap to the year! (Hey one year we got to ride three times in January! I'm not sure if that would be called an early "first ride" or a really late "last ride" – but it sure was fun, and unexpected!)
A few random "news"-type items:
The Motorcycle Safety Foundation now has a basic skills course you can take online. It's not a hands-on class, of course, since it's virtual. But it might be good prep work if you are thinking of taking the MSF course in the future – or even a good refresher if you're an experienced rider. The course costs $19.99 and you can learn more at the MSF website.
Enterprise Rent-A-Car is now offering motorcycle rentals in the City of Lost Wages… you have to have a valid motorcycle license to rent, but mandatory helmets are provided compliments of Enterprise. The pilot program is based in Vegas, with rentals ranging from $120 to $160 per day. They're presently renting only Harley-Davidson 'Glide models, with plans to offer the Heritage Softail Classic and Fat Boy Lo by year's end. No word on when or if other brands may be offered.
And, Honda's new Grom commuter bike is pop-pop-popular! Apparently some dealers can't keep it in stock… likely the 100mpg mileage rating, its lighter weight (just 225 pounds loaded) and its smaller "mini-bike" stature all contribute to the popularity of the bike, as perhaps does the $2,999 sticker price. The bike is being marketed to young people as a way to "bag the bus" and have an independent, but cheap, way to get where you're going. (With a top speed under 70 mph, you won't be going far, but you'll be going easy.) The video from Honda makes it look like fun – I want to ride in an abandoned warehouse!! (I'll be the one who picks up the discarded nails in my tires.)
It's here! GET ON: A Guide to Riding Motorcycles for Women Who Think Too Much is now available!
Click here to buy GET ON for Kindle and Kindle reader apps!
Click here to buy GET ON in Epub format for Nook and other e-readers!
Click here to buy GET ON in PDF Format!
(Note: All editions are copyright 2013 Janet H. Green and may not be copied, redistributed, or offered for sale outside of the links above.)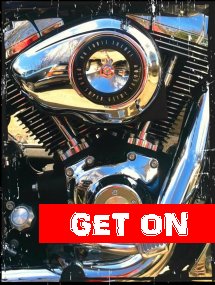 If you're a woman who's been thinking about learning to ride your own motorcycle, but are wanting to understand the risks and rewards more fully before getting started, now you've got a new resource for information and encouragement.
If you're a fan of Biker Chick News and want to know a little of my "Corn Dog backstory," you can learn more about how I got started riding and how I overcame the challenges I faced.
And if you're one of my beloved curious/horrified on-lookers and you just want to support my latest writing venture because you love me, well who am I to argue with that!
Whatever your motivation, it's my sincere hope that you will enjoy GET ON!
You can purchase GET ON at one of the links shown above, and of course you can follow my writing journey at my author website: www.janetgreenbooks.com.
I thank you, from the bottom of my heart, for purchasing GET ON!