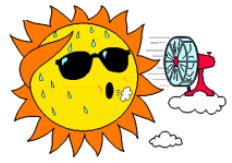 Once again, the month of July has been brutal for us, weather-wise… temperatures in the mid- to upper-90's, with the heat index pushing us up into the 100's and even 110's for about the past three weeks. It's deceiving to sit inside in the air conditioning (thank God for air conditioning, and for the funds to pay the electric bill) and look out at the sunshine, because when you step outside it's like a heavy, hot blanket gets draped over you – close and suffocating. And "being in the wind" isn't much better when it feels like a blast furnace.
Keep in mind, I'm not complaining. I'd much rather have a month – even two – of heat and humidity than a winter filled with ice, snow, and bitter cold.
At any rate, I admit I haven't been out on the bike much these past few weeks. We did get to go to Indianola Bike Night back in mid-July; that was a great evening, as I finally got to meet Vernon Schwarte from Thunder Roads Iowa Magazine. Vernon and his wife Tina (TT) have owned the magazine for a litle over a year now, and they've even published a few of my rantings in the "From the Woman's Seat" column. They've done a great job keeping the publication focused on Iowa.

And, just this weekend we took the opportunity of slightly lower temperatures (upper 80's, heat index 102! LOL) to ride up to Big Barn Harley Davidson to meet Garry & Shirley and see a traveling exhibit related to the Viet Nam Veterans  Memorial in Washington, DC. (My husband Steve, who is a few years older than me, served in the Marine Corps from 1967-71, including several months "in country" near the demilitarized zone separating North and South Viet Nam.) This traveling memorial was developed by the Vietnam Veterans' Memorial Fund. It was particularly interesting – and moving – to see some of the items that have been left over the years as mementos at the Wall.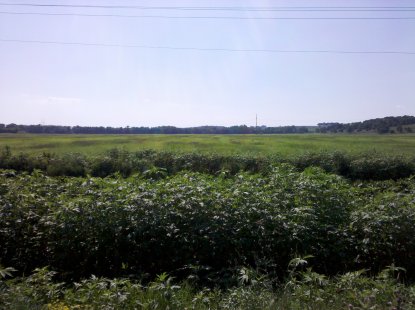 Followed that up with a very nice ride over to Newton along County Road F48 (one of my favorites) – where we saw that the heat has obviously been very good for Iowa's favorite crops: fields were a beautiful sea of deep green, the corn topped with golden tassels and the soybean plants full and bushy. Unlike the previous few weeks, riding was a pleasure – it was hot sitting still, but very pleasant once you got moving along. I got sun-burned to a crisp, having once again failed to use any kind of sunscreen. (I'm smart like that.)
We enjoyed our lunch at PJ's Deli (Steve said the "Turkey Crisp" was really good!) then headed home back to the east where we turned south down Highway 117 at Colfax and into Prairie City, taking the four-lane 163 home through Pleasant Hill.
Now we are at month's end already, and the Sturgis Rally is coming up in a week. If you're headed that way – ride safe, have a blast, and say hello to the giant nipple for me!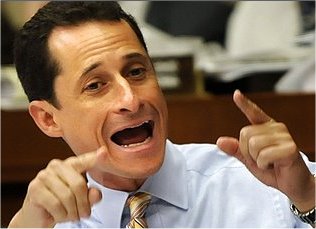 Much like Rep. Anthony Weiner, I find Twitter a lot harder to manage than Facebook. I'm very selective about who I follow, because I've found that some folks can really clog up the ol' newsfeed with useless spammy crap and/or general impropriety.
But, I still want to be able to catch the occasional comment from someone outside my normal universe if they're talking about a subject that interests me, and it's here where Twitter has the advantage. With Twitter, I can simply subscribe to a custom feed made up of tweets that include the words "woman" and "motorcycle," without having to actually follow every Tom, Dick or Congressman out there.
This is a double-edged sword – primarily, the feed is made up of tragic headlines (i.e., "Woman killed in motorcycle wreck…" "Woman thrown from motorcycle…" etc etc). But there are also enough amusing gems out there that make it worthwhile.
So here, I've decided to round up a few bits of "wisdom" about women on motorcycles, as posted on Twitter – a snapshot-in-time, if you will, of what folks really think about women who ride.
Some people immediately see the sex appeal of a woman riding a motorcycle: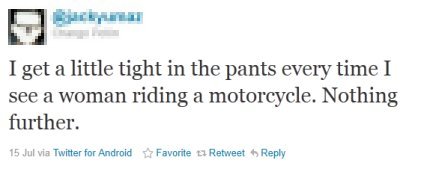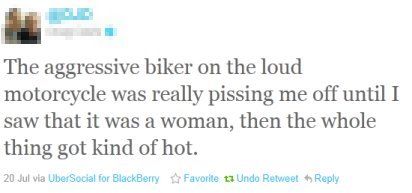 Some are flat-out inspired: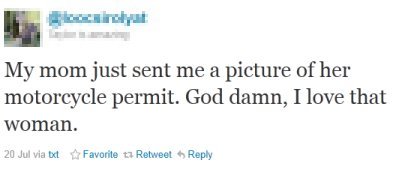 And some just don't get it yet:

Sometimes they take note when we do stupid things: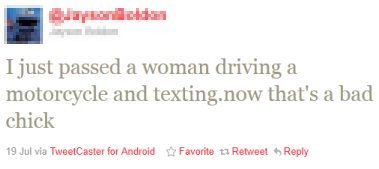 Apparently, some are in total denial about the new reality:

And, some see it but are really uncomfortable with it: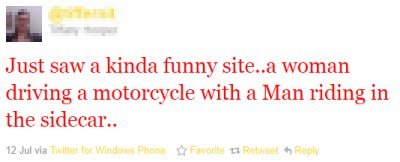 And some (and this is my favorite), know when it's time to just accept their fate for what it is: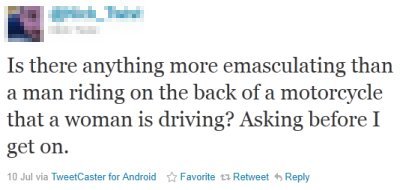 So how about you – are you one of the Twitterati? Find me, and let's tweet!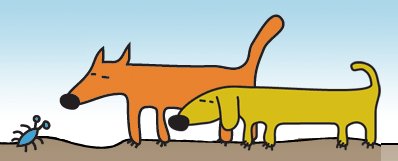 My dear friend Susan (Coyote) has taken on an enormous responsibility this year – she is leading the charge in our local HOG chapter to raise funds and support AHeinz57 Pet Rescue, a central Iowa rescue and adoption shelter. AHeinz57 Pet Rescue & Transport, Inc. is a non-profit no-kill animal welfare organization based in Adel/DeSoto, Iowa. They assist in caring for homeless dogs in Dallas County and also assist rural no-kill shelters in fostering and re-homing stray dogs. They rely solely on volunteers and donations from the public to fund their activities.
As part of this effort, AHeinz57 is hosting the "Mutt Madness Weekend" August 12-14, including a benefit poker run and meet-and-greet with the guys from National Geographic Channel's Rescue Ink as their very special guests!
This event takes place the weekend of August 12-14, with activities as follows:
Friday, August 12:
Meet-and-greet with Rescue Ink at Big Barn Harley-Davidson, 81 NW 49th Place in Des Moines. BBQ lunch available for a donation to AHeinz57.
Saturday, August 13:
AHeinz57 Poker Run, with registration beginning at 9:30 a.m. at Big Barn H-D; ride leaves at 11 a.m. and ends at Norwood Inn Bar & Grill, E. 29th & Broadway in Norwoodville. Entry fee is $25, which includes one poker hand and a t-shirt. You can get just the poker hand for $20 (no t-shirt), and you can also buy additional hands for $15 each (no t-shirt).  Lots of prizes to be raffled, plus 50/50 drawing and much more!
Sunday, August 14:
Mutt Madness Festival featuring businesses and pet rescue organizations, 10 a.m. – 3 p.m. at Big Barn HD!
Sunday, August 14:
Benefit dinner with Rescue Ink at Rube's Steakhouse, 3309 Ute Avenue in Waukee beginning at 5:30 p.m.; cost $60 per person.
For complete information, visit www.aheinz57.com or contact founder Amy Heinz at:
AHeinz57 Pet Rescue & Transport
mutts57@gmail.com
515-834-2635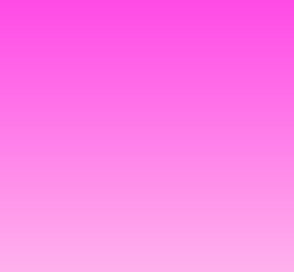 Let me just say this outright: if you have a product and you are suddenly deciding to tailor it to women, DO NOT make it pink. Just don't. Painting it pink and thinking women will automatically dig it is a cliché. It's unimaginative. It's an insult.
This has been a beef of mine for awhile, but I've recently noticed more than a few examples of this happening and so it seemed timely to mention it. (I won't name names – I don't intend to call anyone out specifically, I just want to encourage everyone marketing to women to be smarter than this.)
Now don't get me wrong – I like pink, sometimes. I own things that are pink, and I am not insulted to own them. But make no mistake: I chose pink in these instances. It wasn't handed to me along with a condescending note stating, "Here you go, this one's pink so you'll love it!"
So if not pink, what color should you pick that offers universal female appeal? Trick question – there is no such thing!  If you're tailoring something to women, you've got to stretch your brain past the pink and get to the idea that women are different and like different colors. Some like the colors of nature… some like the colors of the garage. Some like pastels, some like bold or jewel tones.  Some like every color under the rainbow, at different times and for different purposes.
If that makes it too difficult for you to tailor your product, consider the notion that maybe a designated "female color" isn't needed at all. In fact, I can just about guarantee you that color is not what's keeping women from using your product. Maybe all you need to do is tweak  your  advertising or your outreach program to acknowledge that your product is suitable for women. Use a female spokesperson  (in a non-sexual way). Encourage the women who do already use your product to show their support. (This is easier than ever in the age of social media.) Maybe your product has more serious problems that are keeping women from embracing it. The fact is, to successfully market to women, you've got to uncover the real issues and address them.
All this is not to say you can't offer a pink product. Go ahead, if it's easy to do and you have other color options available as well. Just don't put pink out there and proclaim, "Now in pink – just for the ladies!"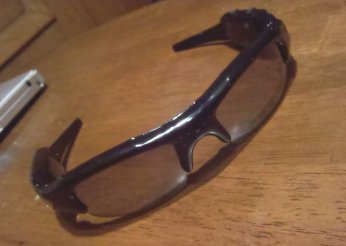 I have a history of buying crap you see on television and then being disappointed in it. Ab Cruncher, Egg Rings, the Esteban Electric Guitar. Well recently at the Good Guys car show, we came upon a vendor selling products that are undoubtedly over-priced and destined to disappoint. But, one of them offers what quite possibly could be the solution to a problem I've had since the very first day I rode my own bike across the Mile Bridge at Saylorville Lake: I've been looking for a way to safely take pictures of my beautiful state, from the bike, without having to coordinate a pull-over of the whole merry band and without having to fumble for a camera stashed in a pocket.
Maybe the solution is "Mobile Eyewear Recorder," a pair of sunglasses with a tiny still and video camera embedded between the eyes.
Let me say that after my many experiences with "As Seen on TV" products, I was skeptical. The printed instructions for the glasses did little to boost my confidence, proclaiming:
"Use USB line connect computer, click can to moved computer on the tabletop playing (when will to use PC Camera, must standby status."
Ultimately we decided to take a chance given the price. We took the glasses for a test ride on July 4 and as these pictures prove, I still have a little to learn about getting decent results.
This photo of a rustic barn illustrates the need to snap the shutter button just a tad sooner.
This photo of Steve on his bike illustrates the point that the center of your forehead doesn't see what you may actually be seeing in your peripheral vision.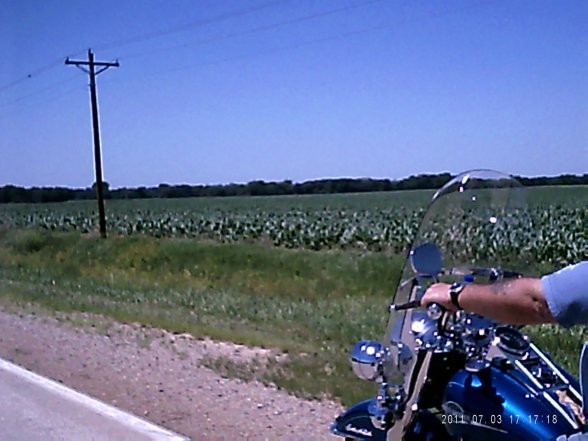 This photo of Saylorville Lake illustrates both of the above points, and also shows that the color captured by the camera may not be the greatest. (But hey, it's a pin-hole camera embedded in sunglasses, not Ashton Kutcher on the back of the bike taking coolpix with his Nikon.*)
Finally, I took a few segments of video with the camera too. This taught me a couple of things as well: a). I move my head around a lot when riding – and that's good, it means I'm always looking for potential hazards on the road. And b). Watching video taken from the center of my forehead makes me queasy. The one advantage of the video? Well it appears I can snag some pretty good still shots out of it (examples below).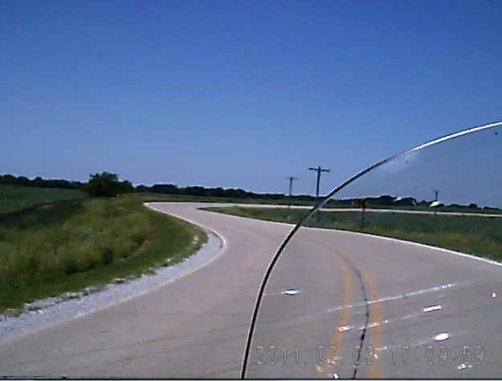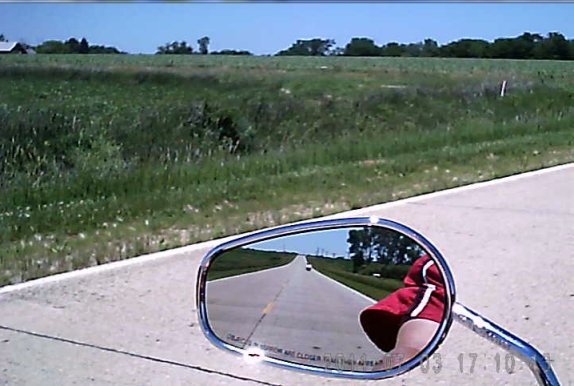 *Note to self: investigate Ashton Kutcher solution ASAP.
Here's how we spent the first part of our July Fourth weekend… baking in the sun at the Good Guys Rod & Custom Heartland Nationals! Twentieth year in Des Moines – we've gone to (and had a car in) every show but one since they've been here. I posted a Good Guys 2011 photo album on Webshots with all the pictures I took, but here are a few of my favorites!
When we first started "rodding" a little more than 20 years ago, the paint trend was quickly moving toward bright colors that were a far cry from the subdued tones of everyday cars. I'm glad to see this "trend" still holding its own!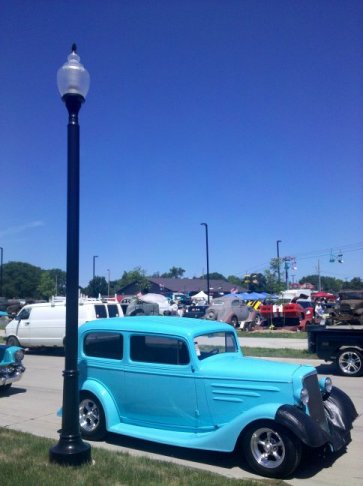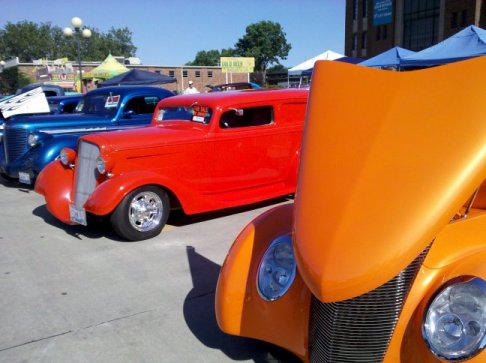 These old Caddy's are LOADED with style and fab-fifties FINS!!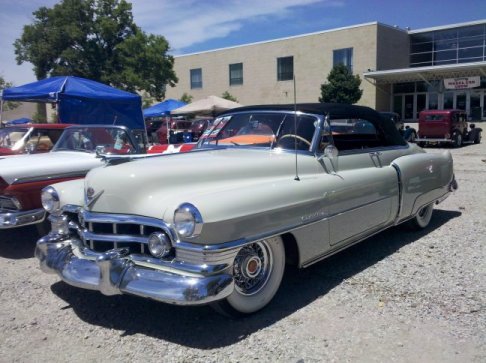 Not every car at the show is painted… there was a slew of "rat rods," some clear-coated and some not, but all exhibiting their natural rusty goodness. I really dig those wide-white-walls and wire wheels!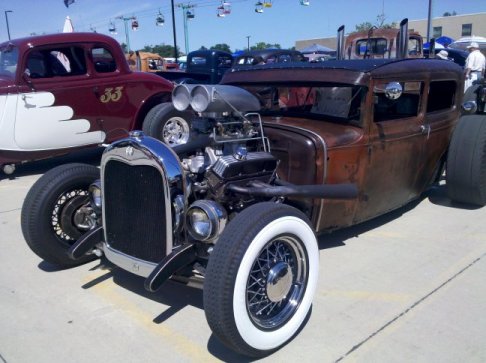 Not even a rat rod… just a great old Studebaker in a condition I like to call "Faded Glory."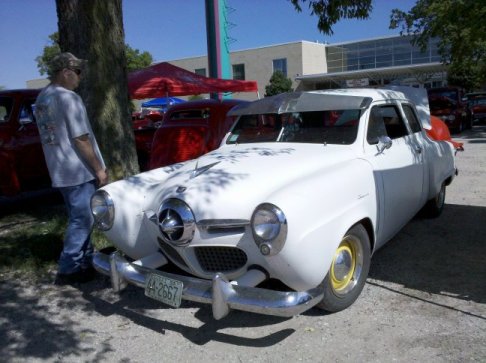 Love this Willy's coupe…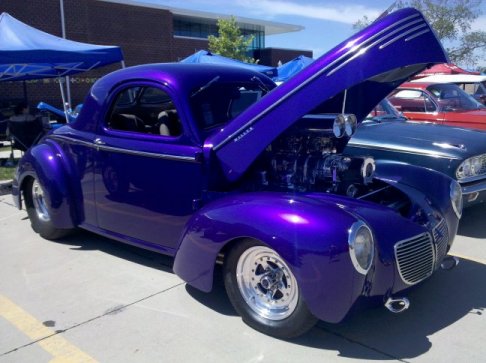 This is an early 60's Nash Metropolitan – I had a project car just like this for a year or so, but eventually sold it to gather the cash to buy… a motorcycle! This one's for sale for ten grand… might be a tad pricey, but man they are NEAT little cars! I'd love to have one again.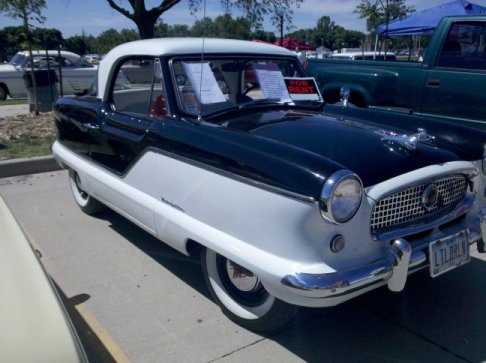 Here's a view of the main drag – the "Grand Concourse" of the show.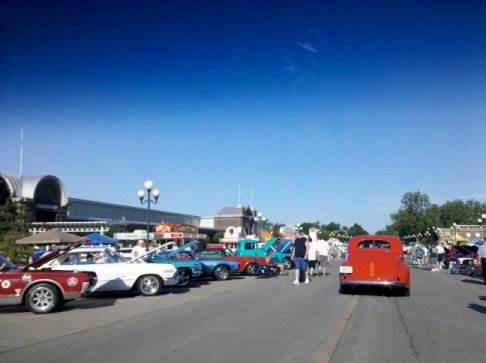 And finally – it was a little painful for me to see this '37 Chevy 2-door sedan. We owned this car – in fact we BUILT this car. This is the first street rod my hubby and I built back in 1990-91, and the car in which we had all of our first ten years' worth of rodding adventures, and the car in which our now-grown daughter took all her early car show trips. We sold the car about ten years ago and haven't seen it around town at all – except this weekend, at this show. I looked in the windows – the guy hasn't changed a thing since he's owned it. It looked exactly like I remembered… like I could open the door and put my baby girl in the back seat with her Crocodile Dentist game, and take off down the road for a small-town show or even the Street Rod Nationals in Louisville. I got a little emotional looking at the car after all this time – pretty much a time capsule holding a LOT of great memories!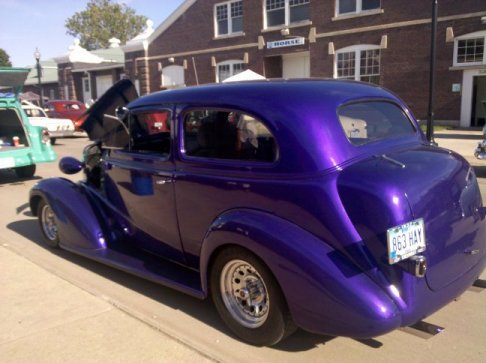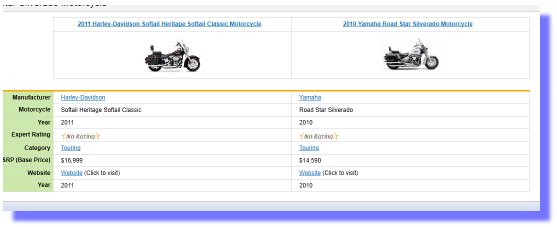 If you've poked around here much, you might have stumbled across my Short Rider Grid comparing seat heights of various cruisers. Of course, there's more to choosing a bike than seat height, and now there's a good resource for those researching a bike purchase. The motorcycle comparison tool built by www.findthebest.com lets you view a variety of specs and features on different bikes in a side-by-side view. The screen shot above gives you an idea of what the results look like, though there's a lot more to it than what's shown. (See a full sample comparison of an HD Heritage Softail Classic and a Yamaha Roadstar Silverado.)
Kyle Espinola of FindtheBest tells me that their research team built the comparison by first determining what data should be included, then populating the data fields with data directly from the manufacturer or government databases.
The comparison also includes "expert ratings," which are weighted averages of industry sources, including Motorcycle.com, CycleWorld.com, and Motorcyclist Magazine.
"(Users) can also give their own reviews on the product at the bottom of each listing, (and) can also add/edit listings. Every add/edit is quality checked by our staff and then sent live,"  Kyle said.
He notes that the FindtheBest team also adds bulk entries at different times – for example, a major addition will take place when more of the 2012 bikes are out.
Bikes aren't the only things you can compare at FindtheBest – the site has created a "one-stop shop" of comparisons covering a broad range of interests, allowing users to find and review both objective data and user reviews all in the same spot. You can read a little more about the site in a December, 2010 write-up on the blog Mashable.
Disclaimer: Although FindtheBest.com invited me to take a look at their motorcycle comparison tool, they did not compensate me for writing about it. They *did* add my blog to their blog comparison tool, but only after I was too lazy to add it myself :)