Sturgis, 2009: Day Four, Beyond the giant nipple
Everyone goes to Devil's Tower on Wednesday of Sturgis Week, through Hulett, Wyoming. I understand it's a tradition – I get that. The problem is, when you have a bike rally of 300,000-500,000 participants, "everyone" is just way too many bikes. So, having honored the tradition of going to Devil's Tower through Hulett on Wednesday on our last trip, this time we decided to go on Tuesday to see if we could actually have fun.
It was probably the best decision we made the entire trip, because it made a HUGE difference.
First off, the weather was delightful – very cool in the morning when we set off heading west on Highway 34 from Belle Fourche, and bright sunny skies with mild temperatures most of the day. Secondly, there was noticeably less traffic on this day, so we were able to enjoy the scenery a bit more (okay a LOT more) than last time.
I had forgotten how pretty Highway 34 was (Highway 24 once you cross the state line into Wyoming), so it was a pleasant surprise to ride past the Aladdin Tipple (a contraption used in coal mining) and Aladdin Store, through the tiny town of Alva, and then through Hulett – which still had a nice crowd of people and bikes even if they were also a day early.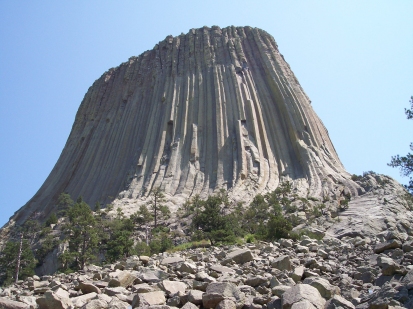 Once through Hulett the next stop is Devil's Tower, and the ease with which we pulled in and parked at the Trading Post was another pleasant surprise. We bought snacks and took pictures of the area, and several of us decided to pay the Park fee to travel to the backside of the tower.
A well-groomed and winding road leads from the trading post along a beautiful grassy area with the Tower on the right, offering a more close-up view. Prairie dogs, considered a nuisance in the area, popped up from their holes and then quickly disappeared again, over and over as we passed the grassland on the left side of the road.
Around several bends and we arrived at the Visitor's Center, where volunteers took note of how many in our group and maintained an organized parking system to keep us all together. Off the bikes, we walked up a short trail to the base of Devil's Tower itself – we got as close as the collection of fallen rocks at its base, but to go further we would have had to sign a liability waiver. It had been a steep enough incline just up to that point – none of us were prepared for a serious unplanned climb, so we remained content to take pictures from the small clearing in the wooded area just below the fallen rock debris.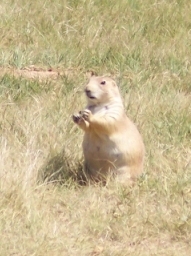 After a short stay, and disappointed that the government's alien contact station was no longer there (you have seen "Close Encounters of the Third Kind," right?) we headed back down to the parking lot and departed along the Park road. On our way back to the Trading Post, I made sure to stop and take pictures of the prairie dogs and their grassland habitat.
We left Devil's Tower a short time later and returned to Hulett, this time turning north onto Highway 112 just outside of town, as an alternate route back to Belle Fourche. Here's the difference the weather makes: this route cuts through a very isolated area, crosses the Wyoming line into Montana, and ends at a T-intersection with Highway 212, seemingly in the middle of nowhere. In 2006 it was about 105 degrees the day we came through here, and it seemed to take forever to get to the gas station at the 212 junction.
On such an unseasonably cool day as we had this year, though, it did not seem nearly as isolated and did not feel like it took nearly as long to reach the junction. It's actually only about 30 miles from Hulett, and from the gas station, only about 40 miles on to Belle Fourche. (I had another "suck it up" moment along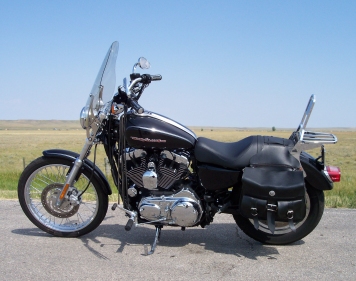 those last 40 miles, as again the crosswind was really harsh, but the secret to taking these jaunts in 40-mile stretches is that, by the time I start to feel beat up by the wind, I'm usually more than halfway to the next mark so it's easy to bear the last several miles knowing I'm almost there.)
We arrived back in Belle Fourche pretty early, and planned our decidedly non-traditional Wednesday ride to Mt. Rushmore, Iron Mountain Road, and Needles Highway – some of the best twisty roads in the region.