Bike shopping? Try a side-by-side comparison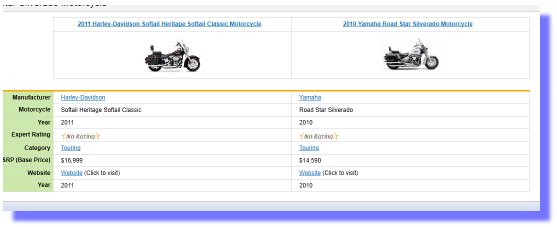 If you've poked around here much, you might have stumbled across my Short Rider Grid comparing seat heights of various cruisers. Of course, there's more to choosing a bike than seat height, and now there's a good resource for those researching a bike purchase. The motorcycle comparison tool built by www.findthebest.com lets you view a variety of specs and features on different bikes in a side-by-side view. The screen shot above gives you an idea of what the results look like, though there's a lot more to it than what's shown. (See a full sample comparison of an HD Heritage Softail Classic and a Yamaha Roadstar Silverado.)
Kyle Espinola of FindtheBest tells me that their research team built the comparison by first determining what data should be included, then populating the data fields with data directly from the manufacturer or government databases.
The comparison also includes "expert ratings," which are weighted averages of industry sources, including Motorcycle.com, CycleWorld.com, and Motorcyclist Magazine.
"(Users) can also give their own reviews on the product at the bottom of each listing, (and) can also add/edit listings. Every add/edit is quality checked by our staff and then sent live,"  Kyle said.
He notes that the FindtheBest team also adds bulk entries at different times – for example, a major addition will take place when more of the 2012 bikes are out.
Bikes aren't the only things you can compare at FindtheBest – the site has created a "one-stop shop" of comparisons covering a broad range of interests, allowing users to find and review both objective data and user reviews all in the same spot. You can read a little more about the site in a December, 2010 write-up on the blog Mashable.
Disclaimer: Although FindtheBest.com invited me to take a look at their motorcycle comparison tool, they did not compensate me for writing about it. They *did* add my blog to their blog comparison tool, but only after I was too lazy to add it myself :)