Temperatures here are in the single digits and below zero, and the state's covered with about 20 inches of snow. It must be time to reminisce a little about some favorite rides from 2009.
Iowa Veterans' Cemetery Ride – this one included a beautiful Iowa day, an un-planned detour, and a worthy destination. It was just Steve and I for this October jaunt.
When I bought my 1200 Sportster in July, we took a nice ride to the south to test her out. Especially nice day because we were joined by Wade, Coyote and Howard.
Of course the trip to Sturgis was the highlight of the year, and two of those days made my favorites list: the second day on the ride out to South Dakota, simply because of the amazing sidetrip through Badlands National Park; and, the day we went to Sundance, Wyoming and ultimately got caught in the rain. It wasn't all good riding, but it has become one of my favorite days to recollect!
The Lincoln Highway Bridge ride – not too far away, but a fun day with good road food and an interesting historic site.
How about you? Add a story about your best riding day from the past year in the comments!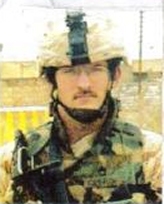 If you are looking for a wonderful opportunity to ride on Saturday, September 12, plan to participate in the 4th Annual memorial ride honoring U.S. Army Staff Sergeant Donald Griffith, Jr.  SSG Griffith was from Mechanicsville, Iowa and died in service to his country in Iraq on March 11, 2005.
Gather at the Days Inn in Mt. Vernon, Iowa – ride departs at 11 a.m. and concludes in Mechanicsville at the Dougout, where there will be food, entertainment and raffle prize drawings.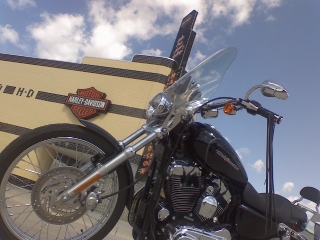 Just a quick report on the other half of this past weekend… I took a little solo ride on Sunday afternoon (I hardly EVER ride alone) just because I heard the bike calling me. Rode south again down to 92, then west a couple miles to G45, which I took South down to New Virginia. Stopped for a butt break in the bus turnout at the school, then continued west on G76 til it T'd at Highway 69 at a town so small it's not even on the map – Medona, I think it was called.
I took 69 north back up to Indianola, where I pulled into the parking lot of the closed-on-Sundays Route 65 Harley Davidson. I love the retro look of this huge building, so I parked in the empty lot and snapped a few pictures of the bike in front of the signage. Headed on up to Highway 92, west to R63, and north to home.
This was a neat little ride, and overall I enjoyed the alone time. But, it sure was different riding alone. A few times, I was aware of bikes traveling behind me. I always thought of my pink helmet as a kind of beacon for the friends riding with me so they can keep me in view, but on this ride I was aware that the pink lid (and my bright pink tank top) clearly identified me as a girl traveling alone. Not saying I don't trust my fellow Iowans – I freely admit my imagination gets the better of me sometimes – but you just never really know who's behind you or what they're thinking. Didn't prevent me from enjoying the ride, but it did make me think a little about what I'd do if I encountered harrassment on the road. So I'm curious, fellow lady riders: have YOU ever been accosted when traveling alone on your bike? What did you do about it?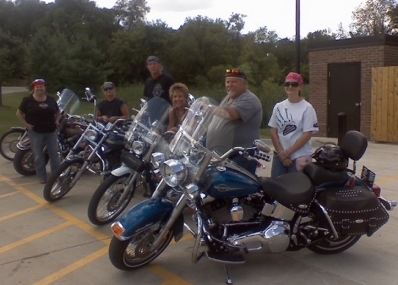 Had another great weekend on the bikes – first chance to really test out the new 1200 Custom. I knew Steve was wanting to get the oil changed (she only had 1300 miles on her and hadn't yet had her thousand-mile service) but I wanted to ride. Because I always get my way, we rounded up a great bunch of friends including Wade, Howard, Susan (Coyote!), Steve, myself and our daughter Stephanie, for a shakedown cruise on Saturday afternoon.
What a beautiful day – calm, mostly sunny, warm – just perfect. We took off from the far south side of Des Moines and headed west to Highway 28, which took us South through Norwalk to Highway 92 at Martensdale, then west to Winterset. (Yes, we ride to Winterset fairly often – LOL – it's a lovely small town, a sort of "gateway" to Madison County riding, and my mother's whole family happens to be from there so it has a bit of a special place in my heart.) Thus far the 1200 and I were getting along great – she rides so smooth at highway speed, and the handlebars Steve had put on for me were SO much better than the drag bars she came with. We stopped at Casey's at the junction of Highway 92 and 169 for a break – always lots of good conversation on these little breaks, sometimes bike-related and sometimes not. On this trip, Steve was testing out the video camera we'd given him for his birthday, and wanted to find a four-lane highway so he could up alongside each of us to shoot a little riding footage. The nearest choice was the Highway 5 bypass that runs east to west across the south side of Des Moines, so we decided that we'd take 169 north to a county road that would take us back up toward Norwalk and the bypass.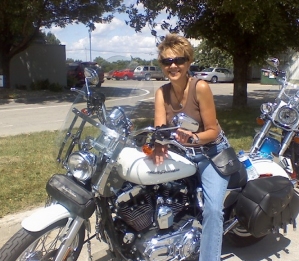 We left the Casey's behind and traveled north up 169 til we found a county road called G4R. Now Madison County is about as beautiful as Iowa gets with its rolling hills and lush valleys, and in that respect G4R did not disappoint with its lovely rural homesteads and pretty curves. Where this road completely failed was in the area of maintenance. It's a prime example of my comment about "seams" – actual raised seams that remind me of welts – in Iowa road repairs. They don't look like much – they raise up probably less than 12 inches. But on a bike, they're jarring and, if tall enough, unsafe. Adding to the discomfort is that they're always a surprise – you can never really tell when one's coming up – and it can be downright painful to go over one. At one point, the whole right-hand portion of our lane was busted up and a few in our group had to swerve to miss it. Given the six-figure value of some of the beautiful new homes along this road, I'm surprised the County would let this road stand the way it is. I'm surprised the folks who live along here would put up with it.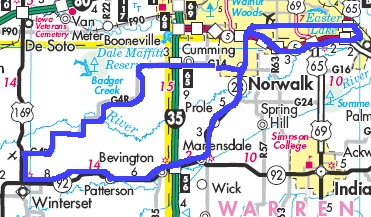 G4R became G14 at Cumming, and took us back into Norwalk where we turned north to head back to Highway 5. Once on 5, Steve rolled up alongside each of us in turn in the left-hand lane and had Stephanie shoot some video of us riding along. A few miles later we exited Highway 5 onto Des Moines' Army Post Road, and we ended the ride with a beverage break at the same Casey's we'd departed from at 1:30. We recruited a random customer to snap a photo of our entire group, then headed home.
Later, Steve, Stephanie and I got to watch the videos that Steph had shot… only to see them get accidentally deleted from the camera before being saved to the computer. So, no video from this trip, but we did learn that the camera works pretty good and Steph knows how to get some great shots!

This was a weird weekend for riding – all my weather sources predicted partly-cloudy, unseasonably cool conditions (low 70's), and no rain. So based on that, I was insistent all week that we were going to ride over to Tama to check out a little piece of history: the Lincoln Highway Bridge.
By the end of the work week, it was apparent that "partly cloudy" actually meant "really overcast." And you could look up at the sky and state with fair certainty, "It's going to rain." But the forecasters remained steadfast, so we decided first to take a chance and head down to Indianola for Bike Night on Friday. Turned out to be a great evening – cool, but not bad riding with the right jacket and gloves. Lots of bikes gathered around the Square, and by the time we rode home around 10 pm, it felt like it had even warmed up a few degrees. We were on track for the Saturday trip to Tama.
Saturday was pretty much just like Friday night – cool and cloudy. But, I'd been looking forward to the ride all week, and I suppose at this point only a downpour would have kept me from proceeding. We met up with Garry & Shirley as planned, and took off along Broadway Ave. to the east, out of Des Moines and through Altoona. East of Altoona, the road becomes county road F48, then transitions into Highway 6 once you cross Interstate 80. This is actually one of my favorite local roads – it passes through Colfax, Lambs Grove and Newton with some beautiful views of lush Iowa hills and farmland, then becomes extra-curvey (with new pavement!) from Newton to Grinnell. It took about an hour to reach Grinnell – we stopped there to top off the gas, and took a 20-minute butt relief/warm beverage break.
My original plan had been to ride all the way to Marengo, which is quite a bit farther east than we needed to go, and then to backtrack along a designated scenic highway from Marengo to Tama. But, because we'd actually caught a few drops of rain outside of Newton (which thankfully did not become a full-fledged shower), I decided to cut the scenic part of the ride short. The new plan was to go six more miles along Highway 6, and connect with 63 North on into Tama, which was only another 22 miles.
We came into Tama on 63 from the south, turned east on Fifth Street, and crossed the Lincoln Highway Bridge at the east end of town. There is a nice turn-out with an historical marker and parking area at the east end of the bridge, so we stopped there. The Lincoln Highway was the first paved transcontinental highway in the United States, and the nation's first national memorial to President Abraham Lincoln. It would be easy to say the bridge itself was anti-climactic – but it really wasn't. It's short, certainly – not even a hundred feet long – and it only crosses a small creek rather than a big river or major waterway. But the thing is, it's the only remaining original Lincoln Highway Bridge in the nation – it's most outstanding feature is the concrete lettering in the rails that spells out "LINCOLN HIGHWAY." We took several pictures and read the text on the historical marker, then crossed the highway to have lunch at the King Tower Cafe which is almost as old as the bridge.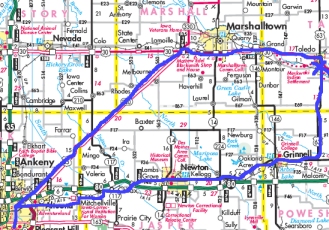 The King Tower is one of those mom-and-pop gems that serves fresh home-made food and appreciates the travelers who stop and take the gamble rather than opt for the "safe" fast food just down the road. It fit our "ride to eat" philosophy really well, and lunch was outstanding.
The ride home was much quicker – instead of the slower-paced two-lane, we took US 30 west to 330, then southwest into Altoona and Des Moines, which only took about an hour. (The sun even came out on the way home!) Having started our adventure by leaving home at 9:30 a.m., we were home by 4 p.m. – and, had only traveled about 150 miles. But it's the kind of ride I really like – pretty roads, an interesting destination, good food, and as always, family and good friends who are willing to humor me. Here's the album of photos on Webshots!
Your Turn! Have you visited the Lincoln Highway Bridge, or any other LH sites around the US? Are you as big a sucker as I am for historical markers? What's the best "mom-and-pop" place you've ever discovered? Tell us about it in the comments!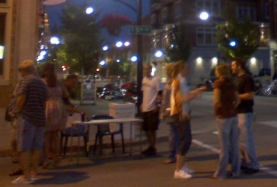 Threatening weather (which never materialized) kept most folks away from East Village Bike Night on July 10, but Saturday the 11th was a great day for a ride. We started out with a trip up to Big Barn HD for the Summer Celebration. For me that translates into shopping and free lunch – I refuse to play the silly outdoor games until they bring back Chicken Bingo, which, in case you are unfamiliar, is an amusing adventure involving a chicken and her poop.
Anyway, shopping was successful (bought a pink leather pouch to clip to my jeans) so we then headed out on a short ride by taking a slight deviation from the usual "Madrid Loop."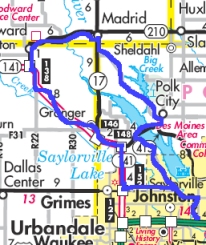 We traveled up to Madrid via NW Beaver Drive, through Polk City and up Highway 17, then west to Woodward and south to Highway 141. Headed Southeast on 141 back to 44 and then west on 44 which brought us into the north end of Des Moines at Johnston. About 70 miles total, I think, but made for a nice (if short) afternoon accompanied by Garry & Shirley – thanks guys!!
I wish I had stopped to take a picture from the Des Moines River bridge just west of Madrid. As you head out of town on Highway 210 toward Woodward, there is a row of cement pilings that used to hold up a railroad bridge. There's no bridge or trestle anymore – just the cement towers. And the river in this area has apparently been really low for a couple of seasons because it's just a small snakey stream  running through a lush green valley of a riverbed.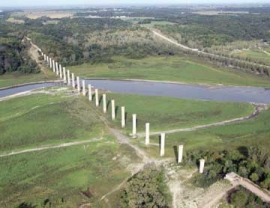 Garry tells me the towers are going to be used to hold a recreational trail, a project also mentioned on the Iowa Natural Heritage Foundation website. For now, the view of it from the highway is very surreal-looking – these man-made cement towers with no discernable purpose rising up like soldiers in a row through the grassy, nearly-dry riverbed. The aerial photo used here is from the INHF website and doesn't look nearly as alien as the view from the highway, but it does show the condition of the riverbed and the highway running parallel to the row of towers at the right.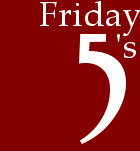 In celebration of Biker Chick News's fifth birthday, here's the first in the "Friday Fives" series of bike-related lists. This week: five cool places we've visited that make great day-rides:
1. Grotto of the Redemption, West Bend – Father Frank Dobberstein was so grateful to recover from pneumonia that he built a shrine to the Virgin Mary out of precious stones and Iowa rocks, and just kept building for the rest of his life! (Northern Iowa, northwest of Ft. Dodge)
2. DeSoto National Wildlife Refuge, Missouri Valley – Beautiful wildlife preserve frequented by thousands of migrating snow geese. Also features an amazing exhibition of items from the 1800's, found preserved by mud in the sunken Bertrand steamboat, razed from the Missouri River in 1968.  (Western Iowa, on the Missouri River just west of Missouri Valley)
3. Albert the Bull, Audubon – Giant concrete statue of a friendly-looking bull, erected to commemorate the contributions of the Iowa beef industry. Very pretty ride. (West central Iowa, west of Guthrie Center)
4. Pike's Peak State Park, McGregor – Stunning overlook offers a grand view of the Mississippi River, with Prairie du Chien, WI on the other side. (Northeastern Iowa, along the Mississippi.)
5. J&P Cycles, Anamosa – Can't live in Iowa without visiting Chrome Mecca, J & P Cycles. Biker heaven hosts an annual Open House event that draws thousands. New "Scooters" eatery is right down the road. (East central Iowa, northeast of Cedar Rapids)
And a few more I'm still anxious see:
1. America's River Museum, Dubuque
2. Arnold's Park Amusement Park, Lake Okoboji
3. Wilton Candy Kitchen, Wilton