Many thanks to Holly N. for providing me with a wonderful multi-part series covering the 2009 Estrogen Ride, and to Vicki D. for taking such great photos!  Sounds like a wonderful time, I'm sorry I missed it this year! If you were there, be sure to add your stories in the comments!

by Holly N.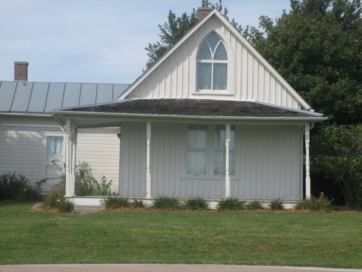 The weather gods were with us again on day 4!  We woke up in Hannibal to sunny skies and a light breeze.  After loading our bikes up we headed to Quincy IL to the H-D dealership so they could take a look at Judy's tire.  We crossed the Mississippi in Hannibal and headed north to Quincy.  Once the at the dealership, they got her bike right into the shop and checked it out.  Luckily they couldn't find anything wrong with the valve stem or anything, cleaned the tire off and it held air fine the rest of the way home.  This also gave us a chance to do some shopping and several made purchases of H-D things they just couldn't live without.
The H-D dealership is on the east side of Quincy so rather than cut through the city to cross back into Iowa, we headed north a little ways and crossed over at Keokuk.  We headed northwest on Hwy 218 to Donnellson where we took Hwy 2 west to Farmington.  This is a very pretty road that takes you through Shimek State Forest.  The original plan was to ride to Bloomfield, IA for lunch but as we came through Farmington, there was a little restaurant, The Bridge Cafe and Supper Club, that I had seen several times on trips but never had a chance to stop at.  So, being the leader I made the executive decision to stop for lunch there!  No one was disappointed!  We were shown to a private room and fed some of the best homecooking we'd ever had.  We highly recommend the sweet potato fries!
After lunch, we stopped in Keosauqua for gas.  This proved to be quite a time as only one gas station in town had high octane gas, and only one pump for it!  So we lined up on both sides of the pump and passed the nozzle back & forth.  Of course, it didn't offer pay at the pump so we'd have shut it off, turn it on and then go inside to pay!  Quite a sight!  At some point, Kathy B. turned on her music and we were all dancing in the parking area of the station.  I'm sure the locals loved us!
As we continued north, in Eldon we stopped at the American Gothic house.  This is the original house that Grant Wood used in his famous American Gothic painting.  They have a nice visitors center and the actual house is there to walk around.  It was fun to see and several gals had no idea it was in Iowa!
Eldon proved to be our last stop (except for a brief stop on an entrance ramp) so we said our goodbyes, more hugs & kisses and promises to go on next year's ride.  We made it through with no mishaps and no dropped bikes!  It's always bittersweet to end a good weekend with friends – so glad we have 2010 to look forward to!
I've been hearing a lot of great stories from readers lately, and now that the Sturgis reporting is done I'd like to share a bunch of them with you! Awhile back, after we rode over to Tama to see the Lincoln Highway Bridge, my friend Shirley and I tossed around the idea of visiting the Villisca Murder House. That prompted a note from Ann B., who recommended a book called The Iowa Road Guide to Haunted Locations, and related this story about her recent adventure near Madrid: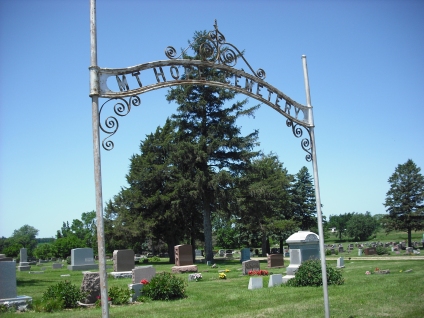 "(At the) Mt. Hope Cemetery in Madrid… a ghost of a young girl will follow you around and an unknown child's voice can be heard coming from the gravestones. So a few weeks ago my husband Terry and our friends Dan and Deb decided we would go there and the Kate Shelley Bridge in Boone (where there is) supposed to be a dim lantern floating along the tracks.  So our first stop was the cemetery. We all got off our bikes and kind of headed in different directions looking at stones when I heard in the distance a woman's voice but I couldn't tell what she was saying. I looked around and we are the only ones in the cemetery. Then I hear it again. This time I see my husband making a beeline to a big Armed Forces Memorial so I head in his direction. He has a really weird look on his face so I ask him what is up.  He looks at me rather sheepishly and says he's heard a woman's voice and he thought maybe the memorial had a recorded announcement. (Which it didn't.) Then we both hear the woman's voice but again with all the traffic noise you can't hear what she is saying. About this time Dan and Deb have headed our way and they have heard the voice also.  So we are all standing there trying to figure out where it is coming from when all of a sudden there is no traffic and plain as day we here a woman's voice.  It was an auctioneer from a farm to the west of the cemetery using a loudspeaker!! We were all laughing so hard we could hardly get back on the bikes! Later I asked my husband why he hadn't said anything the first time he heard the voice and his comment was 'I wasn't going to be the only one hearing voices!'"
Sometimes my random web reading really pays off. I have a "Google alert" set up to notify me whenever someone writes a blog post using the phrase "biker chick," and many of the results are utterly useless. THIS, however, is quite possibly THE FUNNIEST 'biker chick' story I have ever read. Check out what happens when 'Dreamgirl' goes on a date with her tall, dark and mysterious Spanish Harley rider.
Haha, Shirley's been bit by the "Iowa Historic Marker bug." She told me the other day that she really enjoyed the trip to Tama and got to thinking about other historic sites around the State, and now wants to ride to the American Gothic House in Eldon, and the Villisca Murder House. Both of which are ALSO on my must-ride list, so we will be planning those soon along with a visit to the Grotto of the Redemption in West Bend and the museum showcasing the wreck of the Steamboat Bertrand in Missouri Valley.
Cripes, if you want to wallow in accident reports, set up a Twitter alert for the words "woman motorcycle".  Nothing but death and destruction. But, there was one gem, from @MissAdventuring (Carla King) who linked to this  thorough "how-to" guide to buying a used motorcycle.
Finally, earlier this spring Harley-Davidson's very own Willie G. Davidson was a presenter at the American Country Music Awards and participated in the Chairman's Ride. Video footage of the ride is now available and features many of country music's biggest stars including: Eddie Montgomery, Troy Gentry, Toby Keith, James Otto, and Krista Marie, as well as Willie G. Davidson. Check out the ride at the HD YouTube channel.

This was a weird weekend for riding – all my weather sources predicted partly-cloudy, unseasonably cool conditions (low 70's), and no rain. So based on that, I was insistent all week that we were going to ride over to Tama to check out a little piece of history: the Lincoln Highway Bridge.
By the end of the work week, it was apparent that "partly cloudy" actually meant "really overcast." And you could look up at the sky and state with fair certainty, "It's going to rain." But the forecasters remained steadfast, so we decided first to take a chance and head down to Indianola for Bike Night on Friday. Turned out to be a great evening – cool, but not bad riding with the right jacket and gloves. Lots of bikes gathered around the Square, and by the time we rode home around 10 pm, it felt like it had even warmed up a few degrees. We were on track for the Saturday trip to Tama.
Saturday was pretty much just like Friday night – cool and cloudy. But, I'd been looking forward to the ride all week, and I suppose at this point only a downpour would have kept me from proceeding. We met up with Garry & Shirley as planned, and took off along Broadway Ave. to the east, out of Des Moines and through Altoona. East of Altoona, the road becomes county road F48, then transitions into Highway 6 once you cross Interstate 80. This is actually one of my favorite local roads – it passes through Colfax, Lambs Grove and Newton with some beautiful views of lush Iowa hills and farmland, then becomes extra-curvey (with new pavement!) from Newton to Grinnell. It took about an hour to reach Grinnell – we stopped there to top off the gas, and took a 20-minute butt relief/warm beverage break.
My original plan had been to ride all the way to Marengo, which is quite a bit farther east than we needed to go, and then to backtrack along a designated scenic highway from Marengo to Tama. But, because we'd actually caught a few drops of rain outside of Newton (which thankfully did not become a full-fledged shower), I decided to cut the scenic part of the ride short. The new plan was to go six more miles along Highway 6, and connect with 63 North on into Tama, which was only another 22 miles.
We came into Tama on 63 from the south, turned east on Fifth Street, and crossed the Lincoln Highway Bridge at the east end of town. There is a nice turn-out with an historical marker and parking area at the east end of the bridge, so we stopped there. The Lincoln Highway was the first paved transcontinental highway in the United States, and the nation's first national memorial to President Abraham Lincoln. It would be easy to say the bridge itself was anti-climactic – but it really wasn't. It's short, certainly – not even a hundred feet long – and it only crosses a small creek rather than a big river or major waterway. But the thing is, it's the only remaining original Lincoln Highway Bridge in the nation – it's most outstanding feature is the concrete lettering in the rails that spells out "LINCOLN HIGHWAY." We took several pictures and read the text on the historical marker, then crossed the highway to have lunch at the King Tower Cafe which is almost as old as the bridge.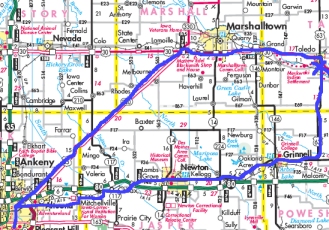 The King Tower is one of those mom-and-pop gems that serves fresh home-made food and appreciates the travelers who stop and take the gamble rather than opt for the "safe" fast food just down the road. It fit our "ride to eat" philosophy really well, and lunch was outstanding.
The ride home was much quicker – instead of the slower-paced two-lane, we took US 30 west to 330, then southwest into Altoona and Des Moines, which only took about an hour. (The sun even came out on the way home!) Having started our adventure by leaving home at 9:30 a.m., we were home by 4 p.m. – and, had only traveled about 150 miles. But it's the kind of ride I really like – pretty roads, an interesting destination, good food, and as always, family and good friends who are willing to humor me. Here's the album of photos on Webshots!
Your Turn! Have you visited the Lincoln Highway Bridge, or any other LH sites around the US? Are you as big a sucker as I am for historical markers? What's the best "mom-and-pop" place you've ever discovered? Tell us about it in the comments!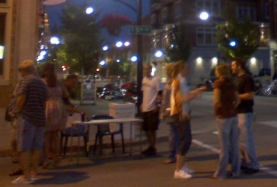 Threatening weather (which never materialized) kept most folks away from East Village Bike Night on July 10, but Saturday the 11th was a great day for a ride. We started out with a trip up to Big Barn HD for the Summer Celebration. For me that translates into shopping and free lunch – I refuse to play the silly outdoor games until they bring back Chicken Bingo, which, in case you are unfamiliar, is an amusing adventure involving a chicken and her poop.
Anyway, shopping was successful (bought a pink leather pouch to clip to my jeans) so we then headed out on a short ride by taking a slight deviation from the usual "Madrid Loop."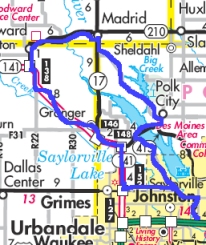 We traveled up to Madrid via NW Beaver Drive, through Polk City and up Highway 17, then west to Woodward and south to Highway 141. Headed Southeast on 141 back to 44 and then west on 44 which brought us into the north end of Des Moines at Johnston. About 70 miles total, I think, but made for a nice (if short) afternoon accompanied by Garry & Shirley – thanks guys!!
I wish I had stopped to take a picture from the Des Moines River bridge just west of Madrid. As you head out of town on Highway 210 toward Woodward, there is a row of cement pilings that used to hold up a railroad bridge. There's no bridge or trestle anymore – just the cement towers. And the river in this area has apparently been really low for a couple of seasons because it's just a small snakey stream  running through a lush green valley of a riverbed.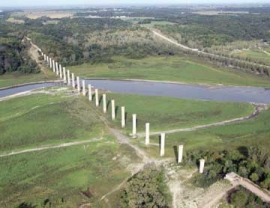 Garry tells me the towers are going to be used to hold a recreational trail, a project also mentioned on the Iowa Natural Heritage Foundation website. For now, the view of it from the highway is very surreal-looking – these man-made cement towers with no discernable purpose rising up like soldiers in a row through the grassy, nearly-dry riverbed. The aerial photo used here is from the INHF website and doesn't look nearly as alien as the view from the highway, but it does show the condition of the riverbed and the highway running parallel to the row of towers at the right.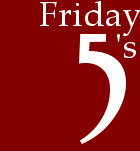 In celebration of Biker Chick News's fifth birthday, here's the first in the "Friday Fives" series of bike-related lists. This week: five cool places we've visited that make great day-rides:
1. Grotto of the Redemption, West Bend – Father Frank Dobberstein was so grateful to recover from pneumonia that he built a shrine to the Virgin Mary out of precious stones and Iowa rocks, and just kept building for the rest of his life! (Northern Iowa, northwest of Ft. Dodge)
2. DeSoto National Wildlife Refuge, Missouri Valley – Beautiful wildlife preserve frequented by thousands of migrating snow geese. Also features an amazing exhibition of items from the 1800's, found preserved by mud in the sunken Bertrand steamboat, razed from the Missouri River in 1968.  (Western Iowa, on the Missouri River just west of Missouri Valley)
3. Albert the Bull, Audubon – Giant concrete statue of a friendly-looking bull, erected to commemorate the contributions of the Iowa beef industry. Very pretty ride. (West central Iowa, west of Guthrie Center)
4. Pike's Peak State Park, McGregor – Stunning overlook offers a grand view of the Mississippi River, with Prairie du Chien, WI on the other side. (Northeastern Iowa, along the Mississippi.)
5. J&P Cycles, Anamosa – Can't live in Iowa without visiting Chrome Mecca, J & P Cycles. Biker heaven hosts an annual Open House event that draws thousands. New "Scooters" eatery is right down the road. (East central Iowa, northeast of Cedar Rapids)
And a few more I'm still anxious see:
1. America's River Museum, Dubuque
2. Arnold's Park Amusement Park, Lake Okoboji
3. Wilton Candy Kitchen, Wilton