Beautiful weekend on the new bike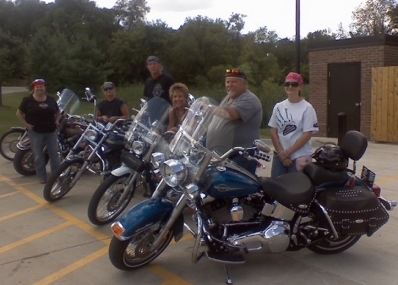 Had another great weekend on the bikes – first chance to really test out the new 1200 Custom. I knew Steve was wanting to get the oil changed (she only had 1300 miles on her and hadn't yet had her thousand-mile service) but I wanted to ride. Because I always get my way, we rounded up a great bunch of friends including Wade, Howard, Susan (Coyote!), Steve, myself and our daughter Stephanie, for a shakedown cruise on Saturday afternoon.
What a beautiful day – calm, mostly sunny, warm – just perfect. We took off from the far south side of Des Moines and headed west to Highway 28, which took us South through Norwalk to Highway 92 at Martensdale, then west to Winterset. (Yes, we ride to Winterset fairly often – LOL – it's a lovely small town, a sort of "gateway" to Madison County riding, and my mother's whole family happens to be from there so it has a bit of a special place in my heart.) Thus far the 1200 and I were getting along great – she rides so smooth at highway speed, and the handlebars Steve had put on for me were SO much better than the drag bars she came with. We stopped at Casey's at the junction of Highway 92 and 169 for a break – always lots of good conversation on these little breaks, sometimes bike-related and sometimes not. On this trip, Steve was testing out the video camera we'd given him for his birthday, and wanted to find a four-lane highway so he could up alongside each of us to shoot a little riding footage. The nearest choice was the Highway 5 bypass that runs east to west across the south side of Des Moines, so we decided that we'd take 169 north to a county road that would take us back up toward Norwalk and the bypass.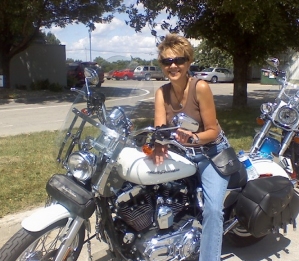 We left the Casey's behind and traveled north up 169 til we found a county road called G4R. Now Madison County is about as beautiful as Iowa gets with its rolling hills and lush valleys, and in that respect G4R did not disappoint with its lovely rural homesteads and pretty curves. Where this road completely failed was in the area of maintenance. It's a prime example of my comment about "seams" – actual raised seams that remind me of welts – in Iowa road repairs. They don't look like much – they raise up probably less than 12 inches. But on a bike, they're jarring and, if tall enough, unsafe. Adding to the discomfort is that they're always a surprise – you can never really tell when one's coming up – and it can be downright painful to go over one. At one point, the whole right-hand portion of our lane was busted up and a few in our group had to swerve to miss it. Given the six-figure value of some of the beautiful new homes along this road, I'm surprised the County would let this road stand the way it is. I'm surprised the folks who live along here would put up with it.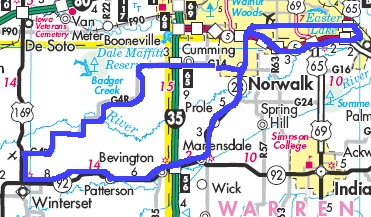 G4R became G14 at Cumming, and took us back into Norwalk where we turned north to head back to Highway 5. Once on 5, Steve rolled up alongside each of us in turn in the left-hand lane and had Stephanie shoot some video of us riding along. A few miles later we exited Highway 5 onto Des Moines' Army Post Road, and we ended the ride with a beverage break at the same Casey's we'd departed from at 1:30. We recruited a random customer to snap a photo of our entire group, then headed home.
Later, Steve, Stephanie and I got to watch the videos that Steph had shot… only to see them get accidentally deleted from the camera before being saved to the computer. So, no video from this trip, but we did learn that the camera works pretty good and Steph knows how to get some great shots!