'Round here I write mostly about riding. I hardly ever write about my personal life unless it's a major milestone or something.
So you probably don't know that my day-job (which many say I should not quit, despite my best efforts at blogging and karaoke) is that I work as the Lead Concierge at an senior community here in Central Iowa called Edgewater.
That means I manage a customer service team which takes care of the needs and myriad requests of over 200 older adults. The community where I work is not – and I cannot stress this enough – a typical retirement home. It is comprised of beautiful apartments and townhome villas for the independent residents, and smaller but well-appointed suites for the people in other levels of care.
My team takes care primarily of the independent living residents – and I do mean, independent. Heck, almost all of them still drive and some of them even still go to work every day. Most of them volunteer extensively, not only in the building but also out in the central Iowa area. They are active, vibrant, retired professors, farmers, teachers, business professionals, and much more – and they all have fascinating histories to share.
Fortunate was I, then, to learn recently that they just might be interested in learning a little more about my favorite past-time – motorcycling! Our activities director, Dawn, encouraged me to put together a program featuring photos from my many motorcycle rides and talk about my adventures. They'll love it, she said.
So I did! I put together about 60 photos from various rides, organized them loosely into talking points, and then did a 45-minute extemporaneous (and hopefully amusing) talk that emphasized my love for Iowa's roads, landmarks, history and food. Of course I mentioned our trips to the Sturgis rally, told tales of my (thankfully) few mishaps, and read a brief bit from my e-book, GET ON. But primarily, because my audience loves Iowa as much as I do, I focused on my memorable Iowa rides.
I gave my program on May 19 to a large group of residents, who – I'm glad to say – seemed to enjoy themselves as much as I did. It was a blast – and, a few members of the Merry Band even attended to egg me on!
The comments afterwards were plentiful and positive, with the only complaint being that I didn't ride the bike into the performance hall. (I wanted to, but I knew if I did this would be the day I would forget to put the kickstand down. Oh, and, it was 39 degrees in the morning when I woke up, and I don't ride in anything under 50 these days – at least not intentionally.)
There may be opportunities for me to take this show on the (local) road, so I might have gigs soon at a couple other communities. But even if it was a one-time thing, I thoroughly enjoyed sharing my passion for riding with my extended family at Edgewater!
I was going to start out this post with a big fancy proclamation about it being my ELEVENTH YEAR OF BLOGGING or perhaps UNDOUBTEDLY A YEAR OF BIG SURPRISES or just anything that would make you actually look forward to reading another year of my blathering. But I've learned that whenever I actually point out or try to build up these kinds of impending milestones, I completely fizzle out mid-year which inevitably leads to disappointment for you AND for me. (Every. Single. Time!)
So this year, I'm not going to do that. (You're welcome.) I'm just going to settle my ass down and blog, okay? And who knows – maybe the few of you who are still reading after last year's mess will start bringing your friends around again and pretty soon things'll be back to something like normal around here.
Now I don't know about you, or where you live, but it's snowing like crazy today as I post this, and I am nursing what I hope to be the tail end of a nasty cold… so it seems like a perfect day to compile the annual list of Des Moines, central Iowa, and random US biker events and rallies. As always, please note that this isn't a complete list, and some of the dates are still TBA so will be added later. But if you know of something happening in Des Moines or its metro area, the state of Iowa, or the Midwest region, please feel free to share it in the comments.
UPDATE MAY 21 – Have removed expired/past events, and added a couple more.
UPDATE APRIL 30 – Still adding a few events here and there. :)
UPDATE JANUARY 14 –
Okay I'm doing a quick update here… I posted my original (limited) event list and was immediately contacted by my pal Vernon Schwarte of Thunder Roads Magazine of Iowa, who freely shared HIS list of events submitted to the magazine so far this year.
SO – seeing that TRI's list is much longer (a.k.a., "more comprehensive"), I'm replacing mine with this one. :) Vernon encourages you to look up and call a venue or group before you try to attend, to make sure the event is still on. (No blaming the list-maker if something isn't right here!)
It should go without saying that I henceforth adore Vernon Schwarte and thank him sincerely for so generously allowing me to share his Thunder Roads Magazine of Iowa Upcoming Events List for 2015:
May 22-24 – Redneck Revival Conesville
May 22-24 – Midwest Legacy Run and Rally Adel
May 23 – J.J. Bonnell Memorial Ride Fort Dodge
May 23-24 – Midway Tavern Annual Fun Run, BBQ, Street Dance Soldier
Jun 6 – Carroll Cycle Center Rock N Ride Carroll
Jun 10-13 – Rally on the River Davenport
Jun 11-13 – US Route 6 Iowa River to River Cruise Council Bluffs to Davenport
Jun 13 – Remember Me Poker Run Davenport
Jun 13  – 7th Annual Bell Tower Festival Poker Run & Cycle Show Jefferson
Jun 15  – National Ride your Motorcycle to Work Day
Jun 17-20 – 21st Annual Rally on the River QC Davenport
Jun 20 – Ride for the Girls Memorial Poker Run Pacific Junction
Jun 20  – Ernie's Harley-Davidson 40th Anniversary Party Algona
Jun 20  – Vintage Rally and Bike Show Anamosa
Jun 20  – ABATE D14 31st Baldy Memorial Ride Fremont/What Cheer
Jun 20  – ABATE D14 30th District 14 Anniversary Party What Cheer
Jun 20-21 – Outlaw Street Drags Race Series Conesville
Jun 21 – A Ride to Remember Benefitting the Alzheimer's Association with Coach Paul Rhoads
Jun 27  – 28th Iowa Iron Butt Ride Ottumwa
Jun 27-28 – J&P Open House Anamosa
Jun 28  – Nishna Valley Wings of the G.W.T.A. Fun Run
Jul 2-4  – 31st Annual ABATE of Iowa Freedom Rally Algona
Jul 10-12 – Combat Veterans Motorcycle Assoc. 39-3 Annual Benefit Garber
Jul 11  – Goozman's Westside Poker Run Harlan
Jul 17-18 – Southern Iowa Wounded Veterans Rally Russell
Jul 21 – Ride to Remember charity ride Ames
Jul 23-25 – Iowa State HOG Rally Des Moines
Jul 30-Aug 1 – 8th Annual Across the Border Raid Bedford
Aug 3-9  – Sturgis Rally, South Dakota
Aug 8  – AtlanticFest Ride In Bike Show Atlantic
Aug 22  – ABATE of Iowa M.A.R.S. Eldora
Aug 23  – Iowa State Fair Motorcycle Day Des Moines
Aug 29  – Mighty Mississippi HOG MDA Hope Ride Dubuque HD
Aug 29  – Spydermania II Atlantic
Sep 3-5 – Chief Blackhawk 44th Fall Davenport International Meet
Sep 4-6  – Redneck Revival Conesville
Sep 5-6  – Midway Tavern Soldier Valley Run BBQ, Street Dance Soldier
Sep 11-13 – Davis Motorcycle Rally New Hampton
Sep 12  – No Nipple Dipple Ride Buffalo
Sep 12  – Broken Spokes Ride For U of IA Children's Hospital Davenport
Sep 19 – Sydney's Wish Annual Charity Poker Run Des Moines
Sep 19  – Waukee Legions Riders 7th Annual Toy Run Waukee
Sep 19-20  – Outlaw Street Drags Race Series Conesville
Sep 23-26 – Bikes Blues & BBQ Fayetteville, AR
Oct 15-18 – Biketoberfest Daytona FL
Oct 17-18 – Outlaw Street Drags Race Series Conesville
And, here are some area Bike Nights I've compiled which are not on the above list:
Kelley Bike Night – June 4 & 18; July 2,16, & 30; Aug 13 & 27; and Sep 10 & 24 at Crossroads Tavern in Kelley IA
Indianola Bike Night – Third Friday of the month, April 17 thru September 18, Indianola IA
Winterset Bike Night – Third Saturday of the month, April 18 thru September 19, Winterset IA
DSM Vintage Bike Night – First Thursday of the month, May 7 thru September 10 in Valley Junction, West Des Moines, IA.
Knoxville Bike Night – First Friday of the Month beginning May 1 thru September 4 (to be confirmed) in Knoxville IA.
Thunder Nites in Newton – Second Friday of the month, May 8 thru September 11, Newton IA
Greencastle Tavern Bike Night – Wednesdays beginning May 20 through October 7, 6 pm – 9 pm in Mingo IA
Hartford Bike Night – August 22 in Hartford IA
Blessing of the Bikes – Date TBA at Grotto of the Redemption, West Bend IA
Avenue of the Saints Motorcycles/Classic Cars (formerly St. Charles Bike Night)  – Dates TBA, St. Charles IA
And a few other tidbits still to be confirmed:
Gathering on the Grounds – Second Thursday of the month, April – July at the State Fairgrounds in Des Moines IA
Struthers Brothers Dinner Rides – Dates TBA, leaving from Struthers Brothers in Des Moines, 4:3o pm on dates shown.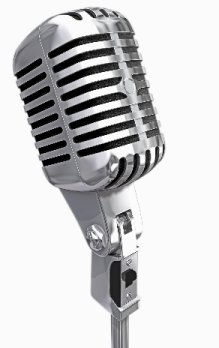 My life is largely an open book.
On this and other blogs you can read about my passion for motorcycles, hunting for vintage treasures at flea markets, family life, kids' clay art, news and happenings in my local area, and – at least for a few brief months during the last Presidential election – my political rantings.
But this year, my riding season was severely curtailed when my life took a turn that I really could not blog about. It didn't seem right or fair to the others involved to do so, and I don't think I could have focused my brain enough to do it anyway. Hence the sudden and lengthy absence from Biker Chick News, just as the riding season was getting started, in what was to be a joyous tenth year of blogging.
What I have learned – among other things – is that my passions for riding and writing remain. And staying away from those things removes me from the world in a way I don't wish to be removed. So I plan to return to both riding and blogging in 2015.
For now, let me just say that I hope your Thanksgiving and Christmas were beautiful and that your New Year sparkles!
I hope mine does too :)
With love,
Corn Dog
Wherever you are now / Whatever evil you've found / Bring all of your troubles / Come lay 'em down
Hey I would just like to point out that I am "Biker Chick of the Month" for June over at Biker Chick Tips! Lots of good reading there, cool website run by my friend Tina "Sash" Walker of RoadPickle.com fame!
I am a little behind on my ride reports these days – what can I say… shiny objects distracted me! But I've had a few lovely rides and must share a bit about them!
A few years ago, Steve and I rode over to the Neil Smith National Wildlife Refuge with Garry, Shirley and Janet/Seven Over, but we didn't have much time to wander around. I've always wanted to go back and study the learning center a little more carefully, and the Chrome Divas were amenable when I mentioned it as a potential ride destination in late April.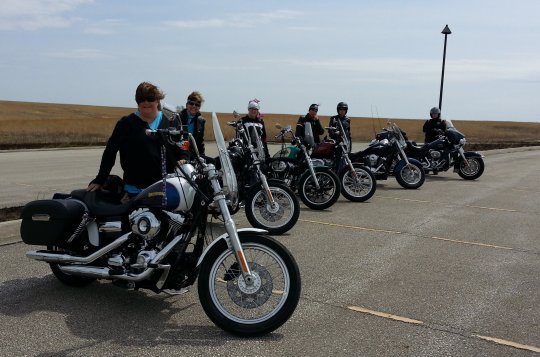 Our little chapter is now up to 12 members, though not everyone was able to attend the ride. Our day started with lunch at the Sugar Shack, a 50's-themed diner in the nearby community of Altoona. We tend to get a little silly whenever we gather, and it's always a round-robin of road stories and general fun conversation (hot dogs – why does everyone make fun of me for frequently ordering hot dogs? I mean, a good weiner is really hard to find, right?! Oh… wait.)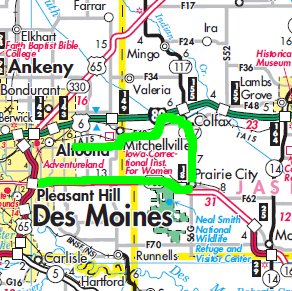 After lunch we headed off to the east along 8th St. SE in Altoona, which becomes County Road F48 heading toward Colfax, Lambs Grove and Newton. It eventually becomes old Highway 6 (the Grand Army of the Republic Highway), a classic east/west highway with lots of history, running through small towns with cool roadside attractions. I love F48 – there's a hillcrest before coming down into Colfax where the view opens up and you can see a patchwork of farmland for several miles laid out – the first time I saw this view, several years ago, it hit me: Iowa is a beautiful state! I've been an advocate for it ever since.
Anyway, into Colfax and south on Highway 117 to Prairie City – good thing it was a short hop (less than 10 miles) from here to our destination, because the wind was absolutely brutal along this stretch!
What I remembered most about our previous visit to the Wildlife Refuge (also a prairie restoration area) was the long and winding entrance road with prairie grasses waving gently on either side – it creates a beautiful and calming "whhhissshh – whhhissshh" sound as you ride through it.
What was evident the moment we arrived this time, however, was that this trip would not offer up the same experience. The area had recenly been subject to an apparent controlled/prescribed burn, so the entire landscape along the entrance road was charred and blackened.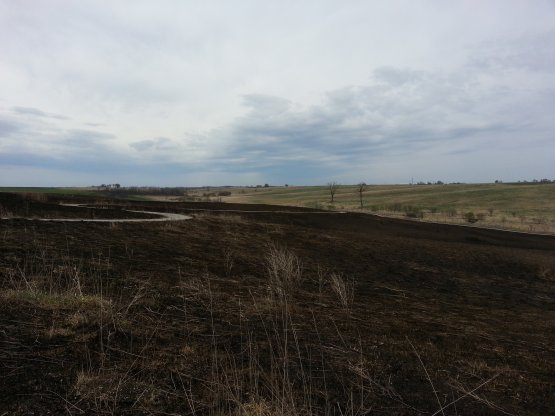 At first I was a bit disappointed and taken aback – but then I realized, in its own way this was beautiful too. And I knew, even before we learned more about the burn technique, that the burn had a purpose: to wipe out the invasive weed species and allow the native prairie plants to come back strengthened. Eventually we walked along a loop of the trail and could get a good look at the scope of the burn – several thousand acres, it turns out – and the Conservationist on duty in the learning center (along with a friendly volunteer named Larry) explained the process to us.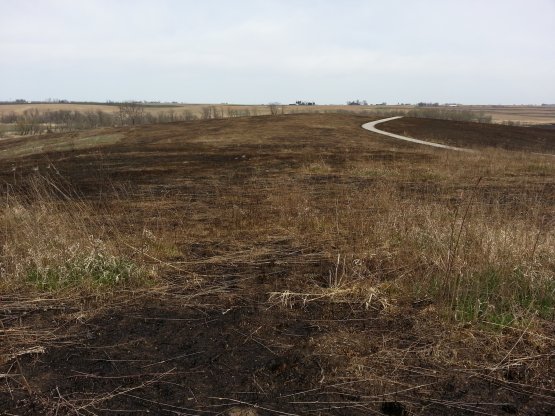 We also spent some time browsing in the gift shop. (A cute animal-identification book for kids called "Whose Butt?" set the tone for our shopping experience, much to Volunteer Larry's chagrin. He would be forced to endure our silliness for the next two hours.) We watched a short educational video about the history of the Iowa prairie and the development of the wildlife refuge, and spent some quality time looking at the various exhibits about the flora and fauna of the (restored) prairie.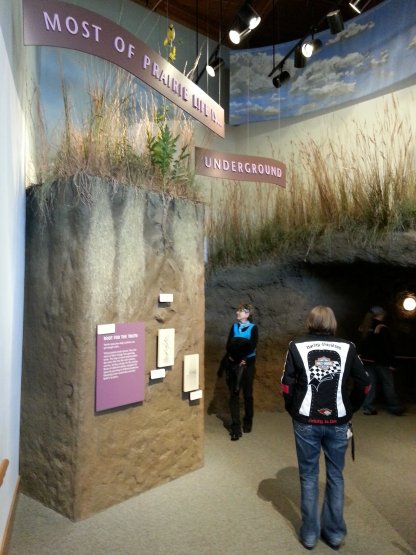 We also goaded poor Larry into posing with us for a group picture in front of the stuffed bison on display. I think (or at least I hope) he was happy to do so, especially considering that at least one of us made an actual purchase: Penney bought the cutest hat in the shop!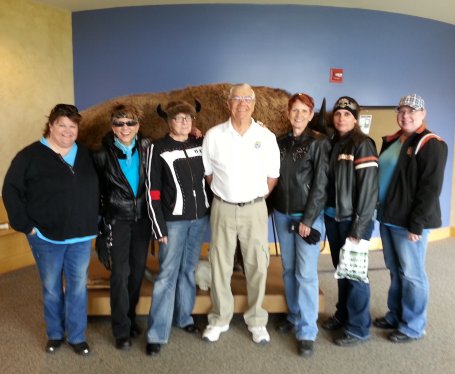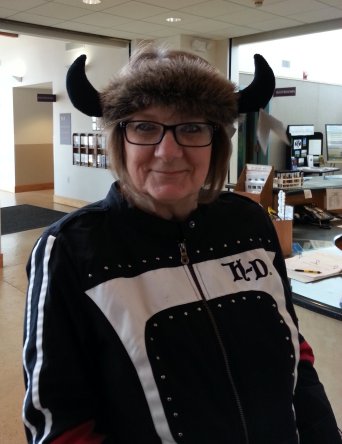 Thoroughly enjoyed this visit despite the lack of tall waving prairie grass, and we headed home late in the afternoon to the west along Highway 163. Going this direction, we had the tailwind so it was actually a very enjoyable ride back into Des Moines. We split off in various directions for home once we reached the eastern edge of town with our first chapter ride of the year now behind us.
With the chilly wet Spring we've had, it sure seemed a long time coming!
I do have a ride to share with you that took place recently, but first I wanted to tell you about this awesome little business in Sioux Falls, SD – on the way to Sturgis, for those of you traveling westerly! The grand opening of Doris Schumacher's store, Ride Empowered, takes place Saturday May 3, 2014 – International Female Ride Day! Store Hours in Sioux Falls are 10 am – 6 pm. Stop by if you are in the area, and support Doris and her new venture!
Doris Schumacher was having a hell of a time finding a suitable leather riding jacket.  Now I must say right off the bat, I can relate. But, while I was content to bitch about the difficult task of locating a well-made, well-fitting jacket in the appropriate size, Doris was not. Instead, she began the process or researching and eventually turned her challenge into a retail store: Ride Empowered, in Sioux Falls, SD and online at www.rideempowered.com.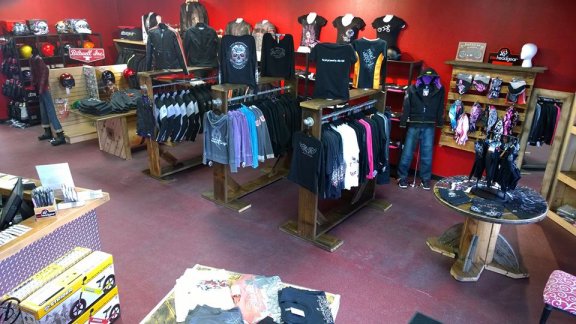 I recently asked Doris to take a pop-quiz about her life-changing decisions to ride and to become a business owner, and despite all the millions of other tasks on her to-do list she happily complied. So here, to coincide with the Grand Opening of the Ride Empowered Store, is a revealing Q-and-A with owner and EMPOWERED RIDER Doris Schumacher.
Tell me about your own personal background in motorcycling – how long have you been riding, and what has riding done for you personally as a rider and as a female rider? 
My uncle was a biker, so I'd ridden on the back with him a few times as a kid.  Aside from the exposure I really didn't start riding until my husband got a bike the Spring of 2009.  I rode on the back with him for one year.  At first I was scared, but it didn't take long for me to decide that if I'm going to be on a bike I'd rather be driving it.  For me it was almost like a women's lib issue.  In my mind being his passenger somehow implied that I was incapable of doing it myself.  I hate feeling incapable.
I took a beginners riding course the summer of 2010 & had my own brand new shiny red 2009 Kawasaki 500EN before I even completed the class.  After I passed I would take my bike up to the local church parking lot to practice.  I was terrified almost every time I rode that bike for the first couple years, (which is actually just 2 three month riding seasons in SD), but I just kept pushing myself past it until I got used to it, and it became a personal liberation.  Riding my own bike helped me gain a lot of self-confidence, and the empowerment I gained through that started crossing into my personal and professional life.  I started standing up for myself more, taking on new challenges,  and reprioritizing the things that mattered to me in life.  When I was on my bike I (wasn't thinking about) my messy house, the bills I had to pay, remembering the schedules of myself as well as my husband and three children.  I started to realize… I needed to get out of (the rat race).  That's when I started looking into starting my own business.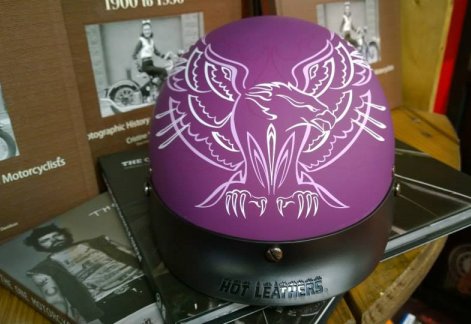 What was the inspiration for you in terms of deciding to start a retail business? 
Starting my own business was already in my mind, but I really didn't know what type of business I should shoot for, so I just started doing research on the various franchises that were out there thinking that would be the route I'd take.  Then, I went out shopping for a leather jacket – this was last Spring (2013).  I was having a really hard time finding a suitable riding jacket.  I didn't want to shop online and end up with something that didn't fit right, and since I ride a Kawasaki I had no interest in shopping at our local Harley dealership.  That's when it hit me that there might be a need for a women's motorcycle apparel shop, so then I started focusing my research on that.  After a few months of digging I felt that I had enough to support at least a small business, and that was all I really felt I needed to accomplish.
What is it you hope to do for women riders through your business?
I'm hoping to provide them with a place they know is there for them.  Although women are a fast growing demographic in the motorcycle industry, it's still very much male dominated.  I see this changing as several large companies are recognizing their needs and reaching out to meet them by creating new lines of riding gear and apparel that are just for women.  Now we just need to start bringing more attention to the various size and style needs as so much is limited in size ranges.  If Ride Empowered grows, or at least grabs some attention, then we have a real shot at helping manufacturers see that need too.  Aside from that, I'm also hoping to provide women with a support network, rider education classes, and some fun events to participate in!

Starting a retail business is a risky and life-changing proposition. How has it changed your life so far, and how do you think it will change the degree to which you personally enjoy riding?
It's very risky, and it's nowhere near in the safe zone yet.  I couldn't have even taken the leap without the support of my family, friends, and community.  I've had to share a lot of work with my family.  I even put my kids to work if they're in the shop.  Without their support I wouldn't have enough hands to get all the work done.  My friends do everything they can to help promote the business so I have a fighting chance at keeping it going.  And my community is one that really supports local businesses.  Not all community developers would be willing to take a risk on a small business of this somewhat unusual type.  I didn't have much for comparable businesses to discuss in my business plan to show my lenders its potential success.  They just believed in me and its potential knowing that it was a risk.  And really, I still haven't "done it."  Yes, I've started a business, but it's not yet a success.  I set my goals a little at a time now.  If I can make next month's rent that's a goal achieved.  If I can't get through my first year that'll be a HUGE goal achieved.  People know starting a business is risky, but you don't know just how risky until you do it.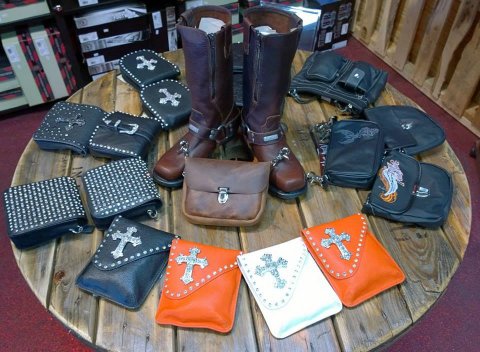 What degree of support have you received in launching your venture from  your family and friends?
Oh my gosh, I don't even know where to begin with that.  This experience has taught me so much about my family and friends… I get pretty emotional.  They didn't just believe in my business idea, they believed in ME and MY ability to make it work.  That's been the most amazing part of all of this.  I saw more of myself in seeing what they saw in me – if that makes sense.  Most supportive? Certainly my husband and kids, my mom, my brother, and all my in-laws.  My husband does all my advertisements and website development – it's been a LOT of added work for him.  I don't want to name any friends because I don't want any of them to feel more or less important than the next.  My friends are local riders I've met that have supported and encouraged me from day one,  everyone who likes & shares my Facebook page to help spread the word, everyone who comes in and buys something so I can keep paying the bills, everyone who signed up for my newsletter… It's a long list and without any of them Ride Empowered is no more.  They all keep it going with me and I just can't do it without any of them.
What has been the biggest challenge for you in terms of getting the business up and running?
The WORK, OMG.  This has been the most time intensive, labor intensive, learning intensive thing I've ever done in my life.  It's hard to stay on top of everything, it's hard not to get scared of failing, it's hard to know that I'm adding a lot of work to my husband and family who already juggle a lot… Everything is hard, but it's the kind of hard work that keeps me going every day.  I've always thrived on challenges.  It's part of the reason I've never stayed at one job for more than two years.  Once I learn something and it becomes routine I get bored.  There will never be routine with this.  I will always multi-task a half dozen different positions to keep the business going.  I will always have a list of things to do, new ideas to bring to life, and now there's no boss telling me when, where, or if I can do any of it!  Also, I know that I have to hang in there when it's hard and when it's scary, not just for me or my family, but now for everyone else who's counting on me.  Ride Empowered means a lot to a lot of people.  It's touched them in ways I didn't expect because its special to them too.  It's real proof that women are establishing their place, and more importantly their respect by the men in this industry.  In a really small way I kind of feel like I'm making a little history here.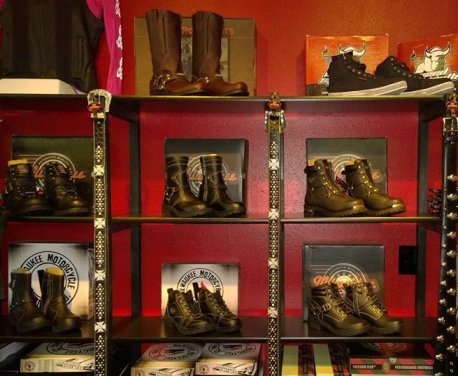 What is your biggest challenge in terms of merchandising – has the available merchandise met your expectations for what you want your shop to be about?
Oh yeah, that's been a challenge for sure.  When I placed my initial orders I didn't stress too much and just ordered a full size run in each item I wanted to test out, but I wasn't expecting my 2X tops to be as small as they were.  Each time a full figured woman came into the shop and had to leave because she couldn't find something in her size I was crushed.  I'm now on a mission to find gear and apparel for plus size women but man, it's like looking for a needle in a haystack sometimes.  Luckily, I have found a few brands I can count on and will order more from them as I'm able, but I'm also anticipating the start of a new line (yes, my own) that will hopefully help meet the needs.  Unfortunately I can't start with much.  It'll be just t-shirts in the beginning.  It would be nice if at some point it can be riding gear too.
How easy do you think it will be, going forward, to provide merchandise that meets your mission?
There is no "easy".  It's going to be a challenge plain and simple until the motorcycling industry comes through with more thorough size ranges.  The only thing that will make that happen is providing them with evidence that there's enough of a need for it to warrant their investment in making it.  We'll all have to do that together.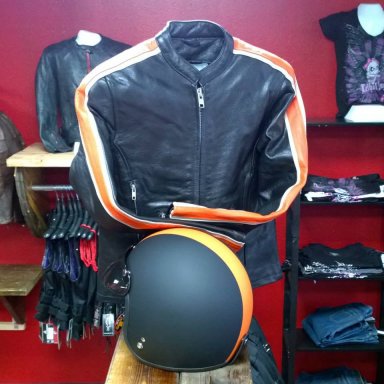 Any specific plans for the online store, or is it primarily an extension of the brick-and-mortar shop?
The online store launched in April at www.RideEmpowered.com.  It isn't really an extension of the store because it offers many different products than what I keep in the store.  With some products there's more available online than in the store, but then some of the specialty items I carry in the shop are not available online.  There is now a link at the top of our business page that will take you to our Shopify store, but the work involved in getting the store setup is much more labor intensive than we anticipated.  It's a long process of matching each inventory item to a photo and description before putting it online.  Unfortunately, I haven't been able to afford a commercial website developer so my husband has been building it himself.  He has about fifteen years of experience, so he's more than qualified, but he isn't a co-owner or employee of Ride Empowered.  He has a full time job as well as a part time job, and now added work at home to pick up my slack.  It's coming together, but it is definitely moving slower than we'd like it to.
What has been your favorite experience so far in launching the business?
Seeing the smiles and hearing the kind words of everyone that supports me and Ride Empowered.  I feel like I'm serving a real and needed purpose through this business.
Your least favorite experience?
Doing all the painting myself, oh, and the GLITTER FLOOR!  It's awesome, yes, but it was far more work than I thought it would be and it really set me back with many more important things.  I'm still catching up on tasks and responsibilities that I should have had completed before I even opened my doors.  If I ever do this again I'm hiring people!
What are the "particulars" of your brick-and-mortar shop: days/hours of operation, address of retail store, web address…
I just changed my hours for the summer months, so you can now get me at
Doris Schumacher, Owner
Ride Empowered
945 S Marion Rd Ste 109
Sioux Falls, SD 57106
Store: (605) 275-5580
Toll Free: (855) 371-4971
Email: Doris@RideEmpowered.com
Hours:
Tue – Wed: 10:00 am – 6:00 pm
Thu – Fri: 10:00 am – 8:00 pm
Sat: 10:00 am – 6:00 pm
Sun: 11:00 am – 4:00 pm
You can also connect with Doris via:
Facebook – www.facebook.com/rideempowered
Twitter – www.twitter.com/rideempowered
All photos in this post are courtesy Doris Schumacher and Ride Empowered!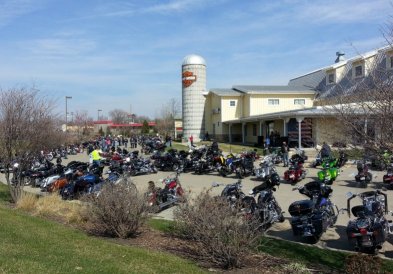 We had a beautiful and delightful day on April 19 for the ABATE of Iowa Blessing of the Bikes – morning temps were in the upper 50's and we hit mid-70's by the afternoon.
My Chrome Divas group had made plans to meet at Sambetti's at 9:30 and roll into the blessing together, so Steve and I headed over and we met up with several of the gals to ride in to Big Barn Harley Davidson here in Des Moines. We arrived at the Barn about 10 am for the 11 am blessing, and there were already quite a few bikes on hand.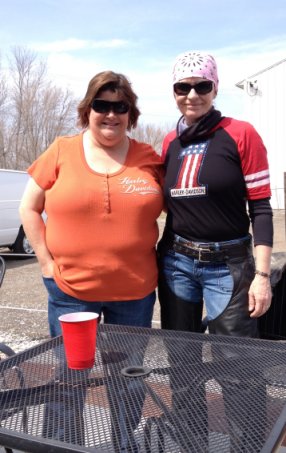 We did a little bike browsing and – huge treat! – I finally got to meet a friend I've been emailing with for almost a year! Glenda had contact me last year and asked me to add a poker run to my event calendar that her family organizes each year. At the time, I also wrote up a little post about the run to help promote it, because the story behind it really resonated with me.
Through email letters, my new pen pal and I quickly discovered that we share the exact same birthday – month, day and year! – and, have a special love for a particular pattern of vintage dinnerware. Because of all this – plus more things in common AND our shared love of riding, we became fast friends online and now finally have been able to meet in person and ride together! It was very gratifying to get to meet Glenda and her husband Pat!
The bike blessing event was lovely as always – there was live music, a large-group blessing, and then the opportunity to wait by your bike and have a member of the Christian Motorcycle Association say a special individual blessing. We then enjoyed the chili feed put on by ABATE District 4, and finally decided to take off on a short ride.
At this point we were also joined by another new friend, Kelly, whom we had met on a previous visit to the Barn.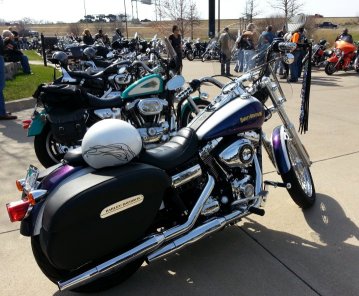 Our ride route was simple and the group consisted of myself, Steve, Garry, Shirley, Pat, Glenda and Kelly. We rode north away from the Barn on Highway 415 and turned with 415 to the west, along the north side of Saylorville Lake into Polk City.
We traveled north out of Polk City up to Highway 210, then jogged east into Slater, where we landed at the Night Hawk Bar & Grille – a little place adjacent to a bicycle trail that we had discovered last year while Road Pickling with Sash & Highway.
Spent about an hour just visiting and enjoying our beverages, then everyone headed home or on to their next Saturday activity.
I thoroughly enjoyed this day… although I didn't take many photos, you can see the ones I did take in my Bike Blessing 2014 album on Facebook.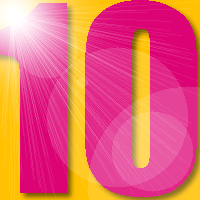 In ten years of blogging, I've posted a lot of ride reports about trips around Iowa; it's hopefully no secret that I love riding the backroads of my home state! In celebration of my blog's Tenth Anniversary, I've rounded up ten of my favorite Iowa rides, chosen either for the scenic roads, the interesting destination, an overall memorable day, or maybe all three qualities rolled into one. Here are ten favorites, in no particular order:
Audubon/Albert the Bull – In 2006 we were preparing for our first ride to the Sturgis Rally, so we made an all-day run to Audubon, Iowa to visit a giant concrete bull. It was hard to ignore his oversized testicles, and to this day I still occasionally have visitors to my blog who've arrived here after searching for "big nuts."
Solo Ride to Palmyra – This was a short but satisfying solo ride along a favorite road, and I made a snap decision to stop and admire a beautiful old and weathered Gothic-style church.
Divas Ride to Jefferson – The Mahanay Bell Tower in Jefferson, Iowa is one of my absolute favorite central Iowa destinations, and this ride with my gal pals in the Chrome Divas was an outstanding day of beautiful riding and wonderful fellowship!
The Butt Puckering Ride from Peru – This day was all about the friends we were with, roads that were both scenic and horrific, and things not going according to plan. Also, a word that makes me laugh every time I say it.
Pie in Millerton – This time, it was mostly about the food. When a local TV reporter tells me this is the best pie in Iowa, by golly, I listen!
Lincoln Highway Bridge – An historic road, an amazing local eatery, and the bridge I almost missed!
Divas Ride to American Gothic House – A classic Iowa destination, a bit of classic Iowa road food, and the spectacle of an all-women's ride. A favorite day for sure!
Road Pickling – In which I have the opportunity to lead two amazing California-based riders along the Iowa leg of their journey-of-a-lifetime around the United States! Sharing Iowa corn, curves, and camaraderie with Sash & Highway.
The Flags of Brooklyn – When you're a small town seemingly in the middle of nowhere and completely off the beaten path of the Interstate, you have to do something to make a name for yourself. The tiny town of Brooklyn, Iowa has done just that with a charming display of flags from all 50 states, and just a little bit more.
Solo Ride to Drakesville – A day to myself, nowhere to be, and a ride that wasn't all sunshine and roses – well okay, it WAS all sunshine… but, a major achievement in the Riding Solo department, and overall a really memorable ride I'm glad I took.
Yep, I admit it – this post is a re-run! I was wanting to "round up" the upcoming Bike Blessings that I had added to my calendar post. I went looking for the photo that I had used in my original 'Blessing' post, and thought, you know what, screw it – the words are still good too! Here's the original post, and a current/updated list of blessing events:  
I really dig all the "bike blessing" events I'm hearing about. I'm not what you'd call a regular church-goer, but I am a Christian person and I find that riding the Iowa by-ways on two wheels is a great way to enjoy and appreciate God's creation. (Riding in areas that look so different from Iowa, like South Dakota, is a great way to be reminded that my immediate world is very tiny and that God's creation takes many different forms!)
Of course, one of the things I like best about bike blessing events is that they signify the beginning of the riding season. But more than that, they are an opportunity to acknowledge that there is some risk in riding, and that you have to be able to pretty much put yourself in God's hands when you ride because you simply can't control every risk factor. It's humbling. Sometimes, it's even emotional, but maybe that's just me.
We're headed to the first of the area bike blessings soon, so it seemed like a good time to mention a few of them that I know of. If you know of another and would like to list it here, feel free to add it in the comments.
How about you – do you enjoy blessing events? Share your thoughts in the comments!
Saturday, April 12 – 11 am at Route 65 Harley Davidson in Indianola.
Saturday, April 19 – Big Barn Harley Davidson in Des Moines, blessing at 11 a.m. with chili feed to follow.
Saturday, April 26 – 2 pm at Grotto of the Redemption in West Bend, Iowa (I've already got a ride planned for this date, but I'm putting the Grotto Blessing on my must-do list for 2015.)
Saturday, April 26 – F&J Racing blessing, 10 am at the American Legion Post in Marshalltown, Iowa.
Sunday, May 4 – Noon at Prairie Ridge Church in Ankeny, Iowa.
Flickr photo by mobhistory.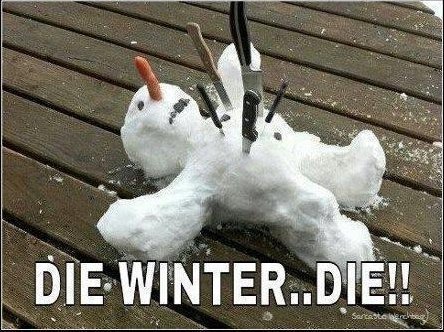 I was beginning to think this Winter wasn't going to end.
Seriously, we had snow flurries as recently as Thursday of this past week. That's APRIL, y'all, and that hardly ever happens in Iowa! (It does happen though… way back in 1973 when yours truly was 10 years old, we had 18 inches of snow in early April. It all melted a few days later, of course, but we still talk about that some 40 years later so really, it was epic.)
Anyway, it has been a longer-than-normal, colder-than-normal, colder-earlier-and-stayed-that-way-longer-than-normal Winter. Not only did we not get our first ride in February, we almost didn't get it in March either. But finally… FINALLY… we managed to catch suitable temperatures on a weekend – but for the second year in a row our first ride of the season was comparatively late, taking place on Sunday March 30th!
My initial plan was to ride to brunch, then go for some kind of short scenic ride to the south. We knew we were going to have to jump start Steve's bike, because it's ten years old with the original battery and we hadn't used battery tenders over the winter. We soon found out, though, that poor Kitten wouldn't start either!  So, Plan B was: go to brunch, then come home and get both bikes running, then take a short ride to Indianola for ice cream.
After brunch, while Steve pulled out the battery charger and jumper box to start work on the bikes, I grabbed the keys so I could move his seldom-used pickup into the side yard. This was so that we'd have plenty of room to maneuver back into the garage when we came home. But, I quickly discovered that his truck wouldn't start either!
So first order of business was to get the truck going. Once that happened, I moved it over to the sideyard and let it run so it would be sure to re-start.
Meanwhile, Steve set about removing my bike seat so he could get to my battery. By that time, Howard and Kristin had arrived to go with us – fortunately they are patient and appreciate a good comedy-of-errors, because I swear it took all four of us about 30 minutes of wrestling with the seat before someone had the big idea to read the directions.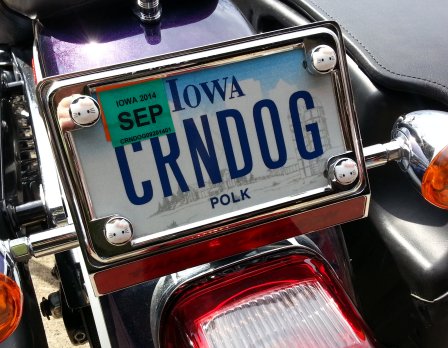 Ah, okay, seat off… now back to the directions to figure out how to get the battery cover off… battery now hooked up to the jumper box, and Kitten roared to life. Hello, Kitty! I swear I just about wept with joy.
Moved on to Steve's bike… same procedure but without having to read the directions… his bike was rumbling within a few minutes, and finally, after all that, off we went!
Now right here I need to confess, in all seriousness, that there was a point in late Winter where I could barely summon the enthusiasm I usually have for the first ride of the season – or anything else for that matter. I entertained the thought that perhaps I didn't care about riding anymore. I thought about giving it up. I was quite simply depressed.
Fortunately, seeing Kitten gleaming in the driveway was a miracle cure for my lingering sense of indifference. And after a few minutes of cruising down one of my favorite south-bound county roads, R63, I was once again near tears of joy (I'm starting to think I might simply be hormonal…)
I love R63 for its roadside meadows and sweeping curves. But because the meadows are still in un-green shades of dormant, I made those curves my singular focus (aside from looking out for suicidal animals, of course): setting my line, looking out to the end of the curve, trusting my bike to dip into the apex and then righting myself and setting for the next one. It was a joy!
And when we arrived in Indianola, we pulled into the A&W under the awning and I dismounted my bike, eager to pull off my helmet and share my happiness with my friends. As I turned to say something appropriately meaningful (a.k.a., "dorky"), my husband switched off his bike and said, "Did you turn off the truck before we left?"
(Crickets chirping.)
Well now. That would be a no. No, I did not. Or to put it another way: Yes, we are 30 miles down the road and our pickup truck is idling unattended at home. Hmmm. I offered to call the neighbor, whose last name and phone number might as well be Smith and 7, respectively, because I have no idea what they really are, but assumed I had the resources to find them by accessing certain websites on my handy-dandy smartphone.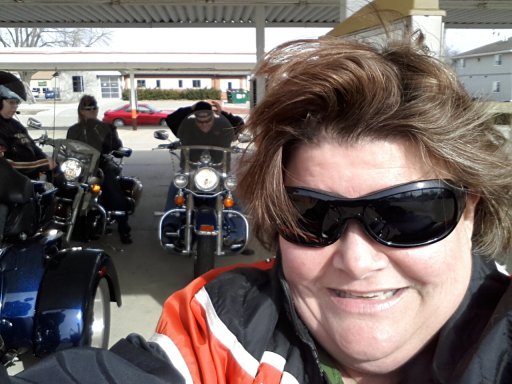 But ultimately, Steve said to just let it be. No one would come into the yard and take the truck with all of our other cars sitting there like we were home, he reasoned.
The worst part would be reporting it to the insurance company and admitting how suspiciously easy we had made it for the theft to occur on a $900 truck.
Well that kind of burst my happy bubble surrounding the curves of R63, but we did enjoy our ice cream and too soon were headed back toward home – down the same road we'd come in on but cruising past the junction at R63 and traveling a bit further west to its cousin, Highway 28 at Martensdale.
Back up to Des Moines through Martensdale, Prole, and Norwalk, a farewell wave to Howard and Kristin, and finally pulled into the driveway at home to find Steve's truck still idling in the yard.
So – all's well that ends well I suppose. Including the Winter That Refused to Die.