Ride Empowered: Q & A with Doris Schumacher
I do have a ride to share with you that took place recently, but first I wanted to tell you about this awesome little business in Sioux Falls, SD – on the way to Sturgis, for those of you traveling westerly! The grand opening of Doris Schumacher's store, Ride Empowered, takes place Saturday May 3, 2014 – International Female Ride Day! Store Hours in Sioux Falls are 10 am – 6 pm. Stop by if you are in the area, and support Doris and her new venture!
Doris Schumacher was having a hell of a time finding a suitable leather riding jacket.  Now I must say right off the bat, I can relate. But, while I was content to bitch about the difficult task of locating a well-made, well-fitting jacket in the appropriate size, Doris was not. Instead, she began the process or researching and eventually turned her challenge into a retail store: Ride Empowered, in Sioux Falls, SD and online at www.rideempowered.com.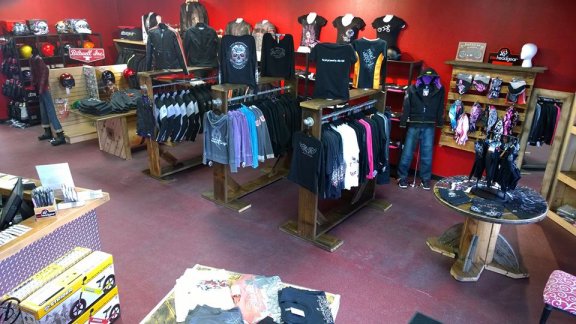 I recently asked Doris to take a pop-quiz about her life-changing decisions to ride and to become a business owner, and despite all the millions of other tasks on her to-do list she happily complied. So here, to coincide with the Grand Opening of the Ride Empowered Store, is a revealing Q-and-A with owner and EMPOWERED RIDER Doris Schumacher.
Tell me about your own personal background in motorcycling – how long have you been riding, and what has riding done for you personally as a rider and as a female rider? 
My uncle was a biker, so I'd ridden on the back with him a few times as a kid.  Aside from the exposure I really didn't start riding until my husband got a bike the Spring of 2009.  I rode on the back with him for one year.  At first I was scared, but it didn't take long for me to decide that if I'm going to be on a bike I'd rather be driving it.  For me it was almost like a women's lib issue.  In my mind being his passenger somehow implied that I was incapable of doing it myself.  I hate feeling incapable.
I took a beginners riding course the summer of 2010 & had my own brand new shiny red 2009 Kawasaki 500EN before I even completed the class.  After I passed I would take my bike up to the local church parking lot to practice.  I was terrified almost every time I rode that bike for the first couple years, (which is actually just 2 three month riding seasons in SD), but I just kept pushing myself past it until I got used to it, and it became a personal liberation.  Riding my own bike helped me gain a lot of self-confidence, and the empowerment I gained through that started crossing into my personal and professional life.  I started standing up for myself more, taking on new challenges,  and reprioritizing the things that mattered to me in life.  When I was on my bike I (wasn't thinking about) my messy house, the bills I had to pay, remembering the schedules of myself as well as my husband and three children.  I started to realize… I needed to get out of (the rat race).  That's when I started looking into starting my own business.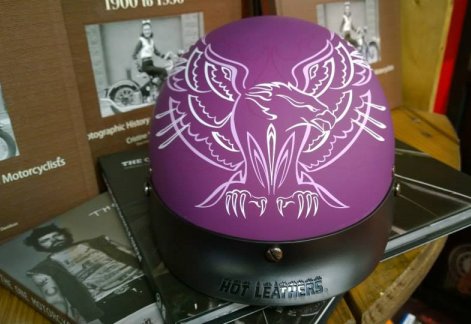 What was the inspiration for you in terms of deciding to start a retail business? 
Starting my own business was already in my mind, but I really didn't know what type of business I should shoot for, so I just started doing research on the various franchises that were out there thinking that would be the route I'd take.  Then, I went out shopping for a leather jacket – this was last Spring (2013).  I was having a really hard time finding a suitable riding jacket.  I didn't want to shop online and end up with something that didn't fit right, and since I ride a Kawasaki I had no interest in shopping at our local Harley dealership.  That's when it hit me that there might be a need for a women's motorcycle apparel shop, so then I started focusing my research on that.  After a few months of digging I felt that I had enough to support at least a small business, and that was all I really felt I needed to accomplish.
What is it you hope to do for women riders through your business?
I'm hoping to provide them with a place they know is there for them.  Although women are a fast growing demographic in the motorcycle industry, it's still very much male dominated.  I see this changing as several large companies are recognizing their needs and reaching out to meet them by creating new lines of riding gear and apparel that are just for women.  Now we just need to start bringing more attention to the various size and style needs as so much is limited in size ranges.  If Ride Empowered grows, or at least grabs some attention, then we have a real shot at helping manufacturers see that need too.  Aside from that, I'm also hoping to provide women with a support network, rider education classes, and some fun events to participate in!

Starting a retail business is a risky and life-changing proposition. How has it changed your life so far, and how do you think it will change the degree to which you personally enjoy riding?
It's very risky, and it's nowhere near in the safe zone yet.  I couldn't have even taken the leap without the support of my family, friends, and community.  I've had to share a lot of work with my family.  I even put my kids to work if they're in the shop.  Without their support I wouldn't have enough hands to get all the work done.  My friends do everything they can to help promote the business so I have a fighting chance at keeping it going.  And my community is one that really supports local businesses.  Not all community developers would be willing to take a risk on a small business of this somewhat unusual type.  I didn't have much for comparable businesses to discuss in my business plan to show my lenders its potential success.  They just believed in me and its potential knowing that it was a risk.  And really, I still haven't "done it."  Yes, I've started a business, but it's not yet a success.  I set my goals a little at a time now.  If I can make next month's rent that's a goal achieved.  If I can't get through my first year that'll be a HUGE goal achieved.  People know starting a business is risky, but you don't know just how risky until you do it.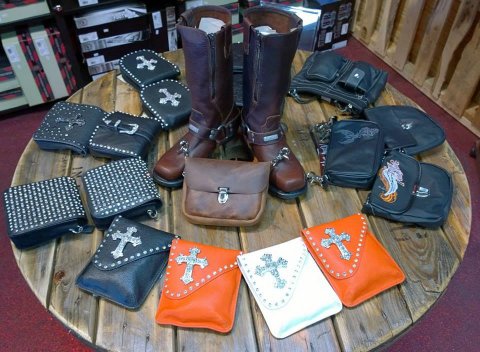 What degree of support have you received in launching your venture from  your family and friends?
Oh my gosh, I don't even know where to begin with that.  This experience has taught me so much about my family and friends… I get pretty emotional.  They didn't just believe in my business idea, they believed in ME and MY ability to make it work.  That's been the most amazing part of all of this.  I saw more of myself in seeing what they saw in me – if that makes sense.  Most supportive? Certainly my husband and kids, my mom, my brother, and all my in-laws.  My husband does all my advertisements and website development – it's been a LOT of added work for him.  I don't want to name any friends because I don't want any of them to feel more or less important than the next.  My friends are local riders I've met that have supported and encouraged me from day one,  everyone who likes & shares my Facebook page to help spread the word, everyone who comes in and buys something so I can keep paying the bills, everyone who signed up for my newsletter… It's a long list and without any of them Ride Empowered is no more.  They all keep it going with me and I just can't do it without any of them.
What has been the biggest challenge for you in terms of getting the business up and running?
The WORK, OMG.  This has been the most time intensive, labor intensive, learning intensive thing I've ever done in my life.  It's hard to stay on top of everything, it's hard not to get scared of failing, it's hard to know that I'm adding a lot of work to my husband and family who already juggle a lot… Everything is hard, but it's the kind of hard work that keeps me going every day.  I've always thrived on challenges.  It's part of the reason I've never stayed at one job for more than two years.  Once I learn something and it becomes routine I get bored.  There will never be routine with this.  I will always multi-task a half dozen different positions to keep the business going.  I will always have a list of things to do, new ideas to bring to life, and now there's no boss telling me when, where, or if I can do any of it!  Also, I know that I have to hang in there when it's hard and when it's scary, not just for me or my family, but now for everyone else who's counting on me.  Ride Empowered means a lot to a lot of people.  It's touched them in ways I didn't expect because its special to them too.  It's real proof that women are establishing their place, and more importantly their respect by the men in this industry.  In a really small way I kind of feel like I'm making a little history here.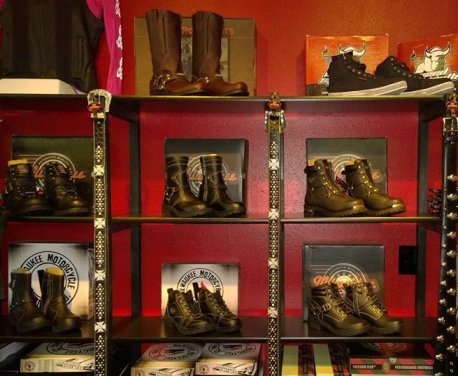 What is your biggest challenge in terms of merchandising – has the available merchandise met your expectations for what you want your shop to be about?
Oh yeah, that's been a challenge for sure.  When I placed my initial orders I didn't stress too much and just ordered a full size run in each item I wanted to test out, but I wasn't expecting my 2X tops to be as small as they were.  Each time a full figured woman came into the shop and had to leave because she couldn't find something in her size I was crushed.  I'm now on a mission to find gear and apparel for plus size women but man, it's like looking for a needle in a haystack sometimes.  Luckily, I have found a few brands I can count on and will order more from them as I'm able, but I'm also anticipating the start of a new line (yes, my own) that will hopefully help meet the needs.  Unfortunately I can't start with much.  It'll be just t-shirts in the beginning.  It would be nice if at some point it can be riding gear too.
How easy do you think it will be, going forward, to provide merchandise that meets your mission?
There is no "easy".  It's going to be a challenge plain and simple until the motorcycling industry comes through with more thorough size ranges.  The only thing that will make that happen is providing them with evidence that there's enough of a need for it to warrant their investment in making it.  We'll all have to do that together.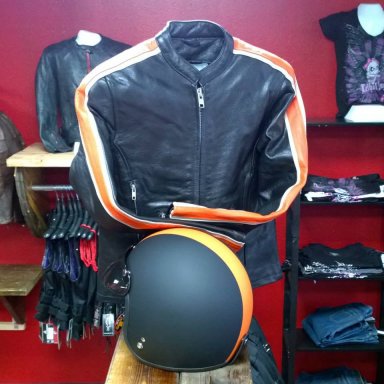 Any specific plans for the online store, or is it primarily an extension of the brick-and-mortar shop?
The online store launched in April at www.RideEmpowered.com.  It isn't really an extension of the store because it offers many different products than what I keep in the store.  With some products there's more available online than in the store, but then some of the specialty items I carry in the shop are not available online.  There is now a link at the top of our business page that will take you to our Shopify store, but the work involved in getting the store setup is much more labor intensive than we anticipated.  It's a long process of matching each inventory item to a photo and description before putting it online.  Unfortunately, I haven't been able to afford a commercial website developer so my husband has been building it himself.  He has about fifteen years of experience, so he's more than qualified, but he isn't a co-owner or employee of Ride Empowered.  He has a full time job as well as a part time job, and now added work at home to pick up my slack.  It's coming together, but it is definitely moving slower than we'd like it to.
What has been your favorite experience so far in launching the business?
Seeing the smiles and hearing the kind words of everyone that supports me and Ride Empowered.  I feel like I'm serving a real and needed purpose through this business.
Your least favorite experience?
Doing all the painting myself, oh, and the GLITTER FLOOR!  It's awesome, yes, but it was far more work than I thought it would be and it really set me back with many more important things.  I'm still catching up on tasks and responsibilities that I should have had completed before I even opened my doors.  If I ever do this again I'm hiring people!
What are the "particulars" of your brick-and-mortar shop: days/hours of operation, address of retail store, web address…
I just changed my hours for the summer months, so you can now get me at
Doris Schumacher, Owner
Ride Empowered
945 S Marion Rd Ste 109
Sioux Falls, SD 57106
Store: (605) 275-5580
Toll Free: (855) 371-4971
Email: Doris@RideEmpowered.com
Hours:
Tue – Wed: 10:00 am – 6:00 pm
Thu – Fri: 10:00 am – 8:00 pm
Sat: 10:00 am – 6:00 pm
Sun: 11:00 am – 4:00 pm
You can also connect with Doris via:
Facebook – www.facebook.com/rideempowered
Twitter – www.twitter.com/rideempowered
All photos in this post are courtesy Doris Schumacher and Ride Empowered!