Face down in the Guthrie County mud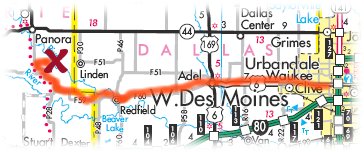 As it turns out, there's one more thing The Picky Bitch is picky about: road surface! She likes paved highways, and she will tolerate fine, hard-packed gravel as long as it's dry. But she will throw herself to the ground in a temper tantrum (and take me with her) if she's forced to slough through the kind of slimy mud we encountered on Saturday.
We debated going out at all – chance of rain was 50-50, it was cloudy and cool. We didn't particularly want to ride in the rain, but decided to chance it. The plan was to ride over toward Panora with Howard, Brenda, Hollie and Kristin, where we were going to look at a possible new bike for Brenda at Jackie's house.
We put on full leathers and I chose not to wear my brand new jacket because I didn't want it to get wet. I'd later be thankful for that decision. We headed out Hickman Road in Des Moines, which is old Highway 6, and took that all the way to Adel. We then proceeded west on F60 to Redfield, F59 to P28, and then north on P28 toward Panora. This is a really pretty ride, and was a road we'd taken a couple times before – once on our way to see Albert the Bull with Garry and Shirley, and once last summer when Coyote and I traveled to LeMars.
At some point just south of Panora, we turned onto the road that led down to Jackie's house. It was gravel… fine hard-packed, clay-based gravel, and it was wet. We had to travel on it about a quarter-mile, but it was a downhill ride with a curve. The first couple hundred feet were okay – I'd loosened my grip and slowed way down. But toward the bottom of the hill, where the curve set in, there was a spot where I could see that the gravel was actually mostly mud. Slimey, rutted clay-based mud. As I started through it, going probably less than 5 mph, I thought, wow I could drop the bike pretty easily through here, better be careful. The next moment, I was splatted on the ground face down, arms out-stretched ahead of me and the Picky Bitch laying on my @#$ foot.
I wasn't hurt, but I couldn't pull my foot out from under the bike. I looked up the road behind me to see my fellow riders all trying to safely get whoa'd on the mud-slimey hill (THANKS, everyone for not running over me! I still have no idea how they all managed to get stopped in that mess without going over)… Steve came running up asking if I was okay and I said, "I'm alright, just get the bike off my foot…" so he and Howard pulled the Bitch up and then helped me up. My gloves, my jacket, and my chaps were covered in mud slime – my knee and ankle were a little sore, but no serious damage to me.
As for the poor Bitch – totally destroyed front turn signal (not just the lens and housing, but also the post that mounts it to the triple-tree), broken back brake linkage rod and dangling/bent brake pedal (cobbled back together for the ride home), and – !@#$- bent my brand new ape hanger handle bars!!
We got the bike down to the garage at Jackie's house, she and her family helped me get cleaned up a bit and the guys managed to get the bike put back together enough that I could ride it home (THANK YOU!!). Brenda did make that bike trade, so she got to ride home on her new-to-her Honda Shadow Aero 750… and yes, I rode The Picky Bitch back through the slime up the hill to the road and home.
A few things I'm thankful for:
1. I'm thankful I was dressed for the fall. I have a burn mark on my chaps (they're branded!) where the hot pipes were laying across my leg and pinning my foot; my gloves protected my hands from serious harm; and my poor right boot (yep, my red cowyboy boot) has another battle scar.
2. As noted, I'm thankful I wore my old jacket and I'm thankful that Steve had just put the saddlebags back on the Bitch on Friday – they probably protected the back end of the bike from serious damage.
3. I'm thankful, obviously, that I wasn't hurt and that none of my friends were hurt trying to get to me – this could have turned into one big pile of broken bikes.
4. I'm thankful for Jackie's hospitality.
5. I'm thankful for the friends who were with me and eager to help.
All of this is why I missed the 2007 Toy Run; I need to get the bike back together in time for the benefit ride next weekend.