Ten favorite Iowa Rides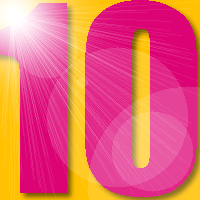 In ten years of blogging, I've posted a lot of ride reports about trips around Iowa; it's hopefully no secret that I love riding the backroads of my home state! In celebration of my blog's Tenth Anniversary, I've rounded up ten of my favorite Iowa rides, chosen either for the scenic roads, the interesting destination, an overall memorable day, or maybe all three qualities rolled into one. Here are ten favorites, in no particular order:
Audubon/Albert the Bull – In 2006 we were preparing for our first ride to the Sturgis Rally, so we made an all-day run to Audubon, Iowa to visit a giant concrete bull. It was hard to ignore his oversized testicles, and to this day I still occasionally have visitors to my blog who've arrived here after searching for "big nuts."
Solo Ride to Palmyra – This was a short but satisfying solo ride along a favorite road, and I made a snap decision to stop and admire a beautiful old and weathered Gothic-style church.
Divas Ride to Jefferson – The Mahanay Bell Tower in Jefferson, Iowa is one of my absolute favorite central Iowa destinations, and this ride with my gal pals in the Chrome Divas was an outstanding day of beautiful riding and wonderful fellowship!
The Butt Puckering Ride from Peru – This day was all about the friends we were with, roads that were both scenic and horrific, and things not going according to plan. Also, a word that makes me laugh every time I say it.
Pie in Millerton – This time, it was mostly about the food. When a local TV reporter tells me this is the best pie in Iowa, by golly, I listen!
Lincoln Highway Bridge – An historic road, an amazing local eatery, and the bridge I almost missed!
Divas Ride to American Gothic House – A classic Iowa destination, a bit of classic Iowa road food, and the spectacle of an all-women's ride. A favorite day for sure!
Road Pickling – In which I have the opportunity to lead two amazing California-based riders along the Iowa leg of their journey-of-a-lifetime around the United States! Sharing Iowa corn, curves, and camaraderie with Sash & Highway.
The Flags of Brooklyn – When you're a small town seemingly in the middle of nowhere and completely off the beaten path of the Interstate, you have to do something to make a name for yourself. The tiny town of Brooklyn, Iowa has done just that with a charming display of flags from all 50 states, and just a little bit more.
Solo Ride to Drakesville – A day to myself, nowhere to be, and a ride that wasn't all sunshine and roses – well okay, it WAS all sunshine… but, a major achievement in the Riding Solo department, and overall a really memorable ride I'm glad I took.