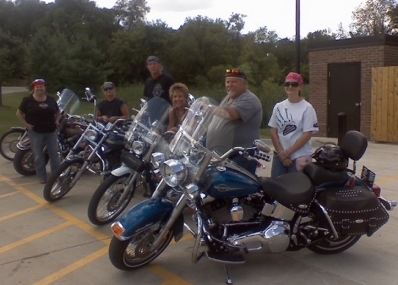 Had another great weekend on the bikes – first chance to really test out the new 1200 Custom. I knew Steve was wanting to get the oil changed (she only had 1300 miles on her and hadn't yet had her thousand-mile service) but I wanted to ride. Because I always get my way, we rounded up a great bunch of friends including Wade, Howard, Susan (Coyote!), Steve, myself and our daughter Stephanie, for a shakedown cruise on Saturday afternoon.
What a beautiful day – calm, mostly sunny, warm – just perfect. We took off from the far south side of Des Moines and headed west to Highway 28, which took us South through Norwalk to Highway 92 at Martensdale, then west to Winterset. (Yes, we ride to Winterset fairly often – LOL – it's a lovely small town, a sort of "gateway" to Madison County riding, and my mother's whole family happens to be from there so it has a bit of a special place in my heart.) Thus far the 1200 and I were getting along great – she rides so smooth at highway speed, and the handlebars Steve had put on for me were SO much better than the drag bars she came with. We stopped at Casey's at the junction of Highway 92 and 169 for a break – always lots of good conversation on these little breaks, sometimes bike-related and sometimes not. On this trip, Steve was testing out the video camera we'd given him for his birthday, and wanted to find a four-lane highway so he could up alongside each of us to shoot a little riding footage. The nearest choice was the Highway 5 bypass that runs east to west across the south side of Des Moines, so we decided that we'd take 169 north to a county road that would take us back up toward Norwalk and the bypass.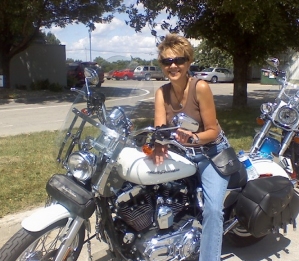 We left the Casey's behind and traveled north up 169 til we found a county road called G4R. Now Madison County is about as beautiful as Iowa gets with its rolling hills and lush valleys, and in that respect G4R did not disappoint with its lovely rural homesteads and pretty curves. Where this road completely failed was in the area of maintenance. It's a prime example of my comment about "seams" – actual raised seams that remind me of welts – in Iowa road repairs. They don't look like much – they raise up probably less than 12 inches. But on a bike, they're jarring and, if tall enough, unsafe. Adding to the discomfort is that they're always a surprise – you can never really tell when one's coming up – and it can be downright painful to go over one. At one point, the whole right-hand portion of our lane was busted up and a few in our group had to swerve to miss it. Given the six-figure value of some of the beautiful new homes along this road, I'm surprised the County would let this road stand the way it is. I'm surprised the folks who live along here would put up with it.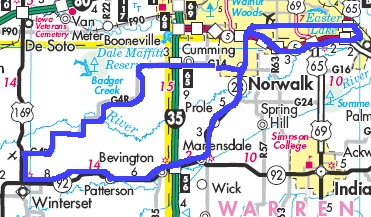 G4R became G14 at Cumming, and took us back into Norwalk where we turned north to head back to Highway 5. Once on 5, Steve rolled up alongside each of us in turn in the left-hand lane and had Stephanie shoot some video of us riding along. A few miles later we exited Highway 5 onto Des Moines' Army Post Road, and we ended the ride with a beverage break at the same Casey's we'd departed from at 1:30. We recruited a random customer to snap a photo of our entire group, then headed home.
Later, Steve, Stephanie and I got to watch the videos that Steph had shot… only to see them get accidentally deleted from the camera before being saved to the computer. So, no video from this trip, but we did learn that the camera works pretty good and Steph knows how to get some great shots!

This was a weird weekend for riding – all my weather sources predicted partly-cloudy, unseasonably cool conditions (low 70's), and no rain. So based on that, I was insistent all week that we were going to ride over to Tama to check out a little piece of history: the Lincoln Highway Bridge.
By the end of the work week, it was apparent that "partly cloudy" actually meant "really overcast." And you could look up at the sky and state with fair certainty, "It's going to rain." But the forecasters remained steadfast, so we decided first to take a chance and head down to Indianola for Bike Night on Friday. Turned out to be a great evening – cool, but not bad riding with the right jacket and gloves. Lots of bikes gathered around the Square, and by the time we rode home around 10 pm, it felt like it had even warmed up a few degrees. We were on track for the Saturday trip to Tama.
Saturday was pretty much just like Friday night – cool and cloudy. But, I'd been looking forward to the ride all week, and I suppose at this point only a downpour would have kept me from proceeding. We met up with Garry & Shirley as planned, and took off along Broadway Ave. to the east, out of Des Moines and through Altoona. East of Altoona, the road becomes county road F48, then transitions into Highway 6 once you cross Interstate 80. This is actually one of my favorite local roads – it passes through Colfax, Lambs Grove and Newton with some beautiful views of lush Iowa hills and farmland, then becomes extra-curvey (with new pavement!) from Newton to Grinnell. It took about an hour to reach Grinnell – we stopped there to top off the gas, and took a 20-minute butt relief/warm beverage break.
My original plan had been to ride all the way to Marengo, which is quite a bit farther east than we needed to go, and then to backtrack along a designated scenic highway from Marengo to Tama. But, because we'd actually caught a few drops of rain outside of Newton (which thankfully did not become a full-fledged shower), I decided to cut the scenic part of the ride short. The new plan was to go six more miles along Highway 6, and connect with 63 North on into Tama, which was only another 22 miles.
We came into Tama on 63 from the south, turned east on Fifth Street, and crossed the Lincoln Highway Bridge at the east end of town. There is a nice turn-out with an historical marker and parking area at the east end of the bridge, so we stopped there. The Lincoln Highway was the first paved transcontinental highway in the United States, and the nation's first national memorial to President Abraham Lincoln. It would be easy to say the bridge itself was anti-climactic – but it really wasn't. It's short, certainly – not even a hundred feet long – and it only crosses a small creek rather than a big river or major waterway. But the thing is, it's the only remaining original Lincoln Highway Bridge in the nation – it's most outstanding feature is the concrete lettering in the rails that spells out "LINCOLN HIGHWAY." We took several pictures and read the text on the historical marker, then crossed the highway to have lunch at the King Tower Cafe which is almost as old as the bridge.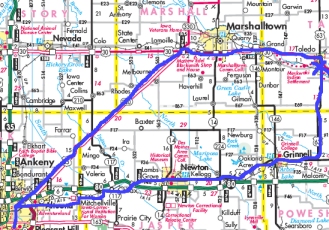 The King Tower is one of those mom-and-pop gems that serves fresh home-made food and appreciates the travelers who stop and take the gamble rather than opt for the "safe" fast food just down the road. It fit our "ride to eat" philosophy really well, and lunch was outstanding.
The ride home was much quicker – instead of the slower-paced two-lane, we took US 30 west to 330, then southwest into Altoona and Des Moines, which only took about an hour. (The sun even came out on the way home!) Having started our adventure by leaving home at 9:30 a.m., we were home by 4 p.m. – and, had only traveled about 150 miles. But it's the kind of ride I really like – pretty roads, an interesting destination, good food, and as always, family and good friends who are willing to humor me. Here's the album of photos on Webshots!
Your Turn! Have you visited the Lincoln Highway Bridge, or any other LH sites around the US? Are you as big a sucker as I am for historical markers? What's the best "mom-and-pop" place you've ever discovered? Tell us about it in the comments!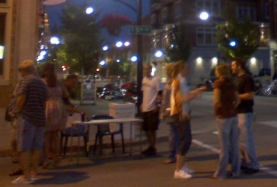 Threatening weather (which never materialized) kept most folks away from East Village Bike Night on July 10, but Saturday the 11th was a great day for a ride. We started out with a trip up to Big Barn HD for the Summer Celebration. For me that translates into shopping and free lunch – I refuse to play the silly outdoor games until they bring back Chicken Bingo, which, in case you are unfamiliar, is an amusing adventure involving a chicken and her poop.
Anyway, shopping was successful (bought a pink leather pouch to clip to my jeans) so we then headed out on a short ride by taking a slight deviation from the usual "Madrid Loop."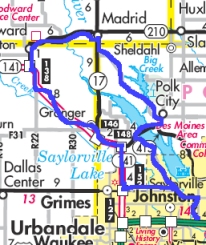 We traveled up to Madrid via NW Beaver Drive, through Polk City and up Highway 17, then west to Woodward and south to Highway 141. Headed Southeast on 141 back to 44 and then west on 44 which brought us into the north end of Des Moines at Johnston. About 70 miles total, I think, but made for a nice (if short) afternoon accompanied by Garry & Shirley – thanks guys!!
I wish I had stopped to take a picture from the Des Moines River bridge just west of Madrid. As you head out of town on Highway 210 toward Woodward, there is a row of cement pilings that used to hold up a railroad bridge. There's no bridge or trestle anymore – just the cement towers. And the river in this area has apparently been really low for a couple of seasons because it's just a small snakey stream  running through a lush green valley of a riverbed.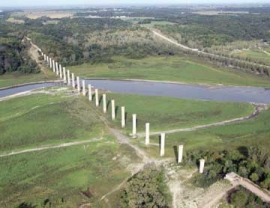 Garry tells me the towers are going to be used to hold a recreational trail, a project also mentioned on the Iowa Natural Heritage Foundation website. For now, the view of it from the highway is very surreal-looking – these man-made cement towers with no discernable purpose rising up like soldiers in a row through the grassy, nearly-dry riverbed. The aerial photo used here is from the INHF website and doesn't look nearly as alien as the view from the highway, but it does show the condition of the riverbed and the highway running parallel to the row of towers at the right.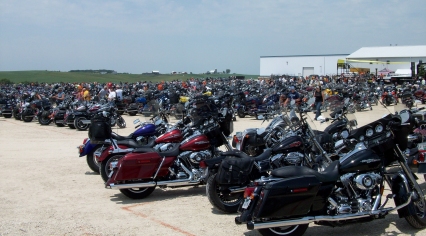 Cripes I turn around and the summer's half over! I have been MIA from this blog and all my others for a few weeks, but I am back and promise to do better by y'all who anxiously await word of my adventures. (THANK YOU for that, by the way.)
I've spent a few weekends working on my flower garden at home, but prior to that we did have two very nice rides around south-central Iowa that I will try to blog about at some point in the very near future.
For now I wanted to make sure to share the story of our recent trip to J & P Cycles Open House in Anamosa, Iowa.  Been trying for YEARS to make it to this event and for one reason or another it just never worked out.
This year it came up as a last minute reminder from Garry and Shirley so we decided to "just do it."  Keep in mind the weather here up til about two weeks prior had been cool and wet (at least for Iowa in summertime). Then we hit a hot patch, which hung in there til literally about 4 p.m. on June 27. (That's the day of the ride, for those keeping track.)
Now normally a trip to Anamosa on the bike is about a 3-1/2 hour deal, about 170 miles or so. But not for us. No, when you ride with us you have to go south to go north, which is exactly what we did. Steve and I, along with our daughter Stephanie, rode down to Carlisle to meet up with Garry & Shirley, from there to the Casey's just outside Pleasantville to pick up Chuck (Shirley's BIL), and from there (for whatever reason) decided to take "92 over to Washington." Mind you, I thought this would be straight east – but it wasn't. Turns out you just subtley keep going southeast, then, finally, just as you are crying out to the heavens "WHY ARE WE GOING SOUTH WHEN WE WANT TO GO NORTH??", you turn left at Washington and then you are going north. And realizing you still have a two-hour ride.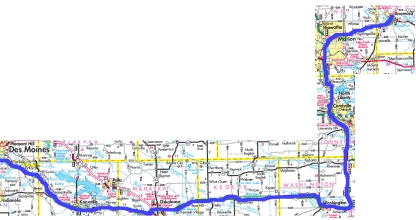 So, short version, it took us about 5 hours to ride about 203 miles from Des Moines to Anamosa. That's with our usual frequent stops for water and potty breaks, of course. Everyone likes to blame me and my tiny gas tank, but I can tell by the constant bum-rubbing that they are all secretly ready to take a break each and every time.
Anyhoo, the map shown here is NOT to give you the exact route we took – I know your eyes are too bad to actually READ it… it's just meant to show you how far out of our way we went. (And enjoyed every minute, I think… well maybe Stephanie didn't enjoy EVERY minute…)
So finally arrived in Anamosa and parked just inside the gate, great view of the "sea of bikes" but also a lonnnggg ways from the building and the activities. We found the water/food vendors easy enough (FREE water – bless you, J&P!) and tried to stroll/shop, but there were just too many people and it was too dang hot to be outside. After about 90 minutes or so we decided to head back home. (Yes, five hours in the saddle for 90 minutes of stompin' around in the heat, bitching. Is it any wonder you think bikers look crabby?)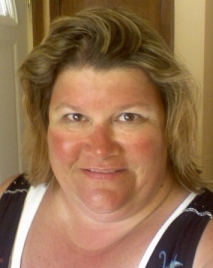 Took the most direct route home, 151 west to Marion & Cedar Rapids (hit a VERY brief patch of rain just a mile or so outside of Anamosa), then 218 South to the Interstate, then I-80 west to Newton, then 14 south to 163 (where Chuck spun off to head home to Pleasantville), and 163 west into Des Moines. Somewhere in there, the humidity shut off and it was almost cool for the last bit home. (It's that Iowa weather – if you don't like it, just wait around 5 minutes and it'll change.)
Here are the rest of the photos, most of 'em courtesy of Stephanie (our official event photographer – did I mention we LOVED taking her along?).
And, just for the record, it's two weeks later and I'm STILL sportin' that fine burn line that shows pretty clearly where my helmet and sunglasses end and my uncovered face begins.  It's good to be a biker chick!
Here's a list of all the major Iowa motorcycle rallies I've been able to assemble so far. (Okay, I'll admit my own BCN Fifth Birthday Party is probably not going to be a "major rally." But, I do hope you'll add it to your calendar, and anyway, it's my website. <grin>)
May
Iowa Thunder Memorial Day Tribute Ride, Des Moines – May 17, 2009
www.abateiowa.org
June
Sturgis Mississippi River Motorcycle Rally (Little Sturgis, Sturgis on the River), Davenport – June 17-20, 2009.
http://sturgisontheriver.com/
J&P Cycles Open House, Anamosa – June 28, 2009
www.jpcycles.com

July
ABATE Iowa Freedom Rally, Algona – July 3-5, 2009.
http://www.abateiowafreedomrally.com/
East Village Bike Night, Des Moines – July 10, 2009, 7-11 p.m.
http://www.eastvillagedesmoines.com
Iowa State HOG Rally, Sioux City – July 17-18, 2009
http://www.iastatehogrally.com
August
Bikers Against Diabetes (BAD) Ride, Des Moines – August 15, 2009.
http://www.ripsbadride.com

Across the Border Raid & Bike Rally, Bedford – August 16, 2009.
http://acrosstheborderraid.com/

Hawgstock, Winterset – August 20-23, 2009
http://www.hawgstock.com
BikerChickNews.com Fifth Birthday Party and Ride-In, Des Moines – August 23, 2009
http://www.bikerchicknews.com

September
Davis Motorcycle Rally, New Hampton – September 11-13, 2009
http://www.davismotorcyclerally.com/


October
Ride for the Cure, Des Moines – October 2-4, 2009
http://rideforthecureiowa.com/
ABATE Iowa District 4 Toy Run, Des Moines – October 11, 2009
http://www.abateiowa.org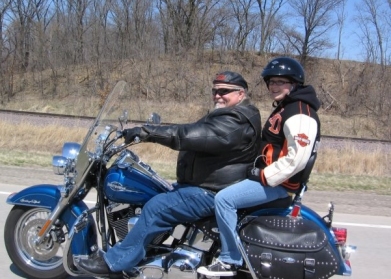 We had the most perfect day on Saturday, April 11 for a bike blessing. The day started with an indication from our teen-age daughter that she wanted to accompany us, which is a blessing in itself since she does a lot of her "own thing" these days. The weather was cool but beautiful – sunny and about 45 degrees when we left at 9:30, and near 60 by the time we came home.
We met up on the south side of town and ended up with a great group, many of whom we hadn't seen all winter. The group included myself, hubby Steve and daughter Stephanie, and friends Kristin, Austin, Nate,  Howard (toting his awesome biker-dog Einstein), Jenn with Amy's mom, and Amy with her daughter.
We took a very simple but pretty ride down to Route 65 Harley Davidson in Indianola, and while there met up with Garry & Shirley. We arrived with about half an hour before the scheduled activities, but at the appointed time gathered outside for a group prayer, and then dispersed to our bikes where we awaited a member of the Christian Motorcycle Association (CMA). The CMA members walked from group to group, inviting bikers to ask for specific prayers or just a general blessing. I always like the part of this annual ritual where they ask for help in keeping the road ahead clear – it feels a little selfish asking God to "bless my bike," but somehow asking Him to help me see and navigate obstacles, and to always be aware, feels more worthy.
After our small-group blessing, we enjoyed a lunch of chili and desserts courtesy of CMA, then decided to take a scenic route home.
We left Route 65 HD and headed to Carlisle so Garry & Shirley could give their dog Buddy a potty break; a couple of our group took off for home from here. Then we took a short ride down Highway 5 to the 316 turn-off to Runnells. This is a really interesting road – the road cuts through low-lying land surrounding the Des Moines River, and since last summer's flooding it had obviously spent most of the past 8 months under water. Train tracks and a very old bridge ran along our left side, and on the right we could really see how much land had been affected by the flood.
A left turn just outside of Runnells put us onto what would become SE Vandalia Road, so we took that on into Des Moines. Steve, Steph and I arrived home about 2:30 p.m. Here's the Webshots album with the photos I snapped.
It was a beautiful day and beautiful ride, marking the "official beginning" of the ride season here. As an extra special treat, Howard managed to snap several very nice pictures of Stephanie enjoying her day – including the one above showing her on the back of Dad's Heritage Softail Classic.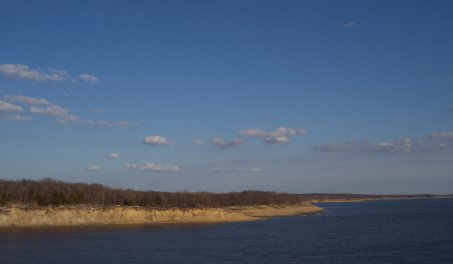 Normally I wouldn't bother to mention "just another ride up around the lake," but for some reason our evening ride this week was especially relaxing. We took off shortly after 5, right after work, and decided to head up to Big Barn to shop and socialize. After about an hour, we were ready to leave but not quite ready to head home so thought we'd do our usual loop around Saylorville Lake to the north.
The weather was just starting to cool down after a day that hit 71 (not bad for mid-March!), and because it's finally daylight savings time we knew we had about an hour of daylight left.
The first part of this loop is a really nice road, lots of curves and nice homes to gawk at, with a 45 mph speed limit most of the way.
At the end of this first leg, we turned right and crossed the "mile bridge"over Saylorville Lake – the colors, even though it's very early Spring and nothing has greened up yet, were beautiful: the lake appeared as a rich sapphire blue and there were large floating chunks of flat ice, creating a "caked earth"-type of texture to the surface. The shoreline is still brown but in the setting sunlight it looked golden – stunning next to the blue appearance of the water.
The next leg of the loop is highway 415, not as pretty, and faster-paced, but still some good sweeper curves. Normall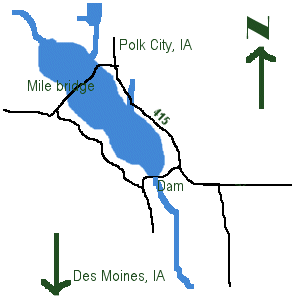 y we'd turn off and head down to check out the lake level and spillway, but by the time we got close we knew we only had about 30 minutes of daylight left so decided to just head home. Northwest Sixth Drive is the most scenic of the homeward routes, so we took that down from the Lake area, through the Craftsman-style Oak Park and Highland Park neighborhoods, through downtown and then home. 
It was just an interesting combination of light traffic, evening light and barely-warm weather that made for a really nice ride – the kind where you're reminded why you enjoy riding so much in the first place.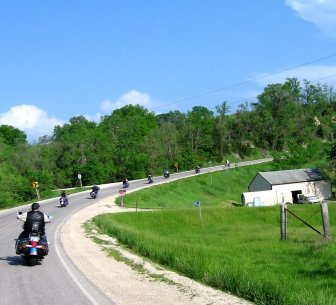 We took our next Passport trip on Sunday, May 25. This time we were headed southwest, through Madison County to the town of Peru. (Actually, East Peru.)
The thing about this is, although these towns share the names of famous cities, the names are often pronounced differently. In Spain they call the city muh-DRID, whereas in Iowa it's pronounced MAD-rid. Peru, in Iowa, is pronounced PEE-roo, which I cannot say or hear without giggling.
Anyway, on Sunday the 25th we again gathered up Hollie, Kristin, Howard, Garry, Shirley, and new pals Austin & Shanon and Nate & Kate. We took off down Highway 28 through Norwalk and Martensdale, then headed west on Highway 92.
It had been my intention to then head south on County Road R35, which should have been an intersection in the town of Bevington. We missed the turn, though – in fact, never even saw the sign for it – so we headed west along 92 til we came to Winterset. Attempts to read and interpret Austin's GPS device were frustrating, but Garry thought he knew how to get there and finally a local resident stopped to admire our bikes and gave us clear directions to what he called "PEE-roo Road," which of course made me laugh. (You know how even familiar words can sometimes sound strange if you repeat them over and over? That's what I found myself doing – repeating "PEE-roo, PEE-roo, Pee-roo" all the way down the highway.)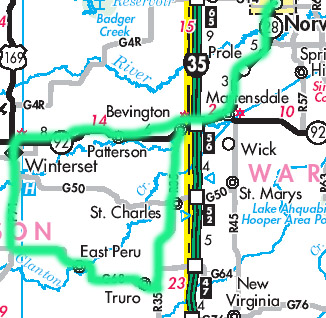 We headed south through Winterset on the main road, County Road P71. Having maternal ancestors from this area, I know that tucked deep back in Winterset City Park, there is a stone structure called the Clark Tower. You can climb to the top and look out over much of Madison County. It's quite a stunning view. On the bikes, heading south out of Winterset, it struck me that we were "riding the view" from Clark Tower, and that it was just as beautiful from the ground as it was from the tower. (Really, Madison County offers some incredible riding, especially if you think that Iowa is flat.)
Howard took some great scenic pictures from his bike along the way – the shot at the top of this post is my favorite from all of last summer.
We turned off P71 at G68 and took that into East PEE-Roo (*snicker*), again a tiny town with a tiny post office and perfect photo opp for our passports.
After a short break to celebrate our serendipitous "missing of the turn" that had led us to the road just traveled, we reviewed the map and determined that we could actually pick up our missed road, R35, outside of Truro – and take it north into Bevington as part of the ride home.
We left PEE-roo and cruised east on G68, finally intersecting at the elusive R35. Heading North, the last part of R35 turned out to be the stuff of day-ride legends.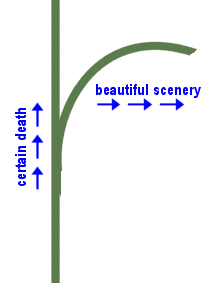 There was a point where the main road curved off to the east, but R35 itself actually went straight North – across the oncoming traffic of the curve, without benefit of traffic control devices.
Leading the pack, I made the switch off to the straight road with no problem – but in doing so, I noted two things: 1). Austin, a few bikes behind me, had missed the straight road and taken the curve instead… I hoped he'd catch up with us; and 2). Around the curve to the east a quarter-mile or so, there was a white mini-van approaching from the opposite direction. Someone in our group was going to meet them at the switch-off – I prayed the van would see us and slow down.
Add to these anxieties the condition of R35 itself, and you have one butt-puckering stretch of road.
To its credit, R35 here was still paved – at least I think it was paved, it was kind of hard to tell. The posted speed limit was 35, but you could catch some pretty good air coming out of the ruts and craters if you went that fast. And you didn't dare slow down too promptly because of all the loose bits of pavement and "under-gravel" that had come to the surface through the craters. (Later, most of us reported Knievel-style landings before each having found the proper speed. Shirley reported the predicted near-miss with the white van. And, Austin had thankfully rejoined the group.)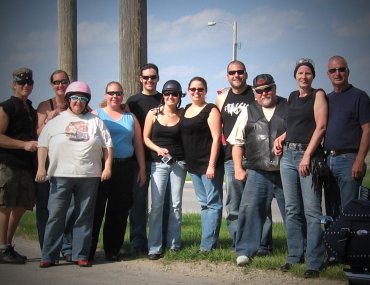 Finally, after a few miles, we mercifully came to rest at the intersection of R35 and Highway 92 at Bevington – the turn we'd missed earlier in the day. And it was no wonder we'd missed it: Not only was it not marked at all, it was also completely unrecognizable as a viable intersection. Even if I'd seen it, I would've assumed it was an interior town road and wouldn't have taken it.
Thankfully, the rest of the ride home was uneventful, but this little stop was the kind of moment that makes you stare blankly at one another in disbelief and check each other for broken ribs.
Unfortunately, this would end up being our last passport ride of the season – in the coming days, my dad would become gravely ill and flood warnings would become increasingly dire, and the rest of our summer was consumed with the aftermath of those developments.
I did find our "passports" the other day while going through some rescued flood stuff – that's what prompted me to finally write up these two rides. I think maybe we'll hang onto the passports and use them for destination ideas this spring. We can still take the rides, even if we missed out on the prizes.
Though it seems like we should get something for surviving the butt-puckering ride to PEE-roo.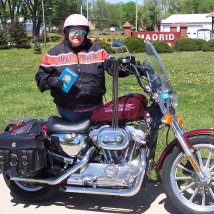 With temperatures below freezing around here for the foreseeable future, it seems as good a time as any to do a little "wishful remembering" about a couple of nice rides we took last season.
Our local Harley dealership, Big Barn Harley Davidson, had put together a riding challenge wherein they created a passport booklet containing a list of cities that you could ride to, document the rides, and then submit all your documentation at the end of the season for a chance to win prizes. The cities on the list were all named for famous places around the world. (I feel compelled to point out that I'd had a similar idea several years ago, only I just made mine a one-day adventure called the World Tour.)
It was our intention to complete as much of the passport as possible over the course of the riding season, but we had barely got started when our summer went to hell. We did, however, get in a couple of nice rides toward the end of May that I really enjoyed.
The first of them took us to Madrid and Jamaica, both small towns to the northwest of Des Moines. It made for a nice little day-ride, and in each town our "assignment" was to simply snap a photo of each person with their bike and passport in front of something that identified the town.
The ride to and from Madrid is actually one of our favorite shorter rides – it's the trip we take when we only have a couple hours but really want to ride. We took the slower-paced "scenic route" past Saylorville Lake and Big Creek State Park, and once in Madrid we used the city's landscaped welcome sign as our marker for documentation purposes.
We then headed west out of town on Highway 210, which T'd at 141. We took 141 to Jamaica, which turned out to be probably the quietest little town I'd ever passed through.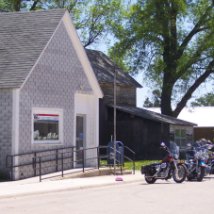 Once in Jamaica we didn't have to ride more than a couple blocks before we found the post office, just off the main street and next to a little pocket park that contained a well-kept community garden. Easy to imagine that this intersection, with the community center on the opposite corner, was probably the social hub of the town.
We lined the bikes up in front of the post office and snapped our photos. Steve and Howard had traded bikes for the trip over from Madrid, so they compared notes about Steve's HD Heritage Softail Classic and Howard's Kawasaki Vulcan Nomad 1500.
The ride home was peaceful and took us through Panora, down P28 and then east on scenic F59 and F60, into Adel and then east on Highway 6 for the final leg into Des Moines. When we got home we noted that, prizes aside, the passport would provide an easy answer throughout the summer each time we'd want to ride but didn't have a particular destination in mind. 
Next report: our trip to Peru.
Update: Someone who went on this ride, please chime in! Is this the one where Kristin & Hollie peeled off in Adel for dinner? Or is it the one where we actually took the lonnnnggg way home  and had our last stop in Altoona? My mind is playing tricks on me… guess I should write these up while my memory is still good! LOL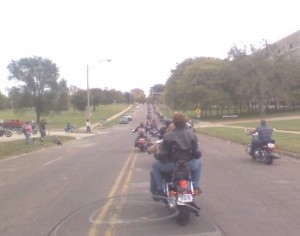 Well as you know it has been a long and difficult summer for this biker chick – but, we did make sure to take part in the 2008 Toys for Tots Toy Run sponsored by ABATE District 4 here in Des Moines. The ride was held October 12.
Last year, cold/rainy weather kept a lot of folks away from this event – but this year, it was a beautiful if slightly overcast Sunday. I keep saying I'm not a good judge when it comes to estimating crowds, but there HAD to be 2,000 bikes at this thing. At one point when the group was traveling down E. 14th St., there were three entire columns – two in the left lane and one in the right – as far ahead and behind me as I could see.
We traveled from the State Capitol down E. 14th to Army Post Road, then simply turned into the Eagles Lodge just south of Army Post. It was an easy ride – the hardest part is always at the beginning, when the entire group leaves the Capitol and tries to get into formation.
The neatest thing about the ride, other than the sheer size of it, is that it's escorted by the Des Moines Police Department – they block every stoplight intersection along the route to allow the column to remain intact for the duration of the ride. And of course, the donation of a toy to the Toys for Tots program created by the US Marine Corps makes you feel like you're riding for a good reason.
As for me, it was great to be out on the bike again. This wasn't the kind of cruise that clears your head – too big a crowd for that – but it was great to meet up with folks we hadn't seen for most of the summer. Our daughter even went along for the ride, and she's almost 15 – much too cool to be hanging out with her parents, so we were honored that she joined us!