Toy Run 2008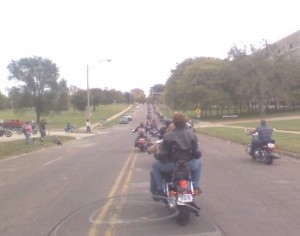 Well as you know it has been a long and difficult summer for this biker chick – but, we did make sure to take part in the 2008 Toys for Tots Toy Run sponsored by ABATE District 4 here in Des Moines. The ride was held October 12.
Last year, cold/rainy weather kept a lot of folks away from this event – but this year, it was a beautiful if slightly overcast Sunday. I keep saying I'm not a good judge when it comes to estimating crowds, but there HAD to be 2,000 bikes at this thing. At one point when the group was traveling down E. 14th St., there were three entire columns – two in the left lane and one in the right – as far ahead and behind me as I could see.
We traveled from the State Capitol down E. 14th to Army Post Road, then simply turned into the Eagles Lodge just south of Army Post. It was an easy ride – the hardest part is always at the beginning, when the entire group leaves the Capitol and tries to get into formation.
The neatest thing about the ride, other than the sheer size of it, is that it's escorted by the Des Moines Police Department – they block every stoplight intersection along the route to allow the column to remain intact for the duration of the ride. And of course, the donation of a toy to the Toys for Tots program created by the US Marine Corps makes you feel like you're riding for a good reason.
As for me, it was great to be out on the bike again. This wasn't the kind of cruise that clears your head – too big a crowd for that – but it was great to meet up with folks we hadn't seen for most of the summer. Our daughter even went along for the ride, and she's almost 15 – much too cool to be hanging out with her parents, so we were honored that she joined us!