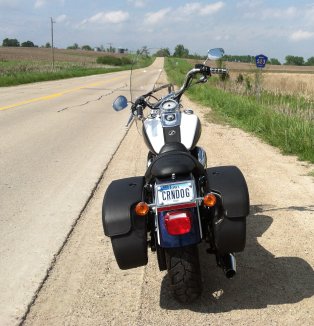 If you read this blog regularly, you know that my favorite way to ride is gather some friends and take off for an interesting Iowa destination, find some new curvy roads or a good local diner, or – when the stars align – all three! Sometimes though there's not time, or I just want to simplify, so it might just be me an' hubby Steve. Then other times, he's working on a project or otherwise occupado, so I go by myself.
So today I took off by myself for awhile – did less than 50 miles, took 90 minutes doing it, and came back feeling quite refreshed! I headed south on my trusty county road R63 which goes south out of Des Moines down to Highway 92 at Indianola. I was going to ride west to Winterset then do the St. Charles & Truro loop that my gal pals and I missed last year, but I left home later than I intended (and needed gas anyway) so instead of going west on 92 I went east into Indianola.
Once through town I turned north on S23, the "Palmyra Road." Stopped to snap a couple roadside pictures (much easier to do when riding alone – no group to worry about!), then continued north. As I was passing through the tiny town of Palmyra, I noticed the neat old church that we always see when we are headed to Bike Night, and as I passed it I thought I should stop and take some pictures. So just because I was alone and could do so easily, I slowed and did a U-turn and went back to the church.
I am a huge fan of peeling, chippy paint and old buildings, and the Palmyra Church is a neat little gem in a town of about 500 people. Built in 1870 (1870, people!), the church had its heyday through the 1940's and went into decline, and around 1979 was on the "short list" for demolition. Thank goodness the descendents of the original builders were still in the area and got wind of the plan, because they got together and the church now rests on its laurels upon the National Register of Historic Places. A bit of restoration occurred, and a bit more is planned. Although the church doesn't have a congregation, it is available for special events and hopefully one day the bell will be restored to the bell tower. (Read a bit more in this neat article from the Mason City Globe Gazette.)
Cute little gothic country church…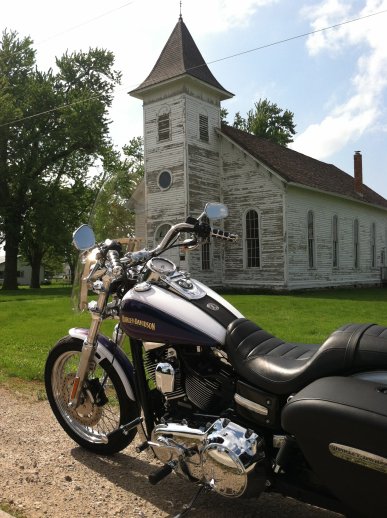 The NRHP agrees.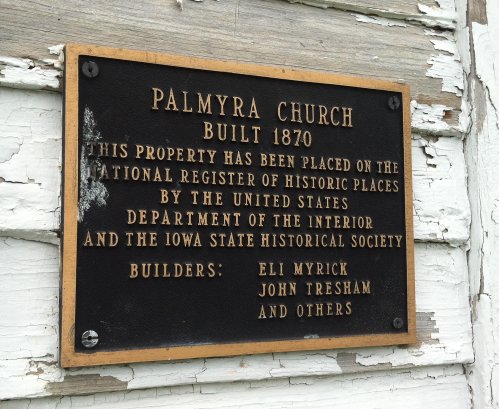 Another view:
Just look at that chippy goodness!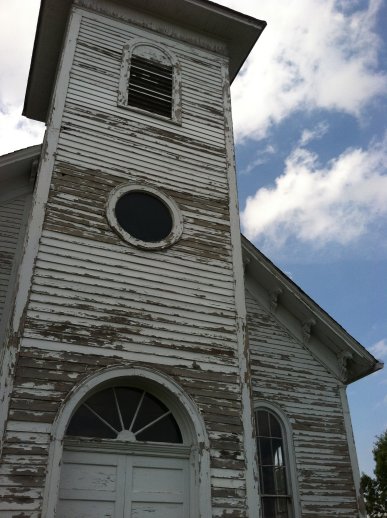 These windows are completely awesome.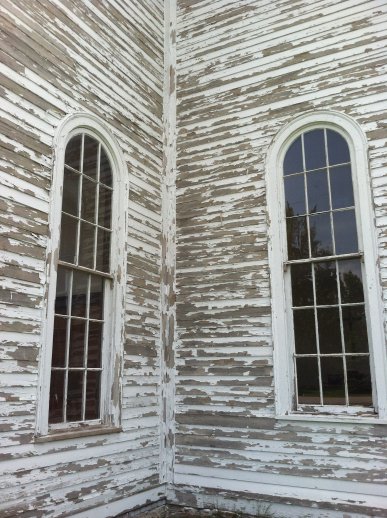 Happy to have found the place – neat little ride!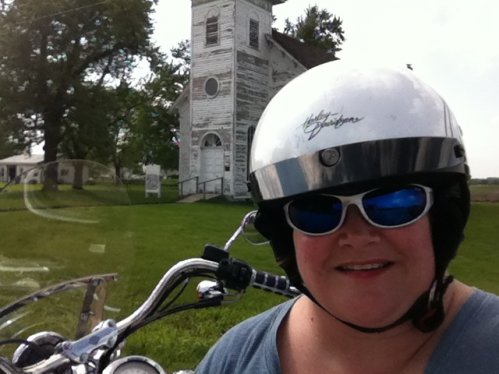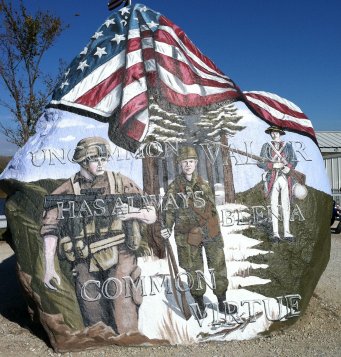 Our warm-weather days are numbered here in central Iowa, but October has been a really beautiful month for end-of-season riding. We noted today at brunch that we hadn't yet visited the Freedom Rock this year, so we decided to head over to Greenfield to take a look at the 2011 mural painted by Ray "Bubba" Sorensen. (Fun side note: stopped for gas at – where else, a Casey's General Store – and ran into faithful blog reader Tim, who was just getting out to enjoy a ride too. Always nice to see you Tim!)
I wrote a bit more about the Rock's history previously, so this year I'll try to share a few more pictures. The theme of the mural this year is "Uncommon Valor." The scenes and tributes depicted include a quotation about valor, a portrait of Iowa native Jackie DeHart who was killed in Viet Nam in 1969, the US Navy SEALS storming Bin Laden's compound, and a portrait of Iowa native Salvatore Giunta who received the Medal of Honor for his actions in Afghanistan in 2007.
Suffice to say the Freedom Rock has become a "must-stop" for veterans (and bikers) from all over Iowa and even around the country.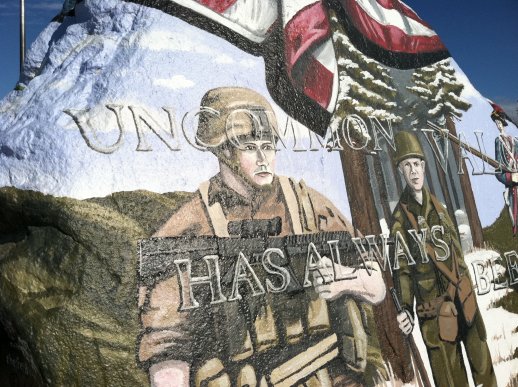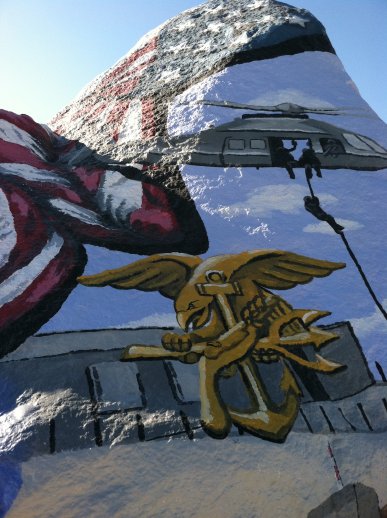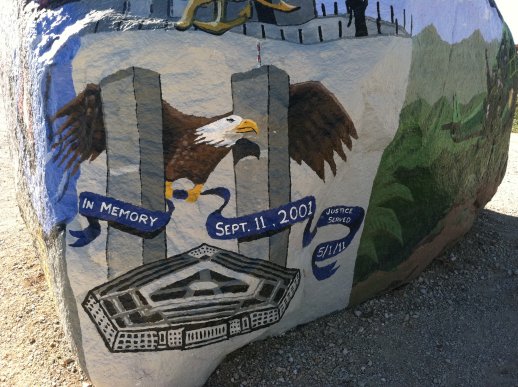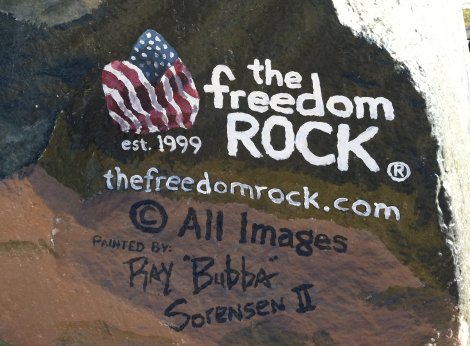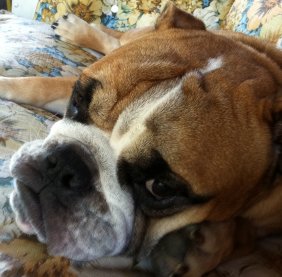 Wow, it's been a hectic summer, and it's almost over already! I guess once again I've been on a brief hiatus… oh yes I've been enjoying the bike as much as possible, plus we've gone to a couple car shows to enjoy the Corvair, and we've embarked on the adventure that is my daughter's senior year of high school. (If you are local to the Des Moines or central Iowa area, I highly recommend Randy Shebek for senior pictures – he's friendly, affordable, and best of all took ah-MAY-zing pictures of my beautiful daughter!)
Oh, and, we added a family member – Dexter, the English bulldog my hubby Steve has always wanted.(He – the dog, I mean – is just about the poor-babyest dog you'll ever meet!)
Aside from all that, I've been busy with a new bike-related endeavor that I hope to be able to mention soon – so, there's been no extra napping going on around here!
As far as bike rides, I've taken a couple shorty solo trips and done some zipping around here and there, but nothing major. Except… EXCEPT – a wonderful ride I took last weekend with "just us gals" – friends Janet & Shirley, and (finally!) Miss Iowa Harley Girl herself, Stephanie Maiers! (Seriously, we live – what, 10 miles from each other, and this is the first time we've ever ridden together!)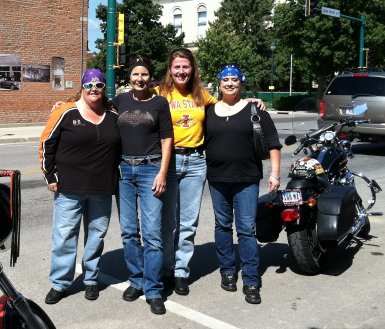 This ride was one big silly grin from beginning to end. (I swear there's something about an all-women's ride that just feels different!) We met up on Steph's home turf in Johnston, just south of Saylorville Lake, and took off to the west along Highway 44. At Highway 169, we turned South and cruised on through to Winterset. (Yes, I rode North to go South – that's how I roll!)
In Winterset we expected to visit Biker Diva Apparel, a women bikers' clothing shop just off the Square. Sadly, we discovered that the brick-and-mortar store is no longer there – BUT, fortunately you can still shop online for a variety of super-cute shirts and must-have accessories!
Headed over to Godfather's Pizza for lunch, then set off for a scenic loop around Madison County beginning with G50 heading east into St. Charles. Unfortunately, that too was derailed… "ROAD CLOSED" signs kept us just out of reach of the much-needed gas station in St. Charles. I mean, we could SEE IT from where we stood, like wishful little kids with our noses pressed against the department store window at Christmas! (It sort of looked like we miiigghtt be able to sneak through the blockade, but a friendly MadCo resident assured us that, indeed, the road was actually closed.) Not wanting to test our luck on the gravel detour, we instead headed back to the west along the road we'd just traveled and back into Winterset.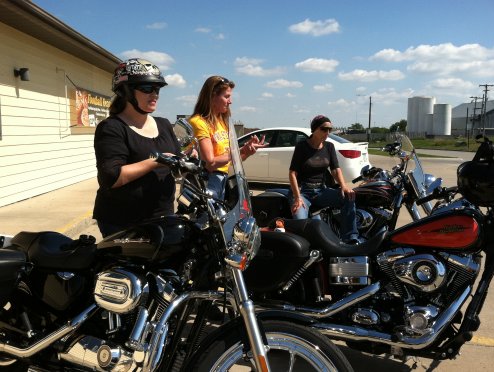 Still, G50 was a beautiful road (parts of it reminded me so much of the Lead and Deadwood area in South Dakota, with tree-covered bluffs rising up from either side of sweeping curves) and I'm certain that the loop we had planned (G50 east to St. Charles, R35 south to Truro, then west along G68 – the PEE-ru road!  – back to P71 into Winterset) is a stunning, curvy ride. I'm determined to go back and prove this point!
Anyway, back to Winterset for a break at (where else) Casey's General Store, then took the scenic G4R home.
Probably the run-on sentences of this post are a clue to how excited I was to take this ride with my "gal pals" – it was a gorgeous day spent in great company!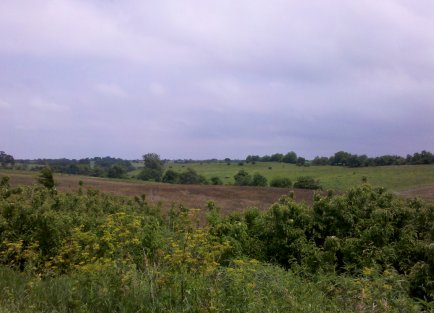 I'm not always "good" at riding by myself – it feels funny riding without a group of friends behind me, and after a fashion I can even start to feel a little guilty leaving Steve to his own devices. But, I know he's working hard to get the Corvair ready for the Good Guys Heartland Nationals next weekend and I felt like I'd been pretty helpful on Saturday by cleaning the car's interior, so I decided to take a ride on Sunday almost in spite of myself.
My plan was to ride to Creston about 80 miles southwest of Des Moines. Nothing there in particular I wanted to see, but I wanted to stretch my solo riding a bit and this was a little farther than I usually go.
I took off heading south down R63, but turned west before I got to the most scenic bits and took G14 through Norwalk and then G4R west to 169. This is a really scenic (if sometimes rough) route – we've ridden it heading east before, but I'm always amused/surprised at how different these roads can look going the other way.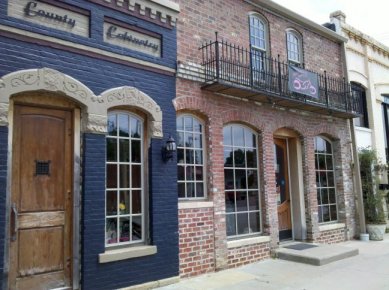 I turned south where G4R ended, and could have gone around the town of Winterset following 169, but in fact Winterset is one of my favorite Iowa towns – it's not only the birthplace and childhood home of actor John Wayne, it's also the birthplace and childhood home of my mother and her family, going back to the mid-1850's. So I'm familiar with a lot of the local landmarks, history, and even a couple of graveyards, and decided to ride through town and snap a couple photos.
I took a little detour around the Winterset square to see the work being done on the courthouse (well-deserved – she's a beauty!), spied Biker Diva Apparel as I was heading south (closed on Sundays – drat!) and stopped to snap a couple pictures of Kitten in front of this classic little storefront. (Whatever this building used to be, it's likely my great-grandfather once traded there!)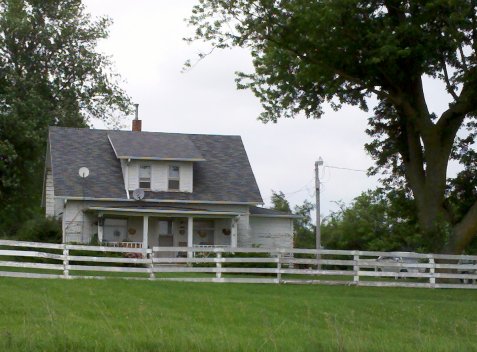 The road south becomes P71 as you leave Winterset, and I followed that til it met up again with Highway 169 ("Pavement Ends" – woops, backtrack to actually get to 169, then backtrack again to snap a photo of a really cute little homestead) then continued south to Highway 34.
It was in this area that I started to notice a few sprinkles of rain, and a look off to the west left no doubt that it was raining in Creston, just a few miles away from the junction I was approaching.
So to my right was Creston and certain rain… to my left was Osceola and a brighter sky, but I'd been there before. I took the left and headed toward Osceola (yeah, I'm chicken like that), and took a quick Casey's break to plot the route home.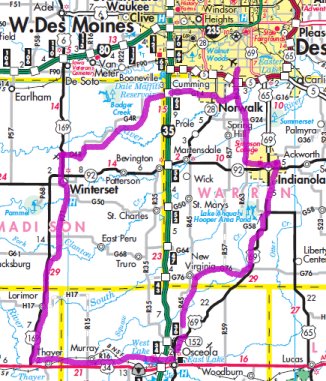 Left Osceola on Highway 69, veered off to travel the "missing link" of R45 from last year, and picked up the piece of G76 that junctions again with 69 at Medona.
I continued to catch sprinkles along the way, but I must've been on the leading edge of the actual rain. Anyway, from Medona it was an easy northeasterly shot into Indianola and then home via 92 and R63.
Guess I will have to try again to get to Creston, but I managed to totally enjoy all 120 miles even though I kinda missed having my merry band behind me!
A couple Sundays ago, Steve took a break from his Corvair project and we set off for a ride that included three of the towns on this year's HOG Chapter Scavenger Hunt: Lacona, Bussey and Reasnor – all tiny towns east of Des Moines in central Iowa.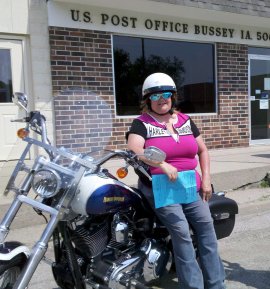 The day was hot standing still, but absolutely perfect when riding. We started with brunch at the Home Plate Diner on Des Moines' east side – we initially consisted of myself and Steve, Garry and Shirley, and Kristin on her new-this-year Road King. We took off to the southeast and stopped first in Carlisle to top off our gas. We lost Shirley at this point due to a stomach bug that was trying hard to get the best of her, and the four of us continued on to Lacona via S23. (This is where Shirley and I had ridden a couple weeks earlier and discovered the First Saturday Biker Lunch.)
The boys took their photos in front of the Lacona Post Office, and we proceeded east to Bussey, taking G76 to the tiny town of Attica at Highway 5. Turned south on 5 and just a short piece to the southeast was the turn-off to Bussey on G71. These county roads were interesting each in their own way – G76 had the feeling of being really isolated to me… very pretty, and not a lot of traffic. And G71 – wow! From Highway 5 you could see about three miles straight down the road to where it veered right into the tiny town of Bussey. Quite an amazing view, really.
We took our photos at Bussey, then a break at a convenience store where we plotted our route to Reasnor. The glitch in the planning was that we couldn't tell whether Highway T17 went all the way through to Pella – there were letters on the map covering part of the road. A silly little detail, but we figured out a Plan A and a Plan B and took off.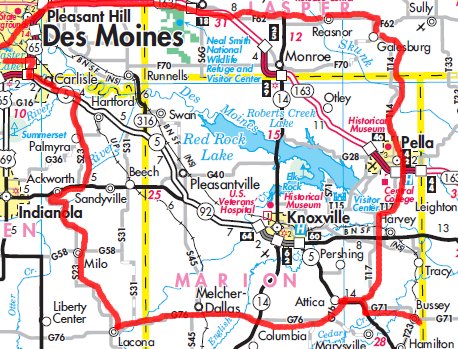 Back out G71 to Highway 5, right turn on Highway 5 just about a quarter-mile to T17, and then north on T17. The primary goal was to get through Pella, and shoot out the other end on T14 into Reasnor. Turns out T17 does indeed go all the way through, and it's really beautiful as well. We hit a detour going through Pella but found T14 (known as Main Street in town – original, right?) and proceeded to the north, where it eventually turned left and became F62 into Reasnor.
And Oh. My. Goodness!! I simply can't say enough about how pretty this ride was – rural homesteads, sweeping curves, greenery everywhere split by the asphalt ribbon (in decent condition, even!), and at either end of every leg of the trip, an Iowa town enjoying a slow-paced Sunday afternoon.
By the time we finished taking pictures at the Reasnor Fire Station, it was about 5 pm. We took F62 westward and picked up Highway 163, which is a four-lane that comes into Des Moines' east side. The whole trip was about 150 miles. I was really glad to get the chance to ride – this first part of the summer has been really rainy, and coupled with the fact that Steve is more focused on getting the Corvair ready for a July 4th weekend car show, my saddle time has been limited!
More soon I hope!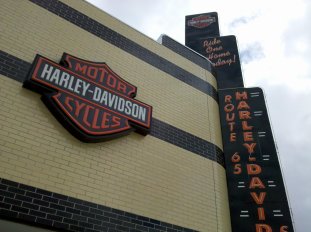 On the one hand, I'm so grateful to finally have a job that I swear I am not complaining. On the other hand, having a job is really cutting into my riding time! Haven't got to do too much on the bike lately, as I am back to waiting for good-weather weekends.
Last week, having watched two glorious blue-sky days go by outside my office window, I did have the bright idea of taking an evening dinner ride, and that was really nice – we rode our old favorite "up around the Lake" loop around Saylorville and then stopped for dinner at our friend's bar/restaurant, Sambetti's, for dinner. The lake level is actually pretty low right now compared to previous years, but the colors are still beautiful coming over the Mile Long Bridge – steel blue water, golden bluffs, and lush green trees.
The whole weekend turned off great weather-wise… Saturday was hot and humid, feeling like it would rain any minute, but not windy. It was the type of day where you felt over-heated standing still, but the moist air was cool once you got moving. I left Steve at home working on his Corvair and took a short ride down to Route 65 Harley-Davidson for their annual Spring Open House, where I visited with Cassie, Marla and Cuddles and then met up with Garry and Shirley.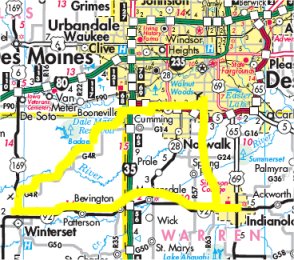 We didn't stay too long (but sure enjoyed our lunch, didn't we?? "HA! YEAH, COPS DO THAT!!" bleated our uncomfortably loud tablemate) but took a nice scenic ride west to Winterset on Highway 92, then north to County Road G4R. Ninety-two is quite nice – one of my favorites of the higher-traffic two-lanes in Iowa – but G4R alternates between lovely smooth asphalt and wretched crumbling cement. Still, it has loads of beautiful curves and well-kept homes lining the way back toward Des Moines via Norwalk. (Later, we realized we had forgotten – !! – the "first Saturday" lunch at Lacona… SO sorry, Erica! We will catch you again before summer's over!)
Sunday was another hot (but beautiful) day, and since we always get a late start on Sundays anyway (what with our traditional brunch and all…), Steve decided to take the afternoon off from the Corvair and go for a ride with me. More on that one later, it gets its own write-up if only to keep this post from being 2,000 words!
What have you been up to? Leave me a comment and tell me the most fun (on the bike – LOL) you've had so far this year!
I'm trying to remember what year it was that my friend Shirley started riding (I think she actually started in the 1970's, but then she RE-started maybe 7 or 8 years ago.) ANYWAY, point being that in all the time I've been riding, we've somehow managed to never take a ride together, just the two of us. So this weekend, since Steve wanted to work on his Corvair project and I really wanted to ride, I called Shirley to see what she was up to. Turns out Garry was at the swap meet hunting for hot rod treasures, so Shirley and I decided to take a lunch trip and be back in time to attend a "purse party" (more on that later).
Temps were to be in the upper 70's so I layered up and topped off with my new HD mesh jacket (more on THAT in a future post – short version: LOVE IT), and headed down to Carlisle to meet up. (I am always a "scenic route" kind of gal so I took some backroads to get there.) We left Shirley's house at about Noon with a plan to ride to Lacona, a small town about 40 miles to the south where we intended to snap photos for the Des Moines HOG Chapter's 2011 Scavenger Hunt. We also thought we might catch lunch somewhere.
Our route took us a short way down Highway 5 to Palmyra Road (county road S23), then south down S23 to Highway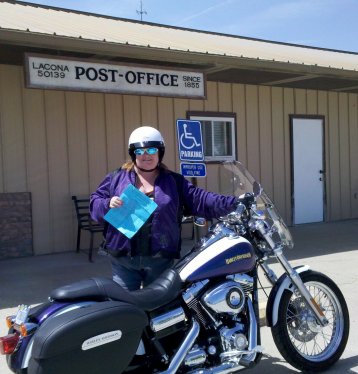 92. This is the route we usually take to Indianola Bike Night if we are stopping to pick up Garry & Shirley – it's a very pretty back road that prevents us from having to turn left with poor visibility and without traffic controls onto a major state highway.
ANYHOO – south down S23, then west on 92 to a spot just outside of Ackworth where S23 picks up again, and south again. This bit of S23 is that one I mentioned awhile back that uses the "Pavement Ends" method of way-finding. It's very scenic, but you have to pay a bit of attention to where the road curves or you could go flying off into gravel.
We arrived in Lacona around Noon-forty, and to our surprise there was a sign by the local restaurant that said, "Welcome Bikers May 7." Since we hadn't been sure we'd find any place open to eat once we got to Lacona, we were quite delighted to find that Rudy's Rendezvous (a place we'd stopped once before to ask directions) was actually open for lunch. In chatting with Erica, our server (whose dad Rudy owns the place), it turns out that Rudy's is going to be open each first Saturday throughout the summer for the "Ride to Rudy's," which basically just means "Ride to eat – we're open!"
We had a great lunch (inexpensive too), snapped a few photos in front of the restaurant ("Hey Shirley, lean against that post cowboy-style…") then headed up the hill to the Post Office where we took our identifying photos for the Scavenger Hunt.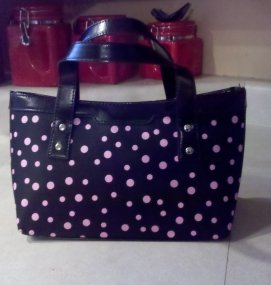 By this time we were late for the purse party (hey, we're bikers but we're biker CHICKS – we reserve the right to shop!) so we headed back up S23 toward Carlisle and Shirley's sister's house. Now we all know the love-hate relationship we have with those home parties… Pampered Chef, Tupperware, etc. … well this party was better because it was simply an "open house" – come on in and shop – which we did, and I bought this CUTE little black-with-pink-polka-dots number which I think, at $15, was the bargain of the day. LOVE IT!!
After the purse party it was back to Shirley's for a stop-and-chat, then the quick ride home. Thoroughly enjoyed the day, and I hope we can get a group together for the next "Ride to Rudy's" on June 4!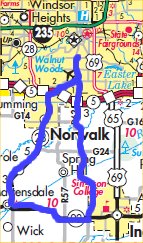 It's been a tough year around our house as I've been mostly unemployed for the past 12 months. (That job I got in late November? Yeah, laid off after 60 days.) This week, however, I'm starting a new job with an amazing company in a field that I love, so I'm looking forward to the return of some sense of "normal."
Of course, this means I am once again relegated to hoping for good weather on the weekends to satisfy my riding itch, so this past weekend I took a short little solo ride just to get out and enjoy the sun and 60+ temperatures – both of which have been largely absent this past month.
When we lived on the north side of Des Moines, our favorite short ride was "up around the lake." Now that we are South siders, my new favorite shorty is what I call the Martensdale Loop. I took off down County Road R63 which is the route we usually take to Indianola, then turned west on 92 and picked up 28 just a few miles further. Highway 28 comes back up to Des Moines through Norwalk and past the airport. It's about 45 miles total for the loop.
Martensdale is a wide spot in the road at the junction of Highways 28 and 92. There are a couple of restaurants in the area that I do hope to try soon – the Roadside Inn, and Gabby's – but on Sunday I just rode the loop and didn't make any stops. There were lots of bikes out (we are all sick of the rain and chill!) and it was a nice day to just enjoy the blue sky.  Good thing I got out there when I did, as next weekend's not looking too good weather-wise. (And that's the disadvantage of gainful employment!)
There's wind…
and then there's wind.
On Sunday, there was WIND.
Sunday's wind was more than the kind that pushes you around on the highway.
It was more than the kind that makes you feel like your helmet's being lifted off your head.
It was the kind that blows so hard it dries out the insides of your nostrils.
It was the kind that blows so hard it forces your lips to open and flap around, and then sucks the spit right out of your head. (Apologies to those riding behind me.)
Of course, this is the stuff you have to pretty much just endure if you want to ride in Iowa in Spring. Which we did, having forsaken the much nicer riding we could have had on Saturday in favor of doing yard and car work.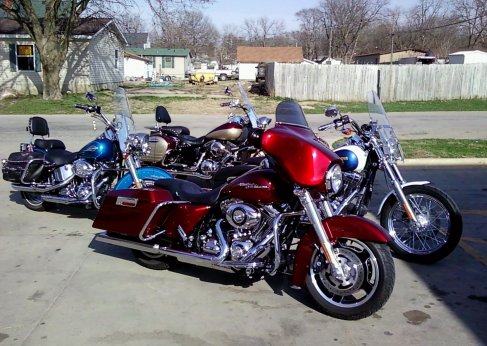 We took our first ride since the First Ride of the Season this past weekend, and put in a good 160 miles. We met for brunch on Sunday with Garry, Shirley, Howard and his new gal Jayka (great getting to know you, J – hope you will come out with us again!), and headed out at about 1 pm to meet up with Kristin and Teri Ann. Along the way we got an early taste of how bad the wind might be, and Shirley decided to head back home to Carlisle. (She has the "It's only going to get worse from here" gene, apparently, that most of us lack… or ignore…)
We collected Kristin & Teri Ann (riding on Kristin's new Road King – woot!!), and continued on to Madrid, where we made a potty stop and planned the rest of the day. From Madrid we headed north on Highway 17 (which was in terrible condition, by the way) to the junction of US Highway 30, and turned east. Highway 30 was also in terrible condition, with two sections under construction.
The wind was horrible going up 17 – we caught a nice blast of sand and road grit whipped up by a semi that was heading the other direction… and if we thought we were going to catch a tailwind along US 30, we were sadly mistaken. It was coming from the southwest, and was actually even worse going east. We took 30 all the way to Marshalltown (about 40 miles), but along the way Kristin and Teri said "screw it" and peeled off for home.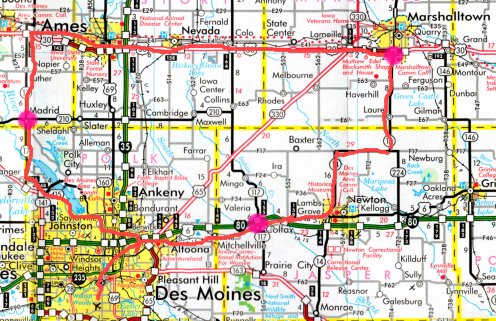 So by the time we arrived in Marshalltown it was just Steve, Garry, Howard, Jayka and myself. We took another break and topped off the gas – by now we were all feeling pretty beat up (aka "ready to be done"), but were still 60 miles from home. (Kind of the like the Suck It Up tour of 2009, but without the awesome destination as a reward for pressing on!)
From Marshalltown we headed south down the Washboard Highway (Iowa 14 – the road that keeps your dentist in business because it rattles your teeth so bad) into Newton, where we picked up Highway 6 going west. (Normally this stretch of 6, which becomes F48, is one of my favorite highways – I'm sure it was pretty in Spring, but to be honest I didn't notice – I was too busy hanging on for dear life as we hurtled toward home.)
Took another break along 6 at Colfax where we compared notes and wrote our "You know it's windy when…" one-liners, then continued on home from there along F48, through Mitchellville and Altoona. Garry split off for Carlisle just outside Altoona, and the rest of us cruised into Des Moines where we stopped off at Buddy's Corral for a cold beer – like the cowboys of the old west who'd stop into the saloon after a hot dusty cattle drive. (Though, how they settled for hot dusty whisky is beyond me – my ice cold Bud Light Lime was so-o-o-o good!!)
Steve and I rolled into the driveway sometime after 6 pm, beat to hell and happy to be home, but SO glad to have taken the ride – primarily because the weather gods are actually predicting snow for the end of this week, which is supposed to bring us the first Indianola Bike Night and Bike Blessing events – guess we'll see about that.
That's Spring in Iowa for ya!
PS – Thanks to Howard for remembering to snap a couple photos!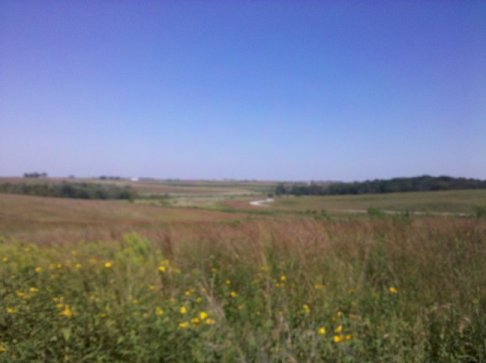 Back in late August, we took an afternoon ride with Garry, Shirley and Janet over to the Neal Smith Wildlife Refuge near Prairie City. Even though it was still summer, you could definitely tell that Fall was coming as there was a distinct difference in the "coloring" of the day: the sun was at a lower point in the sky and the corn was just beginning to brown around the edges, which gave a green-tinged-with-gold glow to the fields as the sun came through the corn. Except for the fact that it meant another summer was almost over, it was just as beautiful as the vivid greens of June.
The entrance to the Preserve is a lovely long and winding road (admit it: you're humming that song now, right?) that leads eventually to the Visitor Center, and there's an "automotive loop" you can take into the interior of the preserve. The primary purpose of the preserve is to restore a significant number of acres to natural prairie and to house some native bison.
The ride along the entrance road looked a lot different from other areas we've visited in Iowa – tall native grasses swaying in the breeze, making a delightful swishing noise instead of the usual wind-roar. This is probably one of very few places in Iowa where you can get a tiny idea of what the land might have looked like as our early settlers trundled across the native terrain.
We didn't have enough time on this particular day to take the interior loop (and besides it's gravel – we weren't prepared for that on the bikes), but we did enjoy the ride along the entrance road and spent some time in the visitor center, where we found a very nice interactive museum detailing the history of the Iowa landscape and its natural resources. After leaving the museum, we took a short walk along one of the many (paved) trails – again, not enough time to really explore, but another clear indication that the Preserve is worth a return visit.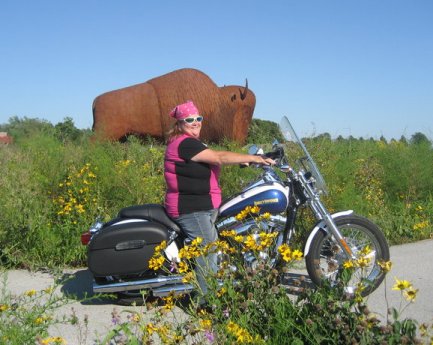 We stopped for refreshments at the local Casey's, but parked across the road at a covered picnic area that also included an eye-catching bison sculpture. Wanting a photo, I rebelled against polite society and rode my bike up onto the sidewalk and around the walking path that surrounded the statue, and Janet snapped a picture for me.
As this area is less than an hours' ride from home, I hope we can go back when we have more time to explore. I would love to be able to park the bikes, walk out into the tall grass, and listen to the breeze.